Are you looking for a stay at home mom schedule to keep home life from getting all out of whack?
Scheduling your week helps make the most of your time. If I have any hope of being productive during the week, I have to make a schedule for EVERYTHING.
When you get everything organized and know what chores you need to do each day, it makes it easier to find time to do what you really want to do.
Here are 7 super effective ways to become an organized and productive stay at home mom.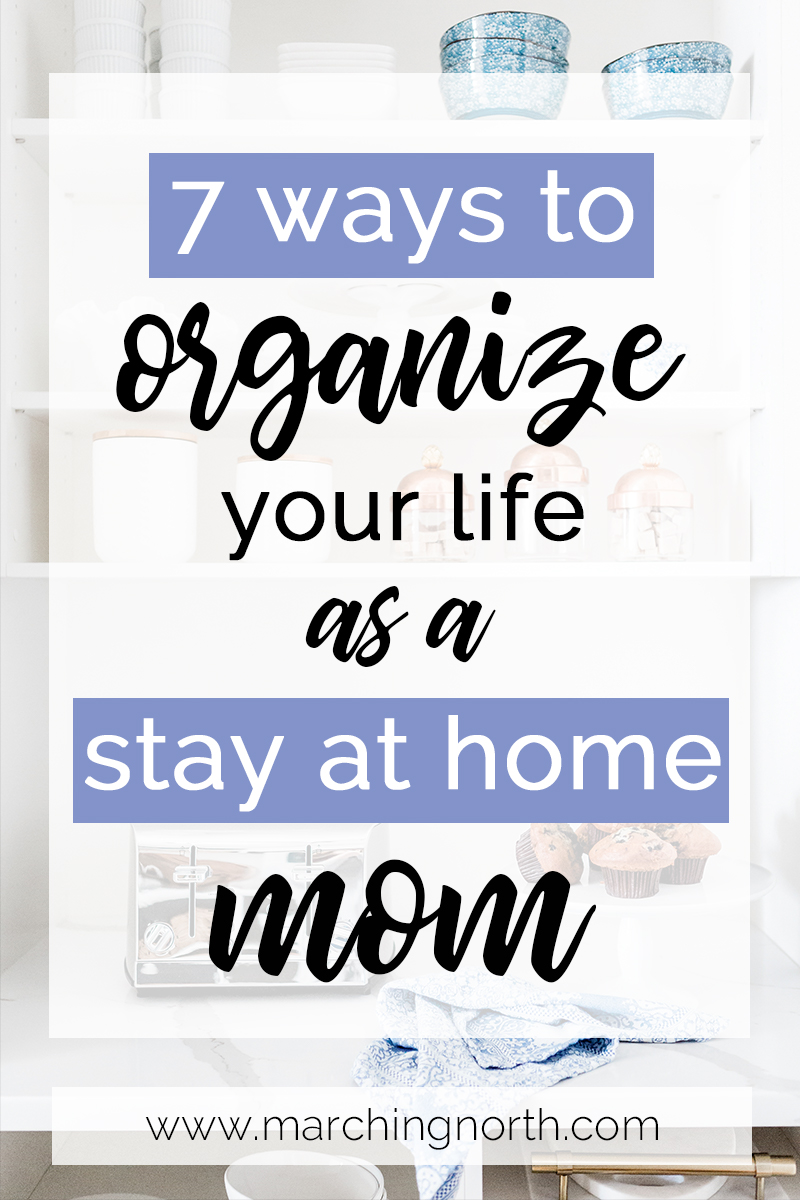 ---
(This post contains affiliate links. If you click one and make a purchase, I may receive a commission at no extra cost to you. Find out more here. Thank you for your support!)
Create a Weekly Meal Plan

Making a meal plan for each week takes so much pressure and stress off of you, it's unreal. It's really amazing how overwhelming making meals can be when you don't have a plan, and you have a house full of hungry, picky, and cranky people asking for food.
There are different ways to approach meal planning. You can print out a planner, write it out, and then make your corresponding grocery list for the week.
Check out this article for more information about making a weekly meal plan, there's even a link to download a free printable meal planner that you can use.
If you don't have time for that, another way to go is subscribing to a meal planning service. The Dinner Daily is the site I used before I started writing my plans out myself, and it's a huge time saver. You get a 2-week free trial, and then it's just $4/month. (For a limited time get 10% off: enter code SCHOOL10).
They base your weekly meals on the sales flyers for your local grocery store. You can pick whichever store near you that you prefer, and they include a link to coupons you can print and save a little extra cash!
I switched to doing it by hand after using The Dinner Daily for a while, but it helped me a lot when I was first starting out and hadn't quite got my brain wrapped around meal planning yet.
---
Have Home Inventory Lists

Do you find yourself at the store trying to remember if you have spaghetti sauce? You end up buying it, get home, and find three jars sitting in the pantry behind five bottles of ketchup? Maybe that's just me, my family eats a lot of ketchup. Keeping a food inventory is a great way to prevent that from happening.
It takes a little bit of effort up front, but the results are absolutely worth it. You can use a spreadsheet, or write it down, I've even seen apps to make your kitchen inventory.
Make an inventory for your pantry, fridge, freezer and spice cabinet. Then make another inventory for cleaning supplies, plastic wrap, Ziploc bags, and parchment paper.
The easiest way to do this is to write or type it all down as soon as you get home from the store. You can use your receipt to see what all you purchased, or just write down each item as you put it away.
Taking inventory of all your food makes meal planning easier and saves you money. Plus you don't have to worry about food going bad because you forgot about it.
You can also keep track of what you need to buy at the store with this handy magnetic checklist. I'm a sucker for a good checklist!
---
Make a Weekly Cleaning Schedule

Certain house cleaning chores have to be done every day, like dishes, sweeping/vacuuming, wiping down counters, etc.
Some tasks are once a week jobs, and these are the things I usually forget to do until I get buried under a mountain of laundry or my husband can't find clean socks for work at 5 am.
Delegating a particular chore to a specific day of the week makes it a lot easier to keep up with fun stuff like mopping floors, laundry *shudder*, cleaning the bathrooms, and changing bed sheets.
For example, on Monday mop the floors, Tuesday is laundry day, Wednesday clean the bathrooms, dust on Thursday, and clean out the fridge on Friday, or some variation of that.
Cleaning the house feels so much more manageable when you break it up this way. And another great thing about making a cleaning schedule is you can delegate the household cleaning chores more easily, which brings me to my next tip…
---
Give Your Kids Daily Chores

Put your kids to work! Once your kiddos are old enough to help out, give them a daily job.
Make a chore chart, or if you have multiple kids, a chore system, to keep everyone on track with their daily tasks. It's up to you if you want to set up a reward system or not. I don't reward my kids for everyday chores. I just threaten to take away video games for the night if they give me a hard time. It never gets that far.
For the young ones, make it something simple like helping you unload the dishwasher or filling up the dog's water and food. My toddler loves to help me put the silverware away when I'm unloading the dishwasher. He throws it in the silverware drawer all crazy, and I have to go back and fix it later, but I'm so glad he wants to help, so it's no big deal. He's 15 months old, I think he's doing pretty good!
The older kids can do more difficult chores like taking the dog outside, vacuuming, mopping, loading the dishes, folding laundry, and cleaning the bathroom mirrors. I usually have one of my older kids mop while the other one cleans the windows.
Kids get lots of benefits from doing daily chores. According to this article from Very Well Family, some of those benefits are:
Increased self-esteem
Learning the importance of finishing a job
Knowing the value of keeping things clean and organized
Helps create a habit of helping out around the house
Gives them a sense of well being and a feeling of being part of a team
With all those benefits, giving your kids chores is a no-brainer. Besides that, it'll also take some of the pressure off you. Moms don't get a lot of breaks, so that's a huge win!
---
Streamline Laundry Day

Oh laundry, you are the bane of every mom's existence. Instead of letting laundry get the best of you, try out these simple tips to show it who's boss!
Downsize your family's clothing! Go through everyone's closet and dressers and weed out anything that doesn't fit or they don't wear. Put any off-season clothes away in a box and hang their dress clothes in the closet.
Have enough clothes for each family member for one week. This includes shirts, pants, socks, underwear, the whole shebang.
This method works really well for us because my husband wears his work uniforms every day and he has enough to last one week, I'm a stay at home mom so my wardrobe is basically tee-shirts and yoga pants, and my kids are still relatively young and will wear whatever as long as it has Mario and Luigi on it.
If you have a ton of bath towels and dish towels, figure out how many you need for the week for everyone, and either get rid of or store the rest. Also, only buy white bath towels and white dish towels to make laundry more manageable, plus you can bleach them if you want with no worries.
Get a compartmentalized laundry hamper and assign each family member to a compartment. To keep wet towels from getting all musty, get a towel hamper with plenty of holes for airflow and keep them separate from the clothes.
When you get the laundry folded, have a laundry basket for each family member, and have them put their clothes away. Once the kids get old enough, they can start doing their own laundry and you'll save even more time!
Once you downsize the number of clothes and towels in the house, there's no way your laundry pile can get out of control before laundry day rolls around.
---
Go Minimalist

Just like the laundry, if you get rid of the unnecessary stuff in your house, you won't have as much to pick up and put away all the time. Downsizing your random clutter is a must when you're getting your life organized.
I'm sure you've heard of the Kon Mari method by Marie Kondo. She says to only keep things that bring you joy and get rid of everything else. That pile of mail from the last month probably doesn't bring you much joy, and neither does the junk drawer in the kitchen that's full of mysterious batteries, rubber bands, and broken sunglasses.
Go through one part of your house each day so the purging isn't too overwhelming. Today organize the infamous junk drawer, tomorrow tackle the stuff all over the table, then go for the coat closet the day after that.
Donate all the stuff your family no longer needs to your local Goodwill or sell it in a consignment shop for a little extra cash. You'll be amazed at how many things you've accumulated over the years!
After weeding everything unnecessary out, get a suitable organization method in place, so it doesn't just come right back. Don't let things like mail and random toys or drawings pile up on the counter. For more great ideas and ways to organize, check out Marie Kondo's blog.
---
Organize Your Life With Trello

I recently discovered Trello, and Holy Mackerel, you have to check it out! Trello is a productivity app that helps you manage tasks and projects by making boards and adding cards to the boards to make lists.
Us moms have so many to-do lists going all the time, and it's easy to forget something. I used to write my to-do's on random scraps of paper, old receipts, or the back of my kids' drawings (I didn't deface the artwork, I swear!) I had lists all over the place and couldn't keep up with any of them.

Trello has come into my life and changed the way I organize tasks. How much does Trello cost, you might ask? It's free, my friend! I have so much to learn about using all the features this amazing app has to offer. One blogging mama who uses Trello to organize her life is Allie Casazza.
She has an article explaining how she uses Trello to schedule her entire life, including homeschooling her kids. As a fellow homeschooling mom, I love this idea, and I can't wait to implement it myself!
Here's a quick video by Trena Little explaining how to plan your day with Trello.
---
In Conclusion
Implementing these tips will get your life so much more organized and give you back a big chunk of your precious time. Then, you can use that freed-up time to work on something important to YOU.
It's so important to make time for yourself. As moms, we give so much to our family's and sometimes our needs get put on the back burner.
What do you do to organize your life as a stay at home mom? Have you tried Trello? Let us know below!
---
Related Articles for Moms
7 Ways to Organize Your Life as a Stay at Home Mom