There are so many different hybrid memory foam mattresses out there, which one is the right one for you?
A mattress is a huge investment, not just money-wise, but because SLEEP.
(This post contains affiliate links. If you click one and make a purchase, I may receive a commission at no extra cost to you. Find out more here. Thank you for your support!)
---
Sleep is not something I take lightly, and you shouldn't either! It's crucial that we get enough sleep, our health and sanity depend on it.
The risks of not getting enough sleep include:
Weight gain
Poor concentration
Higher risk of heart disease and stroke
Depression
Anxiety
Moodiness
Lowered Immune Function
Yikes!
Getting enough sleep is tough enough as a mom, you can't have your bed making it even harder!
The bed I chose is now my favorite spot in our home. I'm laying on it as I write this and my baby is snoozing away next to me! Read on to learn all about my all-time favorite hybrid memory foam mattress!
Have you been trying to decide which memory foam mattress is right for you without breaking the bank?
After doing tons of research, I chose the Lucid Hybrid Memory Foam King Mattress from Amazon.
We've slept on it every night for over a year now and I still am totally in love with this mattress! It wasn't easy deciding on the perfect mattress for my husband and I (plus our toddler, and occasionally the other kids).
This mattress has been so comfortable that I suggested for my in-laws to get one when they started having back trouble from their old spring mattress. They ordered the exact same one and they love it too!
I had strict criteria that had to be met. The mattress had to be affordable, high quality, soft but not TOO soft, no weird off-gassing issues, and be able to ship to my house ASAP!
Here are some quick facts:
An Amazon's Choice Mattress
Infused with bamboo charcoal to eliminate odors and aloe to create a calming sleep environment
Medium plush support – not too hard or too soft and no pressure points
Has individually wrapped steel coils in the middle to respond to movement and increase airflow
Edge support foam
Comes compressed and easy to get into your home
CertiPUR-US certified for quality and safety
10-year warranty against manufacturer defects
100-night risk-free trial – return for a full refund if you're not satisfied
My husband is a stomach/back sleeper and I'm a back/side sleeper. The Lucid mattress is perfect for both of us. We sleep better than we ever did on a regular spring mattress!
I got a low profile box spring to go with this mattress because I knew our toddler would be in bed with us and I don't want the bed too far from the ground. The combo works beautifully with our gorgeous upholstered bed.
Rosevera Ralls Panel Bed, King, BeigeCheck Current Price
What is a Hybrid Mattress?
Hybrid mattresses have two or more types of support systems, like memory foam plus innerspring coils.
The coils respond to movement and give support, and the memory foam adds cloud-like comfort. Having the coils also aids in air circulation through your mattress, which helps keep you cooler and more comfortable than an all-foam mattress.
Hybrid mattresses are great for people who are used to spring mattresses and want to switch to memory foam but are worried it will be too soft and need more support.
It's the best of both worlds; the support of innerspring coils and the soft comfort of memory foam.
Hybrid mattresses run from affordable to pretty darn expensive depending on where you look.
When I was shopping in-store, the prices I was quoted were upwards of $2000 for the mattress and box-spring. There are several great choices well under $1000 online.
Are Hybrid Memory Foam Mattresses Good For Back Pain?
Hybrid mattresses are usually medium-firm thanks to the coils, but without the pressure points of a traditional spring mattress. They're perfect for people who sleep better on a firm mattress but still want plush body-hugging comfort.
I have scoliosis and if I don't sleep on a good mattress I can hardly walk in the morning.
My husband is really tall and his back locks up on him easily. Both of us have had reduced back pain from switching to a hybrid memory foam mattress from our old spring mattress.
Our bed is nice and soft, but also firm enough to give plenty of support. I've never slept on a more comfortable bed!
Is a Hybrid Mattress Better Than a Memory Foam Mattress?
While this question is pretty subjective, I'll take a stab at it.
Memory foam mattresses are good for someone who wants to sink into their bed and are concerned with pressure relief.
I'm sure you've seen the commercials with the person jumping on a memory foam bed with a glass of red wine next to them. This is possible because memory foam reduces motion transfer.
However, the same ability to let you sink into the mattress comes with the side effect of feeling stuck when you try to get up.
Another drawback (and this is the worst one for me) is memory foam tends to sleep hot.
Hybrid mattresses are a good choice for someone who wants the comfort of memory foam, but needs the support of innerspring coils.
Motion transfer is still much less than on a regular spring mattress, but not quite to the point of jumping next to a glass of red wine. It's reduced enough that you don't disturb your partner, though. (At least that's been my experience.)
Due to the innerspring coils, there's more airflow in a hybrid mattress, so you naturally sleep cooler.
Over time the coils may begin to squeak a bit, but that hasn't happened at all with my hybrid mattress yet.
For reference, we've had it over a year and our three kids like to jump on it much to my dismay, so it gets some abuse.
What does CertiPUR-US Certified Mean?
According to the CertiPUR-US website, "It means the foam in the bedding or upholstered furniture has been tested to meet CertiPUR-US rigorous standards for emissions, content, performance, and durability. Specifically, the foam is:
Made without ozone depleters
Made without PBDEs, TDCPP or TCEP ("Tris") flame retardants
Made without mercury, lead and heavy metals
Made without formaldehyde
Made without phthalates regulated by the Consumer Product Safety Commission
Low VOC (Volatile Organic Compound) emissions for indoor air quality (less than 0.5 parts per million)"
Someone Commented that Fiberglass Was Coming Out of the Bottom of Their Mattress, What's That About?
One person on Amazon commented that fiberglass was coming out of the bottom of his mattress and to beware.
I haven't had anything even close to that happen, and we've had ours for over a year. I sweep under our bed frequently so I would know.
The Lucid rep said that fiberglass is a common flame retardant used in mattresses and that it's encased within the mattress. The only way it would get out is if you started taking the mattress apart, which you are NOT supposed to do.
I'm assuming this is true of most mattresses. Don't take it apart! If you're concerned about this, you can purchase an encasement cover that zips around the whole thing.
5 More Top Hybrid Memory Foam Mattresses on Amazon
I truly love the mattress we got and would buy the same one again in a heartbeat. But, there are plenty of other Hybrid Memory Foam Mattresses out there.
Let's see what people are saying about these five best selling ones on Amazon!
King Mattress 10 Inch, Coolvie Memory Foam Hybrid Innerspring MattressCheck Current Price
Round-top knitted fabric breathable cover
Air-cool open-cell foam
Comfort-feel memory foam
Dual cool fiber layer
Durable and comfort pocket spring
High-density base
CertiPUR-US Certified
No-Risk 100-Nights Trial
10 Year Warranty
This mattress is very popular with a 4.5-star rating on Amazon. It expands quickly once it's opened and, like the Lucid, it doesn't have any weird chemical smells.
It's very comfortable and supportive with a medium plush feel. The price is also good on this mattress.
Nod Hybrid by Tuft & Needle King MattressCheck Current Price
2 inches of memory foam
1 inch of adaptive foam
6-inch Leggett & Platt pocket coils
1-inch base foam
Foam is responsive, but not too soft
Springs are supportive, but not too firm
100-Night Sleep Trial
10-Year Limited Warranty
CertiPUR-US Certified
The Nod hybrid mattress is another best-selling option on Amazon (4.3 stars).
It has medium-firm support and sleeps cool (or so it says). The price is quite a bit higher than the Lucid that I recommend, and I'm not sure that there's much of a difference between the two comfort-wise.
A few reviewers mentioned off-gassing odors and the mattress becoming less comfortable over time. They also mentioned that the mattress wasn't as cool as it claims.
Judging by the reviews, I'm not sure I'd recommend this one. I wouldn't buy it for myself.
Sunrising Bedding 10 inch Natural Latex King Mattress Hybrid GelCheck Current Price
Gel Memory Foam
Pocket Coil Innerspring
Medium Firm
NO formaldehyde, toxins, heavy metals, bad odor or allergens
Excellent air circulation
CertiPUR-US Certified
120 Night Trial
20 Year Warranty
The Sunrising Hybrid mattress has a 4.3 out of 5-star rating. They go above and beyond the other mattresses in terms of their sleep trial and warranty.
While most offer a 100-night sleep trial and a 10-year warranty, they offer 120 nights and a 20-year warranty.
Reviewers mostly agree that the mattress doesn't have any strange odors and that it's fairly firm.
A small segment of people said that it's way too firm to the point of discomfort and that it does indeed have an off-gassing odor.
The price is very close to my favorite Lucid hybrid mattress. Overall I'd say this one is worth a look.
Suiforlun 12 Inch Pillow Top King Hybrid MattressCheck Current Price
Cool Gel Memory Foam
3 Zone Individually Encased Pocket Coils
10-Year Warranty
CertiPUR-US Certified
30 Day Return Window
The Suiforlun is an Amazon's Choice Hybrid Memory Foam Mattress. It has 4.4 out of 5 stars and most of the reviews are very positive.
The price is super affordable for a King-sized mattress.
One con is there's only a 30-day window for returns, where most mattresses have a 100-day time period for you to test it out.
A few reviewers mentioned that the mattress was too firm for their liking. The customer service rep offered to send a free mattress topper to make it more comfortable.
Early Bird 12-inch Hybrid Memory Foam and Spring MattressCheck Current Price
CertiPUR-US Certified Foam
No Harmful Chemicals
Handcrafted in the USA
10 Year Warranty
Cool gel-infused memory foam and Tex-Cel cover
The Early Bird mattress has excellent reviews and is one of the few mattresses I've found that's made in the USA. It has 4.7 out of 5 stars on Amazon.
Customer service is top-notch and this company is really dedicated to using high-quality safe materials to make their product.
The price for this mattress is a little on the higher end of the Hybrid mattress price range, but I think in the case of this mattress, it's actually worth it.
I definitely recommend giving the Early Bird Hybrid Memory Foam Mattress a look.
In Summary
There are a lot of choices on Amazon for Hybrid Memory Foam Mattresses, I hope this buying guide has helped you narrow down your options.
It took me weeks to decide on the perfect mattress for us. Several of the ones listed above would be great purchases. If I wouldn't have gotten the Lucid mattress, I think the Early Bird would have been my next choice.
Do you have a Hybrid Memory Foam mattress? How do you feel about it? Let us know in the comments!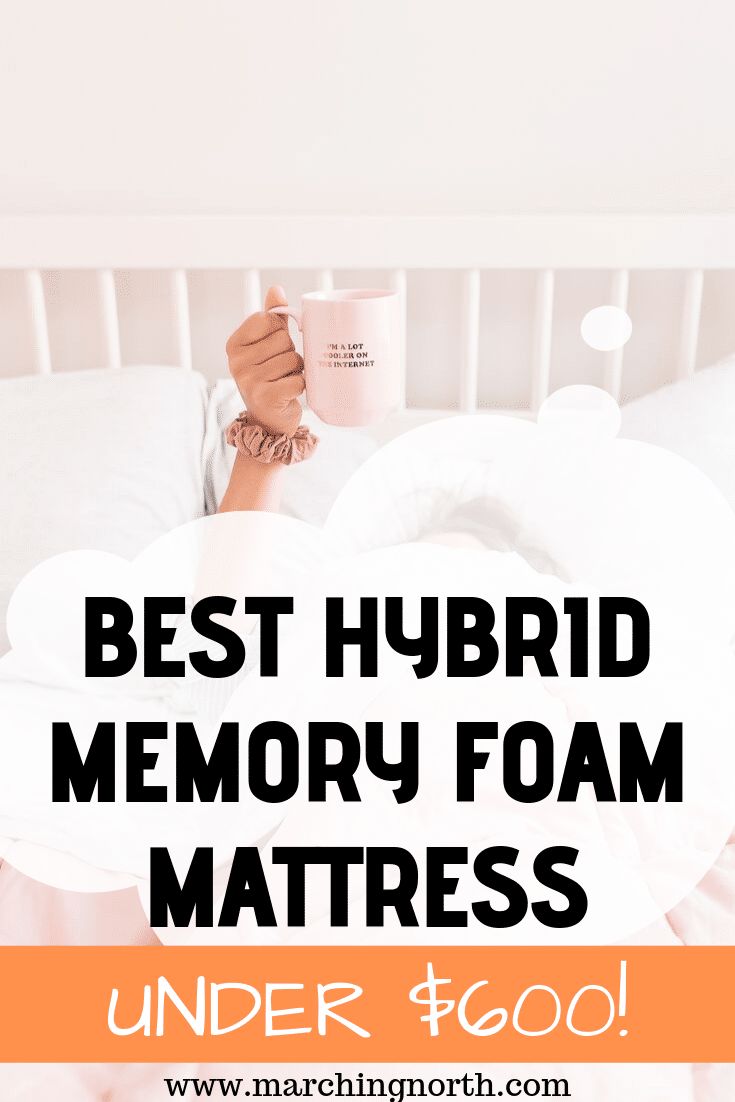 Related Articles
Best Hybrid Memory Foam Mattress Buying Guide & Review