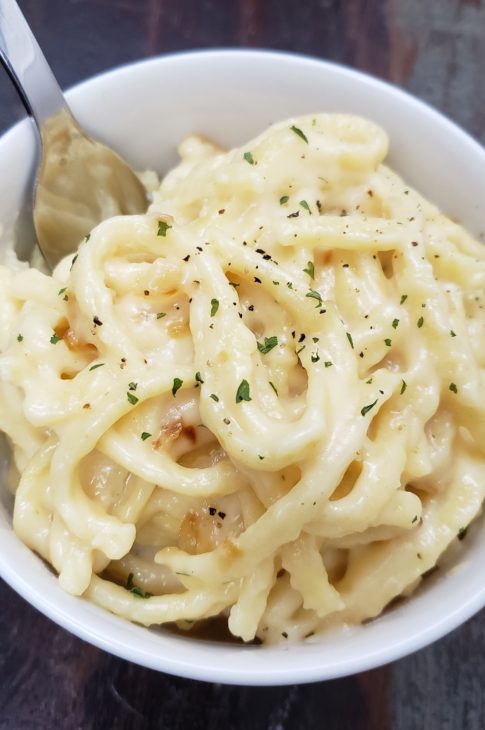 Fall is Aldi Spaetzle season in our home. Ever since I discovered it last year (see my Chicken Spaetzle Soup recipe here) it's become a favorite with our family.
These chewy hearty dumplings are the ultimate comfort food.
(This post contains affiliate links. If you click one and make a purchase, I may receive a commission at no extra cost to you. Find out more here. Thank you for your support!)
What is Spaetzle?
Spaetzle is a soft dumpling made with eggs. It's native to Central Europe, specifically the Swabian region of Germany.
Some other places Spaetzle can be found are Switzerland, Austria, Slovenia, Hungary, and parts of France.
Also, you can find Spaetzle at Aldi in the US, which is where I found it.
What can you do with Spaetzle?
Spaetzle is great in soups, casseroles, or as a replacement for egg noodles in dishes that call for them.
A quick and easy way to make this Aldi dried Spaetzle is to boil it according to the package instructions, drain it, and then saute it in butter with some salt and your favorite herbs.
Spaetzle has a great flavor and texture so it plays well with others but is also delicious on its own.

I wanted to try something a little more authentic this time, so I did a little searching and came up with this cheesy Spaetzle recipe.
First, I looked at the bag of Aldi Spaetzle itself.
The recipe there said to cook the spaetzle, then drain it and add cheese and some heavy cream and butter.
That sounded pretty good, but I wanted to make it more like homemade mac and cheese with a cheesy sauce.
The lighting in my kitchen isn't the greatest, but I wanted to show you this delicious cheesy goodness… drool.

Some other recipes I found said to make caramelized onions to go on top, and that sounded awesome so I included that.
The result was SO GOOD.
It's cheesy, creamy, and flavorful thanks to the caramelized onions.
If you're looking for a satisfying recipe to make with your Aldi Spaetzle, this is a winner for sure!

Where To Buy Spaetzle
The place all of my Spaetzle adventures began was Aldi.
I've actually never bought Spaetzle anywhere else, and I haven't tried making a homemade version yet.
Aldi's Spaetzle is awesome. They carry it over by the other pasta and they seem to have it in stock most of the time.
It's quick and easy to cook and great if your new to the whole Spaetzle experience and not quite ready to make it from scratch.
Don't have an Aldi near you? That's ok! This dried Spaetzle on Amazon looks equally awesome.
Bechtle Bavarian Style Spaetzle Traditional German Egg Noodles, 17.6 Ounce


Making a homemade version is on my to-do list, and I'll let you know when that comes to fruition. Let's talk about what kind of gear you need to make Spaetzle at home.
Where can I get a Spaetzle Maker?
There are several types of Spaetzle makers out there. Let's take a look at Amazon and see a few popular options.
The Original Kull Spaetzle-Schwob (Spaetzle Press / Maker) is highly rated. It's made in Germany, heavy-duty, and even has a two-year warranty.
One bad thing about this model is it's NOT dishwasher safe. Also, it's made of aluminum, so if you're avoiding that I'd pick one of the other options below.
Otherwise, it seems to be one of the most popular options.
Original Kull Spaetzle-Schwob (Spaetzle Press / Maker) highly polished –


Here's another option that looks like the love child of a cheese grater and a mandoline.
It's made of stainless steel (yay), has a non-slip handle, and (my favorite part) it's dishwasher safe.
Premium Grade Stainless Steel Spaetzle Maker with Comfort Grip Handle


This round version rests on top of your pot of boiling water while you scrape in the spaetzle.
It's also made of stainless steel and will fit on top of most pots up to 12 inches in diameter.
This spaetzle maker is also dishwasher safe.
Zoie + Chloe Stainless Steel Spaetzle Maker Lid with Scraper


One more gadget that makes Spaetzle cooking easier whether you're making homemade or dried is a spider strainer.
Hiware Solid Stainless Steel Spider Strainer Skimmer Ladle, 5.4 Inch


This stainless steel one is a good choice. These spider strainers are really handy to have any time you need to fish something out of boiling water or hot oil. I use ours all the time.
There are other ways to make homemade Spaetzle without buying a special press.
You can use a colander over a pot of boiling water and push the dough through with a wooden spoon (carefully!)
Another option is to put your spaetzle dough in a piping bag or a zip-top bag, snip off the corner, and squeeze the noodles out into your pot of boiling water.
How to Cook Dried Spaetzle
For this recipe, you cook the Spaetzle according to the directions on the bag before mixing them up with the delicious cheesy sauce.
It's so easy to make, if you can make regular pasta, you can make Aldi Spaetzle.
Bring a pot of water to a boil. They suggest four quarts of water for 16 oz. of Spaetzle.
The bag comes with 17.6 oz. of Spaetzle, so if you want to boil the whole bag, I'd throw in an extra cup or two of water just to be safe.
Toss in a teaspoon of salt and add in your desired amount of Spaetzle. For the recipe below I used about 3/4 of the bag.
Boil for 12-14 minutes until it's done. Drain and it's ready to add to your recipe.
Cheesy Spaetzle with Caramelized Onions Recipe
Let me make a quick comment that I'm no expert chef. I'm a mom and I love good food.
The caramelized onions for this recipe may not be done in a super professional manner, but they taste amazing and that's my main concern.
I got a little nervous about posting this after reading some articles condemning people for posting caramelized onion recipes that weren't up to their standards.
But guess what? This recipe is delicious, and honestly, it would probably be good with some French's fried onions on top! (They'll really hate that, lol.)
Now that I got that out of the way, here's the recipe. Enjoy!
Cheesy Spaetzle with Caramelized Onions

Comfort food at it's finest. The creamy cheesy Spaetzle with caramelized onions is the perfect fall food (or pretty much any season, let's be honest.) You can leave out the onions, but don't. They really make the dish!
1 stick salted butter
1/2 sweet yellow onion (finely chopped)
3/4 bag Aldi dried Spaetzle
8 oz shredded Gouda cheese
1/4 cup flour
1 cup whole milk
2/3 cup heavy cream
1 tsp dried parsley
salt and pepper to taste
Bring four quarts of water to boil in a large pot.

While you wait for the water to boil, start on the caramelized onions. Add half of the stick of butter to the skillet. Turn the heat on medium and when the butter is melted, add the finely chopped onions.

Cook the onions, stirring frequently, over medium heat. You don't want them to brown too fast and burn. They should take around 20 to 25 minutes to caramelize.

Once the water is boiling, add a teaspoon of salt and then the Spaetzle. Stir frequently. Cook for 14-16 minutes until Spaetzle is tender. Drain and set aside.

Finish caramelizing the onions. Once they're brown and delicious, remove them from the pan and set aside. Don't wipe out the pan.

Turn the skillet on medium heat. Add the other 1/2 stick of butter, followed by the flour. Whisk and cook over medium for a minute or two.

Whisk in the heavy cream and the milk until the mixture is thick, smooth, and bubbly. Turn off the heat.

Add the shredded gouda and stir until it's fully melted and combined. Add in parsley and salt and pepper to taste.

Add the cooked Spaetzle to the cheesy sauce and stir to combine. You can add in the caramelized onions now and stir it all together, or add them on top when you serve. I just stirred it all together. Dinner is served!
I got the shredded Gouda from Aldi as well, one stop shopping!
I'm not an expert chef, and I'm sure my caramelized onion technique is wrong, but it tastes good and that's my main concern.
Let me know how it turns out in the comments!
Related Posts



Cheesy Spaetzle with Caramelized Onions | Recipe