Would you like to get the toddler in your life something educational AND fun this year? Look no further! I compiled a list of highly-rated educational toys for 2 year olds that they'll absolutely love for the holiday season.
(This post contains affiliate links. If you click one and make a purchase, I may receive a commission at no extra cost to you. Find out more here. Thank you for your support!)
The toddler years are a majorly important time for kids' development.
It's crucial to have lots of engaging educational options to keep their minds busy. They need to learn colors, shapes, animals, letters, numbers, and all kinds of other fun stuff.
One of the main ways kids learn is through play. This is true from just a few months old all the way until the teen years.
Imaginative play isn't just kids goofing around. They're learning so much and rehearsing things they hear and see to help them make sense of it all.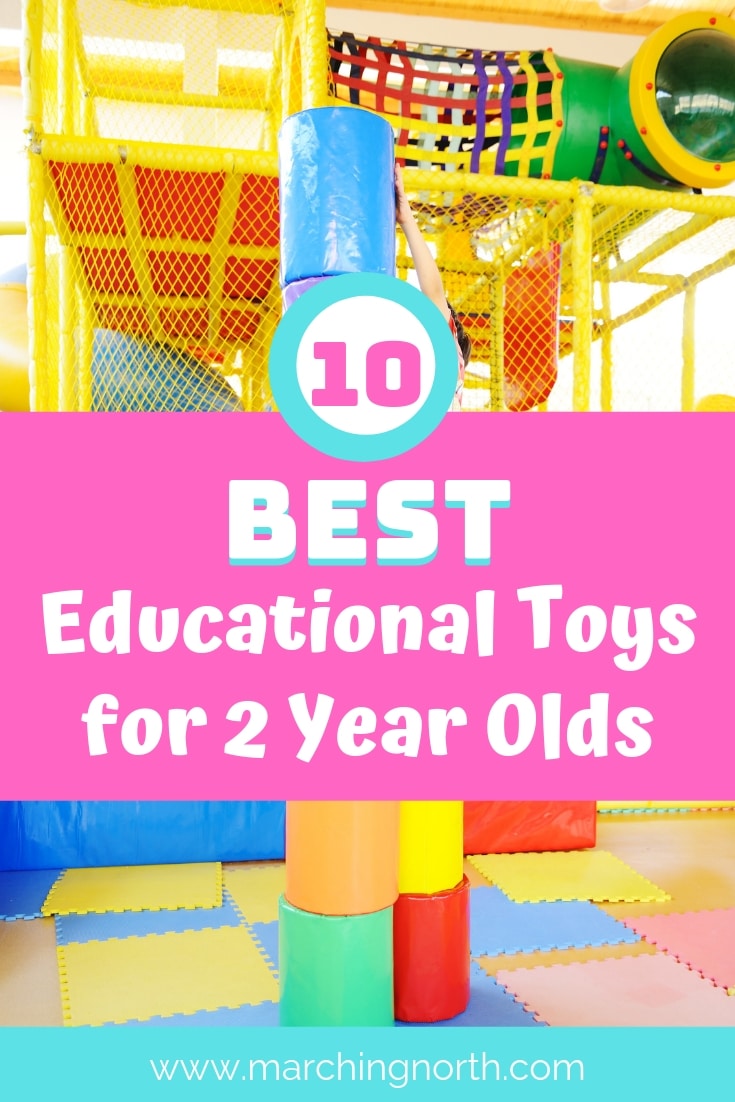 Unfortunately, a lot of the toys you find aren't the greatest quality, and some are downright annoying!
My kids have received a lot of toys over the years that weren't much more than obnoxious singing, noises, and flashing lights. It seems more like a distraction than an actual learning device.
Educational toys for 2 year olds don't have to be complicated.
In order for a toy to really be educational, the child needs to be able to engage in open-ended play with it.
My older kids have their beloved Legos, and they come up with all sorts of creations. They also have Magna-Tiles, which are awesome to teach about magnetics and geometry.
For the little ones though, you have look for age-appropriate educational toys. Most of the time they'll be getting out of the putting-everything-in-their-mouth stage by two, but every child is different.
Also, some toys that my older kids love, my little guy just doesn't quite get yet and isn't interested.
Elaborate toys aren't required for your child to learn.
Most two-year-olds will be content with your mixing bowls, some wooden spoons, or the classic cardboard box.
It's important that they get to use their imaginations and be exposed to different colors, textures, sounds, and hear people speaking properly.
Since my little guy is going to be two in the next few months, I did a lot of research and came up with the best educational toys for two-year-olds that I could find, and I want to pass what I found along to you!
Be sure to share this post with Grandma, Grandpa, Aunts, Uncles, and anyone else who wants to buy your little ones some great educational gifts!

This wooden music toy by Hape is a great way to introduce your child to music, colors, and making different sounds with different objects.
Your child will love making lots of noise and learning along the way!

Ride-on toys are great and so fun for kids. They help them develop motor and cognitive skills such as balance, coordination, and spatial awareness, all while having a blast!
This one is for ages nine months up to three years, so it will grow with your child.

You can't go wrong with Lego, they're a perfect example of open-ended toys. These larger Duplo blocks are safe for kids as young as one and a half.
A great thing about Duplo is your kids can keep playing with them as they get older and still have fun. My older kids have regular Lego now, too, but they still will build with the Duplo blocks.
I also have to tell you about this beautiful Lego table from a company called Nilo toys.

This company sells quality hand made wooden toy tables, storage bins, toy chests, and building toys to go with them.
The tables are compatible with both regular Lego and Duplo if you get the base plates, or you can take the base plates off and put toy trains on top!
It has a ton of uses and is a very high-quality piece of furniture that will stay in your family for years to come. You don't see quality like that very often anymore. I just wanted to share!

These wooden name puzzles are wonderful to teach your child to recognize his or her name and to become more familiar with the letters of the alphabet.
There's a place to type in your child's name, and as long as it's nine letters or less, they can make it. These puzzles are beautifully handcrafted in Omaha, Nebraska.

Melissa & Doug has always been one of my favorite brands of toys for my kids. They clearly have a great eye for what types of toys will spark a kid's imagination.
This colorful wooden stacking train will help develop your child's hand-eye coordination and teach them the relationship between different shapes and colors. Plus, it's a fun train!

These water drawing mats are so cool! Your kiddo can draw, write, stamp, and trace shapes. The best part? No mess!! And it comes with a handy little bag to put away all the pieces when your kids are done.
My kids love to draw and my little guy (who's almost 2) wants to join in as well, but he either draws all over the house or breaks all the crayons into a million pieces. This is a perfect solution to that and they can all use it together!
Any grandparents who want to get a gift for their grandkids that's creative but won't make mom and dad's life miserable, check this out!

Your 2 year old will have a blast in this colorful tunnel by Melissa & Doug. It's toys like this that kids will play with for hours!
According to reviews, this one is much better constructed than other similar tunnel toys. It should last for years, even if your kids are rough (like mine). Another great bonus, it folds flat! As a mom, I love that!

This sports set by Little Tikes is entertaining and a great way for your little one to get some exercise.
Not only will this help tire them out a bit, but they'll learn numbers, colors, shapes, and how to follow directions.
Playing sports will help develop motor skills as well. The basketball hoop on this set is adjustable, so it will grow with your child.

This clever shape sorting house combines several things toddlers love into one great toy! Keys, colors, shapes, and sorting things are all perfect for 2 year olds.
According to reviews, this toy is a little challenging for some kids. You could always put it away for a few months and bring it out later if that's an issue. It's a great brain-stimulating puzzle toy!

Counting Cookies is an adorable way to teach your toddler to count to ten! They can also use them during pretend play in their epic toy kitchen.
The numbers zero through ten are on the backs of the cookies, and they have the corresponding number of chocolate chips on top.
In Summary
I hope these awesome educational toys for 2 year olds gave you some inspiration.
As long as your child gets to interact and experiment instead of just starting at something, they'll be in good shape.
Their brains are like sponges at this age and they are learning all the time!
What is your 2 year old's favorite toy? Let us know in the comments!
Other great articles for Moms
10 Best Fun and Educational Toys for 2 Year Olds | 2019 Gift Guide