Do you have a hard time keeping up with your family's schedule?
Are you constantly searching for the bills that need to go out today or a coupon you know you have somewhere that expires tomorrow?
Is there a pile of mail constantly forming on the counter and your kids' backpacks laying all over the place?
Do you find yourself in a panic trying to find your keys when you're already late to a doctor's appointment?
You need to get a family command center and get all your important things in order and at your fingertips!
What is a family command center, you ask? Let me tell you all about it!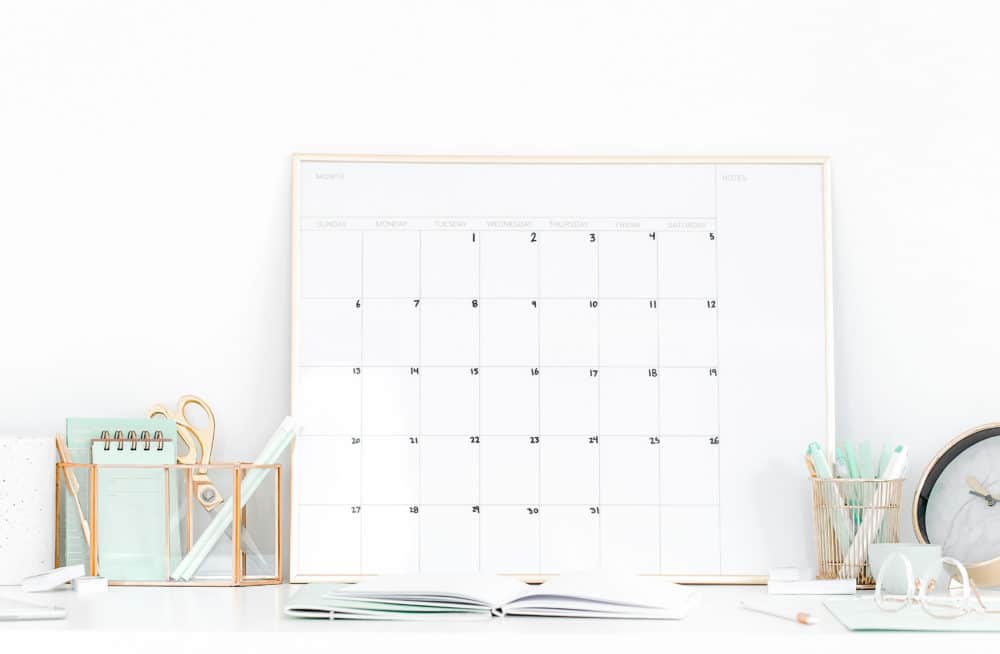 Family Command Center 101
A Family Command Center is a place where your family can go and see any and all daily, weekly, and monthly plans at a glance.
You can customize it to fit your family, but usually, the command center will include:
The meal plan for the week and the corresponding grocery list
A calendar with all appointments and schedules written down and easy to see
File folders to hold important mail, receipts, paperwork, and bills that need to be paid during the month
Hooks and bins for family members to put the stuff that they take when they leave the house, such as backpacks, purses, car keys, etc.
A marker board or chalkboard for writing notes
The chore chart for your kids
Fun, decorative touches of your own
There are endless configurations that you can use for your command center.
You can buy all the individual components and piece them together, or get an all-in-one set that's put together for you.
Figure out what will work for your family. Do you have a lot of activities you have to take your kids to each day? A family command center will help keep everyone in the know about the monthly plans.

Where is the best place to put a family command center?
The most common places for the command center are by the front door, in the kitchen or dining room, and in the living room.
If you're low on space, you can even put it in a closet!
The best place to put your command center is somewhere out in the open and close to the main entrance/exit of the house.
You want it to be easily accessible and in a place where your family will walk past it on their way out of the house.

(This post contains affiliate links. If you click one and make a purchase, I may receive a commission at no extra cost to you. Find out more here. Thank you for your support!)
How to Make Your Family Command Center
First, you need to figure out where you want to put it. Once you've decided on the perfect spot, measure the space. Your command center can be adapted to fit in a large or small area.
Now you need to decide what components will be the most beneficial for your family.
For example, I have three kids and I homeschool them. My husband works during the week and is gone before we get up in the morning.
It helps us to have a message board where I can remind him of important things for the day, and I like to have a meal planner and grocery list so we're all on the same page about dinner.
I also like having tiered paper holders on the wall to hold worksheets and workbooks I keep available for my kids.
We also have a nice big calendar to write down the months appointments and plans so we can easily see them at a glance. My kids like to look at the calendar and keep track of what day it is and count down to things they're looking forward to.
Now it's time for the fun part! Here are some layout ideas and inspiration for your command center setup.





Must Haves
There are so many different things you can add to your command center. It can get overwhelming really fast!
Most of the time you'll want a calendar, bins to hold papers, marker boards or chalkboards, hooks, and maybe some shelves. It all depends on what you want to do with your space.
I researched some top-rated must have organizational tools that will make it easier for you to get your command center up and running.
Reusable Calendars
One of the main components of your family command center is a calendar of some sort.
You can get a large paper calendar for the year, or you can get a reusable option like the ones shown below.
A dry-erase or chalkboard calendar is super convenient and you can use it over and over. Here are some top-rated options I recommend.
This dry erase calendar has a spot to put checklists, chores, and notes, plus it's super cute!
If you want a sturdy dry erase calendar, this is a great option! It would work with a lot of different setups.
This chalkboard calendar comes with chalk and magnets, which is always a plus. You could also pick up a pack of colorful chalk markers if you don't want to deal with pieces of chalk.
Cork Boards, Markerboards, Chalkboards, and Chore Charts
Corkboards are convenient ways to hang up notes, papers, or photos. A markerboard or chalkboard will make it super simple to leave quick notes and reminders, and a chore chart will help keep your kids up to date with their daily duties.
Sometimes you can find these combined into one unit which is great for smaller spaces. Here are a few options I found.
This dry erase grid chart is perfect for chores!
A corkboard and dry erase board combo will save on space.
This unit is almost a whole command center in itself! Just add a calendar and you're pretty much set. It even has a spot for flowers!
Here's a unit with a chalkboard, mail sorting spot, and five hooks along the bottom, and it's made of beautiful distressed wood! Perfect for a farmhouse vibe.
This is another really handy all-in-one unit. I just love the ones with a place for a plant or flowers!
Paper and File Holders
File holders are a convenient way to hold any important papers your family needs. You can use them for mail sorting as well.
These file bins are wall-mounted and you can label them with the reusable chalkboard labels that come with them.
A mail sorting bin like this is perfect to keep your bills and other important mail organized and easy to find.
A three-tier organizer is great for holding homework or printable worksheets!
This convenient system reminds me of the ones you can find at Ikea. You can get a few of them and increase your storage however much you like.
A sorter like this is a great option if you have your command center by a desk or if you have a shelf where you could put it.
You get the idea. There are so many different ways to get your command center organized and loads of different styles and options for how you want it to look.
In Conclusion
Creating a family command center for your home will take your organization to the next level. You won't have to worry about finding your keys, purse, bills, or other important things and your family will all be on the same page with their schedules.
If you want some free printables to use with your command center setup, click here to subscribe to my newsletter and I'll send you an email with the password to access my free resource library! It's got meal planners, weekly planners, printable art, and more! I'm always adding to it, and once you're in, you're in!
Does your family have a command center? What's your favorite set up? Tell us about it in the comments!
Related Organizational Articles
Inspiring Command Center Ideas to Organize Your Family's Schedule ASAP