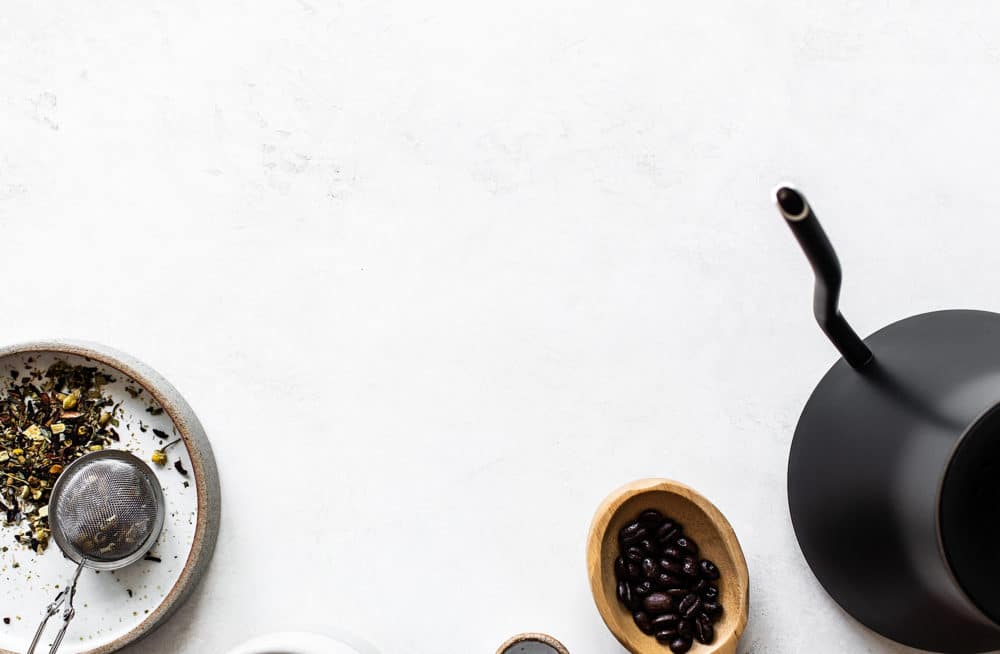 Are you stumped for gift ideas for the coffee snob in your life?
These gourmet coffee gifts are perfect for all types of coffee lovers for holidays, birthdays, or just for the fun of it.
(This post contains affiliate links. If you click one and make a purchase, I may receive a commission at no extra cost to you. Find out more here. Thank you for your support!)
I'm a huge coffee fanatic. I drink way too much coffee every day, my coffee cup collection is taking over our kitchen, and I have more coffee makers than I know what to do with.
BUT, I still want more! These coffee gifts are things I know coffee lovers will absolutely adore, and since I can't afford to go buy all of them for myself, I'll just tell you about them.
Gourmet Coffee
The one thing every coffee-obsessed person can't get enough of is…coffee! There's nothing worse than waking up early one morning and realizing you're out of coffee.
Spare your friend or loved one that terribleness and get them some amazing gourmet coffee as a gift. They'll be thrilled!
Coopers Cask Coffee
Cooper's Coffee Company is a small-batch roaster that specializes in Barrel-Aged Coffee, Single Origin Coffee and coffee gift box sets.
They roast and ship fresh coffee direct and offer distinct and interesting coffee that's perfect for the coffee aficionado in your life.
Their signature Barrel-Aged Series coffee is aged in recently emptied casks for months before roasting.
Unlike flavored coffee from syrups and extracts, the barrel aging process absorbs the natural flavors and aromas from the spirits and charred oak barrels.
They offer whole bean coffee, as well as French press, auto drip, espresso, and Turkish grinds. They even have K-Cups!
Besides coffee, they also carry Cooper's Coffee merch like sweatshirts, tee-shirts, tanks, hats, and a nice coffee mug.
These sets will make a perfect gift, and if your order is over $39.95 you'll get free 2-3 day shipping!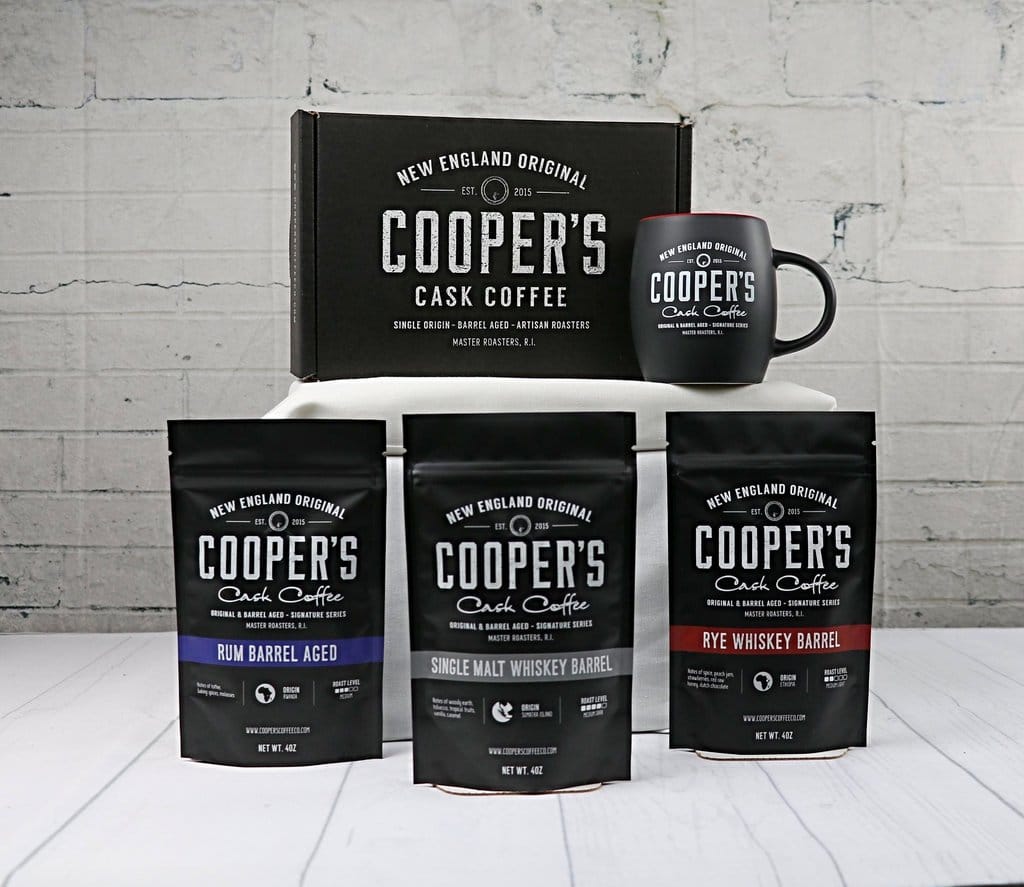 Each Trio Box includes one whole bean 4oz bag (12oz total) of each Uprising Coffee, Battle Cry Coffee and Thomas Tew Rum Coffee, plus that super nice mug.
Also available on Amazon here.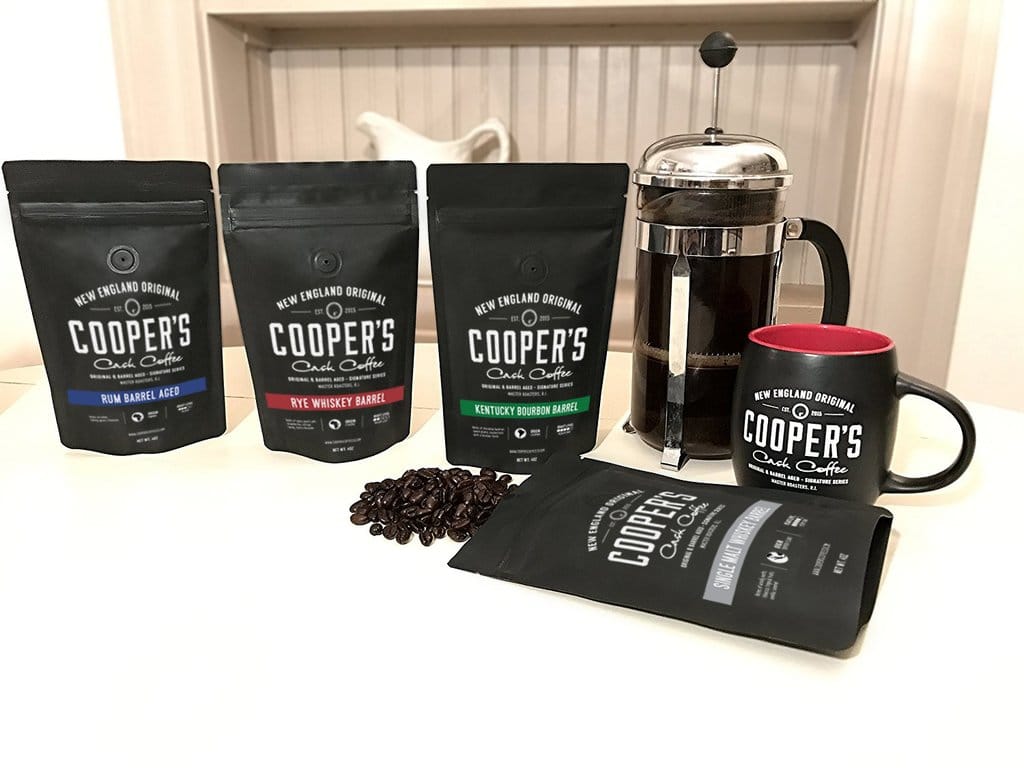 Four 4oz bags (16oz total) of our Barrel-Aged Coffees. This makes a great gift or simply a great way to try all 4 barrel-aged coffees. (Mug NOT included with this set – 4 bags of coffee only.)
Included are Kentucky Bourbon Barrel (Colombian), Uprising Stout Whiskey (Sumatra), Battle Cry Rye Whiskey (Ethiopian) and Thomas Tew Rum (Rwanda).
Uprising (Son's of Liberty Whiskey): Stout style American whiskey

Coffee Beans: Sumatra Lintong
Tasting Notes: Woody Earth, tobacco, tropical fruits, vanilla, caramel

Battle Cry (Son's of Liberty Whiskey) Rye American whiskey

Coffee Beans: Ethiopian Dry Processed
Tasting Notes: Bright and clean cup with a slight acidic spice, fruited notes of peach jam and strawberries, touch of sweetness of red raw honey and dutch chocolate

Thomas Tew Rum Barrel from Newport, RI

Coffee Beans: Rwanda Single Origin
Tasting Notes: Caramelized sugar, red raisins, molasses, rich cocoa, baking spices, vanilla, and oak

Bourbon Barrel Aged Coffee Kentucky Bourbon Barrels

Coffee Beans: Colombian Single Origin
Tasting Notes: Vibrant taste profile of rustic sweetness, a hint of cocoa and dark fruit notes with a bourbon finish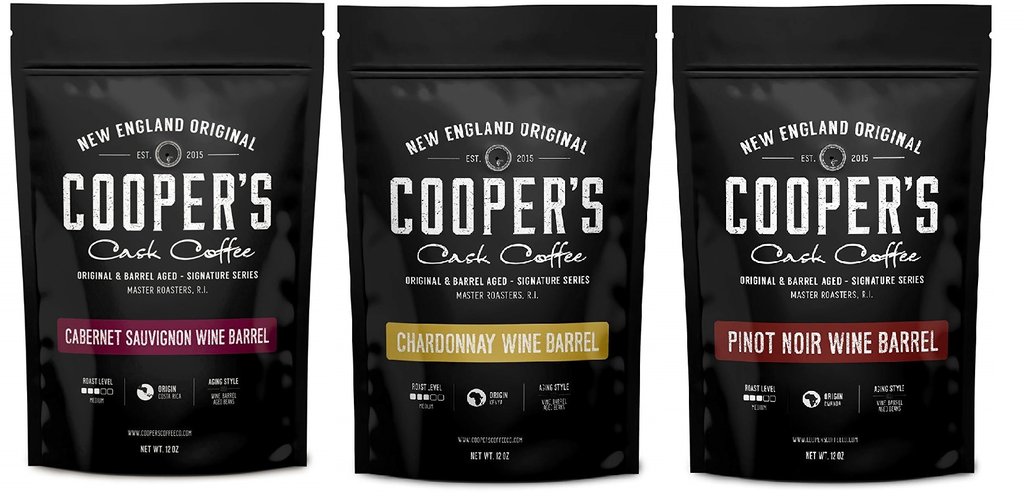 Do you know someone who loves coffee and wine?
This luxurious gift set is perfect for them!
The coffee beans are aged in wine barrels for an amazing and complex flavor profile.
This coffee set includes three 12 oz bags of Cabernet, Chardonnay, and Pinot Barrel Aged coffee (36oz total).
Artfully paired with Pinot Noir Wine: Grade 1 coffee beans which score high in a taste profile (90+ pts). You won't find a blended coffee here. One sip and you'll know you've found 'real' barrel-aged coffee.
Cabernet Paired with Single Origin Beans from Costa Rica: The honeyed process method imparts sweet flavor and complexities into this coffee. They are then roasted to reveal dark fruited notes and chocolate.
Chardonnay Paired with Single Origin Kenya Beans: A subtle tartness of green apples and green grape skins. A full body coffee that finishes slightly sweet with notes of honeysuckle nectar.
Pinot Noir Paired with Single Origin Rwanda Beans: A rustic sweetness of dried figs. This medium roast coffee gives way to a heavy sweet body, like the caramelized sugar from a Creme Brule crust.
---
Volcanica Coffee Company
Volcanica Coffee is a company that specializes in estate coffees from specific countries, exotic gourmet coffees such as Jamaican Blue Mountain, Kona, and Kopi Luwak, and flavored coffee, decaf, and blends.
They only purchase coffee beans grown on the slopes of volcanoes at high altitude.
When you order coffee from Volcanica, they roast it fresh right before they ship it out, so you know it's as fresh as possible.
The business is family run and has been roasting delicious, high-quality coffee for the last 14 years.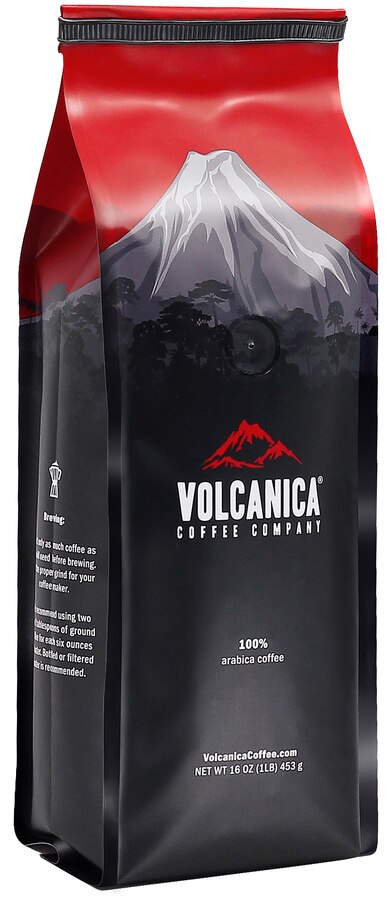 You can't go wrong with authentic Blue Mountain Coffee as a gift this holiday season.
The Clifton Mount Estate is one of the oldest coffee plantations in Jamaica. They've been producing gourmet coffee there since the 1790s.
Blue Mountain Coffee has a full flavor, balance, prominent fruit flavors, acidity, and has a strong and intense aroma.
It's regarded by many to be the best coffee in the world.
Medium roast
Roasted when you place your order
Single Estate
100% Certified Blue Mountain Coffee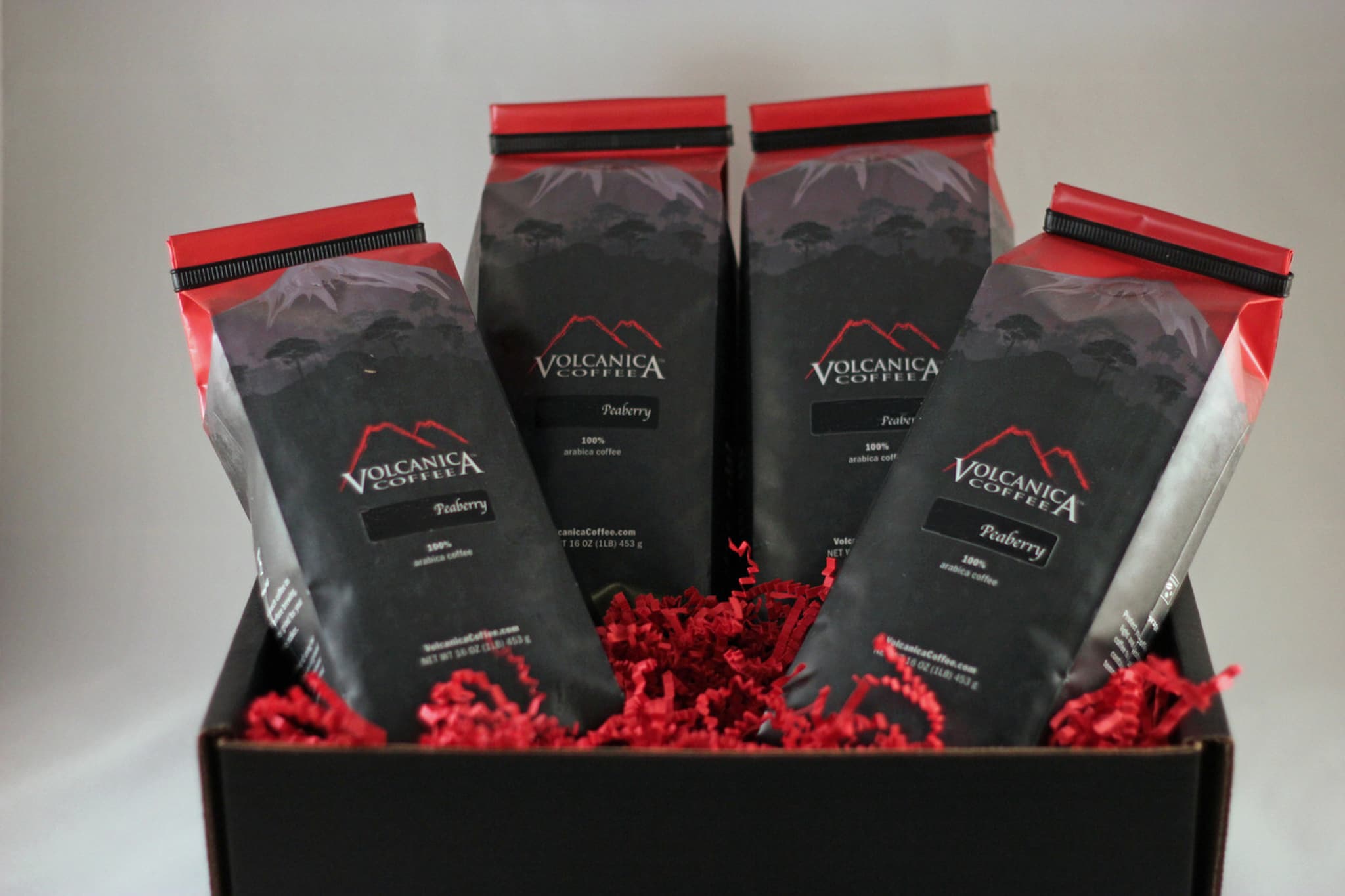 This Exotic Peaberry coffee gift box includes four 16 oz varieties of peaberry coffee and comes wrapped in a satin gift box with a ribbon and note.
Tanzania Peaberry
Guatemala Peaberry
El Salvador Peaberry
Malawi Peaberry
What's so special about Peaberry coffee?
A "peaberry" is a genetic abnormality that occurs in about 5% of regular coffee beans.
Instead of forming two coffee beans with one flat side each inside the cherry of the coffee plant, only one oval-shaped bean forms.
Some people say that peaberry coffee is the best coffee around, and others say it's not much different than regular coffee.
These ones from Volcanica are considered top-notch, so they're worth a try!
---
Out of the Grey Coffee
Out Of The Grey Coffee is a custom small-batch organic coffee roaster and tea merchant based in Fairview and Erie, Pennsylvania.
It's a family-run business focused on sourcing organic coffee beans in small batches and roasting them fresh when you order.
Their main concern is freshness and quality, so you know you'll be giving a wonderful gift to your favorite coffee fanatic. All of their coffees are Fair Trade certified, Rainforest Alliance certified and organic.

They offer a LOT of different types and flavors of coffee. Single-origin, artisan blends, flavored coffees, espresso, and even loose leaf teas.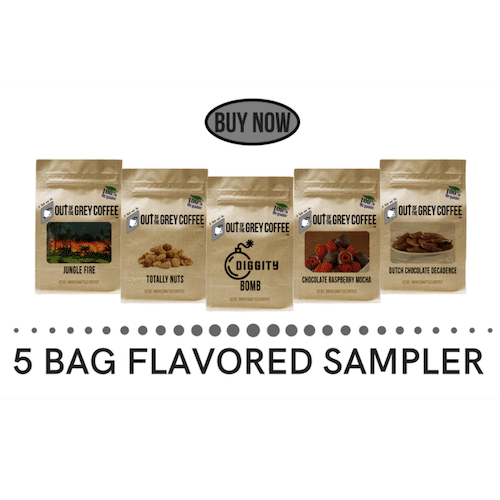 This yummy dark medium roast sampler includes…
Bomb Diggity – A white chocolate chip & butterscotch mocha.
Chocolate Raspberry Mocha – Silky smooth chocolate & juicy raspberries dusted with powdered sugar.
Jungle Fire – Rich, sweet & spicy with layers of amazingly delicious flavor.
Totally Nuts – Like drinking fresh roasted mixed nuts.
Dutch Chocolate Decadence – Rich, melt-in-your-mouth indulgence of chocolate
Includes Five Handcrafted Flavored Organic Coffees (4 oz. each).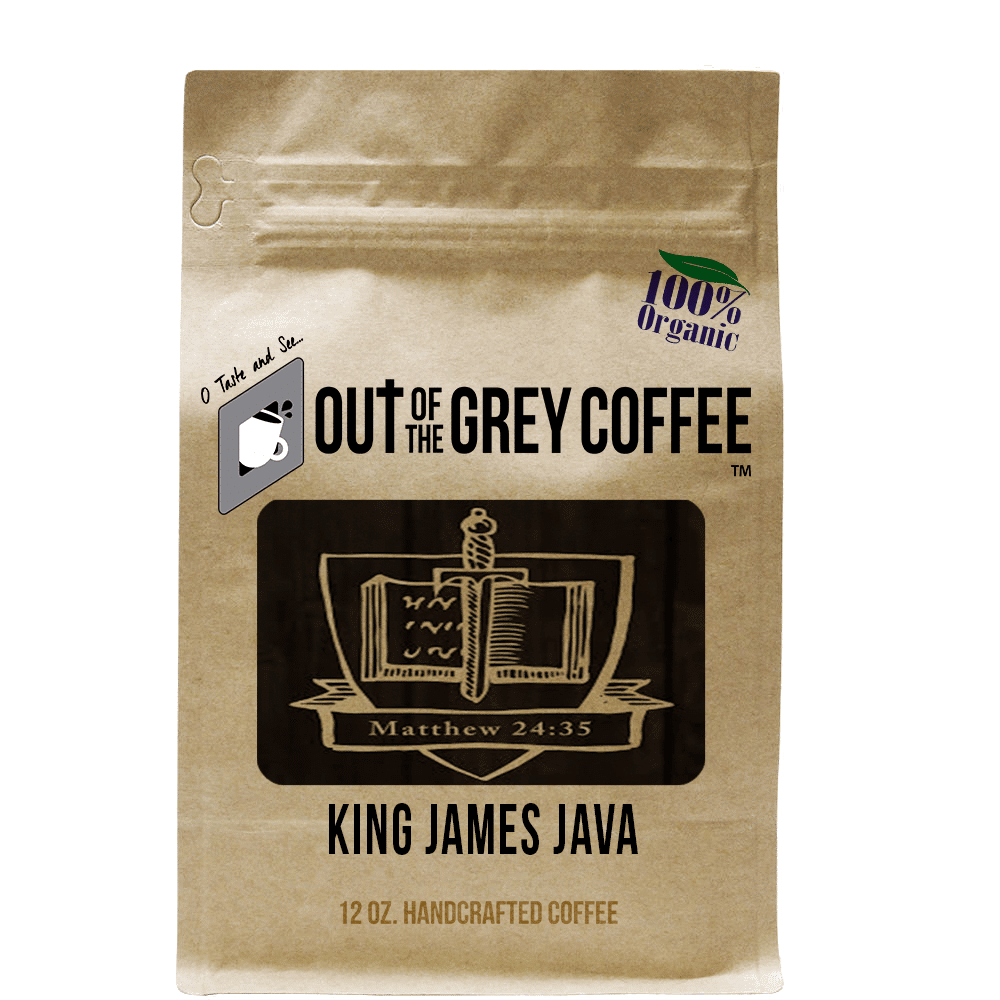 King James Java is a strong dark medium roast coffee flavored with Milk and Honey.
This is one of the most richly flavored organic coffees available. It has an irresistible taste of honey, caramel, and cream.
This coffee would be perfect to drink while curled up with a good book on a cold day!
Still can't decide which Out of the Grey coffee to choose? I hear ya, I want to try them all!
There are so many flavors and types of freshly roasted coffee available on their site, it's hard to decide what to get!
The good news is they have an online gift card that you can get in denominations of $25, $50, $75, $100, $150, or $250.
That way your coffee lover can pick whichever one they like from the website!
---
Koa Coffee
Koa Coffee Company is known for its premium Hawaiian Coffee that's handpicked, expertly roasted and delivered straight to your door.
They've been roasting coffee since 1997, and have racked up numerous awards demonstrating their skill. Koa Coffee won the Gevalia Cupping Competition and the PCCA Coffee of the Year award.
They were also featured in Forbes "Top 10 Coffees of the World" in addition to the Forbes' "50 of America's Best" as the "Best Coffee in America."
If you're looking for quality coffee, Koa Coffee is the right place to look. They're very popular with coffee lovers and have a stellar reputation.

This dark roast set includes…
Grande Domaine Kona coffee, a Kona Coffee Cupping Contest Winner for outstanding quality and balance.
Award-winning Private Reserve Kona Coffee, the Kona Coffee that Forbes called "Best in America"
Estate Kona, from a high elevation, single estate farm; a classic taste of Aloha

These Peaberry beans roast up full-bodied and smooth, with just a hint of bite.
This set includes one bag of medium roast Peaberry and one bag of dark roast Peaberry, in a lovely brown gift box.
---
Cool Coffee Gadgets
When you get deep into the world of coffee, you find out there are so many new and exciting gadgets to try.
Some of them are actually pretty cool (and some of them are completely unnecessary).
Here are a few coffee gadget gifts for coffee snobs that are worth looking into.
This little stovetop coffee roaster is highly rated on Amazon.
It's a cool coffee gadget and an affordable way to try out coffee roasting at home and perfect as a unique gift.
Add in a bag of organic green unroasted coffee beans, a decent grinder, and a cute container and you've got yourself a custom organic coffee gift basket!
The Aeropress makes coffee similar to a French press but without the grit in the bottom of your cup thanks to the microfilter.
It brews one to three cups of coffee or espresso per press and takes about a minute for coffee or 30 seconds for espresso.
This coffee press is lightweight and can be easily packed for traveling or camping.
Add this convenient and adorable bamboo Aeropress organizer and it's a perfect gift for a coffee lover with a small kitchen.
The Coffee Gator stainless steel coffee container keeps coffee super fresh and looks stylish, too.
It has special freshness valves to keep oxygen out while releasing the CO2 that's naturally produced by the coffee.
Plus it has a handy calendar wheel date tracker on the lid. This canister is a must-have accessory for any gourmet coffee drinker.
Funny Coffee Mugs, Decor and More!
Look Human has some great funny apparel, decor, and coffee mugs perfect as gifts for coffee lovers!
Funny shirts and coffee mugs with clever sayings are pretty safe bets when it comes to gifts. Everyone needs shirts and cups, right?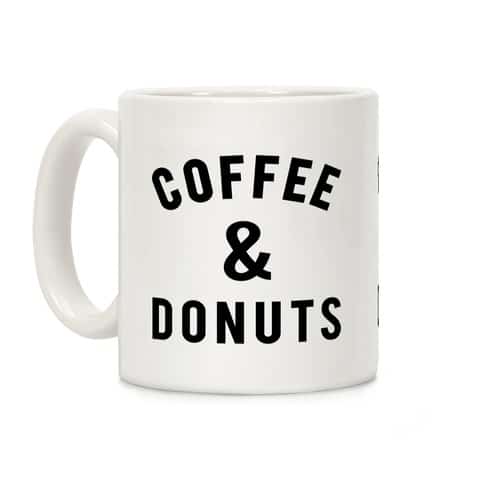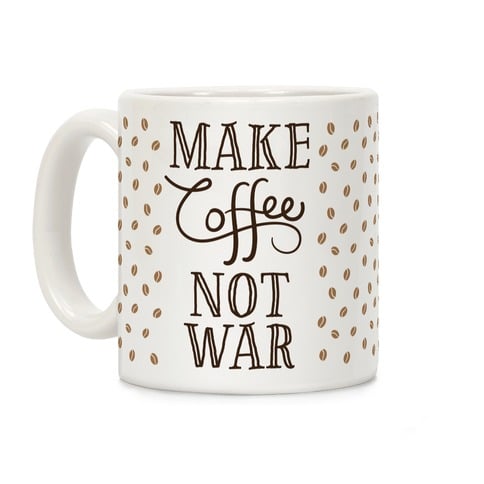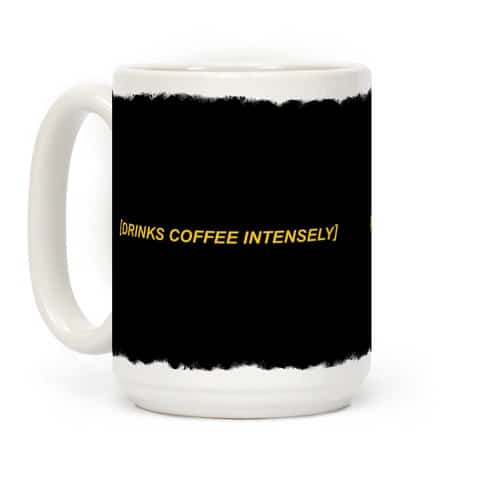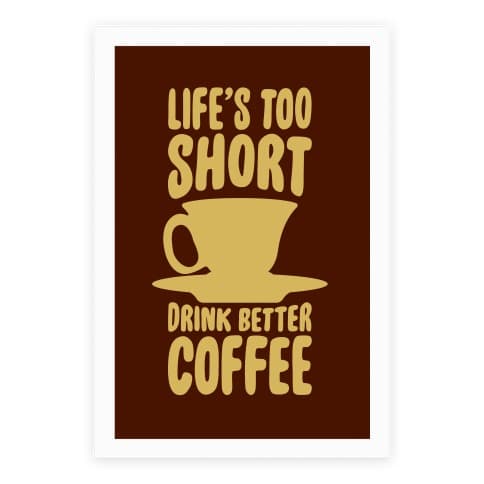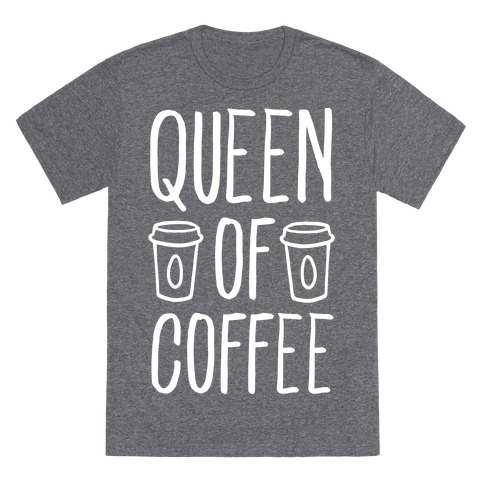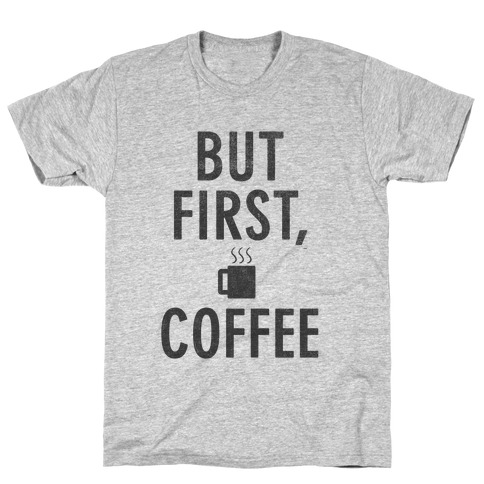 Coffee Snacks
If the person your shopping for already has everything they could possibly want, you can always get them food!
Almost everyone will appreciate some yummy treats, and these ones either have coffee in them or go great with a cup of joe.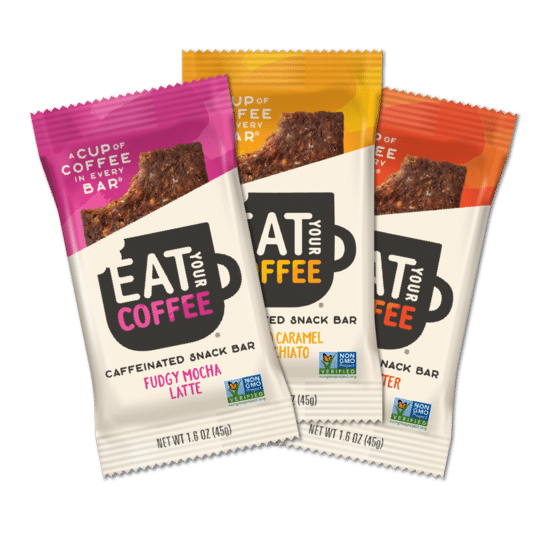 These healthy nutrient-packed snack bars are just the thing to get through the afternoon slump or for a quick breakfast on the go.
They come in several flavors like Fudgy Mocha Latte and Salted Caramel Macchiato (drool).
Naturally Caffeinated: Tasty snack bars caffeinated with a full cup of antioxidant-rich, fair-trade coffee.
Whole Foods: Vegan, gluten-free, non-GMO, kosher, and made with organic dates, oats, and roasted coffee beans.
Portable: On-the-go "slump buster" bar for a mid-morning and mid-afternoon snack.
Increased Performance: Real caffeine and nutrients fuel workout performance and promote muscle recovery.
These yummy Eat Your Coffee bars are also available on Amazon here.
OMG, I'm practically drooling while I write this. I love stroopwafels, and I'm willing to be most other coffee snobs will too!
This jumbo-sized variety pack comes with three flavors: caramel, honey, and chocolate.
Need a gluten-free version? Check out these!
These dreamy chocolate espresso beans are a mix of white, milk, and dark chocolate and come in a three-pound container.
I don't know about you, but I'd happily accept a gift of three pounds of chocolate any day, bonus points if there's coffee involved!
In Summary
I hope this gift guide helps you find the perfect gift for your favorite coffee snob this holiday season or any time of year!
If my husband is reading this, I'll gladly take any of these gifts for literally any occasion! ??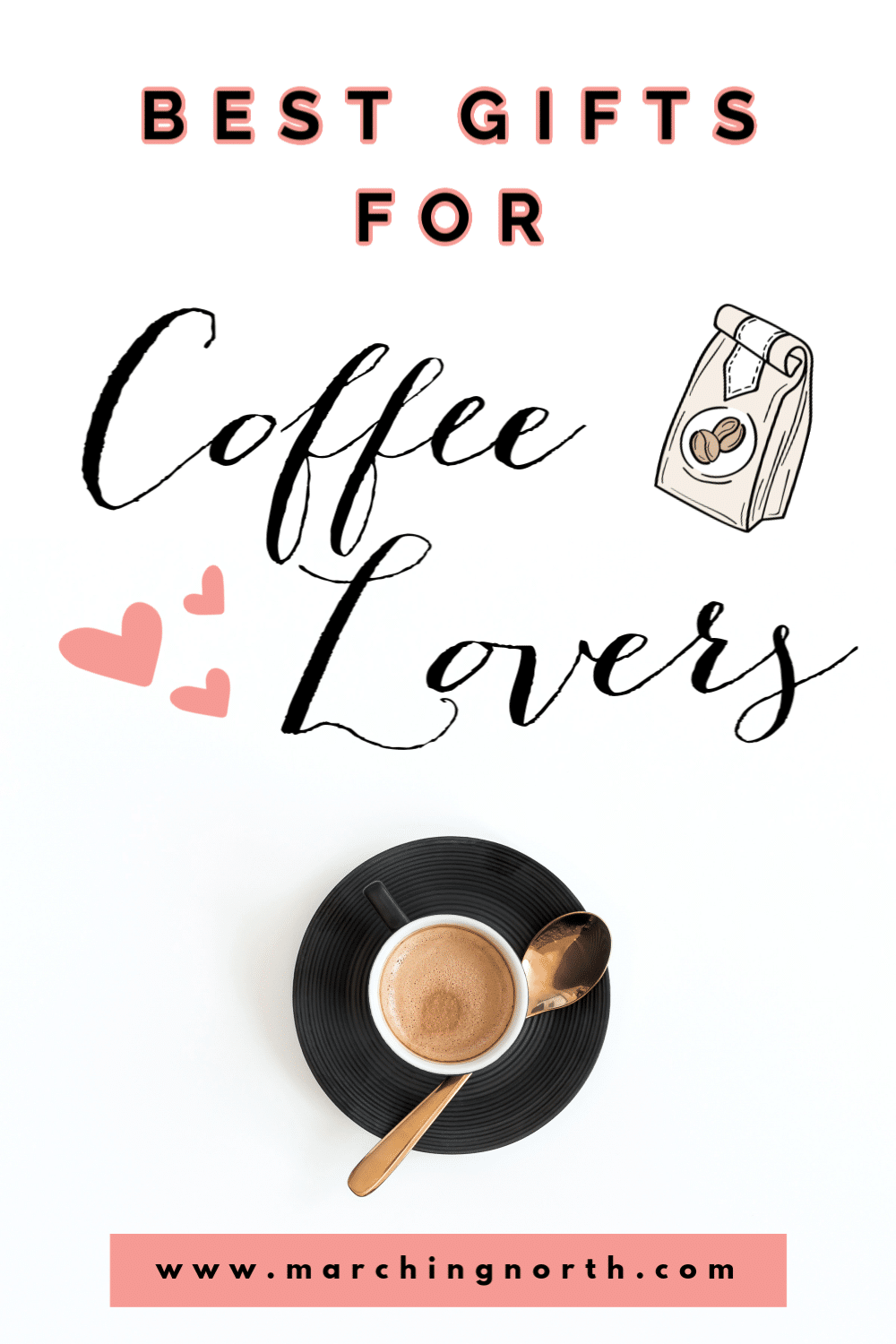 Related Articles
The Best Gourmet Coffee Gift Ideas for Coffee Snobs