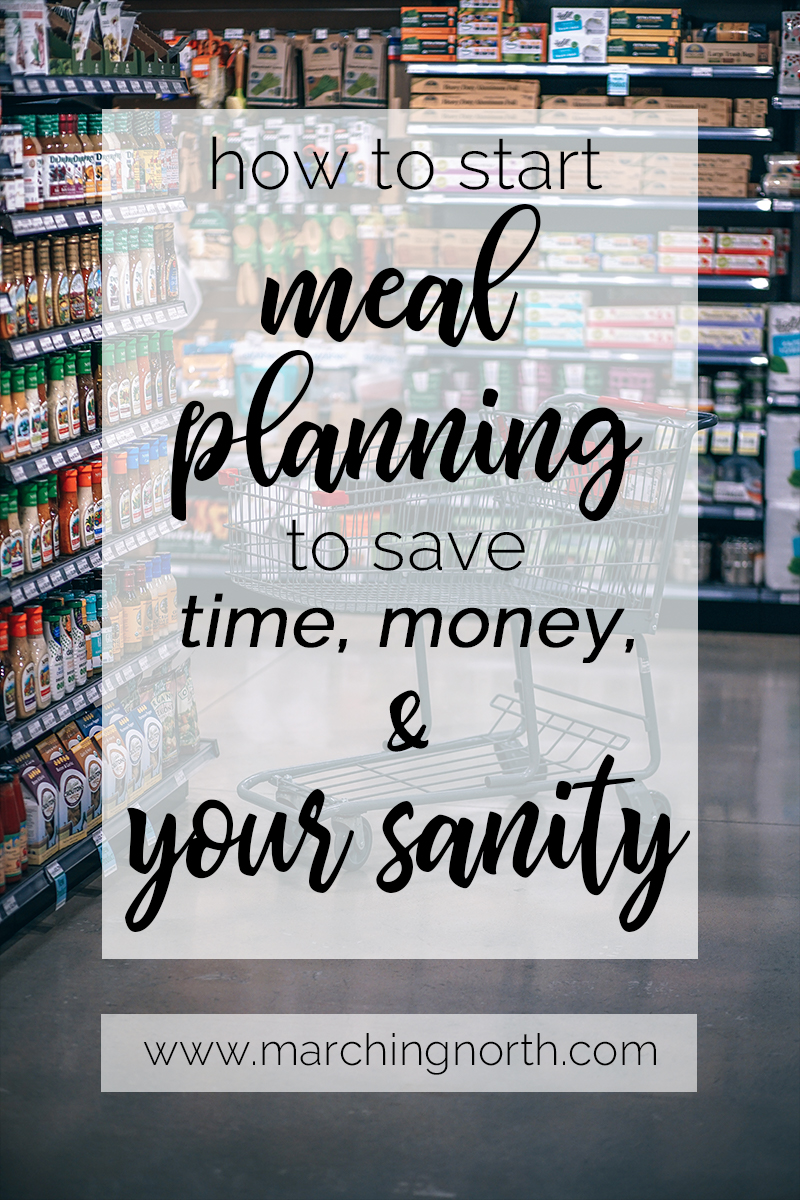 Start meal planning today and save your sanity!
---
Hey, do you know what you're making for dinner tonight?
How about tomorrow?
Did you go to the store yet?
Do you feel the urge to punch me now?
Until very recently, I was feeling the same way. Not so much that I wanted to hit myself, but mostly that I didn't want to think about dinner, or lunch, or breakfast, or… you get the idea.
It doesn't have to be this way!
Meal planning has revolutionized food in our house. Seriously, it's life-changing. My kids are picky. My husband comes home from work, starving and exhausted. If I don't have food plans nailed down, it can go south very quickly.

I resisted meal planning for so long because it seemed too complicated and daunting. Time is a precious commodity around here! But guess what? Meal planning has given me back a big chunk of my time. And another fun side effect is our monthly grocery bill has gone down! I wasn't expecting that one, but all that convenience food adds up.
---
This post contains affiliate links, which means if you click the link and make a purchase, I'll get a commission at no extra cost to you. I only promote products I've personally used and trust. Thanks for your support!
There are different ways to approach meal planning. You can print out a planner, write it out, and stick it on your fridge. Then you can quickly look at the recipes for the week and make your grocery list.
Or, if writing it out doesn't work for you, another route is subscribing to a friendly service to do it for you! The Dinner Daily is the site I used for meal planning when I was first starting, and it was so easy! You get a 2-week free trial, and then it's just $4/month. (For a limited time get 10% off: enter code SCHOOL10). When you create an account they ask which store in your area you would prefer to shop at, and they base your meals around what's on sale. You can edit the meals and pick different ones or change the sides. Once you have it the way you want it, you can print out the grocery list and it's all laid out for you. They even link to coupons you can print!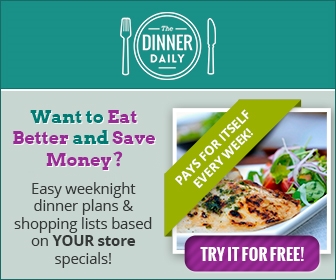 How to Simplify Your Life and Save Money with Meal Planning

Start with a Daily Meal Theme
Assigning a theme to each day of the week helps narrow down your choices. Think "Meatless Monday", "Taco Tuesday", etc. I like to add in a Crockpot day, an Instant Pot day and soup and sandwich day to keep my stress levels down.
If you have activities to take your kids to or other scheduling conflicts, make note of that and plan easy or make-ahead meals for those nights. The point here is to make your life easier! Save the more complicated meals for nights with no other obligations.
Make a List of Your Family's Favorite Meals

Organize it by type, for example "Chicken", "Ground Beef", "Vegetarian", "Pasta", "Tacos", you get the idea. Simplify your categories and don't put the same recipe in more than one column.
If your list is looking a little sparse, find some recipes you think your family would like and test one or two each week. The ones they like can go on the list.
Sometimes finding recipes can be hard, especially if your family is picky (like mine!) This Ultimate Bundle has tons of healthy recipes and meal planning resources. I've made several of their Instant Pot recipes and my family loved them. It includes "1,072 recipes across 12 categories + 200 dessert and beverage recipes, 30+ ready-to-use meal plans with shopping lists and prep notes, 5 e-courses, 5 ebooks, and 4 printable packs & workbooks". Check it out!


Make Sure Your Weekly Recipes Share Some Ingredients

For instance, if you're making a meal that uses fresh cilantro on Monday, plan another meal on Tuesday or Wednesday that also uses cilantro. That way you can stretch your ingredients and get more bang for your buck.
A great way to save time is to go ahead and prep that ingredient for both meals when you're making the first one. If two meals call for cilantro, go ahead and chop enough for both meals, and put the cilantro for the second meal in a Ziploc and throw it in the fridge. It's so satisfying to know you have stuff already prepped!
Time to Build Your Grocery List

Now that you know what you're making for the week, writing up your grocery list is a cinch! Organize your list by section to save time and prevent backtracking at the store. If I don't organize my list based on the layout of the store it ends up taking me twice as long to shop. Ain't nobody got time for that!
Make sure you download the Ibotta app and get cash back on your groceries! I've become such a nerd about this, but it's so fun to upload my receipt and see how much I get. Plus they have cashback bonuses if you get your friends to sign up, win-win!

Another great place to check for deals is coupons.com. You can pick which coupons you want and print them out before you go to the store. Clip them to your list so you remember to use them, sometimes I forget!
---
That's it! You made a meal plan!
I hope this article helps you take the stress away from dinnertime and start planning your family's meals. As a stay at home mom, I know how anxiety-inducing mealtimes can be, especially without a plan. You got this!
What's your family's favorite meal? Let us know down below!
Here are a few more articles for your reading pleasure:
How to Start Meal Planning and Save Your Sanity!