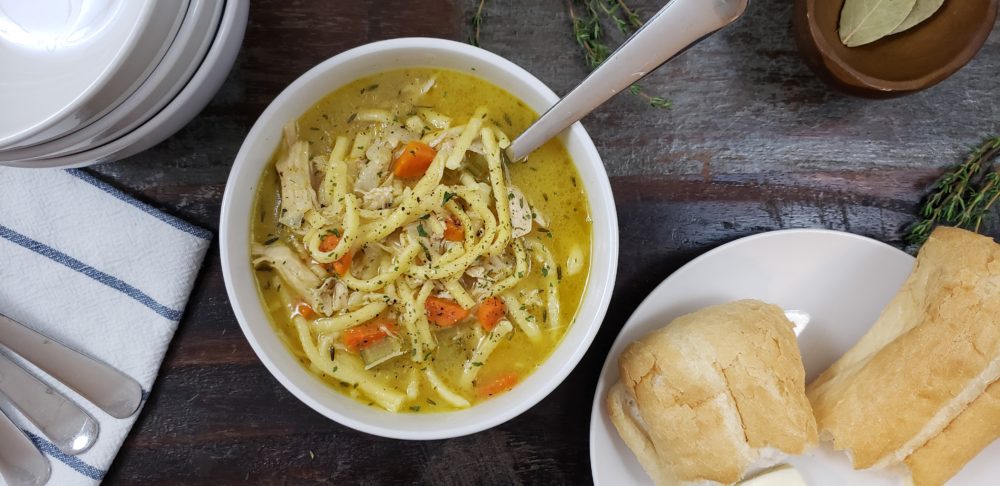 Are you looking for a chicken noodle soup recipe that is AMAZING?
Chicken Spaetzle Soup is the ultimate comfort food for a cold winter day, or any time you have a craving for a bowl full of deliciousness!
If anyone in your family is getting a case of the sniffles or dealing with a cold or flu, this soup is a great way to make them feel better and get some nutrition into them.
Keep reading for more information about Aldi's glorious Spaetzle Noodles and this life-changing chicken noodle soup recipe!



(To skip straight to the recipe, click here.)
Chicken Noodle Soup is the quintessential cold remedy, but honestly, I'm not really a huge fan.
Maybe it's because I grew up on the stuff in a can with those gross little pieces of hard chewy pink "chicken" and an ungodly amount of sodium.
However, this version of chicken noodle soup converted me for good!
Every time I made chicken noodle soup before this, I had noodle issues.
They would always end up mushy.
At first, everything seems good, but after a small amount of time the noodles end up getting all soggy and falling apart. No bueno.

Also, I'm not a huge fan of cooking the chicken right before making the soup. It feels like I'm cooking two meals.
I barely have time to cook one meal, let alone two.
Luckily, I decided to get an Instant Pot after hearing all the hype about it. So far my favorite thing to do with it is to pre-cook a bunch of boneless skinless chicken breast in advance.
Then I shred it and pop it in the freezer to use later. It's so convenient!
Sometimes I find that leftover chicken gets a weird flavor, but the chicken that I froze tasted totally perfect in this soup, and I'm picky!

You could also use a whole chicken and cook it straight in the pot. Once it's done, remove the carcass and pick off all the meat and add it back to the pot.
That's probably the most nutritious way to do it, so if you have a whole chicken you need to use, go for it.
I didn't do that for this recipe because I already had my Instant Pot chicken in the freezer.
Now let's talk about what makes this chicken noodle soup special.
I was shopping at Aldi one day and I came across this package of Spaetzle.

I wasn't sure what the story was with them, but I liked the way they looked and decided to get them.
After a little online research, I found out they are a much loved traditional food from the Swabian region of Germany.
Fun Fact: I also read that Swabians don't appreciate them being referred to as a noodle.
I agree, they definitely seem to be in their own category of awesomeness.
Spaetzle works so well in this soup. It's really nice and hearty and doesn't get mushy as fast as egg noodles do.
My family polished off this whole pot of soup in one sitting (there are five of us, one of which is a toddler), so you might want to double the recipe if you want leftovers!
Life Changing Chicken Spaetzle Soup

Like the name suggests, this take on chicken noodle soup will possibly change your life! It changed mine! Perfect for a cold day or on a day when someone has a cold.

2 Tbls olive oil (extra virgin)
1/2 stick salted butter
2 stalks celery (chopped)
3 carrots (chopped)
1 yellow onion (chopped)
32 oz chicken bone broth
1 tsp chicken base
2 cups water
1/2 package Spaetzle (17.6 oz package)
5 stems thyme
1/4 cup fresh parsley (chopped)
2 Bay leaves
1 tsp garlic powder
1 1/2 to 2 cups precooked shredded chicken
Salt and pepper to taste
In a soup pot saute celery, carrots and onion in olive oil and butter until translucent but not browned.

Add herbs, bay leaves, garlic powder, salt and pepper. Stir to combine.


Add in chicken bone broth, chicken base and water and stir to make sure chicken base is dissolved. Cook about 10 minutes or until vegetables are cooked through.

Add shredded chicken and stir to combine.

Mix in Spaetzle and simmer for about 12 minutes or until done.

Taste soup for seasoning and add more salt if necessary.
I would recommend doubling this recipe if you have more than 2 or 3 adults eating.  Between my husband, myself and my daughter we polished off the whole batch in one day.  I'm not sure how this soup would hold up to being refrigerated.  I think it would probably still be pretty good but the spaetzle would be softer.
I bought the spaetzle and bone broth at Aldi.
I precooked the chicken in my Instant Pot, then shredded it and popped it in the freezer.
---
Have you tried this recipe yet? How'd you like it? Let us know in the comments!
We've made this soup several times over the past year and it's still one of our favorites!

Related Posts
Life-Changing Chicken Spaetzle Soup Recipe