Looking for Halloween costume ideas for kids, spooky recipes, creepy movies, and ghostly activities for Halloween 2020? This ultimate guide has got you covered!
---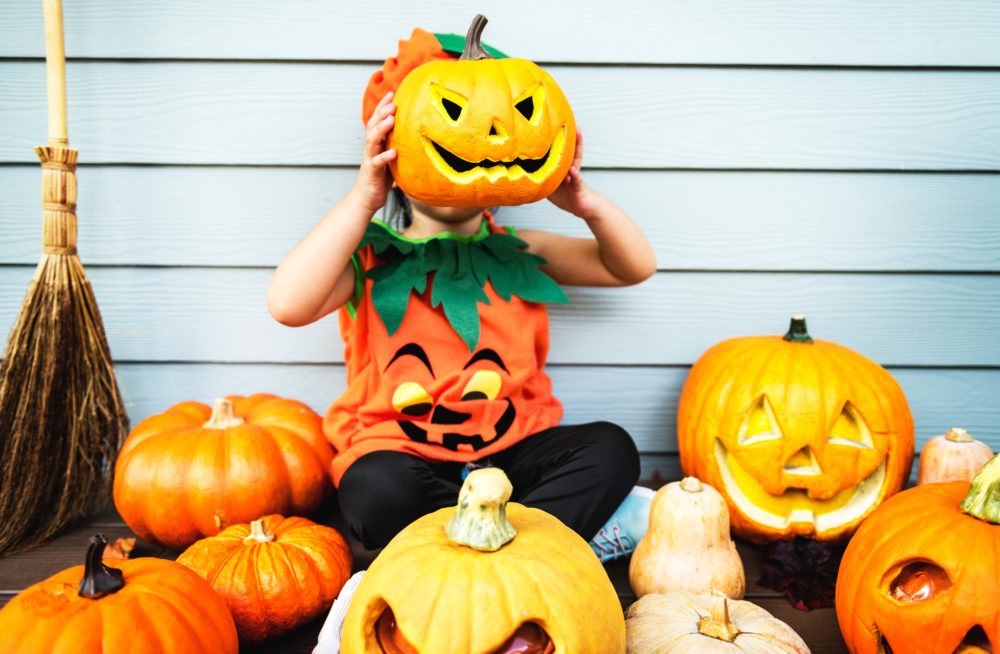 Halloween is almost here! My family absolutely loves this time of year. My hubby comes up with spooky movies to watch, I make some fun creepy Halloween recipes, and we bask in the scary goodness for the whole month of October.
This year has been a doozy, and trick or treating probably won't look like it usually does. We can still have a fun time though, even if it's at home!
Just in case your kids haven't quite figured out who they want to dress up as this year, I put together this ultimate Halloween guide to help save you time and energy searching for costume ideas.
There's also a list of family-friendly movies to get in the Halloween spirit, spooky recipe ideas, and fun Halloween activities the whole family can enjoy. I picked the top 13 in each category to keep it extra Halloweenish!
Before we get started, I just wanted to mention that while I categorized the costumes by girls and boys for the sake of organization, I feel that anyone can dress up as any of these costumes regardless of their gender.
My daughter isn't a fan of super girly stuff, pink or unicorns. She said she does like the Captain Marvel costume, but last year she rocked the inflatable T-Rex costume.
My personal fave is the Unicorn Onesie, I'm thinking I might go for the adult version of that this year! Any excuse to wear PJs in public, am I right?!
All of these costumes were deemed cool by my picky kids, and I didn't include anything gruesome or gory.
Without further ado, here's my Ultimate Halloween Guide for 2020!
---
(This post contains affiliate links. If you click one and make a purchase, I may receive a commission at no extra cost to you. Find out more here. Thank you for your support!)
Halloween Costumes for Kids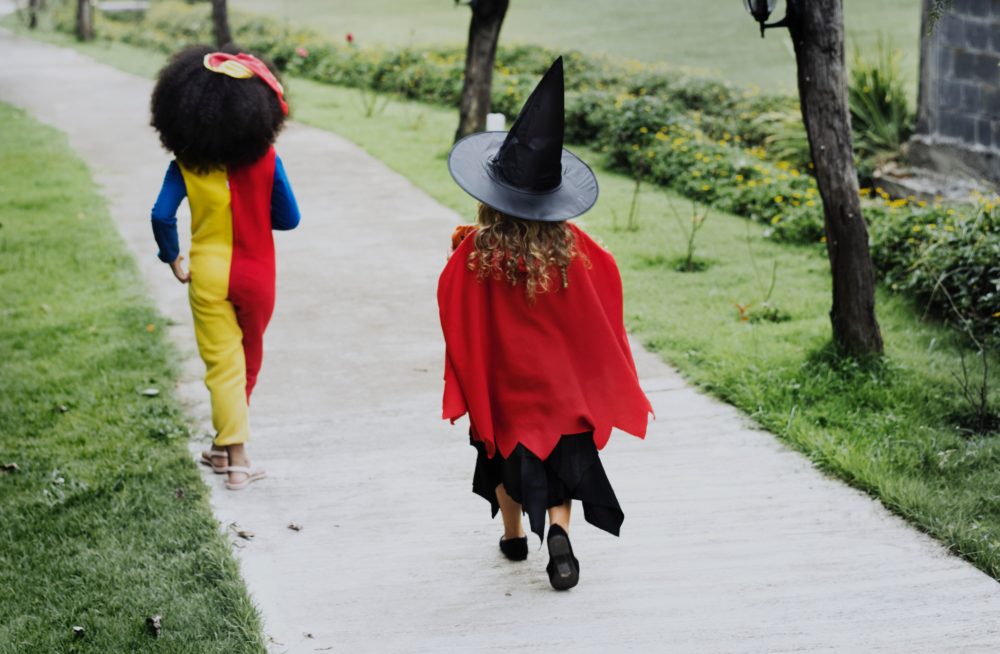 All of these costumes are on Amazon.com. We buy a lot of stuff from Amazon, and since we have a Prime membership, we get free 2-day shipping most of the time.
If you aren't already signed up for Prime, I highly recommend it. Besides fast free shipping you also get access to Prime Movies and Prime Music, plus a whole bunch of other perks. Sign up for Prime here.
Female Robin from Batman
Rosie the Riveter
Rainbow Skeleton with a Tutu
Queen Amidala from Star Wars
Amelia Earheart
Unicorn Onesie (My fave, so comfy looking!)
Classic Witch
Captain Marvel
Princess Poppy from Trolls
Supergirl
Gamora from Guardians of the Galaxy
Medieval Knight
---
Steve from Minecraft
Skull Trooper from Fornite
Goku from Dragon Ball Z
Luigi from Super Mario Bros.
Master Chief from Halo
A Ghostbuster
Groot from Guardians of the Galaxy
Harry Potter
Thor from Ragnarok
T-Rex
The Flash
Spider-man
Link from The Legend of Zelda
---
Halloween Recipes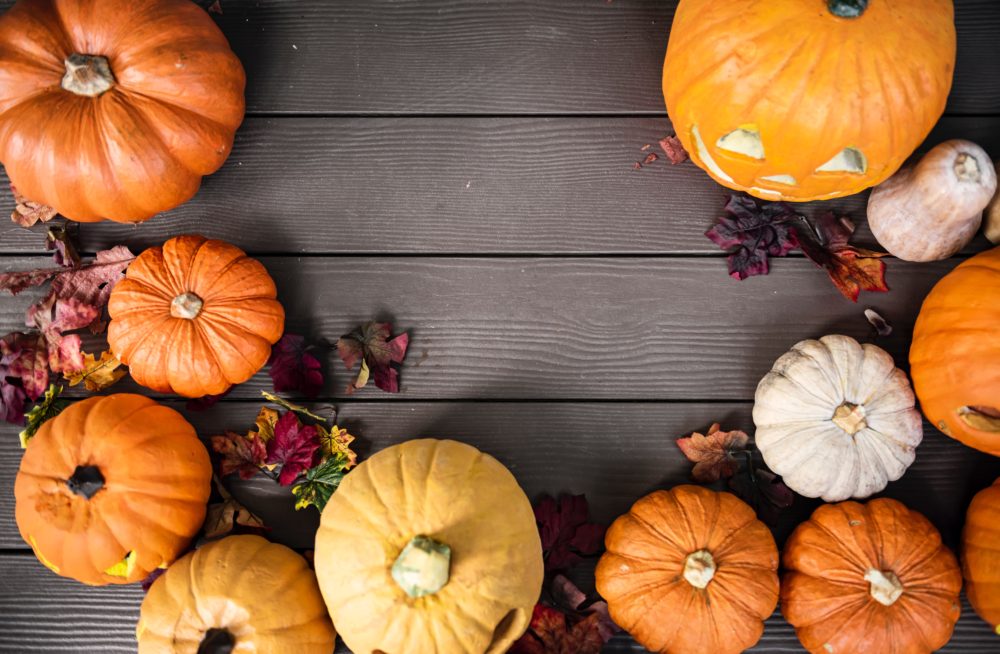 Halloween Appetizers
One of my favorite family activities is having an app night and watching movies or playing video games together and snacking all evening. These recipes would also be great for a Halloween shin-dig!
Offset some of the Halloween sugar with these savory recipes!
Spooky Halloween Desserts
Nothing says Halloween like sugary goodness! My kids love to help me bake treats around the holidays.
There's just something about baking in the fall that is so comforting and fun. If you have a Halloween party planned, these yummy treats are sure to be a hit!
Halloween Drinks
All of these drinks are non-alcoholic (although that could be changed for the adults, wink wink!). They would be perfect for a Halloween party, or just for fun on spooky movie night.
---
Halloween Movies for Kids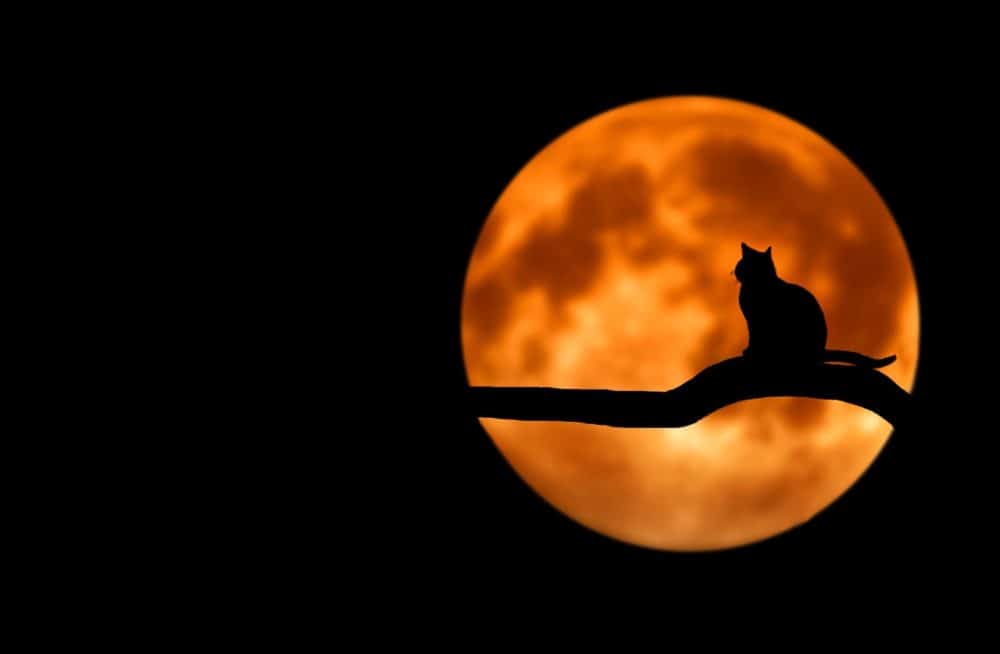 These are movies we watch around Halloween with our kids. Our kids are getting a little older (not counting the little guy, but he doesn't really pay attention) and like creepy movies as long as they aren't too scary.
Use discretion if your kids are younger or easily creeped out, and keep in mind that some of these older movies had some borderline inappropriate stuff and maybe an expletive or two (Beetlejuice, I'm looking at you!) If you want to find these on Amazon, just click the picture.
Spirited Away
Ghostbusters 1 & 2
Casper
Beetlejuice
The Nightmare Before Christmas
The Addams Family & Addams Family Values
Gremlins
It's the Great Pumpkin, Charlie Brown
The Goonies
Hocus Pocus
Monster House
Paranorman
Hotel Transylvania
---
Halloween Activities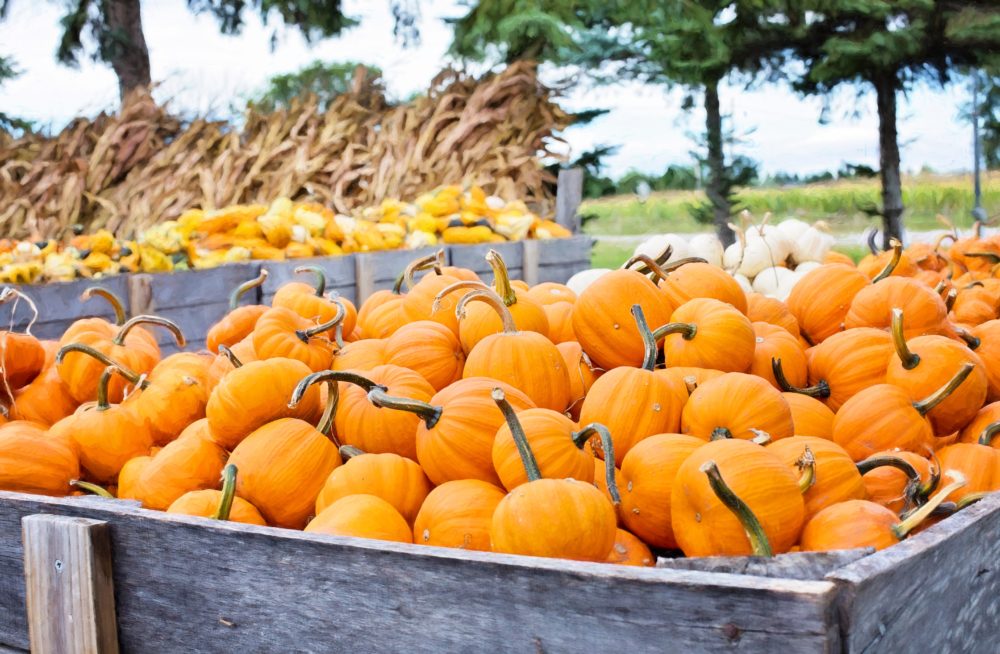 There are so many fun things to do in the month of October. One of our favorite activities is going to the local pumpkin patches and having hot cocoa and apple cider while we walk around and check out the festivities.
Fall is the best time of year to get outside and have some fun, so definitely check out these outdoor activities. As a family of introverts, we love our inside time, so there are some good indoor activities too!
Go to the Pumpkin Patch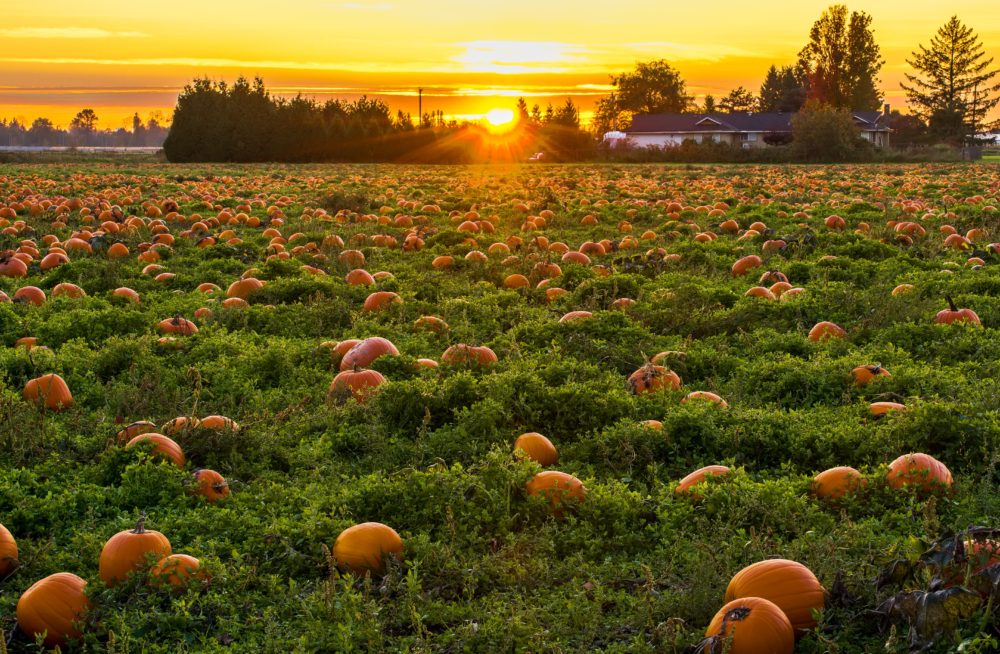 The Pumpkin Patch is a great fall activity! Where we live they have carnival games and rides, hot cocoa and apple cider, and my favorite part: apple cider donuts!
They have pumpkins too, but they're super expensive so we always buy ours at the grocery store. If you live in the Midwest, or anywhere else where they have these, be sure to check it out!
Have a Scary Movie Night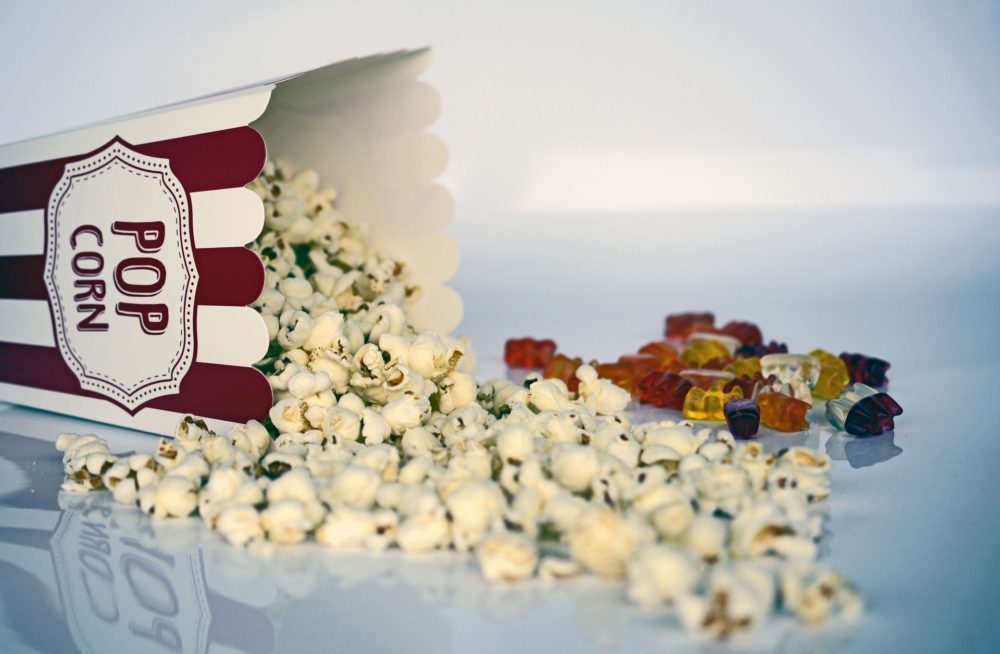 Get all cozy on the couch and watch some scary movies! Make sure you have some spooky snacks and drinks, turn off the lights, and give everyone a cozy blanket to snuggle up with.
Bonus points if you light some candles or put up some spooky Halloween lights!
Make a Haunted Gingerbread House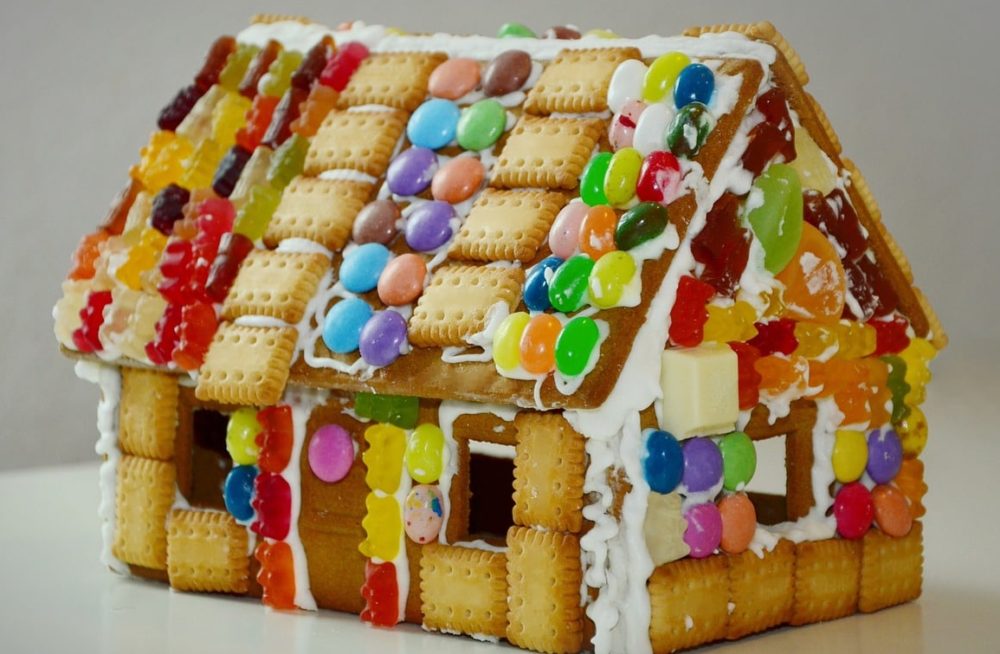 My kids love doing the gingerbread house kits for Halloween. By the time they finish their masterpiece there's candy and icing all over the place, but they have fun!
A drawback to the pre-made kits is they taste terrible and half the time they come broken. My kids don't mind, but if you're feeling a little adventurous, check out this kit to make your own haunted gingerbread house from scratch!
Read Creepy Books Together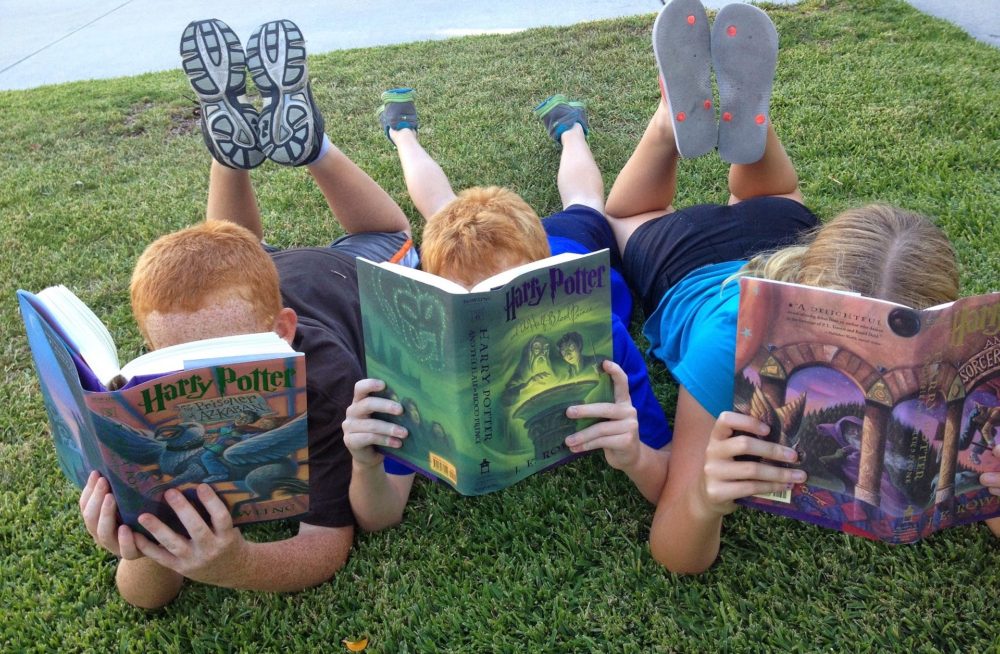 Grab your kid's favorite books and pile on the couch for a relaxing evening of reading! Some of our favorite books to read this time of year are Goosebumps and The Harry Potter series.
Goosebumps has been around since I was a kid and it's still popular today. Some of them are pretty creepy, so make sure you're kid won't get too freaked out.
Harry Potter isn't as creepy, but it's still got a pretty Halloween-y vibe. Plus, the stories really suck you in! They're great for all ages.
Besides getting into the Halloween spirit, reading aloud is a great activity to do as a family and helps your kids develop a love of reading. If you're kiddos are up to it, take turns reading aloud so they can get some practice in.
Play Some Creepy Video Games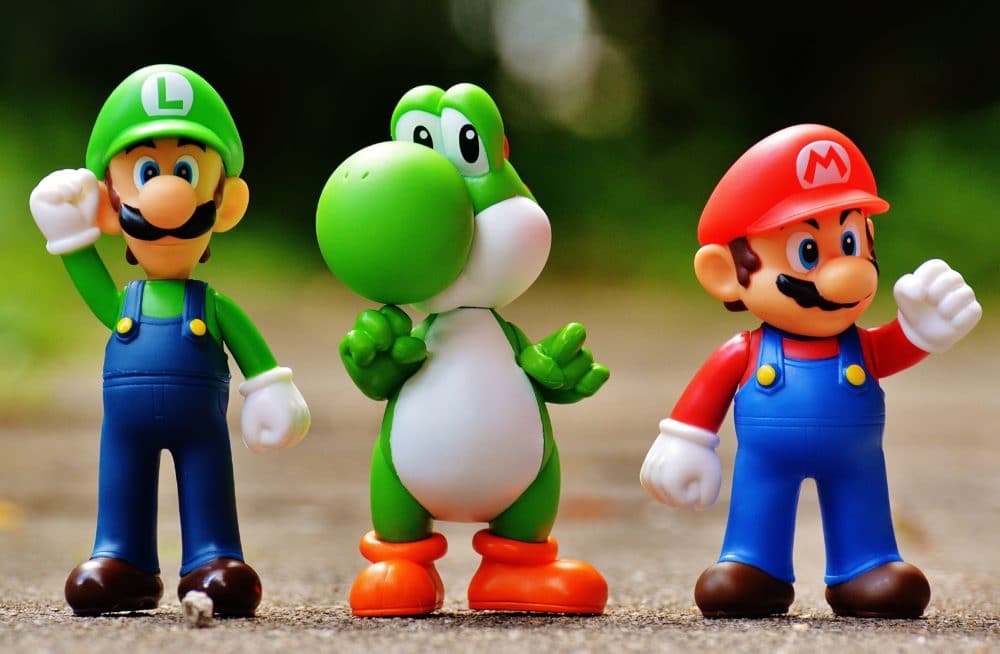 We are a house of gamers. My husband is obsessed with all things video game related and we have pretty much every game system from NES and up (I'm not joking).
Our kids have been gaming since they were old enough to hold a controller! Some of our favorite Halloween-ish games are Luigi's Mansion, Hello Neighbor, Bendy and the Ink Machine, Five Nights at Freddie's, and my kids like to make Halloween worlds in Minecraft as well.
We love the Nintendo Switch, it's the system the kids play on the most. They love all things Nintendo!
Decorate for Halloween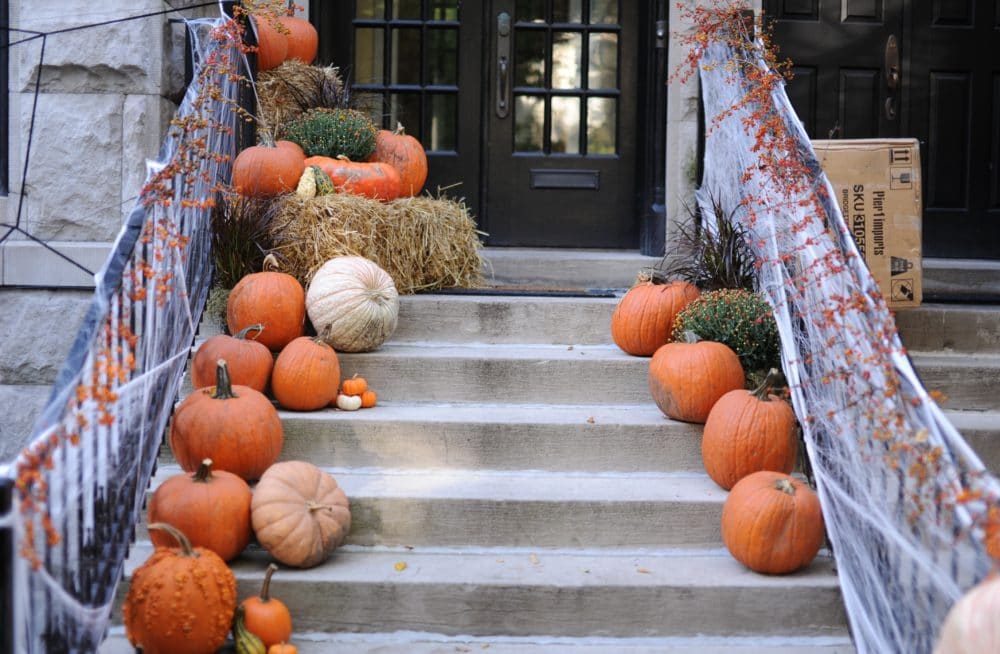 If you have a yard to decorate, this is a super fun thing to do with your kids. We currently live in a townhome and don't have a yard of our own, so we decorate indoors instead.
At our old house we had a big yard and we would decorate like crazy! We bought the little hanging ghosts and Jack-o-Lantern kits that are basically a plastic bag that you stuff paper into and use twist ties to secure.
My kids loved getting the fake spiderwebs and putting them in the bushes. You can buy decorations at the store or go DIY and make your own!
Go on a Hayride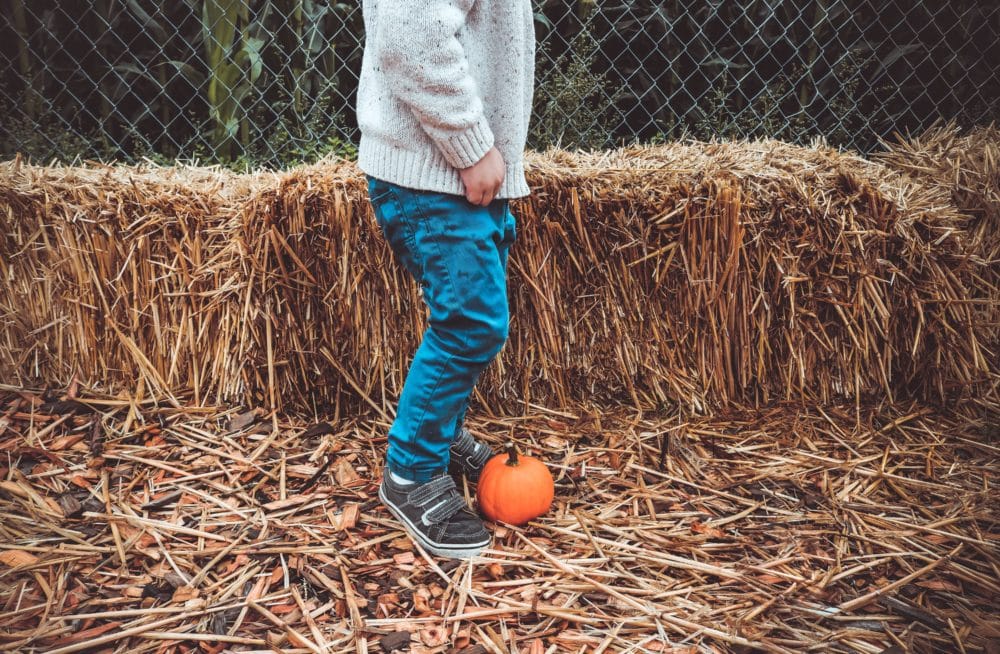 See if there's a place that does hayrides where you live. We've done a few of these and the kids really enjoy it.
Make sure to bring everyone a sweatshirt, sometimes it gets pretty chilly!
Do a Corn Maze Together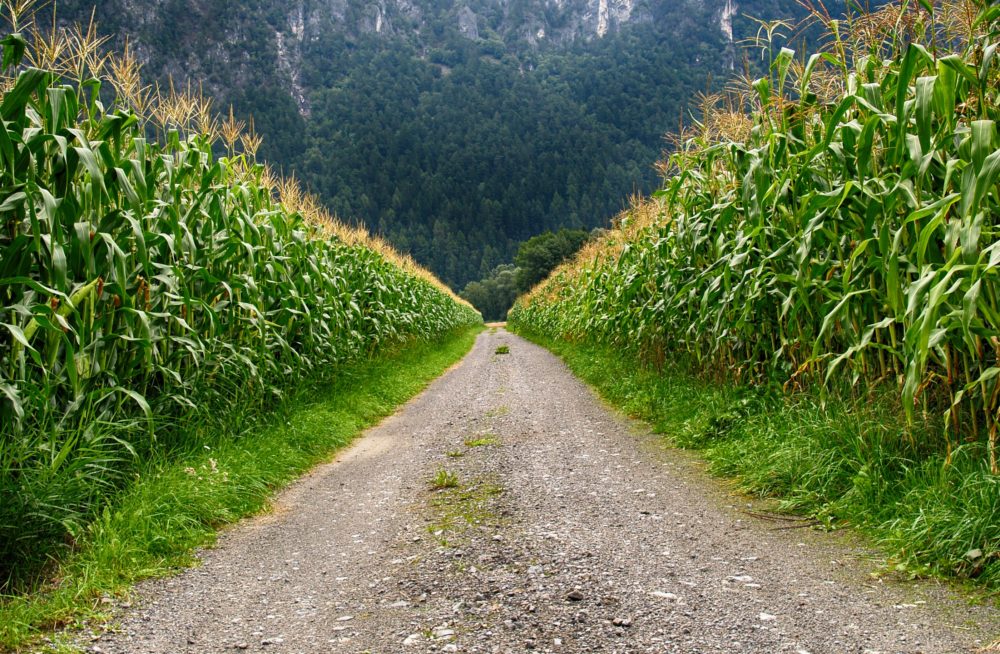 Corn mazes are really fun for the most part, but there are a few things to remember.
If it's hot, bring bottled water. If it's cold, make sure everyone is dressed appropriately. Stick together if you have little kids so they don't get lost and start panicking.
As long as you follow those rules, it's a good time!
Carve Jack-O-Lanterns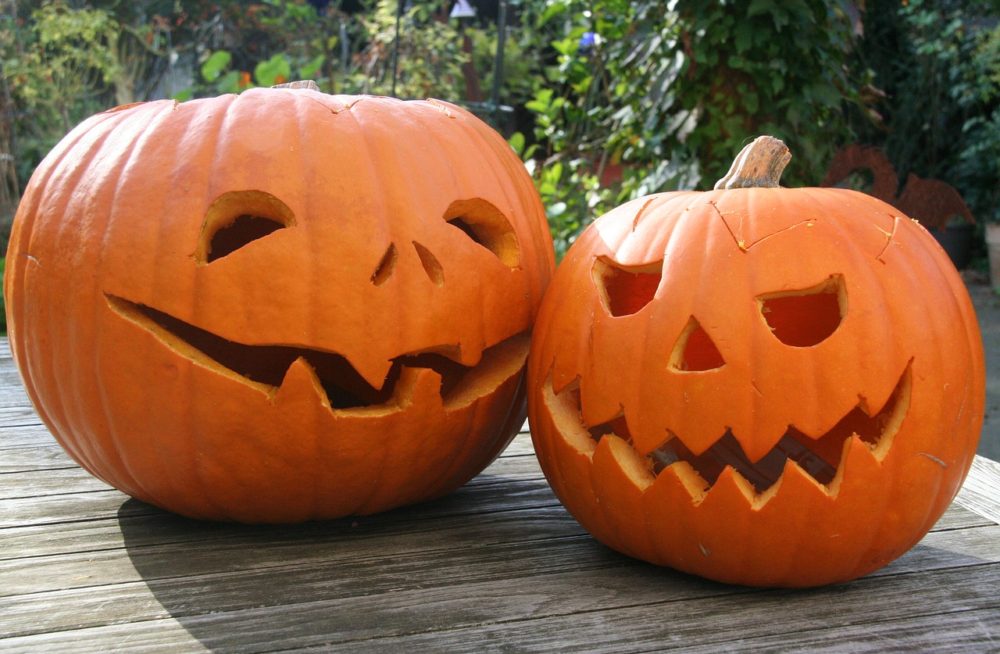 This is a must in October. We usually go to the local grocery store or Walmart a few weeks before Halloween to get our pumpkins. They're usually marked down because they want to get rid of them.
A pumpkin carving kit makes this much easier and safer than using a knife, that way the kids can participate more.
My kids love to go on YouTube and watch videos of people carving really elaborate pumpkins. It's amazing what people come up with!
Go to a Trunk or Treat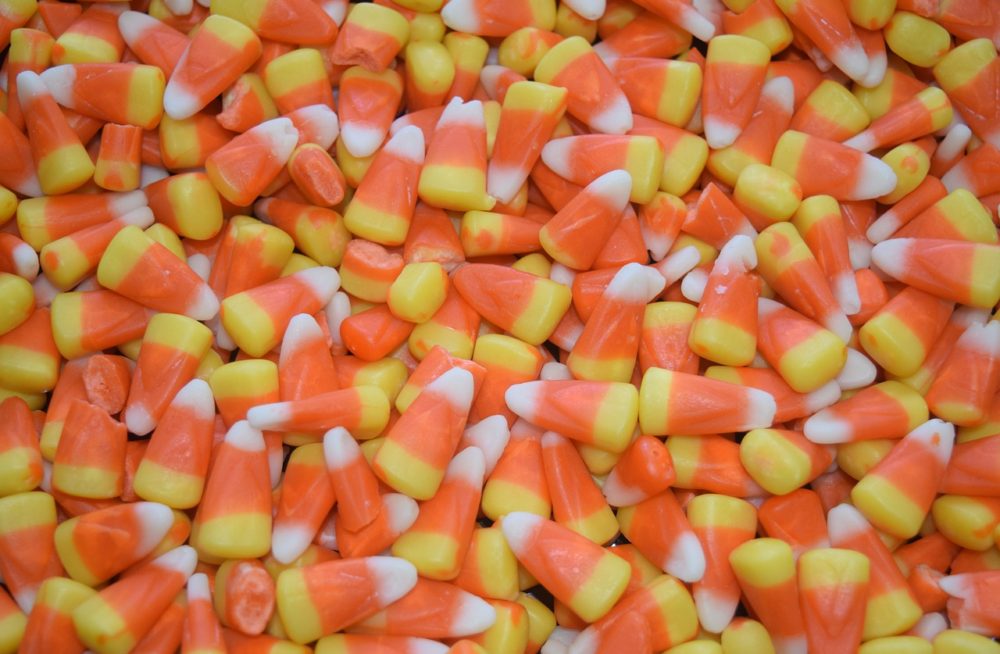 Trunk or Treat's are basically where a bunch of people park in a parking lot and hand out candy from the trunk of their car to the trick-or-treaters.
My kids haven't been huge fans of this because the ones we went to had long lines that you had to wait in, but that might not be the case everywhere.
If your kids don't like going door to door this is a good alternative.
Boo Your Neighbors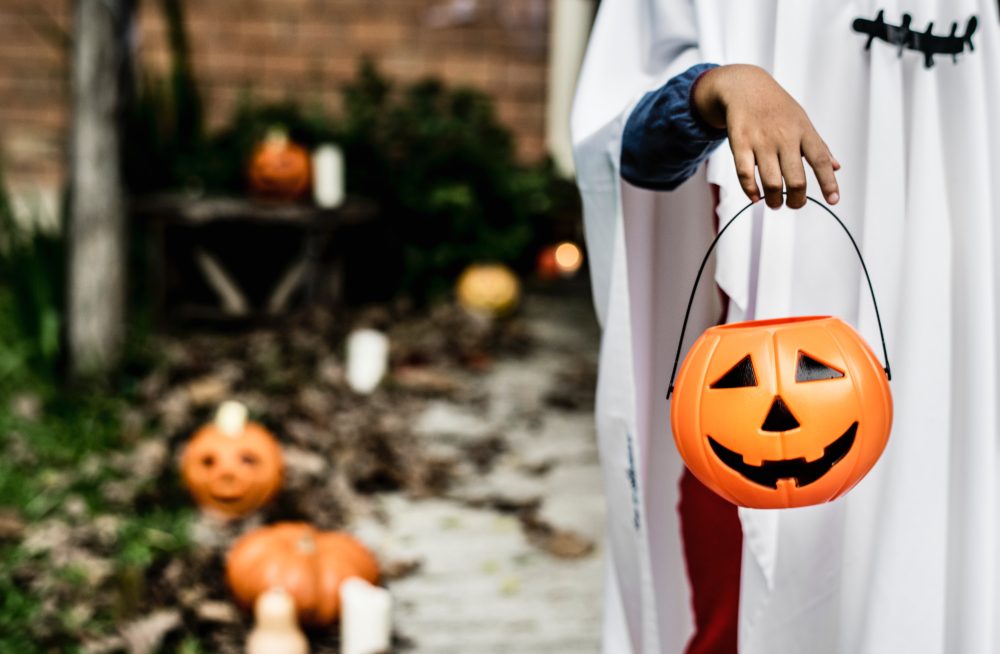 This is such a fun activity and a great way to teach your kids about generosity and loving your neighbors (or at least being nice to them!)
Fill two Halloween bags with candy or little goodies of some sort, include a printed picture of a ghost and a short letter explaining they have been Boo'd and what to do next (you can find printable versions of those and more detailed instructions here).
Pick two of your neighbors and leave one of the Boo bags on their doorstep and run!
Make a Halloween Craft
My kids are obsessed with crafts, and so am I! There are load of fun Halloween crafts to make in October.
You can get craft kits if you are short on time or don't have many supplies. We usually pick up a few because my kids see them and just HAVE to have them. My kids love these ones:
Go For an Evening Nature Walk Together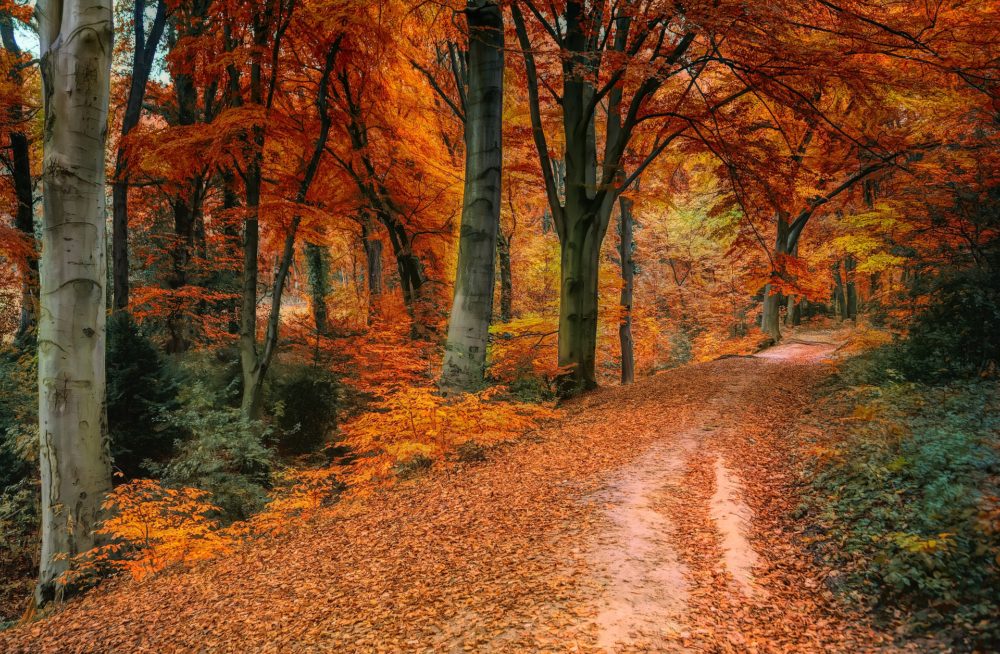 October is one of the best times of year to get outside and explore. The temperature is lower (at least where I live), the bugs aren't as bad, and the leaves turn beautiful colors.
Fall is when we do most of our family walks. I have a hard time convincing anyone to go with me in the summer heat, I don't want to be out in the cold of winter, and in spring we're all dying of allergies.
You can get some great exercise and see what kind of fun decorations people have in their yards!
In Conclusion
I hope this Family Halloween Guide was helpful and gave you some good ideas of how to celebrate the Halloween season with your kids!
Do you have some other Halloween traditions in your family? Tell us about them in the comments!
More from Marching North
Ultimate Family Halloween Guide