Are you looking for some new crochet bandana scarf patterns? You came to the right place!
I'm about to share 15 beautiful crochet bandana patterns with you that will look amazing with your summer outfit, and make wonderful gifts all year round.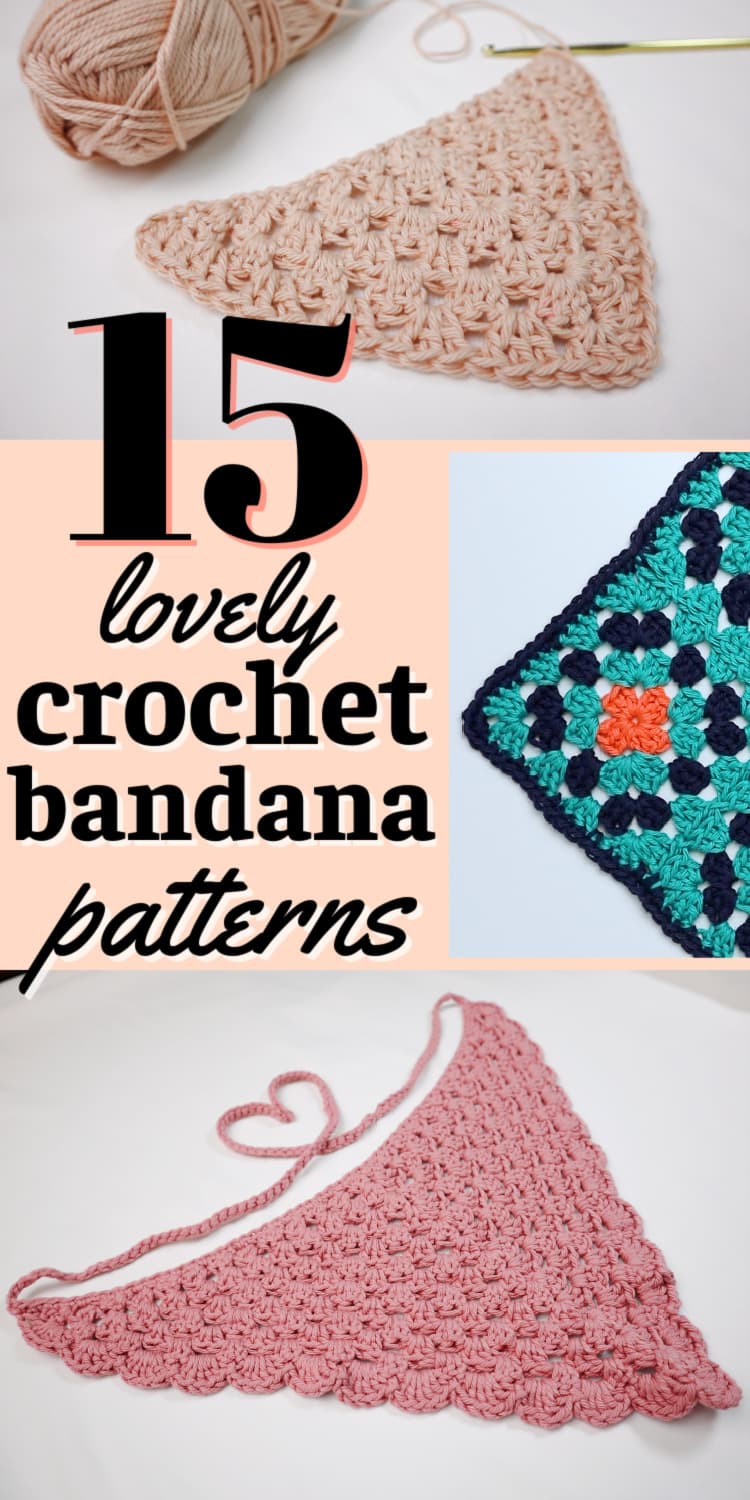 (This post contains affiliate links. If you click one and make a purchase, I may receive a small commission at no extra cost to you. Read the disclaimer here. Thank you for your support!)
A crochet head kerchief or bandana scarf is a fun project you can whip up in a short amount of time. There are some patterns that are super beginner friendly, and some are a little more advanced.
No matter what your experience level, there's something for everyone in this list!
Before we look at the patterns, let's talk a little bit about crochet bandana basics and tips.
Best Yarn for Crochet Bandanas
Cotton yarn is a great option for crochet bandanas because it holds its shape well and isn't too hot.
A lot of times you'll be wearing one of these bandanas in the warmer months and you don't want a super warm yarn on your head making you sweat all over the place.
Besides the comfort level, cotton yarn also comes in lots of different colors so you have loads of options to customize your project.
Most patterns will call for worsted weight yarn, but always check the pattern notes before you buy to make sure.
You'll need to use the same weight of yarn and same size crochet hook for the pattern to turn out correctly.
Here are some of my favorite places to get yarn:
Crochet Skills You'll Need
For most crochet bandana patterns, you'll just need to know some basic crochet stitches.
The most important ones to know are the chain, slip stitch, single crochet, double crochet, and half double crochet.
You'll also want to be familiar with terms like chain space, granny stitch, granny cluster, dc cluster (double crochet cluster) and similar crochet lingo.
Usually the pattern you're using will explain what the more complicated sounding stitches are and how they're completed.
And the good news is all those clusters and different sounding stitches are mostly just combinations of the basic stitches, so it's really not as complicated as it sounds!
At the beginning of most crochet patterns, it will tell you if it's in US crochet terms or UK crochet terms, and there should be a list of terms with abbreviations.
Here are some common abbreviations you'll see:
sl st – slip stitch
sc – single crochet
dc – double crochet
hdc – half double crochet
last st – last stitch
first st – first stitch
next st – next stitch
rnd – round
rep rnd – repeat round
sp – space
ch-2 space – chain 2 space
first dc – first double crochet
last dc – last double crochet
first ch – first chain
2nd ch – second chain
Alright, now that we covered all that, let's take a look at these stunning crochet bandana patterns!
15 Beautiful Crochet Bandana Patterns
Make a new accessory for your summer wardrobe with one of these lovely crochet bandana patterns! They have a beautiful cottagecore aethetic.
Learn how to make a super cute and easy crochet bandana in this step by step tutorial and free crochet pattern!
This lovely bandana pattern has scalloped edges for a little extra feminine touch.
This free crochet bandana is made with classic granny squares, and you can get a totally different vibe just by changing up the color scheme!
Even newbie crocheters can totally make this easy project. It's a classic!
Photo Credit: hayhaycrochet.com
This free crochet bandana pattern is simple and sophisticated.
It's beginner friendly and looks so lovely with neutral colored yarn, or you can change it up and go super bright!
Photo Credit: www.etsy.com
Checkerboard crochet patterns have been popular lately, and this is a perfect example of it!
This trendy pattern is simple but stunning, and you can easily customize it with different colors.
Photo Credit: www.etsy.com
If you're looking for a more lacy crochet kerchief, this pattern is perfect for you!
The dainty stitch pattern would look amazing with so many summer outfits.
Photo Credit: crochetncrafts.com
Here's another simple but beautiful crochet bandana pattern that you have to try- And bonus points, this is a free pattern!
Photo Credit: www.etsy.com
It doesn't get much sweeter than this crochet bandana pattern set!
You can make one for yourself and one for your child, your dog, or even your cat if they'll allow it. How cute would that be?!
Photo Credit: www.etsy.com
The textures in this crochet bandana are to die for- it's amazing how changing up the stitches can create such a beautiful effect!
I think this pattern would be lovely in the fall, or really any time of year.
Photo Credit: www.etsy.com
This sunny daisy crochet bandana pattern is perfect for Spring or Summer! You have to check this one out.
Photo Credit: www.nickishomemadecrafts.com
Looking for a nice, simple crochet head scarf for the summer? This free pattern is beginner friendly and quick to work up. Be sure to check it out!
Photo Credit: www.etsy.com
This granny headscarf has a little bit of a chunkier look and that cozy classic granny pattern. It's a great way to show off beautiful colors of yarn!
Photo Credit: www.etsy.com
Here's another strawberry bandana with a different look, and it's so cute with the tiny little strawberries!
Photo Credit: www.etsy.com
This boho crochet bandana pattern is nice and minimalistic and would easily pair with lots of different outfits. You can make one in every color and be ready for summer!
Photo Credit: www.etsy.com
If you're looking for an easy pattern, here's one to try! This simple pattern is beginner friendly and has a lovely, classic look.
Photo Credit: www.etsy.com
Ooh, this one is fancy! If you want a super lacy, feminine design, check out this crochet bandana pattern featuring a lovely fan design. It's so pretty!
In Conclusion
I hope you enjoyed all those crochet bandana patterns! Which one was your favorite?
It's hard to pick just one!
Looking for more crochet patterns? Check out these posts!
More Crochet Patterns
15 Lovely Crochet Bandana Patterns You Have to Try!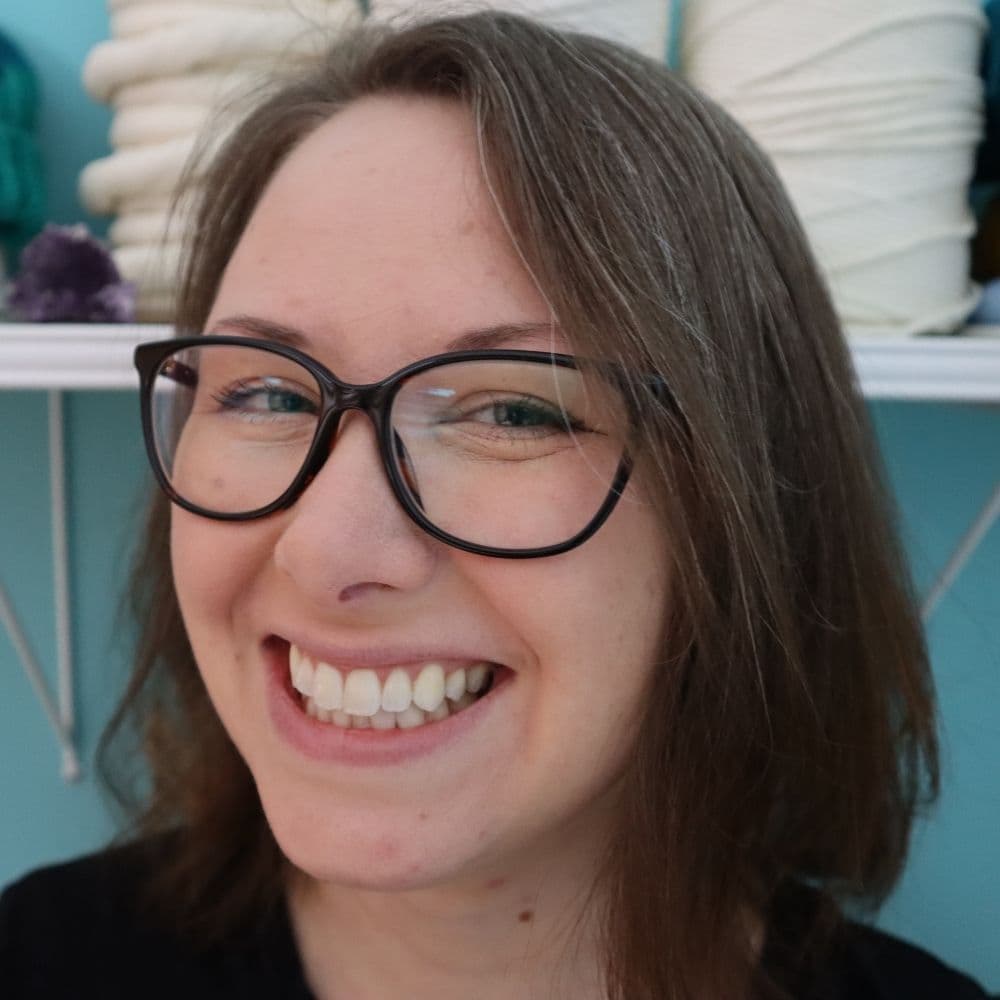 Crystal Martin is the crafty lady behind Marching North. She loves sharing easy to follow tutorials and patterns for macrame, crochet, punch needle, and pretty much anything else involving yarn or textiles.
Her work has been featured on Creative Fabrica, Craft Gossip, Ravelry, as well as her own site and YouTube channels.