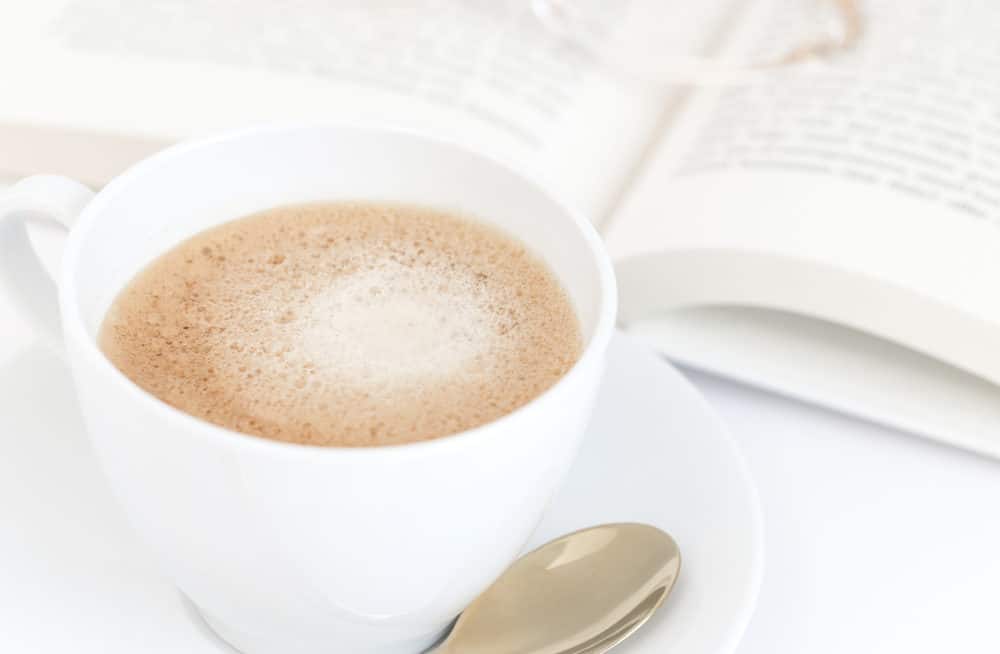 Have you been looking for an alternative to the Keurig?
A lot of people have had issues with their Keurig coffee makers wearing out quickly and want an alternative.
The list of complaints from Keurig owners is crazy long! They stop working, customer service is spotty, the selection of K-cups is poor, it goes on and on.
Some owners said their Keurig was clogged from mineral deposits, others found they were harboring mold in the internal tubing. All sorts of fun stuff can go awry with these expensive machines.
Plenty of people still love their Keurig's. They adorn many endcaps in big box stores and are always listed as top sellers online. It's hard to beat the convenience of a single-serve coffee maker, especially for us busy moms.
However, a lot of us have been burned by Keurig and want something better.
When I went to buy a new coffee maker last year, I wanted one that had a side for single-serve brewing and also a regular pot of coffee.
My husband and I get up at different times and I wanted him to have his cup of coffee in the morning, but still be able to make my *full pot* when I get up. #momlife
The 2 Way Dual Brewer I chose has been amazing. The single-serve side doesn't use K-Cups, although it can use soft pods. It also works with ground coffee in a reusable filter (included) and that's what we use.
There are loads of different single-serve coffee makers out there besides the Keurig, but which one is the best for you?
I did some serious research and found the best Keurig Alternative Coffee Makers out there for 2019.
(This post contains affiliate links. If you click one and make a purchase, I may receive a commission at no extra cost to you. Find out more here. Thank you for your support!)
---
Compatible with all 1.0 and 2.0 pods
Four different brew sizes: 6, 8, 10, and 12 oz cups of coffee
Extra-large 48 oz BPA free water tank
Has energy saver automatic shut off
One minute fast and hot Rapid Brew
Works with all K-Cups and reusable K-Cups
Not compatible with Nespresso Pods
The Mueller Ultima Single Serve Coffee Maker is one of the most popular Keurig alternatives, and with good reason.
It's more compact than the Keurig, so it takes up less real estate on your counter. It's made from sturdy plastic and has a sleek and stylish design.
The large water tank is convenient if you have several people drinking coffee at once so you don't have to keep refilling it.
It does everything a Keurig does, but better (and it breaks much less often).
If you don't want to buy K-Cups but you still want a single-serve coffee maker, you can get a refillable cup and use whichever brand of coffee you like.
For more information and reviews about the Mueller Ultima, click here.
---
Make up to 12 cups of coffee
Dispense one cup at a time
Has a charcoal water filter to reduce mineral build-up
Removable water reservoir for easy filling and cleaning
DOES NOT use coffee pods or K-Cups
Comes with a reusable gold coffee filter, you can also use paper
Programmable and has adjustable auto shut-off
The Cuisinart DCC-3000 is another top-rated Keurig alternative coffee maker that is great for more than one person (or just one person who drinks a lot of coffee….like me).
If you set it up to brew 12 cups of coffee, it brews them all and keeps them hot in a double-walled insulated chamber. Then, you can dispense one cup of perfectly hot coffee at a time.
There's no glass carafe to worry about, just stick your favorite coffee mug up to the dispenser and press the lever.
This coffee maker is NOT compatible with K-Cups or coffee pods. It uses regular old coffee grounds and either the reusable gold filter that comes with it or you can use paper coffee filters.
Not using K-Cups or pods gives you a lot more freedom in which coffee you choose, and you can also grind your own for the freshest brew.
For more info and reviews about the Cuisinart DCC-3000, click here.
---
Makes single-serve coffee or espresso
ONLY USES Nespresso Vertuo capsules
Has five different cup sizes
40 oz removable water tank for easy filling and cleaning
Heats up in 15 seconds
Automatic shut off after 9 minutes of inactivity
Bundle includes Aeroccino 3 milk frother
The Nespresso Vertuo Coffee and Espresso machine is a luxury machine at an affordable price point.
If you want to be able to make all of your favorite coffee shop drinks at home, but without needing fancy barista techniques, this coffee and espresso maker is a great choice.
You will need to purchase Nespresso coffee pods to go with this machine. The pods come in tons of flavors and varieties so you have plenty of options. There are also some nice storage drawers for all of your Nespresso pods that you can set your coffee machine on.
However, you can't use regular coffee in this machine at all. Keep that in mind if you have a favorite ground coffee or coffee beans that you prefer.
The bundle option comes with an Aeroccino 3 milk frother to heat and froth milk for delicious lattes and cappuccinos.
This machine is super sleek and will look very nice on your countertop.
For more info and reviews about the Nespresso Vertuo Coffee and Espresso Machine, click here.
---
Uses K-Cups or grounds in the reusable filter cup
Coffee is ready in three minutes
Small footprint on your countertop
Auto steam cleaning feature
Put in 6 oz to 14 oz of water depending on your cup size
Auto shut off
Great customer service
The Sboly Single-Serve K-Cup Coffee Brewer is a reliable and convenient coffee machine.
It has a very small footprint, so it'll save you counter space (which we never have enough of, am I right?)
Besides that, it makes a great cup of coffee with K-Cups OR with your favorite ground coffee in the reusable filter cup. The Sboly Coffee Brewer works with most types of K-Cup, but NOT with Nespresso pods.
This single-serve coffee maker would be perfect for an RV or any other small space.
Another plus is they have great customer service. Reviewers stated that the company got back to them right away about any issues they had, and were willing to do whatever needed to be done to make it right.
For more info and reviews about the Sboly Single-Serve K-Cup Coffee Brewer, click here.
---
Brews a hot cup of coffee in three minutes
Uses K-Cups and a reusable filter cup for grounds
Removable 40 oz water reservoir for easy filling and cleaning
Choose from 8, 10, or 14 oz brew size
Has Amazon Dash replenishment to automatically order coffee pods and water filters when you need them
The Hamilton Beach FlexBrew is crazy convenient with it's set it and forget it Amazon Dash replenishment service.
If you're like me and forget to buy coffee pods until you have two left, you'll love this feature.
Reviewers mentioned that it's a bit slower to brew than the Keurig, but besides that, they said it was a great coffee maker.
One other issue people mentioned is the water filter tends to come loose and end up floating around in the water reservoir, but again, they said they were still happy with the unit overall.
It works with K-Cups and it also has a reusable basket for coffee grounds.
I'd say if you are super busy and want one less thing to worry about (like ordering coffee pods and water filters), this Keurig alternative coffee pot is perfect for you.
For more info and reviews about the Hamilton Beach 49968 FlexBrew Connected Single Cup Coffee Maker, click here.
---
Uses K-Cups and a reusable filter cup for grounds
Small size is perfect to pack for trips or RV use
Auto shut off
Brews your coffee in three minutes
12 oz water reservoir
BPA free
The CHULUX Single Serve Coffee Maker is a coffee-making workhorse in a tiny little package.
It's reliable and flexible thanks to its ability to accept K-Cups and your favorite coffee grounds in a reusable filter. You have to use this specific reusable filter with the CHULUX if you are planning to use ground coffee.
With its tiny footprint, this is another single-serve coffee maker that would work great in an RV or camper. It would also be great in an office setting.
If you're looking for a simple no-fuss single-serve coffee maker to replace your Keurig, this is a fantastic option.
For more info and reviews about the CHULUX Single Serve Coffee Maker, click here.
---
Single-serve filter doubles as a coffee scoop
Fast brew time
Durable stainless steel design
Auto shut off
Regular and Bold brewing options
ONLY uses coffee grounds, NO K-Cups or pods
Works with standard size and travel mugs
The Scoop Single-Serve Coffee Maker by Hamilton Beach is a great option if you don't want to use K-Cups or coffee pods. It only is compatible with ground coffee, so you can buy pre-ground coffee or grind your own.
It's got a nice stainless steel construction and the filter is also a coffee scoop. You won't have to wonder how much coffee to put in when you're trying to wake up in the morning.
This bad boy will have your steaming hot coffee ready in 90 seconds for an 8 oz cup!
Another great option by Hamilton Beach is the 2-Way Brewer Coffee Maker. It has a 12-cup glass carafe on the right and a single-serve spot on the left.
This is the coffee maker we currently have at home, and we've been really happy with it!
My husband works super early and doesn't have a lot of time in the mornings, so I set up him up with the single-serve side at night. Then, in the morning, I have my coffee on the regular side (I need WAY more than one cup).
For more info and reviews about The Scoop by Hamilton Beach or the 2-Way Brewer, click here.
---
In Summary
I hope this guide has helped you figure out which Keurig alternative coffee maker is right for you. There are so many single-serve coffee makers out there to choose from, it can be tricky figuring out the perfect one!
The coffee machines I put in this buying guide are the top-rated on Amazon and I did a lot of research making sure they were single-serve coffee makers I would buy myself.
The Hamilton Beach model that we currently use has been going strong for over a year now and is awesome to have when company comes. I've been super pleased and definitely recommend it!
What's your favorite Keurig alternative? Why did you decide to part ways with the Keurig brand? I'm genuinely curious, I know a lot of people love them.
Apparently, they're facing a lawsuit because their K-Cup brand coffee pods aren't as recyclable as they let on. Uh oh!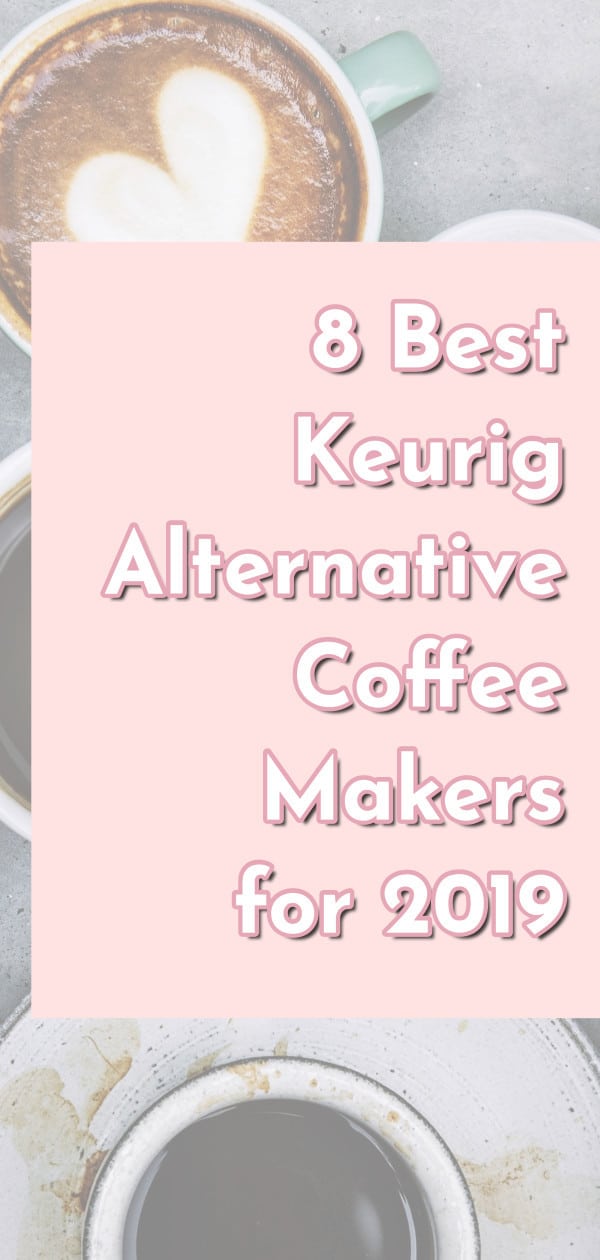 Related Articles
8 Best Keurig Alternative Single Serve Coffee Makers