Are you looking for ways to start a business and make some money? Do you like working with your hands and making crafts?
Put your creative talents to good use and get your hustle on with this list of crafts to make and sell!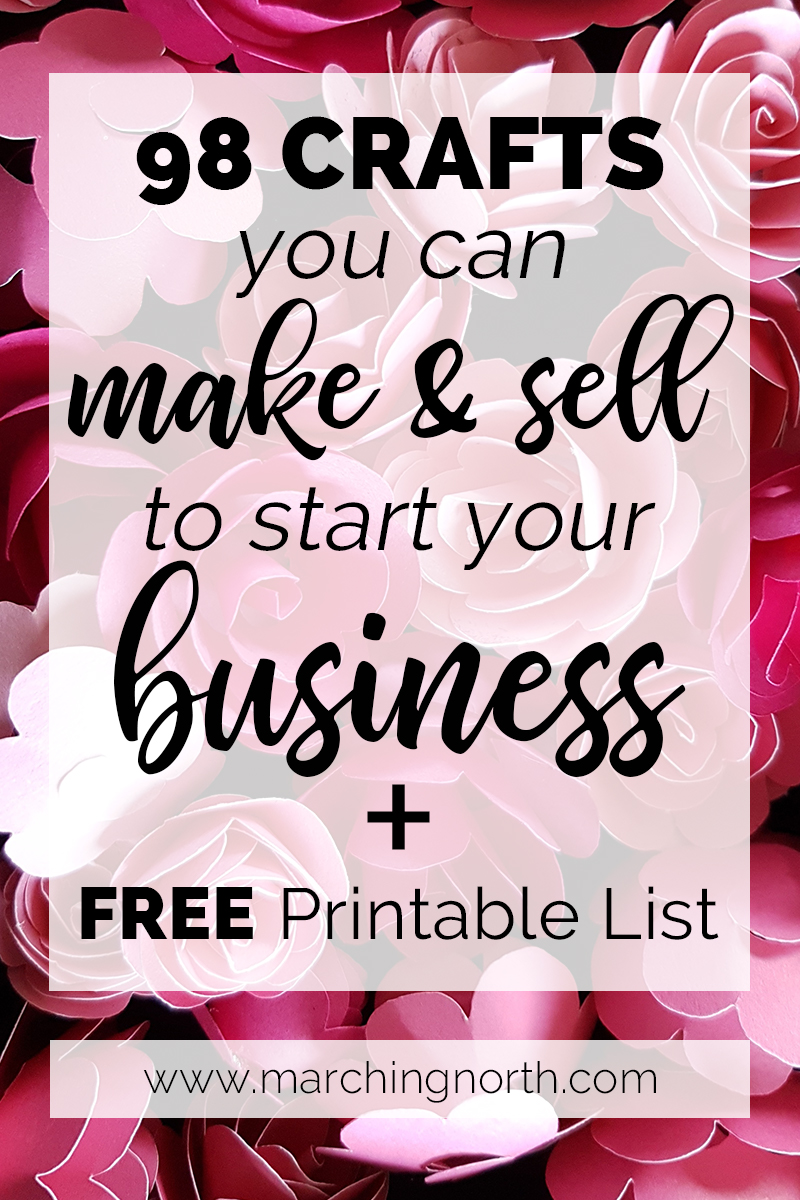 (This post contains affiliate links. If you click one and make a purchase, I may receive a small commission at no extra cost to you. Read the disclaimer here. Thank you for your support!)
I hear you thinking, "But Crystal, can I really make money with crafts?" To which I say, YES! You can! It takes a lot of work, but anything worth doing does.
There are so many options for making money from home, but when you're trying to think of what they are, it's easy to start drawing a blank.
I've been there more times than I can count!
Depending on what your situation is, finding time for a side hustle can be hard. In my case, I have three kids running around, one of which is a toddler.
There's always a giant pile of laundry, dishes to wash, meals to cook, no one can agree about who's turn it is to take out the dog… it's a three-ring circus.
As a bigtime introvert, it can all be overwhelming sometimes.
I want to work on my blog and do creative projects, but my brain doesn't always want to cooperate. It wants to look at shiny things on the internet.
To change your situation, you have to take action.
The best thing to do is to get all your thoughts organized and come up with a plan.
Tackle that plan one step at a time, and before you know it, you'll be making serious progress!
To help you start that process, I compiled a list of 97 craft ideas to make and sell in 5 categories.
I believe you could start a legit business with any one of these, or a combination of your favorites.
One common theme with all of them is you could start a blog! Niche craft blogs are super popular and tend to do really well when you put the effort into it.
If you're wondering how to get started making your own blog, check out my post here about getting started with Bluehost and WordPress.
For more help narrowing down a good niche, read this post I wrote about doing just that!
This post contains affiliate links. If you click them and make a purchase I'll get a commission at no extra cost for you. Thank you for your support!
98 Crafts to Make and Sell
---
Cricut Crafts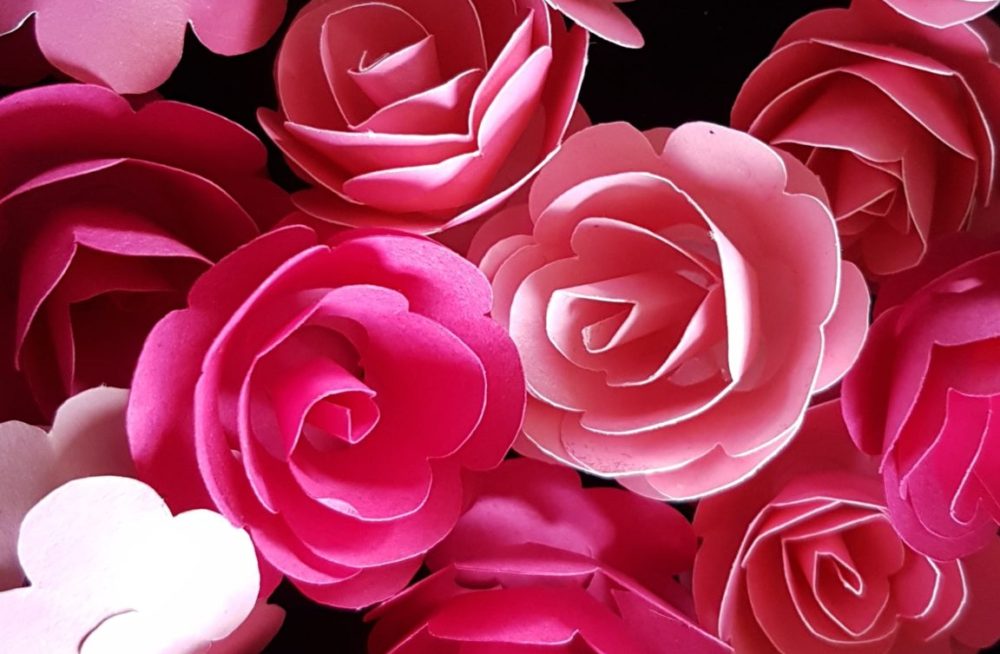 I know not everyone has a Cricut, but if you do, there are so many crafts you can make and sell with it!
If you don't already have one, it's an excellent investment if you want to sell custom-designed shirts, tote bags, mugs, travel cups, wine glasses, etc., etc., etc.!
When I got mine this year for my birthday, I had no clue how many things it could do.
My favorite thing by far is cutting out real leather and faux leather to make earrings.
Check out this post all about cutting leather with the Cricut Maker!
Check out the Cricut website here if you want to see what all they have to offer. These magical machines are fantastic for so many things!
Tee-shirts with heat transfer vinyl designs
Tote bags with heat transfer vinyl designs
Car window decals
Organizational labels
Greeting Cards
Removable Wall Decals
Mugs with Decals
Wine Glasses with Decals
Koozies with Iron-On Decals
SVG Files for Cricut Users
Leather Earrings
Faux Leather Earrings
Hair Bows
Custom Bookmarks
Keychains
Scrapbooking Stickers
Bullet Journal Stickers
Quilt Patterns
Baby Shoe Patterns
Doll Clothing Patterns
Gift Boxes
Cake Toppers
Party Decorations
Stencils for Making Painted Signs
Screen Printed Shirts
Leather Goods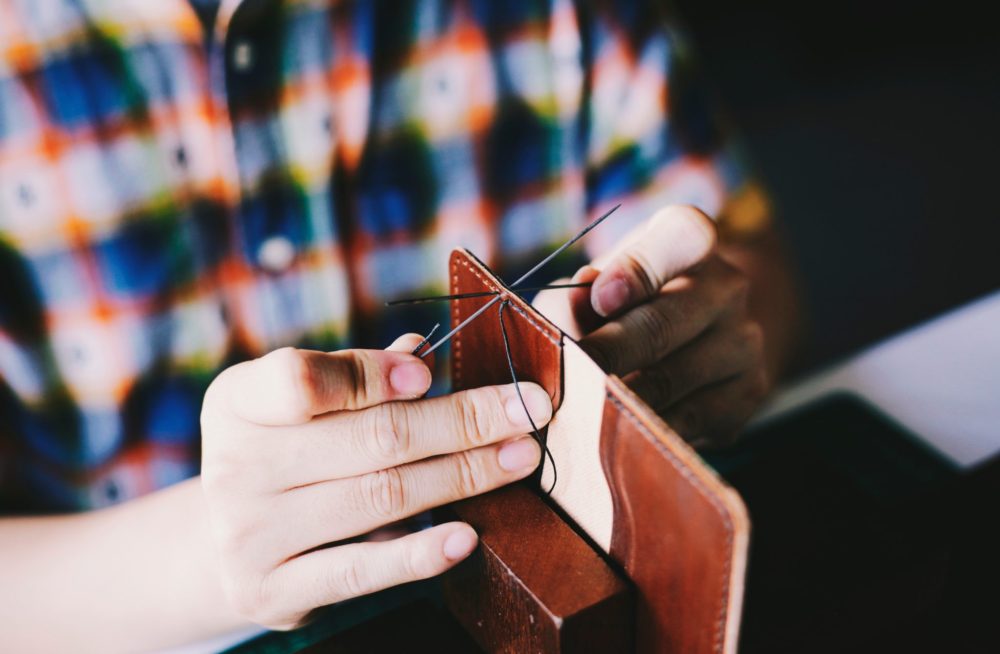 Have you ever tried making things out of leather?
I got into it on a whim a few years ago and started making gun holsters and knife sheaths for customers of the local sporting goods store where we lived.
Before long, I had a full-blown business going on!
I ended up going back to work full-time and ended up not having enough time to keep it going, but I couldn't believe how quickly it took off, especially considering I was a complete beginner!
People appreciate the quality and craftsmanship of handmade leather goods and custom stuff is always a hit.
The primary skills needed for doing leatherwork are cutting with an Exacto or craft knife, punching holes with an awl, sewing the super simple saddle stitch, and burnishing the edges.
There's also some gluing involved sometimes and if you're doing leather tooling that's another skill, but it's not as complicated as you might think.
This is a link to a set of leatherworking tools that are great for a beginner.
Once you learn the necessary skills, it's just a matter of being careful and precise. After a while, you can up your game with more techniques and fancier tools.
Handbound Journals
Journal Covers
Phone Sleeves
iPad Sleeves
Gun Holsters
Knife Sheaths
Bracelets
Necklaces
Earrings
Rings
Keychains
Wallets
Purses
Checkbook Covers
Belts
Bags
Bookmarks
Pencil Cases
Glasses Sleeves
Dog Collars
Cosplay Costume Accessories
Moccasin Style Shoes
Soles for Crochet Slippers
Can Sleeves
Coffee Cup Sleeves
Coasters
Crochet & Knitting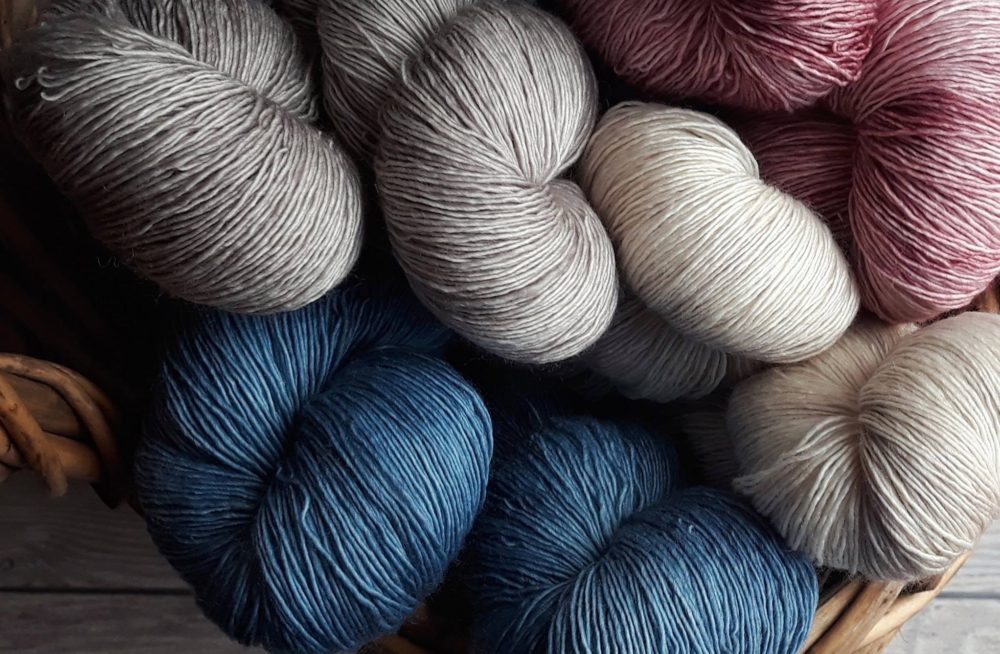 Crochet and knitting are both super popular hobbies.
Plenty of people want to have crocheted or knitted items without having to do all the work. That's where you come in!
Crochet hats, scarves, slippers, blankets, baby gear, toys, amigurumi, and patterns themselves are always in demand.
I love this set of crochet hooks if you're looking for some!
I'm not a knitter, but I know knitted socks, blankets, sweaters, hats and scarves are all very popular as well. Another idea that I love is crochet or knitted home decor, like wall hangings, pillowcases, and rugs.
If you have the time to put into it, you can make crochet or knit items to sell on Etsy or at your local craft fair. The winter and the holiday season is an especially good time of year to sell your creations.
Another great way to make money from crochet and knitting is by creating patterns and selling them, or by starting a blog and offering free patterns and earning money from affiliate links and ads on your site.
Winter Hats
Scarves
Slippers
Fingerless Texting Gloves
Baby Booties
Baby Hats
Diaper Covers
Purses
Shawls
Wraps
Sweaters
Ponchos
Dog Sweaters
Socks
Bikinis
Swimsuit Cover Ups
Tops
Barefoot Sandals
Patterns
Crochet Blog
Amigurumi
Baby Toys
Baby Blankets
Afghans
Throw Blankets
Rugs
Hand Lettering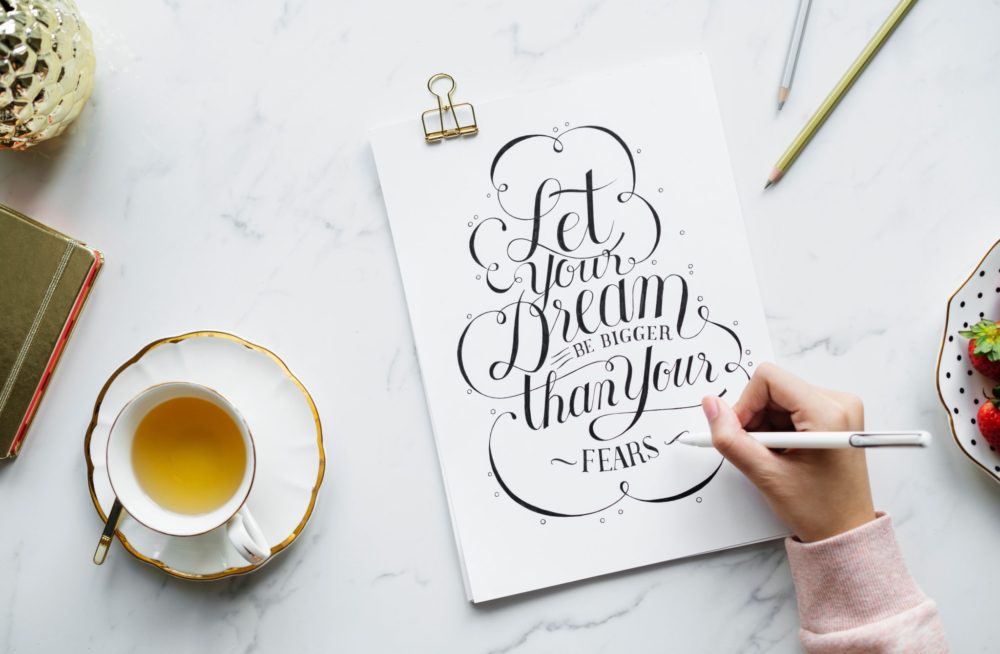 Hand-lettering is so super popular right now. I've tried my hand at it and surprised myself at how well I did!
My regular handwriting is not the best, so I was concerned that I would suck, but I didn't.
If you're a beginner, these pens are an absolute must-have for hand lettering.
One of the main things I learned is hand-lettering (and calligraphy too, although it's a bit different) is more like drawing and less like jotting down notes.
You have to go slow, stop after each letter, and apply more pressure on the downstrokes and way less pressure on the upstrokes.
Once you practice for a little bit, it's super satisfying to do. I find myself doodling hand-lettering for fun. If you get into this hobby there are several things you can do to make money with it.
Trust me, people tend to be impressed with this skill and will pay you for it!
Wedding Invitations
Wedding Signs
Greeting Cards
Printable Art
Painted Sign Art
Logo Design
Create Fonts
Tutorials on Your Blog
Chalkboard Lettering
Custom Mass Mailers for Local Businesses
Signs for Businesses
Jewelry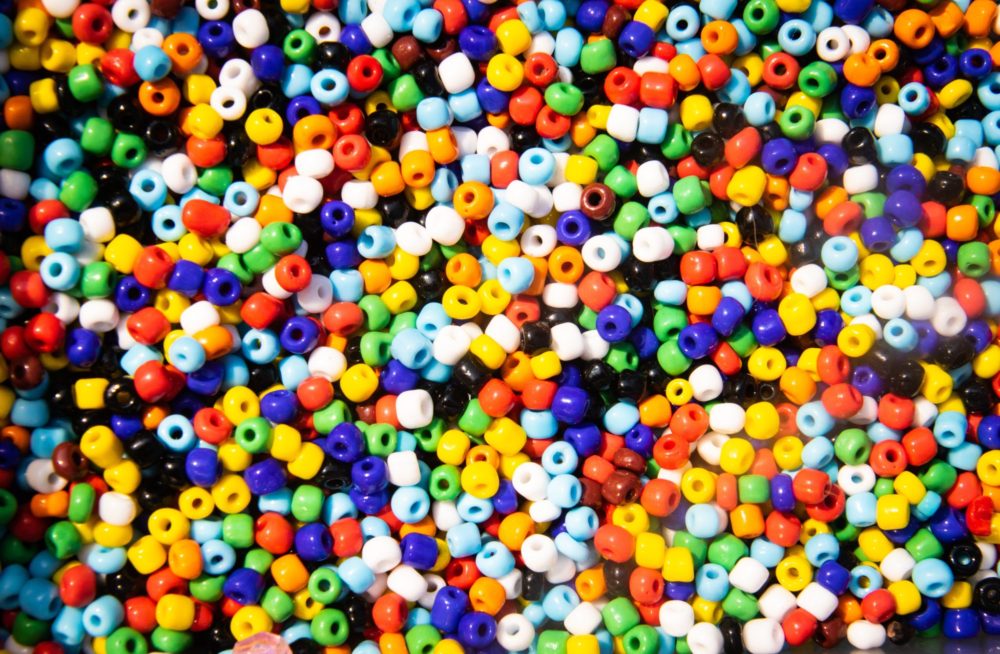 There are loads of options when it comes to making handmade jewelry. There's jewelry for women, men, kids, even babies.
You can go super fancy with luxurious gold and silver wire and gemstones, or you can create more budget-friendly pieces to accent your customers' outfit.
People are always looking to buy jewelry either for themselves or as a gift so you can sell it year-round. Plus, you get to shop for colorful beads and shiny things to make it, who doesn't love that?!
I can spend hours in the jewelry-making section of the craft store.
---
That's a pretty long list! These are just the ideas I came up with when I sat down to brainstorm. If you're a crafty creative person, there are loads of crafts to make and sell to earn some cash.
Don't think that no one will buy your crafts because they're too easy to make! Just because you think it's easy to make doesn't mean it's easy for everyone, and lots of people don't have the time or desire to make things and would much rather pay you to do it for them.
Typically, if you think something is easy to make, it's because you've practiced and gotten good at it, so it's easy for you. Stop doubting yourself and start creating the life you want!
Check out these posts:
Do you have some other crafty ideas you want to add? Let us know down below!
Happy Crafting!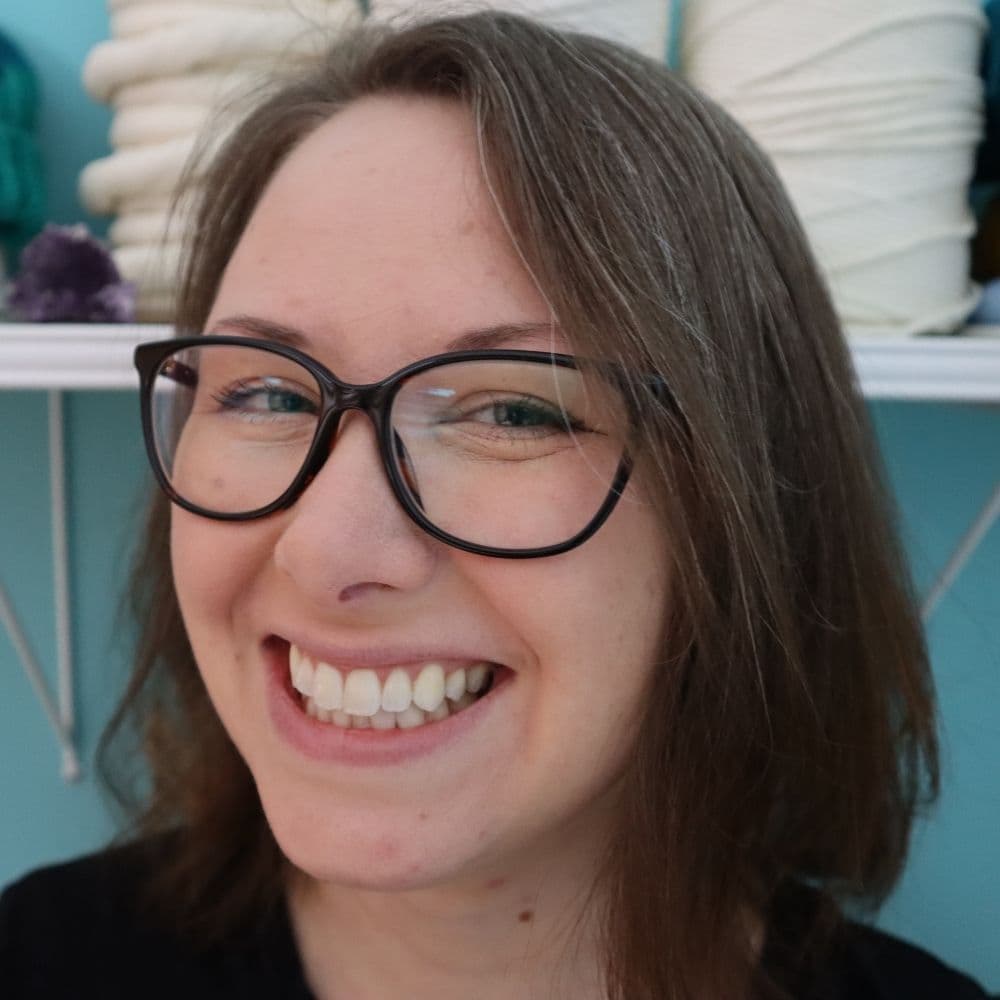 Crystal Martin is the crafty lady behind Marching North. She loves sharing easy to follow tutorials and patterns for macrame, crochet, punch needle, and pretty much anything else involving yarn or textiles.
Her work has been featured on Creative Fabrica, Craft Gossip, Ravelry, as well as her own site and YouTube channels.