Check out these Simple Crochet Baby Booties! This quick and easy pattern is perfect if you're expecting or need a last-minute gift for a baby shower.
Keep reading for the story behind these sweet crochet baby booties and the free pattern!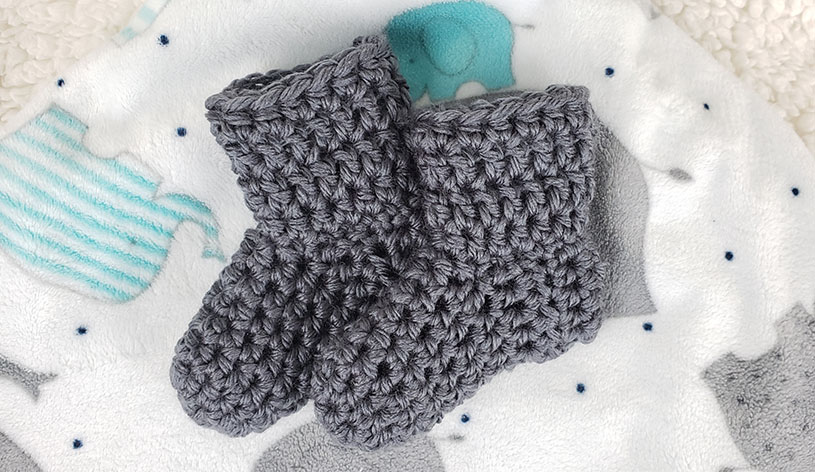 When I was close to the end of my pregnancy with our third baby, I did what all soon-to-be moms with a crochet addiction do and went on a crochet binge!
We had recently moved in with my in-laws as a transition while we waited for our house to sell.
Between my introversion and pregnancy-induced exhaustion, I spent a lot of time in the basement playing with yarn.
I feel the need to mention that my in-laws are awesome. It's tough going from your own home to someone else's, ya know?
This pattern was born (haha, pun) from my need to make some simple crochet newborn baby booties that stay on those little feet. Newborns are notoriously wiggly!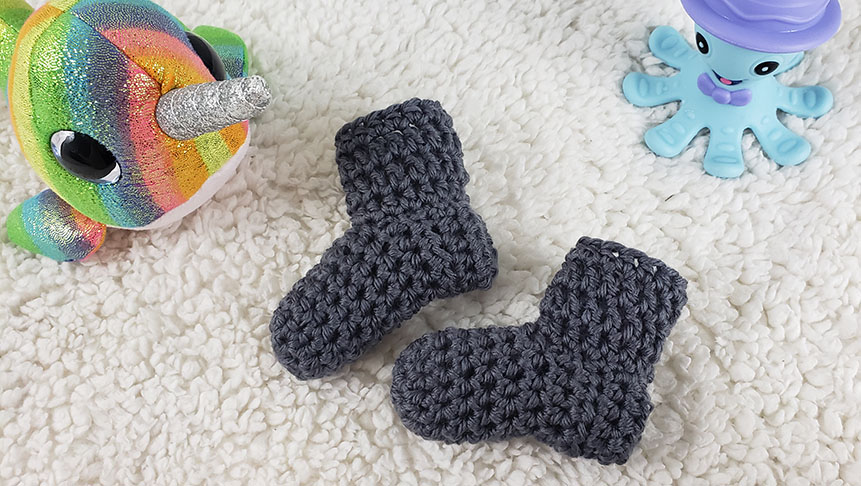 (This post contains affiliate links. If you click one and make a purchase, I may receive a small commission at no extra cost to you. Read the disclaimer here. Thank you for your support!)
---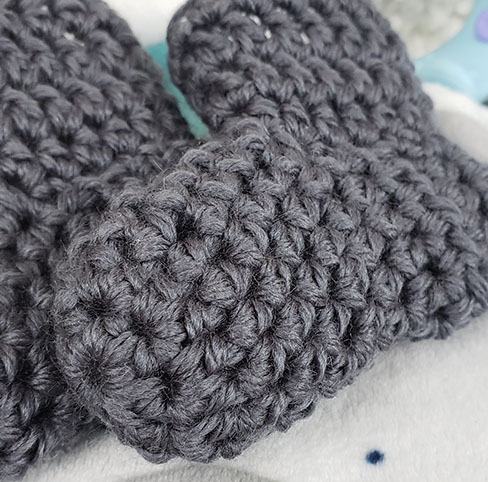 Yarn Suggestions
I used a worsted weight yarn for these. Acrylic is fine, just pick something nice and soft for those sweet little baby feet.
I don't recommend cotton because it won't have much stretch, and these are designed to fit snuggly (more like a sock) so they stay on better.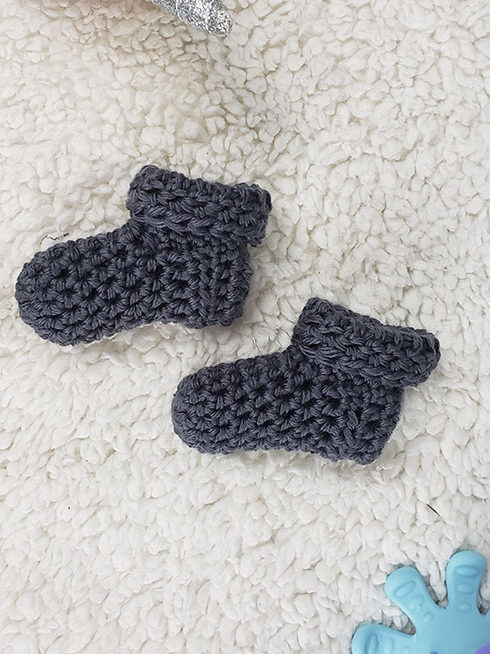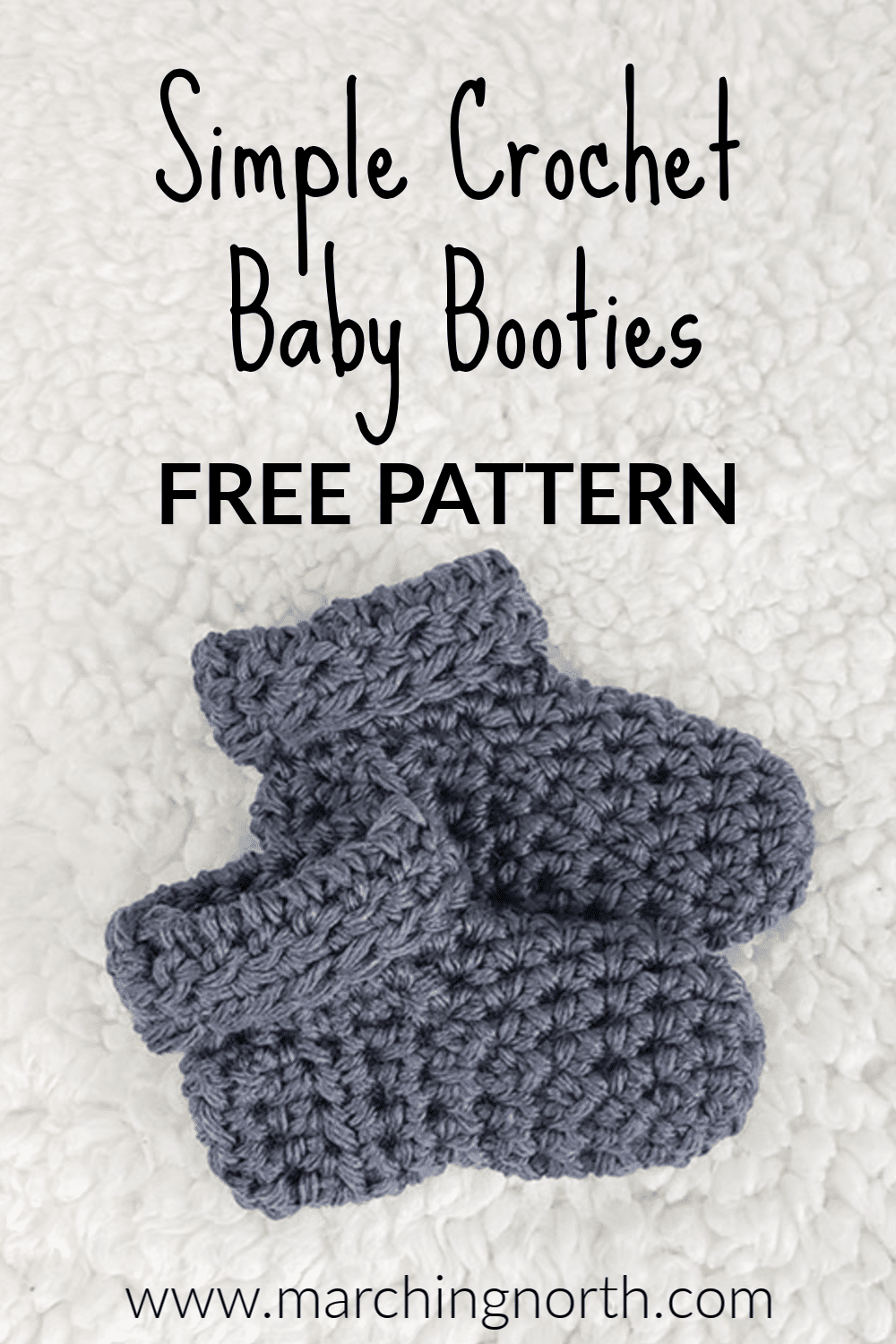 YARN & NOTIONS
CROCHET BABY BOOTIES PATTERN
These simple crochet baby booties work up quick and are just the thing to keep your newborn's feet warm and toasty.
This basic pattern can be easily embellished for a different look or left as is for a classic style. It's great for baby girls and baby boys!
If you need a last-minute baby gift, these booties will do the trick!
Make 2 baby booties.
Row 1. Make a magic loop, ch 2. Hdc 7 in loop, then tighten loop and join to first hdc. (Chain 2 does NOT count as first stitch)
Row 2. Ch 2, hdc 2 times in each st, join to first hdc.
Rows 3 – 7. Ch 2, hdc in each st, join to first hdc.
Rows 8 – 10. Ch 2, hdc in next 10 sts, turn.
Row 11. Ch 2, hdc in next 3 sts, dc2tog twice, hdc in last 3 sts, turn.
Row 12. Ch 1, sc in next 4 sts, then fold the back of the bootie in half with the right sides facing and sl st seam together.
Row 13. Turn bootie right side out and ch 1.
Now you'll need to evenly sc 16 around the edge of the bootie as follows: sc 6, sc2tog at corner, sc 2, sc2tog at other corner, sc 6, join to first sc.
Row 14. Ch 2, hdc in each st around, join to first hdc.
Row 15 – 16. Ch 3, dc in each st around, join to first dc.
Row 17. Ch 2, hdc in each st around. Join to first hdc. Finish off.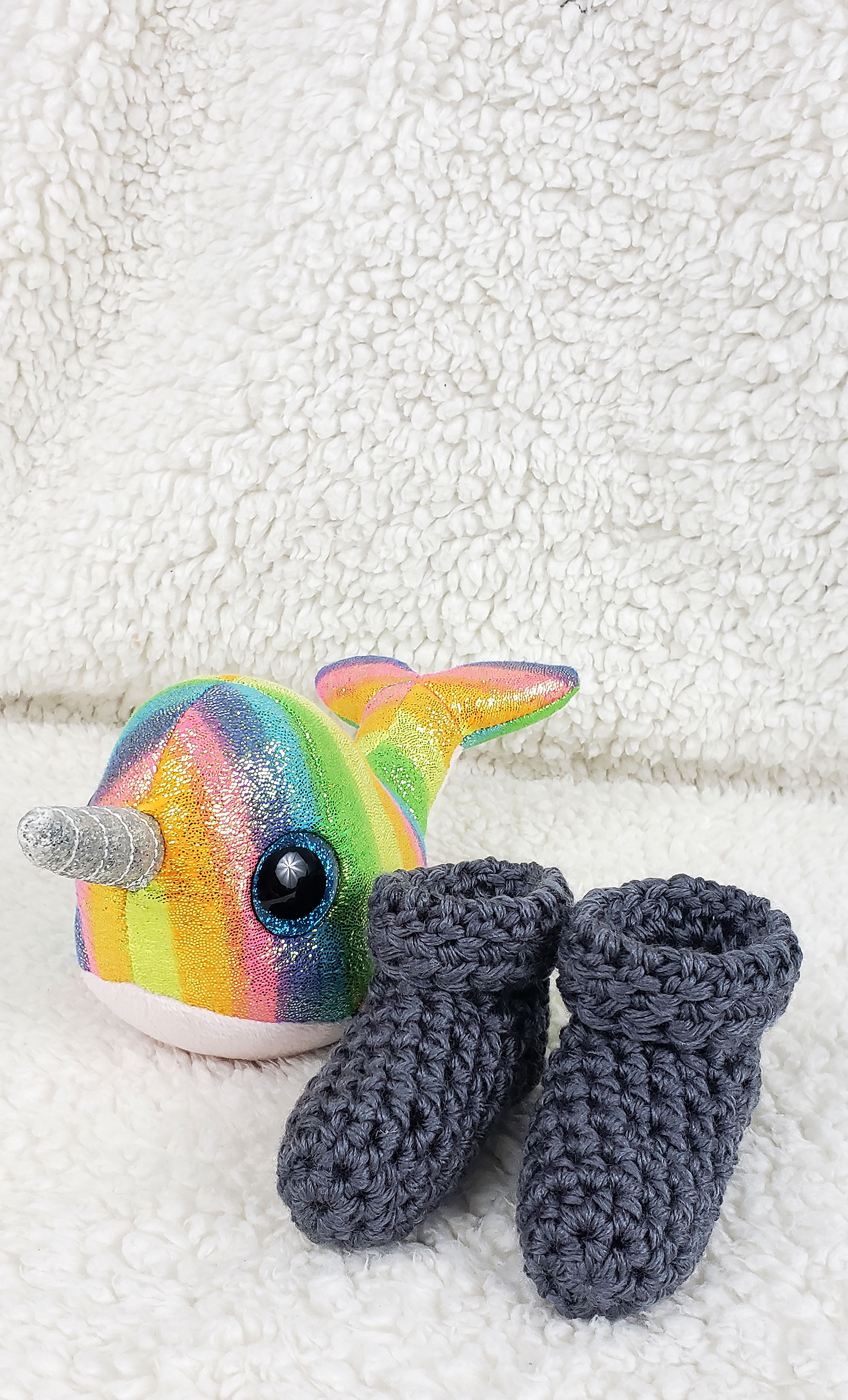 Abbreviation Key
ch = chain
sl st = slip stitch
sc = single crochet
hdc = half double crochet
dc = double crochet
sc2tog = single crochet 2 together
dc2tog = double crochet 2 together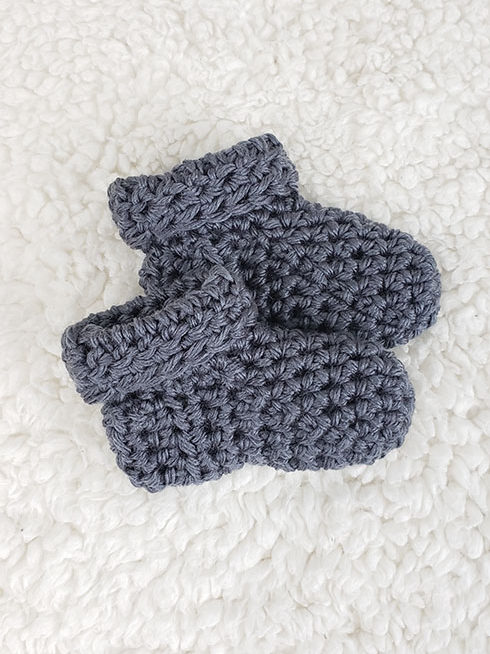 Copyright info: You are welcome to sell what you make while using this pattern, just please link back to my blog and give me credit for the pattern. Feel free to link to this pattern in a roundup and you may use one image for roundup purposes only.
Related Crochet Articles
Simple Crochet Baby Booties Free Pattern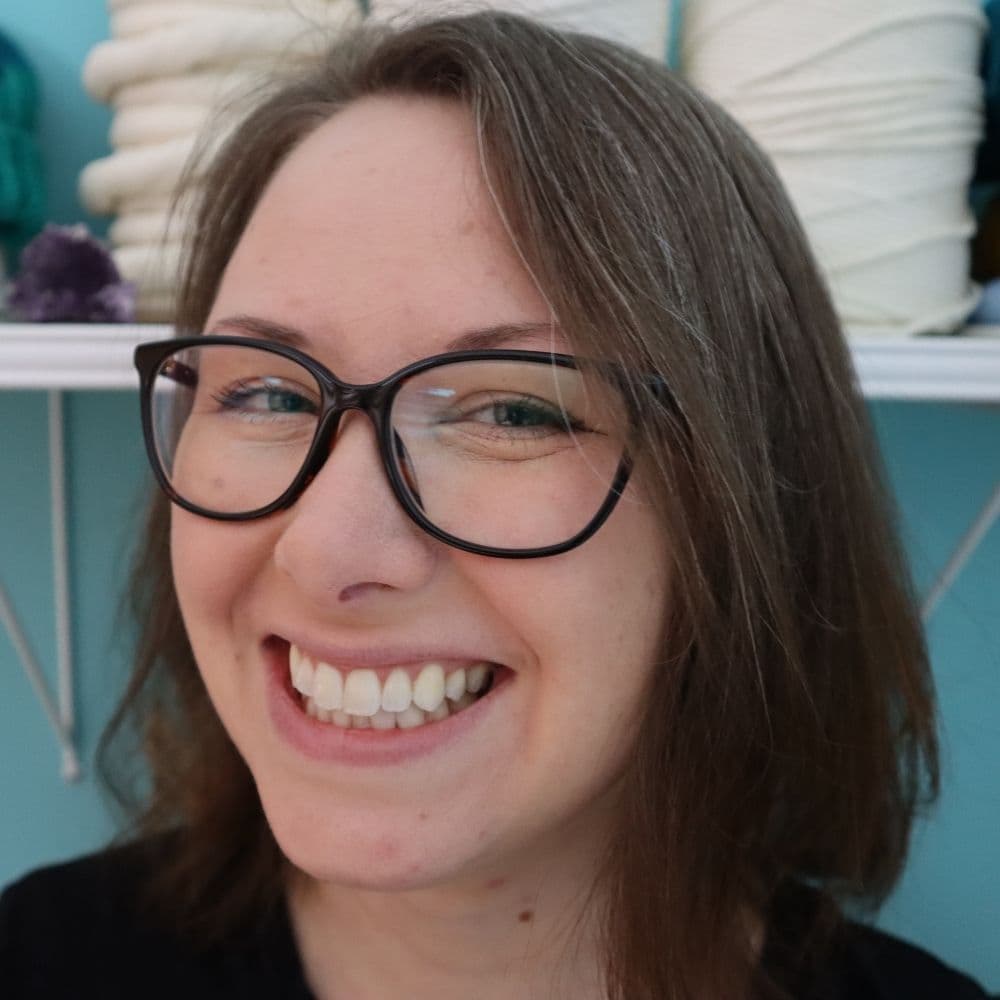 Crystal Martin is the crafty lady behind Marching North. She loves sharing easy to follow tutorials and patterns for macrame, crochet, punch needle, and pretty much anything else involving yarn or textiles.
Her work has been featured on Creative Fabrica, Craft Gossip, Ravelry, as well as her own site and YouTube channels.