You can make your own polymer clay wall hangings that look just as good as the ones for sale at high end home decor stores (but without the extra cost)!
Believe it or not, these pieces of wall art are easy to make, even if you've never worked with polymer clay or air-dry clay before.
Want to remember this? Post this DIY Clay Wall Hanging tutorial to your favorite DIY Pinterest board!

(This post contains affiliate links. If you click one and make a purchase, I may receive a small commission at no extra cost to you. Read the disclaimer here. Thank you for your support!)
If you have any type of string or twine at home, you can use that to attach them and then all you'll need to purchase is the clay.
I spent $11 on clay and made these 4 wall hangings plus another larger one that you'll see pretty soon!
I kept these designs pretty simple and just let the clay pieces shine through, but you could also add wood beads or other extra things to customize these clay hangings.
DIY Clay Tools and Supplies
I made the ones in this tutorial from polymer, or oven-bake clay, but you could get the same effect with air drying clay if you prefer.
If you do decide to use air dry clay, it'll just take a bit longer to complete because of drying time.
You would skip the oven baking part and just wait until the clay is completely dry (which can take a few days).
A few polymer clay brands that work well are:
CraftSmart Clay (what I used)

Any time you're doing clay crafts, you'll also want something to protect your work surface like a piece of wax paper, parchment paper or plastic wrap.
It's also a good idea to have plenty of paper towels on hand for stuff like this!
DIY Clay Wall Hangings Tutorial
Check out the video tutorial for this project over on my YouTube channel, and don't forget to subscribe!
Supplies You'll Need
polymer clay (I used white and painted it, but you could pick a color and avoid the painting part)
jute twine, cotton cord, or wire (I used scrap macrame string I had in my stash and some jute twine from Dollar Tree) – you could also use a jump ring or two
round templates or a cookie cutter for making circles (I used a wide mouth mason jar lid and some random lids from old jars – you'll want to keep these for clay from now on and not use them for anything food related after you use them for clay)
wooden skewer
plastic straw for making holes
clay rolling pin (you can use an acrylic roller or a plastic rolling pin)
baking sheet lined with parchment paper (make sure the clay doesn't touch the bare baking sheet if you use it for food)
oven
Step 1: Conditioning the clay
Before you start rolling the clay out, you want to condition it.

To condition polymer clay, knead it and squeeze it in your hands until it's soft and smooth and easier to work with.
This part is a great stress reliever, so give yourself some time to enjoy the process!
Step 2: Rolling out the clay
Line your desk or workspace with plastic wrap or parchment.
Then use your clay rolling pin to roll the clay out to about 1/4″ of thickness. Try to make sure the whole thing is pretty even.

Step 3: Cutting out shapes
Now it's time to get creative.
Use your circle cutters to mark the shapes you want to cut, but don't press them all the way through. Just push down hard enough to leave an imprint.

Then grab your X-acto blade and carefully cut the shape out following the imprint.

If you cut the shape out using the cutter, the edges will end up getting smashed down and it won't look as good.
You can make lots of shapes out of clay circles!
If you want to make a moon phase wall hanging like I did, you can cut out a crescent moon shape, half moons, and use a full circle for the new moons.

You can also make an arch or rainbow shape with a half circle by cutting out another half circle with a smaller template.

If you want, you can also use other shapes or free hand some organic shapes with your craft knife!
Step 4: Cutting out holes
Once you get all your shapes made, grab your straw or tube and cut out holes to attach the pieces together.

Be mindful of where you place them and don't get too close to the edge so it doesn't break after baking.
If you have smaller pieces, you may need to use the end of a skewer or something to make the holes if the straw is too big.
Step 5: Baking the clay

Line a baking sheet with parchment paper and set your oven to 275°. Bake the clay pieces for about 20 to 30 minutes.
Since they're pretty thin it shouldn't take much longer than that, but go according to the instructions on your clay package.
Step 6: Sand down any rough edges
Use some sandpaper with a pretty fine grit to smooth down the edges of your clay pieces.

Wipe away the clay dust with a dry paper towel.
Step 7: Paint!
Gotta be honest, this next step wasn't my favorite step but I'm thinking my Dollar Tree acrylic paint might have been to blame.
Mix up the color you want to use and paint each clay shape. Then set them aside to dry.

You'll likely have to do multiple coats so give yourself several hours between painting and drying. A fan helps the paint dry faster.
I tried to do a splatter paint effect on a few pieces, but it failed when a big blob of paint fell on the piece!
Instead I grabbed my paper towel and dabbed the paint on these pieces and I actually like how it turned out once it dried. Oh well!

Step 8: Put it all together
Once the paint is totally dry, it's time to put our clay wall hangings together.
Cut short pieces of jute or cotton cord and thread them through the holes to tie each piece of clay together.

Tie a knot on the back, add some craft glue to the knot to prevent it from coming undone later, and cut the excess cord close to the knot.

If you want to make tassels on the bottom, thread a few pieces of cord through the hole and wrap it with another piece of cord to make a simple tassel.

Tie a knot on the back of the tassel, glue, and cut off the excess cord.
You can brush out the tassel if you use cotton macrame cord, then trim it so it's nice and even.
To make a simple hanger, fold a piece of cord in half, thread the folded end through the top hole of your wall hanging and make a lark's head knot.

Then tie an overhand knot in the ends of the hanging cord and cut off the excess.

Alternatively if your clay piece has two holes, you can thread a piece of cord through both holes and tie knots on the back to hold it in place. Again, glue and cut off the excess!
Done!

I hope you enjoyed this tutorial and you'll try going the DIY route with some of these fun clay wall hangings!
You can make them in various sizes for all the different areas of your house. No more empty walls in your living room!
If you make one of these DIY projects, please share a pic over on Instagram and tag me @marchingnorth so I can see. I love seeing your creations, it makes my day!
Want more DIY tutorials? Check out these ones below!
More DIY Tutorials and Projects
Boho DIY Clay Wall Hanging (4 Different Designs to Try!)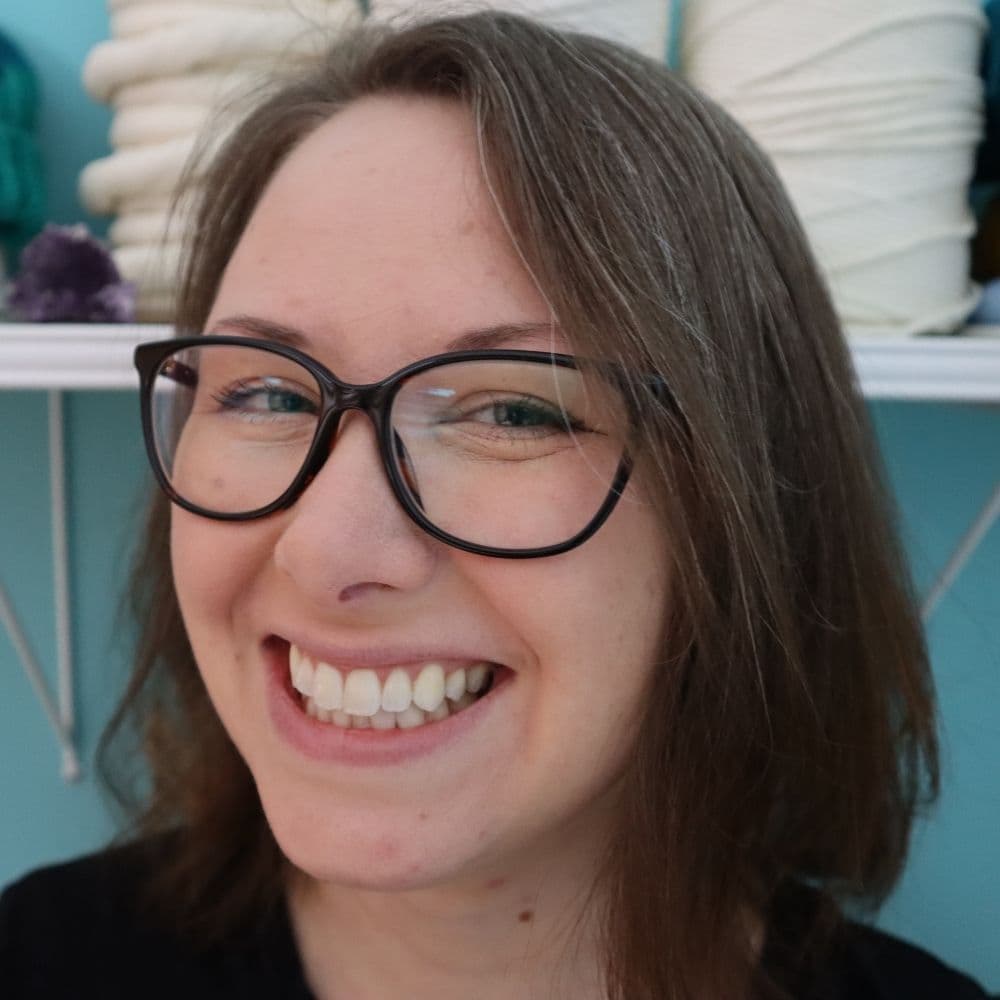 Crystal Martin is the crafty lady behind Marching North. She loves sharing easy to follow tutorials and patterns for macrame, crochet, punch needle, and pretty much anything else involving yarn or textiles.
Her work has been featured on Creative Fabrica, Craft Gossip, Ravelry, as well as her own site and YouTube channels.