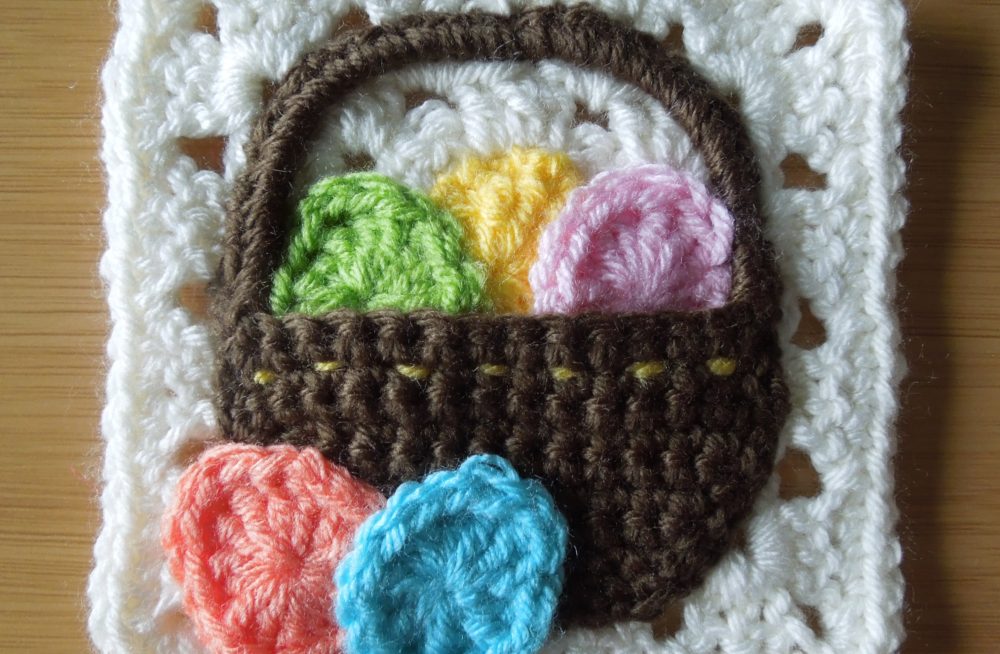 Get ready for Spring with this fun Easter basket appliqued granny square!
This is a quick and easy project that you can whip up in an evening while you're watching TV or a movie.
It would be perfect for an Easter-themed quilt, but I'm not wanting to commit to a whole quilt at the moment.  I'm thinking I may make it into a hot pad for Easter dinner. 
If you make this and come up with a different use for it, comment below and share!
Copyright info: You are welcome to sell what you make while using this pattern, just don't copy and paste this pattern or use my pictures anywhere. Instead, feel free to share a link for people to come to my site and get it themselves.
Easter Basket Appliqued Granny Square Pattern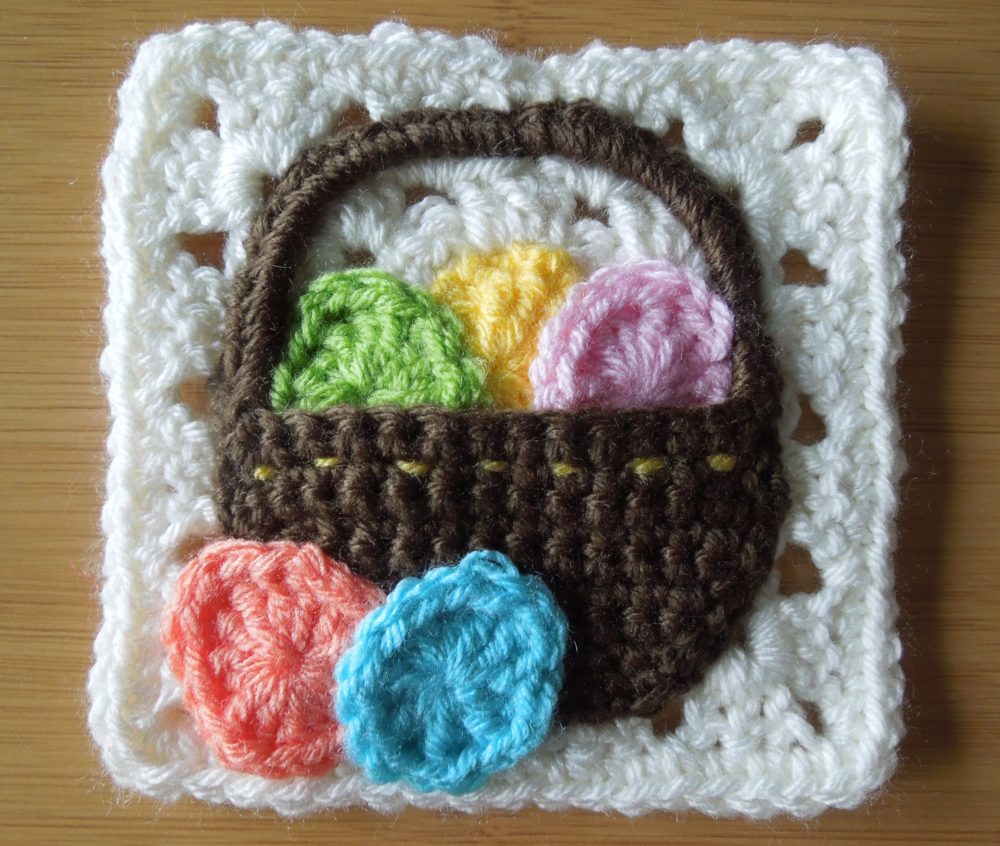 (This post contains affiliate links. If you click one and make a purchase, I may receive a small commission at no extra cost to you. Read the disclaimer here. Thank you for your support!)
Pattern is in US terms.
5.00 mm hook for everything.
-Make Granny Square Base-
I used Hobby Lobby's I Love This Yarn! in Ivory.
Click here to see how to make the classic granny square base.
-Make Basket-
I used Knit Picks Mighty Stitch yarn in Chocolate.
1. Ch 10, sc in 2nd ch from hook and next 8 sts, ch 1, turn. (9 sts)
2. 2 sc in 1st st, sc in next 7 sts, 2 sc in last st. Ch 1, turn. (11 sts)
3. Sc in each st across, ch 1, turn.
4. 2 sc in 1st st, sc in next 9 sts, 2 sc in last st, ch 1, turn. (13 sts)
5 – 9. Sc in each st across, ch 1, turn.
10. Ch 36, attach with sl st to other corner of basket, ch 1.
11. Sc evenly around basket bottom and when you get to the big chain loop, sc 32 times into the loop all the way around, join with sl st to 1st sc. Finish off.
-Make Easter Eggs-
Stitches Used:
dc – double crochet
tr – treble crochet
I used Hobby Lobby's I Love This Yarn in Yellow, Limelight, Turquoise, Mango and Pink.
Make a magic loop, ch 3. Then do the following: dc, tr, ch 1, tr, dc 11, join with sl st to top of ch 3. Pull magic loop tight. Finish off.
Make one of in each color, 5 total.
-Put It All Together-
Now just arrange them how you like on the granny square base and sew them onto it with matching yarn and a tapestry needle.
I started with the basket and whip stitched it all the way around the outside. Then I sewed the eggs that are in the basket on starting with the yellow one, then the green one and last the pink one.
After that, I sewed the two eggs on the front of the basket.
Lastly, I took a piece of yellow yarn and sewed a running stitch across the front of the basket that serves two purposes, it attaches the basket more securely and is decorative.
You could use a different color or add more decorations, be creative!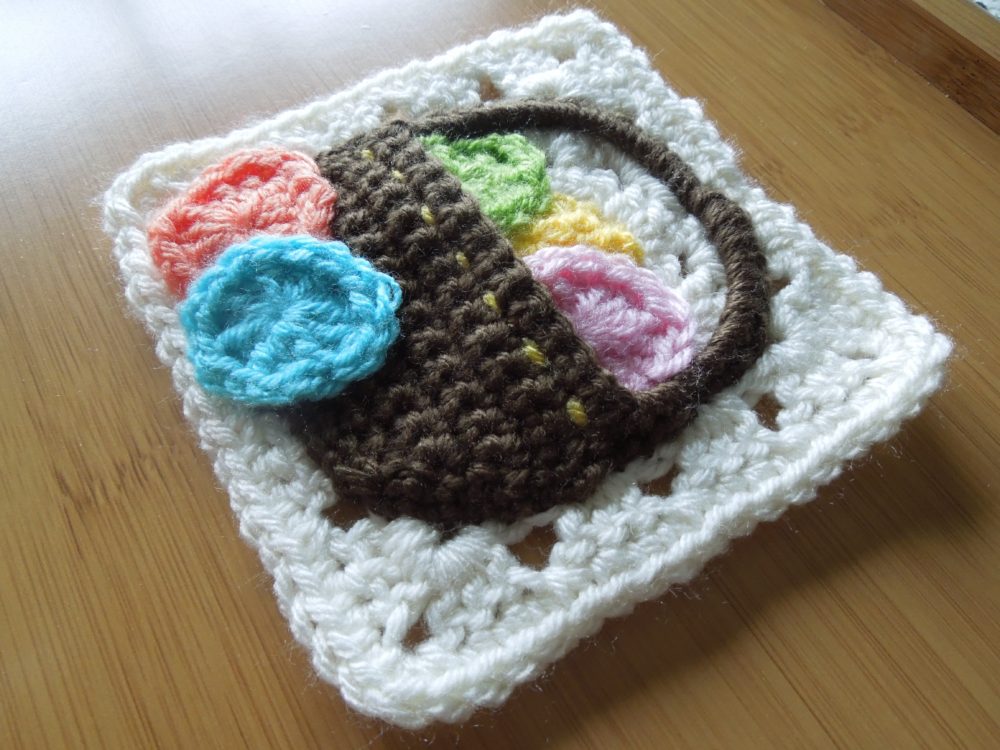 Have fun with this one, you could arrange it in several different ways and add a border or stick it in a quilt, the possibilities are endless! 
Comment below and let me know what you think and what you do with it!  Happy Easter!!
Related Yarny Posts
Easter Basket Appliqued Granny Square | Free Crochet Pattern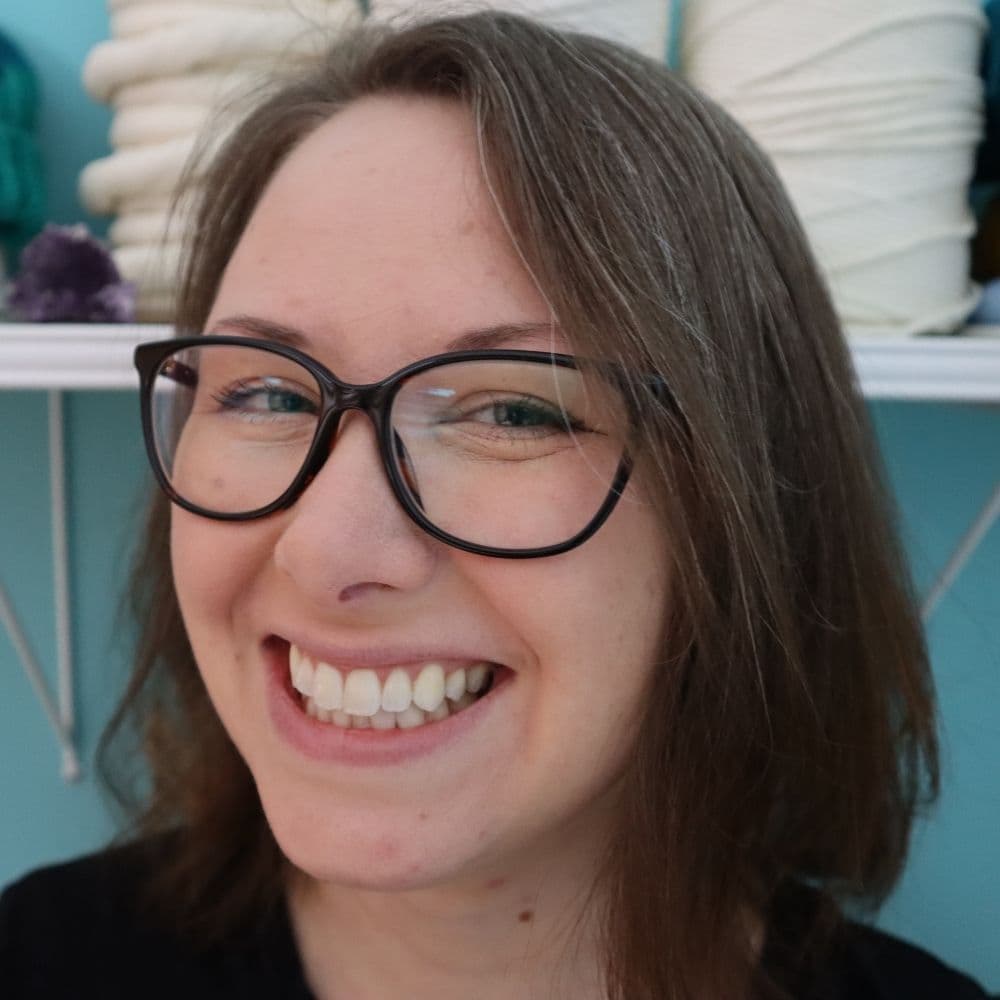 Crystal Martin is the crafty lady behind Marching North. She loves sharing easy to follow tutorials and patterns for macrame, crochet, punch needle, and pretty much anything else involving yarn or textiles.
Her work has been featured on Creative Fabrica, Craft Gossip, Ravelry, as well as her own site and YouTube channels.