There's nothing cozier than a soft, chunky crochet cowl when the fall season hits and the cold weather starts! It's got all the benefits of a scarf, but you don't have to worry about it slipping or falling off.
This chunky free crochet cowl pattern only uses one skein of bulky yarn, and would make a wonderful last-minute gift for anyone on your list! I don't know about you, but I love one skein crochet projects.
You can easily customize it by using a different color of yarn, and you can make it longer, shorter, or wider just by changing the amount of chains or stitch you use.
In this step by step tutorial, I'll explain how to make a crochet cowl and share a super easy pattern (with video tutorial) that uses just one skein of yarn!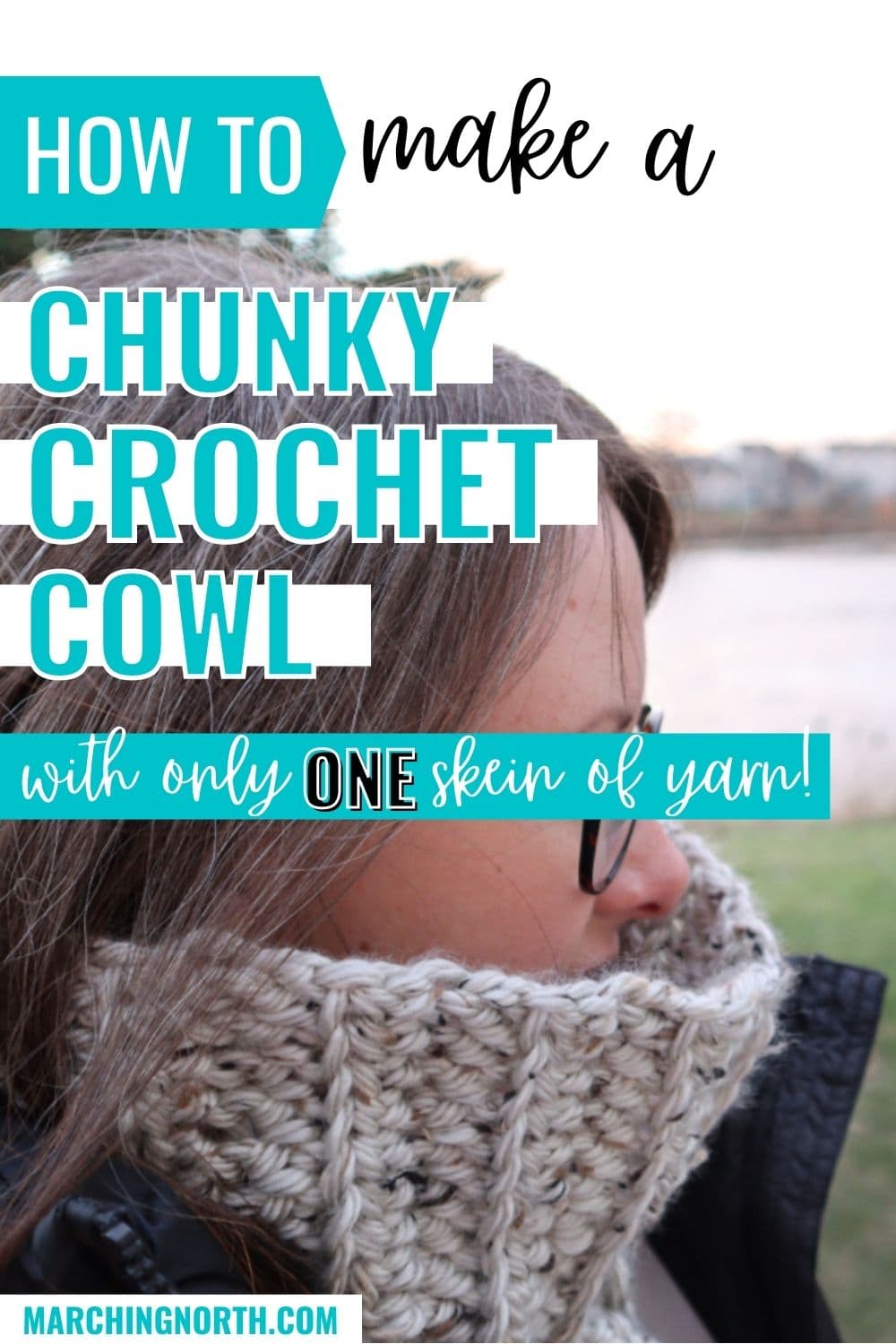 (This post contains affiliate links. If you click one and make a purchase, I may receive a small commission at no extra cost to you. Read the disclaimer here. Thank you for your support!)
How Wide Should a Crochet Cowl Be?
If you want your crochet cowl to only wrap around your neck once, I recommend making it between 25" to 30" in length.
The length (or circumference) of the one in the pattern below is 26" and it fits like a big, loose turtleneck.
If you want your cowl to wrap around your neck two times, you'll want to make it about 60" wide at least. (BTW – this is actually an infinity scarf, details on the difference below.)
I recommend testing out the fit as you go. You can clip the sides together with bag clips and do a test fit before you finish it off.
Cowl vs Infinity Scarf: What's the Difference?
When you're searching for free crochet patterns, you undoubtedly have seen all sorts of crochet scarves, cowls, infinity scarves, and other various neck warmers. Here's the difference between a cowl and an infinity scarf.
An infinity scarf is longer than a cowl and wraps around your neck multiple times. You twist the scarf to make a figure 8 or infinity symbol shape before you put it over your head, hence the name.
A cowl is typically a neck warmer that only wraps around once and has more of a snug fit.
How to Crochet a Cowl – Basic Instructions
Making one of these crochet cowls is super simple. Here are the basic steps you'll need to follow to make one of your own!
Continue scrolling down the page for the full tutorial!
Step 1: Collect your supplies

You'll want to choose a nice, soft yarn to make a cozy cowl. There's nothing fun about scratchy yarn right up in your face!
Decide if you want to use bulky weight yarn (like the pattern below) or a finer yarn. Then you'll need to get the appropriate crochet hook size to match.
The amount of yarn you need will depend on the length of your cowl and what size yarn you use. I recommend getting at least one skein more yarn than you think you'll need, just to be safe.
For example, the pattern we're making below uses exactly one entire skein of yarn, but I still recommend buying two for good measure. You can always make another one if you buy too much!
You'll also need a pair of sharp scissors and a large eye needle to weave in your ends.
Step 2: Decide how wide you want your cowl to be
You'll want to make the starting chain that wide, and then add your turning chain to that.
For example, if you'll be using half double crochet for the cowl pattern, you'll make the starting chain as wide as your desired width, plus two more chains.

Step 3: Crochet the body of your cowl
You can use any crochet stitch pattern you want, just keep in mind for certain stitch patterns you'll need to have a specific number in your starting chain.
If you keep it simple (like the pattern below) with single crochet, half double crochet, or double crochet, you can make the chain any length.
The length of your cowl will depend on how you want to wear it. For the pattern below, I made the cowl about 26 inches long.
It's fits sort of like an oversize turtleneck and only wraps around once. You can also make a longer version that's 60 inches long or so, and wrap it around your neck twice.
Step 4: Stitch it together
After you get your cowl made, it's time to stitch the ends together.
Hold the two ends together and slip stitch into the stitches on both edges to attach it. Keep scrolling to see how to do that in more detail.
That's really all there is to it! You can easily customize your crochet cowl using different stitches, different colors, and different thicknesses of yarn.
If you prefer a nice, quick project (I know I do!), chunky yarn is where it's at. We'll be using super chunky Lion Brand Hometown yarn for the pattern below, but any size 6 yarn should be the right thickness.
We'll be working into the back loops to achieve the beautiful ribbed texture of this cowl. I just love how that looks, and it couldn't be easier!

OK, now that we've covered that basics of making a crochet cowl, let's get into the free pattern for this chunky crochet one skein cowl!
PS – Once you finish this easy crochet cowl, be sure to check out this super easy free crochet hat pattern!
Chunky One Skein Crochet Cowl Pattern
This chunky crochet cowl is super quick and easy to make, for beginners and beyond!
It's a great project for making DIY holiday gifts, and the design works perfectly for men and women. You can easily make it longer, shorter, or wider to fit your recipient.

Finished size: approx. 14" wide, and 26" in circumference.
Skill level: Easy
Materials and Supplies
1 skein of Lion Brand Yarn Hometown in Aspen Tweed or color of your choice (Note: I used exactly one skein for this cowl. If you plan to make it longer, wider, or if you crochet very loosely, I recommend picking up an extra skein.)
Abbreviations and Basic Stitches
Ch – chain
Sl st – slip stitch
St/sts – stitch/stitches
Hdc – half double crochet
Blo – back loop only
Instructions
Foundation chain: Chain 30 (loosely, but not like crazy loosely. Just don't make them tight)

Row 1: Skip the first chain and second chain, and hdc into the back bump of 3rd ch from hook. Continue in the back bump of each ch across the row. Ch 2, turn. (28 sts)


Row 2: Hdc in blo in each st across the row. (28 sts)
Repeat row 2 until you have 31 rows or your cowl measures about 26" long.
Once you've completed the rows, you should have at least 80" of yarn left to slip stitch the cowl together.

Attaching the ends together: Keep the hook in the last stitch you made. Fold the cowl in half and line up the two sides. The stitch with the crochet hook will be on the right back corner.

Insert the hook into the first stitch on the right of the side closest to you, and then into the first stitch on the farther side. Yarn over and pull through all the stitches and the loop on your hook. This makes one sl st.

Sl st in each pair of stitches going all the way across.
Finishing: Use your tapestry needle to weave in the ends of your yarn. Trim off the excess yarn.

In Conclusion
I hope you enjoyed this easy one skein crochet cowl pattern!

If you make one of these using my tutorial, please share a picture over on Instagram and tag me @marchingnorth so I can see it.
I love seeing all of your awesome creations! It seriously makes my day!
Be sure to check out these other crochet projects that are available on my blog–
Related Crochet Posts
How to Crochet a Chunky Cowl (with one skein of yarn!)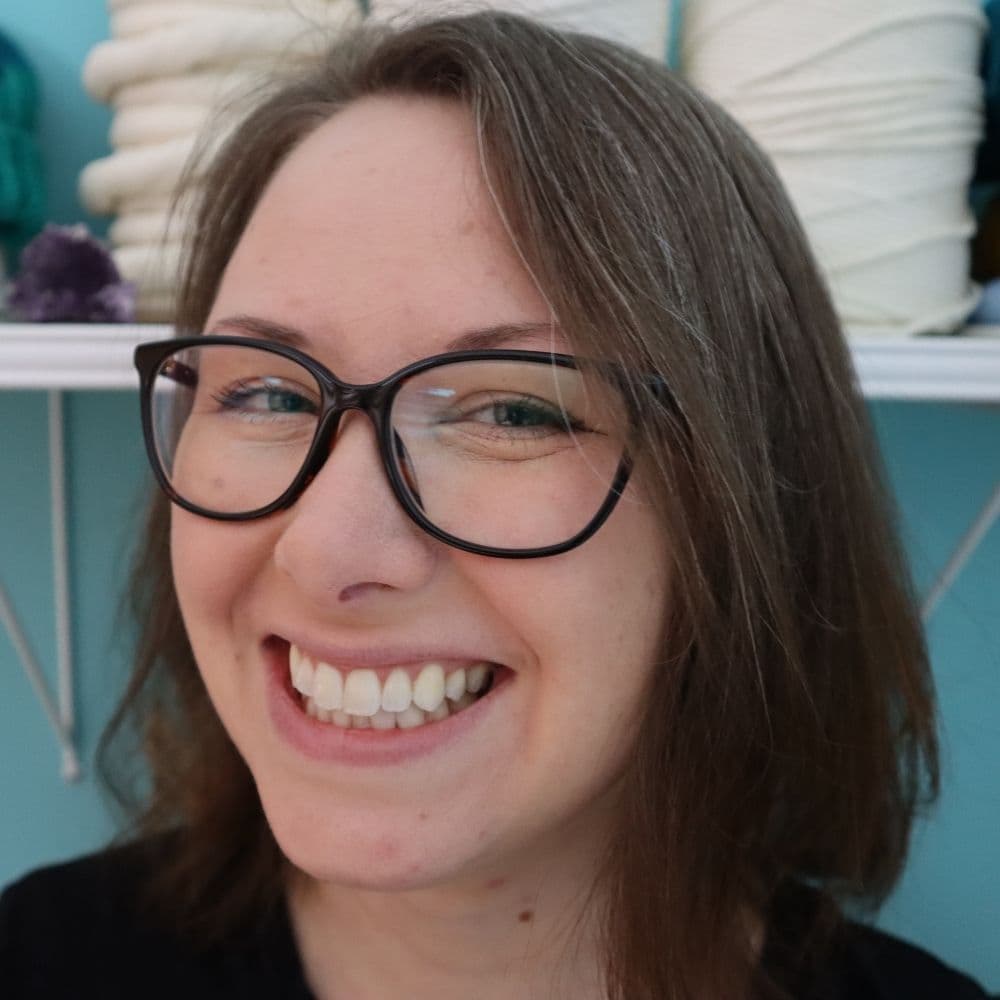 Crystal Martin is the crafty lady behind Marching North. She loves sharing easy to follow tutorials and patterns for macrame, crochet, punch needle, and pretty much anything else involving yarn or textiles.
Her work has been featured on Creative Fabrica, Craft Gossip, Ravelry, as well as her own site and YouTube channels.