These pom pom earrings are so fast and easy, you'll want to make a pair for everyone you know!
One of my favorite things about these earrings is you can customize them with different colors of yarn, make them in different sizes or even make a really cool variation with multiple colors.
A pom pom maker will streamline this process and make it super simple, but you can also use your fingers or a fork to create your pom poms.
In the easy tutorial below, I'll show you how to use a pom pom maker, but I'll also link to instructions for making pom poms without any special equipment if you don't have one.
If you're looking for a fun last minute DIY gift idea, a pair of these pom pom earrings will do the trick!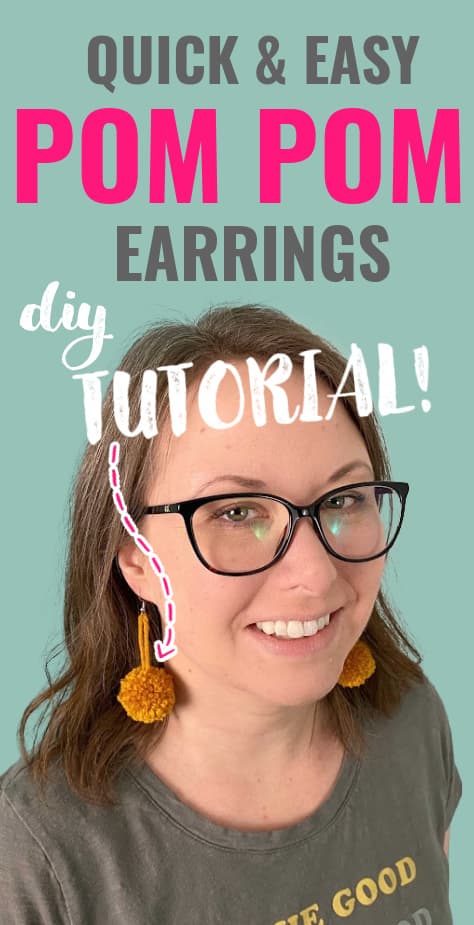 (This post contains affiliate links. If you click one and make a purchase, I may receive a small commission at no extra cost to you. Read the disclaimer here. Thank you for your support!)
Supplies You'll Need
Check out the full video tutorial over on my YouTube channel, Yarn Stash with Marching North!
Step 1: Making Yarn Pom Poms
First, we need to make the pom poms. I used the smallest Clover pom pom maker to make mine, which I love because it makes a super fluffy, uniform pom pom.

If you don't have a pom pom maker, don't despair! I'll link to some easy DIY pom pom tutorials that you can follow for this step in just a minute.
How to Make Pom Poms with a Pom Pom Maker
Open the arms of the maker out on both sides. Make sure you open both parts on each side (there are four wings all together, two on each side.)
Grab the end of the yarn and hold it against one set of wings. Begin wrapping around evenly going back and forth so the whole section is filled in.
Continue wrapping until it's totally full and you can barely close your pom pom maker.
Close the first side of the pom pom maker and cut the yarn.
Repeat steps 1-4 for the other side.
Use the tips of your scissors to cut the yarn down the center channel of the pom pom maker all the way around the whole thing.
Cut another piece of yarn that's about 10 inches long and wrap it around the center channel of the pom pom maker. Tie a half knot in the ends and pull it tight, and then tie another half knot to secure it.
Open up the pom pom maker and pull the two sides apart to free your pom pom.
Trim up the pom pom to make it a nice round shape, just be careful not to cut the long hanging cords. This is where sharp scissors make your life a lot easier!

How to Make Pom Poms WITHOUT a Pom Pom Maker
If you don't have a Clover pom pom maker, you have a few different ways to make a nice pom pom.
Use your fingers: You can wrap the yarn around your fingers a bunch of times, then tie yarn around the bundle and cut the loops. This tutorial shows how to make a pom pom with your fingers.
Use a fork: this is basically the same method as the finger method, but you use a fork instead of your fingers. This makes it a bit easier to get a uniform pom pom, and it would work good for these earrings since you want a small pom pom.
Make a DIY cardboard pom pom maker: here's a tutorial showing how to make your own DIY cardboard pom pom making device. Make your pom poms and then come back here to finish up the earring tutorial!
Step 2: How to Make Pom-Pom Earrings
OK, we have our two pom poms made, now it's time to turn them into some earrings.
Cut two pieces of yarn that are 6″ long. Fold them both in half and tie an overhand knot in each piece close to the end. You're basically make a big loop.

Grab the long hanging cords of one of the pom poms. You're going to thread one hanging cord through the loop we just made.

Position the loop of yarn so the knot is down at the base of the pom pom between the two long cords.
Tie a double knot with the two cords hanging off the pom pom, pulling the knotted end of the loop down into the center of the pom pom so it's hidden.

Trim off the excess yarn so it blends in with the rest of the fringe. Repeat those steps with the other pom pom and hanging loop.
Use your jewelry pliers to carefully open the loop on the end of one of the earring hooks.

Thread the hanging loop onto it, and close it back up.
Repeat that process for the second earring. Done!



FAQ's
Here are the answers to a few frequently asked questions I've seen people asking about making these earrings.
What kind of yarn do you use to make pom pom earrings?
I recommend using acrylic yarn for pom pom earrings, because it's affordable, easy to make fluffy pom poms out of, and it comes in a wide range of colors.
As for the weight of the yarn, I used worsted weight to make these earrings. You can use chunkier or finer yarn, you will just need to wrap more or less to make a nice pom pom.
You could also make pom poms using embroidery floss, but it will take quite a bit longer since it's so much finer.
How do you make fluffy pom pom earrings?
The best way I've found to make fluffy pom poms is with a Clover pom pom maker. If you wrap each side until it's almost too full to close, your pom pom will be nice and full.
How do you make clip on earrings?
You can make these into clip on earrings by switching out the hardware.
Instead of a regular pierced earring hook, switch it out for a clip on earring post and you'll probably need to use a jump ring to connect the hook to the yarn loop.
Are pom pom earrings a thing?
Um… yeah! As far as I'm concerned, pom pom earrings are definitely a thing!
They're fun and easy to make, you can use any color of yarn you want, and did I mention they're so much fun?

In Conclusion
I hope you enjoyed this tutorial showing how to make your own DIY pom pom earrings!
If you make a pair of these, please share a picture on Instagram and tag me @marchingnorth so I can take a look, it makes my day!
Related Posts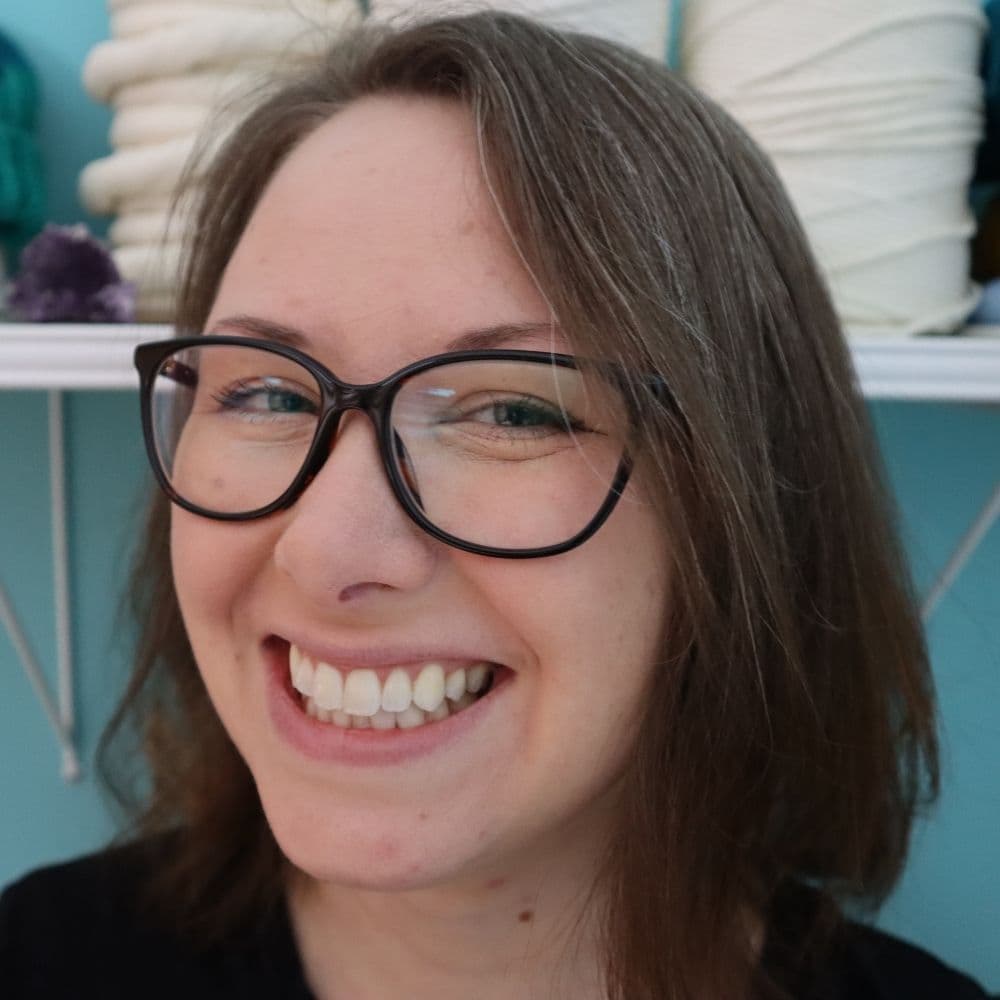 Crystal Martin is the crafty lady behind Marching North. She loves sharing easy to follow tutorials and patterns for macrame, crochet, punch needle, and pretty much anything else involving yarn or textiles.
Her work has been featured on Creative Fabrica, Craft Gossip, Ravelry, as well as her own site and YouTube channels.