Learn how to crochet this beautiful and useful hanging ring towel holder that loops right over your oven handle in today's free crochet pattern, photo tutorial, and step by step video!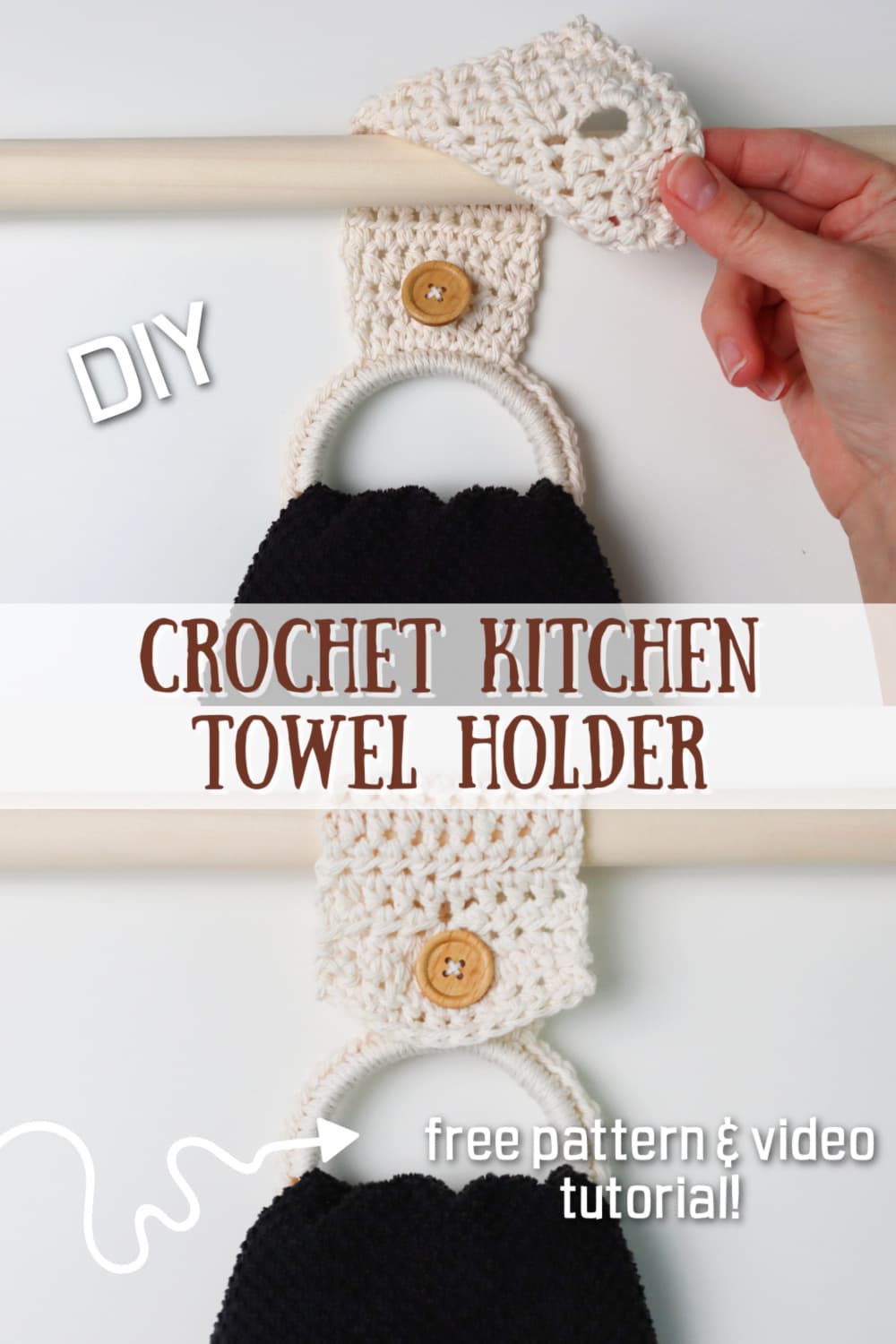 (This post contains affiliate links. If you click one and make a purchase, I may receive a small commission at no extra cost to you. Read the disclaimer here. Thank you for your support!)
I love practical projects, and this easy crochet towel hanger has become a permanent fixture in our kitchen.
Besides being a handy way to hold a tea towel, it's also adds some nice texture to your kitchen decor.
One thing to keep in mind with this easy pattern is you can customize the size of the towel holding opening by using different sizes of towel rings.
I used a 3″ wooden embroidery hoop (just the middle ring) for mine.
It's a pretty large loop that holds any size hand towels, terry cloth towels or even crochet dish towels if I want!
You could use a smaller ring if you want, or you can even use a hair elastic instead.
I've tried it that way, and I didn't like the way the loop hangs. It looks a little sloppy, and I found the wooden ring gives it a lot more structure and looks much neater.
This project would make a great housewarming gift, and you can use whatever color combination you want to match the decor.
Stitches You'll Need to Know
This is a super easy project and you'll only need a few basic crochet stitches to complete it.
The main stitches we'll be using are single crochet and half double crochet.
You'll also need to know how to chain, slip stitch, and double crochet.
To start, we'll be single crocheting around the wooden ring.
Don't worry, I'll go through the whole process with you step by step in the written tutorial and video below.
Then we'll sew on a button with a needle and thread. It's that easy!
Best Yarn for Crochet Towel Holders
Anytime I'm making a crochet project for the kitchen, cotton is my go-to fiber.
It's easy washing, it doesn't melt if it gets near heat (this is important since it'll be hanging off your stove handle!) and it comes in lots of fun colors.
Another option would be wool yarn, but I don't use it that often because it's harder to clean.
I don't recommend using acrylic yarn for this project because it can melt and I think that would be a bit of a safety hazard!
You'll need medium weight yarn for this project, which is also called worsted weight. Here are a few good options:
Dishie Yarn
I Love This Cotton (from Hobby Lobby)
Lily Sugar'n Cream Yarn
Peaches & Creme Yarn (what I used)
All of these cotton yarn options should work great.
I'm using Peaches & Creme because it's what I have in my stash and I have a big huge cone of it to use up!
Abbreviations
st(s) – stitch(es)
ch – chain
sl st – slip stitch
sc – single crochet
hdc – half double crochet
dc – double crochet
sk – skip, as in skip the next stitch
rep – repeat
Notes
Skill Level – Confident Beginner
Pattern is in US terms
After the first 12 rows of the strap we'll be making a button hole. It's not complicated, but it takes a couple of rows to complete.
Tools and Materials
3″ wooden ring (I used the inner ring of an embroidery hoop)
1″ button
needle and sewing thread
Instructions
Check out the video tutorial for this project over on my YouTube channel, and don't forget to subscribe!
Crochet Pattern
Row 1: Single crochet around ring
Insert your hook into the wooden ring and then attach your yarn to the hook with a slip knot.

Or you could attach the yarn to your hook with the slip knot and back the handle of the hook into the ring.
Either way, you want the working yarn to be on the side of the ring opposite of you.
Make a slip knot to secure the yarn to the ring.

Then sc around the ring however many times it takes to fill it completely. I did 60 sc stitches to fill my wooden ring.


Sl st to the first sc.

Row 2: Ch 2. Hdc in same st and next 8 sts. (9 sts)

Row 3-12: Ch 2, turn. Hdc in same st and next 8 sts.

Row 13: (1st button hole row) Ch 2, turn. Hdc in first 4 sts. Sl st in next st.
Ch 6 times, then slip stitch to the same stitch that you slip stitched to before the chain 6. This will make the button hole loop.
Hdc in next 4 sts.

Row 14: Ch 1, turn. Sc in first 4 sts, 6 sc in ch loop, sc in last 4 sts.

Row 15: Turn, sl st in 1st st, sc in next st, hdc in next st, dc in next st, sk 1st sc of loop, sc in next 4 sc, sk last sc of loop, dc in next st, hdc in next st, sc in next st, sl st in last st.

Row 16: Ch 1, turn. Sc in each st across. (12 sts)
Finish off by cutting the yarn and pulling it through the loop on your hook.

Sewing on the Button
Grab your sewing needle and thread about an arms length of thread onto it.
Double it over, line up the ends and tie a knot.
Hold the button on the front of the towel holder just above the wooden ring.

Sew it to the crochet part securely.
I like to sew in through the back first, hold the knot with my other hand and then sew back down into the button and through.
Then I bring the needle through the middle of the thread so it makes a slip knot.
Otherwise the knot will just slip through the stitches.
Once you have the button sewn on, tie a sturdy knot and cut the excess thread.
Finishing
Use your yarn needle to weave in the ends of the yarn at the top and bottom of the strap. Cut the excess yarn and you're done!

I hope you enjoyed this crochet towel holder free pattern!

This project makes a perfect quick gift and only takes a little time to make.
If you make one of these, please share a pic over on Instagram and tag me @marchingnorth so I can take a look. I love seeing all of your awesome creations!
More Free Crochet Patterns
Free Crochet Towel Holder Pattern (with Video!)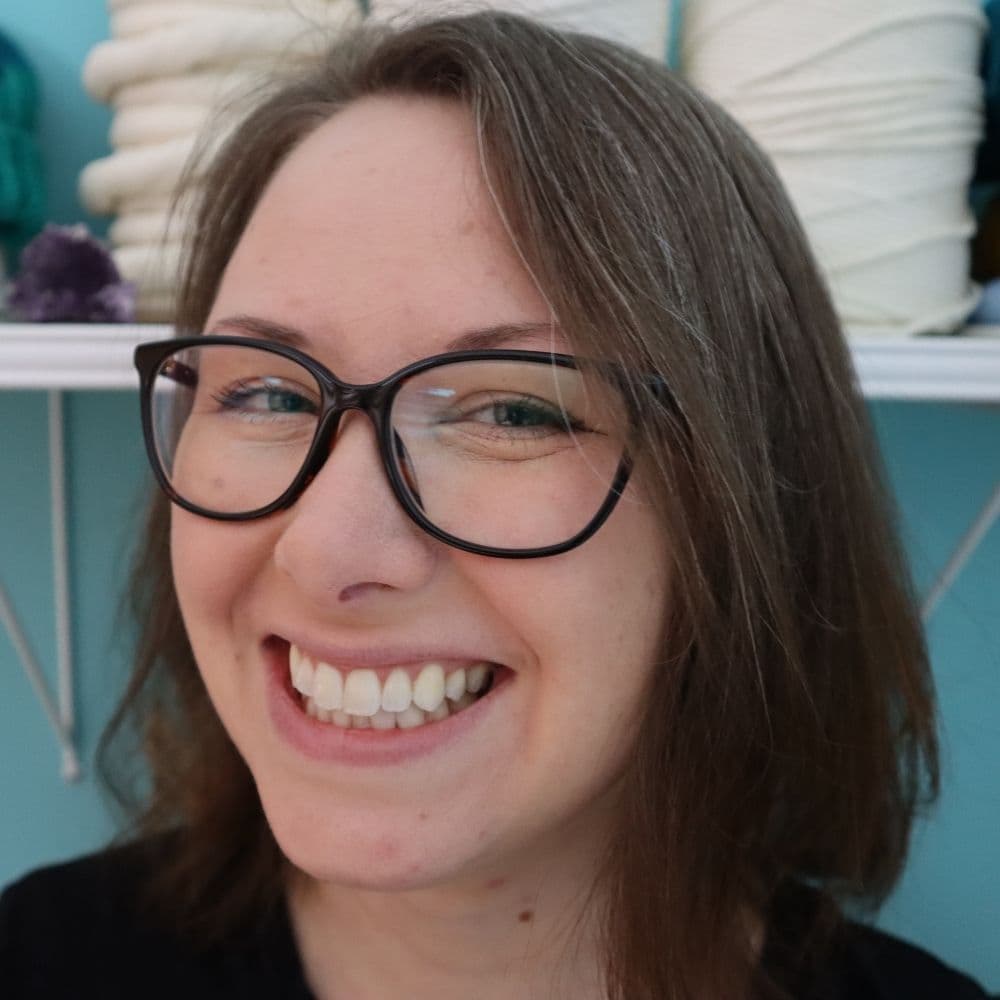 Crystal Martin is the crafty lady behind Marching North. She loves sharing easy to follow tutorials and patterns for macrame, crochet, punch needle, and pretty much anything else involving yarn or textiles.
Her work has been featured on Creative Fabrica, Craft Gossip, Ravelry, as well as her own site and YouTube channels.