It's that time of the year again! Whether you're looking for a last minute gift or just trying to get ahead of the game, DIY macrame gifts are a great option!
There's nothing quite as satisfying as making your own macrame gifts and giving them to your family and friends. Not only will you save a bit of money, but there's a ton of love and thought that goes into them.
To give you some inspiration, I've made a list of 13 different macrame project ideas with links to free tutorials and some paid patterns as well. There's something for everybody in this holiday macrame project list! Let's get started!

Are you new to macrame? Before you get started on your first macrame patterns, come check out my basic knots tutorial to learn the important beginner knots!
You'll learn the square knot, lark's head knot, double half hitch knot, and a few others that you'll need for most macrame projects.
Each knot tutorial includes a video tutorial and written instructions, plus you can get my printable illustrated PDF guide to the 5 most important basic macrame knots!
(This post contains affiliate links. If you click one and make a purchase, I may receive a small commission at no extra cost to you. Read the disclaimer here. Thank you for your support!)
Keychains

Macrame keychains are so quick and easy to make! You can make a bunch for stocking stuffers and still have time to work on other DIY gift ideas.
I have a couple free macrame key chain tutorials on my site that have been really popular:
You can find even more free keychain tutorials on YouTube if you do a search. Or you can wing it and come up with your own ideas!
Looking for more macrame keychain patterns? Here's some nice ones I found on Etsy:
Plant Hangers

Macramé plant hangers are one of the most popular macrame projects and they make a wonderful handmade gift. Just about everybody loves having hanging plants in their home, and a macrame planter is a great way to display them!
Check out this post with several beginner friendly macrame plant hanger patterns on my site. It includes 7 free macrame plant hanger tutorials with step by step instructions!
There are also some more advanced patterns on Etsy that are GORGEOUS. Here's some of my favorites:
Wall Hangings

Speaking of popular macrame projects, you can't get much more popular than macramé wall hangings!
There are so many varieties and types of wall hangings, but I'm specifically talking about the kind that hang from a dowel or piece of driftwood.
I have a few free, step by step macrame wall hanging patterns that are simple to make on my site:
There are several other free macrame wall hanging tutorials on YouTube as well, just type in "macrame wall hanging tutorial".
Here are some beautiful wall hanging patterns I've seen on Etsy that I just love:
Mandalas

Macrame Mandalas are super popular right now, and surprisingly easy to make. All you need is a few metal rings in different sizes, plus your cord, and you can make a breathtaking wall hanging.
Here's a free tutorial from my site showing how to make a Macrame Mandala. It's one of my favorite patterns and I have it hanging above our fireplace in the living room!
There are lots of other amazing mandala patterns available out there, here's a few eye-catching ones:
Are you looking for a half mandala pattern instead of a round one? There are some really cool patterns available for those!
Dreamcatchers

Another popular macrame item is the dream catcher. There are lots of different styles of these to choose from depending on your taste.
I have a free pattern for a Crescent Moon Dream Catcher on my site. I used black macrame cord for mine, but you could use natural or any other color you prefer for a different look.
Recently I shared a simple round macrame dream catcher over on YouTube. I haven't quite gotten the written pattern on the site yet, but I will soon!
Here are some more really neat macrame dream catcher patterns:
Bags

Macrame bags are super useful and make a perfect gift for just about anyone who loves macrame! Your gift recipient can use it for grocery shopping, a day at the beach, or as a carry all bag.
I have a couple of free macrame bag patterns on my site, one is for a market bag and the other is a clutch purse:
If you're looking for a full tutorial showing how to make a macrame cross body bag with a liner and everything, I made a video course for Creative Fabrica that walks you through the whole project step by step!
Don't worry, it's not complicated and requires minimal sewing.
Here are a few more really awesome macrame bag patterns to check out:
Dog Collars

A macrame dog collar is a really fun idea for the dog lovers in your life! Plus, this DIY gift will only take a couple of hours to complete depending on your skill level.
Here are some free macrame dog collar patterns I found on YouTube:
Bracelets

Macrame bracelets and friendship bracelets are making a huge comeback in popularity right now. They're relatively fast to make and the perfect gift for any macrame lover.
You can keep the patterns super simple, or add some glass or wooden beads and they're a really fun project.
Here are some free macrame bracelet patterns from my site:
Looking for more macrame bracelet patterns? Here are some cool ones on Etsy:
Coasters

Macrame coasters are a great gift that just about anyone will appreciate. You can customize the colors to suit your gift recipient's taste, and there are so many different styles to go with!
Besides just cups and mugs, you can also use these coasters to go under plant pots for a easy boho decor upgrade.
I have a couple of free macrame coaster patterns on my site:
Looking for more macrame coaster ideas? Here are some unique patterns I found:
Rainbows

Macrame rainbows have been a favorite for a few years now. You can change up the color schemes for different looks or just go with the standard rainbow shades.
If you have random scraps of cord or yarn you need to use up, this is a fun way to do it!
Here are a couple of free macrame rainbow patterns from my site:
Placemats & Table Runners

Macrame placemats and table runners are a perfect gift around the holidays. In our house, the only time we use them is for Thanksgiving and Christmas!
Check out this free Boho Macrame Placemats pattern from my site. It's beginner friendly!
There are some really neat macrame table runner patterns on Etsy, here are a few of my favorites:
Bottle Tote

A macrame bottle tote can be used to carry a water bottle on the go, or as a fun way to wrap up a bottle of wine for a holiday gift!
Here's a super simple Free Macrame Wine Tote pattern from my site (it can also be used for sparkling cider or water!)
There are a few other free tutorials for bottle totes over on YouTube that caught my eye:
Still looking for more ideas? Here are a couple of patterns I found on Etsy:
Bookmarks

If you have a book lover in your life, a macrame bookmark is an awesome, thoughtful gift!
Here are a few free macrame bookmark tutorials from YouTube:
I also found a couple of really beautiful macrame bookmark patterns on Etsy:
Bonus: Easy DIY Gift Wrapping Ideas!
If you want a super simple but beautiful gift wrapping idea, try some basic brown craft paper with natural jute and an evergreen sprig! The natural vibes mix perfectly with a DIY macrame gift, plus it's very affordable.

Have you heard of Furoshiki? It's a Japanese technique of wrapping gifts with reusable fabric! What a neat idea and great for the environment.

In Conclusion
Macrame is such a fun craft with endless possibilities for projects and designs! I hope you found some DIY macrame patterns to inspire your gift giving this year. Happy Crafting and Happy Holidays!
If you're new to macrame or if you've been knotting for a while, connecting with other macrame lovers is always a great idea!
Come check out our Facebook group, Macrame for Beginners and Beyond. It's a friendly community where you can ask questions, get inspiration, and share your awesome work with other macrame lovers! Come join the conversation today!
Related Posts
13 Macrame Gift Ideas for the Holidays (or All Year Round!)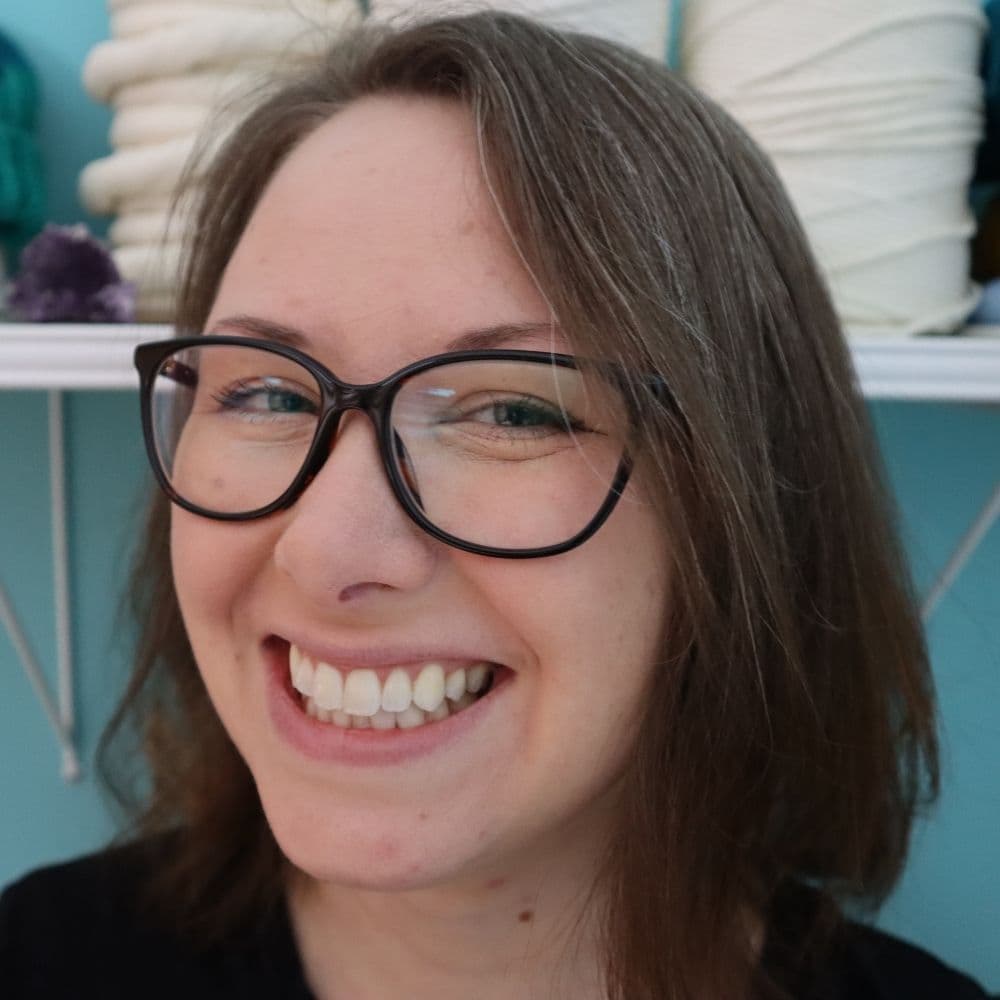 Crystal Martin is the crafty lady behind Marching North. She loves sharing easy to follow tutorials and patterns for macrame, crochet, punch needle, and pretty much anything else involving yarn or textiles.
Her work has been featured on Creative Fabrica, Craft Gossip, Ravelry, as well as her own site and YouTube channels.