Take your crafting game to the next level and learn to cut leather with the Cricut Maker!
Recently I took the plunge and added the Cricut Maker to my avalanche of craft tools, and I'm glad I did!
I discovered it's super easy to cut leather with the Cricut Maker.
This amazing and versatile machine is a game-changer for sure, and I haven't even scratched the surface of all it can do.
With the knife blade, you can cut garment leather or tooling leather. I've even seen someone use the scoring blade to make cuts for tooling!
I don't have the scoring blade yet so I haven't tried it, but it's on my to-do list for sure.
Today, I have a tutorial to show you how to make some trendy teardrop-shaped earrings with your Cricut Maker!
Follow along to make the earrings, or use your own pattern and make whatever your heart desires, the steps are the same either way.
Get the FREE SVG file I made for you below!
It includes 3 super popular earring shapes: teardrop, petal (which can be made into the folded petal made famous by Joanna Gaines) and bar/rectangle.
I even made you a handy dandy printable chart so you can easily tell what size leather you have and if it will work with the Cricut Maker!
You'll find links to the free SVG and the printable chart down below in the supply list.
---
Watch my How to Cut Leather with the Cricut Maker tutorial video here, or scroll down for the written tutorial…
---
Let's Cut Some Leather!
This page contains affiliate links to products I personally use and recommend. I receive a small commission for any purchases made through links in this blog post. Thank you for your support!
You will need:
Leather: 2-3 oz or 4-5 oz garment leather or 2-3 oz, 4-5 oz or 6-7 oz tooling leather. You need roughly a 5″ x 5″ piece of each one.
Knife Blade for Cricut Maker
Strong Grip Mat (the purple one)
Contact paper (optional, this will keep your mat cleaner)
How to Cut Leather with the Cricut Maker
First, you need to put the knife blade into your Cricut Maker and move the star wheels on the rolling bar all the way to the right.
Cut your piece of leather down to the rough size you need with sharp scissors or an Exacto knife.

Hint: go ahead and get your design ready to cut in design space so you see how it lays it out for cutting. I tend to forget this and have to change the material size setting to try and get it to fit.
Put your leather on your Strong Grip mat. Here you have 2 options…

The Cricut website directions tell you to lay the leather face down onto your mat.
You can also take a sheet of Contact shelf liner paper and stick it onto the mat sticky side up and then put your piece of leather face up, hairy messy side down onto the contact paper. In the video above this is the method I use.
If you have printed leather or you're worried the front will get messed up from the mat, the Contact paper method is the safer way to go. The contact paper also keeps your mat from getting super dirty from the back of the leather.
Next, apply masking tape to all of the edges of your leather.

If your tape wraps around the edge of your mat on the left side (mine always does) try to make sure it's flat and even or it can make the mat kind of stick when it's sliding back and forth and it gets gunky in there.
Now it's time to cut!
Go into Design Space and select the appropriate leather in the material selection area.
Friendly reminder, remember to mirror your design if you have your leather face down and your design isn't symmetrical!!
Follow the prompts, load your mat and then press the flashing C button on your Maker and it'll get down to business.

On your screen in Design Space, depending on the thickness of your leather, it may say that it will take longer than usual to cut. I've found it's typically quicker than it predicts.
Make sure you keep an eye on it, sometimes it'll cut through it completely before it finishes.
If you think it's done, press the pause button and carefully check.

It helps to strategically press pause when the mat is mostly sticking out of the machine so you can reach your design. Sometimes that's easier said than done! It might take a couple of attempts.
If it's done cutting, press the arrow button to unload your mat and cancel the cut. If it's not quite ready just press the pause button again and let it do another pass and check again.
Once cutting is complete, carefully peel your cut leather pieces off of your mat or contact paper.

Sometimes the edges of the leather will be a little hairy looking. I just trim it up with a pair of scissors.
Depending on what you plan to do with your leather pieces, you may want to tidy up the backside. Especially if you're making leather earrings where the backside will be exposed.

I use Gum Tragacanth on the back and sides to smooth it down. It's a water-based natural compound that's used for burnishing and smoothing down edges on leather.
Click here for my favorite brand.
I've had the same bottle for 3 years and it still works great!
---
In Summary
I hope this tutorial about how to cut leather with the Cricut Maker has been helpful!
What's your favorite thing to cut with your Cricut Maker? Let us know down below!
Related Articles
How to Cut Leather with the Cricut Maker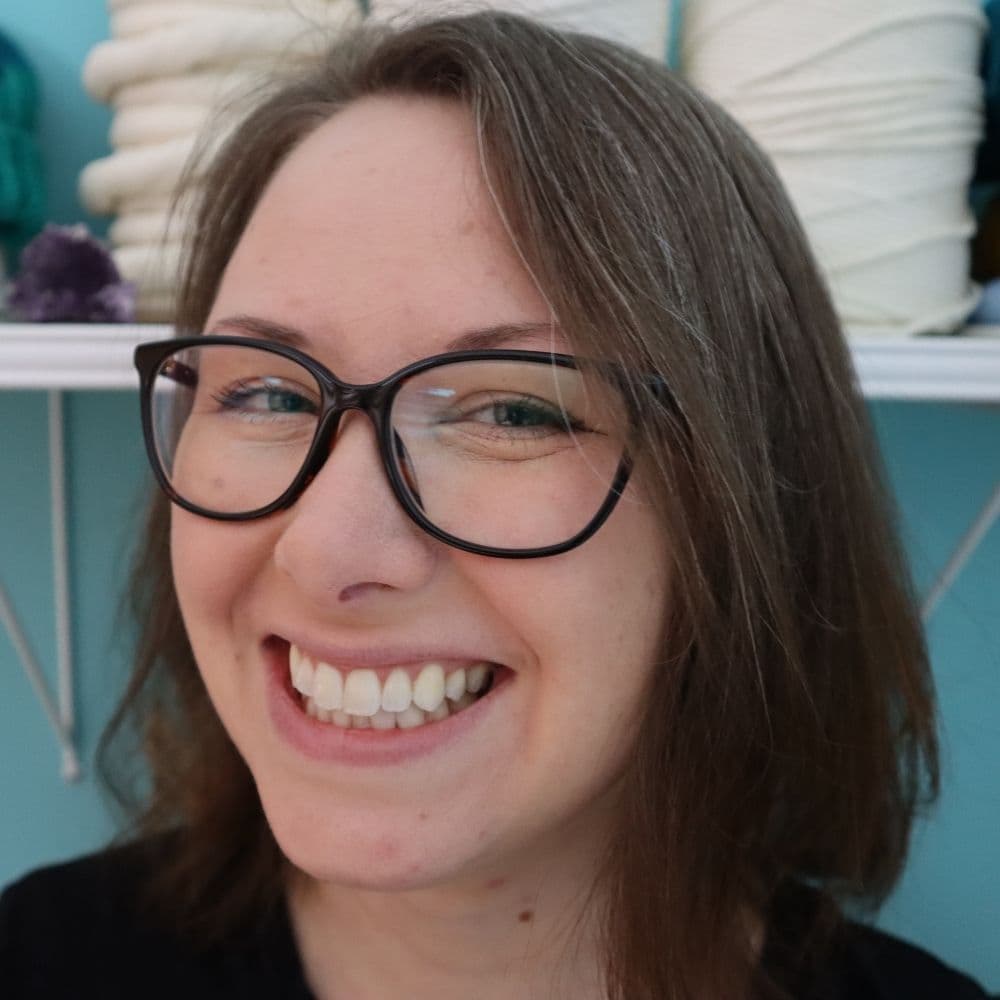 Crystal Martin is the crafty lady behind Marching North. She loves sharing easy to follow tutorials and patterns for macrame, crochet, punch needle, and pretty much anything else involving yarn or textiles.
Her work has been featured on Creative Fabrica, Craft Gossip, Ravelry, as well as her own site and YouTube channels.