Are you thinking about getting a Cricut machine but not sure what they can do or which one is best for you?
Read this guide to find out what Cricut machines are currently available on the market, what they do best, and which version of this amazing tool is right for you!

(This post contains affiliate links. If you click one and make a purchase, I may receive a small commission at no extra cost to you. Read the disclaimer here. Thank you for your support!)
What is a Cricut machine and what does it do?
At its most basic, a Cricut is an ultimate smart cutting machine for loads of different materials such as paper, cardstock, vinyl, fabric, cork, and more.
Depending on which of these electronic cutting machines you're using, a Cricut can also draw or write with pens (including a washable fabric pen!), use a scoring stylus or wheels to score paper and cardstock for easy folding (perfect for card making), emboss, engrave, do foil quill, and lots of other awesome things!
Cricut machines come in three models including the Cricut Maker 3, Cricut Explore 3, and Cricut Joy. The difference between these models is size, capabilities, different types of materials, as well as price point.
All the Cricut models use the same Design Space software which makes designing and prepping your projects a piece of cake!

What is Cricut Design Space?
Design Space is a cloud based software that you use to design and create projects for your Cricut.
It includes access to a catalog of ready to make projects and files, as well as the ability to make your own designs.
Some of the included projects are free and some are available to buy al la carte for an additional fee (unless you have a paid subscription to Cricut Access which we'll discuss down below).
You can upload SVG files from sites like Creative Fabrica or Etsy as well, there are so many ways to be creative in Design Space!
It's easy to download the app and use it on your smart phone, iPad, computer and other devices and you can easily switch between devices without losing your progress.
Since the January 2020 update, you can now use Design Space without an internet connection. You will have to connect to the internet to save your projects for offline use.

What is Cricut Access?
Cricut Access is an optional monthly subscription you can sign up for that gives you unlimited access to loads of projects, images, fonts, and cartridges that you can use for your projects.
You also get 10% off of orders placed through Cricut.com (including sale items) and 10% off premium licensed fonts and images.
It's very affordable at $9.99 a month if you pay monthly and $7.99 a month if you pay annually (which works out to around $95.88 a year.)
If you find yourself buying very many image or font files through Design Space, you'll see how quickly the cost can add up. A Cricut Access subscription will easily pay for itself after just a few projects.

How Does a Cricut Work?
The different types of Cricut machines vary when it comes to the settings and things you can do with them, however the basic process is the same when you go to use it.
Choose your design in Cricut Design Space, and decide what type of material you'll be using. Follow the prompts to set the correct material type and tell your Cricut what you want it to do. You'll also need to make sure you have the correct blade or tool inserted (it'll tell you what to do).

Place the material onto one of the cutting mats. You'll choose the appropriate type of sticky cutting mat depending on the material you're using. Load the mat into your Cricut machine.

In the Design Space app, you'll select "Make It" and then your Cricut machine will prompt you to press the "Make It" button. Then it'll start cutting, drawing, or whatever it's set up to do.

Once your Cricut is finished with it's job, you'll press the button again to unload the mat and now you can remove the finished piece and continue with your project!

What is the Latest Cricut Machine Model?
The latest Cricut machine on the market is the Cricut Maker 3. It has all the powerful capabilities of the Cricut Maker, but also includes a couple of amazing extra features!
One of the new upgrades is the ability to cut at speeds up to 2X faster when using Smart Materials. That will save you a ton of time when you're making intricate designs.
Another awesome bonus is you can now make cuts up to 12 feet long, all in one go! That's a big difference over the max material length of 24″ with the original Cricut.
There are a few other changes as well, such as the images on the buttons and an upgraded power cord needed for the more powerful motor.
Don't worry, all the tools and blades that work with the Cricut Maker also work with the Cricut Maker 3! So if you already have a Maker and you decide to upgrade, you can use all the tools and blades you already have with the new machine.
One bummer at the moment is the Cricut Maker 3 doesn't come in different colors, it's only available in a pretty blue color. There's a good chance that more colors will be available later!

What Other Cricut Machines are Available?
Now that we've taken a look at the newest model, the Cricut Maker 3, let's look at the other Cricut machines currently available.
Cricut Maker
The Cricut Maker is the original Maker model and the predecessor to the Maker 3.
It uses the same blades and tools as the Maker 3 and can cut 300+ materials, including specialty materials like fabric, leather, faux leather, balsa wood, and more. It also has the Adaptable Tool system with interchangeable tips like the Embossing blade, Scoring wheel, Knife blade, and more.
The Cricut Maker works with Print then Cut and is Bluetooth compatible as well as USB. The max material width is 12″ and max material length is 1.9 feet.
Find out everything you could possibly want to know about the Cricut Maker in this Ultimate Guide!

Cricut Explore 3
The Cricut Explore 3 latest addition of the Cricut Explore machines.
It can cut 100+ materials and uses 6+ different tools including the Fine Point Blade, Deep-Cut Blade, Bonded Fabric blade, and more.
You can also use Smart Materials and do matless cutting with the Explore 3! The max material width is 13″ wide and the max length is 12 feet long.

Cricut Explore Air 2
The Cricut Explore Air 2 is a very good value and the right choice for serious crafters on a budget. It also cuts 100+ materials and has 6+ compatible tools and blades.
It's a great machine for cutting vinyl decals, making custom t-shirts, and other straight forward Cricut projects.
Cricut Joy
This adorable little Cricut machine is much smaller than the other Cricut machines and a bit limited in what it can do. But don't write it off just yet!
The Cricut Joy uses Smart Materials exclusively, which makes every project you do on it super fast and easy with little to no set up needed.
Just want to whip up some smaller projects like labels or a vinyl decal? It'll have it cut and ready to go in 3 minutes, instead of the 15-20 minutes it'll take after getting everything set up with the Explore or Maker.
Also, it has a tiny footprint and it's super light weight and easy to take with you on the go!

What Can You Make with a Cricut Machine?
Oh my goodness, so many things! Here's a list of project ideas to get you started:
Custom Coffee Mugs
DIY T-Shirts
Planner Stickers
Decorated Wine Glasses
Stencils for Glass Etching
Layered Shadow Boxes
Infusible Ink Coasters
Gift Boxes
Christmas Cards
Removable Wall Decals
Car Decals
Nursery Decor
Quilts
Labels for Everything
Stenciled Welcome Mat
Paper Flowers
Custom Tote Bags
Socks with Cute Sayings on the Bottom
Custom Baseball Cap
Throw Pillows
Farmhouse Wood Signs
Decorated Mason Jars
Reverse Canvas Wall Art
Custom Gift Tags
Monogrammed Everything
How to choose the right Cricut for you
With all this information, it can be super overwhelming trying to decide which Cricut machine to buy.
To help you out, I'll break it down into which Cricut machine is best for different crafters and different types of craft.
Keep reading to find out which of these amazing Cricut cutting machines are right for you!

Best Cricut for Beginners
If you're new to Cricut crafting, I recommend a machine that has plenty of capabilities but is still pretty simple and easy to use.
My pick for the best Cricut machine for beginners is the new Cricut Explore Air 3. Let's take a look at why!
The Explore Air 3 is a versatile, easy to use tool that cuts through several different materials with ease. It's more affordable than the Cricut Maker 3, but still has lots of capabilities.
Here are some of the awesome things it can do and why I think it's perfect for beginners:
It cuts through card stock, adhesive and iron vinyl, glitter paper, bonded fabric, cork, and more.
It has bluetooth capabilities, which means you can connect your mobile device or computer wirelessly
Double tool holder so you can have a blade and a pen installed at the same time
Fast Mode that cuts 2 times faster when you're short on time
Comes in a range of fun colors to brighten up your craft space
The Cricut Explore Air 3 is super straight forward to use for beginner crafters and beyond.
It's powerful and can cut lots of materials (over 100!).
If you're planning on making t-shirts with iron on vinyl or cutting adhesive vinyl, doing paper crafts, making print & cut stickers, and those types of projects, this machine will be perfect for you!
Like the other Cricut machines, it works with Cricut Design Space which is easy to use and has an awesome support community.
All that being said, if you're looking to cut thick materials, fabrics, and do lots of other amazing things, you should look into the Cricut Maker 3!

Reasons You Should Get a Cricut Maker 3
The Cricut Maker 3 is every bit as easy to use as the Explore Air 3, and there's a good chance once you get started with your Cricut that you'll want to branch out into more materials.
If you think that might be you (let's be real here) and you can afford it, it's better to just get the Maker in the first place.
You don't want to have buyer's remorse later, or end up with three Cricut machines in your craft room because you decide you need to upgrade. (Although it would be handy to have three, lol!)
Here's some of the main perks of the Cricut Maker 3:
Ability to cut through 300+ materials (including balsa wood and bass wood, leather, fabric, and more)
10X more cutting power than the Cricut Explore models
13+ tools that include the Knife blade, Fine Point blade, Rotary blade, and Adaptive Tool System with the Engraving tip, Embossing tip, and more
Can cut Smart Materials up to 12 feet long and 13 inches wide

Why I recommend getting a bundle package and not just a machine
When you go to purchase your Cricut, I highly recommend checking out what bundle deals are available on the Cricut website.
You can usually get several different materials to try with your new machine, and sometimes they have bundles with different Cricut mats and blades.
When I bought my Cricut Maker, I got a bundle that included several materials to try, a Knife blade and a Strong Grip mat. It was definitely worth it!
Difference Between the Cricut Machines
Let's take a quick look at some of the main differences between the Cricut machines:

Best Cricut for Making Shirts
Honestly, all of the Cricut machines work great for cutting vinyl to make t-shirts! There are a few differences though, so let's take a look.
If your main plan for your Cricut is to make t-shirts with vinyl or Infusible Ink, the Cricut Explore 3 will work great for you!
There's no sense in buying a Cricut Maker 3 if you have no plans to cut thicker materials or fabric, or if you don't intend to use the 12+ blades that are available for it.
If you DO think you might possibly ever have the desire to use those materials or blades, I HIGHLY recommend just going for the Maker 3 right out of the gate.
You can also make shirts using the Cricut Joy. It does a great job cutting vinyl, but you just have to keep in mind that it can only cut materials 5.5″ wide, so you're pretty limited in your designs.
I also recommend picking up a Cricut Easy Press 2 if you'll be making lots of shirts! It works so much better than an iron, but takes up a lot less space than a full blown heat press. I have the 12″ x 10″ one and I absolutely love it!

Best Cricut for Stickers
If you want to make Print & Cut stickers you can use the Cricut Explore Air 2, Cricut Explore 3, Cricut Maker or Cricut Maker 3. The Cricut Joy does NOT do print then cut.
But if you're wanting to make decals for cars or cut out cute sayings for your walls, the Cricut Joy will do a great job (and of course so will the other two).
The most important thing to remember is the whole Print & Cut situation, besides that they're all totally able to make awesome stickers and decals!
Best Cricut for Card Making and Paper Crafts
While all of the Cricut cutting machines are very capable of cutting paper and cardstock, my top recommendation for making greeting cards and paper crafts is the Cricut Joy.
It's small and easy to use, and you can cut cards super fast with the Card Mat and pre-cut and scored Cricut Joy cards that are ready to go!
Bonus points: it takes up almost no space in your craft room!
Both of the other Cricut models are also awesome at making cards and paper crafts. If you want more control over the shape and size of your cards, you can cut and score them with the Cricut Maker 3 and Explore 3.
You can even make perforations and emboss your cards with the Maker 3!

Best Cricut for Cutting Vinyl
This one is really a toss up. ALL the Cricut models are excellent at cutting vinyl. That's one of the main things they are made to do!
It really depends on what OTHER tasks you want to do with your Cricut and what size of vinyl design you'll be cutting.
For most projects, I recommend the Cricut Maker 3 or Explore 3 because they can handle larger pieces of material and have more capabilities.
If you'll be cutting smaller designs or long skinny wall decals, the Cricut Joy will be perfect for you.
Where to Buy a Cricut
Here are a few places I recommend to purchase Cricut machines and accessories:
Where to find free designs, fonts, images and more for your Cricut!
One of my favorite places to get all kinds of awesome SVG files, images, fonts, and more for my Cricut Maker is at Creative Fabrica.
You can get a monthly All Access subscription and you won't believe how many files are included! I've been using their site for a few years now and it's my favorite place to stock up on cute graphics and fonts.
They also have a selection of free files that you can download and use!

If you only are looking for one type of file (like fonts or images but not both) and don't need the All Access subscription, they also have smaller subscription packages. Be sure to check them out!
Here are a few more places to get lots of awesome cut files and fonts for your Cricut:
In Conclusion
I hope this article has answered your questions about about what a Cricut machine is and all the awesome things they can do.
Got any more questions? Let me know down below and I'll do my best to help you out!
Related Posts
What is a Cricut Machine? (+27 Projects You Can Do with One!)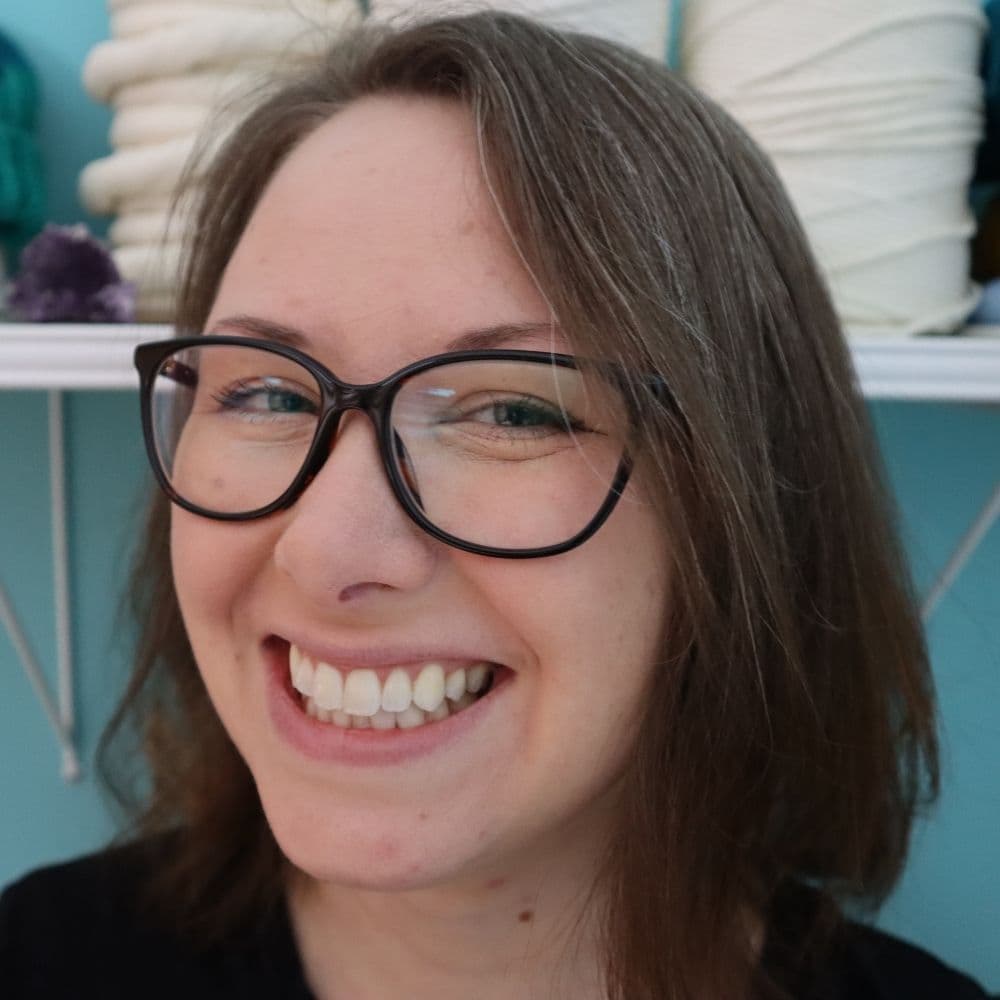 Crystal Martin is the crafty lady behind Marching North. She loves sharing easy to follow tutorials and patterns for macrame, crochet, punch needle, and pretty much anything else involving yarn or textiles.
Her work has been featured on Creative Fabrica, Craft Gossip, Ravelry, as well as her own site and YouTube channels.