Are you ready to learn all about macrame? You came to the right place! This Ultimate Guide to Macrame for Beginners has everything you need to know to get started today.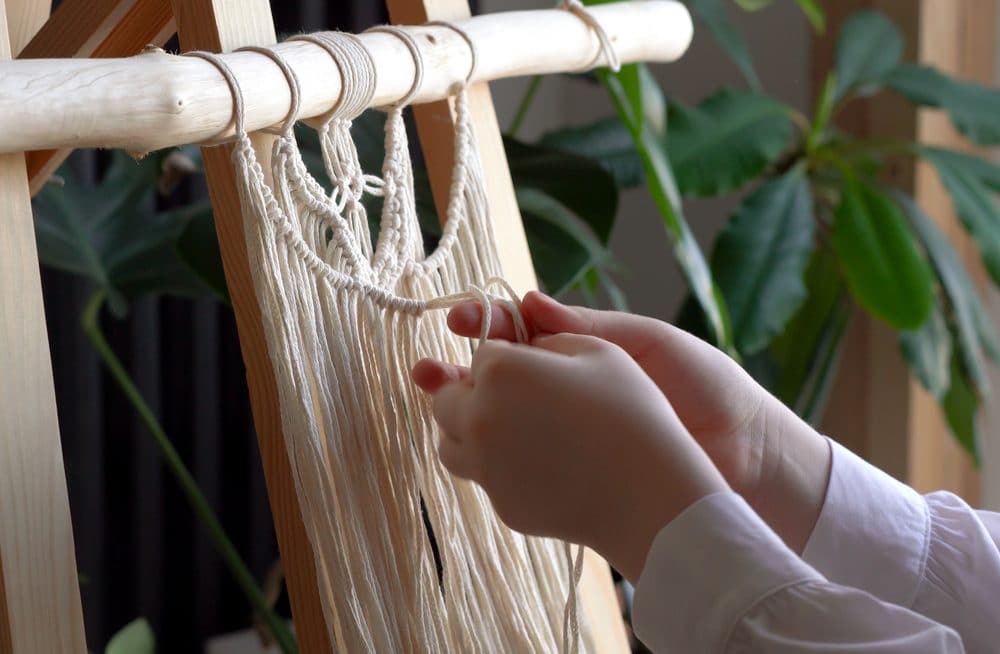 Macrame is such a fun and rewarding hobby. If you love making things with your hands (or think you would love it), it's the perfect fiber art to try.
I love so many crafts, but macrame is one of my favorites. When I'm working on other craft projects I always start feeling the itch to get back to something macrame related. It's just so relaxing and calming for me, and I love the natural boho vibe the finished pieces have.
Before we dive in, let's learn a few quick facts about macrame!
(This post contains affiliate links. If you click one and make a purchase, I may receive a commission at no extra cost to you. Find out more here. Thank you for your support!)
What is Macrame?
So what is macrame, anyway? From a technical standpoint, macrame is the art of creating beautiful textiles using various different knots.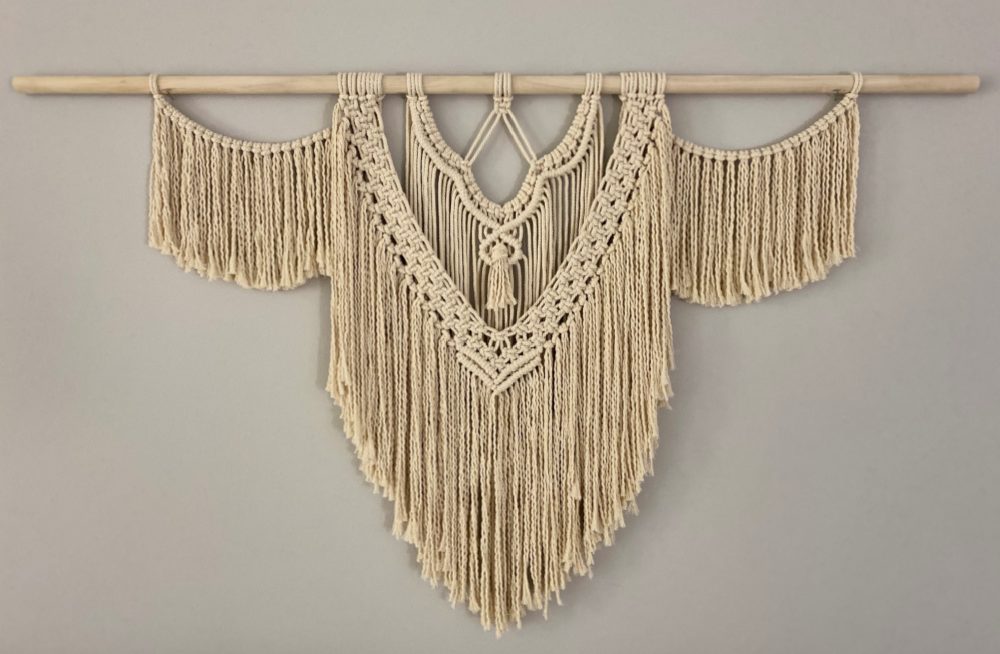 Some of the more common knots used in macrame are the larks head knot, square knot, half hitch and double half hitch knot.
It's amazing how many beautiful patterns and designs can be created with just a few basic knots! You can make home decor, functional items like plant hangers and shelves, decorate your clothes, make jewelry, or even a big comfy hammock!
Over the years, macrame has been used for so many different purposes. Let's take a quick look at the history of macrame.
History of Macrame
Macrame has been around for a very long time. There are carvings showing macrame style knots that date back all the way to ancient Babylonian and Assyrian culture.
In Arabic countries, macrame was believed to have been used as a decorative fringe technique to finish woven textiles.
Over the course of several centuries, macrame spread throughout the world and eventually ended up in Europe, where it really took off.
Queen Mary II was a big fan of macrame and using it to make lace. She even taught the skill to her ladies-in-waiting.
Later on, Queen Charlotte was known for her beautiful macrame handiwork which could be seen adorning the royal residence.
Macrame became hugely popular in the Victorian era. It was used to create lacy decorative table runners, curtains, pillow covers, and other home decor. It was even more popular in Victorian times than it was in the 1970s!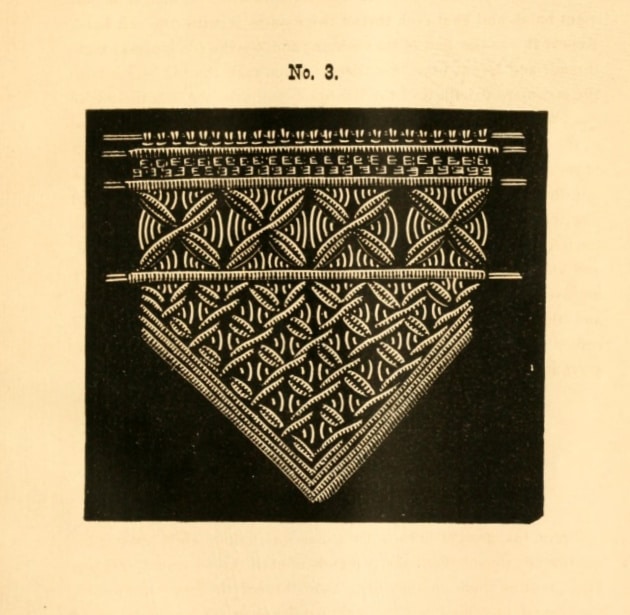 Sailors in the eighteenth and nineteenth century would make macrame textiles in their spare time at sea. They would barter and trade their creations in the different countries they arrived in, which helped spread the art of macrame even more.
In the 1970s, macrame was hugely popular in the hippie movement. They came up with all sorts of plant hangers, wall hangings, owls, clothing, and lots more. If you take a look at some vintage 70's macrame pattern books, you can find patterns for just about anything!
As you can see, macrame has been around for a long time and it has a rich and varied history.
Is Macrame Easy to Learn?
Yes! A lot of macrame designs look complicated at first glance, but really only use a couple of different knots.
You can make a beautiful wall hanging or plant hanger with just the basic larks head knot, square knots, double half hitches, and maybe a wrapping knot or Rya knot thrown in for fun!
I recommend heading over to YouTube and watching videos to learn the basic knots so you can really see how they're done.
There are some AMAZING macrame channels where you'll learn all kinds of fun knots and patterns. Of course, I want you to check out my channel where I post weekly tutorials (like and subscribe! shameless plug), and here are a few more of my favorites that I'm subscribed to:
Why is Macrame so Popular?
What is so great about macrame, anyway? So many things! Here are three awesome things about macrame that I think have attributed to it's popularity over the years.
Mindfulness
Doing macrame is a great way to incorporate more mindfulness into your daily life. We know it's good for our well being to be practice mindfulness, but sometimes it's hard to squeeze 30 minutes of meditating into your day, or even 5 minutes!
Once you get the hang of the basic knots, tying them becomes one of those skills that you can do without much thought.
It's so relaxing and calming to sit with your nice cup of tea and work on a section of whatever project you have on your rack. If you're looking for a hobby to bring more peace into your life, macrame is an excellent choice.
Creativity
Once you know a few knots, you can start using them to create all sorts of patterns and shapes in your macrame.
If you have a basic shape or design in mind, you can sit down and plan it out a bit on paper to get the pattern figured out. Or, you can just wing it and see what comes out!
Not sure you want to make your own designs? No problem, there are so many amazing macrame patterns available out there! You'll find some free ones down below to get started, and some more advanced ones you can purchase on Etsy linked down below.
Business Potential
Want to start some kind of creative side hustle or business? Macrame is a fabulous option!
You can make and sell original pieces on Etsy or at your local craft market, create patterns to sell online, or teach others how to do macrame on your blog or YouTube channel.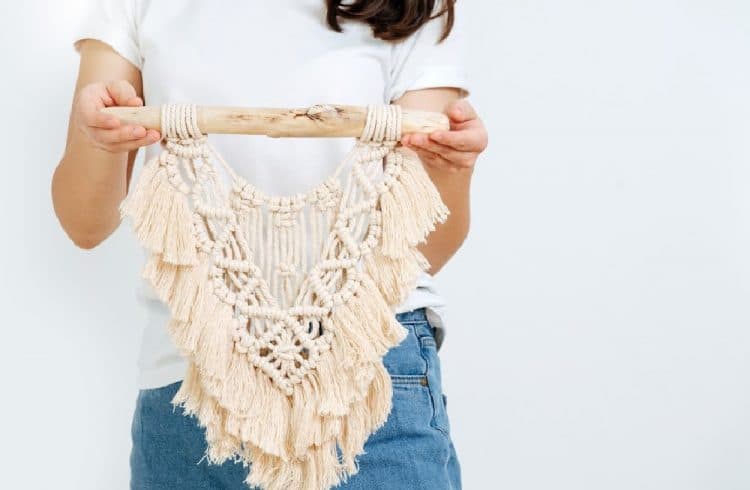 If you do decide to go this route, be careful not to copy other peoples designs to sell. Everyone works hard to create their patterns and designs and it's just not cool.
When you see someones amazing macrame creations and you feel inspired to do your own, just pick one part of it that you love and do your own different version. Change things up and don't just copy their design.
One tip I've seen that is helpful especially if you're in a design rut is to take 3 or 4 different designs that you love and pick one thing from each of them. Put them together to create a new piece. Sometimes doing that helps spark your creativity and you'll come up with another awesome design you hadn't even thought of!
Now let's take a look at what supplies you'll need to macrame, basic beginner knots, and more!
Macrame Supplies & Materials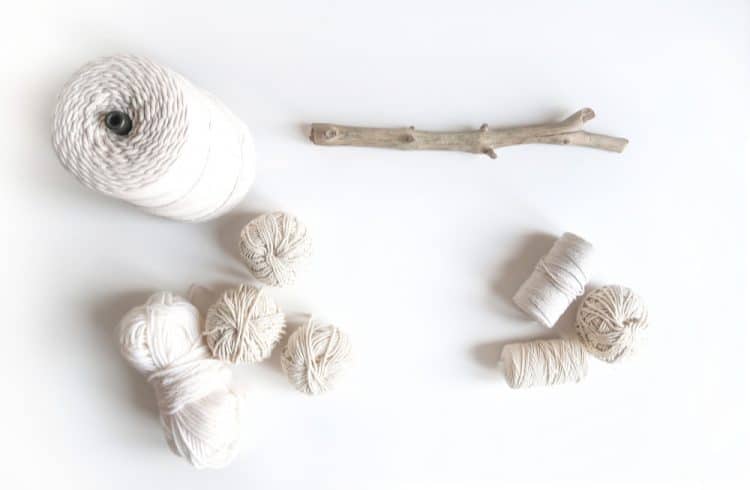 Before you can start doing macrame, you'll need some basic supplies.
Check out my list of must-have macrame supplies and my favorite places to buy them right here.
It includes everything from cord, rope, and string, to hanging racks, storage solutions, the best scissors for fringe, and more! And you can feel confident knowing these macrame supplies are good quality and won't let you down.
The most important supplies you'll need right off the bat are:
macrame rope
sharp scissors
something to hold your work
If you're making a wall hanging, you'll need a dowel, a stick, a metal pipe, or piece of driftwood to use as your hanger and starting point.
For plant hangers, you can use a wooden ring (although I avoid them for this use because they always break on me), a metal ring, or just make your own ring with the working cords like I do in this tutorial.
To make macrame jewelry or something like this macrame flower, you'll need a cork board and T-pins to hold your work while you knot.
No matter what you're making, you'll need rope and scissors. Sharp scissors are a total lifesaver when you start cutting fringe. These dressmaking scissors are my go to brand.
You'll find all of that information and more in this list of awesome macrame supplies!
Basic Macrame Knots for Beginners
Now that we have our supplies figured out, it's time to get down to knotting!
The three most crucial macrame knots for beginners to learn are the larks head knot, square knot, and double half hitch. If you add in the wrapping knot and Rya knot, you can easily make an absolutely stunning macrame wall hanging even if you're just starting out!
You can grab a printable PDF with the 5 basic macrame knots down below!
You'll find written tutorials and videos for those basic knots and several more in this list of Basic Macrame Knots for Beginners.
All-in-One Macrame Kits
So you know you want to make a DIY macrame wall hanging, but you aren't quite sure you know what supplies to get and you don't want to end up buying the wrong stuff and wasting money.
That's OK!
A great way to get into macrame for beginners is with an all-in-one macrame kit.
Check out my list of 10 awesome DIY macrame wall hanging kits that come with everything you need to make your own beautiful boho macrame wall hanging. No guesswork necessary!
Calculating Macrame Cord Lengths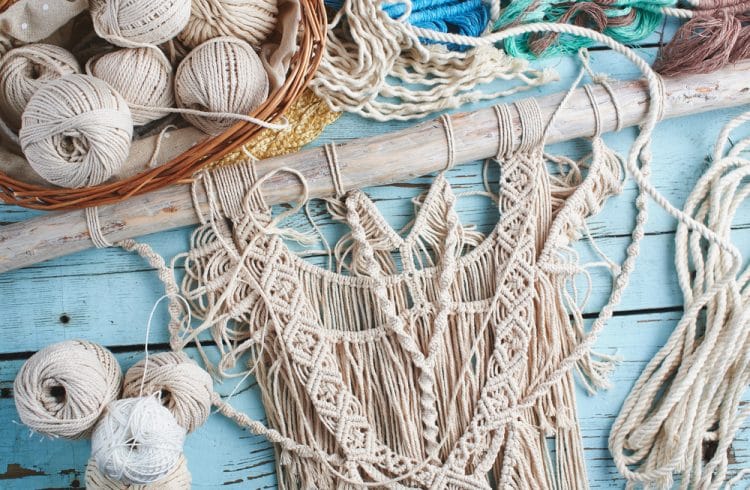 Once you start creating your own macrame patterns, you'll quickly see how important it is to be able to roughly calculate your cord lengths.
I'm not a mathematical person by any means, so my method is to decide how long I want a piece to be and then multiply that length by 8 if it's hanging from a dowel and the cords are doubled over, or by 4 if the cord isn't going to be doubled over.
Most of the macrame projects I make start with folding the cord in half and attaching it to a dowel with larks head knots, so I usually figure out my desired finished length and cut my cords eight times longer.
I know it sounds like a lot, but those knots eat up cord fast!
If you want to get more specific and precise, this article explains all the ways to calculate length based on the types of knots and more.
Macrame Projects for Beginners
Ok, now that we covered all that, here are some great free patterns for beginners!
I listed them in order from super easy to slightly more challenging, but all of these patterns can be completed by a confident beginner.
They include written instructions and videos to explain it step by step. Check them out!
How to Cut Even Macrame Fringe
When you're making a macrame wall hanging or any other project that has fringe involved, cutting it straight can be a quite an ordeal!
I don't know about you, but I can't cut a straight line to save my life. Luckily, there are some handy macrame tips and tricks to cut your fringe nice and straight.
Check out this tutorial where I show you three easy ways to cut straight macrame fringe!
Where to Buy Macrame Patterns
There are some really beautiful detailed macrame patterns available for purchase. As usual, Etsy is my go to place for awesome macrame patterns!
If you aren't quite ready to create your own patterns yet or you're looking for something specific, check out one of these shops for high-quality macrame patterns for all skill levels.
In Conclusion
I hope you found this Ultimate Guide to Macrame for Beginners helpful! If you have any other questions or if I missed something, let me know in the comments below and I'll do my best to answer it and add it to this post.
If you make one of my macrame patterns, please share a pic of it on Instagram and tag me @marchingnorth so I can see it. I love seeing your awesome creations!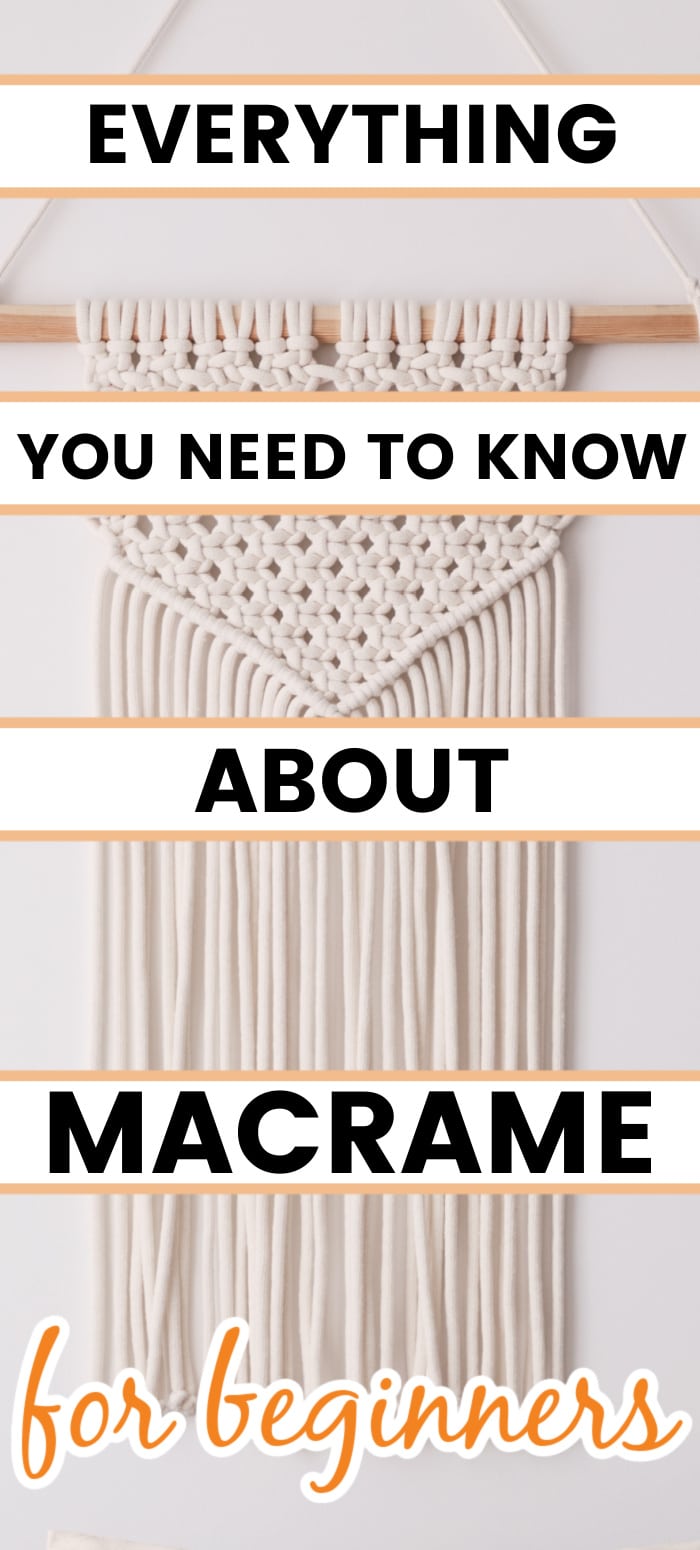 Related Posts
Macrame for Beginners: The Ultimate Guide!