These DIY Felt Flower Earrings are a quick and easy way to spruce up your wardrobe. All you need are a few supplies, a little time, and your Cricut Maker!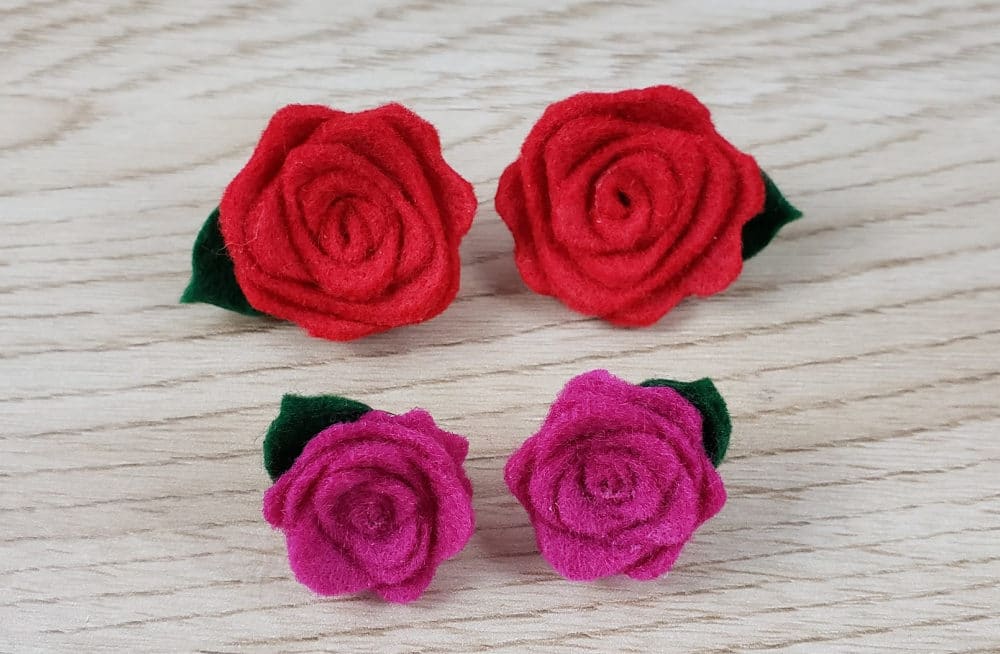 Felt flowers (and paper flowers) are super popular in the Cricut crafting world right now. It's easy to see why!
You can use them to make shadow boxes, headbands, and these cute earrings!
I've been playing around with making paper and felt roses for years, but I'd never tried making them with my Cricut Maker. It's a game-changer!
The Cricut Maker makes it easy to crank out several pairs of these earrings in one setting. Don't you just love that kind of crafting?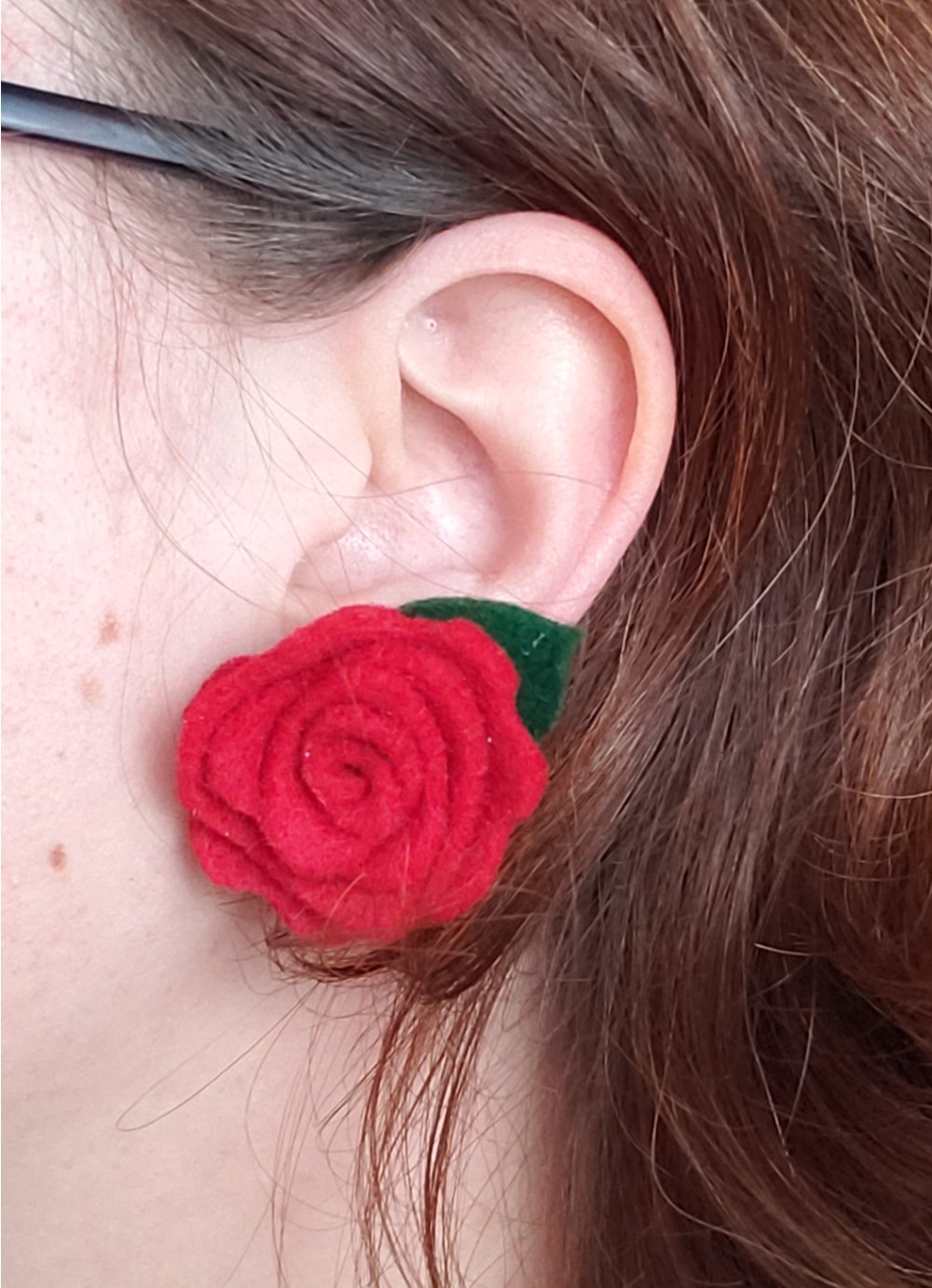 (This post contains affiliate links. If you click one and make a purchase, I may receive a small commission at no extra cost to you. Read the disclaimer here. Thank you for your support!)
In Cricut Access, there are several rolled flower cut files available to use. That's where I got the cut file used for these earrings.
I'm including a link to get to the customizable project in Cricut Design Space in the supply list. If you're a Cricut Access member, it'll be included in your membership.
If you aren't a member, you have to pay a small fee to Cricut to use the file.
Don't want to pay to use that one Cricut Access file? Here's a link to a flower template SVG file available for purchase from another site I love. It has 35 different flower shapes and eight different leaf shapes all in one package, and it's super cheap!
No Cricut Access is required then, you'll just need to upload the SVG to design space.
Check out my Cricut Design Space Tutorial if you need some help uploading the SVG. (In the table of contents, scroll down to Canvas: Left Menu and click Upload to jump straight to that part.)
For this project, we'll be using a file available in Cricut Access.  You'll find the link to access the project in the supply list below.
Supplies You'll Need to Make DIY Felt Flower Earrings
DIY Felt Flower Earrings Tutorial
Customize and Cut
Click the link in the supply list to get to this project in Design Space. (Alternatively, if you don't have a Cricut Access subscription, you can purchase a rolled flower template here for pretty cheap.)
Before we get started, you'll need to decide which size you want to make your earrings. I made two sizes as you can see in the photo.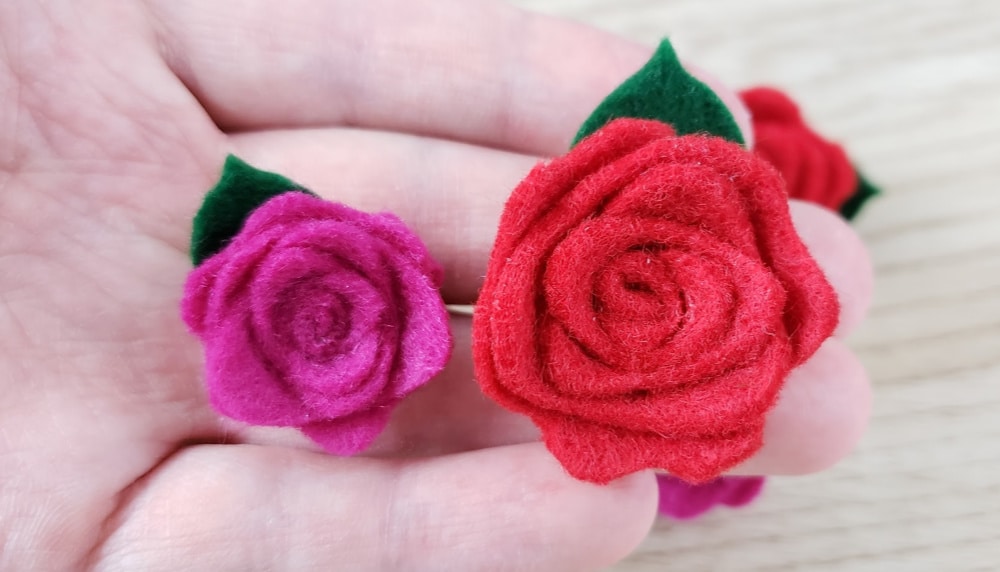 For the larger one, I sized the flower cut file to 2.5", and for the smaller one I sized it to 2".
I personally prefer the smaller ones, but the larger ones have more visual impact.
You could change them to any size you want, but I wouldn't recommend going smaller than 2" because it'll be really hard to roll.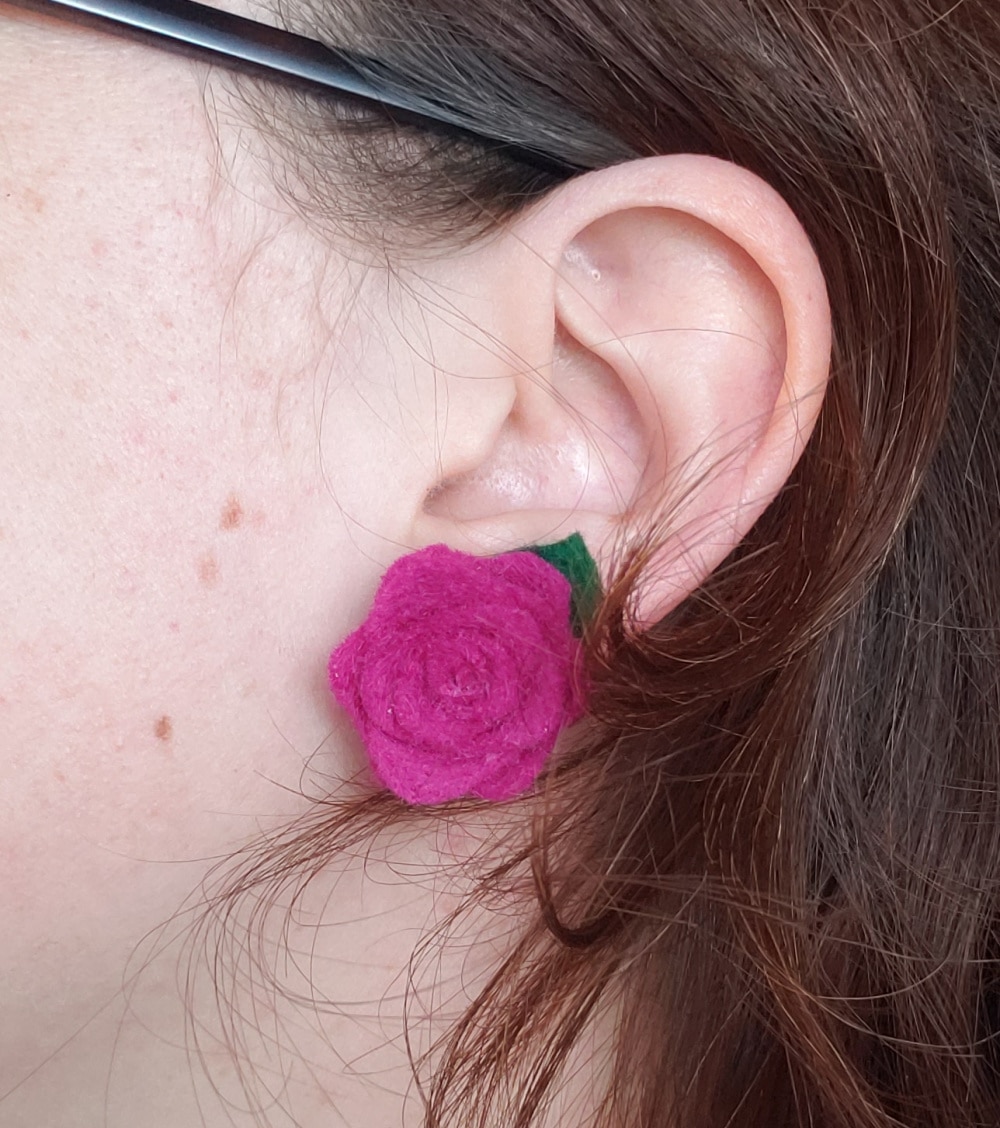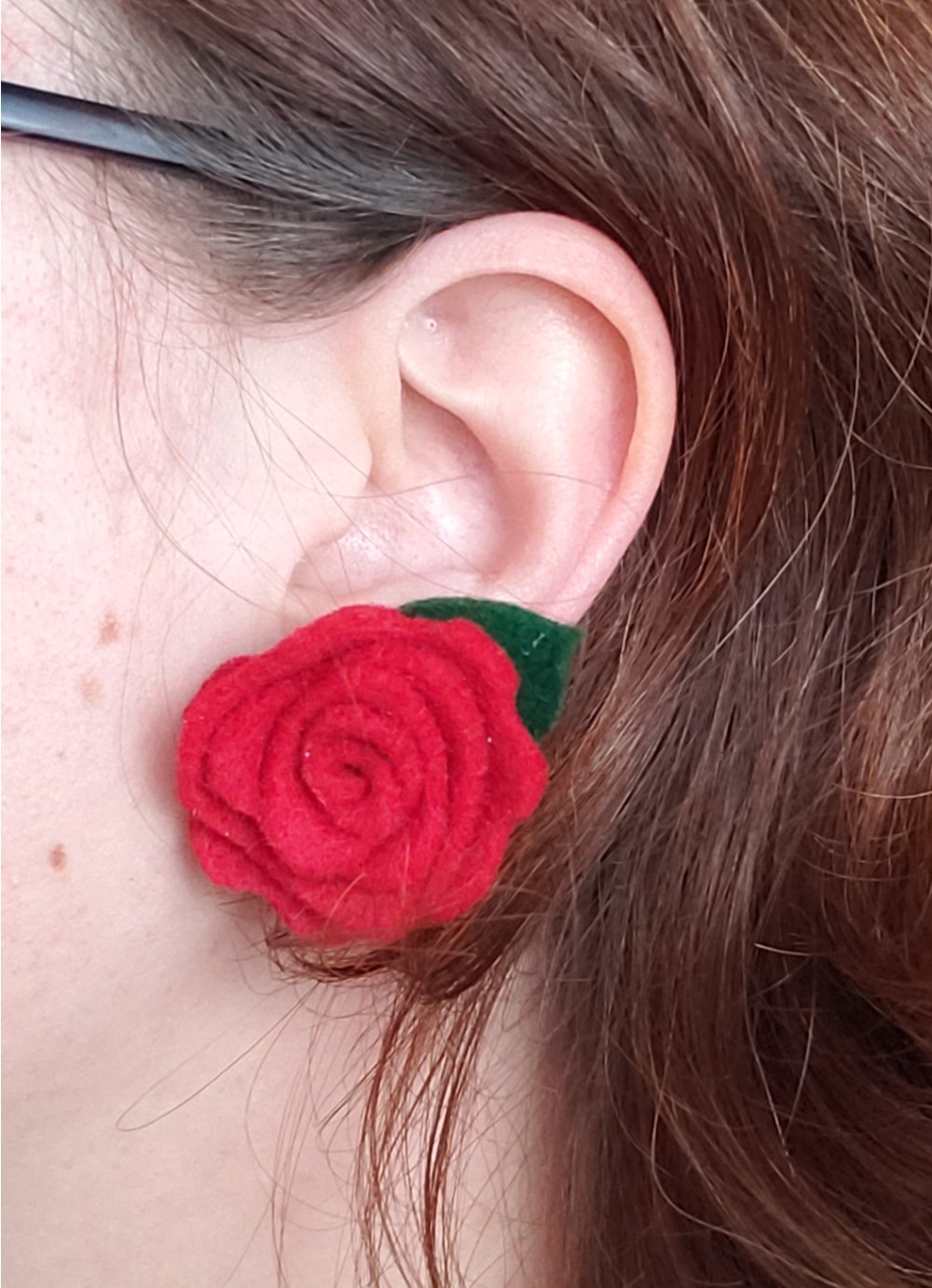 If you want to resize the leaves, you can do that now too. The size they're set at works well for both sizes of flowers.
Once you like the way everything is set, click Make It.
Check and see which pieces are going to be cut first and put the appropriate piece of felt on your mat.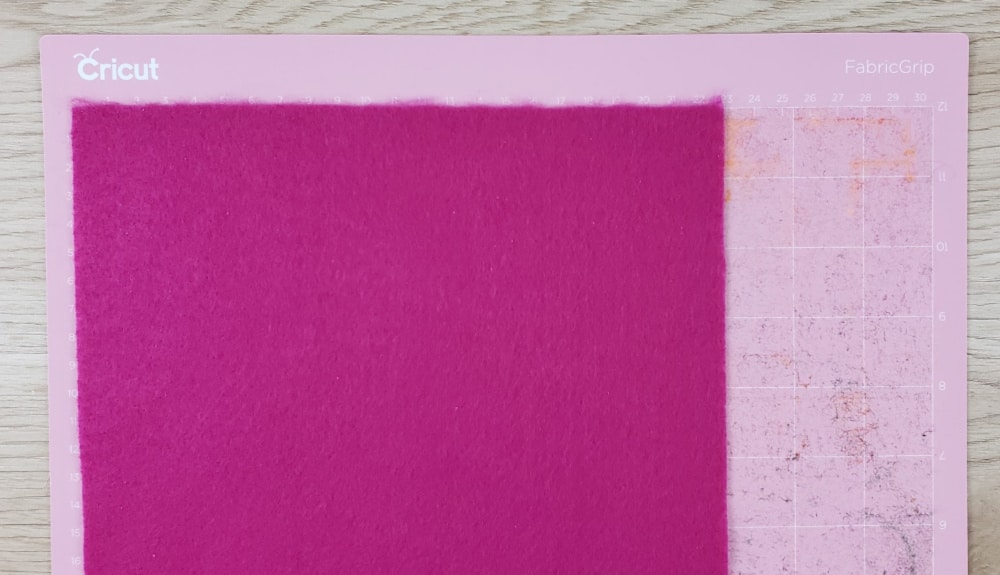 Make sure you have the Rotary Blade in your machine and that you're using the FabricGrip mat.
When it prompts you to select your material type, choose Felt. You may have to search for it.
Next, you need to change the blade settings from FinePoint Blade to Rotary Blade. Under tools, click Edit and choose the Rotary Blade.
Now you should be ready to go. Load the mat and cut.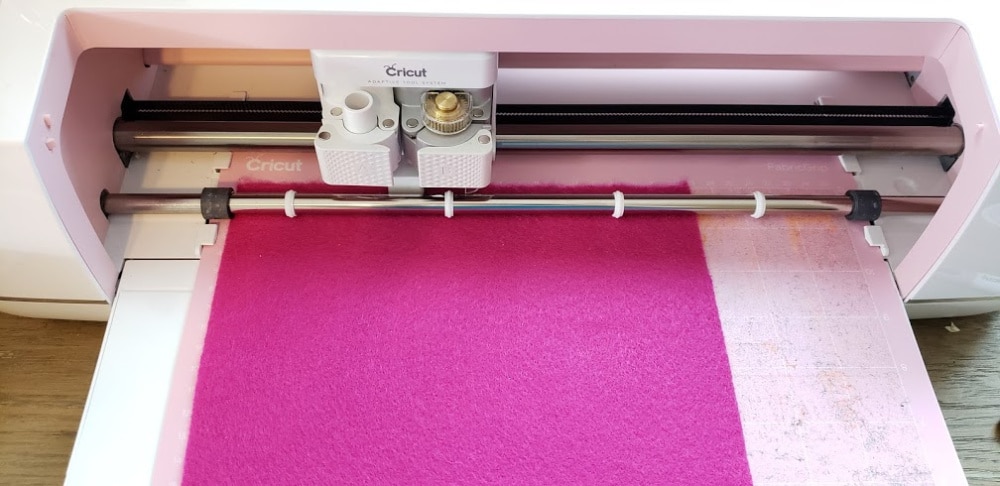 Once it's done remove the cut pieces and excess felt, and load up the next color onto your mat.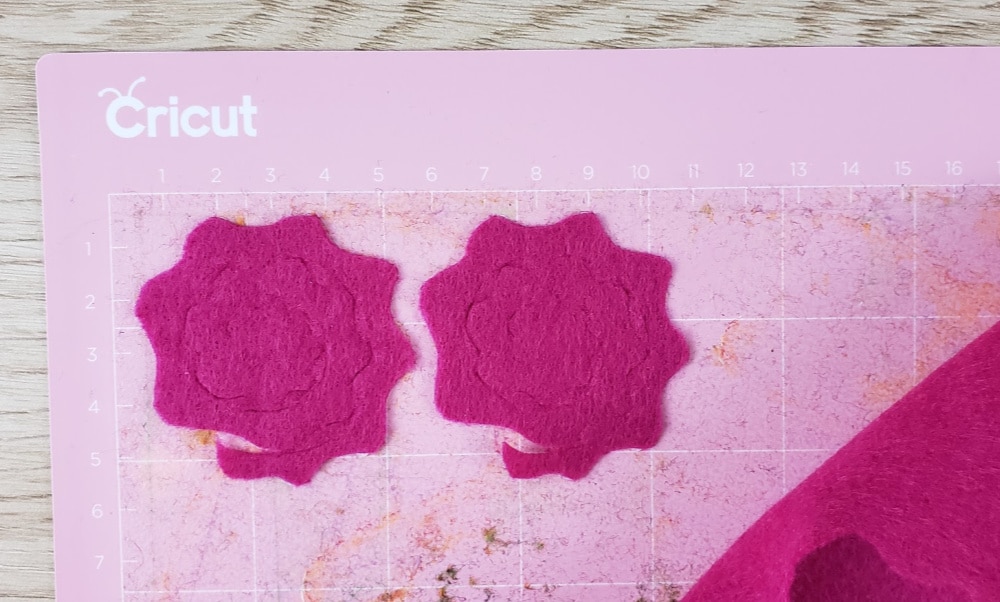 Easy peasy! Felt is one of my favorite things to cut with the Cricut Maker.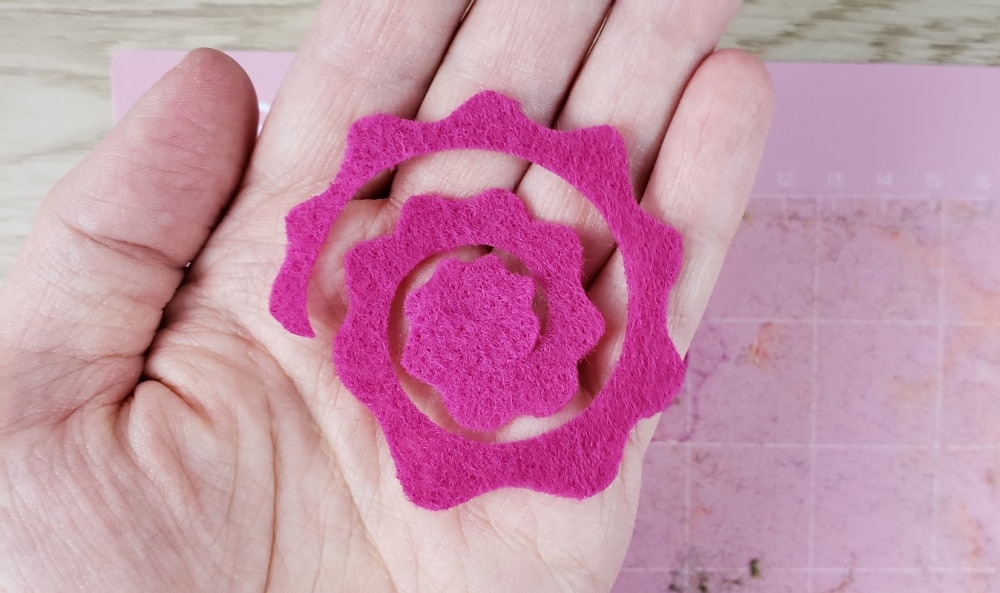 Roll the Felt Rose
Get your glue, earring bezzles, your Cricut Tweezers (or a quilling tool or even regular tweezers should work) and it's time to roll the roses.
Hold the outermost end with the tweezers.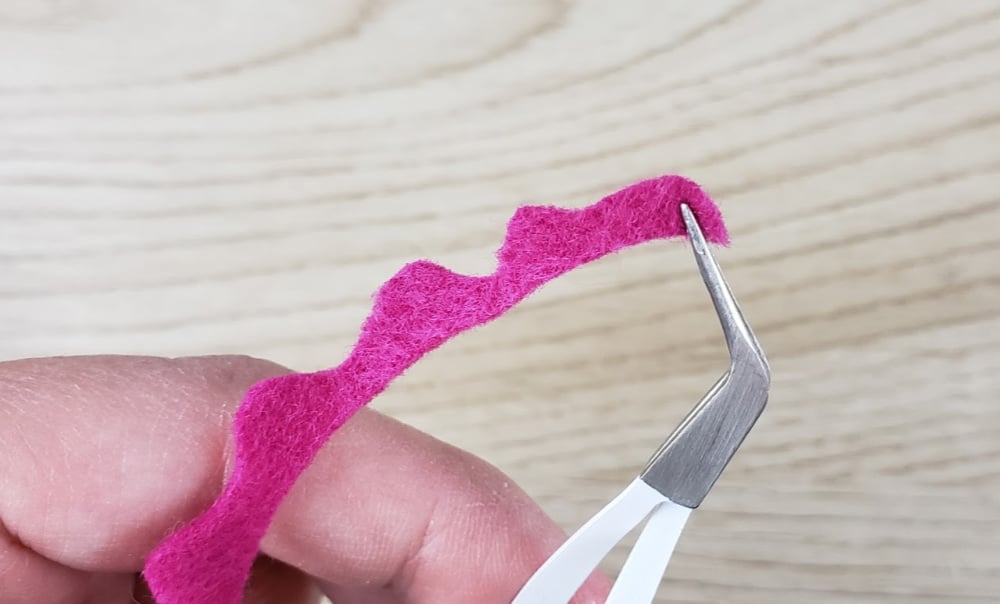 Add some glue and start rolling the felt flower. Try not to add too much or it'll show on the front (like mine did, we'll fix that later).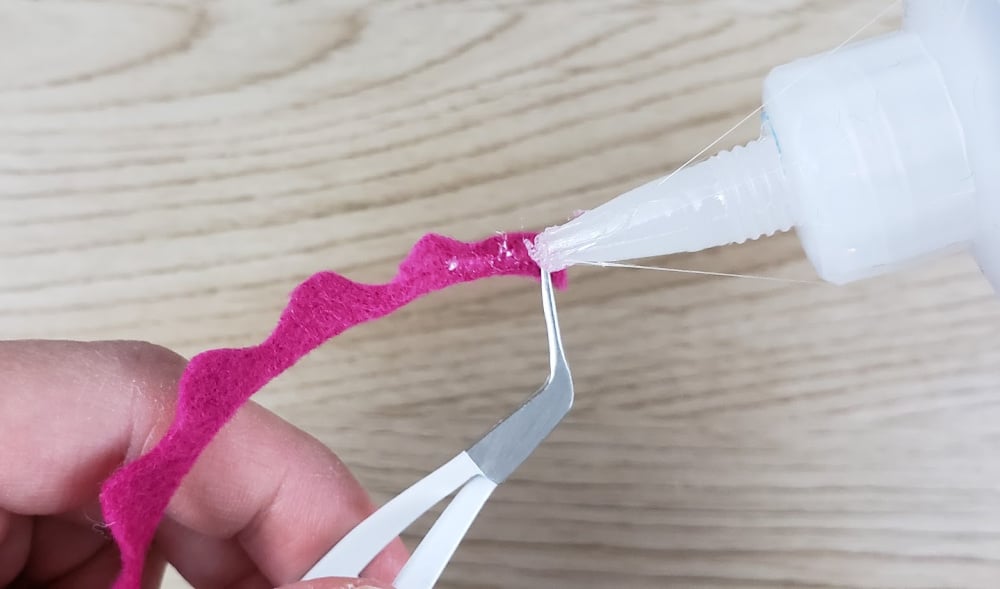 Roll a little more, and add another glue blob.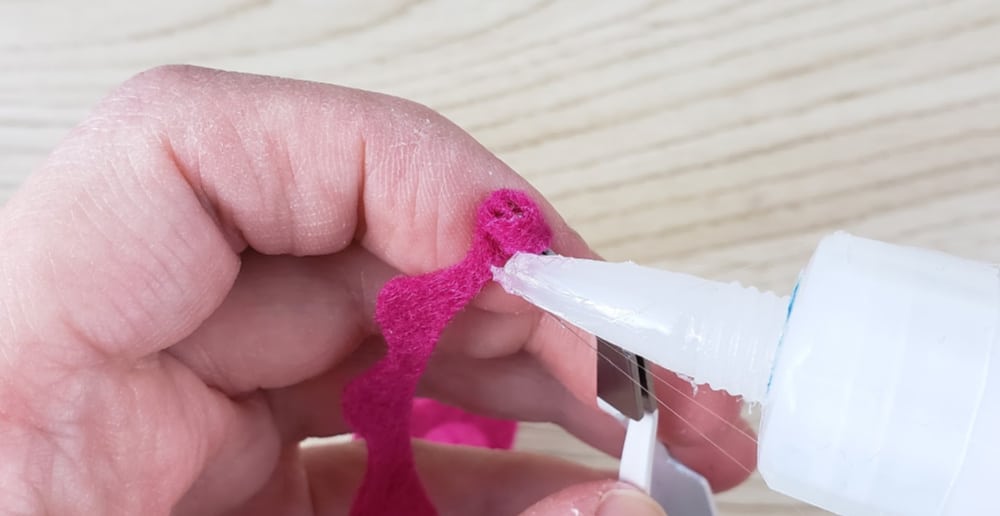 Keep the bottom edge of the flower lined up as you roll.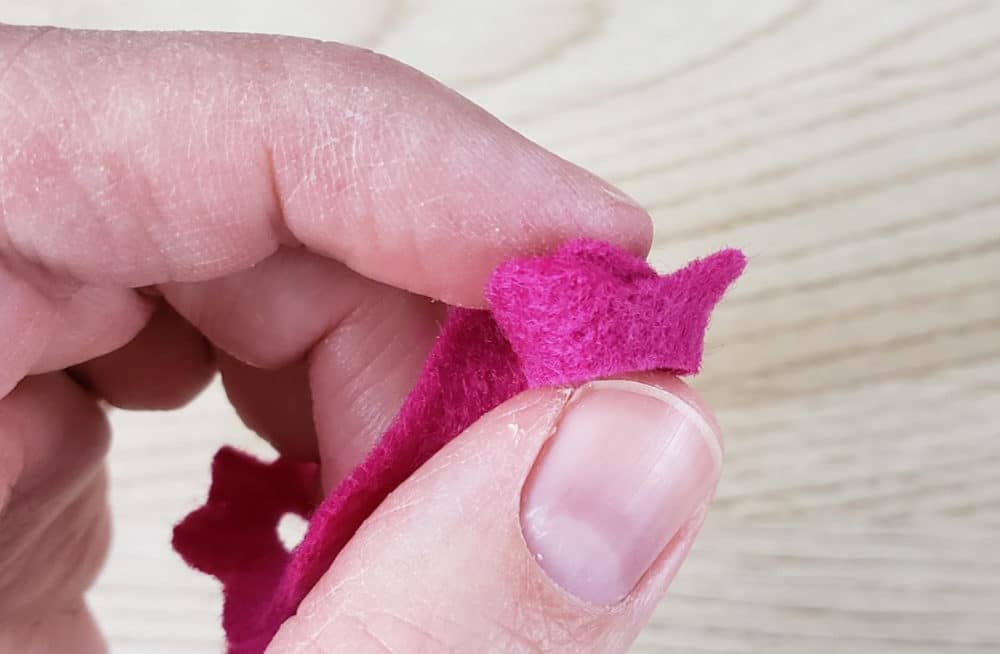 Keep doing this until you get all the way to the large wavy circle bit at the end.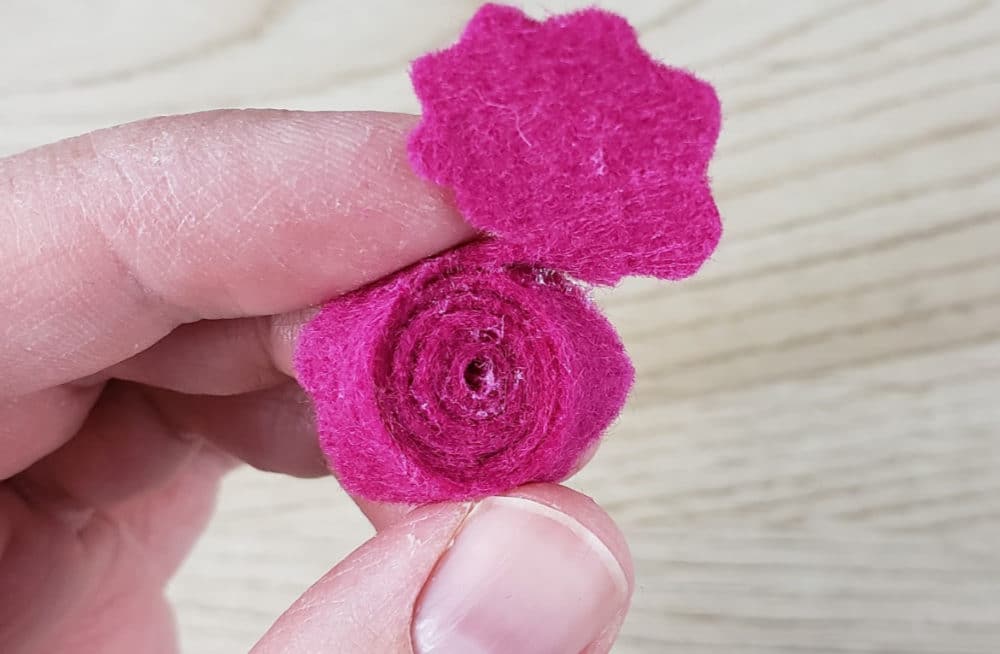 Add a decent amount of glue to the bottom of the rose, and then press the end piece down to cover the bottom.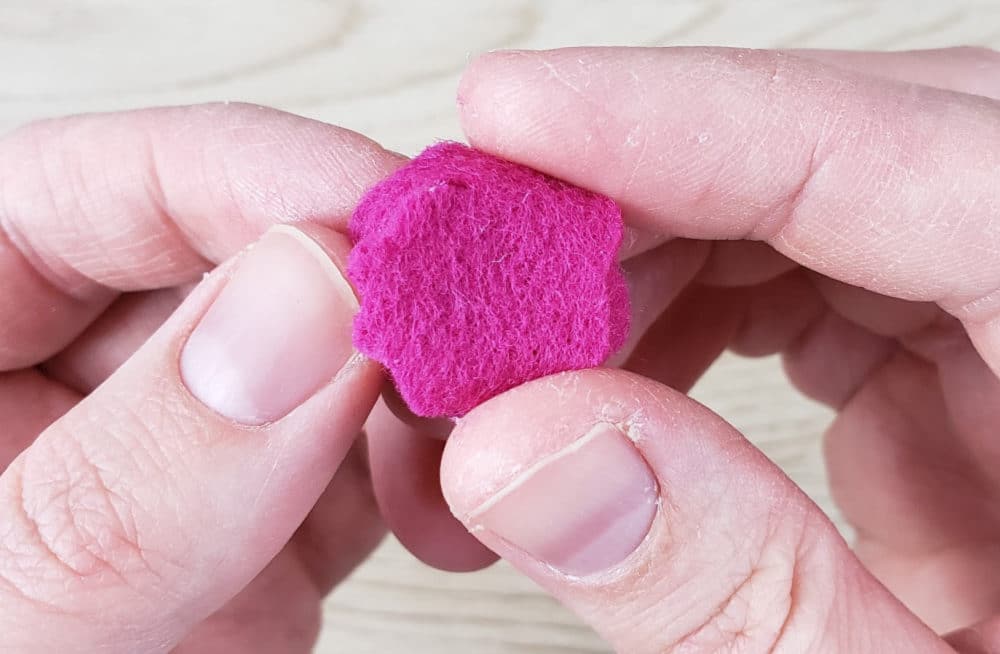 Hold it together for a minute or so. Then add another blob of glue to the bottom, off to the side a bit to attach the leaf. I lined up the corner of the leaf with the bottom center of the flower.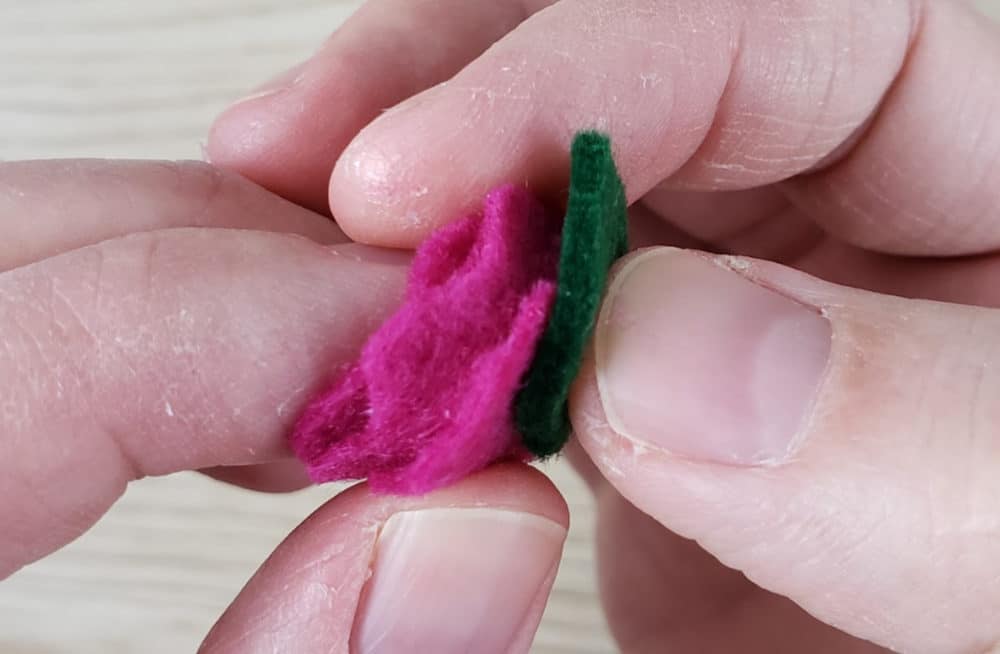 Hold the flower and leaf all together for a few minutes to make sure it's secured.
If you had some glue overflow, take a small pair of scissors and carefully trim it off if you can. Just don't cut your felt flower!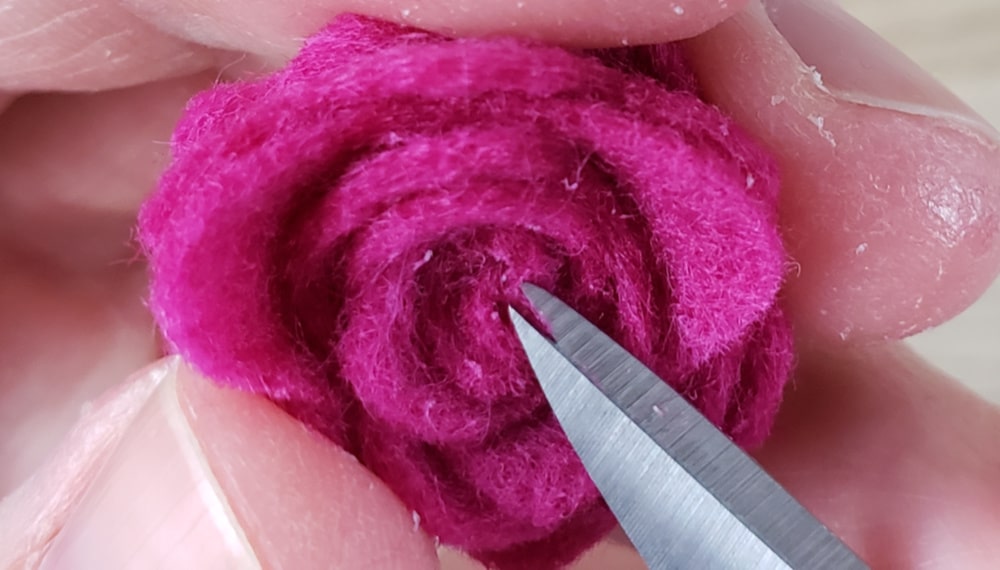 The felt flower part is done now! You can use your beautiful felt rose for lots of fun DIY projects. To continue making the earrings, just keep on reading!
Attach the Earring Post
Fill the earring bezel with glue.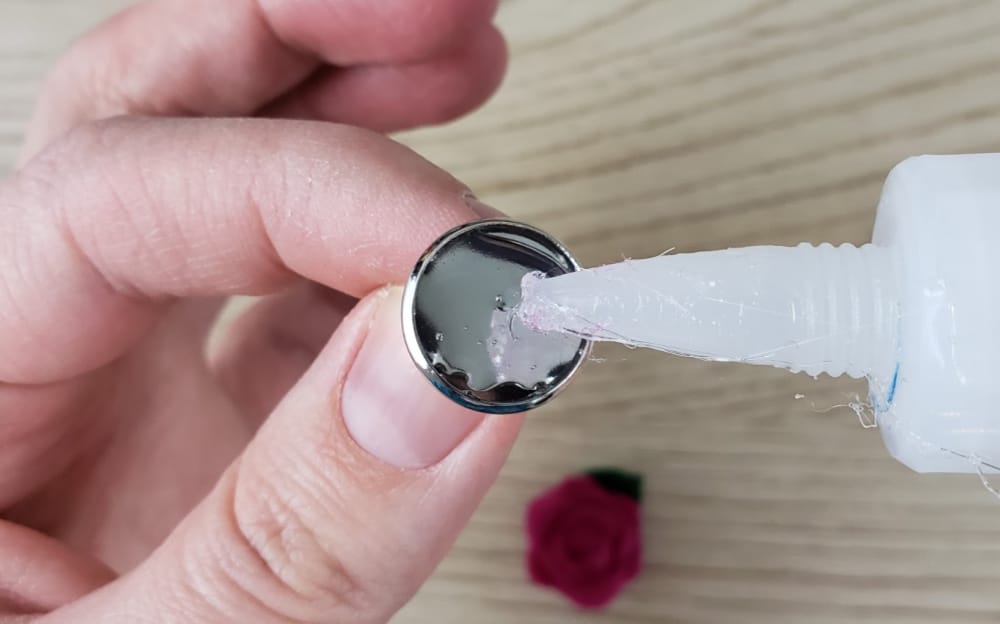 Line up the bottom of the rose so it's centered and press it onto the bezel and hold it together firmly for a while.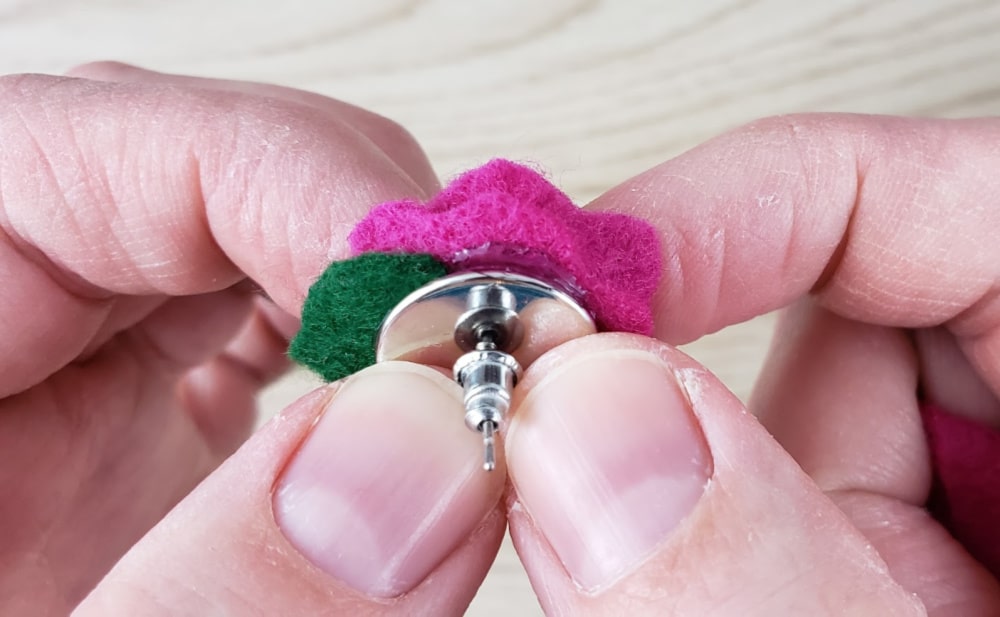 I probably held it for at least three minutes. Some glue will most likely ooze out, just wipe it off with a paper towel.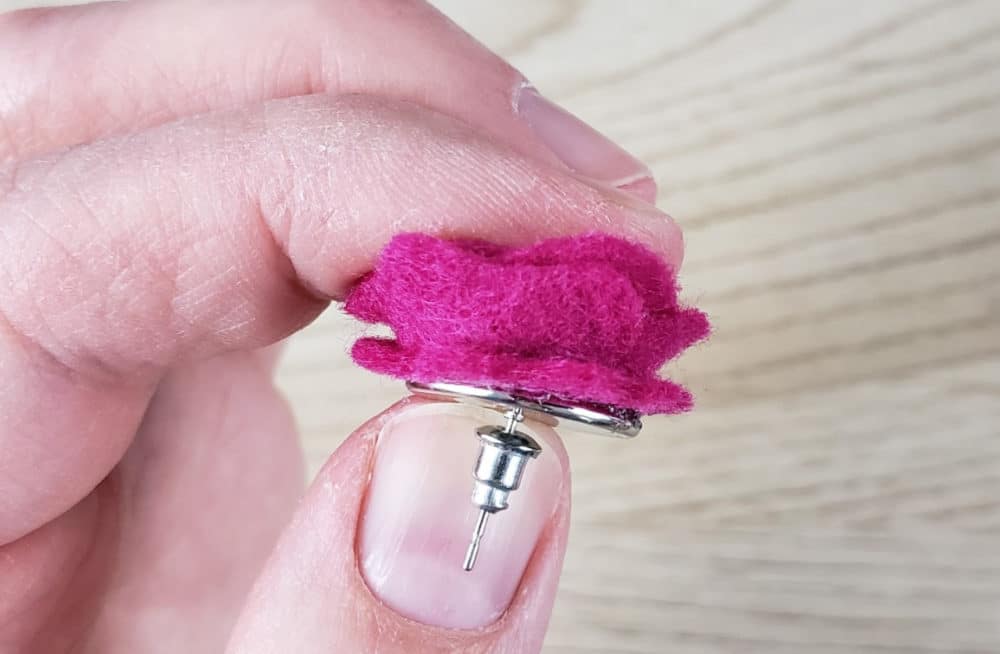 Repeat all of these steps for the other earring.
Voila!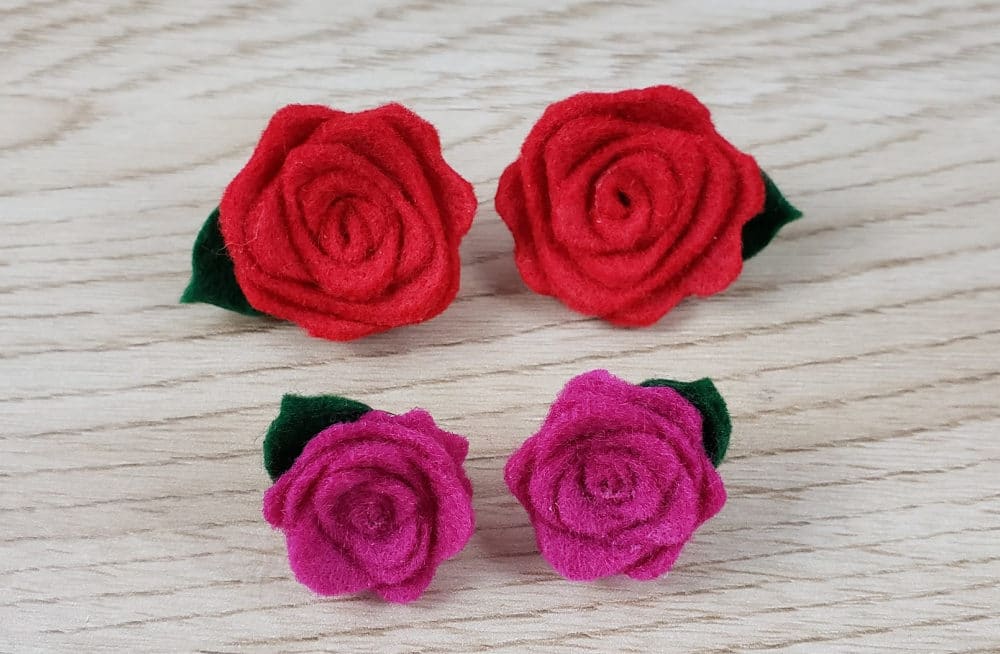 Now you have a lovely pair of Felt Rose Earrings made with the assistance of your ever so handy Cricut Maker!
These earrings are so cute and make a great gift (or a great thing to make and sell!)
Once you have several cut out, you can glue them all at once and kind of get in a groove. Before you know it you'll have loads of felt roses!
If you want to make larger felt flowers, the technique is the same (minus the earring back part).
Let me know if you make these or if you have any problems cutting felt with your Cricut Maker. Sometimes there's a little trial and error when you cut new materials, and I love to help!
Related Posts
DIY Felt Flower Earrings | Tutorial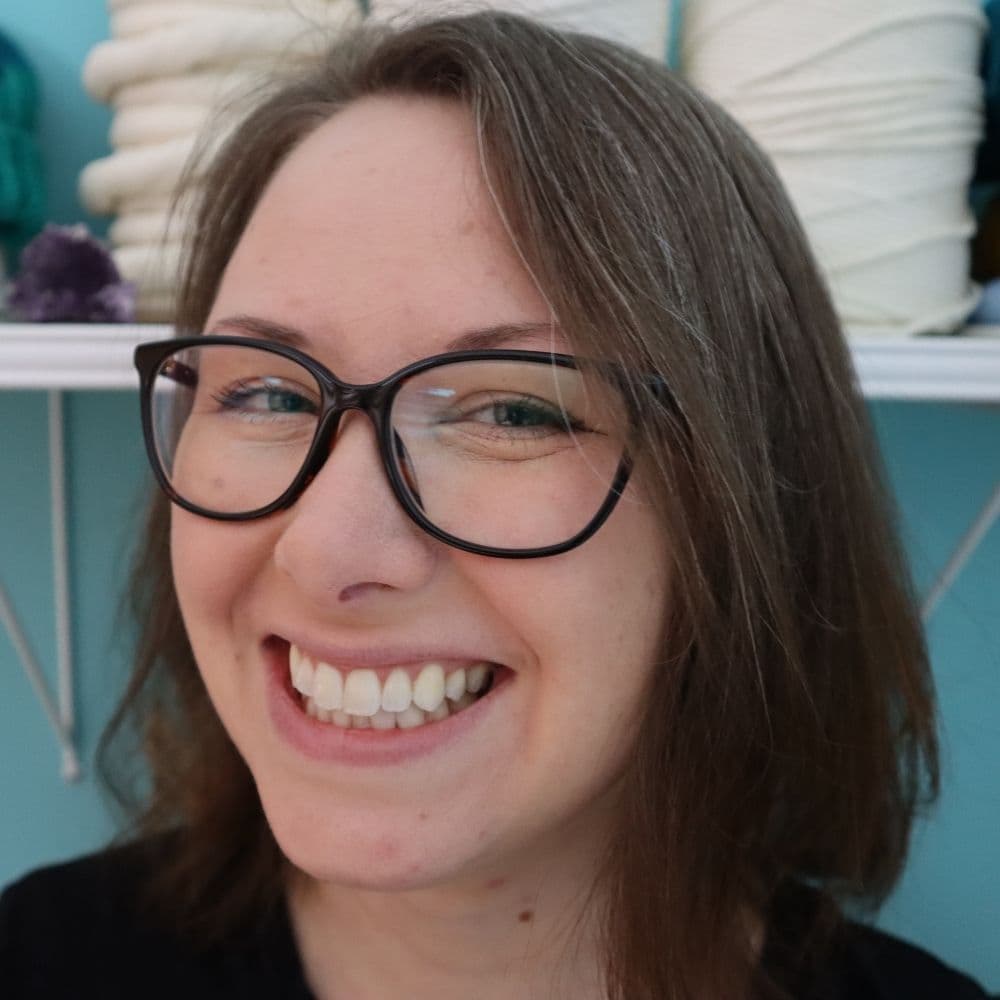 Crystal Martin is the crafty lady behind Marching North. She loves sharing easy to follow tutorials and patterns for macrame, crochet, punch needle, and pretty much anything else involving yarn or textiles.
Her work has been featured on Creative Fabrica, Craft Gossip, Ravelry, as well as her own site and YouTube channels.