Looking for some quick and easy Christmas decor that looks like a million bucks? Check out this festive and easy DIY Buffalo Check Christmas Wreath with Felt Holly!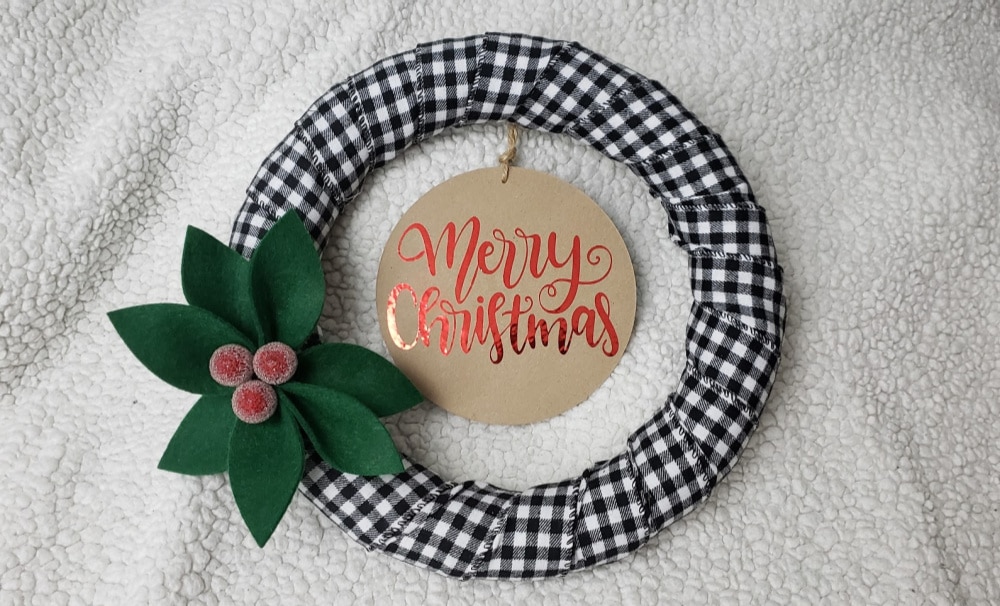 Through the years I've made several Christmas wreaths, and some were better than others.
Up until this one, the wreaths I made were OK but I was never completely happy with the results.
This year I used my Cricut Maker to step up my crafting game and I'm thrilled with how it turned out!
And come on, who doesn't love some buffalo check Christmas decor?!
You can make this wreath by hand as well, but it'll take a little longer. Don't let that stop you though!
Even if you cut the felt leaves and chipboard out by hand and use a vinyl decal or hand letter the words, this show-stopping wreath can be easily completed in an evening.
Curious about the Cricut Maker and what it can do? Check out this article where I tell you all about it!
(This post contains affiliate links. If you click one and make a purchase, I may receive a small commission at no extra cost to you. Read the disclaimer here. Thank you for your support!)
Supplies You'll Need
To make this fun holiday wreath, you'll need a styrofoam wreath form, buffalo check fabric ribbon, thick green craft felt, and some sparkly frosted craft berries.
I got my sparkly holly berries at At Home, but I put a link to some similar ones you can find on Amazon down below. They come on stems so you'll have to cut them off, but it'll still look beautiful!
You'll also need a hot glue gun and glue sticks, sewing pins, 2.0mm chipboard, jute twine, and a leather punch or something to punch a hole in the chipboard.
If you plan to use your Cricut Maker to cut the felt, chipboard, and "Merry Christmas" letters, you'll need red Cricut adhesive foil, masking tape, transfer tape, StrongGrip Mat, StandardGrip Mat, FabricGrip Mat, Rotary Blade, Knife Blade, and Fine Point Blade.
That sounds like a lot, but if you have a Cricut Maker you probably have those things laying around already!
If you're not using a Cricut, you could pick up a vinyl decal like this one, or hand letter the "Merry Christmas" sentiment on the chipboard.
Also, if you have a front door with a window like I do, you'll want one of these suction cup wreath holders.
Free SVG or PDF Files for this Project
I made a free SVG and PDF version of the templates I used to cut the felt leaves and chipboard circle used in this project.
For those of you using the Cricut Maker to cut your felt and chipboard, I made a free SVG file you can download.
You can click here to access the free SVG or PDF files.
If you're using a Cricut Maker, download the SVG version, and if you're cutting it out by hand, go for the PDF one.
How Long Does It Take to Make this DIY Buffalo Check Christmas Wreath?
I made this gorgeous wreath from start to finish in under an hour!
If you don't intend to use a Cricut Maker to cut the felt, chipboard, and foil letters, it will take a bit longer.
Either way, you should be able to finish this DIY holiday project in one evening. Those are my favorite kinds of projects!
Ok, let's get on with the tutorial!
Easy DIY Buffalo Check Christmas Wreath with Felt Holly Tutorial
Supply List
Optional Supplies if you're using a Cricut Maker
Masking Tape
"Merry Christmas" Image from Cricut Access (search for #M84888E1)
Tutorial
First, we're going to cut out the pieces that need cutting.
Either download the printable pattern if you plan to cut the pieces out by hand, or download the SVG file to cut them with your Cricut Maker.
You need to cut out the seven felt leaves, the 6" chipboard circle, and the "Merry Christmas" lettering.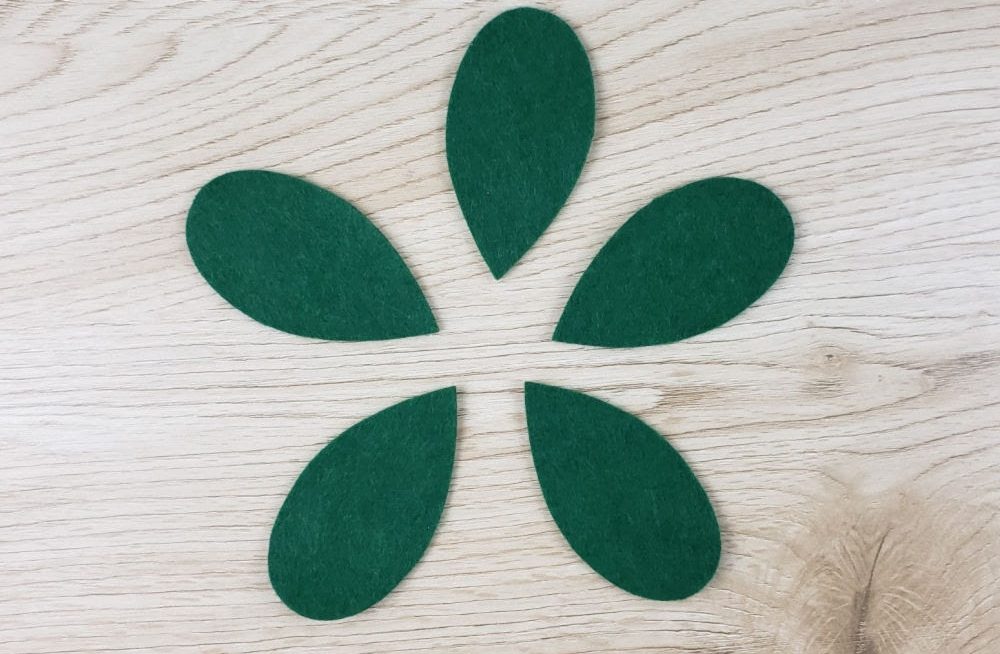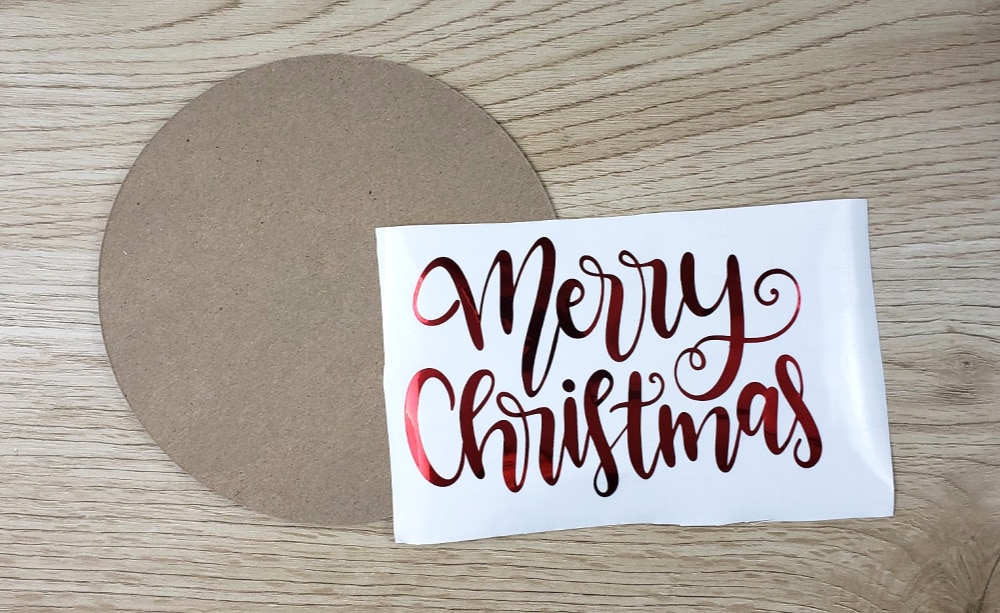 If you aren't using the Maker, you can find vinyl decals that would work here as well, or hand letter the words using some fancy pens or markers.
Either way, go ahead and attach, stick, or draw the letters onto the chipboard circle, punch a hole in the top, and set it aside.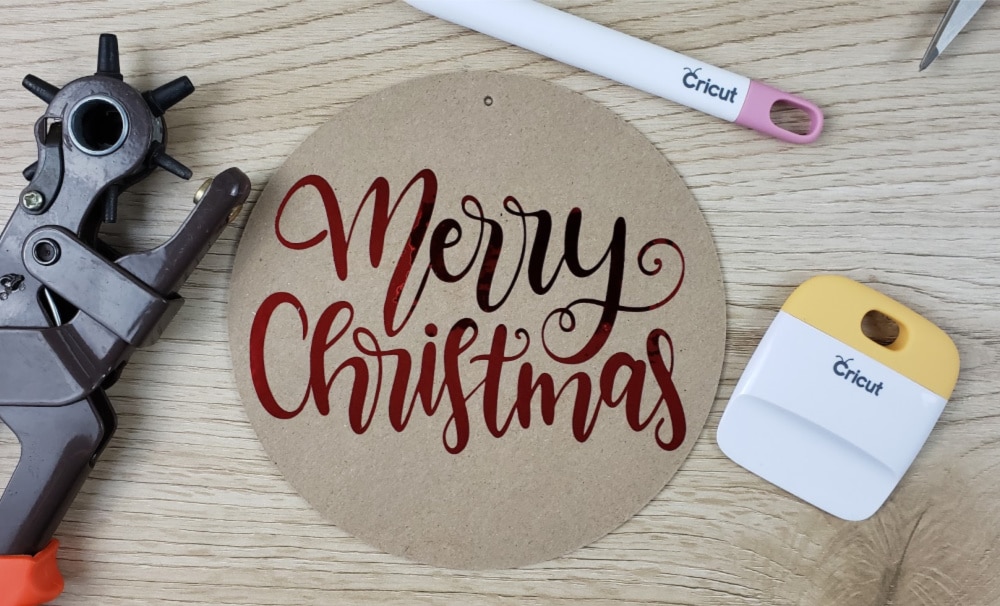 Felt Leaves
For the leaves, you need to pinch them together on the bottom and hot glue them to give them some dimension.
Apply a small blob of hot glue and carefully pinch the leaves together.
Hold them together for a few seconds to let the hot glue set or they can pull back apart.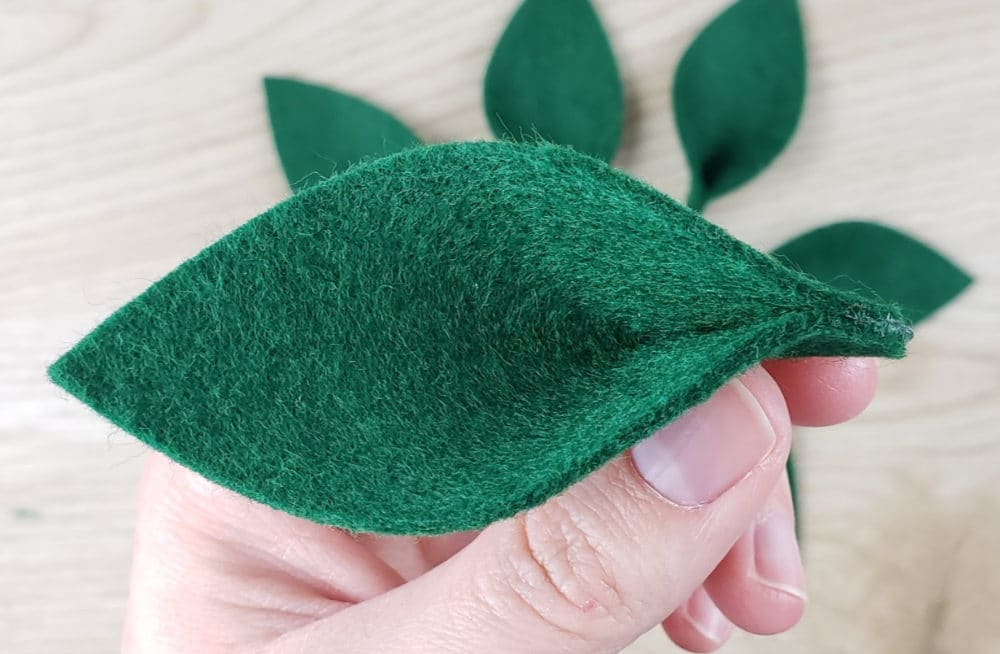 Once you get all the leaves glued, it's time to sew them together.
Thread your needle with about a foot of thread and tie a fairly large knot at the end.
Run the needle and thread through the glued part of each leaf one at a time until you have them all strung.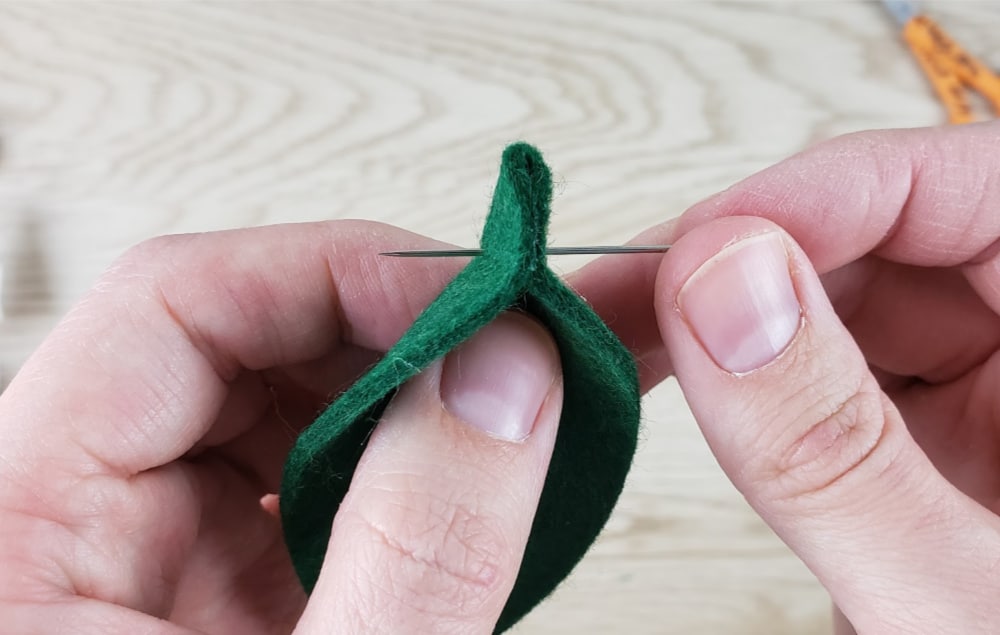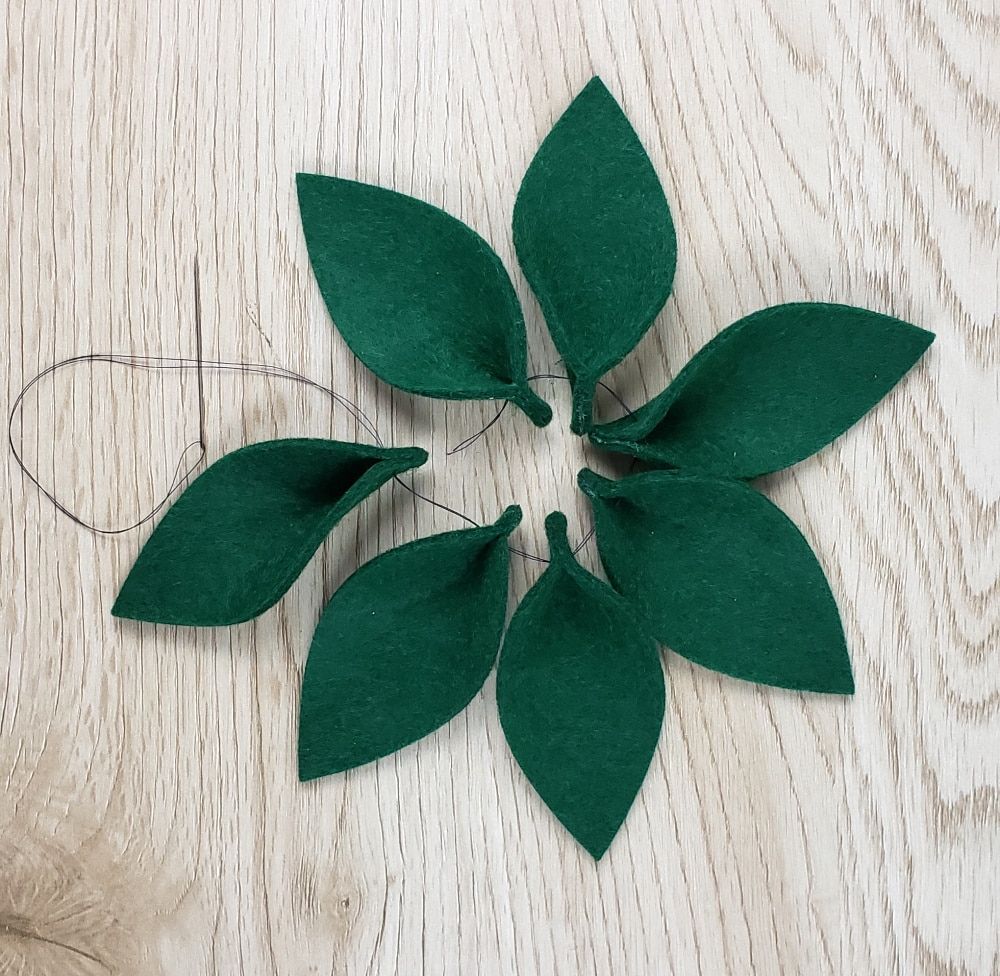 Pull the thread tight and tie the two ends together so the leaves form a circle. Make sure you pull it tight enough.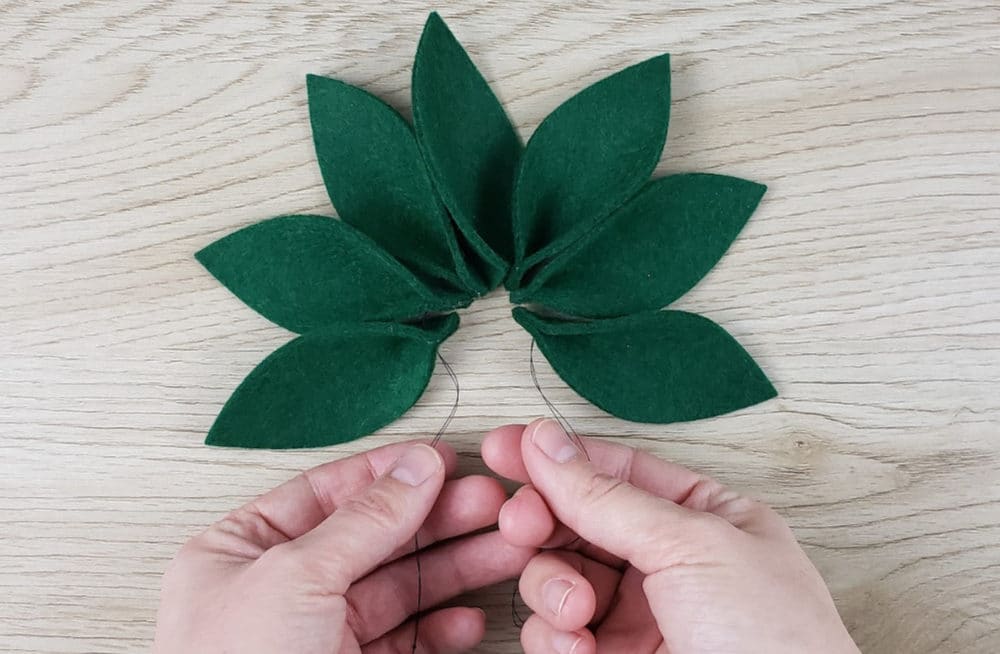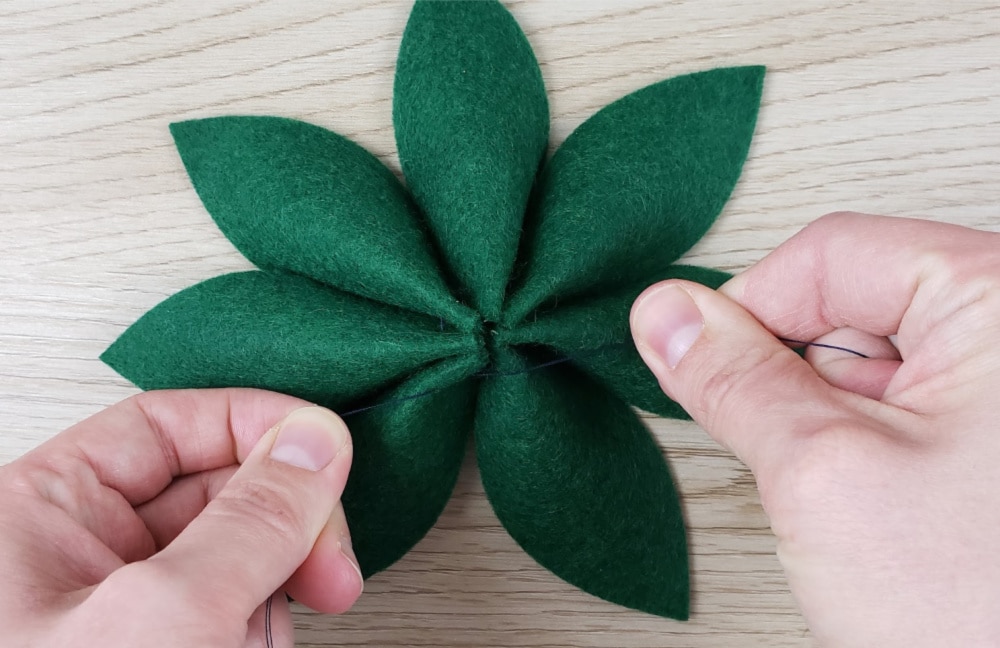 Tie the ends into a secure knot and trim off the excess thread.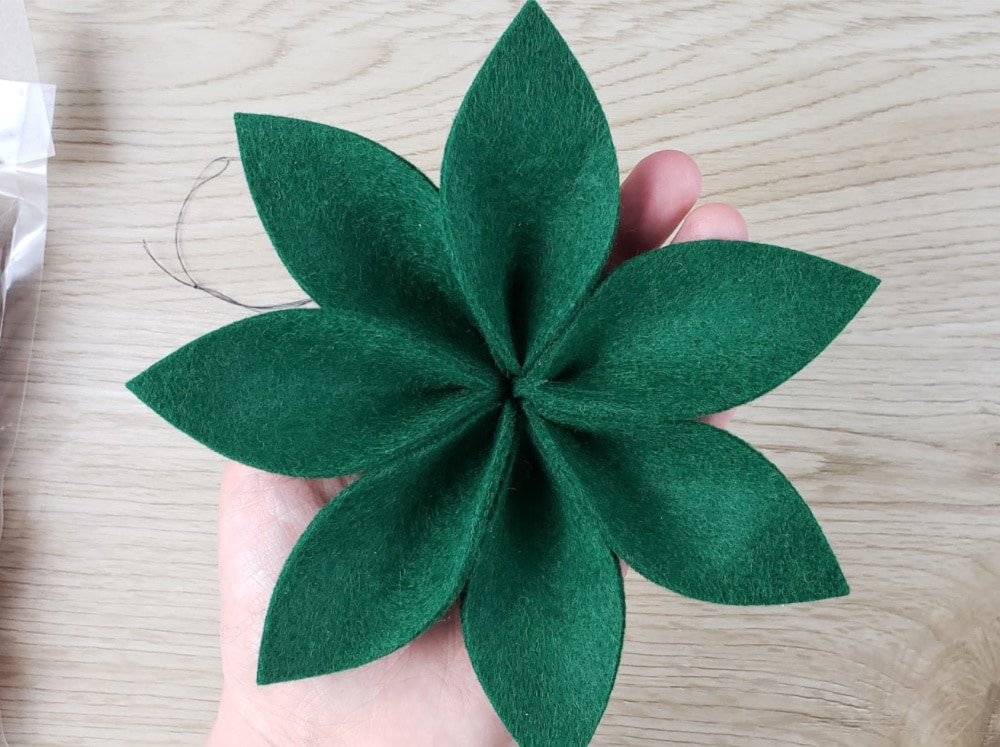 Next, hot glue the berries into the middle of the leaves.
Try to avoid getting hot glue where you'll be able to see it, but if you do just trim it off as best you can with scissors.
I'm a messy hot gluer, but I managed to make it work. If I can do it you can do it!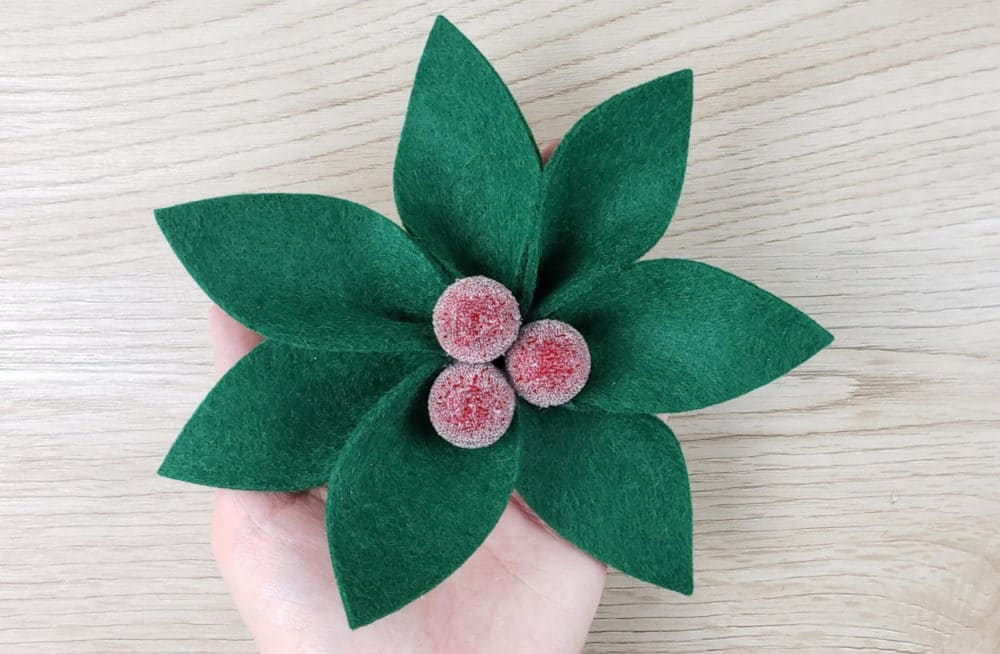 The sparkly berries are so pretty, I wanted to use a bunch of them but decided three looked better. Feel free to add more if you like!
Set the leaves and berries aside to cool while you wrap the styrofoam wreath form.
Wrapping the Wreath in Buffalo Check Ribbon
Fold the end of the buffalo plaid ribbon down, position it on the back of the form at an angle.
Secure it with two sewing pins and then continue wrapping it around making sure to cover all of the styrofoam so none is showing.
When you get the whole thing covered, cut the ribbon and leave enough extra so you can fold over the end. Then use two more sewing pins to hold it down onto the wreath form.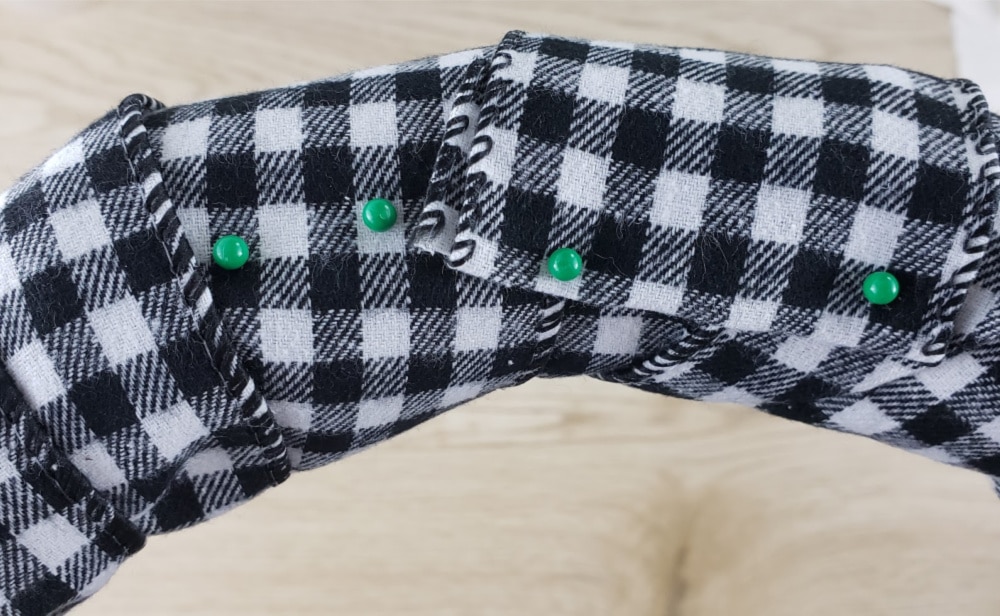 The great thing about pinning it together instead of gluing it is if you ever want to change it up, it's super easy.
Wreath Assembly
Lay the wreath face up on your workspace.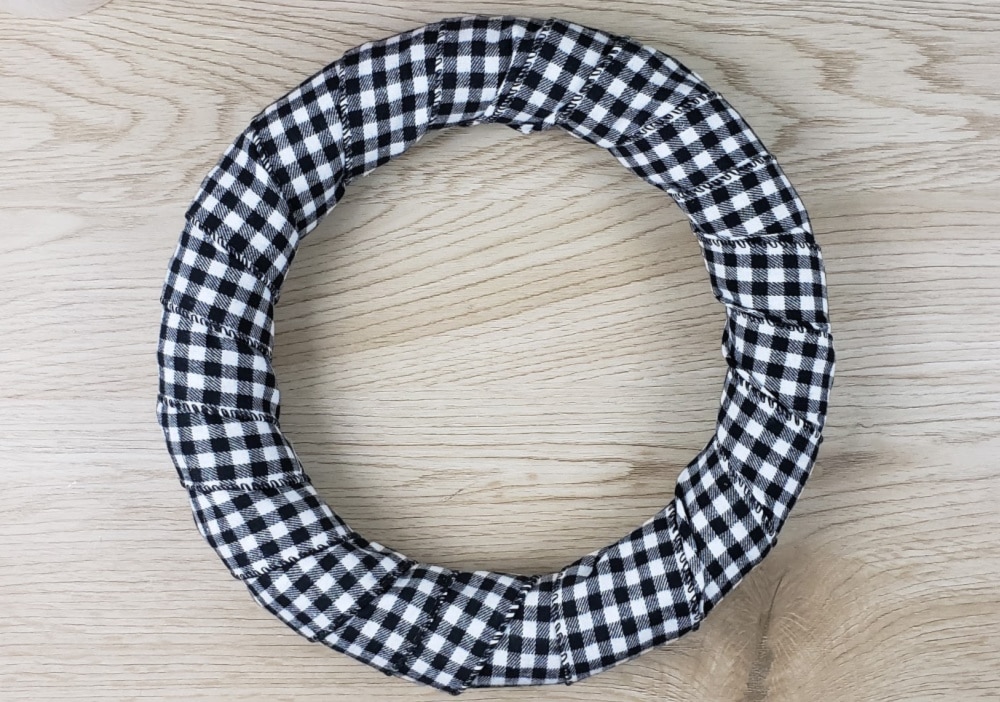 Figure out where you want the felt holly to be positioned. For mine, I have it offset a bit to the left on the bottom.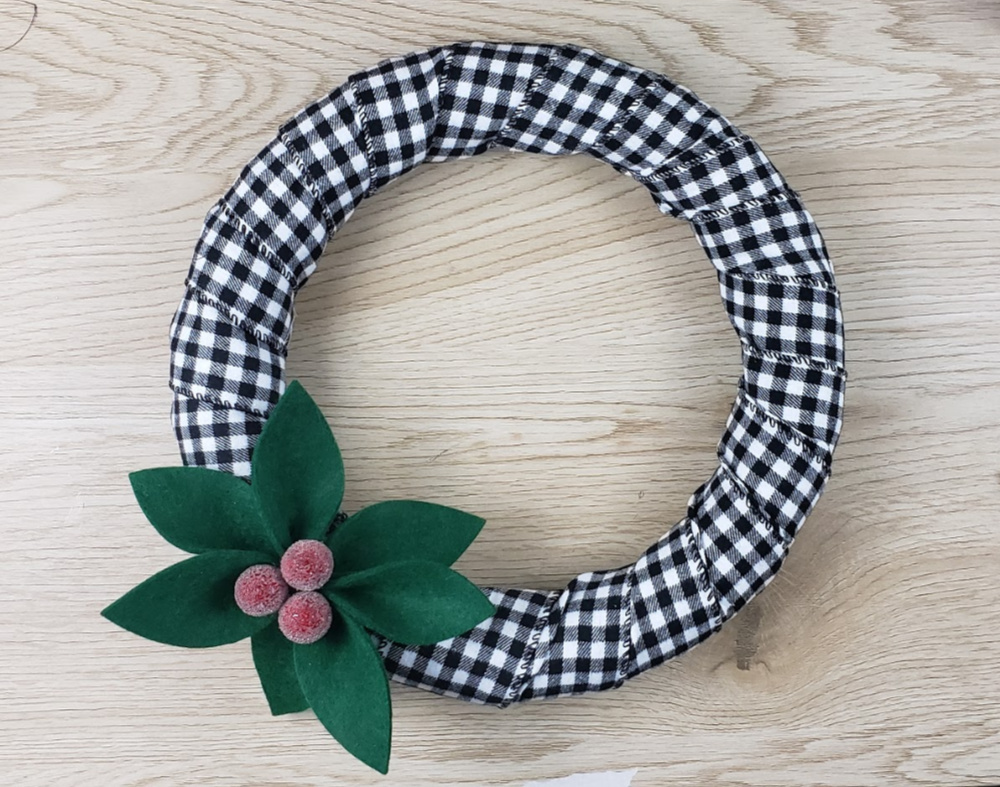 Use two more sewing pins to pin the felt down. You can easily move it around if you aren't happy with the placement.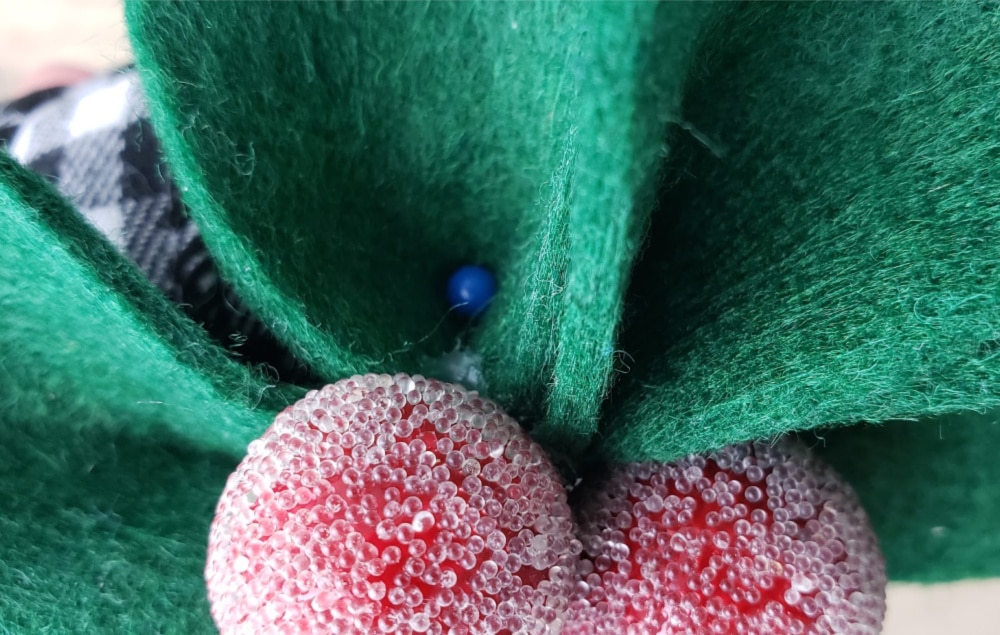 Cut a piece of jute twine about 8" long.
Insert the end into the hole on the top of the chipboard circle. Pull it through and tie an overhand knot just above where it exits the chipboard.
Then, hold it up to the back top of the wreath to decide where you want it to be attached. I wanted mine to be centered in the circle so I positioned it accordingly.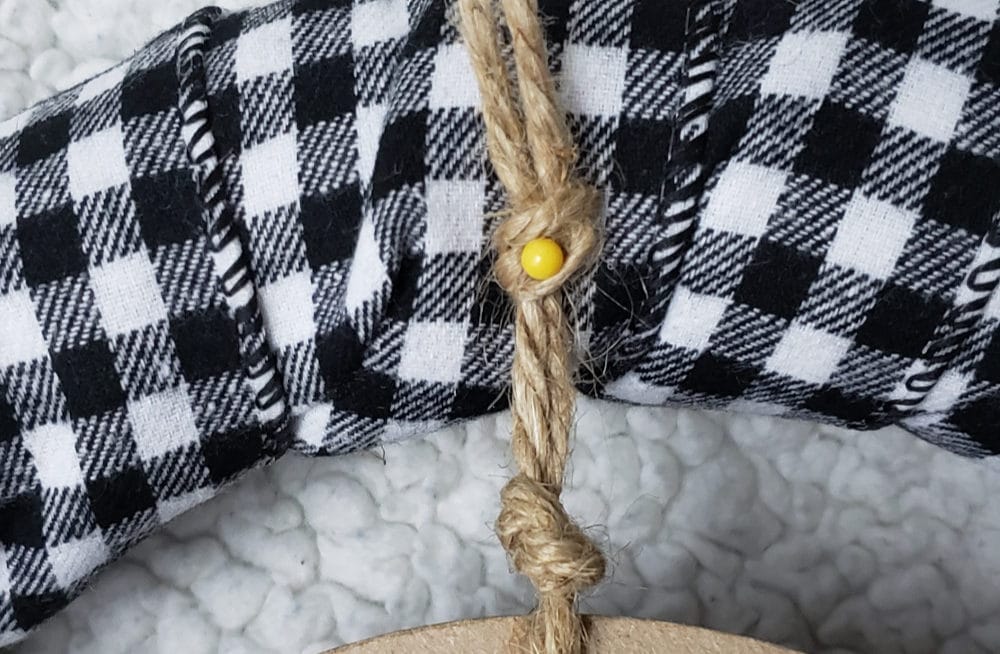 Tie a knot where the jute will be pinned and then insert another sewing pin through the jute into the wreath on the backside.
Done!
That's it! You just made an awesome Christmas wreath that you can be proud of!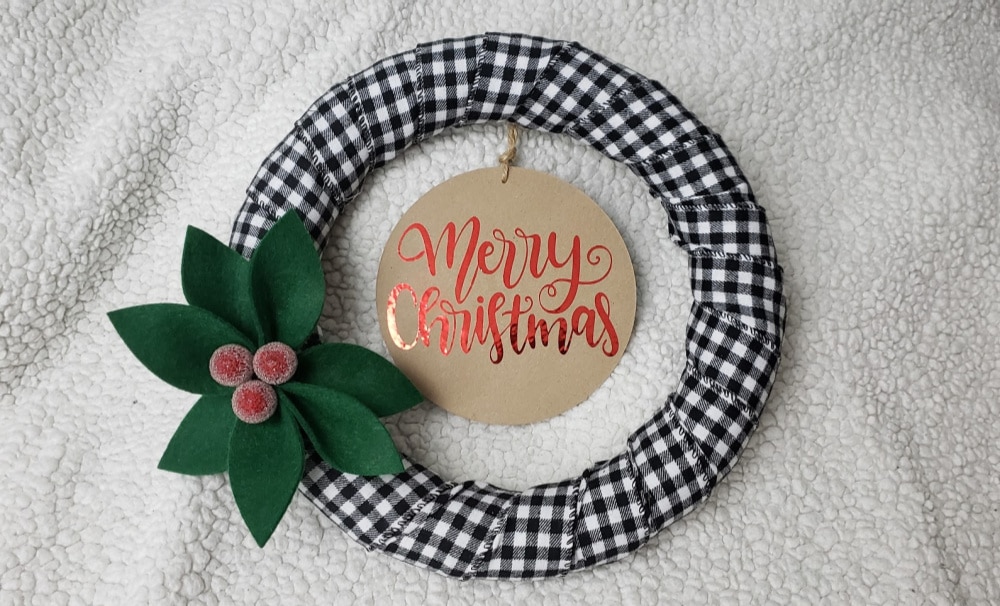 If you have a window in your front door, or if you want to hang your wreath in one of your windows, I highly recommend this suction cup wreath holder!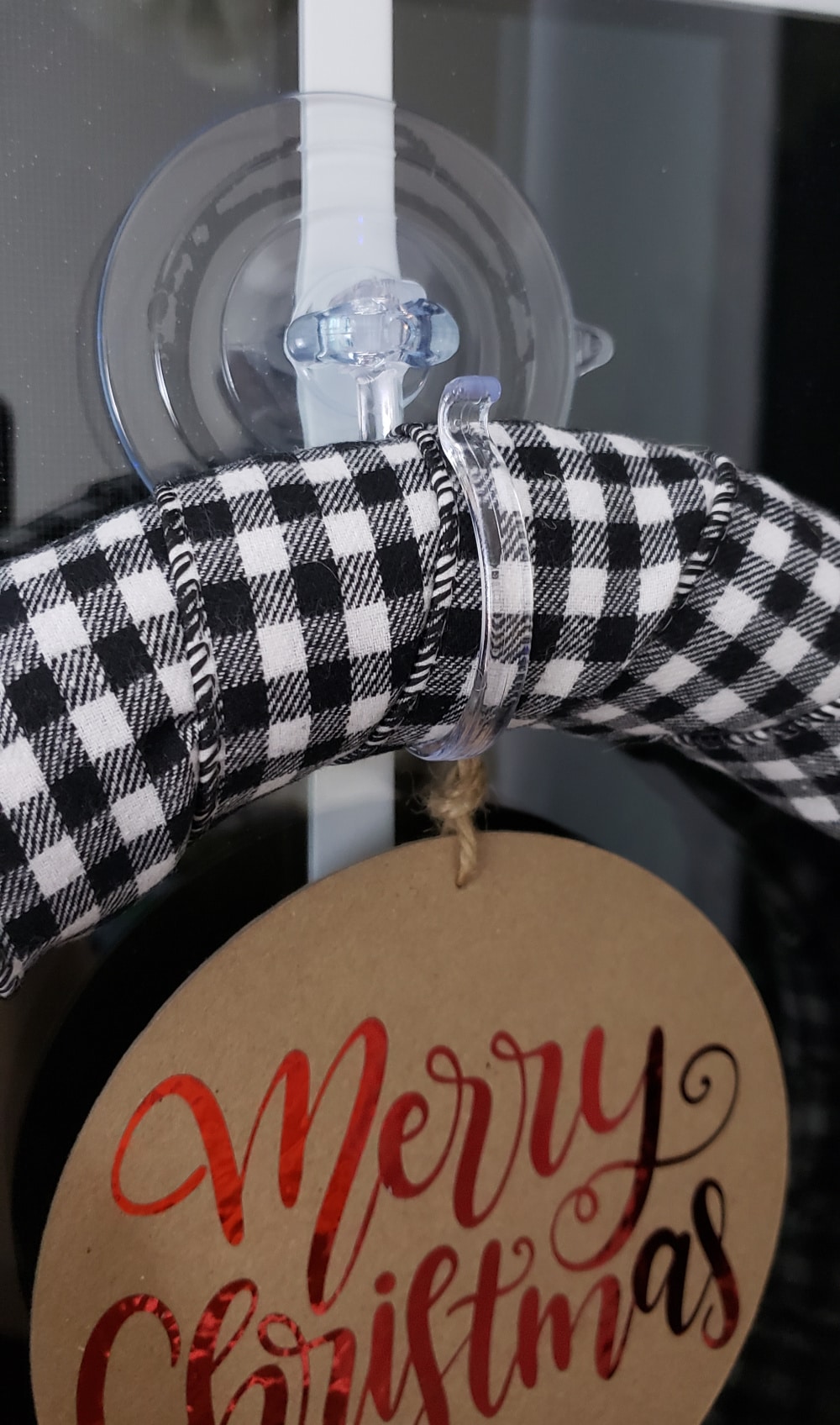 In Conclusion
I hope you enjoyed this DIY Buffalo Check Christmas Wreath tutorial!
If it's getting close to Christmas and you need something to adorn your front door quick before company comes, this project is perfect!
Even if you're not in a rush, it's a fun and satisfying DIY that won't disappoint.
Let me know in the comments below if you make one of your own, or if you have any questions!
Related Posts
Easy DIY Buffalo Check Christmas Wreath Tutorial with Free SVG & PDF Patterns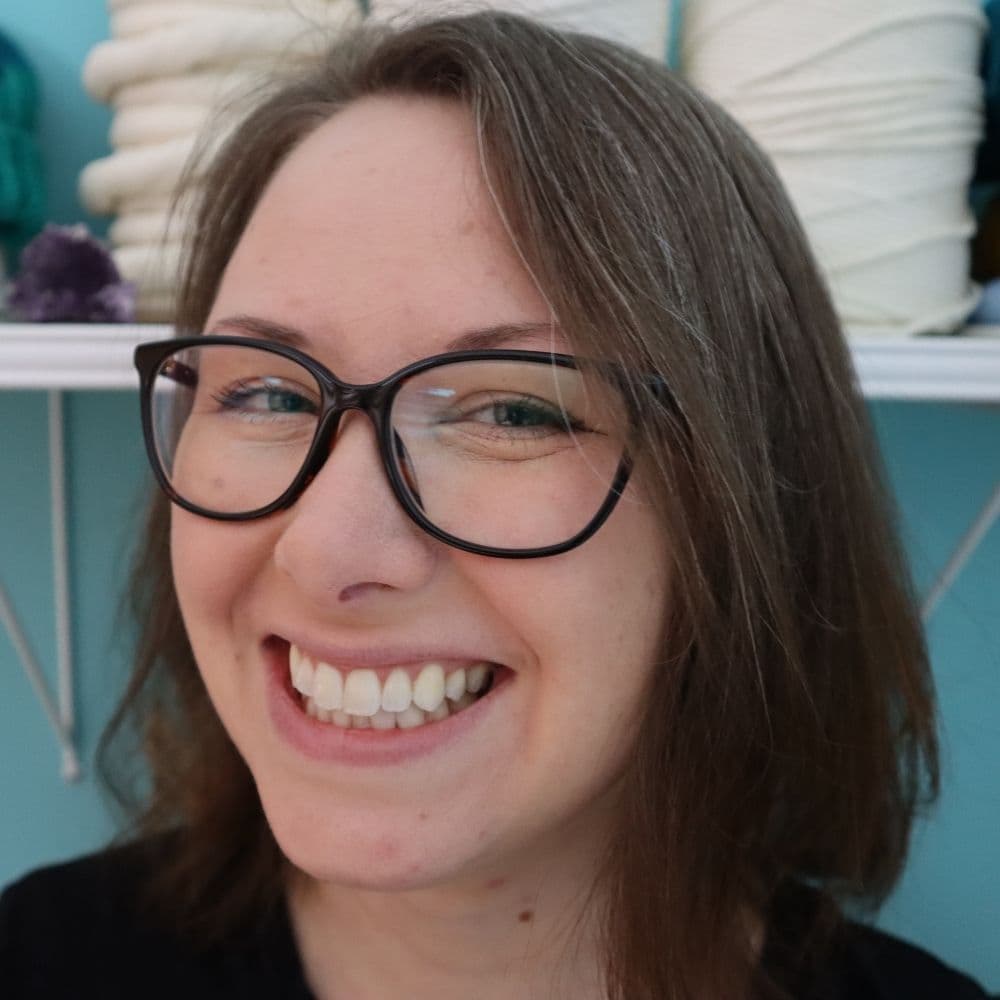 Crystal Martin is the crafty lady behind Marching North. She loves sharing easy to follow tutorials and patterns for macrame, crochet, punch needle, and pretty much anything else involving yarn or textiles.
Her work has been featured on Creative Fabrica, Craft Gossip, Ravelry, as well as her own site and YouTube channels.