Learn how to make this super fast and easy chunky crochet hat with bulky yarn in this step by step free pattern, tutorial, and video!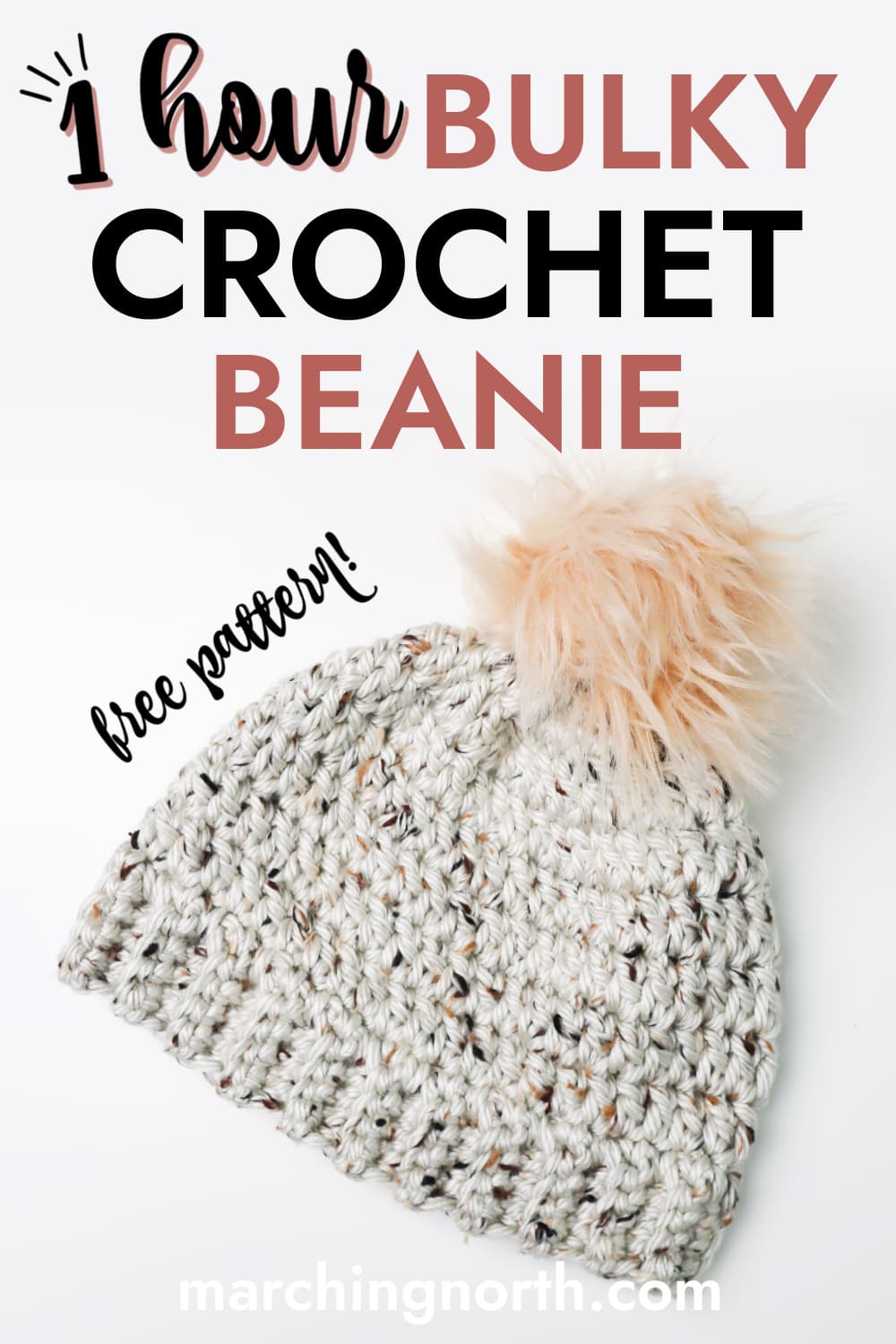 (This post contains affiliate links. If you click one and make a purchase, I may receive a small commission at no extra cost to you. Read the disclaimer here. Thank you for your support!)
If you've been around my site for very long, you probably can tell I love crocheting and loom knitting with bulky yarn.
It's perfect if you're wanting to make a quick project in one sitting, and it's so cozy and satisfying to work with!
This chunky crochet hat pattern is easy enough for beginners, and you can resize it to fit just about anyone.
We'll be making a large adult beanie in this tutorial, but I'm also including a chart with sizing options if you want to make a smaller beanie.
Since this crochet beanie pattern is made with super bulky yarn, I'm not sure how well it would work for a tiny baby hat, so I didn't include those sizes in the chart.

Best Yarn for Chunky Crochet Beanies
You may notice that the yarn color for the pictures and video below changes in the middle of the tutorial.
That's because I started with one type of yarn but I wasn't happy with how the hat was turning out and I switched.
The orange yarn was Hobbii Amigo Giga, and I love using that yarn but it's just a little too stiff for this project.
It didn't give the hat much drape, and it sort of resembled a helmet more than a winter hat, lol.
I switched over to Lion Brand Hometown yarn (which I seem to be using for everything these days) and it had a better texture for this particular project.

Another super bulky yarn that would work is Bernat Softee Chunky.
Lion Brand Wool-Ease Thick and Quick is also a little too stiff and I think you'd get a more helmet like hat so I don't recommend it.
In a pinch, you could also use 3 strands of worsted weight yarn held together. I haven't tried that but I don't see why it wouldn't work!
Stitches You'll Need to Know
This is a super easy project and you'll only need a few basic crochet stitches to complete it.
The main stitches we'll be using is the single crochet and double crochet stitch.
We'll be working in the back loop only (BLO) for the brim of the hat.
You'll also need to know how to chain, slip stitch, and we'll decrease the top of the hat using dc2tog (double crochet 2 together).
Don't worry, I'll go through the whole process with you step by step in the written tutorial and video below.
You'll also need to make a running stitch using your yarn needle or tapestry needle to cinch up the top of the hat.
If you want, you can add a pom pom to the top of your hat and I'll share tutorials for how to make a faux fur pom pom and a yarn pom pom with a pom-pom maker down below the pattern!
Abbreviations
st(s) – stitch(es)
ch – chain
sl st – slip stitch
sc – single crochet
dc – double crochet
dec – decrease
BLO – work in back loop only, leaving the front loops un-worked
rep – repeat
Special Stitches
dc2tog – double crochet two together (this is our decrease stitch).
To work this stitch, you'll work two partial double crochet stitches, stopping before you do the last yarn over/pull through.
Yarn over, insert hook into next stitch and pull up a loop. (3 loops on hook)
Yarn over, pull through the first two loops only. (2 loops left on hook)

Yarn over, insert hook into next stitch, pull up a loop. (4 loops left on hook)
Yarn over, pull through the first two loops only. (3 loops left on hook)

Yarn over, pull through all three remaining loops.

Notes
Skill Level – Beginner
Pattern is in US terms
The brim is crocheted with a smaller hook and then the body of the hat is made with the larger hook
Finished Measurements
This tutorial is for a large adult size hat. It will fit someone with about a 22″ – 24″ head circumference.
See the chart below for more hat size options.
NOTE: Where it says # of DC Hat rows, that means the number of double crochet rows NOT INCLUDING the 2 decrease rows, which would be the same for all of them.
Also, the number of single crochet stitches you'll make around the brim of the beanie will be the same as the amount of brim rows you make.

Tools and Materials
Instructions
Check out the video tutorial for this project over on my YouTube channel, and don't forget to subscribe!
Brim
Using the 6.5 mm crochet hook, attach the yarn to the hook with a slip knot.

Ch 6 times.

ROW 1: Sc into 2nd ch from hook and rest of ch down the row, ch 1, turn.

ROW 2: Sc into the BLO of each sc, ch 1, turn.

ROWS 3-44: Repeat row 2.
At this point, you'll have a very long, skinny rectangle.

Hold the two short ends of the brim section together.
Sl st the two ends together, going under the BLO of the front side and under the top loop of the back side (you're working into the other loop of the original foundation chain.)

Carefully remove your hook from the loop and pull the loop out slightly so you don't lose any stitches.
Flip the brim the other way around, so the ridge will be on the inside of the hat.
Main Hat Body
ROW 1: Insert the 9 mm hook into the loop and tighten it up. Sc around the edge of the brim 44 times.
NOTE: When you make your single crochet stitches around the edge, don't go through right at the top of the edge.
Insert your hook a little further down so there aren't holes around the brim of your hat.

ROW 2: Ch 3 (counts as first dc), dc in each sc around. Sl st to top of ch 3.

ROW 3-6: Rep row 2.

ROW 7 (First Decrease Row): Ch 3, (dc2tog, dc in next st) around. Make 1 dc in last remaining st, sl st to top of ch 3.

NOTE: If you're making a different size hat and you don't have one last stitch remaining at the end of the row, just go ahead and sl st to the top of the ch 3.
The same is true for the last decrease row.
ROW 8 (Second Decrease Row): Ch 3, dc2tog around. Make 1 dc in last remaining st. Sl st to top of ch 3. Finish off, leaving a long tail.

Finishing the Hat
Thread the yarn tail onto your yarn needle.
Flip the hat inside out, and thread the yarn through the hole to the inside.
Make a running stitch through all the stitches surrounding the hole, then pull the yarn to cinch it up.

Tie a secure knot. Then sew across the hole in a cross pattern to make it extra secure.
Tie another knot, then weave your end under several stitches and cut the excess yarn.
Thread the starting yarn end onto your yarn needle and weave that end under several stitches as well. Cut the excess yarn.

DONE!
If you want to make a pom-pom to go on the top of your crochet hat, check out these two tutorials:
I hope you will make one of these super quick bulky crochet beanie hats!
These easy hats are a great project to work up for a last minute gift or if you just want to make something that you can finish in one sitting.
If you make one of these, please share a pic over on Instagram and tag me @marchingnorth so I can take a look. I love seeing all of your awesome creations!
More Free Crochet Patterns
1 HOUR Bulky Crochet Beanie Hat (Free Pattern!)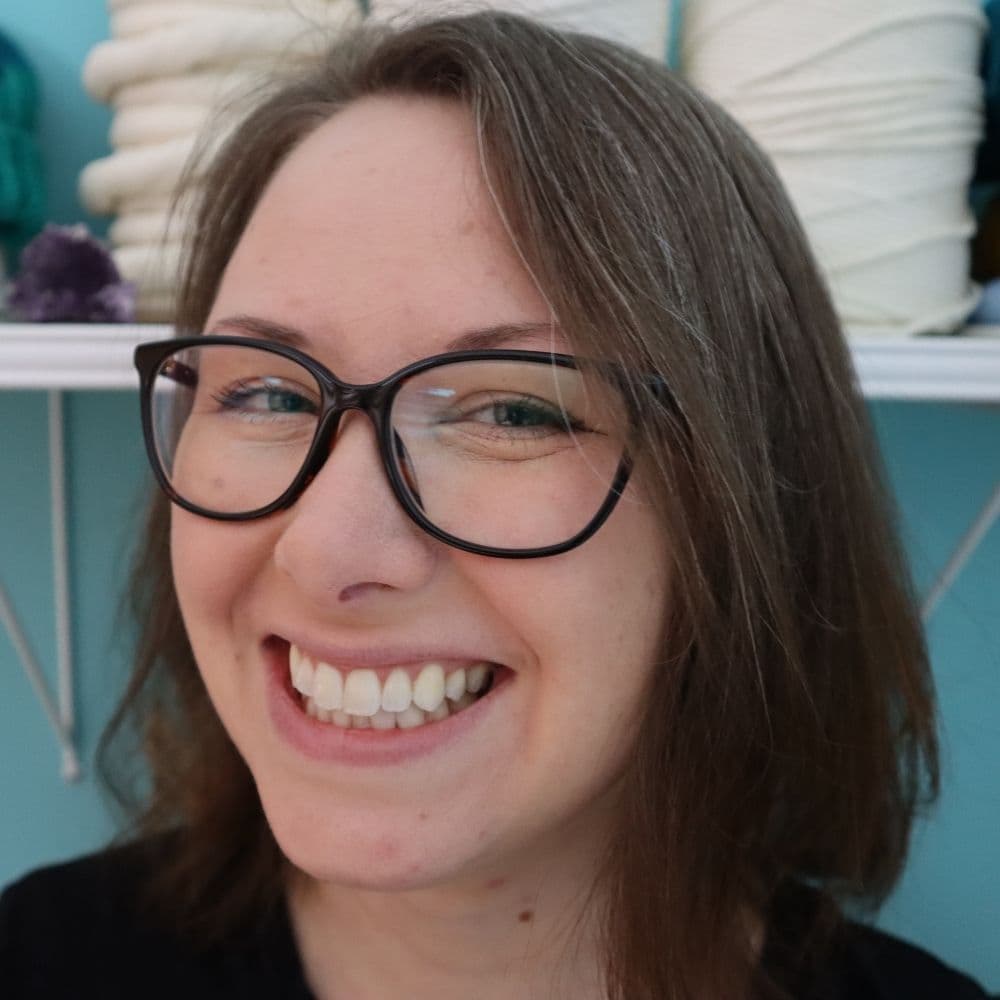 Crystal Martin is the crafty lady behind Marching North. She loves sharing easy to follow tutorials and patterns for macrame, crochet, punch needle, and pretty much anything else involving yarn or textiles.
Her work has been featured on Creative Fabrica, Craft Gossip, Ravelry, as well as her own site and YouTube channels.