Learn how to make an easy chunky round crochet rug in this step by step free crochet pattern and video tutorial!
If you're looking for a show stopping DIY home decor project, this is the perfect rug to make. It feels awesome on bare feet, it's a great way to add some texture to small spaces, and it a super easy pattern. What's not to love?
The finished rug would go great in your living room, entry way, or you could use it as a nursery rug in your baby's room,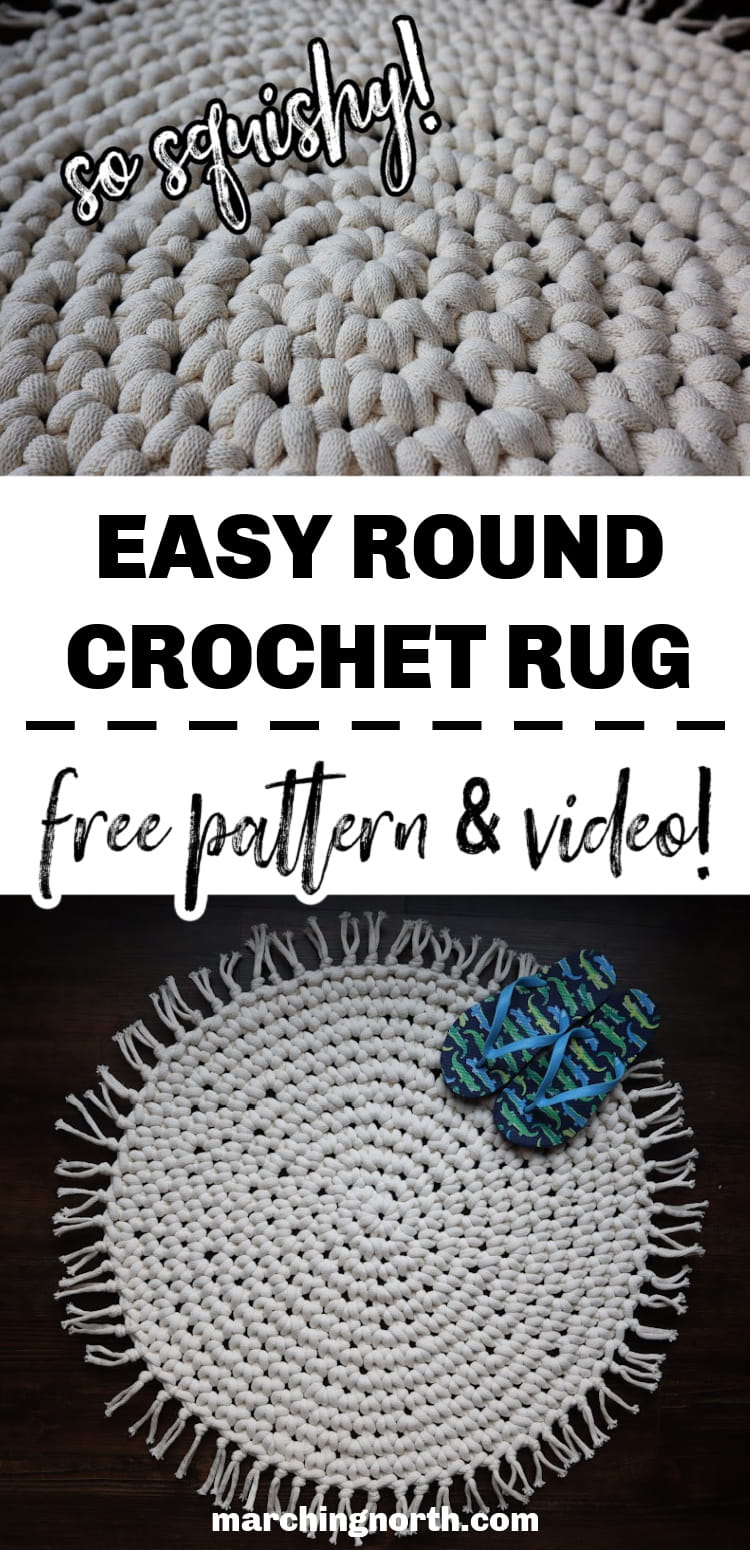 (This post contains affiliate links. If you click one and make a purchase, I may receive a small commission at no extra cost to you. Read the disclaimer here. Thank you for your support!)
This free pattern is simple enough for beginners, and you'll get the added bonus of learning how to crochet a flat circle.
The whole circular rug pattern is made using single crochet, and we'll start with a magic ring or magic circle so there isn't a hole in the center of the rug.
Purchase the inexpensive, ad-free, printable PDF version of this pattern here in my shop!

Best Yarn for a Crochet Rug
The bulky yarn I used for this pattern is actually braided macrame cord from Bobbiny, and it's perfect for making a crocheted rug.

I love this yarn and after making a few crochet rugs I feel like this is the best yarn for the job. You could also make this beautiful rug with t-shirt yarn. You can use store bought or make your own with old t-shirts.
Using the Bobbiny yarn, I ended up having almost exactly enough yarn for 12 rounds. There was only about a foot or so of yarn remaining after round 12.
Yarn for the Fringe
There wasn't enough of the one skein of Bobbiny left to make fringe, but I had some left over DMC Nova Vita in my stash so I used that for the fringe.

If you want to make fringe with the same cord as we use to make the rug, you'll either need to get two skeins or do 11 rounds instead of 12.
You could also just grab a skein of DMC Nova Vita that's a little cheaper and do it the same way I did, or just leave the fringe off completely.
Honestly you could probably even use another type of yarn, it might look cool with some different colored fringe!
More Yarn Options
You could try making your own yarn for this easy crochet project with pieces of scrap fabrics, but if you want to keep it simple, the Bobbiny yarn is awesome and I highly recommend it.
One last option is to use smaller weight yarn, but hold multiple strands of yarn together. That could get a little crazy to keep everything untangled, but it would also work.
Supplies You'll Need
1 skein of 9 mm Bobbiny Jumbo Braided Cord – Natural

NOTE – I didn't have enough of the Bobbiny cord left over for fringe after 12 rounds, but I had some DMC Nova Vita in my stash and I used that for fringe instead. If you want to use the same cord for fringe, you'll need to either get 2 skeins of the Bobbiny cord, use a different yarn, or you can leave the fringe off entirely. It's up to you!

Stitch marker
Scissors
Abbreviations
sl st – slip stitch
sc – single crochet
ch – chain
rep – repeat
*…* – repeat parts of pattern in * number of times indicated. Example: "*1 sc in next sc, 2 sc in next sc* rep from * 6 times." means to make 1 single crochet in the next stitch, 2 single crochet in the following stitch, and repeat that pattern 6 times to complete the round.
Notes
Pattern is in US terms
You'll work this pattern in continuous rounds with no turning chains.
Do not turn at the end of each round, instead continue working in a spiral with the right side facing.
Keep track of your stitches by placing a marker at the first stitch of each round.
Skill Level – Easy Beginner
Finished Size – approx. 24″ across (not counting fringe), approx. 29″ across (counting fringe)
Round Crochet Rug Free Pattern
Check out the video tutorial over on my YouTube channel, Yarn Stash with Marching North. Don't forget to subscribe so you don't miss any new videos!
Round 1
Make a magic loop and ch 1. 6 sc in loop. Pull short end to tighten. DON'T sl st join to first stitch because we'll be working in continuous spirals for each round.
From here on out, place a marker in the first stitch of each round.

Round 2
2 sc in each st around.

Round 3
*1 sc in next sc, 2 sc in next sc* rep from * 6 times.

Round 4
*2 sc in next sc, 1 sc in next 2 sc* rep from * 6 times.

Round 5
*1 sc in next 3 sc, 2 sc in next sc* rep from * 6 times.
Round 6
*1 sc in next sc, 2 sc in next sc, 1 sc in next 3 sc* rep from * 6 times.
Round 7
*1 sc in next 3 sc, 2 sc in next sc, 1 sc in next 2 sc* rep from * 6 times.
Round 8
*1 sc in next sc, 2 sc in next sc, 1 sc in next 5 sc* rep from * 6 times.
Round 9
*2 sc in next sc, 1 sc in next 7 sc* rep from * 6 times.
Round 10
*1 sc in next 5 sc, 2 sc in next sc, 1 sc in next 3 sc* rep from * 6 times.
Round 11
*1 sc in next 3 sc, 2 sc in next sc, 1 sc in next 6 sc* rep from * 6 times.
Round 12
*2 sc in next sc, 1 sc in next 10 sc* rep from * 6 times.

Finishing Off
Sl st to next sc, cut yarn and finish off. Weave in tail on back side of rug and do the same for the starting end from magic loop.

Fringe
To make the fringe, cut 10″ pieces of cord.
You'll need one piece for each stitch around, so that should come out to 72 pieces.
Thread the piece of fringe through the two loops of the stitch, and hold the two ends together to tie an overhand knot.

Repeat that with all the pieces of fringe.
Finished!

Care Instructions
This rug is machine washable, but I would take care and wash it on the gentle cycle and lay it flat to dry.
It's a pretty giant crochet rug so you should wash it alone so it isn't too hard on your machine.
If you use a different yarn like a fabric yarn or t-shirt yarn, check the label and see if there is any info about washing it just to be safe. If the yarn you choose is cotton or polyester, it should be OK to wash.
In Conclusion
I hope you enjoyed this easy crochet rug pattern! If you make one of these please share a picture over on Instagram and tag me @marchingnorth so I can take a look. I love seeing all of your awesome creations!
Looking for more free crochet rug patterns? Check out this bulky crochet rug tutorial, which you could also make with this Bobbiny yarn!
More Crochet Patterns and Projects
Easy Round Crochet Rug Pattern (Free!) and Video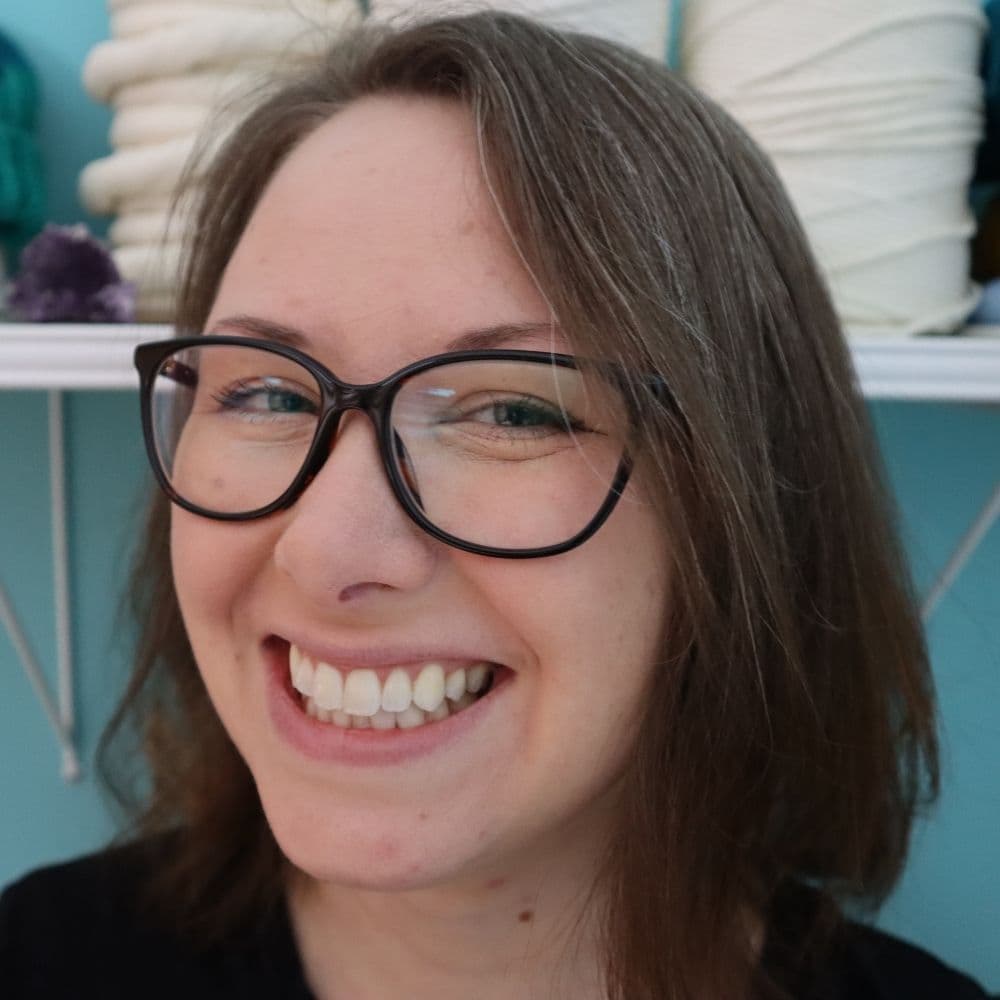 Crystal Martin is the crafty lady behind Marching North. She loves sharing easy to follow tutorials and patterns for macrame, crochet, punch needle, and pretty much anything else involving yarn or textiles.
Her work has been featured on Creative Fabrica, Craft Gossip, Ravelry, as well as her own site and YouTube channels.