What are the best scissors to cut macrame cord and rope, yarn, fabric, felt and other textiles?
I bought four different pairs of popular scissors for cutting fabric and fibers and put them all to the same test. Come find out my top pick for the best scissors for cutting macrame rope, yarn and fabric in this unbiased review and demo!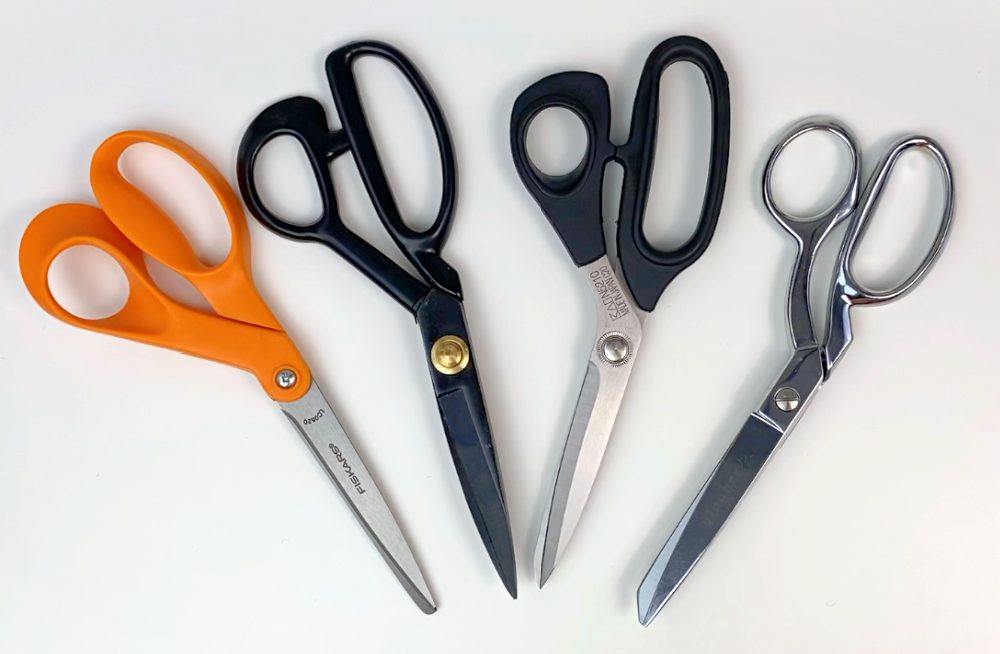 (This post contains affiliate links. If you click one and make a purchase, I may receive a small commission at no extra cost to you. Read the disclaimer here. Thank you for your support!)
Have you been wondering which scissors are the best for macrame, punch needle, crochet, sewing, etc?
Sharp scissors are super important for any textile craft. It's one of those things you take for granted if you have good scissors, but if you have dull ones it's VERY obvious.
Trying to cut the perfect fringe on your macrame projects is a nightmare with dull scissors. You really don't need a lot of different macrame supplies to create beautiful fiber art, but sharp scissors are a must.
I decided the best way to determine which scissors to recommend to you was to buy a fresh pair of some popular brands and put them all to the same test. Honestly, this was really fun!
The four brands I went with are 8″ Fiskars Original Orange Handled scissors, 8″ Proshear Heavy Duty scissors, 8″ Kai Dressmaking Shears, and 8″ Gingher Blunt-tip Serrated Knife Edge Dressmaker Shears.
This post is NOT SPONSORED by any of these brands. All of my opinions are completely honest and based on how they performed.
WANT TO REMEMBER THIS? SAVE THIS BEST MACRAME AND TEXTILE SCISSORS POST TO YOUR FAVORITE DIY PINTEREST BOARD!

There's a lot more to the story, though! Keep reading to find out more about these brands of scissors (or shears) and decide which pair is right for you.
In the video below, you can watch me cut through fabric, yarn, and rope with each pair of scissors so you can see how they perform. It's borderline ASMR and pretty satisfying to watch!
---
Subscribe to Marching North on YouTube!
---
Related: Must-Have Macrame Supplies (and Where to Find Them!)
8″ Fiskars Original Orange Handled Scissors

Fiskars Orange Handled Scissors were my go-to fabric scissors for years. They're a good budget option and they're easy to find in most stores.
There are several other types of Fiskars scissors available as well, including their Razor Edge shears, but I went with the basics for this comparison.
Let's take a look at some common questions people ask about Fiskars!
Are Fiskars Scissors Good?
Yes, Fiskars are a good brand of scissors. They're reliable, decently sharp, and comfortable to use.
They aren't going to be as sharp as some of the higher end models, but they're a great budget pick.
Can You Sharpen Fiskars Scissors?
Yes, you can sharpen Fiskars scissors! You can use a scissors sharpener like this one, or if you know how to sharpen scissors with a sharpening stone that will work well too.
If they're just a little dull, cutting through sandpaper or aluminum foil will sharpen them up a bit.
While you could also get them professionally sharpened, I'm not sure it's worth the money to do so. It would probably be more cost effective to just buy a new pair.
Do Fiskars Come with a Lifetime Warranty?
Yes, they do! According to the Fiskars site:
Fiskars products are warranted to the consumer purchaser to be free of defects in material and workmanship for as long as the consumer owns the product. Warranty does not cover sharpening, normal wear and tear, environmental factors, accidental damage, misuse, industrial/commercial use.

At Fiskars Brands, Inc.'s option, defective product will be repaired, replaced or substituted with a product of equal value.

https://www.fiskars.com/en-us/customer-service/faqs

Pros
Affordable
Easy to find at stores or online
Lifetime Warranty
Reliable Quality
Cons
Not as sharp as higher end brands
Become dull fairly quickly
Conclusion:
The Orange Handled Fiskars did a decent job, they can cut through all of the materials, but it takes a decent amount of squeezing for the thicker items.
Overall, these are a good budget pick, but they don't compare to higher end fabric scissors and shears.
8″ Proshear Heavy Duty Scissors

I first saw someone mention buying "some heavy duty scissors" they found on Amazon in a Facebook group discussion and I decided to pick up a pair to try out.
When I did a search online, I didn't even realize they were called Proshear because it's not listed in the name. They just looked like another no-name mystery item on Amazon. The listed brand name is H HILITING GOBOS & PROJECTORS.
Based on the description and reviews I went with this brand, but there are several other similar looking scissors with slightly different names available. Not my favorite type of product to support, but since they were mentioned I wanted to give them a try.
Are Proshear Scissors Good?
Overall, they did an OK job. One thing I did notice was the top inch of the blades weren't as sharp and didn't cut through fabric as nicely as the other pairs.
Also, these ones came very oily (which it does warn you about in the description). The others didn't have any oil on them so I honestly wasn't expecting that and it could ruin your project if you don't wipe them off first.
However, they did come with a tape measure and a seam ripper, so I guess that's cool. I mean, if you needed one. (I didn't, but now I have extras, lol)
If you know how to sharpen your own scissors, you could probably fix the issue with the tip not being as sharp and turn these into a pretty good heavy duty pair.
Where are Proshear Scissors Made?
Proshear Scissors are made in China.

Pros
Can cut through thick material
Came with bonus items
Cons
Very oily upon arrival
Tip not as sharp
Heavy
Conclusion:
These scissors work alright, but there are a few things about them I really wasn't a fan of. Not my favorite, but if you sharpened them they might be decent.
If you're looking for a good pair out of the box (which I'm guessing you are) I'd avoid these.
8″ Kai Dressmaking Shears

I was really excited to try these Kai Dressmaking Shears because I had heard so many great things about them.
According to several people, they cut as well as Ginghers, but are lightweight and more comfortable. I've also seen mentioned that they stay sharp for a long time before they need to be sharpened.
Honestly, trying those two brands of scissors (shears) against each other was the whole reason for this challenge in the first place.
Are Kai Scissors Good?
Yes, Kai scissors are definitely a good brand that I would recommend.
These shears are super lightweight with a flexible plastic handle that is very comfortable to hold.
They were just as sharp at the tip of the blade as the middle, and they cut through fabric beautifully. Cutting yarn and 3 or 4 mm macrame rope was also a cinch with the Kai scissors.
One area they struggled was with super thick rope. While they're sharp, it was like I couldn't get enough force to cut through it very efficiently and it took several squeezes. The Fiskars actually out performed them in that one part of the test.
However, if you're just cutting normal sized macrame rope, yarn, or fabric, the Kai scissors worked beautifully. You can't beat the comfort and lightness!

Where are Kai Scissors Made?
Most Kai scissors are made in Japan, and they also have a factory in Vietnam that uses the same quality materials.
Pros
Lightweight
Consistently sharp over whole blade
Comfy flexible handle
Cons
Struggled with very thick rope
Conclusion:
The Kai shears I tested did a great job with everything except crazy thick macrame rope. For normal everyday textile use, these are an excellent pick!
8″ Gingher Dressmaker Shears

I'll admit, Gingher has been my favorite brand for a while now. (No, they aren't sponsoring this post, just being honest.)
Ever since I got a pair of Gingher applique scissors and saw how much sharper they were than my old Fiskars (like whoa), I've been a big fan.
This pair of Gingher shears cut through everything I tested them against like butter! Even the super thick cotton rope was no match.
Are Gingher Scissors Worth the Price?
The one main drawback about Gingher shears and scissors is the price. They can be a little costly, especially if you're used to spending $10 for a pair of scissors (like I was).
Think of these scissors as an investment. Gingher scissors and shears have solid metal construction and last forever. They also come with a lifetime warranty. There's something to be said about that kind of quality.
Gingher scissors are definitely worth the price.

Can Gingher Scissors be Sharpened?
Yes, Gingher scissors can be sharpened! According to their website:
Gingher offers sharpening and repair service for all Gingher brand products. Regrettably, we are not able to make this service available for other brands of scissors and shears due to differences in manufacturing and hardware.

https://gingher.com/
You can also take them to a local place to get them sharpened if you have one near you. Since these are a serrated edge, they can't be sharpened like a regular knife edge would be.
I recommend leaving this to a professional (unless you know how to sharpen a serrated edge, in which case you are a professional!)
Where are Ginghers Made?
The 8″ Gingher Dressmaker Shears tested in this post are made in Italy.
Pros
Crazy sharp
All metal construction
Lifetime warranty
Cons
A bit heavy
Most expensive of the four
Conclusion:
Well, scroll down a tiny bit further and you'll see! (hint: they won)
The Winner: 8″ Gingher Shears
There was no doubt that the Gingher shears were the sharpest pair of the four. Wow, they cut through everything so effortlessly!
If you're looking for an amazingly sharp pair of all metal shears, these are for you.
A pair of Gingher shears will last forever with an occasional sharpening and a drop of oil here and there.

Runner Up: Kai Shears
While the Kai shears weren't able to cut through everything as well as the Gingher's, they still were a great pair.
The blade is sharp all the way to the tip, they're lightweight and very comfortable to hold, and they cost a bit less.
Overall, I'd definitely recommend Kai scissors (and shears) for macrame, sewing, and other textile crafts.

Best Budget Choice: Fiskars Orignal Orange Handled scissors
If you're on a tighter budget or you just aren't ready to commit to the other more expensive brands, Fiskars are still a decent choice.
While they won't last forever, they do a decent job and when they get too dull you can always pick up a new pair.
You can use the older dull pairs to cut paper for crafts later, so they won't go to waste. Just don't mix up your fabric pair with your paper pair!

Summary
I hope you enjoyed this article and it helps you make the best choice when it comes to scissors for macrame, yarn crafts, fabric and textiles.
Let me know down below if there's another brand of scissors or shears you also love that you want to tell us about! I'd love to do another video and post about this in the future with more of your favorites.
Related Posts
The BEST Scissors for Macrame Cord, Yarn and Fabric | Fiskers vs. Proshear vs. Kai vs. Gingher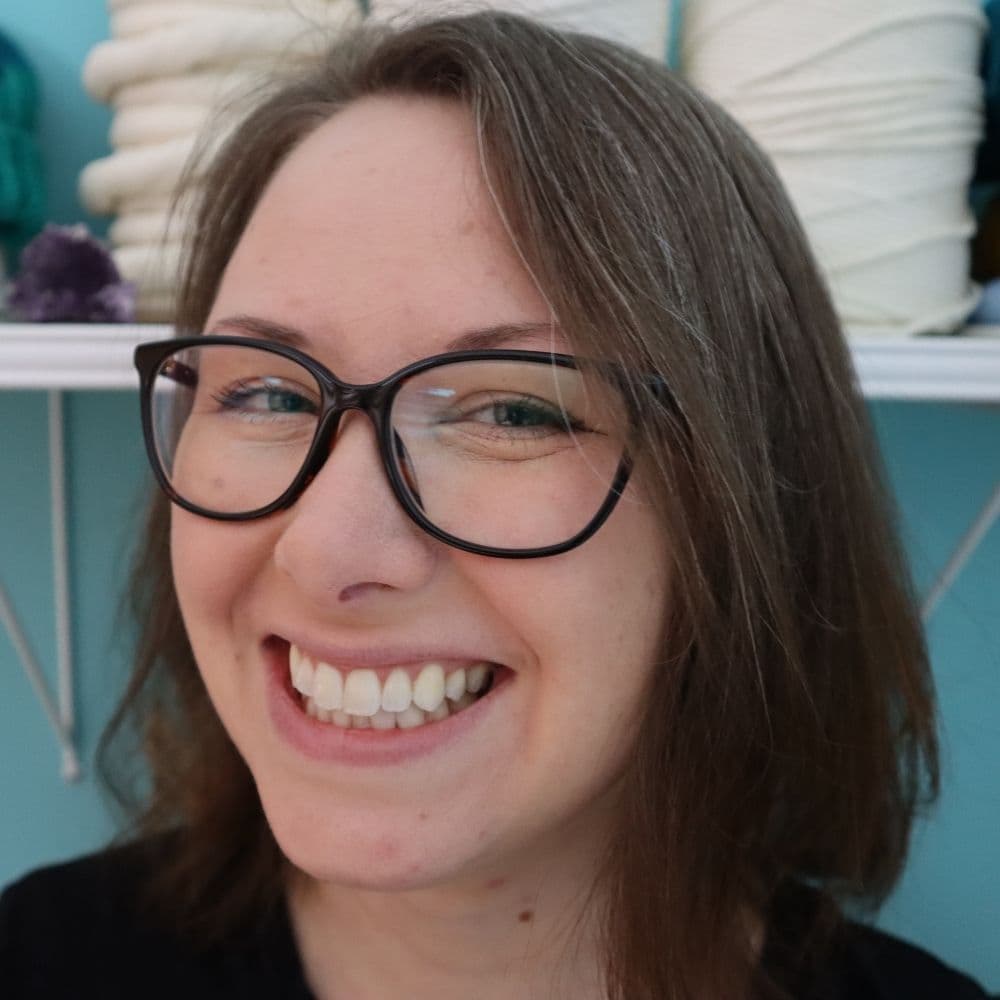 Crystal Martin is the crafty lady behind Marching North. She loves sharing easy to follow tutorials and patterns for macrame, crochet, punch needle, and pretty much anything else involving yarn or textiles.
Her work has been featured on Creative Fabrica, Craft Gossip, Ravelry, as well as her own site and YouTube channels.