Find out what punch needle fabric is best for YOUR punch needle, plus I have a free printable cheat sheet for you!
When you're first starting out with punch needle, figuring out which supplies you need can be confusing.
There are different fabrics that work for different size needles, which in turn work with different sizes of yarn or embroidery thread.
If you end up with the wrong combination of tools, it's frustrating and you might think "maybe punch needle isn't for me". I don't want you to think that!
That's exactly what happened to me when I first started out, but I'm really stubborn and decided I was going to figure punch needle out if it was the last thing I did.
To help you out, I decided to put together this article and a handy printable cheat sheet so you can see at a glance which fabrics work with your punch needle, and which ones won't.
Punch Needle is simple but can be confusing for a beginner.
One of the first mistakes I made when I started messing around with punch needle was choosing the wrong fabric for my punch needle.
Related: Check out this list of must have punch needle supplies!
I ordered an adjustable rug punch needle comparable to the Oxford punch needles.
When I was trying to figure out what supplies I needed, I didn't realize how different in size the rug and miniature punch needles are. I also didn't realize there was such a big difference in foundation fabrics.
I ended up with was a large rug punch needle and a couple of yards of Weaver's Cloth. That combo doesn't work, I found that out for sure!
To help explain the differences visually, I made a printable cheat sheet showing which fabrics work best with which punch needles.
You can grab yours at the bottom of this post!
Let's look at each type of fabric and I'll explain what they are and when to use them.
(This post contains affiliate links. If you click one and make a purchase, I may receive a small commission at no extra cost to you. Read the disclaimer here. Thank you for your support!)
Punch Needle Foundation Fabrics
First, let's talk about foundation fabrics that work with large rug punch needles (like the Oxfords).
Monk's Cloth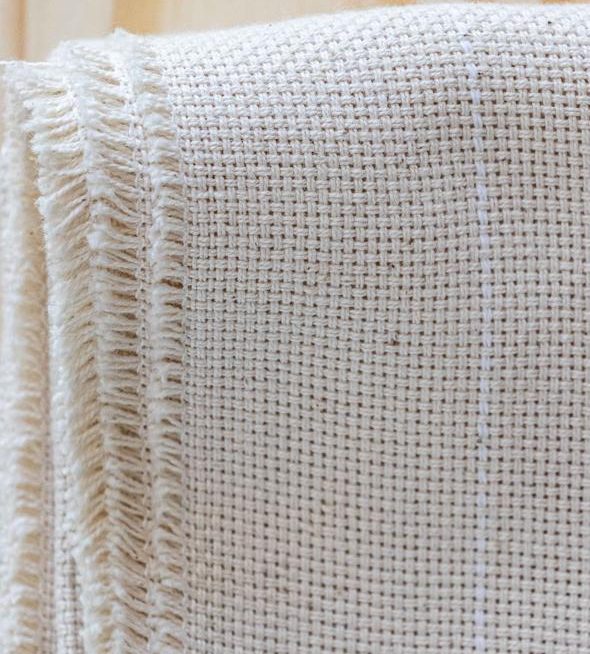 Monk's cloth is the most popular cloth for the larger punch needles. You can sew it into purses or pillows after you do your punching and it works beautifully.
Monk's cloth is an even weave 100% cotton cloth similar to Aida cloth (but definitely NOT the same).
There are two types of Monk's cloth. One is perfect for punch needle, and the other is NOT.
The correct Monk's cloth will be a natural color with white stripes running through it every two inches or so and it's 12 holes per inch.
The WRONG kind of Monk's cloth is a solid color (no white lines) and is typically used for other needle crafts like Swedish Weaving. This is the kind you'll commonly find in craft stores. This fabric is 7 holes per inch.
While you'll sometimes get lucky and find the correct Monk's cloth in the wild, it's really easy to pick it up online.
Linen & Primitive Linen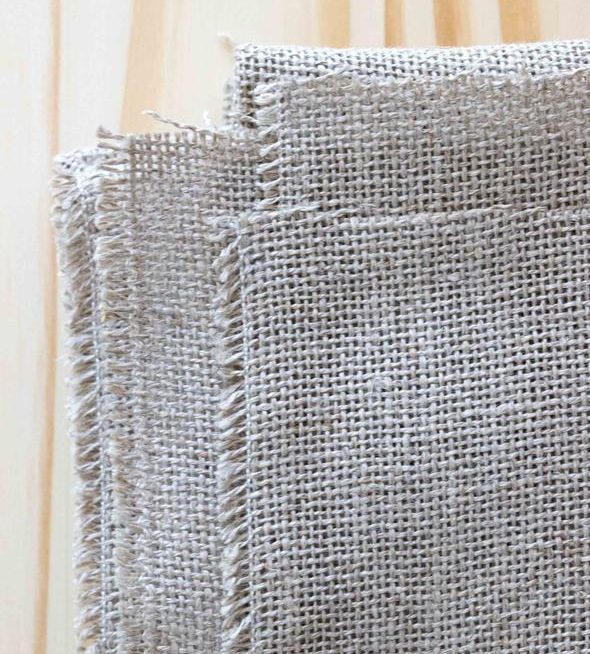 Linen is a beautiful and long-lasting foundation fabric to use for punch needle. You can leave parts of the linen backing exposed to add a different texture to your design.
Because of the high quality of linen, you can rest easy knowing your punch needle projects can be heirlooms passed down through the generations.
Primitive linen is very similar to linen but less expensive and, well… primitive. It has a beautiful rustic look.
Here's a project I did using primitive linen as the foundation fabric. It makes a gorgeous background! (Also: that pattern is available in my shop!)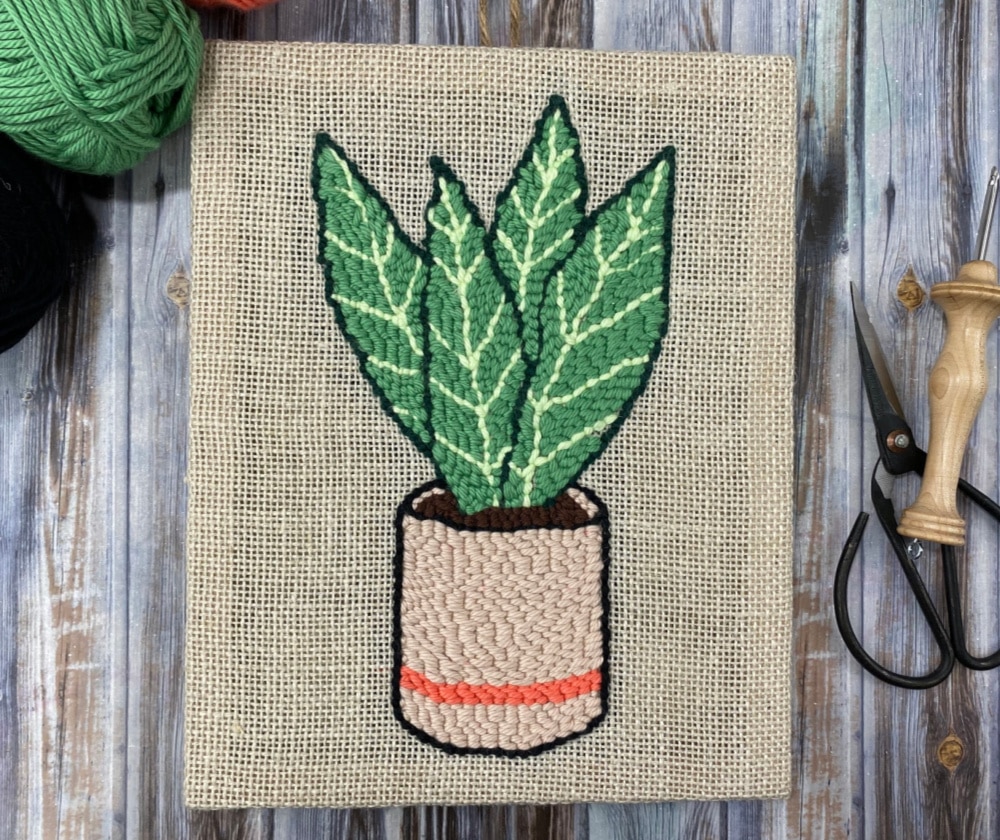 Rug Warp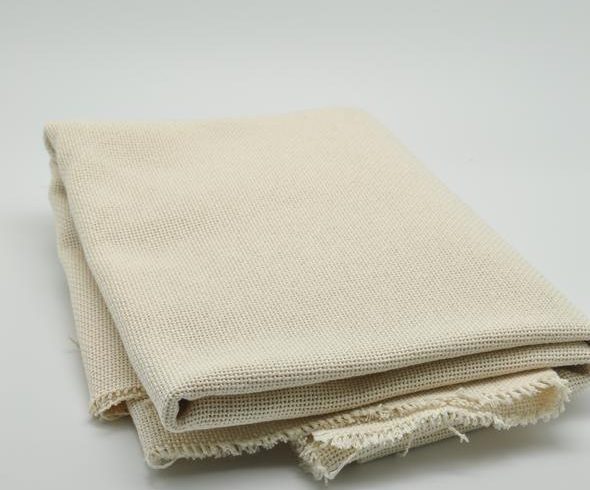 Rug warp (or primary rug backing) is a strong cotton foundation fabric and is frequently used for rug making.
It's heavier and stiffer than Monk's cloth, and made of 100% polyester.
This is a great fabric to use if your punch needle project will be subjected to lots of abuse and obviously perfect for rugs!
It's actually made for rug tufting with a tufting gun, which is a lot harder on the backing fabric than punching by hand. This stuff will last forever!
A Couple Fabrics to AVOID
Aida Cloth
Aida cloth is used for cross stitch and other needlecrafts.
While it is possible to do punch needle on 16 or 18 count Aida Cloth, it's not the best choice.
The fibers in Aida Cloth don't hold yarn the same way fabrics like Monk's cloth do, and if you're just starting out the last thing you want is a frustrating experience.
You're better off to save this stuff for your cross stitch projects.
Burlap
Burlap is another foundation fabric that isn't highly recommended but works in certain situations.
The good thing about burlap is it's cheap, it comes in several colors, and it's easy to find. In some countries, Monk's cloth and primitive linen are harder to find, but you can almost always find burlap.
However the cons are it's scratchy, the weave is inconsistent, and it breaks down over time.
There are some kinds of burlap that are higher quality than others, but I would only use this as a last resort and avoid it if you can.
Now let's look at your foundation cloth options for embroidery punch needles (like the Ultra Punch).
Weaver's Cloth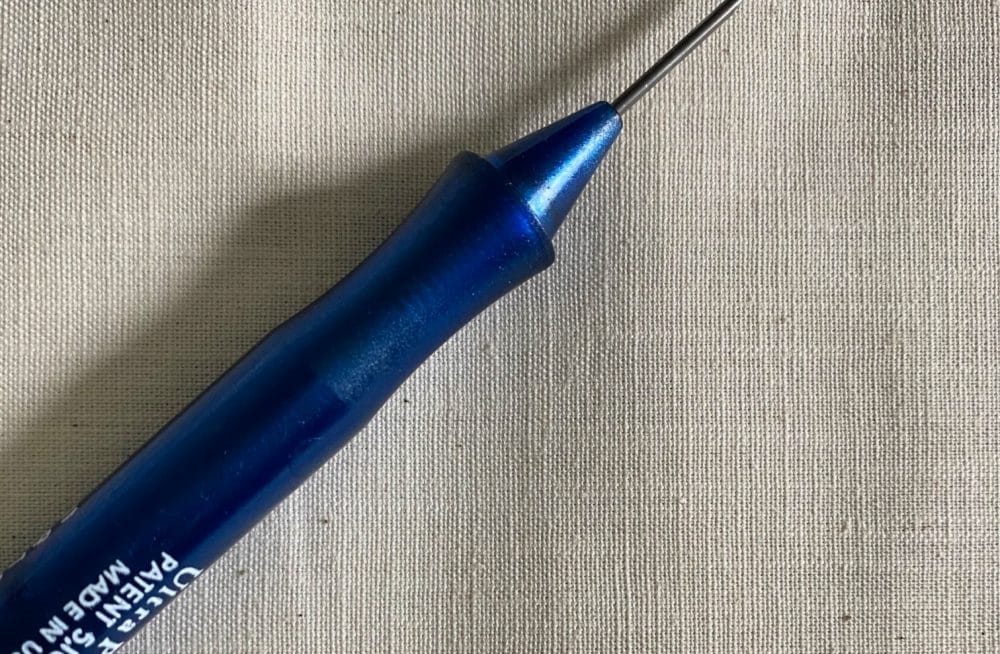 Weavers cloth is a cotton/poly blend fabric that is a favorite for punch needle embroidery.
If you're just starting out with punch needle embroidery, this is really your best choice. It's reliable and you'll get great results!
Cotton Fabric
With embroidery punch needles, you can actually punch right on cotton fabric!
This opens up a whole world of possibilities with patterns and cool backgrounds you can add to your project.
Don't like punching backgrounds? This is a great option, just find some cotton fabric with a pretty pattern and you're good to go!
The quilting section of your local craft store should have some cotton fabric in stock, or you can find it online.
One important thing to take into consideration: the fibers in cotton fabric can rip or tear if you pull your punch needle loops out multiple times and repunch.
Take care and be gentle with this fabric.
100% Cotton Denim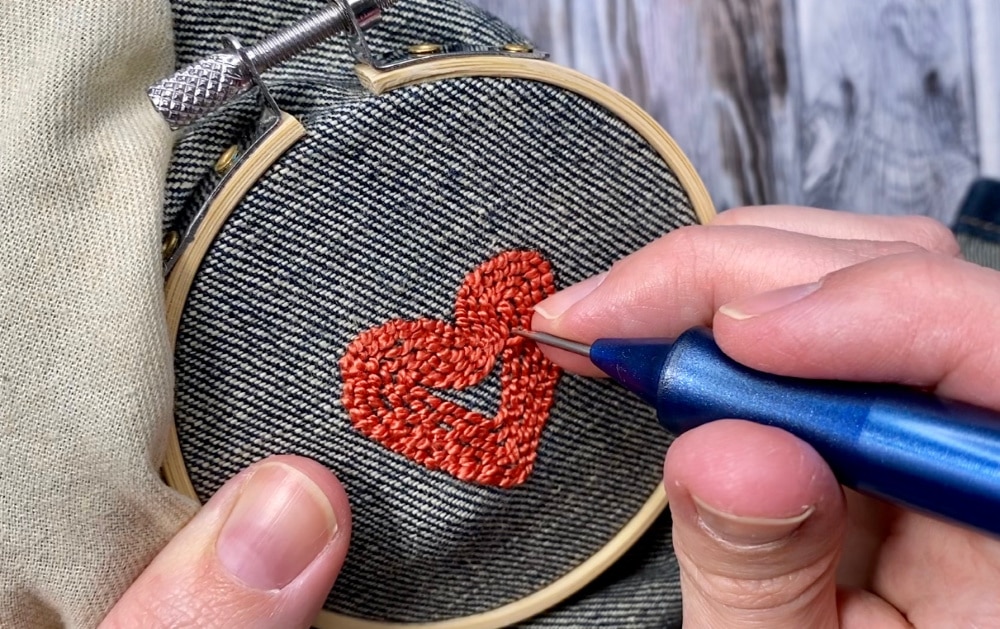 Denim is a popular fabric for lots of things, including punch needle. It's tightly woven and comes in different weights.
I recommend sticking to 100% cotton denim for your punch needle projects. This is a great way to upcycle some old jeans!
Check out this tutorial to see how to do a punch needle design on a pair of jeans!
Other Fabrics
Any poly-cotton blend is worth a try for punch needle embroidery.
Do some experimenting and see what works for you. As long as it's a woven fabric, I'd say it's worth a try.
I tried punching on a 100% cotton drop cloth with my Ultra Punch, and it worked really well!
Once you get comfortable with punch needle techniques, try doing punch needle on other woven fabrics!
The Ultra Punch is a great needle to experiment with because it's nice and pointy and will go through most fabrics.
In Summary
I hope this article was helpful and will clear up some confusion about punch needle fabric options.
If you haven't already, be sure to grab your printable cheat sheet above!
Here are some more helpful punch needle articles for beginners!
Related Punch Needle Posts
Best Foundation Fabric for Your Punch Needle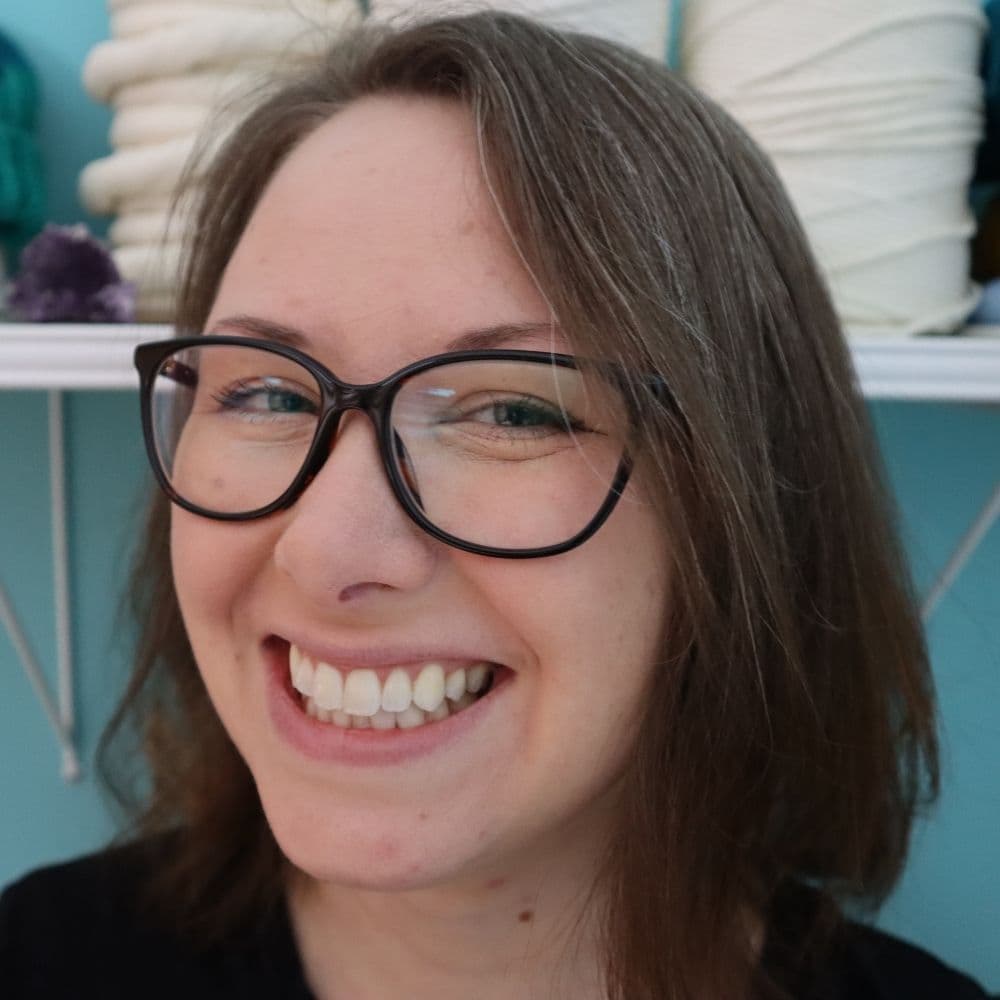 Crystal Martin is the crafty lady behind Marching North. She loves sharing easy to follow tutorials and patterns for macrame, crochet, punch needle, and pretty much anything else involving yarn or textiles.
Her work has been featured on Creative Fabrica, Craft Gossip, Ravelry, as well as her own site and YouTube channels.