When you're first starting out with punch needle, figuring out which supplies you need can be confusing.
There are different fabrics that work for different size needles, which in turn work with different sizes of yarn or embroidery thread.
If you end up with the wrong combination of tools, it's frustrating and you might think "maybe punch needle isn't for me". I don't want you to think that!
That's exactly what happened to me when I first started out, but I'm really stubborn and decided I was going to figure punch needle out if it was the last thing I did.
To help you out, I decided to put together some articles about punch needle to try and clear up some of the things that confused me starting out and might be confusing to you, too.
Punch Needle is simple but can be confusing for a beginner.
One of the first mistakes I made when I started messing around with punch needle was choosing the wrong fabric for the punch needle I had.
I ordered an adjustable punch needle from North Shore Crafts that was a rug punch needle comparable to the Oxford punch needles.
When I was trying to figure out what supplies I needed, I didn't realize how different in size the rug and miniature punch needles are. I also didn't realize there was such a big difference in foundation fabrics.
I ended up with was a large rug punch needle and a couple of yards of weaver's cloth. That combo doesn't work, I found that out for sure!
To help explain the differences visually, I made a fun graphic showing which fabrics work best with which punch needles.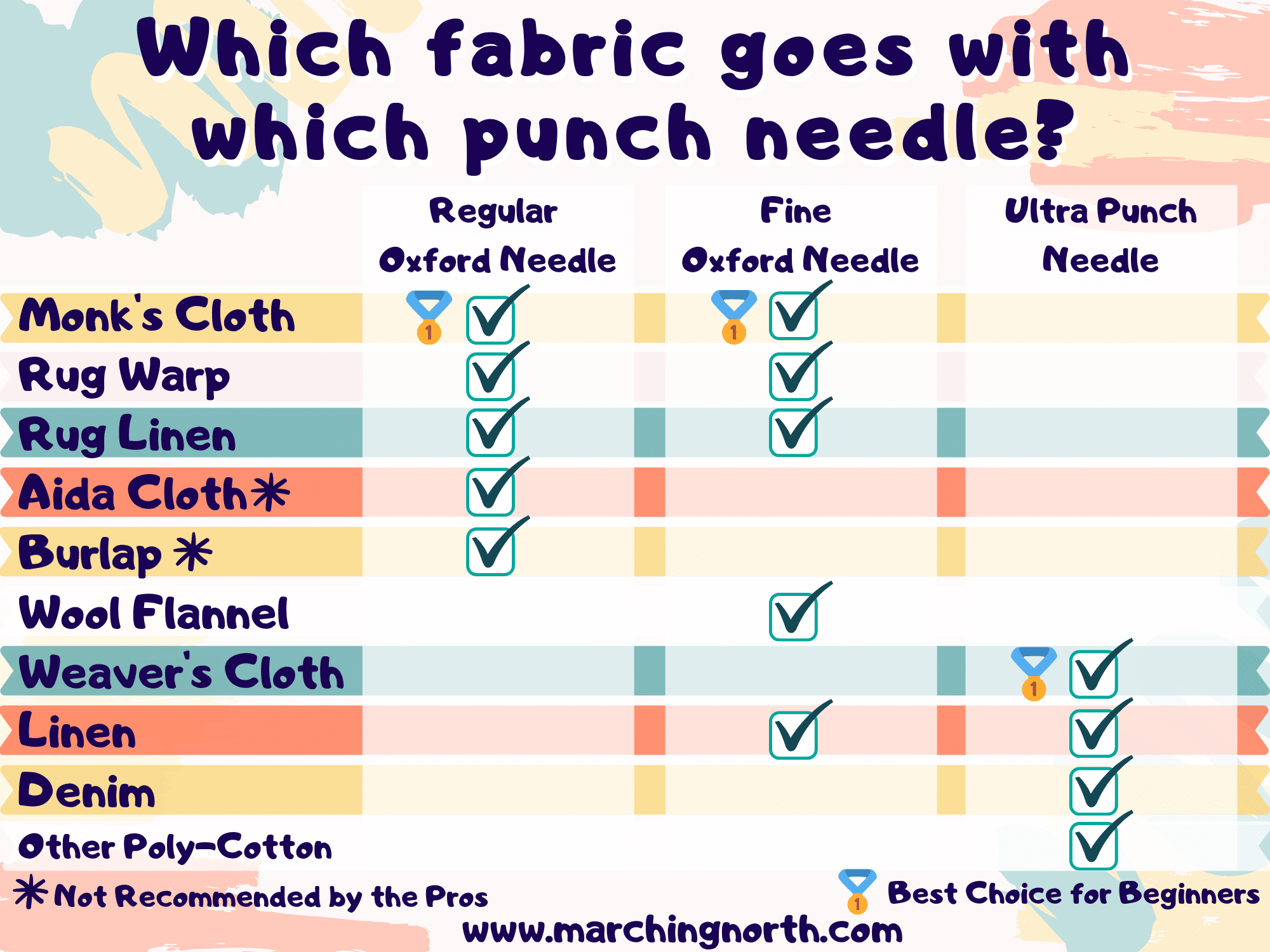 To get a printable version of this chart, sign up for my newsletter below!
Let's look at each type of fabric listed on the chart and I'll explain what they are and when to use them in more detail.
(This post contains affiliate links. If you click one and make a purchase, I may receive a commission at no extra cost to you. Find out more here. Thank you for your support!)
Monk's Cloth
Monk's cloth is the most popular cloth for the larger punch needles. You can sew it into purses or pillows after you do your punching and it works beautifully.
Monk's cloth is an even weave 100% cotton cloth similar to Aida cloth (but definitely not interchangeable with it). It comes in multiple sizes of weaves.
One with 12 holes per inch is the best bet for punch needle. Crafts stores sometimes carry 7 holes per inch Monk's cloth, but that size isn't recommended for punch needle.
I prefer to buy Monk's cloth online so I don't have to hunt around the craft store and hope to find the right thing.
My favorite place to buy Monk's cloth is North Shore Crafts.
This Monk's cloth from Amazon is also a decent choice.
Some sources say you have to pre-wash your Monk's cloth before using it as it will shrink up a lot in the wash.
Rug Warp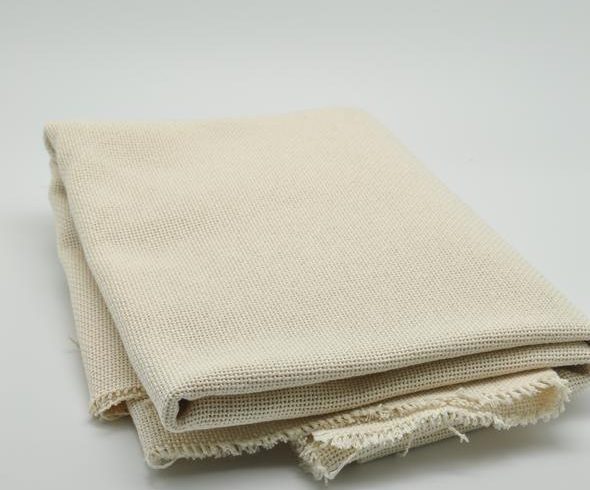 As you probably guessed, rug warp is 100% cotton and is the foundation fabric frequently used for rug making.
It's heavier and stiffer than Monk's cloth, and very heavy duty.
The price of rug warp is usually a little higher than Monk's cloth but it's cheaper than linen.
Rug Linen
Rug linen is a beautiful and long-lasting foundation fabric to use for punch needle. You can leave parts of the linen backing exposed to add a different texture to your design.
Rug linen has a more open weave than regular linen, so it works with rug punch needles like the Oxford ones.
Because of the high quality of linen, you can rest easy knowing your punch needle projects can be heirlooms passed down through the generations.
Aida Cloth
Aida cloth is used for cross stitch, but some people use the higher count Aida cloth for punch needle.
There is some debate over where Aida cloth is a good choice for punch needling. It's worth a try if you have some on hand but definitely do some experimenting before you commit to using it on a project.
Make sure if you try it to get a higher count Aida cloth, like 16 or 18 count.
Burlap
Burlap is another foundation fabric that isn't highly recommended but works in certain situations.
The good thing about burlap is it's cheap, it comes in several colors, and it's easy to find.
However the cons are it's scratchy, the weave is inconsistent, and it breaks down over time.
You wouldn't want to use burlap for a project that you want to keep in the family for years. And seriously, who wants to put all that effort into something that won't last?
Wool Flannel
Wool flannel is the 100% wool version of flannel.
This foundation fabric is great because it stands the test of time and it's high quality. Flannel is made of different materials (like cotton), so be sure to check what kind you're getting before you buy.
Weaver's Cloth
Weavers cloth is a cotton/poly blend fabric that is a favorite for miniature punch needle.
It's one of the most common foundation fabrics. If you aren't sure which fabric to get for your Ultra Punch, weaver's cloth is always a safe bet.
Linen
Linen is another favorite foundation fabric for punch needle. Like rug linen, its high quality and will last for many years.
The linen showed in the image above is a tighter weave and suitable to use with the Ultra Punch needle or other miniature punch needles.
Denim
Denim is a popular fabric for lots of things, including punch needle. It's tightly woven and comes in different weights.
Be sure the denim you use is 100% cotton and isn't the stretchy kind. The loops won't stay in the fabric if you try to punch on stretch denim.
Other Poly-Cotton Blends
Any poly-cotton blend is worth a try for miniature punch needle.
Do some experimenting and see what works for you. As long as it's a woven fabric, I'd say it's worth a try.
Although it's not a blend, I tried punching on a 100% cotton drop cloth with my Ultra Punch, and it worked really well!
With the larger rug punch needles, you're more limited in your foundation fabric choices.
Related Punch Needle Posts
What's your favorite punch needle fabric? Let us know down in the comments!
Best Foundation Fabric for Your Punch Needle