Creating DIY wall art is a great way to upgrade your home on a budget. Get some crafty inspiration today with these 10 gorgeous DIY wall decor ideas that look expensive (but so aren't)!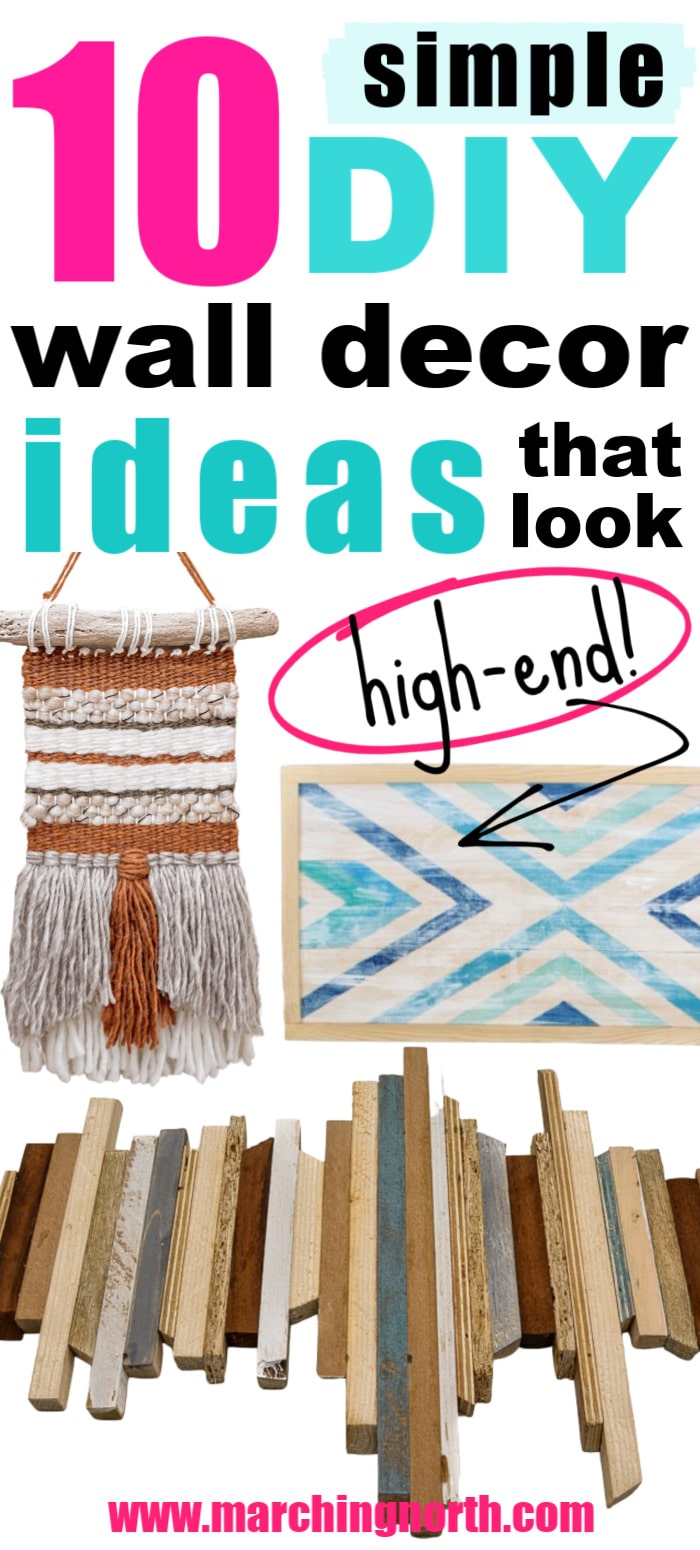 Who doesn't love to drool over the amazing home decor from Anthropologie and Crate and Barrel?
I don't know about you, but I don't really have the means to spend tons of money on non-essential things like wall decor, even if it would be the perfect thing to tie the room together.
One thing I love to do is get inspiration from those high-end places and figure out ways to create similar DIY wall art and stay within our budget.
It's easy to neglect your walls when you're trying to save money, but you deserve to have beautiful surroundings.
Having some art that you love on your walls puts you in a better mindset and makes you feel better. You'll feel even better knowing you made those amazing pieces of art yourself!
You can get a chic high-end look without spending a lot of dough with these amazing DIY wall art projects. Keep scrolling for some serious inspiration!
(This post contains affiliate links. If you click one and make a purchase, I may receive a small commission at no extra cost to you. Read the disclaimer here. Thank you for your support!)
Punch Needle DIY Wall Hanging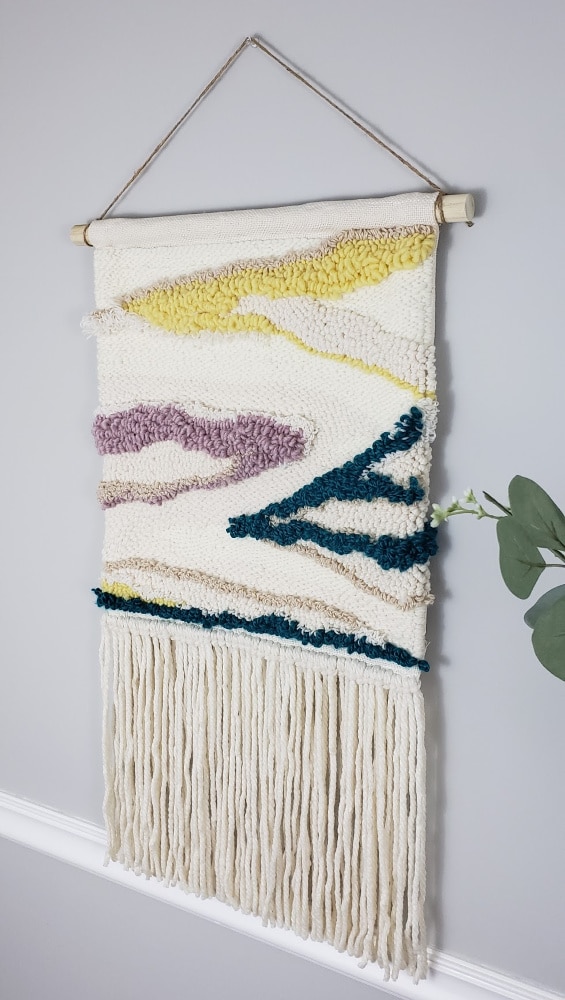 This Punch Needle Wall Hanging was my ode to the woven wall hangings that I just can't get enough of when I'm scrolling through Pinterest.
If you are a punch needler who hasn't tried weaving yet, this is a great way to make your own beautiful wall hanging with what you already have on hand.
You can easily change up the colors and the design to match your own decor and it's a great stash buster project to use up any random yarn you have laying around.
The tutorial for this DIY Punch Needle Wall Hanging is right here.
Painted Driftwood DIY Wall Art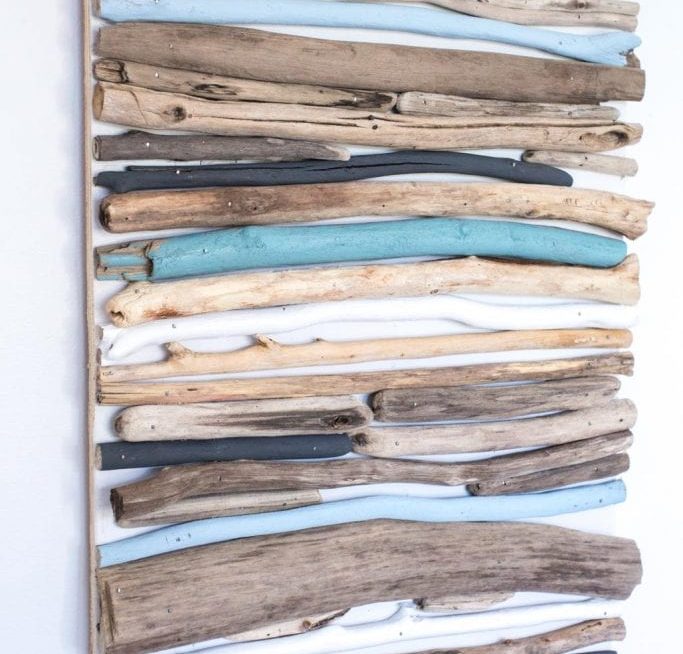 With some driftwood and paint, plus a few other supplies, you can create this beautiful DIY coastal wall decor.
If you don't have driftwood readily available where you live, you can buy it online.
This would look amazing in the living room, bathroom or guest room and you could customize the colors to complement your decor.
See the full tutorial for this DIY Painted Driftwood Wall Art here.
Wood and Wire DIY Wall Art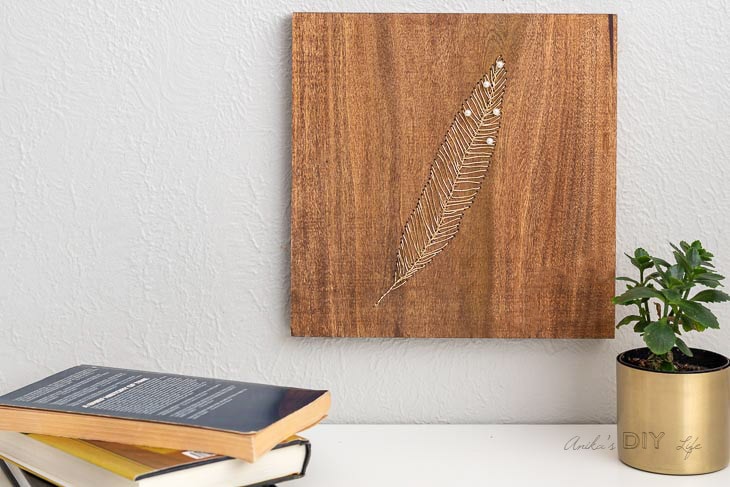 This unique wall art idea uses wire to embroider a feather design on wood and I think it is so clever!
You could make a series of these and they'd look great in your living room or kitchen, or any other room where you want to add some texture and modern design elements.
There's a good chance you already have the needed supplies in your craft stash, but if not they're still budget-friendly!
See the tutorial for this DIY Wood and Wire Wall Art here.
Rainbow DIY Wall Hanging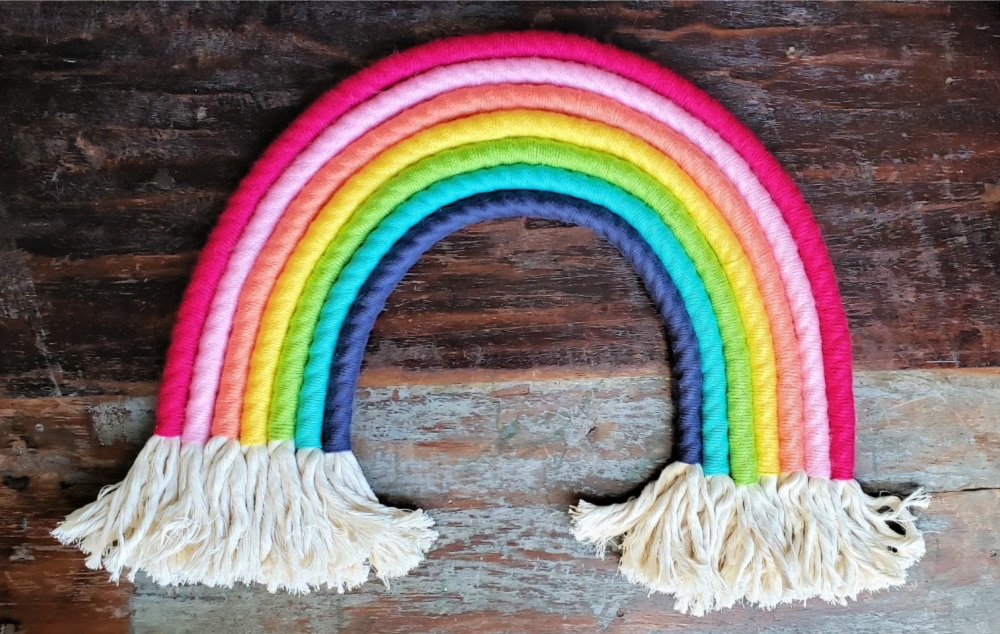 If you're looking for a DIY project to add a pop of color to your walls, this is it!
All you need is some yarn and cotton macrame rope (plus a few other things) to make this beautiful rainbow wall hanging that would be perfect in a nursery or a playroom, or whatever room you want to brighten up.
This is another great yarn stash buster. My fellow yarn hoarders will have plenty of yarn stockpiled to make a few of these colorful pieces of art!
You can also use variegated yarn that gradually changes hue to get a totally different effect.
The tutorial for this Rainbow Fiber Art Wall Hanging can be found here.
DIY Geometric Wall Art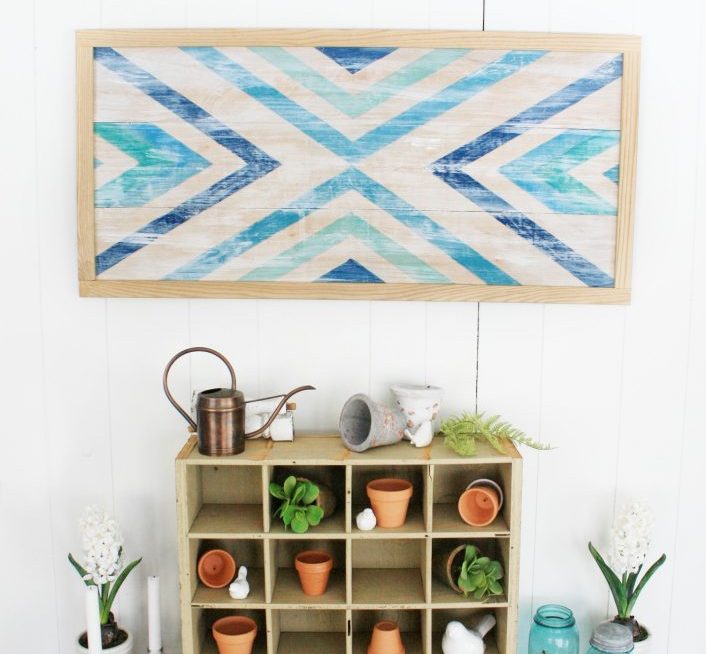 Check out this barn quilt inspired piece of geometric wall art. The idea is simple, but the impact is huge!
It has a beachy coastal vibe and also has a modern feel with geometric shapes. I love the color, blue is my favorite!
If you bought a piece of art like this in a home store, it would cost an arm and a leg. The supplies to make it yourself are totally affordable, though (and you may have them laying around already!)
Learn how to make your own DIY Geometric Wall Art here.
Boho Triangle Rope Shelf DIY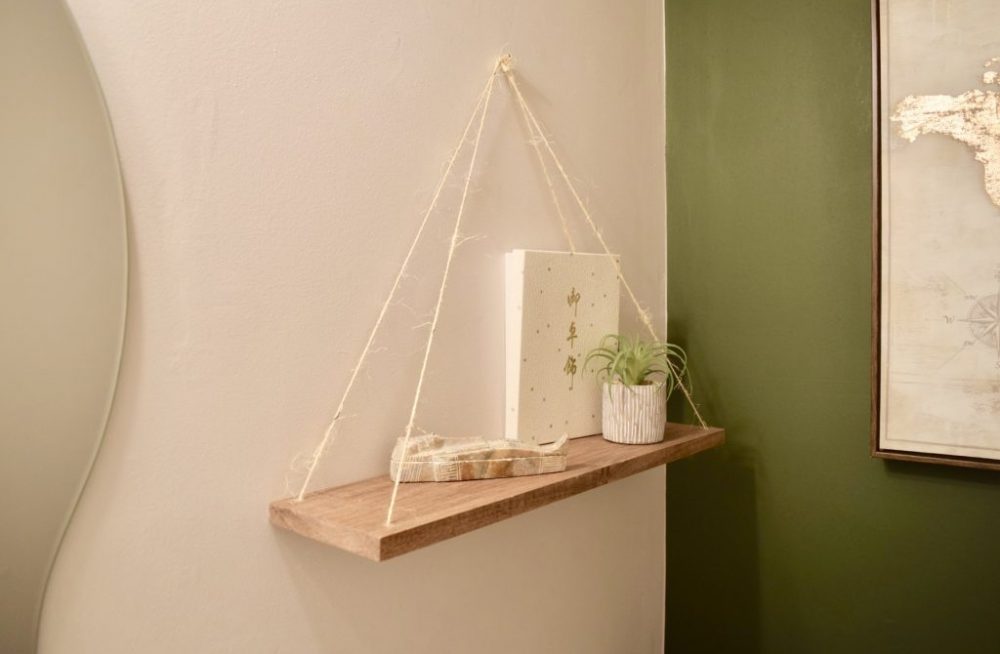 These boho-inspired triangle shelves are everywhere right now. Who knew you could make one of your own so easily?!
This is the perfect DIY to spruce up your bathroom, foyer, or really any room of your home. You may have all the supplies you need for this project on hand!
Even though this is a shelf, I feel like it's a piece of art on its own and I love the look of it.
A few of these grouped together would look gorgeous with some leafy green house plants.
Get the tutorial for this DIY Boho Triangle Rope Shelf here.
DIY Farmhouse Wall Decor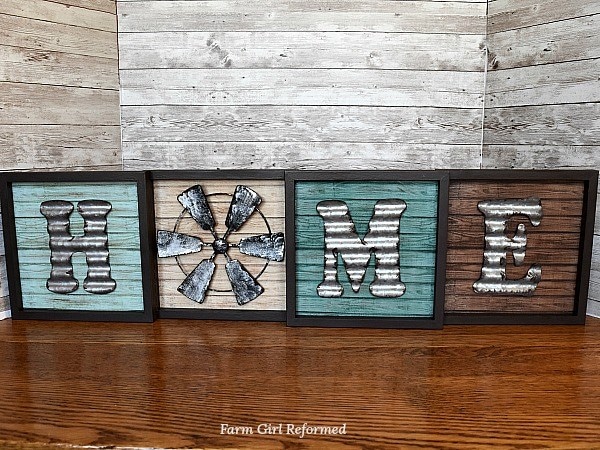 Farmhouse style is here to stay and this is a great way to add some Joanna Gaines flair to your walls!
Most of the supplies used in this DIY can be found at the Dollar Tree, how great is that? Frugal and fashionable!
Don't miss this super cute Farmhouse Decor DIY.
DIY Framed Keepsakes and Momentos Wall Art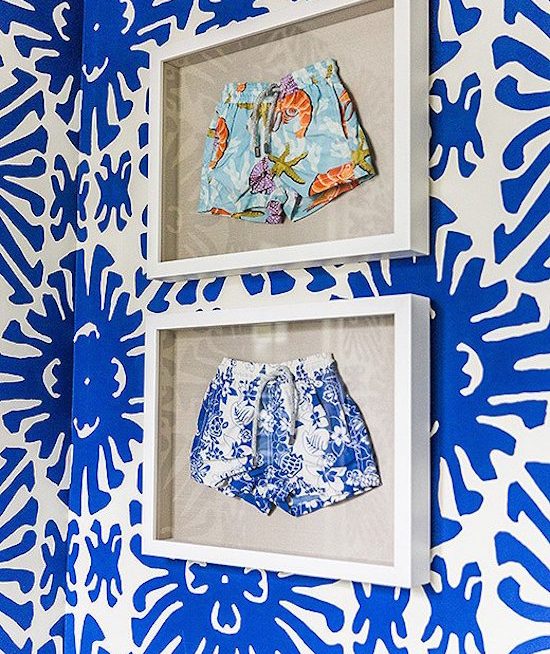 What a fabulous idea for preserving baby clothes, favorite tee-shirts, or really anything that you can fit into a shadow box.
Instead of piling those keepsakes in a closet somewhere, put them on display! This idea is perfect for a nursery or kids' room. Or really any room of your house, depending on what you're displaying.
You can find shadow boxes on sale at Michael's and other craft stores and they're definitely affordable. Don't forget your coupon!
This one is on my to-do list for sure! See more about these DIY Framed Keepsakes here.
Wood Wall Art DIY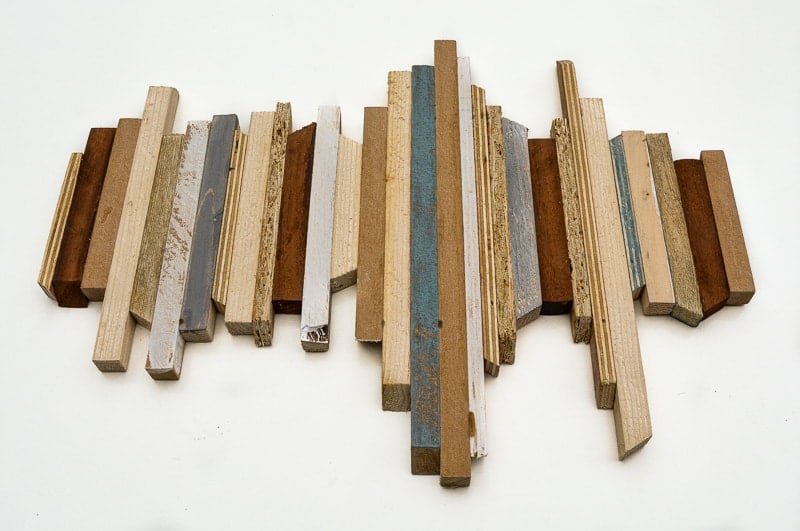 Do you have little bits of scrap wood laying around? Here's a great way to use them up and create a beautiful piece of wall art at the same time!
This is a simple project, but it makes a big impact. I love the different colors and textures together and I also love that it's an upcycled DIY.
Check out this DIY Wood Wall Art tutorial here.
DIY Woven Wall Hanging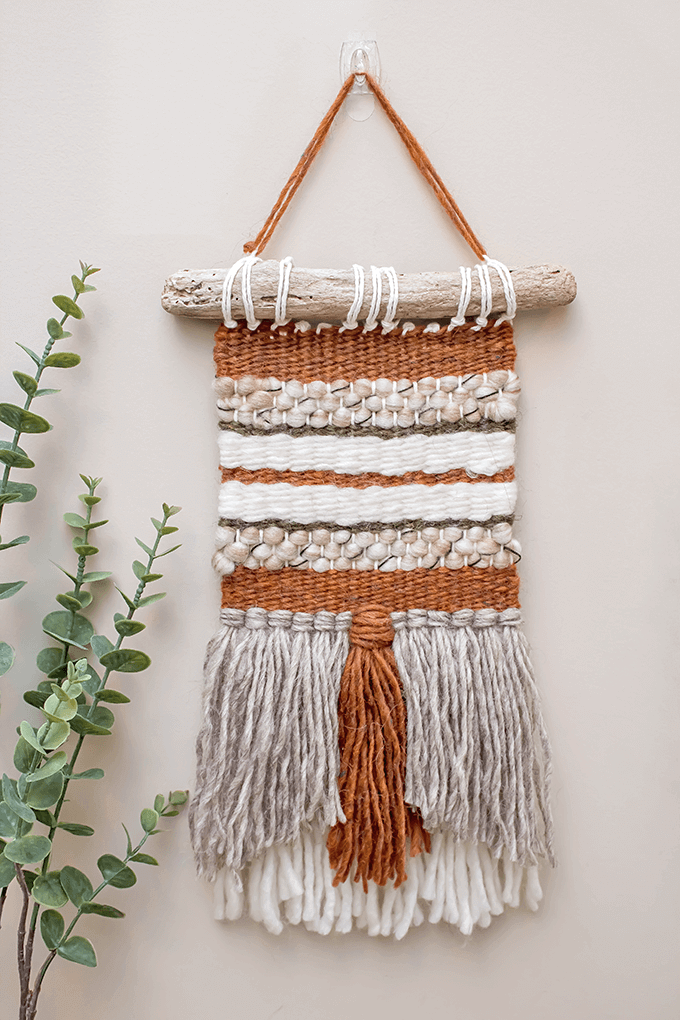 Woven wall hangings have seen a rise in popularity, and it's easy to see why! I love the texture, color, and boho-ness of these fiber art beauties.
If you've never tried weaving before and aren't sure what supplies to get, you can easily pick up an inexpensive kit with a loom and all the basic supplies to get started.
Be sure to check out the tutorial for this DIY Woven Wall Hanging here.
In Summary
I hope you enjoyed these fabulous DIY wall decor ideas and came away with some inspiration for your own "high end on a budget" projects!
DIY home decor is one of my favorite things to make, so be sure to subscribe to my newsletter to be the first to hear about new home decor posts and other crafty tutorials!
Related Posts
10 Gorgeous DIY Wall Art Ideas that Look Expensive (But Aren't)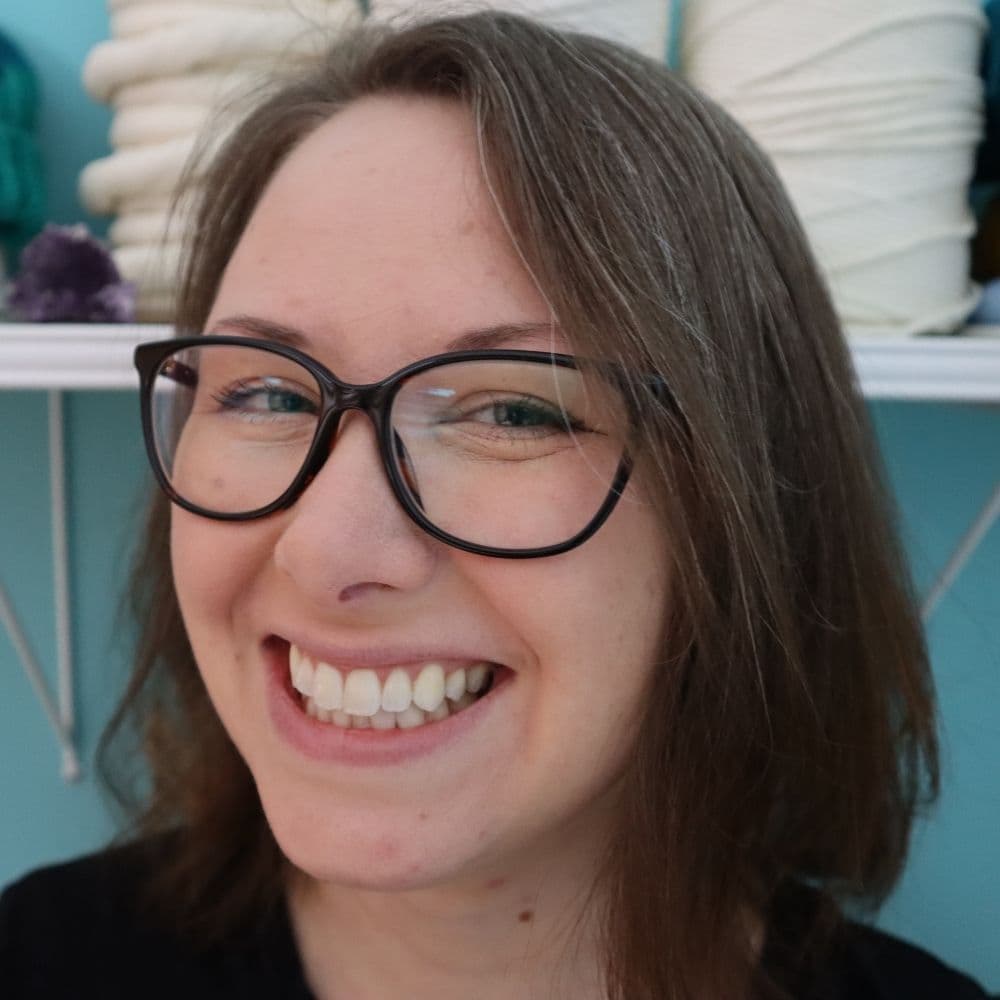 Crystal Martin is the crafty lady behind Marching North. She loves sharing easy to follow tutorials and patterns for macrame, crochet, punch needle, and pretty much anything else involving yarn or textiles.
Her work has been featured on Creative Fabrica, Craft Gossip, Ravelry, as well as her own site and YouTube channels.