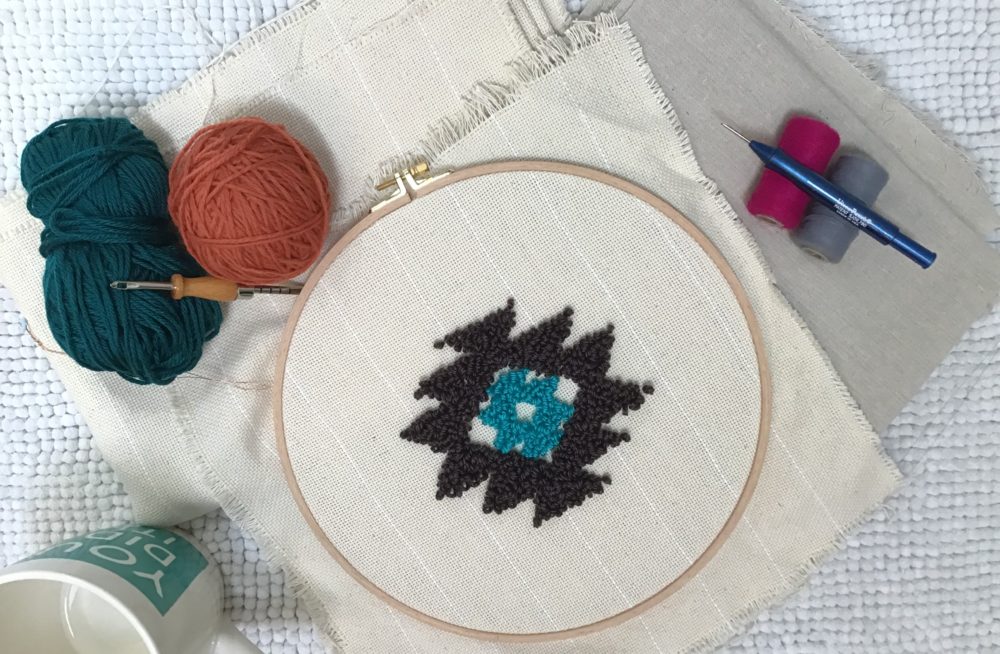 Have you been thinking about trying out Punch Needle embroidery? Before you jump in head first, here are 8 essential punch needle tips to get you started off right.

What is Punch Needle?
Punch needle (or needle punching) is a fun and relaxing fiber art craft that's been around for a long time, possibly as far back as Ancient Egypt.
You use a tool called a punch needle to punch thread or yarn into a foundation fabric, creating loops on the other side.
The punch needle tool consists of a hollow metal tube with a pointed needle end that pierces the fabric.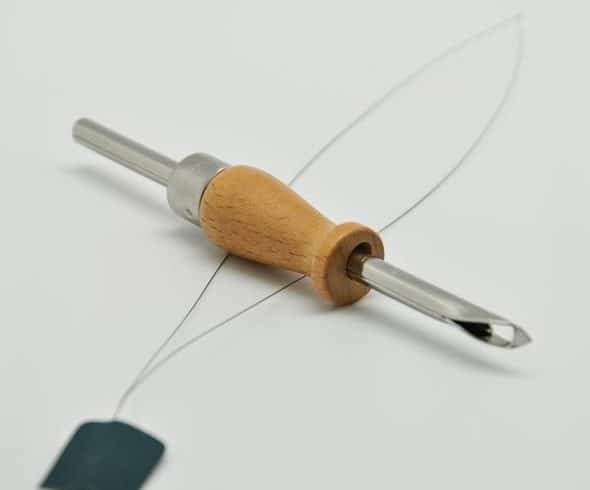 The thread goes down into the top where the handle is and out through the bottom, and then it's threaded through the eye of the needle.
If you're new to punch needle or if you've been punching for a while, connecting with other modern punch needle lovers is always a great idea!
Come check out our Facebook group, Modern Punch Needle with Yarn. It's a friendly community where you can ask questions, get inspiration, and share your awesome work with other punch needle lovers! Come join the conversation today!
(This post contains affiliate links. If you click one and make a purchase, I may receive a small commission at no extra cost to you. Read the disclaimer here. Thank you for your support!)
Is Punch Needle easy?
Once you get the hang of it, needle punching is an easy and relaxing hobby.
There is a bit of a learning curve at first. When I first started, I had a few annoying issues.
One mistake was buying the wrong type of fabric for my needle size.
The punch needle I got at first was an adjustable punch that works best with Monk's cloth. It's what I call a "rug punch", although you can do a lot more than make rugs with it.
I unknowingly ordered a linen fabric that works great with embroidery punch needles. Unfortunately, a rug punch will just make big holes in it.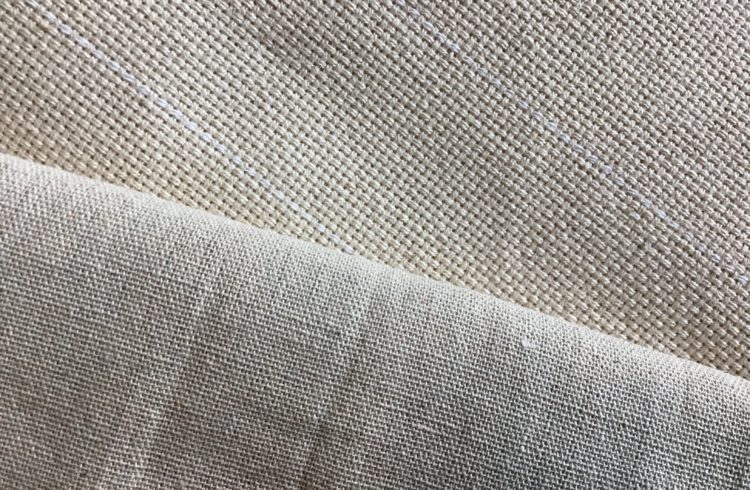 If you end up with the wrong fabric and needle combo, or the wrong thread size, the fun can quickly be replaced with frustration!
Keep reading to make sure that doesn't happen to you. I made all the mistakes so you don't have to!
Related: Must-Have Punch Needle Supplies (& Where to Find Them)
Is punch needle the same as rug hooking?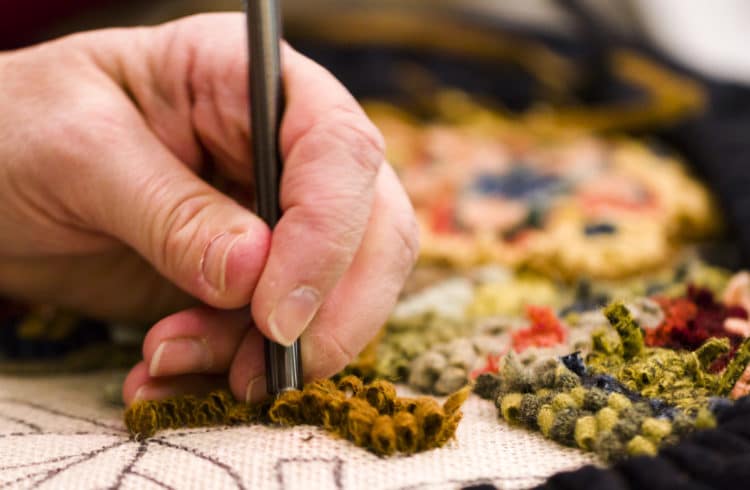 The short answer is no.
The long answer is no but they are related.
Here's the difference between rug hooking and punch needle according to The Oxford Company.
Basically, hookers pull loops up and punchers punch loops down. Because punch needle isn't done with a hook it isn't technically "hooking."

Many people call punching "hooking" because it forms the exact same running loop stitch."
It's my opinion that punch needle is easier than rug hooking because you don't have to worry about keeping your loop height even. The punch needle does that part for you.
Without further ado, let's get on to the tips so you can learn how to get started with punch needle today!
Punch Needle Tip # 1: How to Keep Your Loops from Slipping Out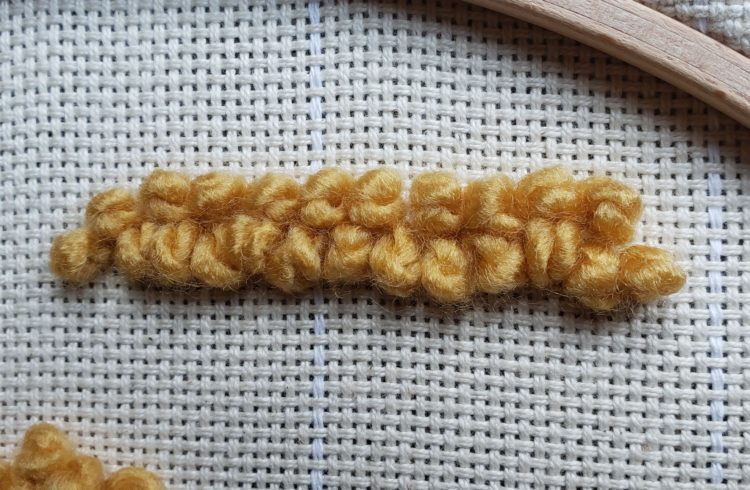 One of the biggest problems people have with punch needle is their stitches not staying in the fabric.
You have to keep plenty of slack in your working yarn. Having tension in the yarn or thread will cause the loops to slip out or make the loops smaller than they should be.
Check the backside of your fabric occasionally to make sure your loops are tall enough.
If there is any tension in your working yarn or thread, there may be some short loops.
If you notice short uneven loops, just pull them out and redo that area.
Or, if you've punched a lot and just realized you have some uneven mini loops way back (and you don't want to undo all the punch you've just done), just come back around to that area and fill it in, you won't even be able to see the short loops so it's no big deal.
Punch needle is very forgiving!
If you've done all that and your loops are STILL slipping out, it may be because you're not using the right fabric/punch needle/thread combination, your fabric isn't drum tight in the hoop or frame, or you're pulling the tip of the needle too high off the fabric in between stitches.
For more information about what to do if your loops are slipping out, check out this post.
Punch Needle Tip # 2: Choose the right fabric
If you have a large rug punch needle, like the Oxford punch needles, you'll need to use either Monk's cloth, rug warp, or linen.
For smaller embroidery punch needles like the Ultra Punch, weaver's cloth is the most recommended fabric.
Here's some more info about each type of cloth.
Monk's Cloth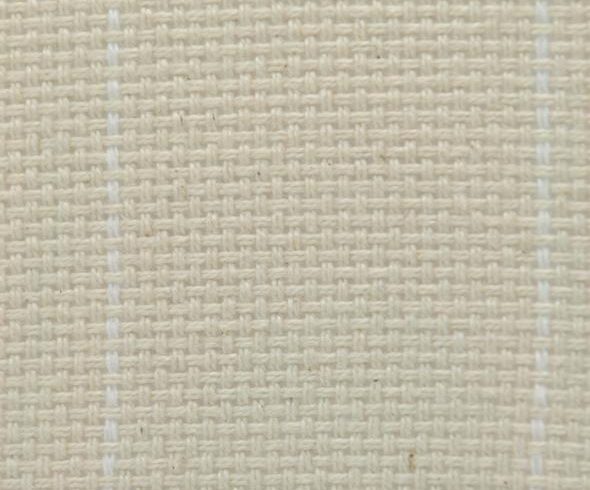 Monk's cloth is the main cloth recommended for the larger punch needles. You can sew it into purses or pillows after you do your punching and it works beautifully.
Monk's cloth is an even weave 100% cotton cloth similar to Aida cloth (but definitely not interchangeable with it). It comes in multiple sizes of weaves (like Aida cloth).
One with 12 holes per inch is the best bet for punch needle. Crafts stores sometimes carry 7 holes per inch Monk's cloth, but that probably won't work for your punch needle project.
Some sources say you have to pre-wash your Monk's cloth before using it as it will shrink up a lot in the wash.
However, if you're only planning on hanging up your finished punch needle art, this isn't as much of an issue.
If you find the holes in your Monk's cloth too large, you can try washing it first. Since it shrinks when you wash it, the weave will tighten up as well.
This monk's cloth is high quality, reasonably priced, and perfect for needle punching.
Linen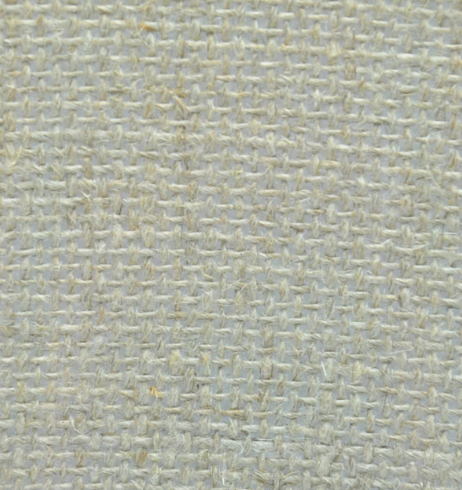 Linen is a great fabric to use if a lot of the backing fabric will be exposed on your finished piece. It's strong, will last practically forever, and it's beautiful even on its own.
This linen is a great one to use and has a nice sturdy structure. It's perfect for beginners, or anyone who wants a high-quality foundation for their punching. You'll need a large punch needle and yarn for this type of linen.
Here's some smaller weave linen that works well with the Ultra Punch or other small punch needles.
Rug Warp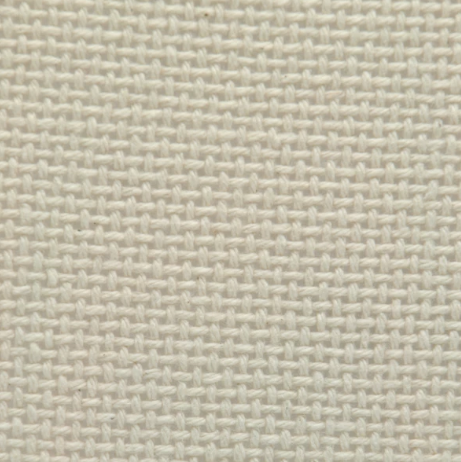 Rug warp is similar to Monk's cloth but stiffer. It's used a lot in rug making and is a good choice for something like that where you need your backing fabric to be sturdy and strong.
It's not just for rugs though! Since it's so sturdy it would make a great foundation for a larger punch needle piece.
Burlap
I've seen burlap suggested as a fabric choice, but it's scratchy, very messy, and can break down over time so use it with caution.
If it's hard to find Monk's cloth or primitive linen where you live, burlap is another option. It's not my first choice, though.
Weaver's Cloth
If you have an embroidery punch needle, like the Ultra punch needle, Weaver's cloth is the best choice and the most highly recommended.
Weaver's cloth is a poly-cotton blend fabric with a small even weave.
It's reliable and time tested, so you don't have to wonder if it will work for your project.
Also, you can sew it and turn your punch needle creation into a bag, plushie, applique patch, or whatever else you dream up!
Other Fabric Options
Some other options include denim, poly-cotton twill, wool flannel.
As long as the fabric is woven, it's worth a try. Sometimes it will work and sometimes it won't.
Definitely do a test run on any fabric you aren't sure about before you decide to start a project.
Cotton Fabric
100% cotton fabrics (with the exception of Monk's cloth) can be used for punch needle embroidery (with small punch needles). You just need to be careful if you pull any stitches out because it can rip the fabric.
I've punched onto 100% cotton fabric with woven fusible interfacing on the back and had great results! Check out this farmhouse punch needle pillow cover tutorial to find out more.
Also, I've had great luck punching on 100% cotton denim!
Punch Needle Tip #3: Choose the right yarn or thread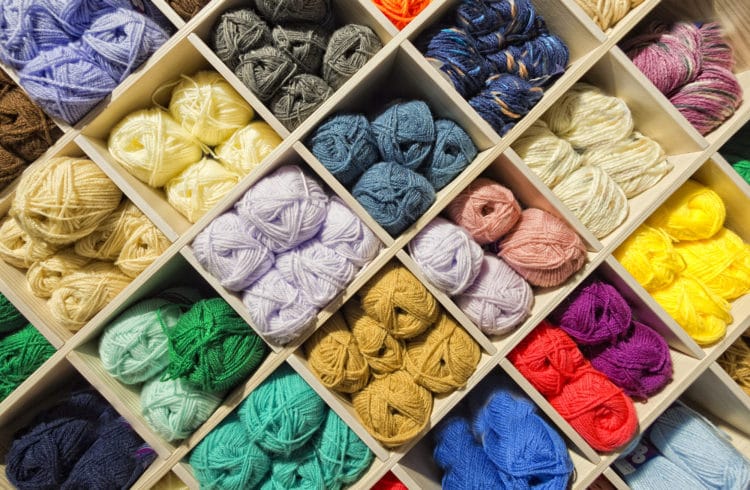 For small embroidery punch needles (such as the Ultra Punch Needle), you can use embroidery thread and pearl cotton thread.
With the Ultra Punch, the small-sized needle works with two or three strands, the medium size works with three to six strands, and the largest sized needle is for six strands of embroidery thread.
I've also used sport weight yarn with the large Ultra Punch needle and it worked fine.
For the larger rug punch needles (such as the Oxford or adjustable punch needles), you can use worsted weight yarn and chunky yarns as well.
A general rule of thumb is to stick to yarn that's no bigger around than the punch needle tube itself.
If you're doing a needle punching project that's going to go on the wall as decor or not get a lot of wear and tear, acrylic yarn will work fine.
That type of project is a great way to use up scratchy cheap acrylic yarn that looks pretty but feels terrible.
For a rug, pillow or anything else that's going to go through some abuse, 100% wool yarn is your best bet. It's sturdy and will stand the test of time.
Like I said before, punch needle is forgiving. If you aren't sure if something will work, just give it a try!
Practice with yarn you already have around the house (if you're like me, you have plenty!) That way you'll get a feel for your punch needle and know what works and what doesn't.
Punch Needle Tip #4: Choose the right embroidery hoop or frame
Embroidery Hoops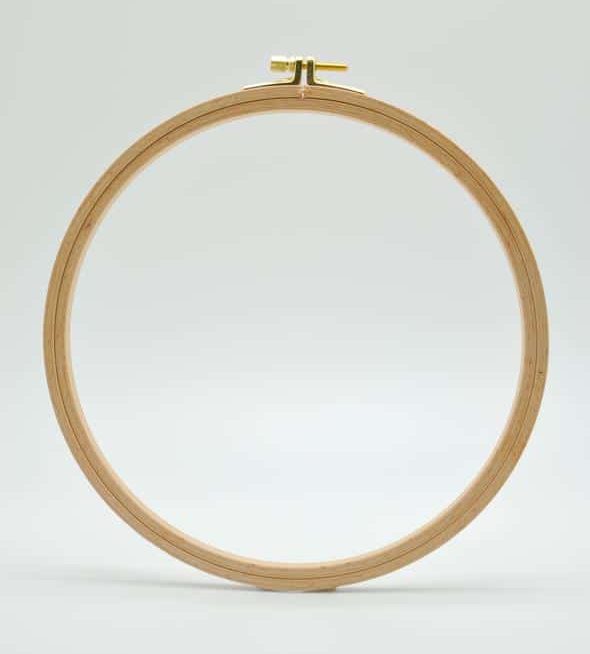 It's incredibly important to use a hoop or frame that holds your foundation fabric tightly and doesn't slip.
The fabric needs to be drum tight.
If you use a hoop that's isn't non-slip, your punch needle experience will be frustrating. Ask me how I know.
Morgan No-Slip Hoops
As far as embroidery hoops go, the Morgan No-Slip hoops are a popular choice.
They have regular style hoops and a lap-stand version that's really handy.
Morgan No-Slip hoops are great for punch needle because they keep your fabric from slipping and getting loose.
Nurge Wooden Hoops
Nurge wooden embroidery hoops are another option, although I prefer to use them for display than for actual punching.
They feature a screw-down tightener that has a slot for a flat head screwdriver so you can get it really tight.
If you plan on using a wooden embroidery hoop to do your punching, I recommend some no-slip tape to keep your fabric from slipping around.
The Nurge hoops are a very nice quality embroidery hoop. If you prefer to work with wood it's a great choice and it's also perfect to display your finished creations.
Frames
Snap Frames
Snap frames are made of PVC pipe and are super simple to use.
You just lay your foundation fabric over the frame and snap the clips down over it.
It'll hold your fabric tight, plus you don't have to worry about any sharp or pointy areas.
These work best with thicker fabrics like Monk's cloth.
DIY Gripper Strip Frame
You can make a DIY frame with Gripper Strips and either canvas stretcher bars or 1 x 3 x 8 pine boards.
Check out this tutorial and video showing how I made my 18″ gripper frame!
This kind of frame is very effective and holds your fabric nice and tight.
That being said, you'll need to be careful because those strips are covered in sharp spikes (that's how they hold the fabric), and if you have kids or pets around (or if you're a bit clumsy like I am) you'll need to cover them up while you work.
An option is to use foam pipe insulation to cover the spikes, or just put a folded up towel over them. Safety first!
Punch Needle Tip #5: Choose the right punch needle
There are two different main types of punch needle tool.
The smaller ones are classified as miniature punch needles. The larger ones are rug punch needles.
There are different sizes of both types of needles, but generally speaking, the miniature punch needles are for embroidery thread and the rug punch needles are for yarn, ribbon, or fabric strips.
Here are a couple of my favorite options.
Ultra Punch Needle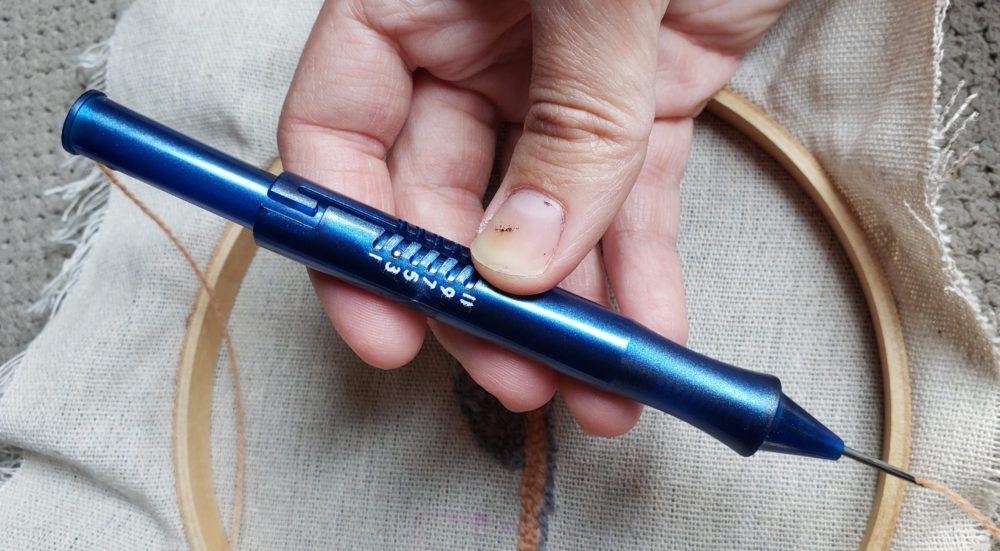 The Ultra Punch Needle is one of the smaller embroidery punch needles.
It comes with three interchangeable needle sizes and has 12 different loop height settings.
You can use it with Weaver's cloth, denim, and other poly-cotton blends.
I've also tried it with Monk's cloth and sport weight yarn (with the largest needle) and had success.
As far as thread, it works best with embroidery thread and finer yarns.
Most people love the Ultra Punch because it's comfortable to hold and well made.
Here's a video of me showing how to do punch needle embroidery with the Ultra Punch. (Be sure to subscribe to my channel for more tutorials about punch needle and other crafts & DIYs!)
Adjustable Wood Handle Rug Punch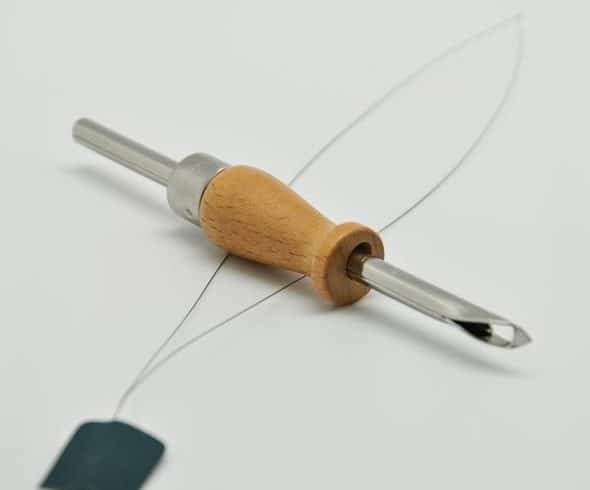 I'm not sure if this punch needle has an official name, but if it does I haven't seen it.
It's one of the larger punches and works great with worsted weight or bulky yarn and Monk's cloth. The adjustable punch has six loop height options.
If you're new to punch needle or looking for an affordable option, this is a great buy.
My only complaint about it is that the handle is a little small and my hand gets a bit cramped when I work with it for a long time.
**The adjustable punch needle shown in the photo has recently gone down in quality, so I changed the links to a better one that's made by Lavor.**
Oxford Punch Needles


The Oxford Punch Needles are well loved in the punch needle community.
They are in the "rug punch" category, and feature a comfortable ergonomic maple wood handle and a handy slot to thread them (no threader required).
The Oxford comes in eight sizes, some of which are "fine" and some are "regular".
Fine is for finer yarn (worsted and aran weight) and regular is for bulkier yarn.
These are very high quality and made to last a lifetime. Oxford punch needles are a little bit pricier, but the cost is well worth it.
Here's a video of me punching with the Oxford #10 regular and some bulky weight wool yarn. (Click here to subscribe!)
Other Punch Needle Options
Besides the ones I mentioned above, there are many other punch needle options out there.
Russian CTR mini embroidery punches are a popular choice. They come in multiple sizes, and some are so small they only use one strand of thread.
If you're just starting out, the Ultra Punch, adjustable punch, or Oxford needles are good reliable tools that won't leave you feeling frustrated.
This plastic punch needle is a cheaper quality rug punch needle that a lot of people use. It works OK and is a good starter punch needle if you're on a budget.
Punch Needle Tip #6: Start off simple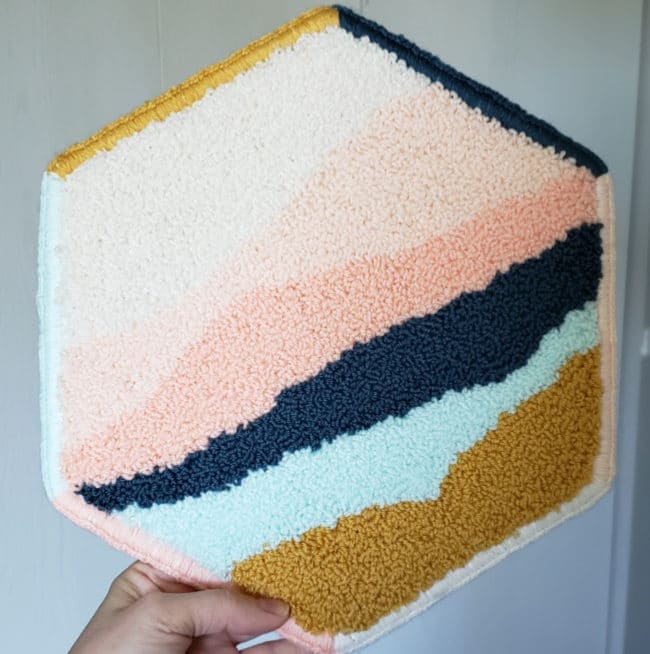 When you first start with punch needle, it can be tempting to try a large or complicated project right away.
I'm bad about that myself. I get excited, bite off more than I can chew, and end up disappointed and discouraged.
Instead of doing that, start off with a simple project.
Quick easy projects will teach you the basics and boost your confidence.
Before long you'll be ready to tackle that big punch needle project you've been dreaming of!
Punch Needle Tip #7: Get Quality Supplies
Etsy
My favorite place to buy punch needle supplies is Etsy.
There are several shops on Etsy that sell high quality punch needle supplies, plus you're supporting a small business. Win win!
Here are a few of my favorite punch needle shops on Etsy:
Amazon
Good old Amazon is just so convenient, I check there for just about everything.
There are a few punch needle supplies I get from Amazon.
I got this punch needle from there, as well as this foundation fabric and was very happy with both purchases.
Some things are hit or miss, but there are a few gems. Plus, it's hard to beat free one-day Prime shipping!
Yarns & Threads
You can find yarn in all the major craft stores, as well as several places online. Even Walmart and Target carry a few decent options.
These yarns are specifically sourced for large punch needles.
My all time favorite worsted weight wool yarn works beautifully in the Oxford fine punch needles and the large Lavor needles.
If you're doing wall decor or working on a project that won't be abused, this yarn is a good economical choice.
Some yarns to avoid are the slippery, super soft ones. They tend to slip out of the fabric easier. The rougher and scratchier, the better!
For embroidery thread, the DMC embroidery thread you find at most craft stores will work fine.
If you want something more luxurious and high quality, check out Valdani Cotton Embroidery Floss.
It comes in some absolutely beautiful colors and is a popular choice.
You can also try punching with fabric strips and ribbon. As long as it fits through your needle, it's worth giving it a shot!

Punch Needle Tip #8: Washing Your Needle Punch Embroidery
Can you wash punch needle embroidery?
Yes, you can! Punch needle embroidery is surprisingly sturdy once it's completed.
With a few precautions, most punch needle projects can be washed.
Before you even start your project, read the labels on your embroidery thread or yarn and make sure it's colorfast.
You don't want the colors to bleed together and ruin all your hard work!
Many hand-dyed threads and yarns are not colorfast, so be sure to keep that in mind. Save those for decorative projects that won't need washing.
To be really on the safe side, wash your punch needle embroidery items on the gentle cycle with Woolite.
Or you can always handwash! If you're like me, things that require handwashing end up sitting in a pile forever and I forget they exist, so this is the last resort.
However, you know the embroidery will be safe that way and depending on the project it may be necessary.
Clothes
For punch needle embroidery on clothes, such as a shirt, turn it inside out and wash it on cold.
Make sure you don't wash it along with other clothes that have zippers, velcro, hooks, or anything else that could get caught on the loops.
If you're going to be washing it with other clothes, it's a good idea to put it in a garment bag just in case.
I've done punch needle on a sweatshirt, punch needle on jeans, a removable punch needle pillow case, and they're totally washable!
Towels, Trivets, etc
For punch needle embroidery on tea towels or other frequently washed things, if the loop side is the front of the design, you could apply some safe to wash fabric glue (like Aileen's OK To Wash It) to the back for added security.
It's optional, but it will increase the longevity of the embroidery if it gets washed frequently.
If you used wool yarn for your punch needle project, wool felts in the wash, so these will definitely require gentle hand washing with cold water only.
Rugs
For punch needle rugs, your best bet is shaking it out or vacuuming it without the beater bar turned on (switch the vacuum to hard floor mode).
If it really needs washing, soak it in the bathtub with cold water and Woolite, then drain the soapy water and fill it up with clean cold water to rinse it.
You may have to repeat the rinsing process a few times to get all the soap and dirt out.
Ready to Get Started?
You can find premium punch needle patterns for sale in my shop, along with my eBook "Punch Needle Basics".
Want a free punch needle pattern? Sign up for my newsletter down below to grab this maple leaf pattern!
Related Articles
8 Essential Punch Needle Tips for Beginners + Free Patterns!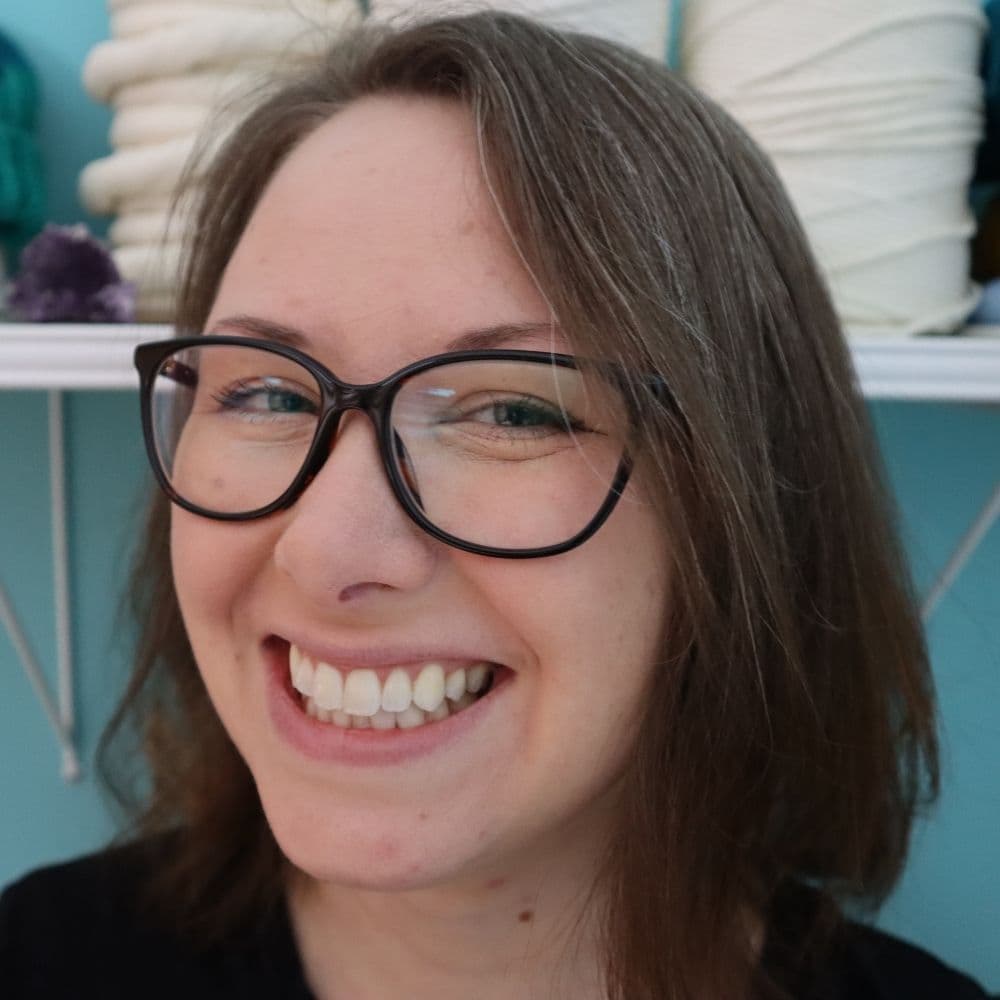 Crystal Martin is the crafty lady behind Marching North. She loves sharing easy to follow tutorials and patterns for macrame, crochet, punch needle, and pretty much anything else involving yarn or textiles.
Her work has been featured on Creative Fabrica, Craft Gossip, Ravelry, as well as her own site and YouTube channels.