So you got a Cricut Maker (or you're thinking about it) and now you need accessories!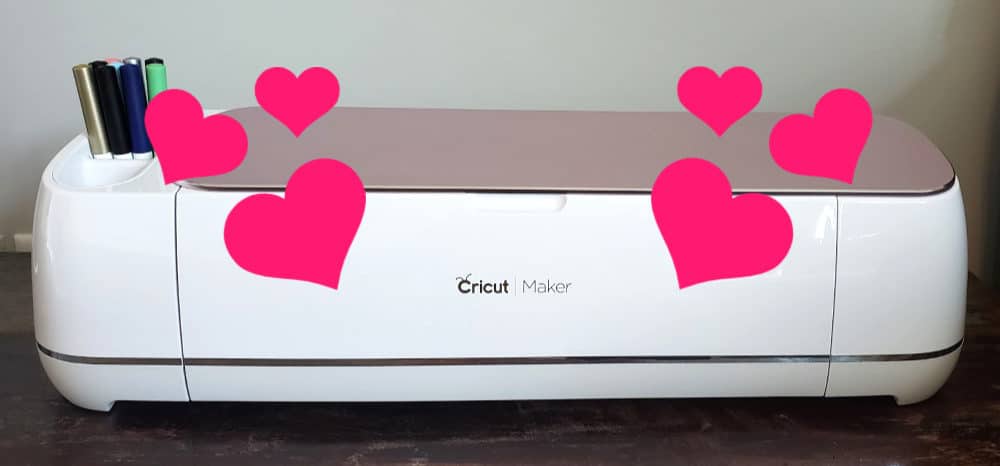 Check out this list of Cricut Maker Accessories to find out the most useful and fun must-haves currently available.
The Cricut Maker has so many amazing possibilities, but most of them require some additional accessories to unlock.
You can cut so many materials and do other amazing things like engraving and perforating with the click of your mouse.
The Maker is a revolutionary craft machine that will change your crafting life! I know it has changed mine.
Without further ado, here's my list of must-have Cricut Maker accessories. Enjoy!
(This post contains affiliate links. If you click one and make a purchase, I may receive a commission at no extra cost to you. Find out more here. Thank you for your support!)
#1. Knife Blade & Housing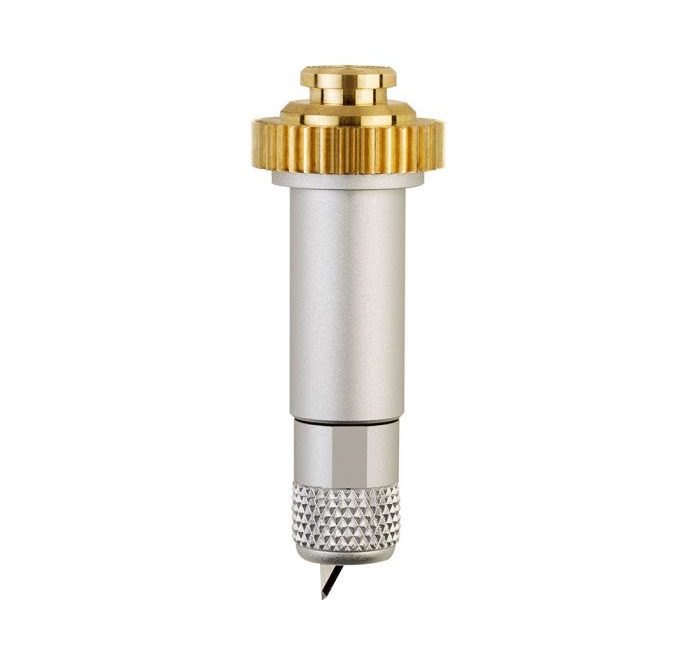 I honestly am not sure why this blade isn't included with the Maker. It's definitely a must-have if you want to cut thicker materials like leather, chipboard, or basswood.
The blades are long-lasting and you can extend the life of them with the aluminum foil ball trick.
Just in case, it's not a bad idea to pick up a replacement blade. There's nothing worse than being in the middle of a project and realizing you have a dull blade that needs to be replaced!
#2. Replacement Rotary Blade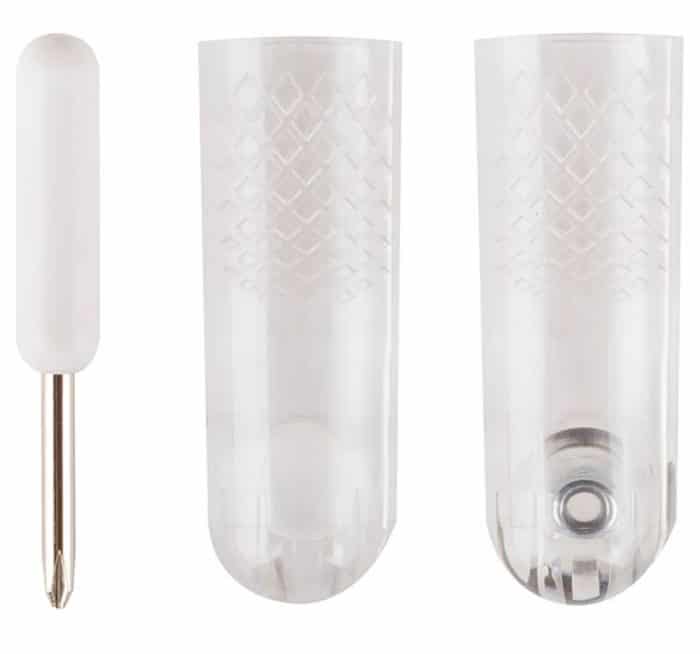 The Rotary Blade comes with the Cricut Maker.
You can use it to cut all kinds of fabrics (without stabilizer on the back!), felt, and even quilt batting.
The Rotary Blades stay sharp for a long time, but if you use it to cut a lot of fabric and felt it's going to need to be replaced eventually.
It's better to have a backup blade so you don't have to stop in the middle of your project and run to the store!
#3. Quick Swap Housing & Tips Bundle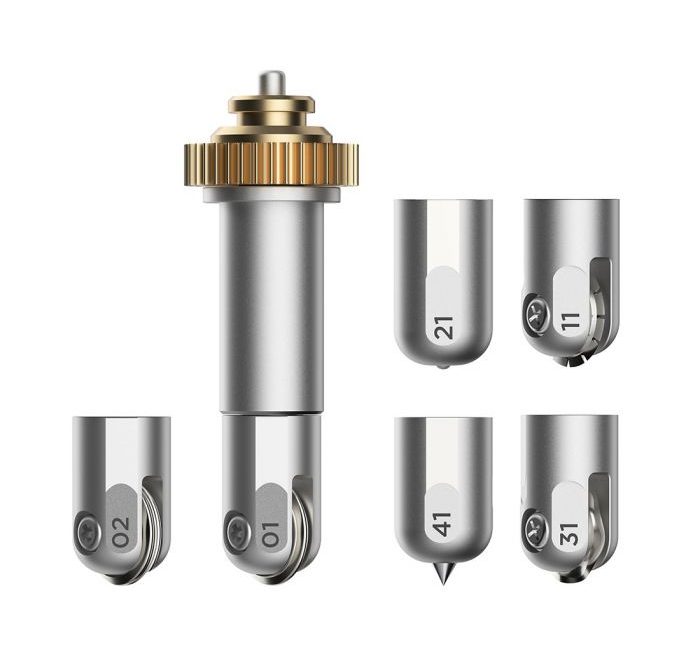 The QuickSwap Housing is a fairly new thing with the Cricut Maker, and it opens up a whole new world of possibilities!
With the press of a button, you can swap out any of the compatible QuickSwap tips to use with your Maker.
There are several options available, and Cricut has many more they are working on behind the scenes.
The great thing about the QuickSwap housing is you just need to buy one and you can use it with all the tips! It makes buying new tools much more affordable.
This bundle comes with the QuickSwap housing and all six tips currently available.
Here's a rundown of all the tips it comes with.
Engraving Tip
With the Engraving tip, you can engrave intricate designs on paper, wood, acrylic, leather, and many other materials.
Debossing Tip
Use the Debossing Tip to create recessed relief images on paper, cardstock, poster board, leather, and other materials.
Scoring Wheel
The single Scoring Wheel is perfect for scoring crisp lines in crepe paper, cardstock, acetate, and other light materials.
Double Scoring Wheel
The Double Scoring Wheel creates two parallel score lines and is perfect for scoring poster board, cardboard, craft board, and other heavier materials.
Perforating Blade
With the Perforation Blade, you can perforate cardstock, poster board, craft board, and more to create projects that can be easily torn off like raffle tickets, tear out coloring pages, or gift boxes.
Wavy Blade
With the Wavy Blade, you can easily make decorative wavy edges on your projects.
It's perfect for paper flowers, gift tags, cards, and more! The Wavy Blade is a rotary blade, so you can use it on fabric as well.
#4. Extra Mats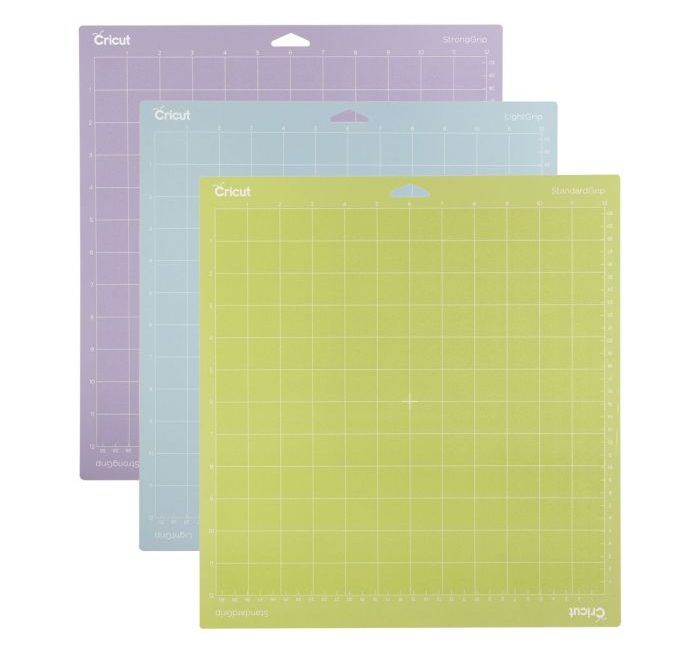 Cricut mats are great, but the stickiness does wear off after a while.
This is especially true with the FabricGrip mat if you cut felt or other linty fabrics.
If you cut leather with the StrongGrip mat without using contact paper on the back, it can quickly become a hot mess too.
While it is possible to clean the mats and re-stick them, sometimes it's just easier to buy a new one.
Keep an eye out for sales, sometimes you can get them pretty cheap.
#5. Cricut Pens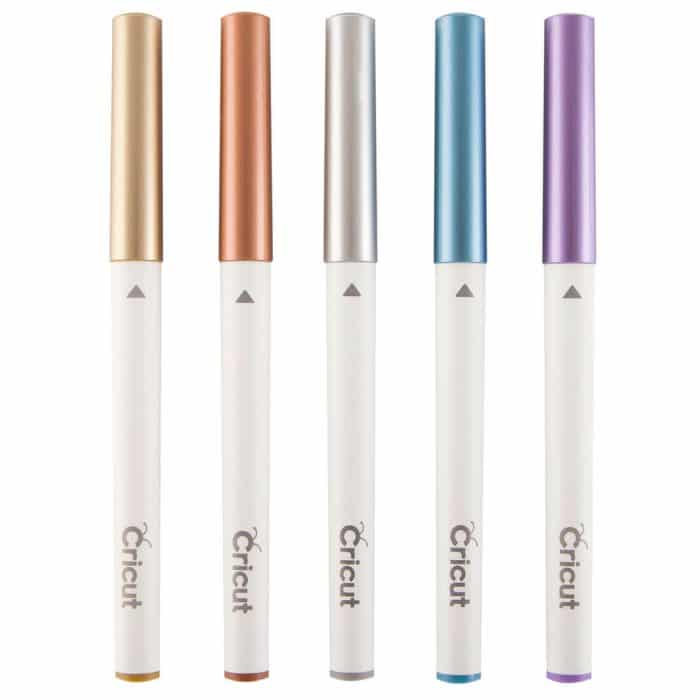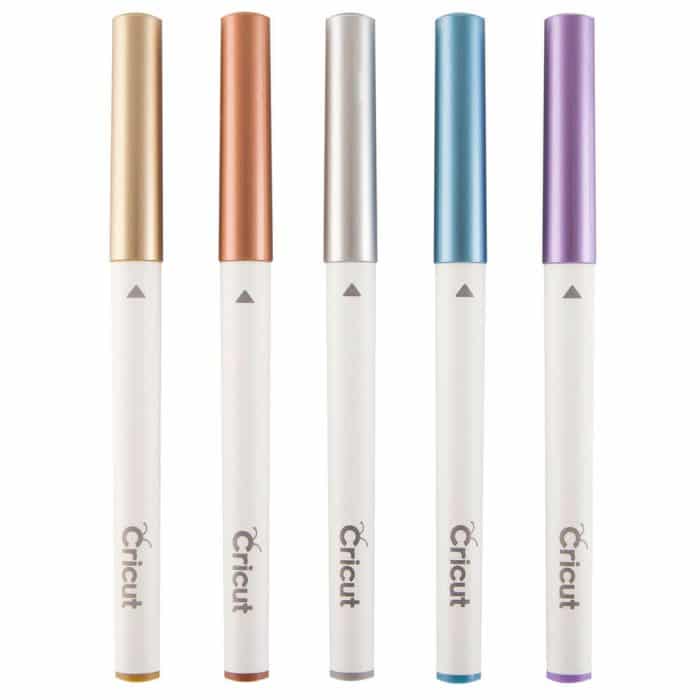 Have you tried using Cricut Pens to write with your Maker?
You can do this with the Cricut Explore machines as well, and it's a really neat feature.
If you want to write words that look like handwriting, you'll need to use certain fonts that are a single line.
With most fonts, you'll get bubble letters. Sometimes they look kind of neat, so if that's the look your after, go for it!
Otherwise, make sure to use the filter in Design Space to find "Writing" fonts.
You can also use the Cricut Pens to draw pictures.
Intricate drawings like mandalas come out looking amazing!
Since the pens come in so many different colors, you can create some amazing art quickly and easily.
#6. Cricut Fabric Pen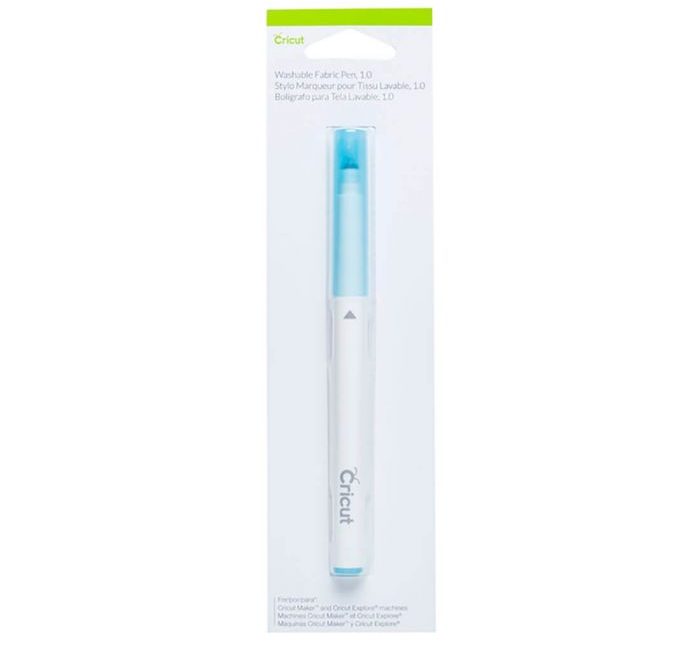 Speaking of Cricut Pens, did you know there's a Fabric Pen?
If you use your Cricut to cut out sewing patterns, it can cut and mark your pieces for you all in one run!
That takes care of some of the most boring and annoying parts of sewing and lets you get to the fun part. Game changer!
#7. Masking Tape
OK, this isn't exactly a Cricut accessory, but if you plan on using the Knife Blade and StrongGrip mat for cutting leather, wood, or chipboard (which you absolutely should) you need masking tape to tape down all the sides.
It's something that's easy to forget about, and it's very important because without it those thicker materials end up shifting on the mat and ruining your project.
I've seen some people recommend painters tape as well, and that might be better for chipboard to keep it from tearing. I've personally just used masking tape for everything and never had a problem, but it's something you might want to experiment with.
Either way, make sure you have tape before you use the Knife Blade!
#8. Brayer & Remover Tools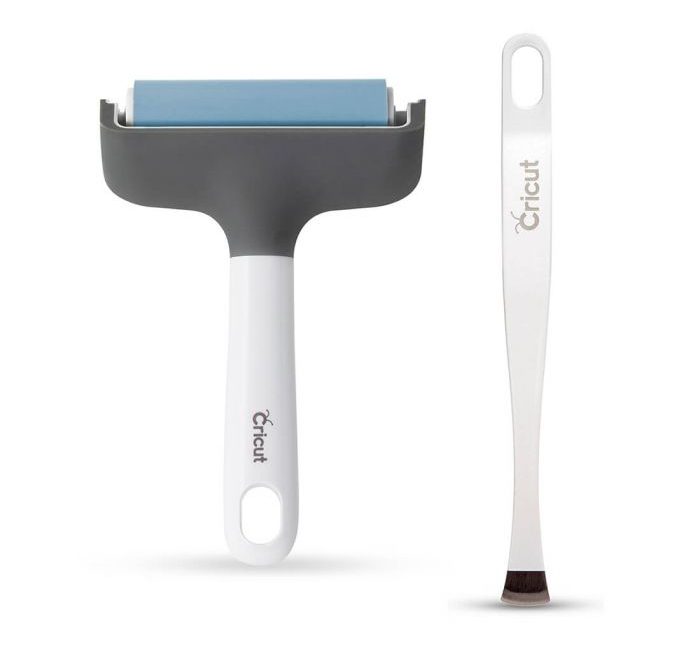 If you plan on cutting fabric with your Cricut Maker, these tools will make your life way easier.
The Brayer helps you smooth the fabric down on the mat to remove any wrinkles or air bubbles.
The broad tipped tweezers are handy to remove little pieces of fabric and threads that are stuck to the mat.
#9. Basic Tool Kit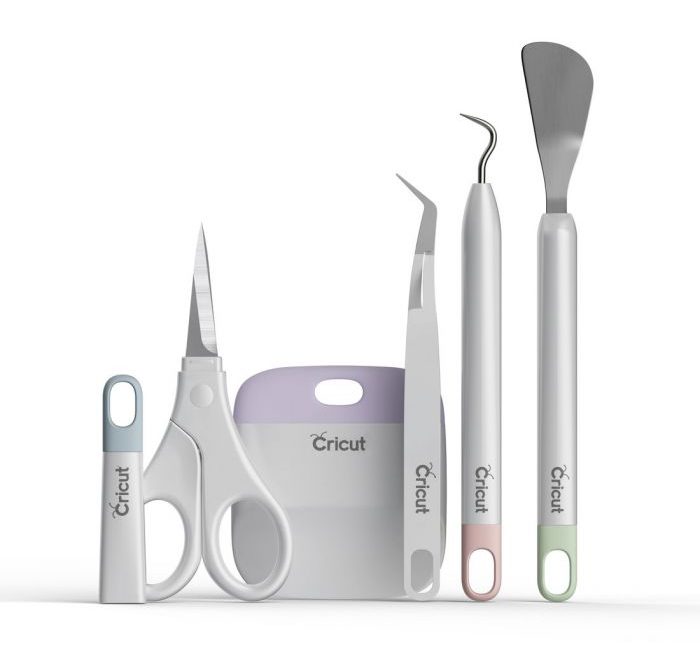 This Basic Tool Kit is a must for weeding vinyl and carefully removing paper or cardstock from your mats.
It comes with tweezers, a spatula, a weeder, a burnisher, and a nice sharp pair of scissors with a protective cover.
#10. Sewing Kit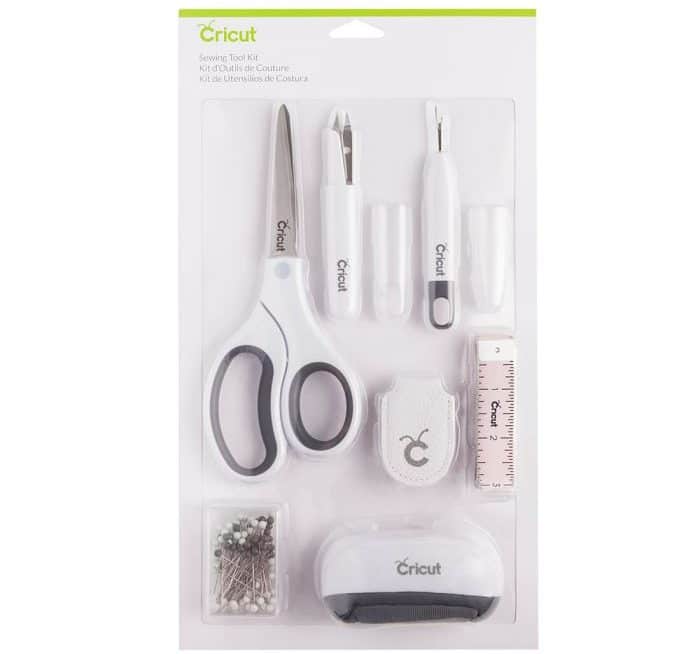 The Cricut Sewing Kit includes seven must-have tools for sewing and quilting.
It comes with fabric sheers, a tape measure, a leather thimble, a cute Cricut-shaped pin cushion, pins, thread snips, and a seam ripper.
#11. Cricut Machine Tote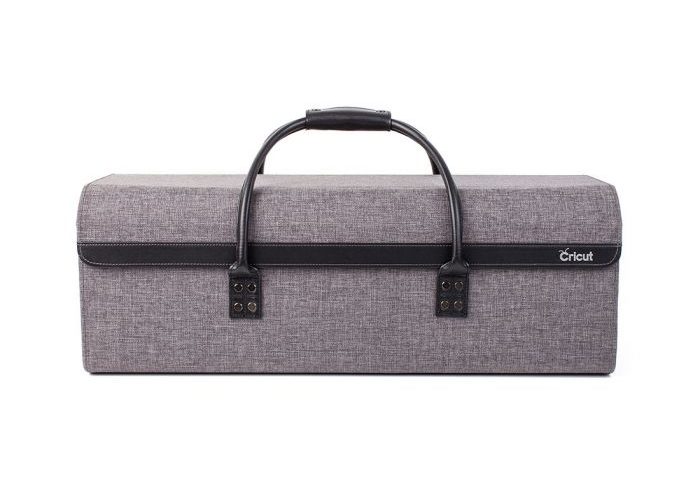 If you ever need to take your Cricut Maker with you when you're out and about, this handy tote is the way to go!
It's perfectly sized for your Maker (and also the Explore machines) and will keep your Cricut safe and secure when you travel.
They also make matching Rolling Craft Totes to hold all your materials and accessories that go with your Cricut.
The two totes are stackable, too. How great is that?!
#12. Easy Press 2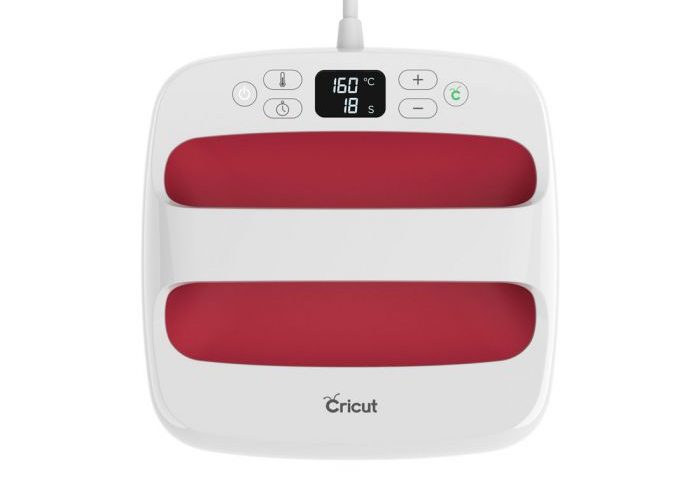 For projects that use iron-on vinyl, the Easy Press 2 is SUCH a time (and sanity) saver.
It takes all the guesswork out of transferring your designs. Easily set the exact temperature and time you need depending on your material type, it's so simple!
The Easy Press 2 comes in four sizes for all your needs, and there are several bundled options that include the Heat Proof Mat, plus iron-on supplies and materials.
#13. BrightPad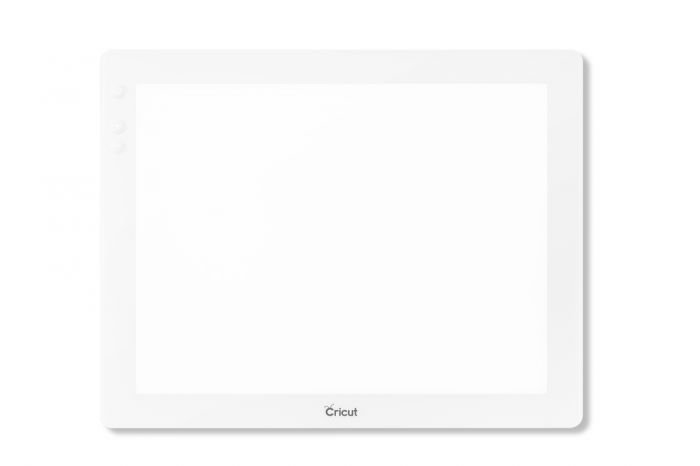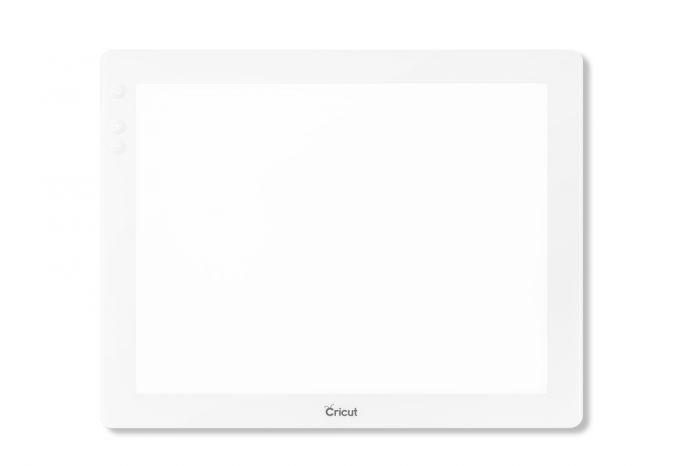 Speaking of sanity savers, the Cricut BrightPad makes weeding vinyl a cinch!
Especially when you're weeding a super intricate design, the BrightPad helps make the cuts easy to see so you won't be searching for tiny pieces to weed out.
You can use it like a regular light pad for tracing designs as well.
In Conclusion
These Must-Have Cricut Maker accessories will make your Cricut crafting adventures much more convenient and enjoyable!
If you're new to the world of Cricut and having a tough time understand Design Space, check out my Beginners Guide to Cricut Design Space.
In the tutorial, I explain what EVERYTHING does from top to bottom.
I hope this list helped you out! What is your favorite must-have Cricut accessory? Let us know in the comments!
Related Posts
Must-Have Accessories for the Cricut Maker