It's Halloween time again and I have an awesome Mario Mustache DIY for you! Not just Mario's mustache, but Luigi's, too!
I'm including SVG files of both mustaches so if you have a Cricut Maker this DIY will be lightning quick. You can cut them out by hand as well, it just takes a little more time.
Keep reading for the free SVG files and printable patterns below.
(This post contains affiliate links. If you click one and make a purchase, I may receive a small commission at no extra cost to you. Read the disclaimer here. Thank you for your support!)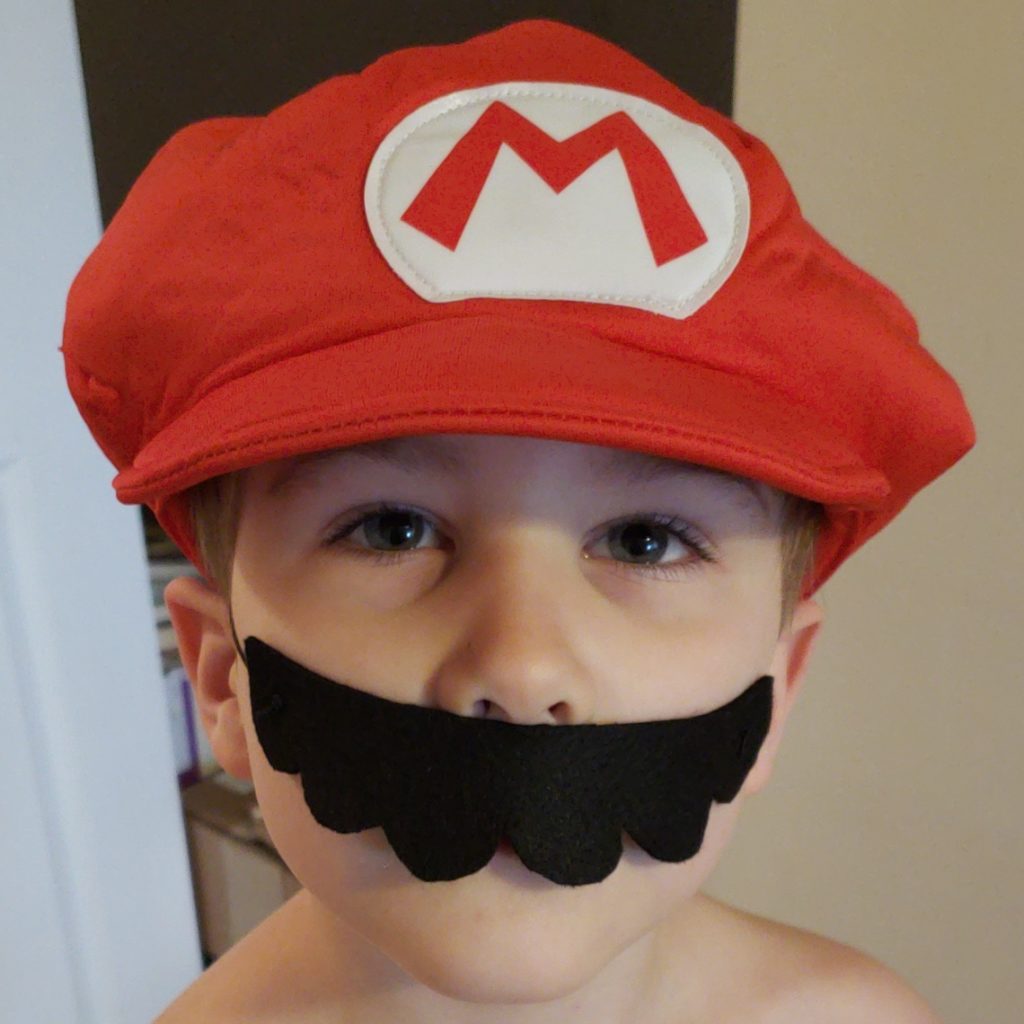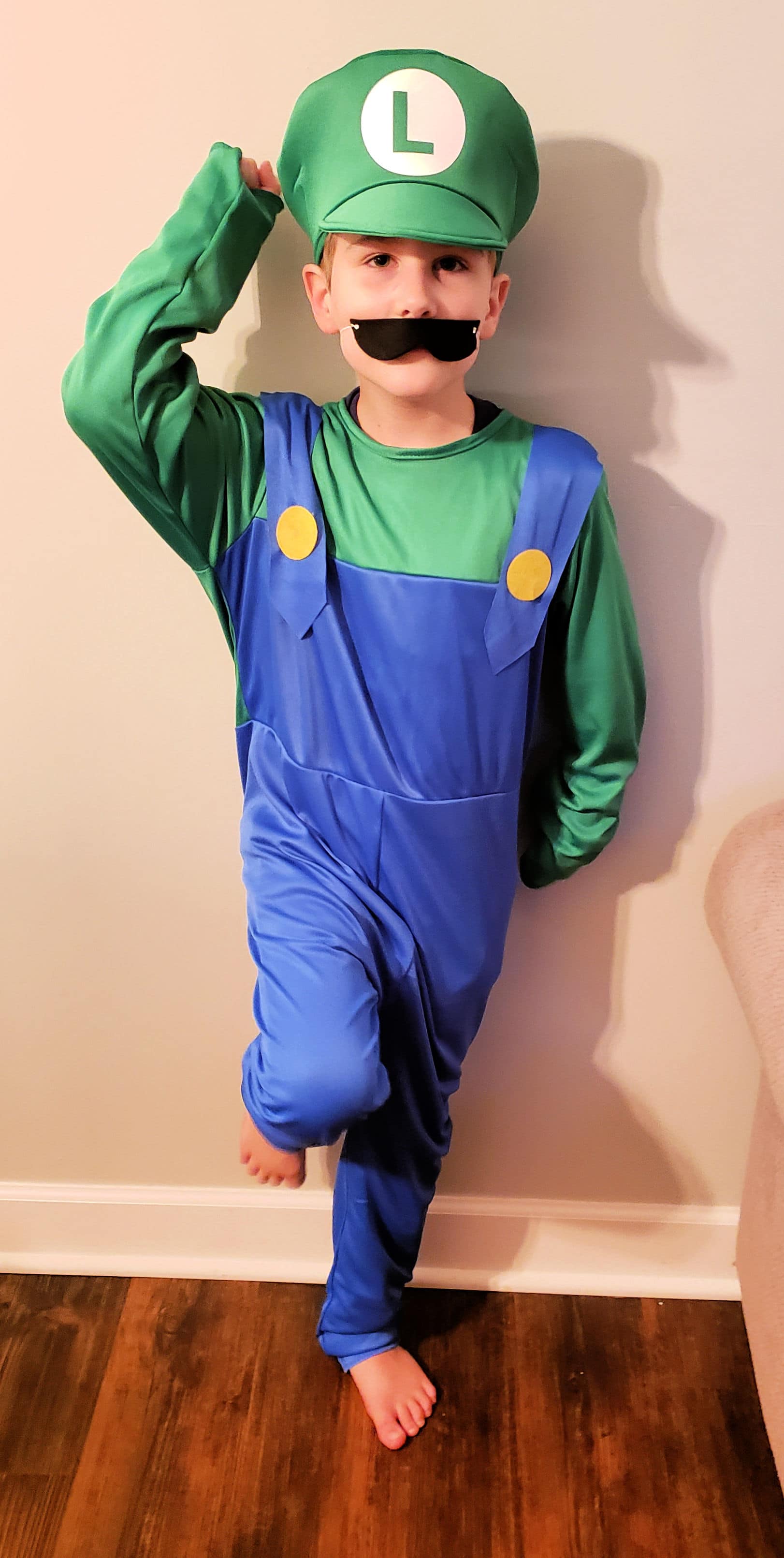 My kids have been obsessed with the Mario Bros. Since FOREVER.
Last year my son dressed up as Mario. This year, he's going as Luigi. He claims he's going to be Freddie or Jason or something scary next year, but I'll believe it when I see it.
I'm pretty sure he's going to alternate between Mario and Luigi until he's too old for Trick-or-Treating!
These are the costumes my kids have gotten for the last two years. Are you seeing a pattern?
One thing I have become an expert at is making Mario mustaches. The stick-on ones that come with the costumes are TERRIBLE.
They don't stick, they're too big, and half the time they aren't even the right shape.
To combat these disappointing mustaches, I made one for my son out of nice soft black felt with an elastic strap. He wore that mustache until it fell apart (which took several months), so I made another, and another, and another.
My daughter wanted one too, so I've made a lot of mustaches in the last year.
On my birthday, I gifted myself a Cricut Maker. I created an SVG file of Mario and Luigi's mustaches so I could stop cutting them out by hand all the time and OMG.
Game-changing.
I used the Cricut Maker and the fabric cutting rotary blade to cut the felt, and it was like butta.
Don't worry if you don't have a Cricut (although let me tell you if you're big into crafts like me, it's soo worth the investment!)
I'm also including a printable PNG file of the pattern that you can use to cut out the mustaches by hand. You'll find both files linked below in the supply list.
If you need a Mario or Luigi mustache for a costume this Halloween (or all year round, like us), this project is for you!
To skip the Cricut Maker instructions (if you're using the PNG), or if you already know how to upload the SVG and just want to get on with assembling the thing, click here to skip to Mustache Assembly.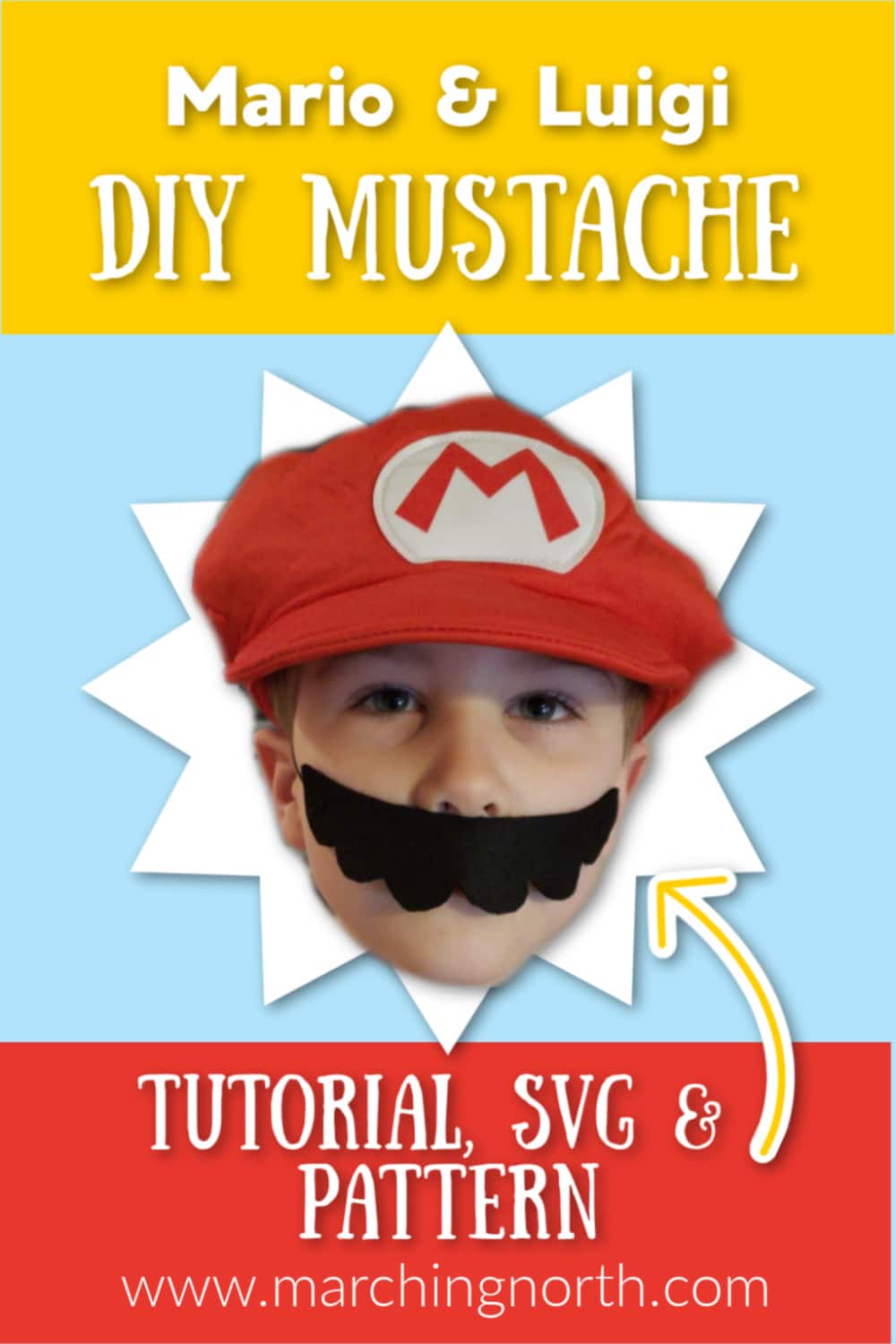 To cut out mustaches with your Cricut Maker, you'll need:
a rectangle of black felt at least 6×6″ (I recommend thicker felt so it'll last longer)
thin black elastic cord (about 1 foot)
Rotary blade for Cricut Maker
Get the Mario and Luigi PNG Files here
a potential Mario or Luigi impersonator
First, download your free file. (Don't worry, I'll wait.)
Once that's done, here's a quick little photo tutorial to walk you through uploading the files to Design Space.
How to Upload Mustache Files to Design Space (or any SVG file, really)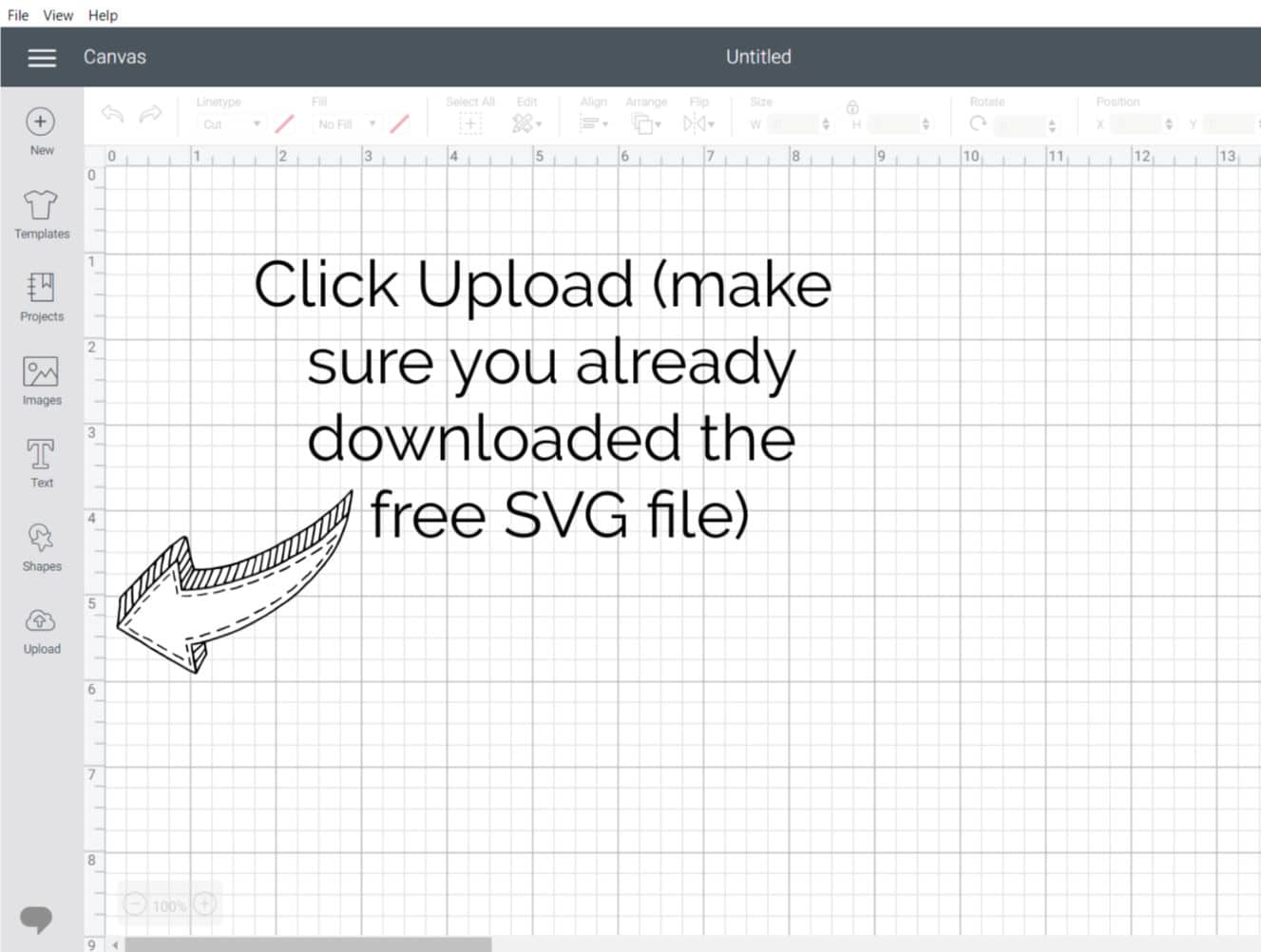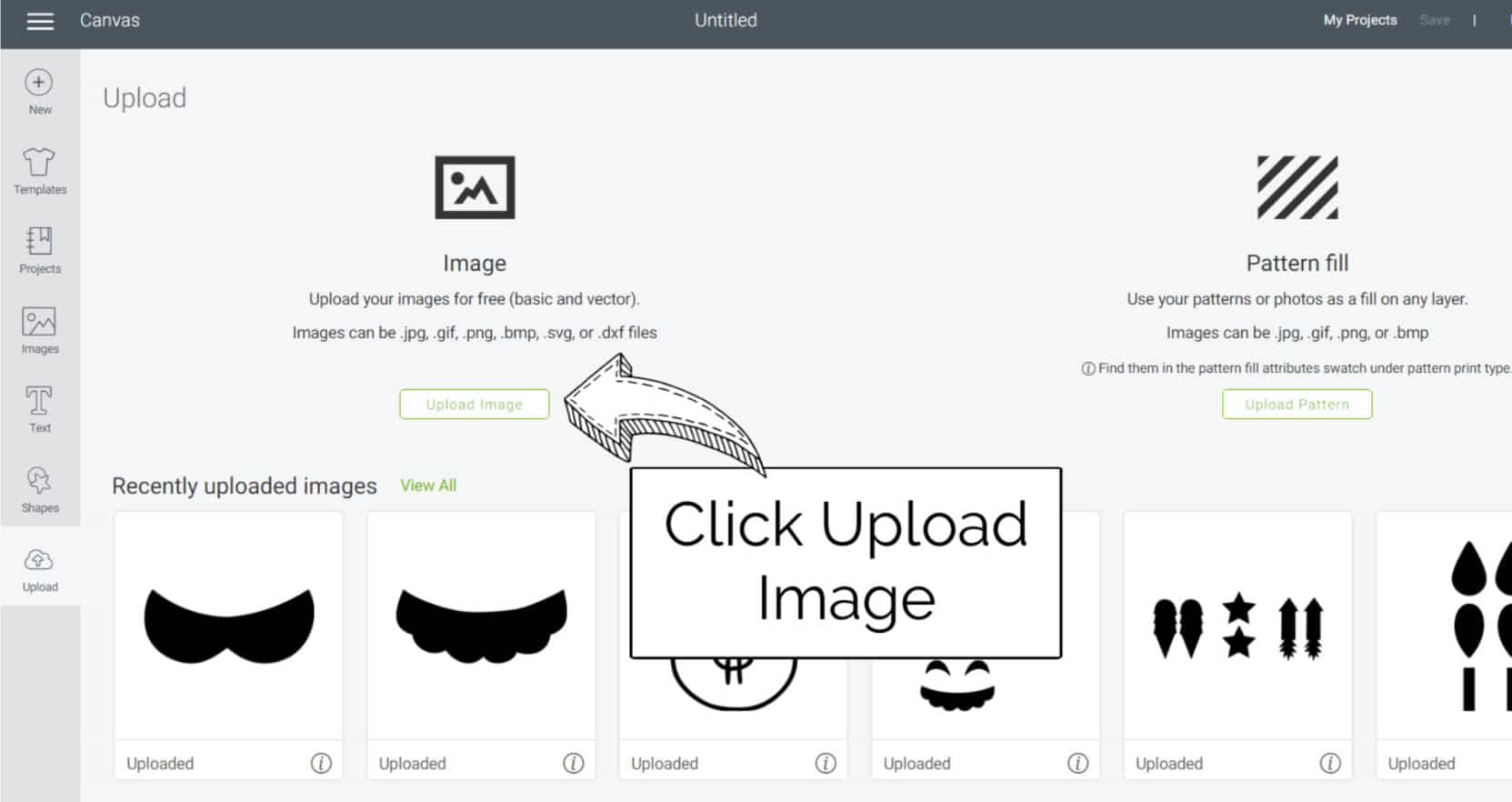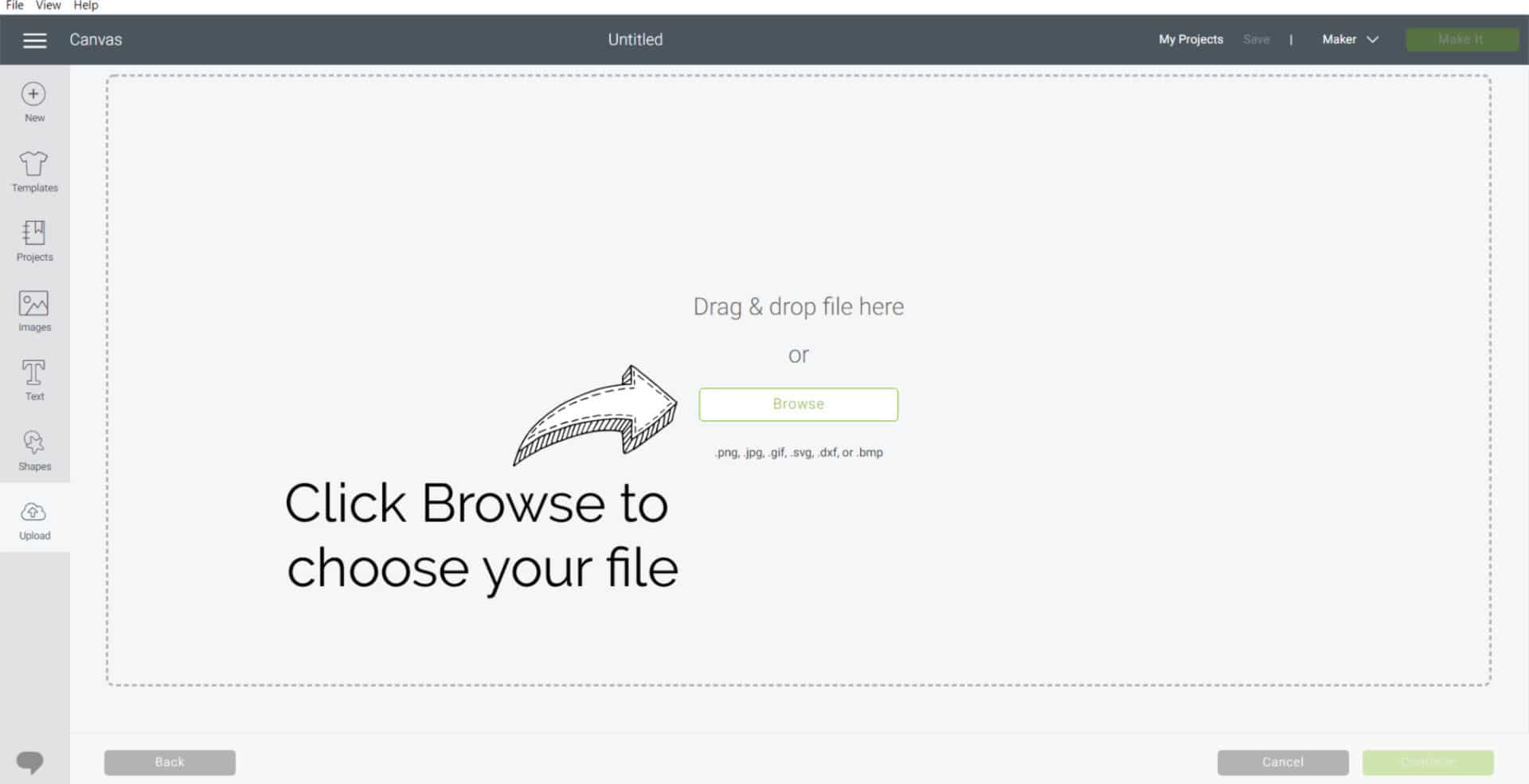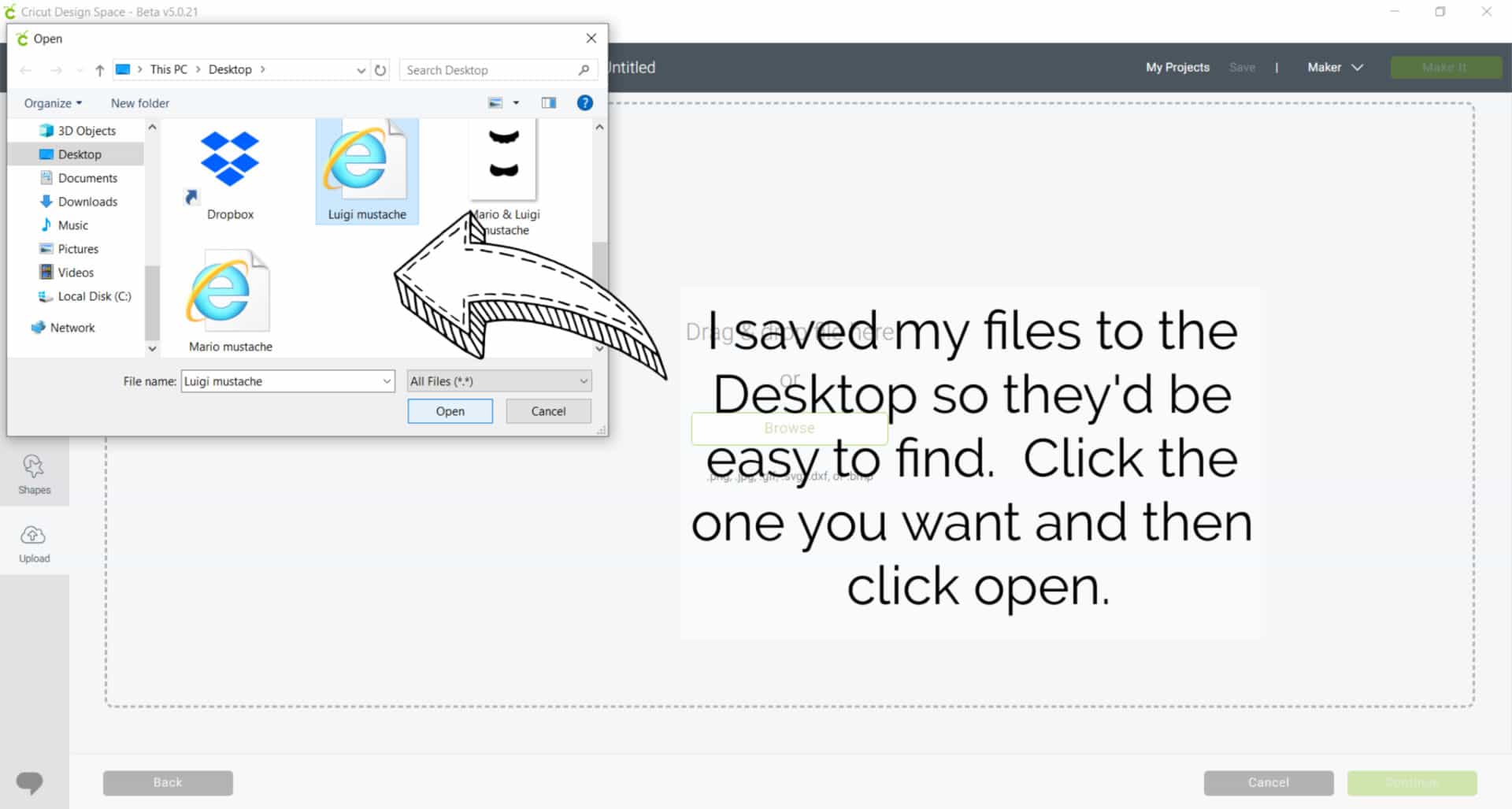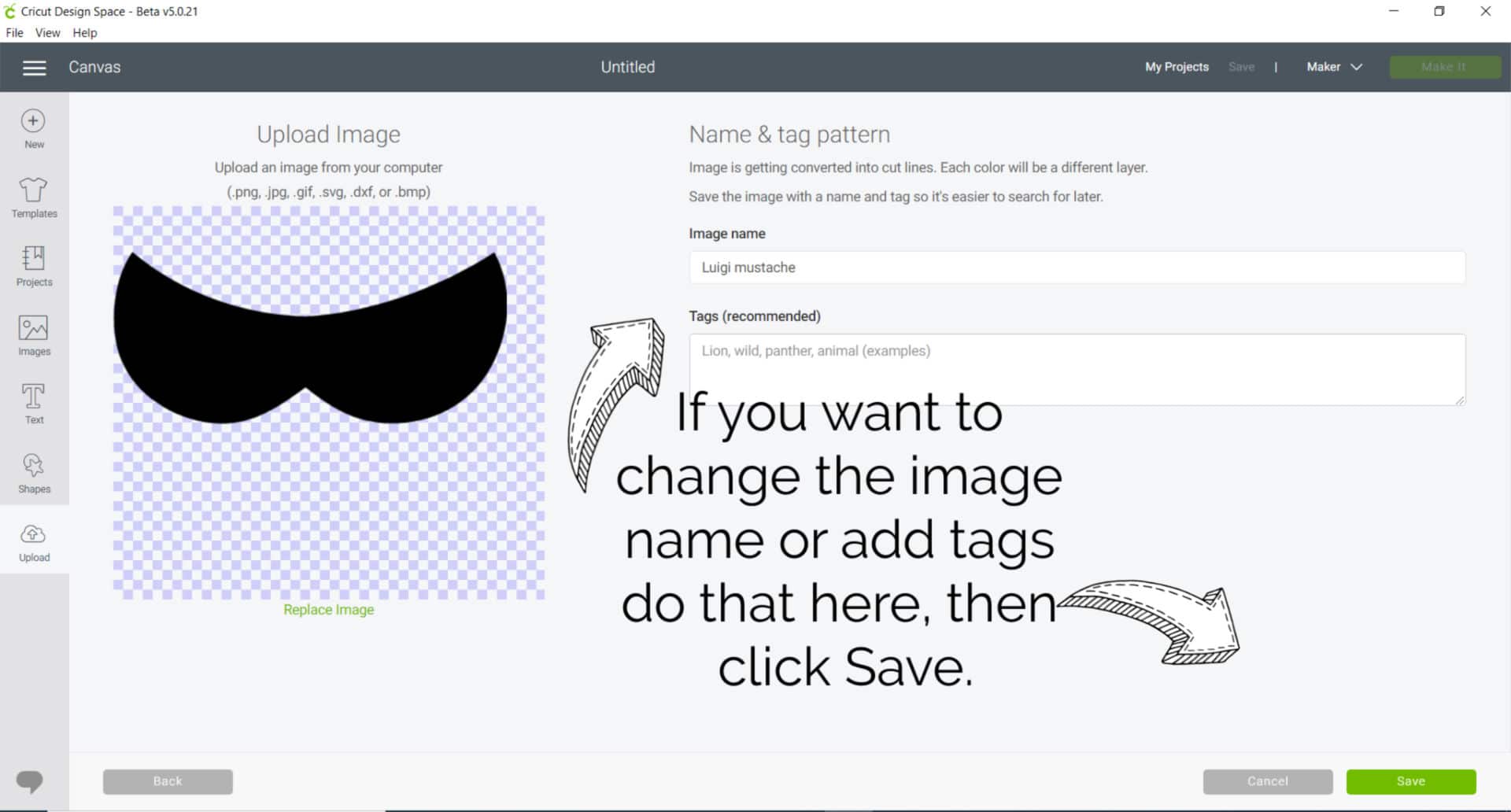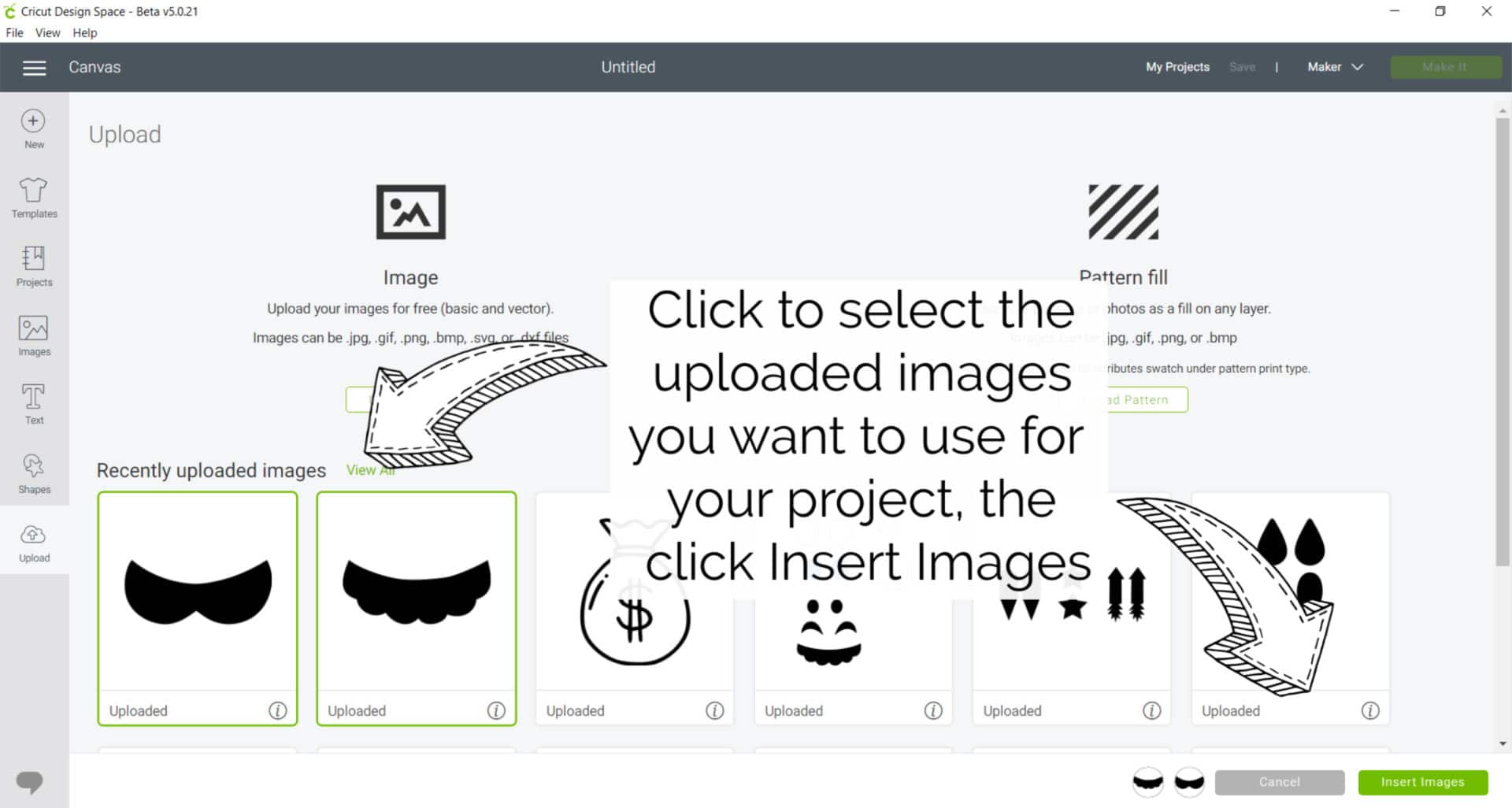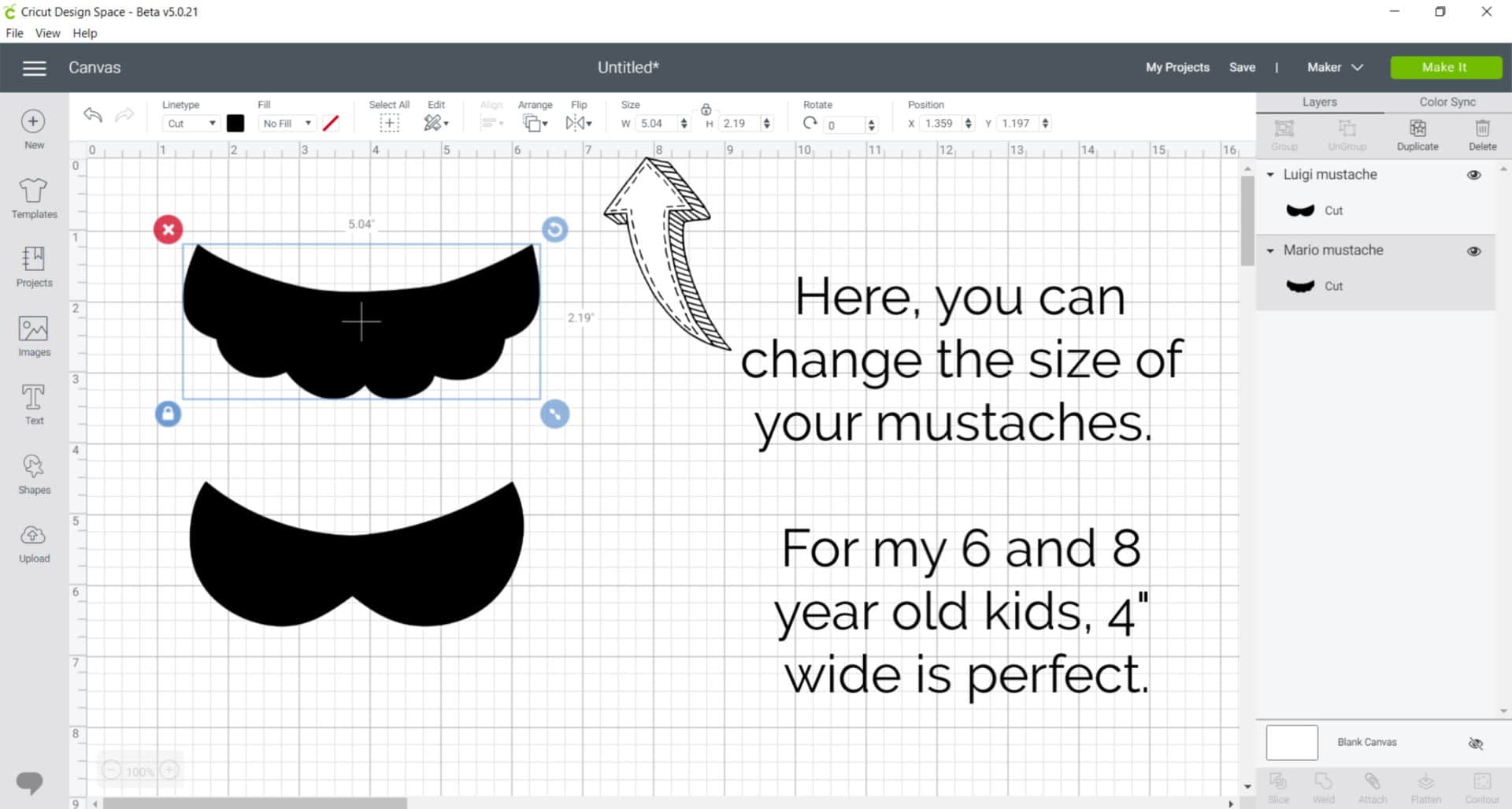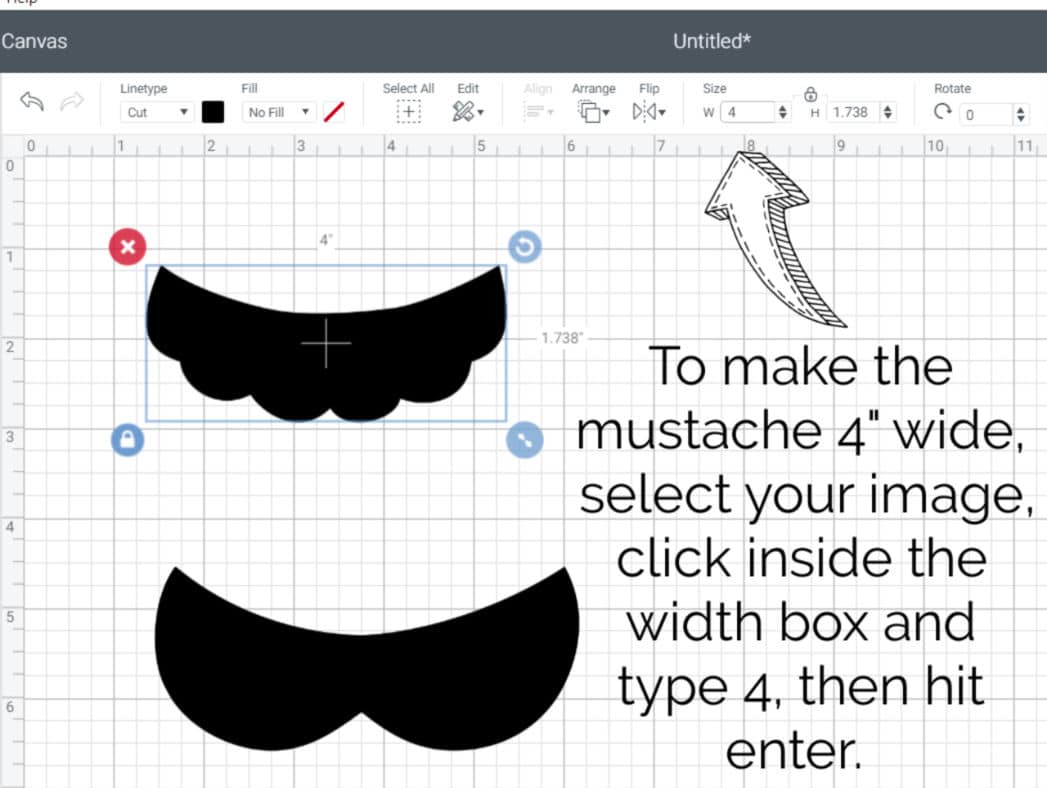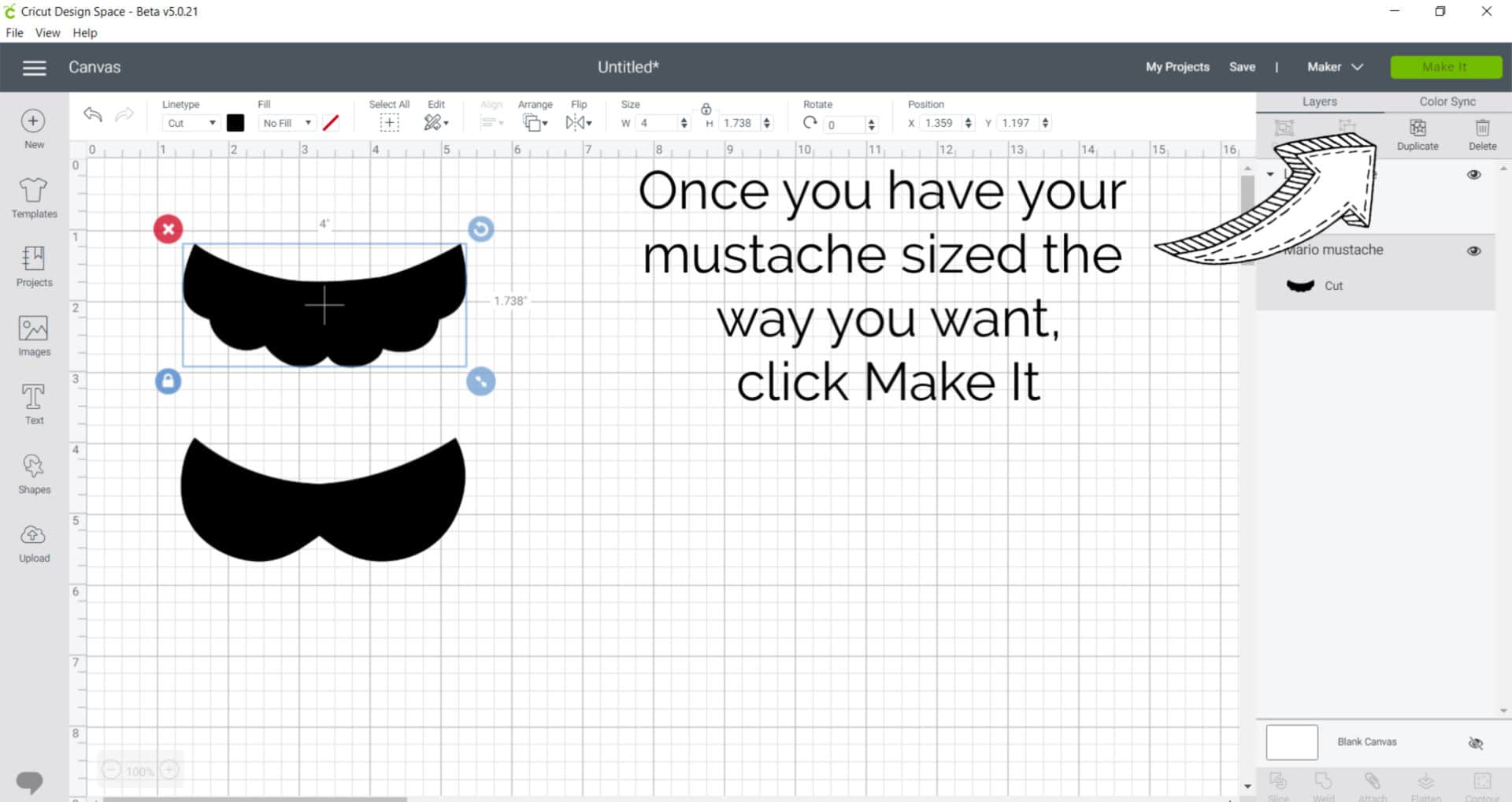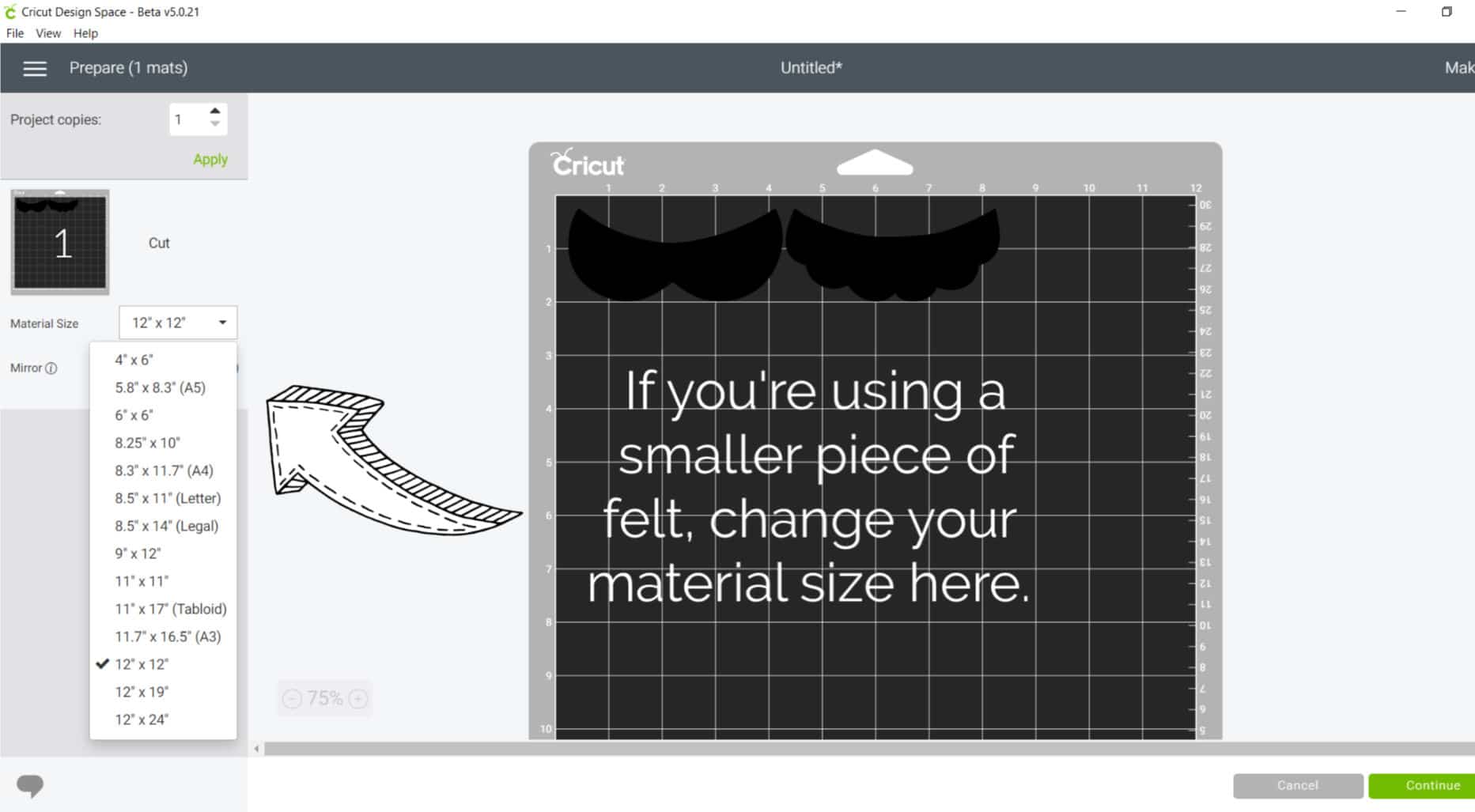 Another thing I forgot to take a screenshot of was changing the blade type on the next screen.
After you pick your material size above and click Continue, it brings you to the screen where you choose your material.
I picked Felt, and the felt I'm using is the thicker craft felt. My Cricut auto chooses the fine point blade for felt, but I wanted to use the rotary blade instead.
To change to the rotary blade, click "Choose another blade" by the blade it has selected, and click the rotary blade.
I'm sure you can use the fine point blade, but I have the rotary blade and it cuts through felt so easily.
Last, load up your mat with your piece of felt and run it through your machine like normal.
Mustache Assembly
Poke a small hole on each side of the mustache by the corners. Don't make it too close to the edge for maximum durability.
Thread your elastic through the hole and tie a knot in the end. I double the knot so it's extra large and won't end up pulling back out of the hole.
Now you'll need to try the mustache on your future Mario or Luigi to get the right fit. You'll want the elastic to be snug, but not uncomfortable.
Hold the elastic where you need the other knot to be (or you can mark it, I was lazy).
Run the other end of the elastic through the other hole and do the same knot on the other side where you marked (or eyeballed, like me).
Trim the excess elastic close to the knot. Done!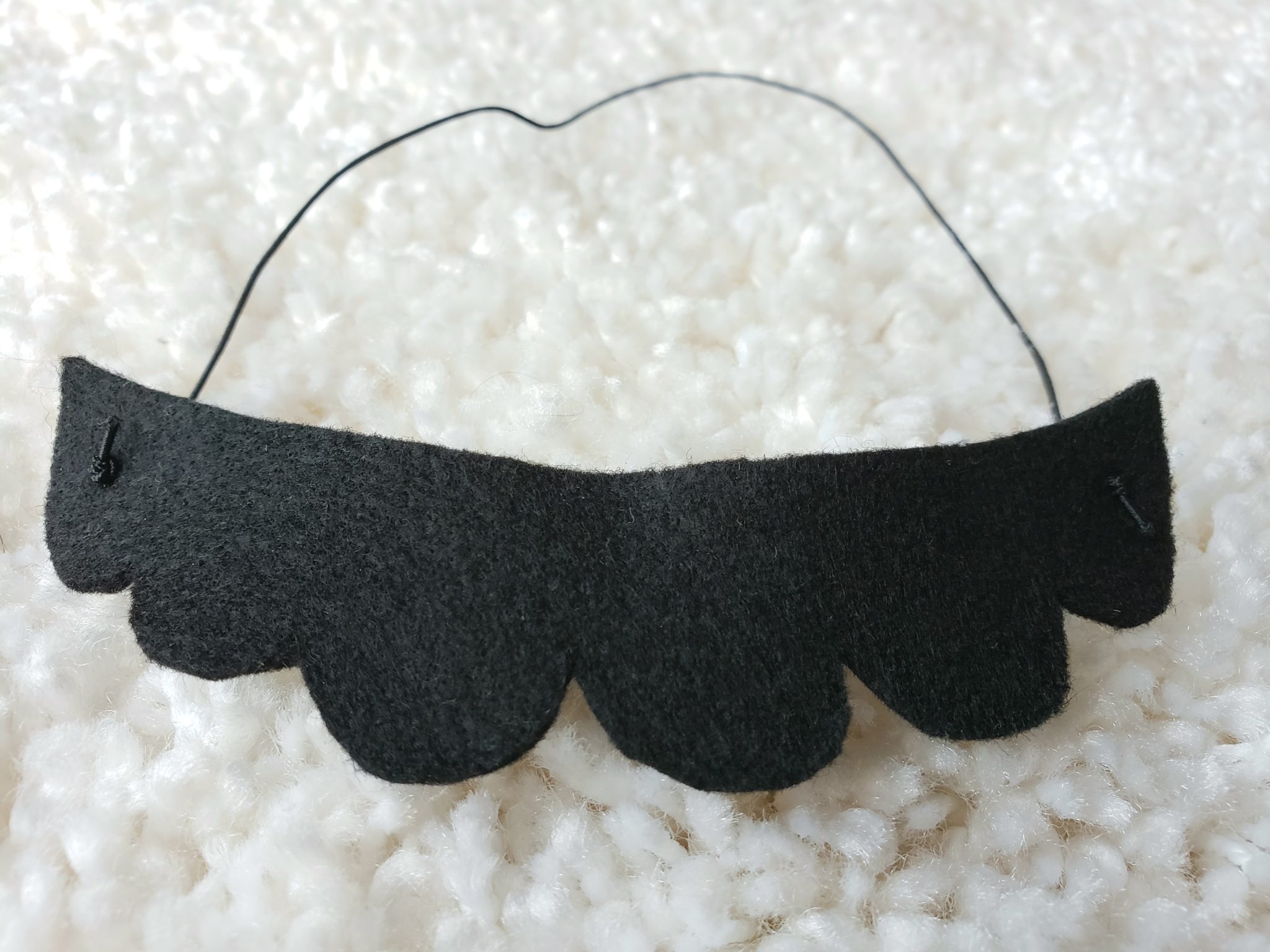 This year my daughter is dressing up as an inflatable T-Rex. Her costume is hilariously huge, you've got to see this!
Last year, she was Yoshi. She had a teeny tiny inflatable shell on her back and a giant creepy looking Yoshi face on top of her head. It looked like her face was in Yoshi's mouth.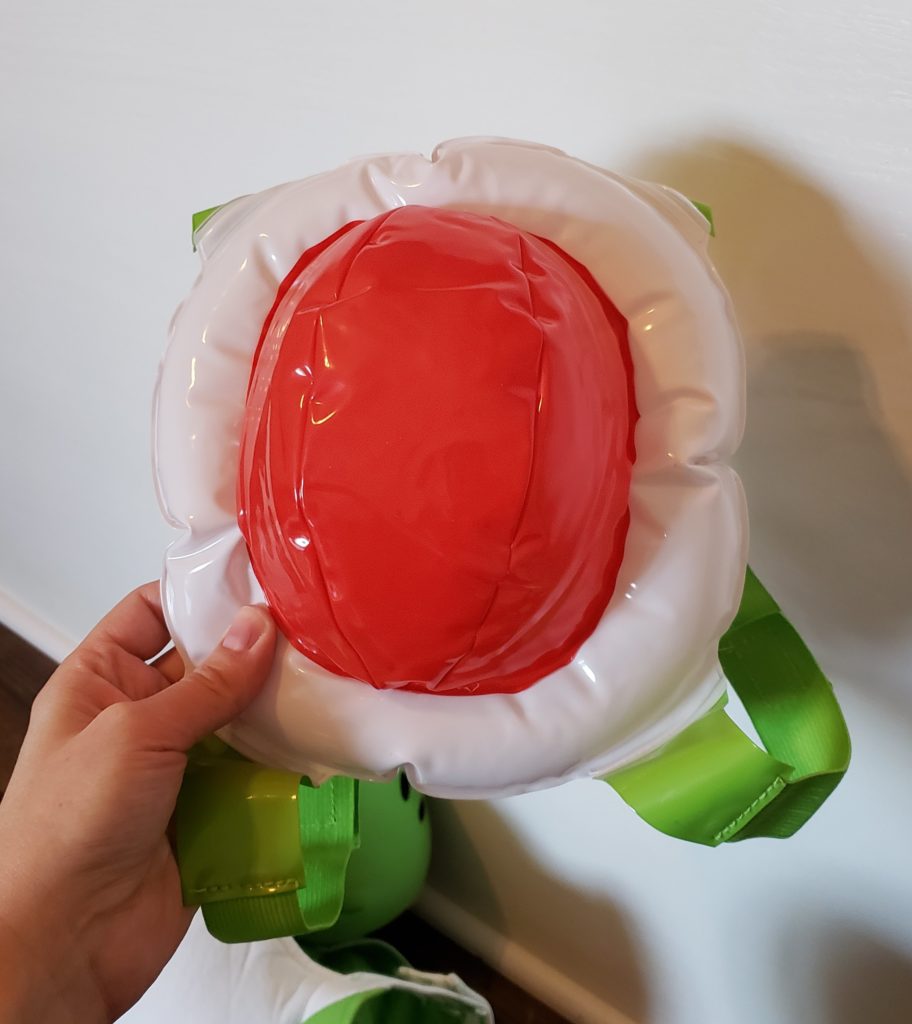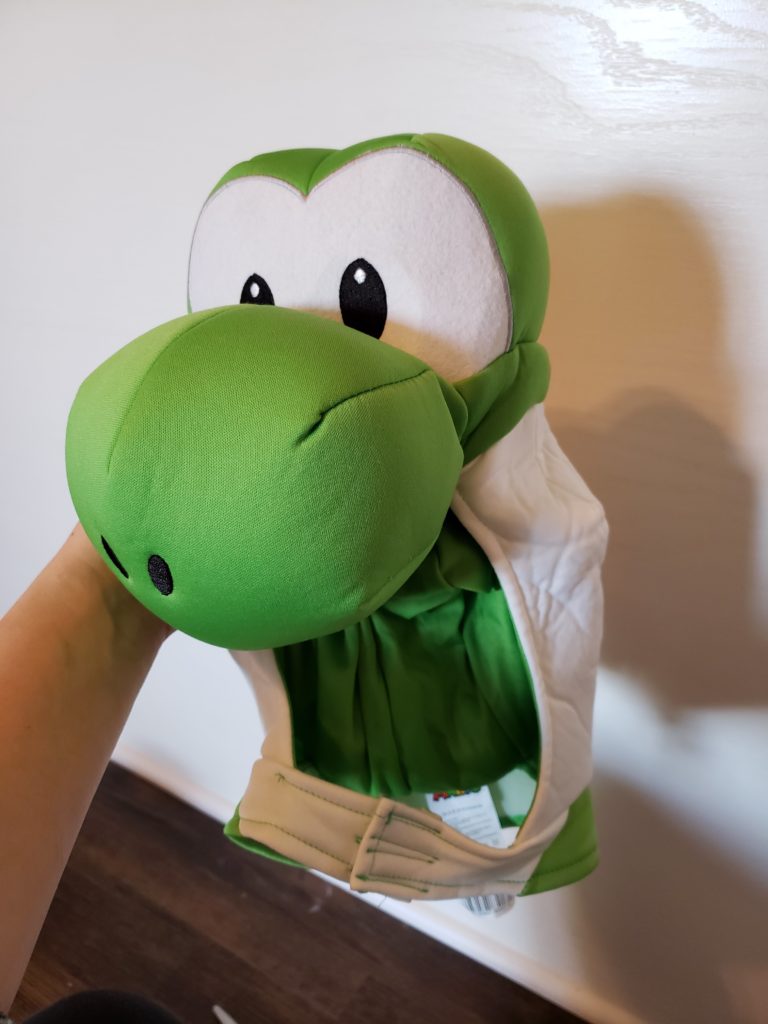 Please excuse the blurry dino head, it was really hard for her to keep it still.
My husband is 6'4″ and her costume is taller than him. It's gonna be an interesting night of Trick or Treating with her wearing that behemoth!
Maybe she'll be Godzilla next year!
On the topic of Yoshi costumes, I found this tutorial online on how to make a Yoshi costume totally DIY. He made the head out of paper mache and everything!
It's hard to find a good Yoshi costume that doesn't look like you've been eaten, so if you're feeling crafty that DIY is a good one.
Here's a picture of them trick-or-treating last year, I'll update this post with this years picture once the big day rolls around!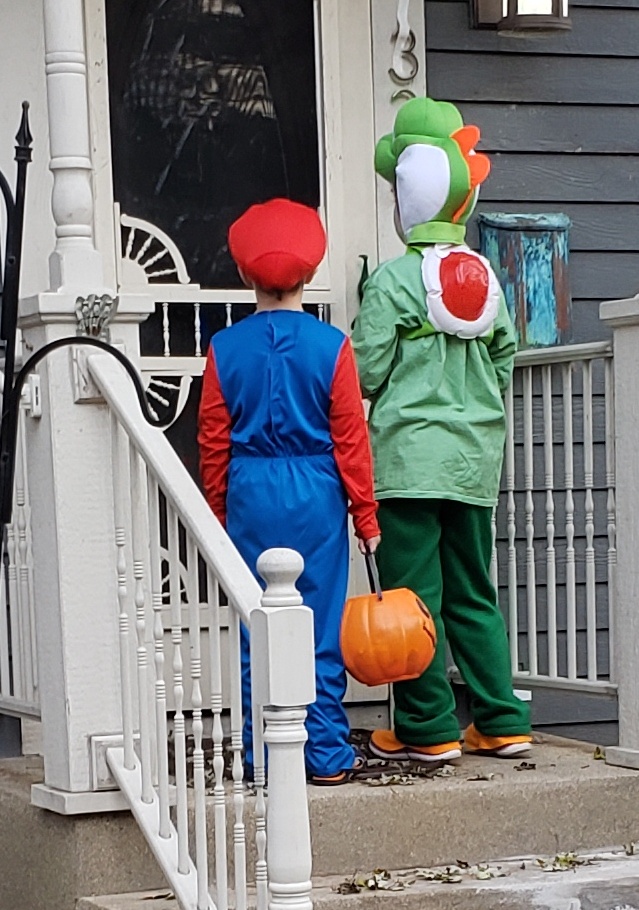 Also, be sure to check out…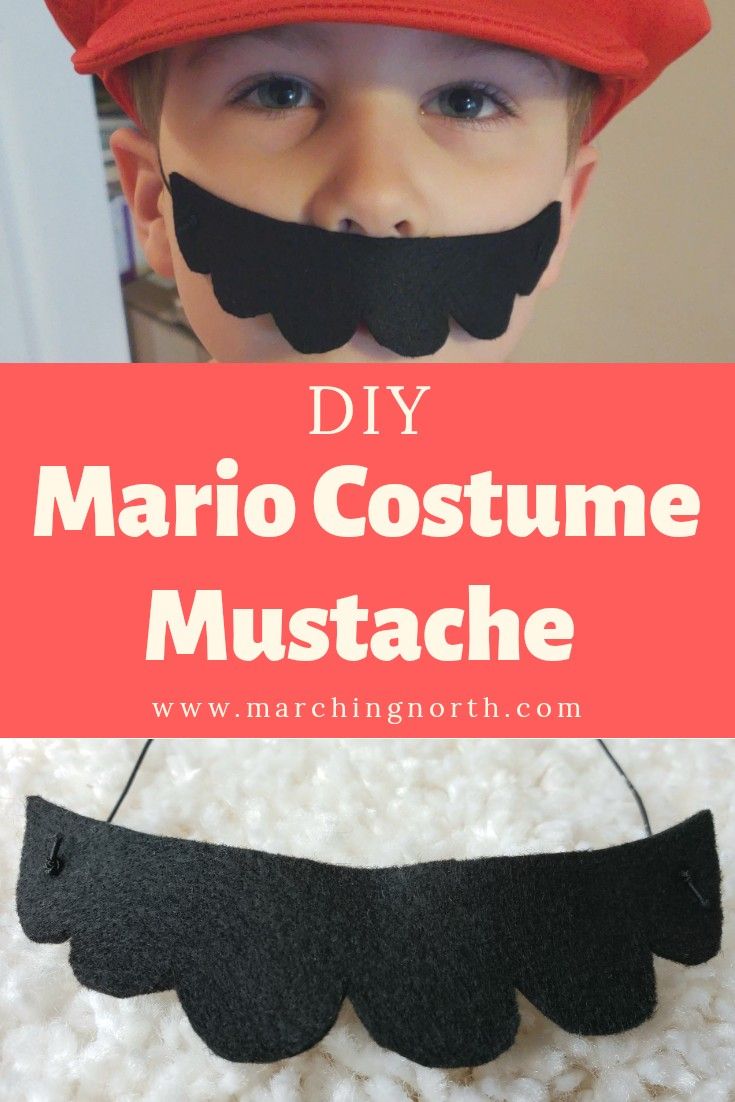 Mario & Luigi Mustache DIY Simple Hack for Halloween + Free SVG & PDF Files!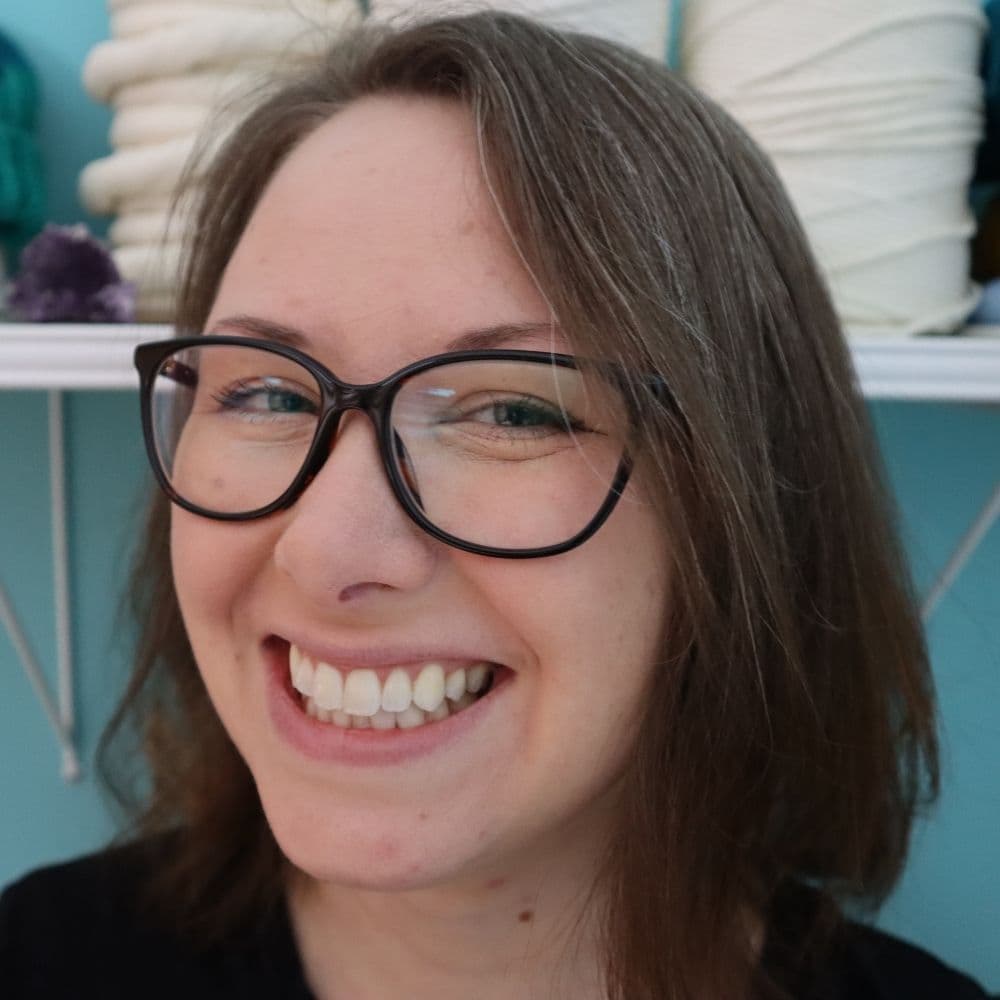 Crystal Martin is the crafty lady behind Marching North. She loves sharing easy to follow tutorials and patterns for macrame, crochet, punch needle, and pretty much anything else involving yarn or textiles.
Her work has been featured on Creative Fabrica, Craft Gossip, Ravelry, as well as her own site and YouTube channels.