These rustic wood burned coasters are an awesome quick and easy project for beginner wood burners (or pyrographers, if you like).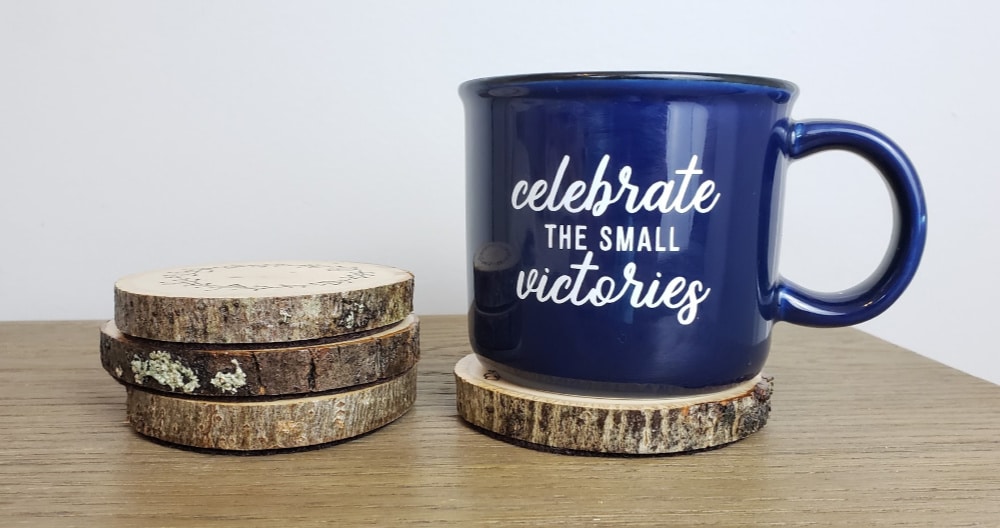 I don't know about you, but I love a craft project that's fun and functional. These coasters are coated in a protective layer of polyacrylic, so you can feel safe actually using them!
The designs I used for this project are rustic outdoorsy themed. It just seemed right to pair that with wood slices.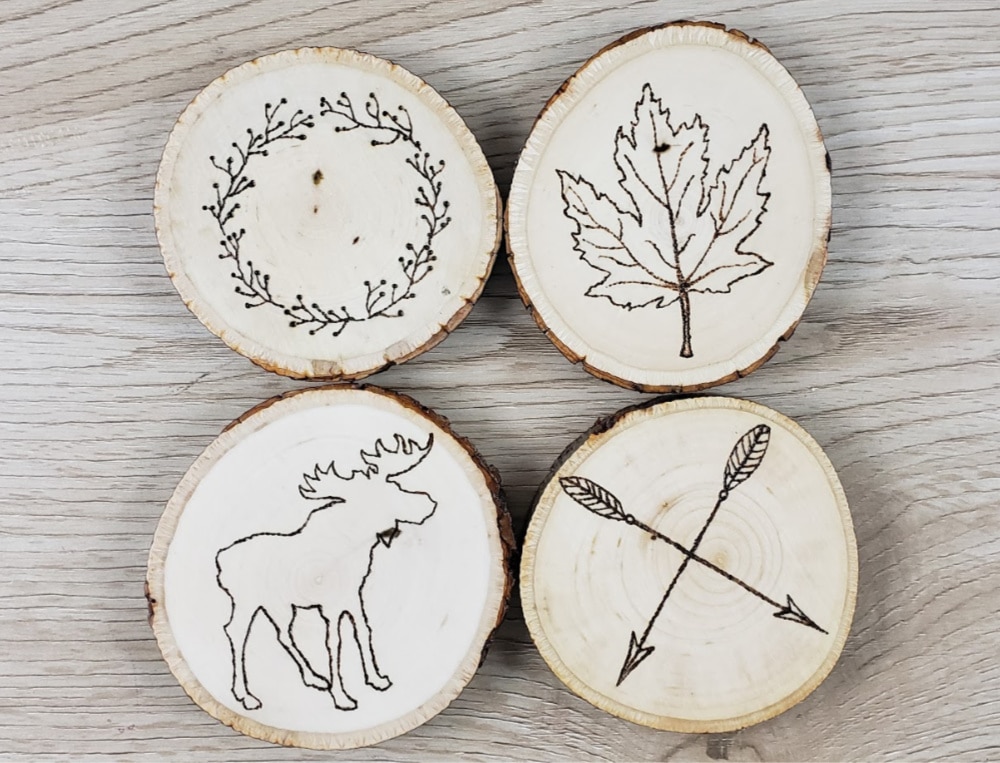 The free printable patterns used in this tutorial are available for download right here.
Feel free to use a different pattern or design if you're not feeling the outdoorsy vibe, but the steps to make the coasters will still apply.
New to wood burning? Check out this Ultimate Guide to Wood Burning for Beginners before you continue.
(This post contains affiliate links. If you click one and make a purchase, I may receive a small commission at no extra cost to you. Read the disclaimer here. Thank you for your support!)
Supplies You'll Need:
Rustic Wood Slice Coasters | Wood Burning Tutorial
Preparation
Before you get started, check to make sure the surface of your wood slices is nice and smooth. If it's not, sand it with some 220 grit sandpaper, then wipe it clean with a cloth.
Insert a fine point tip in your wood burner and heat it up. Make sure you choose a well-ventilated area for wood burning and watch out for kids and pets!
Transfer the Designs
To transfer the pattern onto the wood, flip the pattern over and scribble with a pencil all over the back of the designs. Be generous, you want to get a good coat of graphite.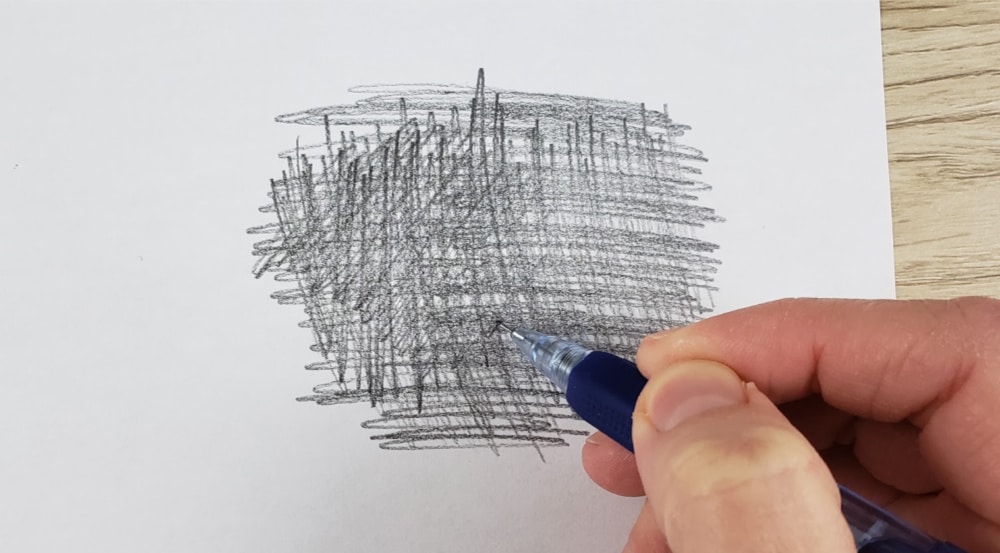 Then flip the design over, center it on the wood slice, and trace over the design with your pencil. Press firmly and make sure the pattern doesn't shift while you're tracing.
Alternatively, you can use graphite paper and layer it between the pattern and the coaster instead of scribbling on the back. Then trace over the pattern the same way, still making sure the pattern or graphite paper doesn't move or shift while you're tracing.
Remove the pattern and see how it looks. I went over mine again with just the pencil to darken the outlines a bit, but you may not have to do that.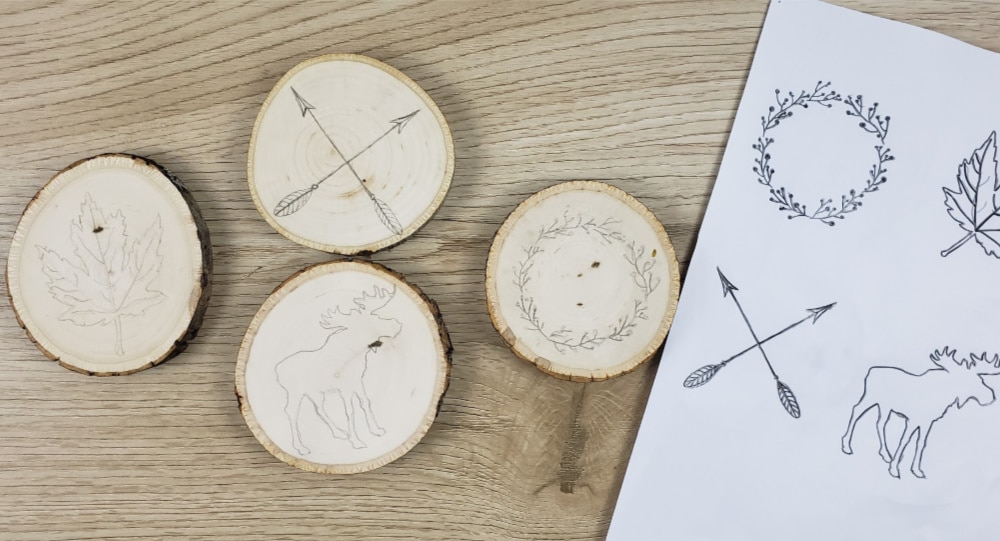 Wood Burning the Designs
With your wood burner, carefully outline the designs.
Take your time.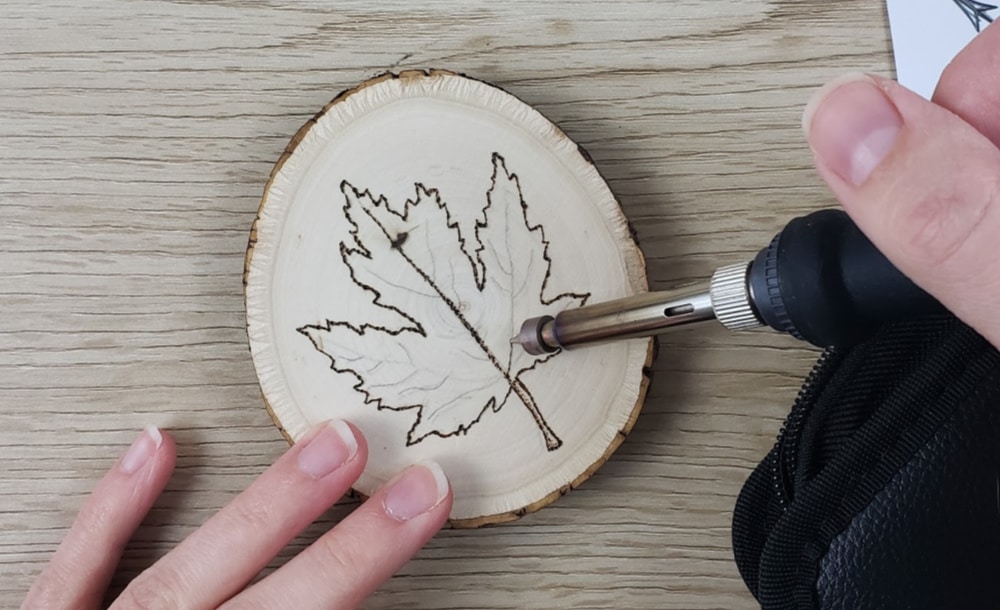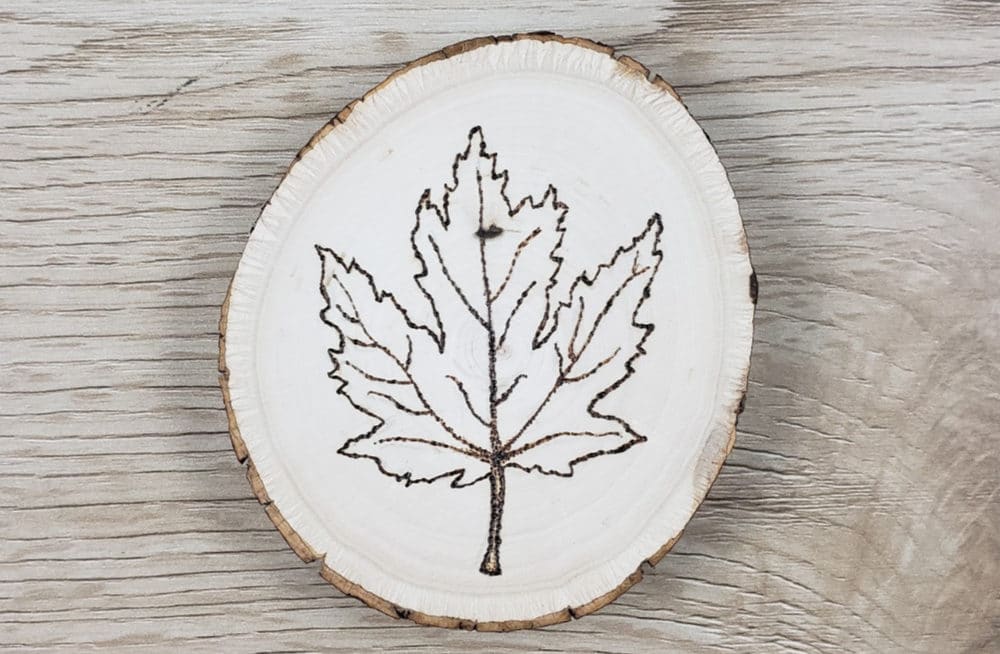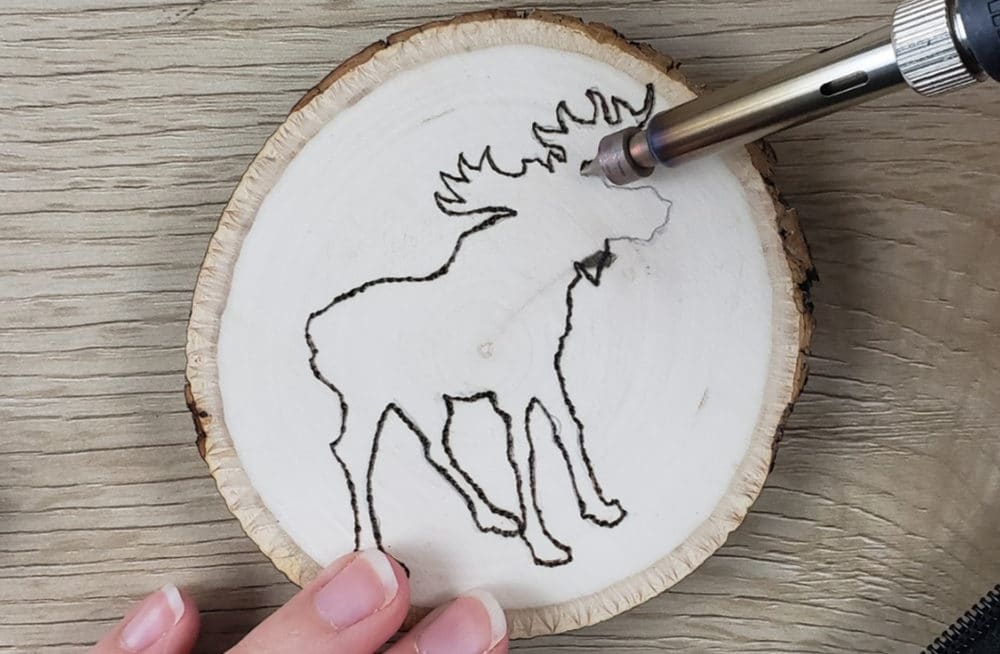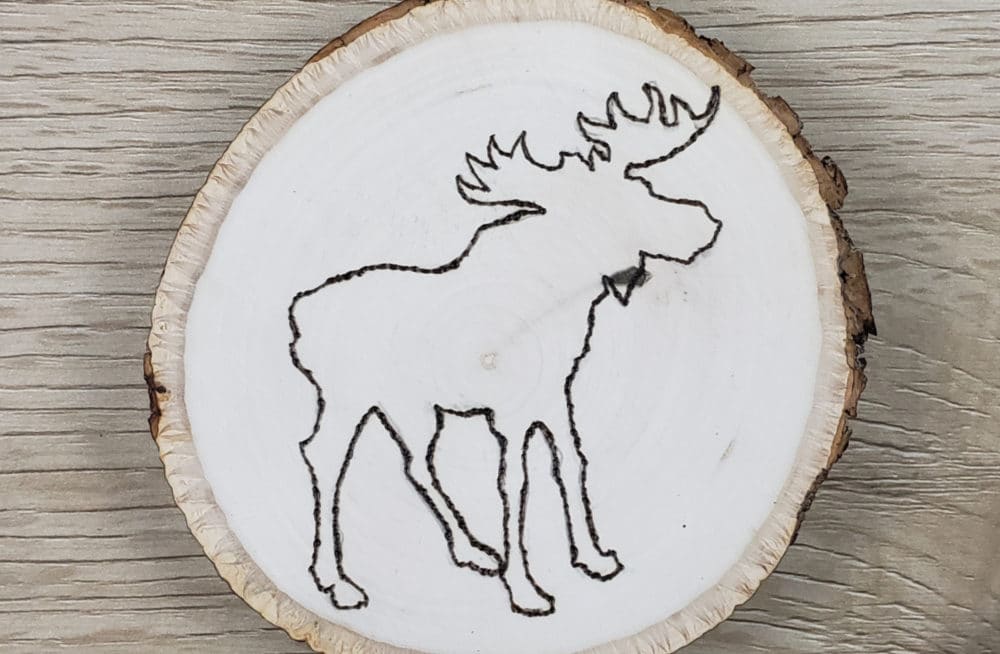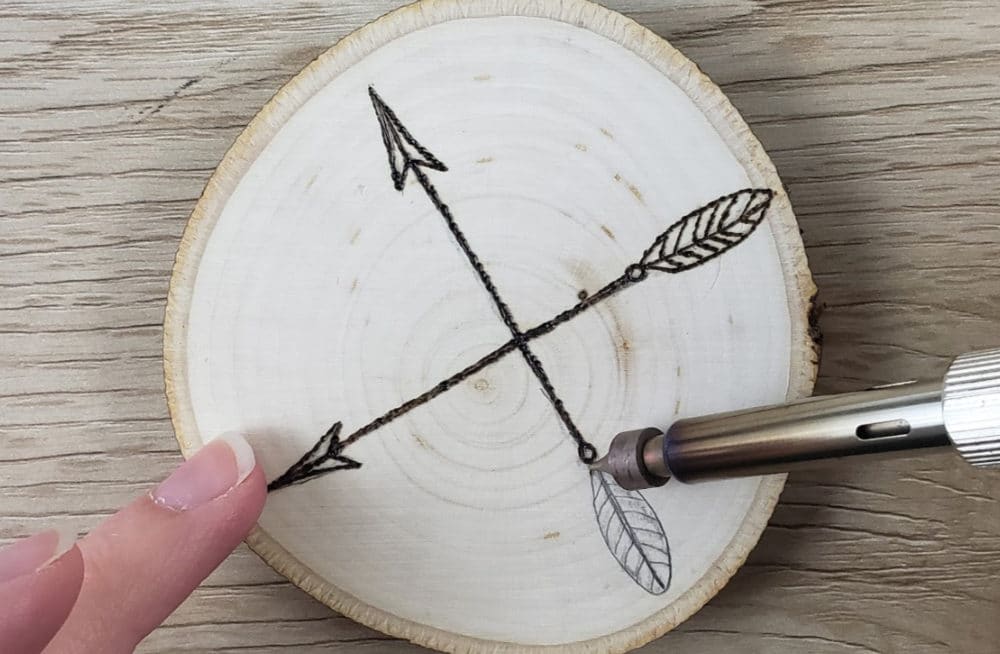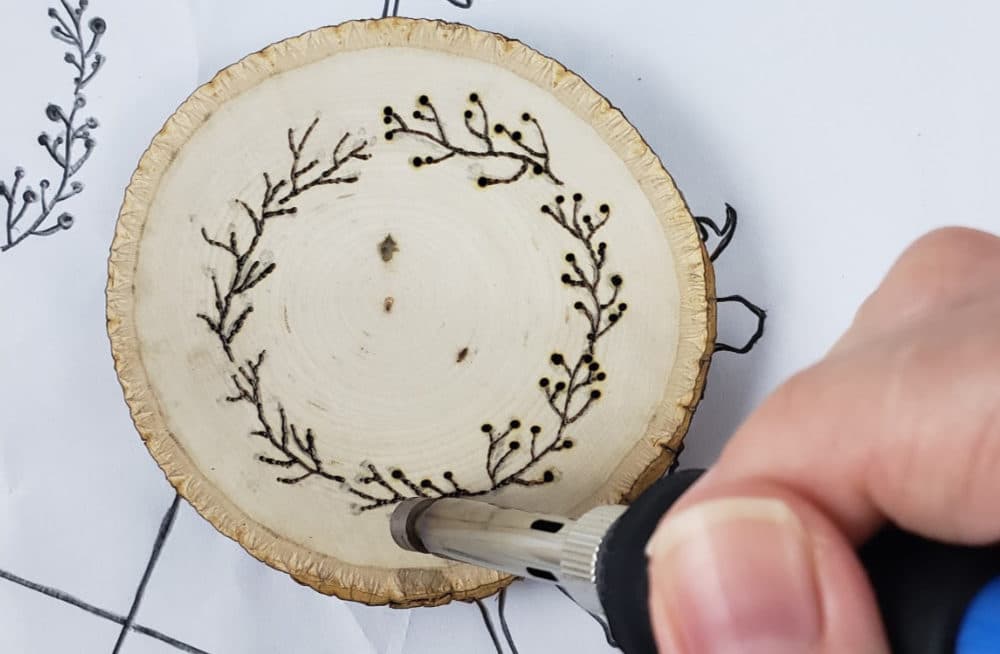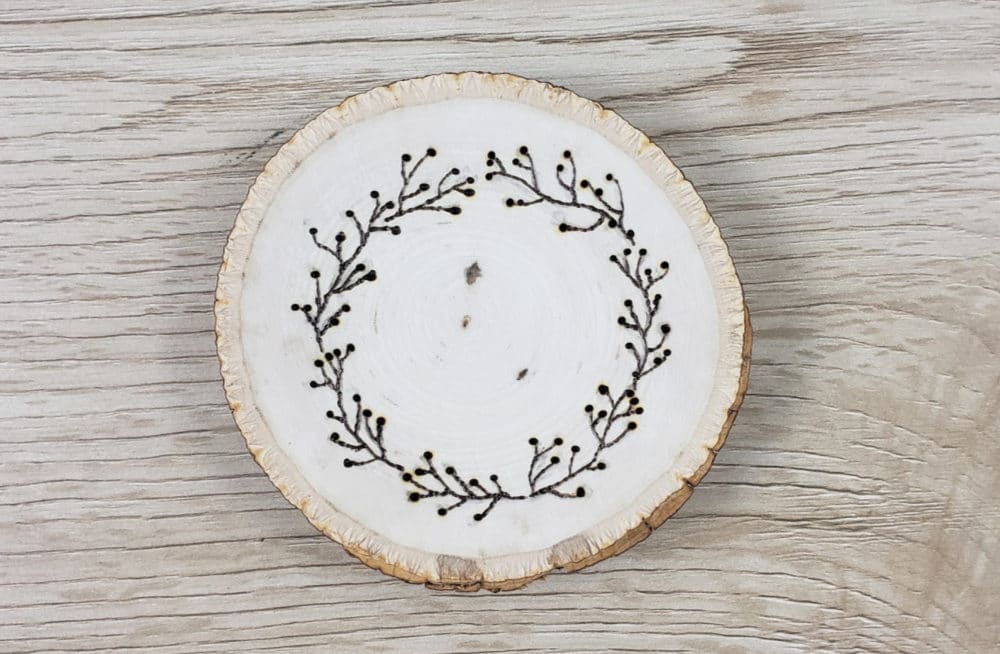 Try not to hold the wood burner on the surface for too long because it'll burn really dark spots in your design and not look even.
This is one of those "you can always add more but you can't undo it" types of crafts.
If your hand starts feeling shaky, take a break. Just remember if you walk away, turn off/unplug your wood burner.
Erase Leftover Graphite
Once you get the designs outlined, use an eraser to go back and remove any graphite lines that remain.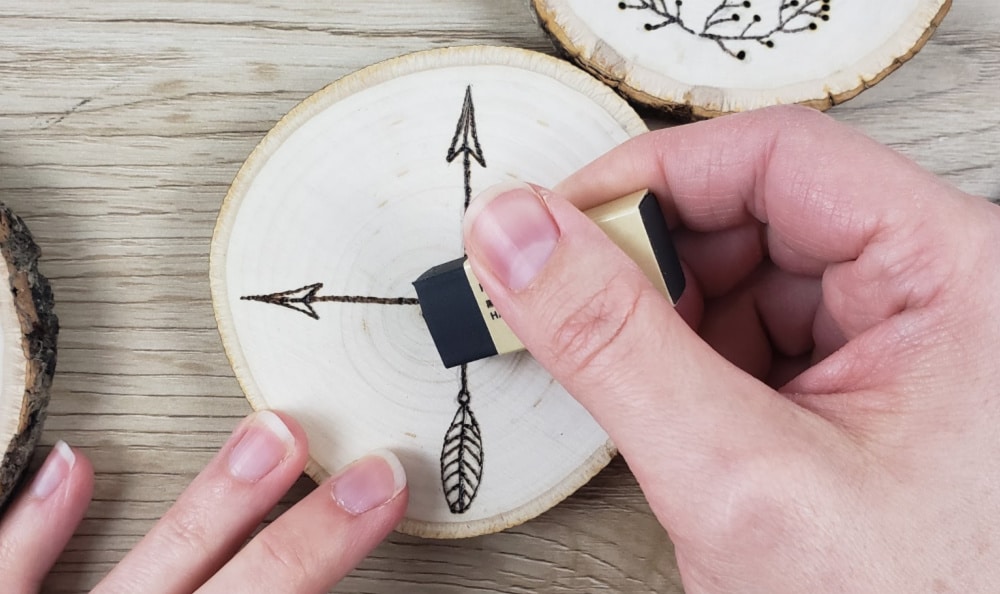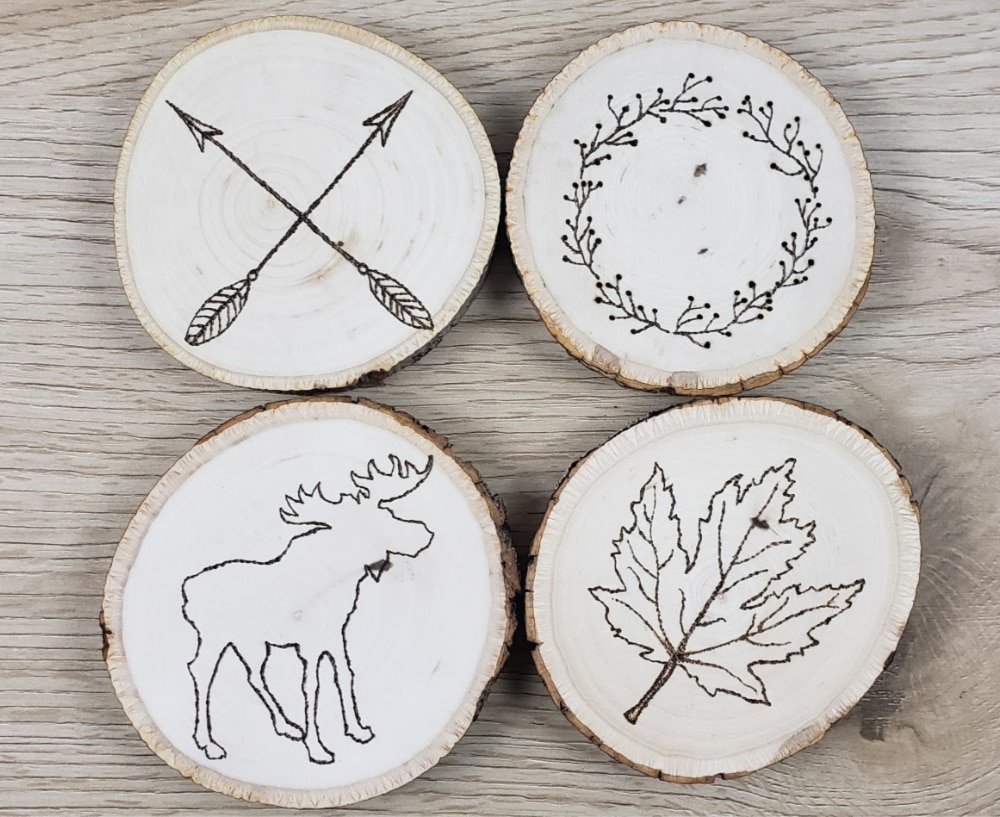 Seal with Polyacrylic
Now it's time to add the protective polyacrylic finish.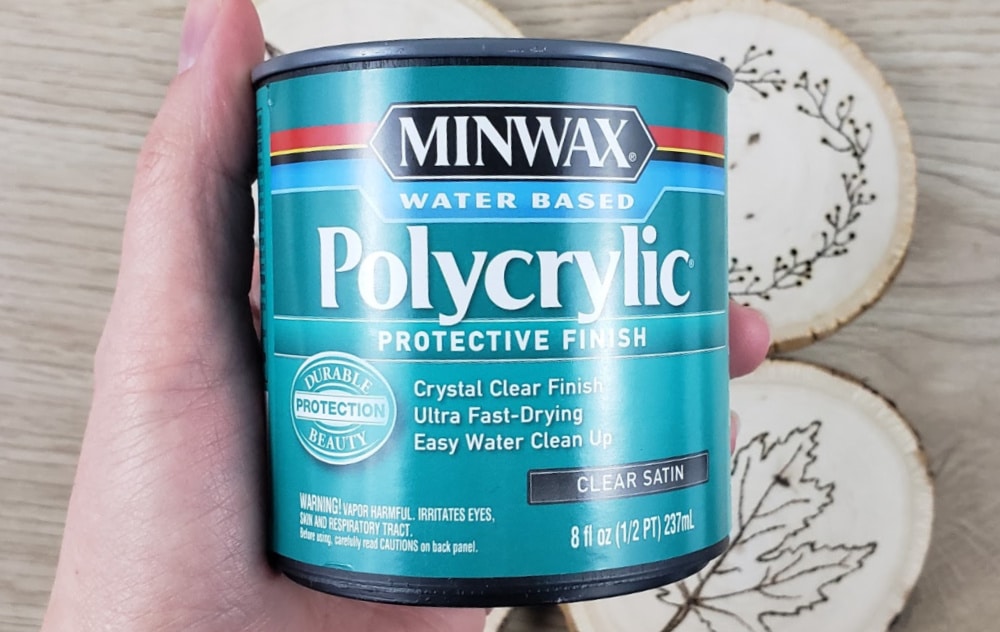 Cover your work surface with wax paper. (I started this process with regular printer paper and was picking little bits of paper off the back of one of my coasters once it dried. Learn from my mistake!)
Open the polyacrylic and gently stir it with a popsicle stick or wooden skewer. Don't shake it!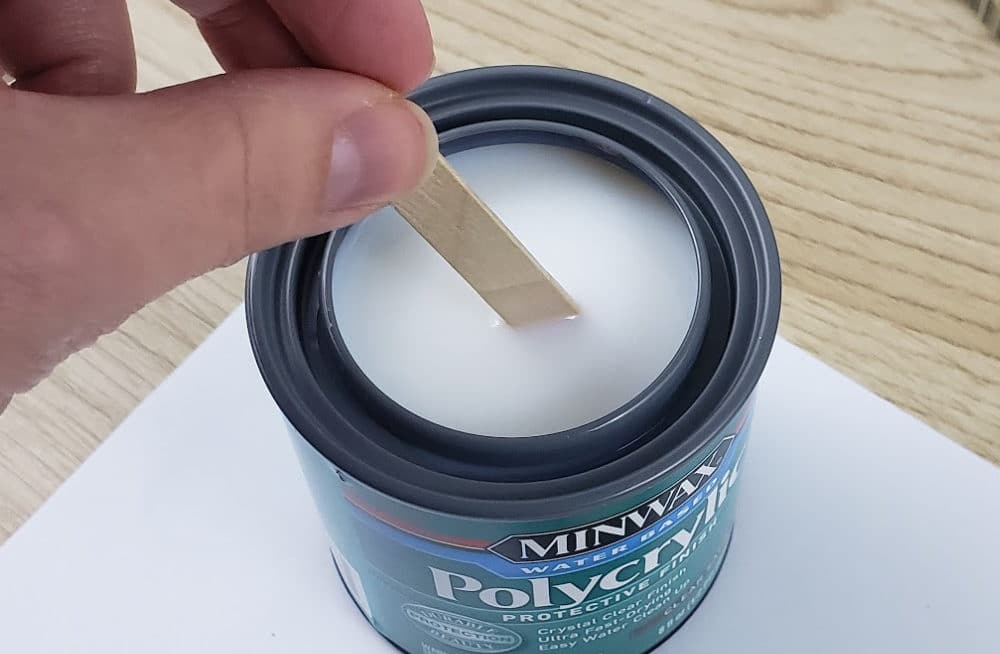 Using the paintbrush, apply a thin coat to the whole top of the coaster. If you like, you can also apply it to the sides where the bark is.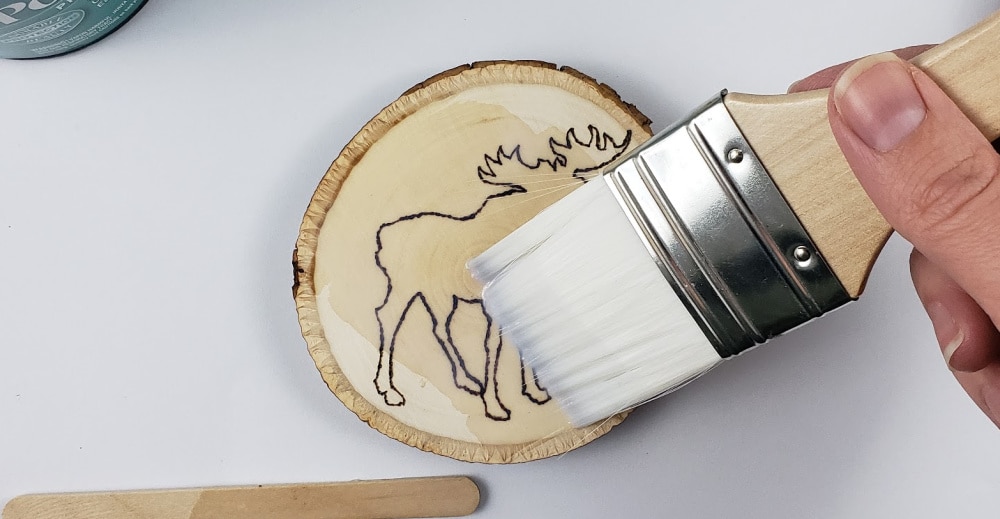 Repeat with the other coasters. Set them on the wax paper to dry.
Let the first coat dry for at least two hours, and then you're going to sand them gently with 220 grit sandpaper to smooth out the coating and then wipe them with a cloth to remove any dust.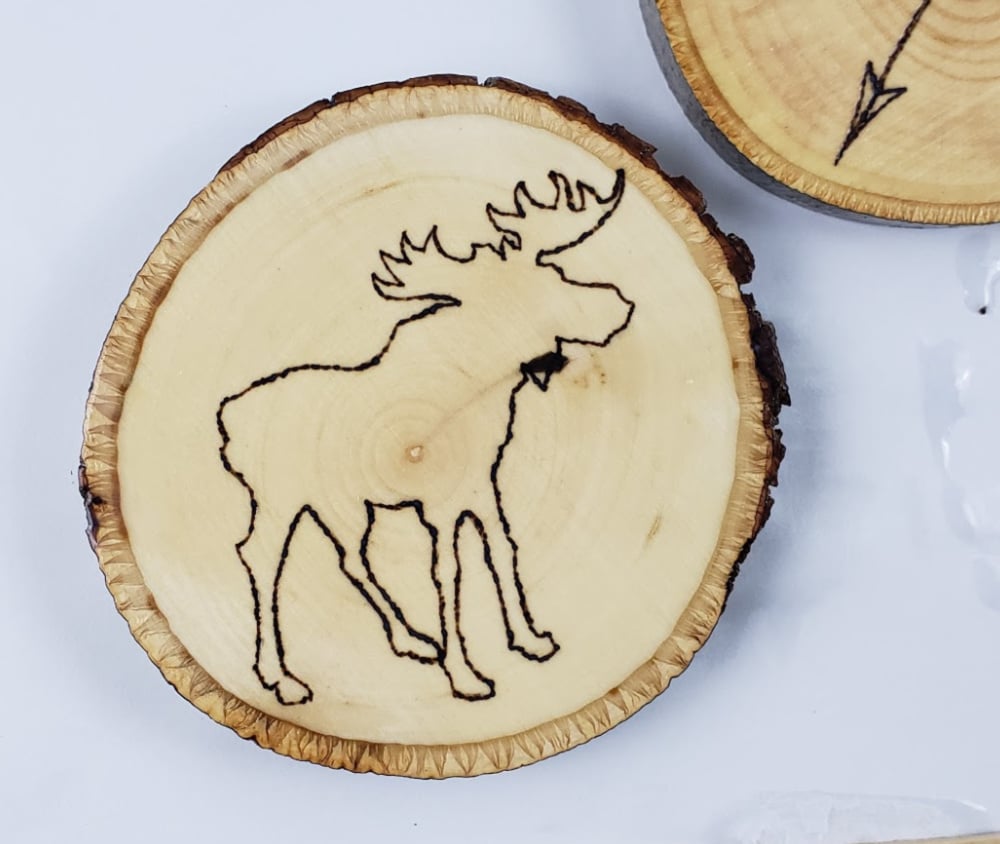 Repeat this process two more times (you'll do three coats in total), making sure to let each coat dry for two hours before sanding.
Once the last coat of polyacrylic is cured, it's time to add the felt to the bottoms.
Attach Felt Bottoms
Lay the coasters on top of the piece of felt.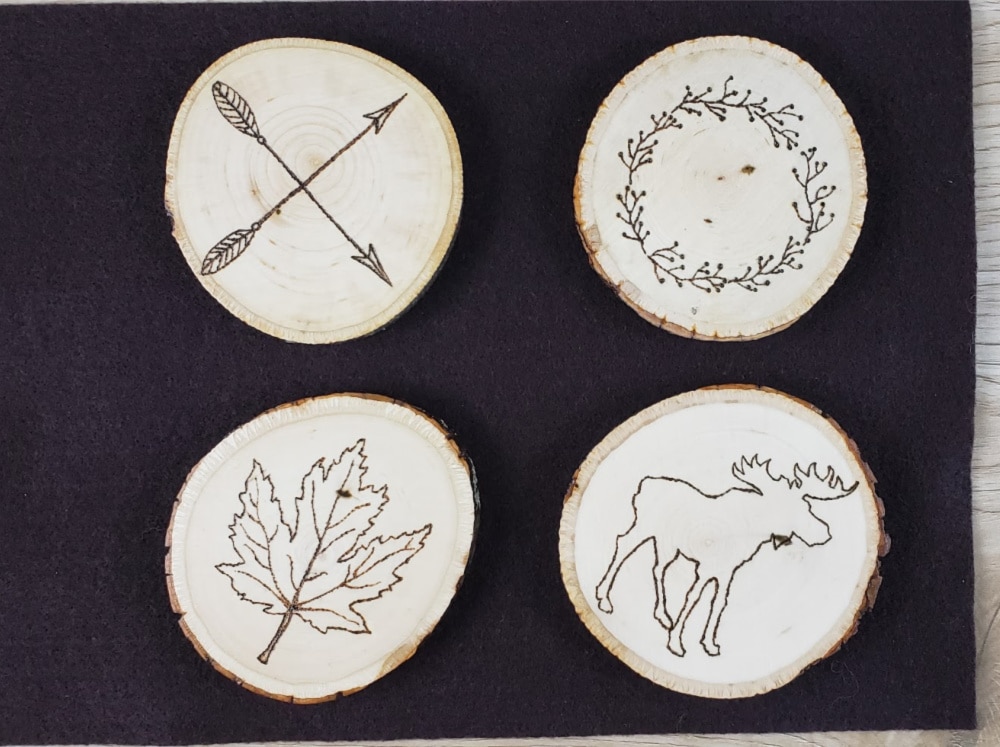 Using a white gel pen or some other white or light-colored writing utensil, draw an outline around each coaster.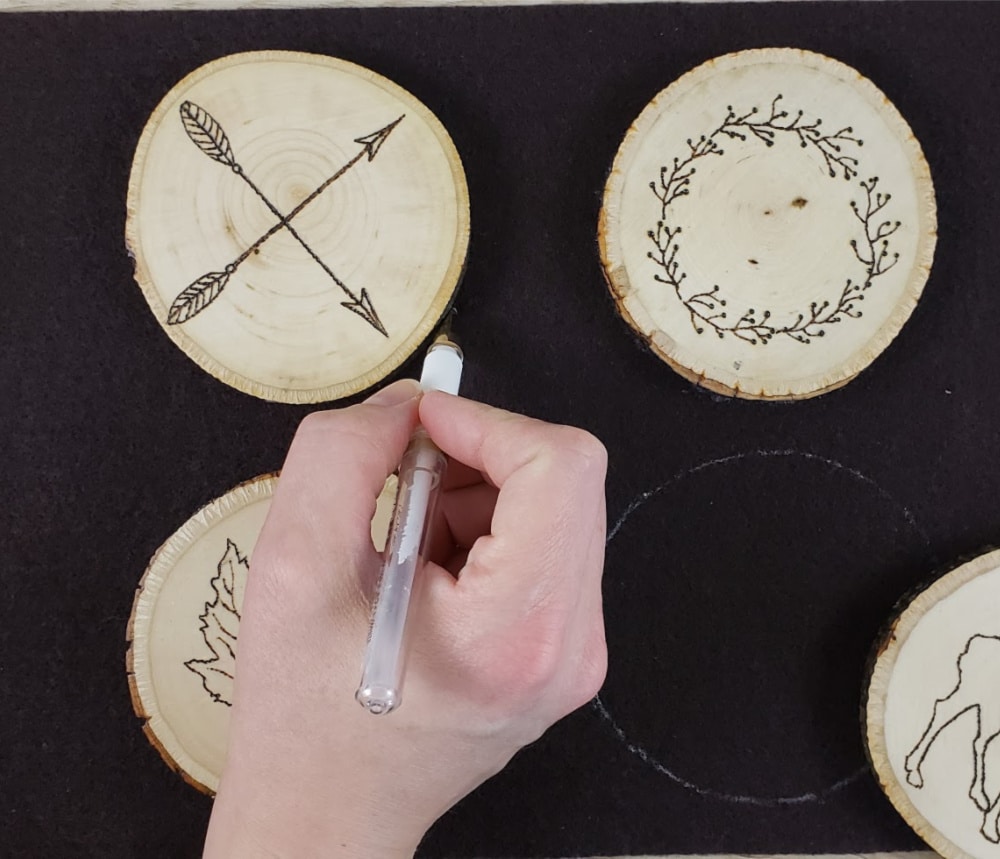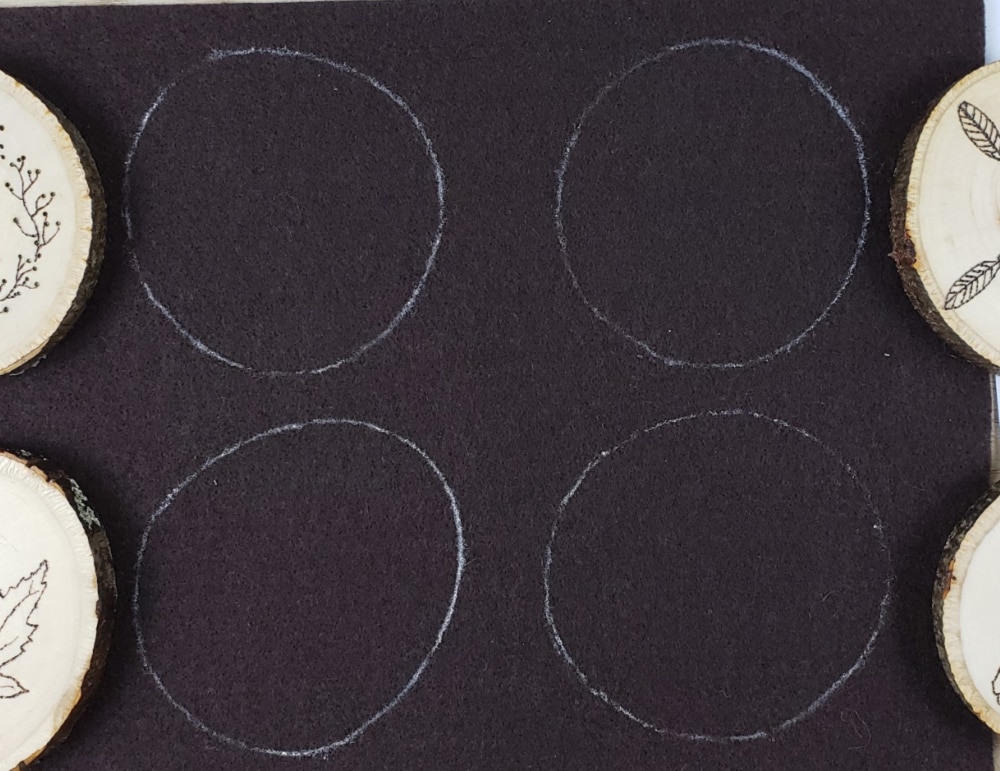 Set the coasters to the side and cut the felt pieces out with a pair of sharp scissors.
Cut just inside the outline so the pen lines won't be visible. This will also help to make sure the felt doesn't stick out from under the coasters.
Using craft glue or a hot glue gun, glue the felt to the bottom of the coaster.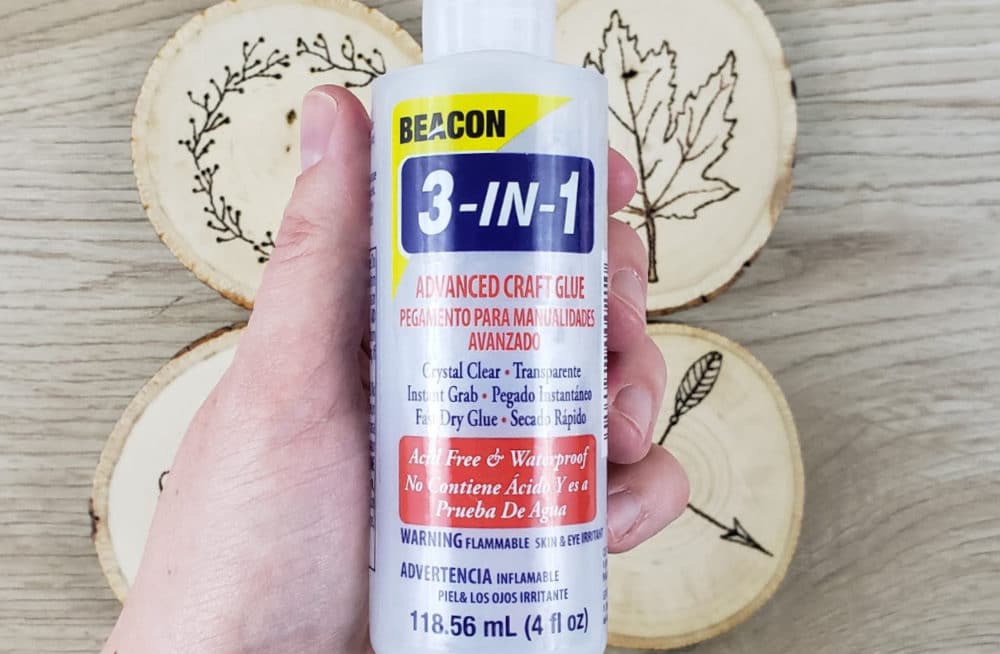 Make sure you're using the right piece of felt for the right coaster. Since they're organically shaped you have to make sure it's lined up right!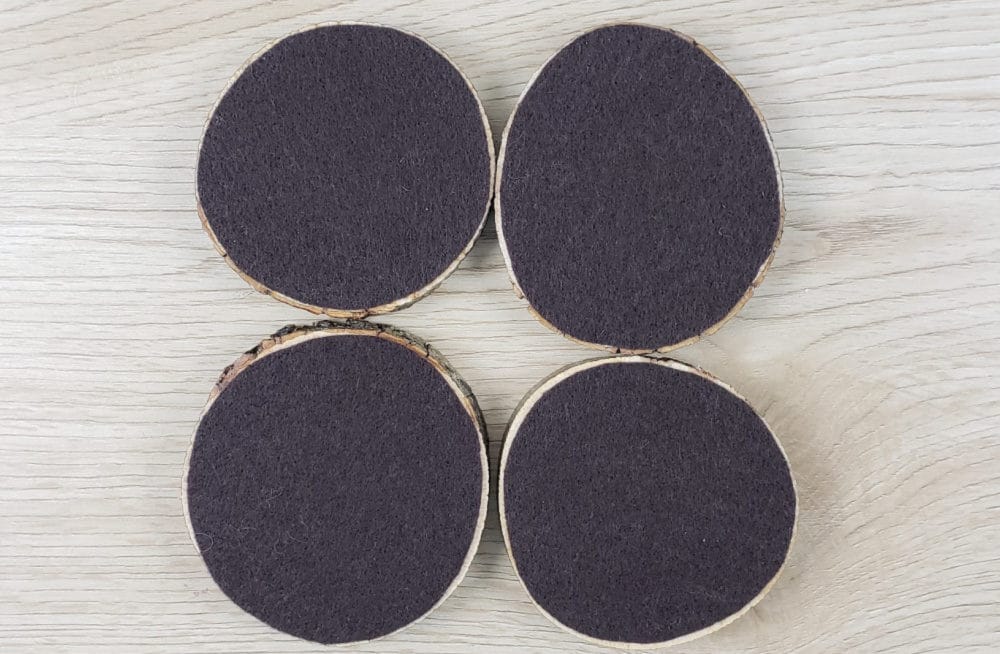 Set the coasters aside and let the glue dry.
Voila!
Now you have a set of beautiful wood burned coasters that will last for years to come!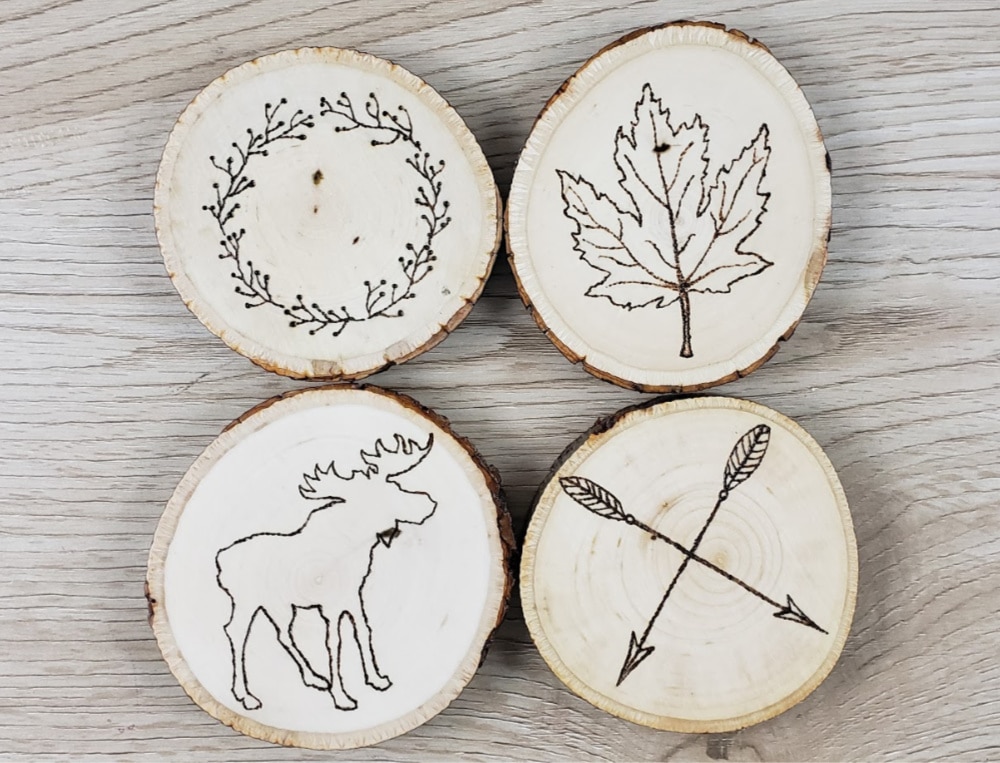 I think the polyacrylic really makes them look sharp. Plus, now they're waterproof!
I recommend that you avoid letting the coasters get soaked, like in the sink, since we didn't put the polyacrylic on the bottoms. Also, the felt might come off if you do that.
If they get dirty, I'd recommend just wiping them down with a damp cloth.
These rustic wood burned coasters make a perfect gift. Tie them up using some pretty ribbon (or manly twine) and a handmade gift tag and you're ready to go!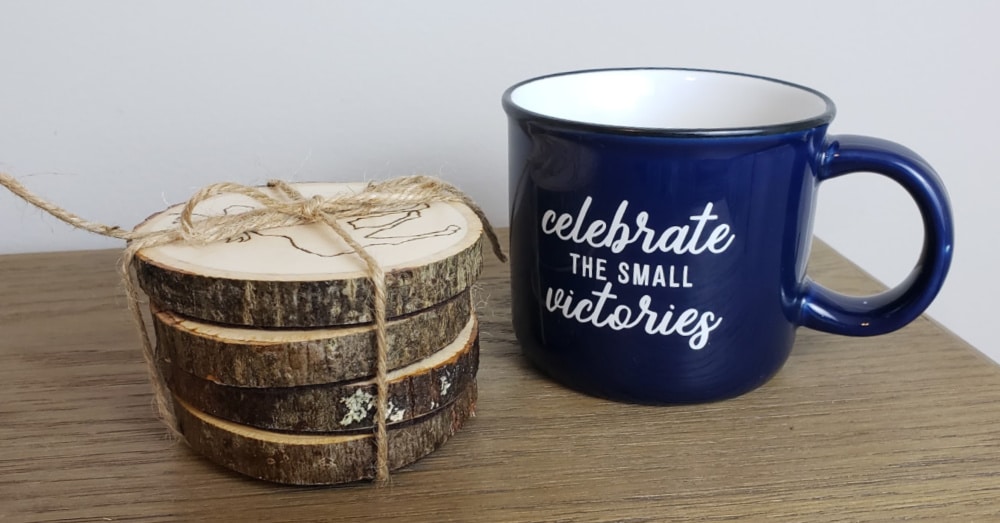 I'm going to experiment with this project and try out some different patterns for fun.
Related Posts
Rustic Wood Burned Coasters | Tutorial + Free Patterns!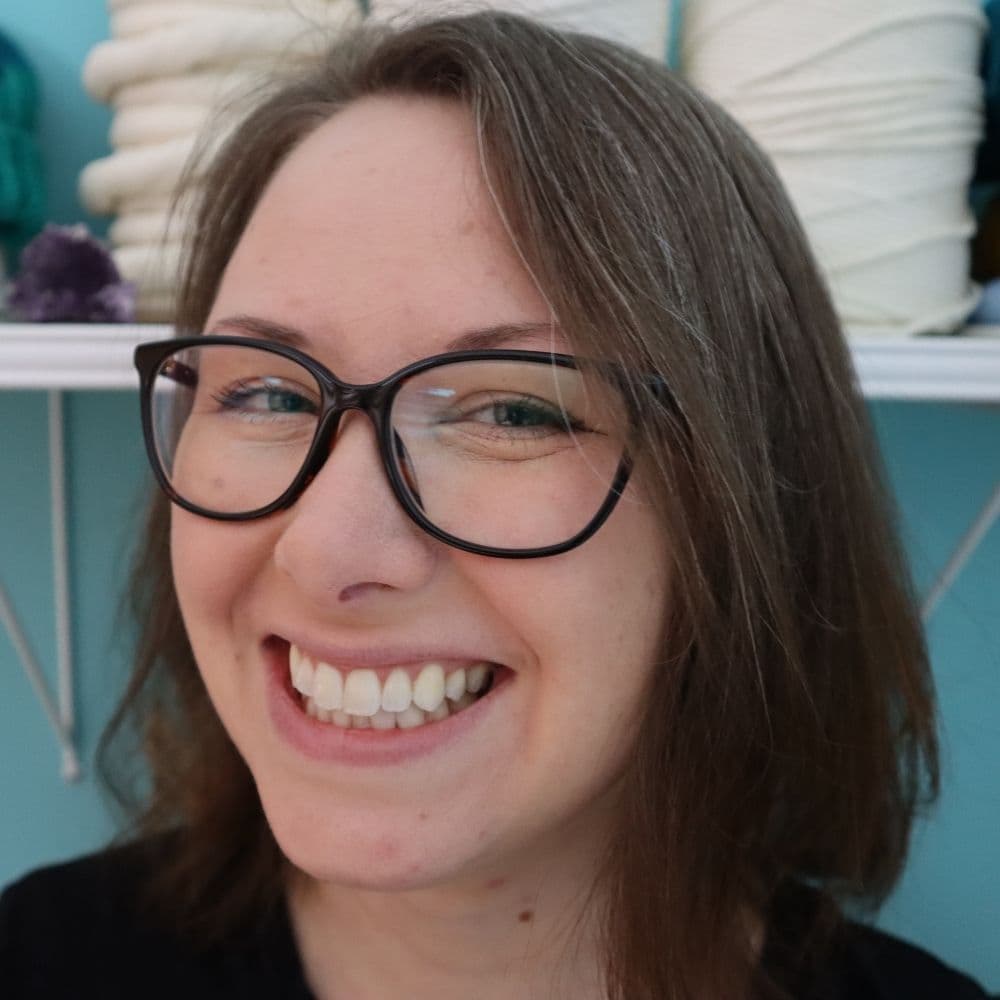 Crystal Martin is the crafty lady behind Marching North. She loves sharing easy to follow tutorials and patterns for macrame, crochet, punch needle, and pretty much anything else involving yarn or textiles.
Her work has been featured on Creative Fabrica, Craft Gossip, Ravelry, as well as her own site and YouTube channels.