If you want to learn how to weave, then a weaving loom kit is one of the best places to start. They provide you with all the supplies you need to get going as quickly as possible and they're a great way to get started in this fun creative hobby!!
It's important before purchasing a weaving loom kit that you pick one that's suitable for your skill level. That being said, there are many different types of weaving kits available on the market today.
I've compiled a list of some of my favorites below, so take a look at these top 10 picks and see which one suits you!
Want to remember this? Post this list of Best Weaving Loom Kits for Beginners to your favorite DIY Pinterest board!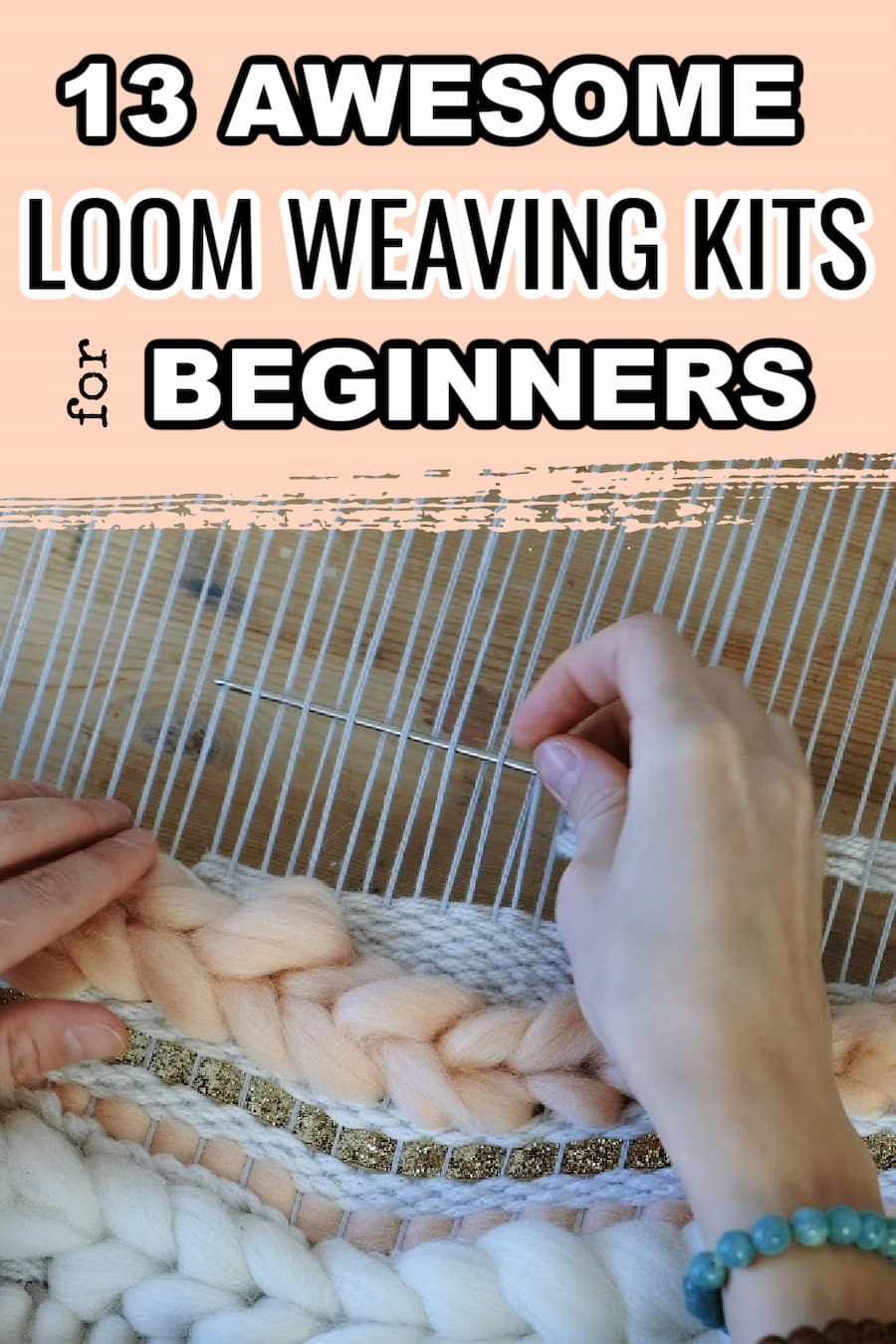 (This post contains affiliate links. If you click one and make a purchase, I may receive a commission at no extra cost to you. Find out more here. Thank you for your support!)
Related Post: Punch Needle with Yarn for Beginners
Is Weaving Hard to Learn?
Weaving is really very easy to learn. There are a few important foundational techniques you need to learn and then you can get creative from there.
Even kids can learn to weave using a potholder loom!

It's important to find easy to follow tutorials with clear instructions. Luckily there are lots of great places for beginners to learn the basics.
A good quality weaving loom kit will have all the tools and materials you need to get started, plus a lot of times they'll include lots of helpful info so you can get started right away.
What is the Best Weaving Loom for Beginners?
The best weaving loom for beginners is one that is easy to use and offers a lot of variety.
The best loom kits are usually light weight, durable, portable, affordable and come with all the supplies you need like yarns, shuttles and warping bars.
Related Post: Macrame for Beginners: The Ultimate Guide!
To get the most out of your weaving loom kit, just remember these tips:
Choose a kit that suits your skill level.

It's better to start with a simple small project and get some confidence before you dive into a big elaborate project.
It's always exciting to try a new hobby, but starting with something too complicated is a recipe for frustration and disappointment.
Most weaving loom kits are made with beginners in mind, which is why it's such a good place to start!
Related Post: Best Punch Needle Kits for Beginners
Remember to buy enough yarn for whatever project you intend on completing.
Batches of yarn have different dye lots, which means the same brand and color of yarn you buy one time might be a slightly different color next time.
If you buy all the yarn you need at once, you can check the dye lot color to make sure it matches.
There's nothing worse than getting most of the way through a project and finding out the store doesn't carry that color of yarn anymore!

Make sure you have access to some kind of support system if needed (weaving forum/groups etc).
There are some great Facebook groups to join and lots of information about weaving on YouTube and craft blogs.
If you're lucky enough to have a local weaving supply shop or group, go hang out there and learn everything you can!
Learn the basics of weaving first.
It's a good idea to take a comprehensive class to get a good foundation before you get started with weaving.
There are lots of helpful tutorials on YouTube and various blogs that will help you out with certain techniques.
If you prefer your information all in one organized place, this beginner weaving course is perfect for the serious beginner and you can continue to refer back to it as time goes on.

Related: Best Macrame Wall Hanging Kits
What Comes in a Weaving Loom Kit?
Weaving loom kits come in a variety of price points and some run a bit higher than others. You'll want to make sure and do you research before you buy one.
It's important to find a weaving kit that includes everything you need to complete a project. You don't want to get halfway through and realize you need more supplies!
Let's take a look at some of the supplies you'll find in most weaving loom kits.
Weaving Loom
Heddle Bar
Shuttle Sticks
Comb
Yarn
Warp string
Instructions and/or links to video tutorials
What Can I Make on a Weaving Loom?
Weaving looms are used to create a variety of projects. You'll find that some weaving loom kits focus on one type of project, while others offer more versatility and allow you to explore new techniques.
Here are just a few ideas for what you might make with your newly purchased weaving loom kit:
Tapestry Wall Hangings
Coasters
Pot Holders
Necklaces
Once you get the basics down, there are all sorts of fun looms you can try!
A fun weaving project to try that doesn't even require a dedicated weaving loom is circle weaving.
You can use an embroidery hoop, some warp thread and scrap yarn to make one of these beautiful round wall hangings!
When you get really serious, you can get a rigid heddle loom to create long scarves, shawls, dish towels and even blankets.
Weaving Loom Kits for Beginners
Now that we covered all the basics, here is a list of great quality weaving loom kits for beginners!
The Best Weaving Loom Kits for Beginners
Learn how to weave with one of these handy weaving loom kits for beginners! They include everything you need to make your first hand woven project.
Photo Credit: www.etsy.com
Spruce & Linen is one of my favorite channels on YouTube!
She has amazing free weaving tutorials and also offers beautiful weaving loom kits and drool worthy fiber packs in her shop!
This weaving loom kit includes:
Flat Pack Frame Loom + Hardware: Overall Size: 15" x 11 7/8" (38cm x 30cm)Weaving Area: 14 1/4" x 8 1/2" (36cm x 21.6cm)
Weaving Comb
Tapestry Needle (solid maple wood)
Metal Darning Needle
9"x5/8" Dowel
20 Yards 100% Natural Linen Warp String
60 Yards (apx.) Off white wool blend yarn
Flamingo Merino Wool Roving (apx. 0.7oz)
Wood Green Merino Wool Roving (apx. 0.7oz)
Photo Credit: www.etsy.com
This weaving loom kit includes:
1 Beech Wood Weaving Loom Frame (19.6 inches x 19.6 inches)
1 Heddle Bar
2 Shuttle Sticks
1 Wooden Stick (For hanging finished weaving product
1 Wooden Stand
1 Wooden Comb
Optional Add-On: 50g White cotton warping thread (you'll need it)
There's also a link to an instructional YouTube video so you can get started right away.
Photo Credit: www.etsy.com
This cute round weaving kit includes:
Weaving Loom - 2 Size options 7.48" or 11.22"
Large Eye Needle

They also sell 1 mm cotton warp string in their shop which you'll need to pick up to get started.

If you already have a stash of yarn, this is a great way to it up!
Photo Credit: www.etsy.com
These travel looms are perfect for weaving on the go! The looms are available in 1/4" or 1/8" thickness and each kit includes:
9" long x 7 3/4" tall loom
5 3/4" long x 5 1/3" tall travel loom
3 - 4 1/8" long yarn needles with large hole for easy threading
3 - 8 1/3" long spacer bars
5 1/3" shuttle stick
5 5/8" comb
4 - 3 1/4" long wooden spools with sample yarn
Photo Credit: www.etsy.com
Aren't the colors included in this kit just gorgeous! With this weaving kit you'll receive:
Small Wooden Loom - 7.25" wide by 13.5" tall
Wooden Weaving Comb
Blunt Tapestry Needle - 2.75"
Wooden Shuttle - 8"
Wooden Dowel - 8"
Instructions with Photos
Warp String
Wool Roving
Various yarns and fibers
Photo Credit: www.etsy.com
This hand crafted sustainable birch weaving loom is simple and elegant. The kit includes:
wood loom-5-1/2" wide x 10"long
two wooden dowels
one wood tapestry needle
three steel tapestry needles
one muslin bag- to hold your weaving project
They also have a book available in the shop called Little Loom Companion to learn all the basics of weaving.
Photo Credit: www.etsy.com
This kit is a work of art! You'll get everything you need to make this beautiful hand dyed tree wall hanging, including:
Original rustic wildwoven 'art loom' - 22cm x 31.5cm / 8.7" x 12.4"
Selection of hand-dyed weaving yarns
Warp yarn
Wooden weaving needle
12 page illustrated instruction booklet- "Wild about Weaving"
organic cotton tote bag
You gotta check out this kit, the loom alone is breathtakingly gorgeous and crafted with a lot of care.
Photo Credit: www.etsy.com
This weaving loom kit comes in four sizes: small, large, XL, and XXL!
The size refers to the loom, and each kit comes with enough materials to make a project with that size loom.
Materials included are:
Wooden loom
Neutral fiber pack of various yarns and roving
Warp string
Instructions
The neutral colors in this kit are so on trend and beautiful, this one is definitely worth a look.
Photo Credit: www.etsy.com
Round woven wall hangings are so much fun to make! This round weaving kit includes:
1 pre-wrapped & warped 8" bamboo hoop
1 large eyed needle
3 different colors of cotton yarn
instructional booklet
The cotton yarns included in this kit are recycled, which is always a good thing!
Note that this frame isn't reusable. The finished project will be displayed in the hoop.
Photo Credit: www.etsy.com
You can create your own Anthropologie-worthy thrown pillow with this amazing weaving loom kit!
The kit includes:
A large weaving loom with feet (dimensions 19.5" x 19.5", weaving surface 17.75" wide)
A rotative heddle bar
2 shuttles
A comb
Cotton for warping
Merino wool roving (around 1.5 oz)
100g ball of merino pencil roving yarn
25g pencil roving yarn 100% pure wool
50g bulky yarn (alpaca wool blend) (2 colors, 25g each)
A piece of polyester/cotton fabric for the inner lining of the woven piece
Two pieces of canvas fabric (100% cotton) for the back of the pillow (to make an envelope closure)
A PDF guide* with pictures and explanation on how to create a pillow similar to the one in the photos (which will be sent to you by email, not printed)
You can also buy a version of this kit without the loom if you already have a frame loom you want to use.
Photo Credit: www.etsy.com
This fun weaving kit has two design options to choose from: Neutral Wool Beginners Kit and Desert Bloom Kit.
Both kits include:
10" loom
large wooden weaving needle
Silver tapestry needle
4 balls of chunky wool yarn - colors depend on the kit
Sugar n' Cream cotton yarn in Ecru to use as warp thread
Wool Weaving Kit instructional brochure
Photo Credit: www.etsy.com
This fun weaving loom kit includes:
Pop out loom
2 Shuttles
Pickup Stick
Comb
Tapestry Needle.
10" wooden dowel
5 random colors of yarn
full step by step instructions that include many weaving techniques
Photo Credit: www.etsy.com
This beautiful weaving loom kit has several different color packs to choose from! Make sure to get one of the quintessential kits if you want the yarn included.
Quintessential Weaving Kits include:
Weaving loom 28cm x 39cm
Instructions booklet
Mounting bar 28cm x 1.5cm (to hang your finished work)
Wooden weaving comb 10cm x 6cm
30cm wooden weaving needle
8cm wooden weaving needle
20g cotton ball of warp which is strung over your loom and holds your work
100g of our cheeky chunky pure merino yarn (in a selection of colours)
30g Roving
In Summary
Weaving is a fun and creative way to use up all of your yarn stash.
It's also a great craft for beginners, as weaving loom kits are typically easy to assemble and get started with the basics!
What's your favorite type of weaving loom? Let us know down in the comments!
Related Posts
The Best Weaving Loom Kits {for Beginners!}