Are you looking for good quality macrame supplies? They can be tricky to find! To help you out, I put together this ultimate macrame supply guide with everything you need.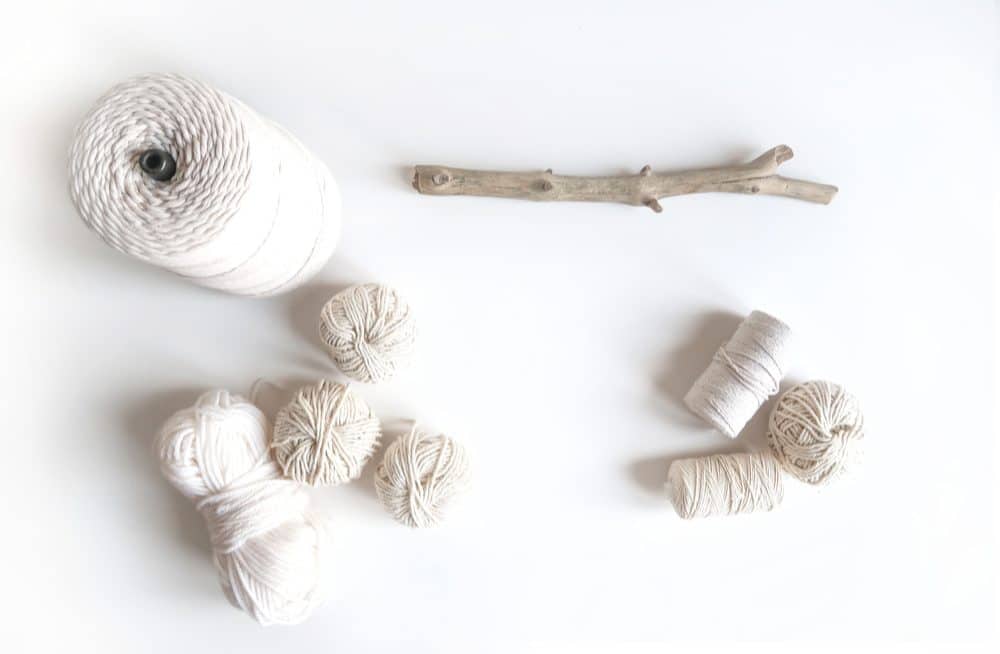 All you really need to do macrame is some cord, right? Well, yes… but which kind of cord? Or is it rope? String? There are several different kinds of macrame cord, rope, and string, plus accessories like dowels, metal rings, beads, and more.
If you're just starting out, the most important macrame supplies you'll need is some macrame rope and a place to hang it (for larger projects) or a board to pin it down (for micro-macrame, like jewelry).
Once you get started, you'll quickly realize how awesome and fun macrame is, and most likely want to try new techniques and need a few more supplies and accessories.
Speaking of getting started, be sure to grab your copy of my free printable guide to the 5 Basic Macrame Knots every beginner needs to know!
Be sure to pin and bookmark this list so you can find it easily!
(This post contains affiliate links. If you click one and make a purchase, I may receive a commission at no extra cost to you. Find out more here. Thank you for your support!)
Macrame Cord, Rope and String: What's the Difference?
The most important supply you'll need for macrame is some sort of cord, rope, or string!
Let me take a moment to explain the difference between cord, rope, and string.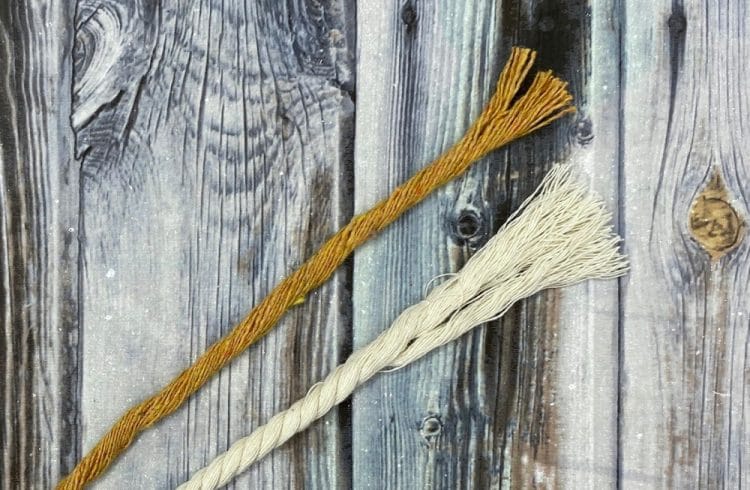 All of these come in different thicknesses which is measured in mm (millimeters). The higher the number, the thicker the cord.
Wondering where to buy macrame cord, rope, string, and all the other macrame supplies? Here are my favorite places to stock up.
Cotton Macrame Rope
Natural cotton rope is very popular for macrame projects. The "natural" part refers to the natural undyed color.
Single Strand Cotton String
If you want to brush out glorious boho fringe, cotton string is the way to go.
Cotton macrame string is perfect for projects that involve making feathers and tassels, and it looks great for wall hangings, plant hangers, and more.
Related: DIY Macrame Market Bag // Tutorial + Video!
Jute Macrame Rope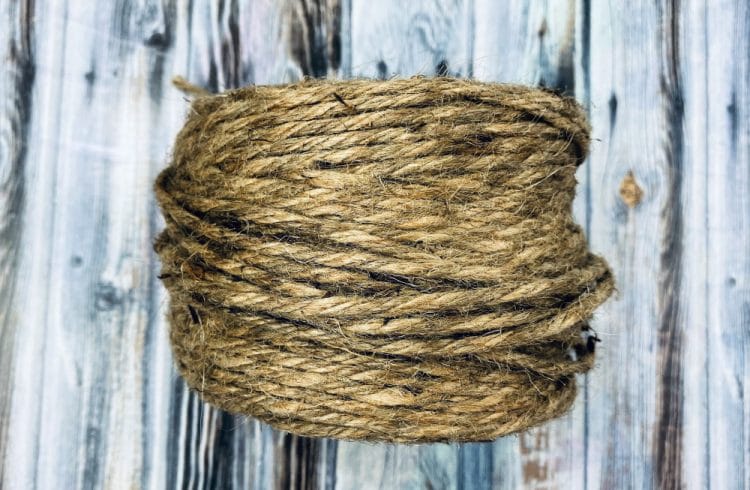 Jute is a strong, natural fiber that's been around forever. It's great for making rugs, plant hangers, coasters, and more.
Hemp Macrame Cord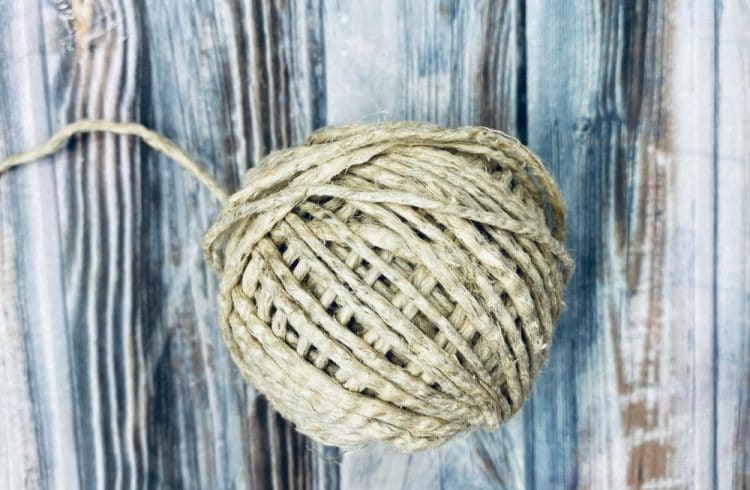 Hemp rope and twine is another strong, natural fiber that works great for macrame.
Raffia
Add amazing texture and style to your macraweave projects, baskets, and more with raffia!
Synthetic Rope and Cord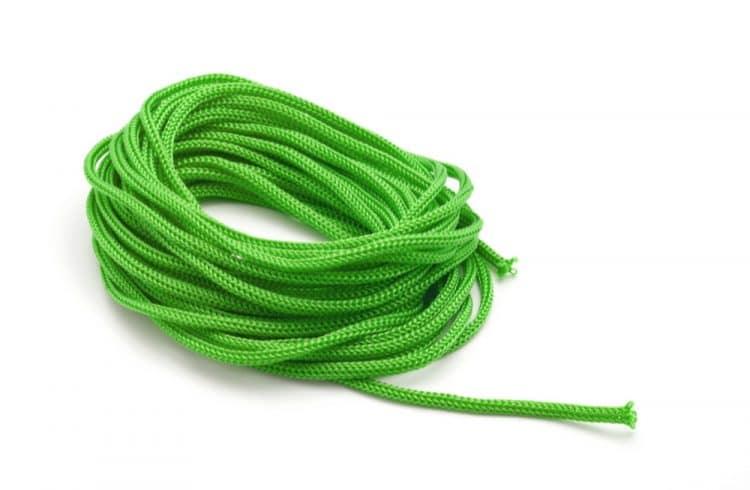 If you want to make an outdoor macrame project, like a plant hanger that'll be on your porch, or an outdoor hammock, synthetic rope is your best bet.
It'll stand up to the elements and you won't have to worry about what will happen if your macrame gets wet.
Metal Shapes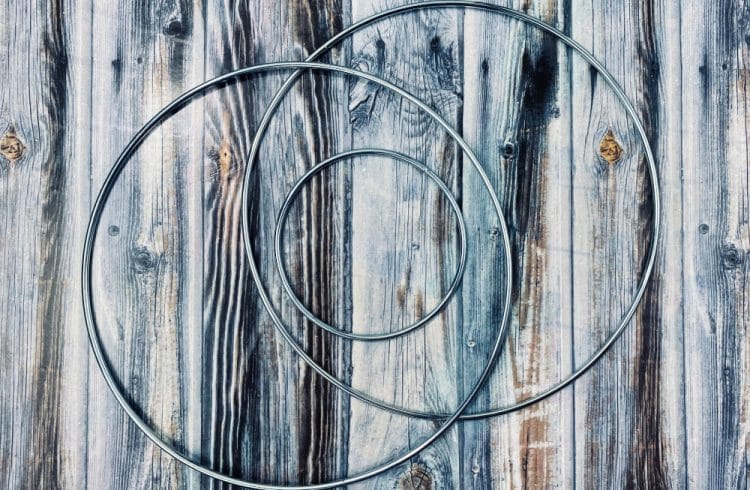 You can use metal shapes in your macrame projects to create wreaths, mandalas, and other wall hangings.
Small metal rings are great for making plant hanger loops and other hanging macrame designs.
If you're going to be hanging anything heavy, be sure the ring you choose is welded closed so it's strong enough to hold the weight.
There are lots of different metal shapes with sizes and colors to suit your needs. Here are some of my favorites:
Wooden Rings
You'll often see wooden rings used for the top of plant hangers.
I DON'T recommend them for that because they tend to snap in half from the weight of the plant. Sometimes they don't, but why take the chance.
That being said, they are great as a base for macrame Christmas ornaments, small mandalas, and other decorative macrame purposes.
Beads
Adding beads to your macrame designs really adds a new level of creativity and texture.
There are so many different kinds of beads to choose from! The only limitation is making sure they're large enough to string onto your cord.
Driftwood
So, you want to make a macrame wall hanging and you've been drooling over the gorgeous ones on Pinterest using driftwood as a base. But you live in the middle of the country! Bummer, right?
Luckily, there are people who do live near the coast that go out and collect beautiful pieces of driftwood and sell them in their online shops!
Yes, my husband laughed at me when I told him I ordered a stick online, but it was totally worth it.
Wooden Dowels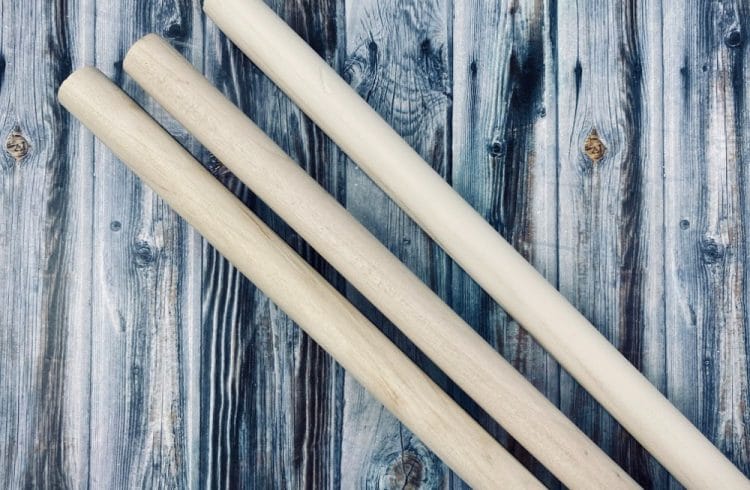 Wooden dowels are a great choice for macrame wall hangings or wall plant hangers.
They come in different diameters and lengths and they're affordable. You can stain them or paint them if you like, or just leave them natural.
Check out these high quality wooden dowels that are perfect for your next macrame project.
Copper Dowels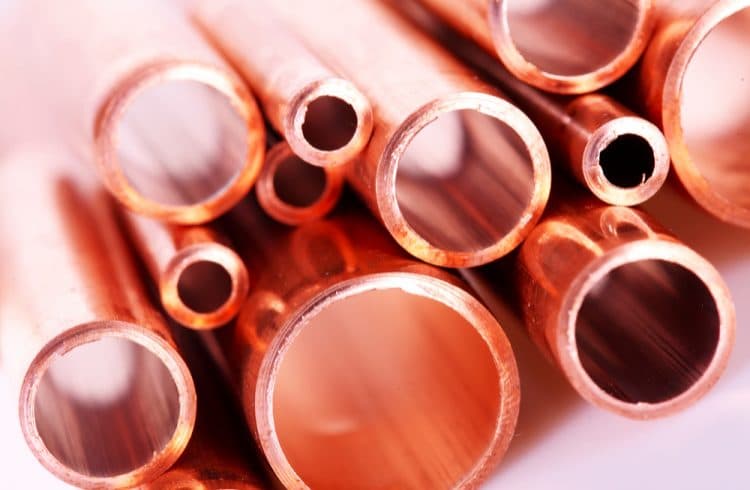 Another option for macrame wall hangings is a copper dowel. These are lengths of hollow copper pipe and they come in different lengths and diameters just like wooden dowels.
Using a copper dowel is a great way to upgrade the look and change the style of your macrame decor.
Macrame Boards, Cork Boards and Pins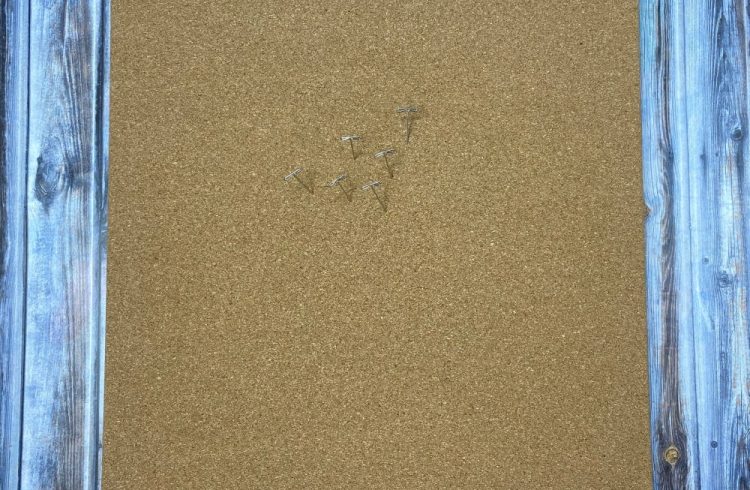 When you're making small macrame projects like flowers, leaves, and jewelry, a macrame board or a corkboard and some push pins are super helpful.
Hanging Racks
For larger macrame projects, it's a lot easier to work on them if you have a rack of some sort to hang it on.
Garment racks are commonly used for this (that's what I have), and they're a great choice because they're usually lightweight and easy to find.
Macrame Rope Storage
Once you start doing macrame, you discover a major issue. Storage.
Just like every other fiber art, you end up with string and rope taking over your whole house! Between rope and yarn, it can get out of hand very quickly.
This handmade vertical macrame rope stand is a perfect solution! Not only does it safely store your rope and string, it's also a work of art in itself. Love.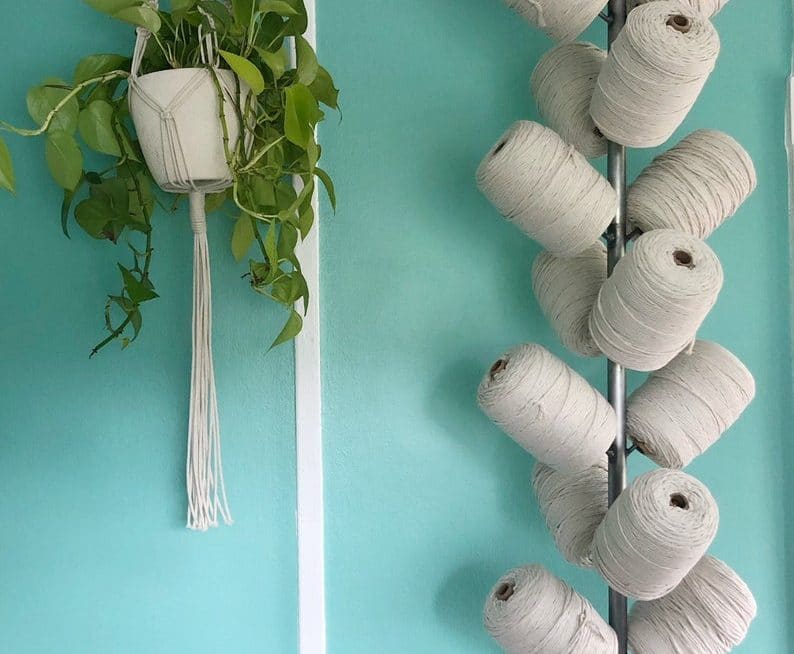 Brush for Fringe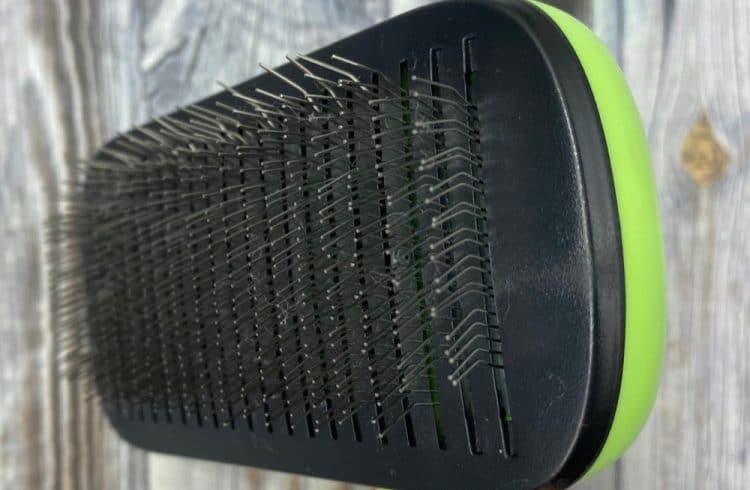 The best brush I've used for brushing out macrame fringe is a pet brush with wire bristles.
Hand-Held Steamer
A hand-held steamer is so helpful when you're brushing out fringe and you want it to lay nice and smooth.
Sharp Scissors
I know you're probably thinking come on, I already have scissors. THESE SCISSORS are not your everyday Fiskars.
These are professional scissors. They're crazy sharp and cut through rope, cord, fabric, you name it like butter.
Once you go to cut the fringe on a big macrame wall hanging with dull scissors, you'll see why sharp scissors are so important. (It took me a while to catch on to this fact, but it makes a world of difference!)
PS- don't let your kids use these, and be sure everyone else in the house knows there will be hell to pay if you see them cutting paper with them!
In Summary
I hope this list of macrame supplies (and where to find them) helps you out.
There are so many options available out there, it can be overwhelming to know what all you need and what is good quality.
What are your favorite shops to stock up on macrame supplies? Let us know down below!
Related Posts
Where to Get GOOD Macrame Supplies and Materials