There's nothing quite like a warm, cozy beanie hat on a chilly night in winter. Bonus points if it's handmade!
This list of 29 free cozy crochet hat patterns will keep you nice and warm this winter and they're perfect for beginners and beyond!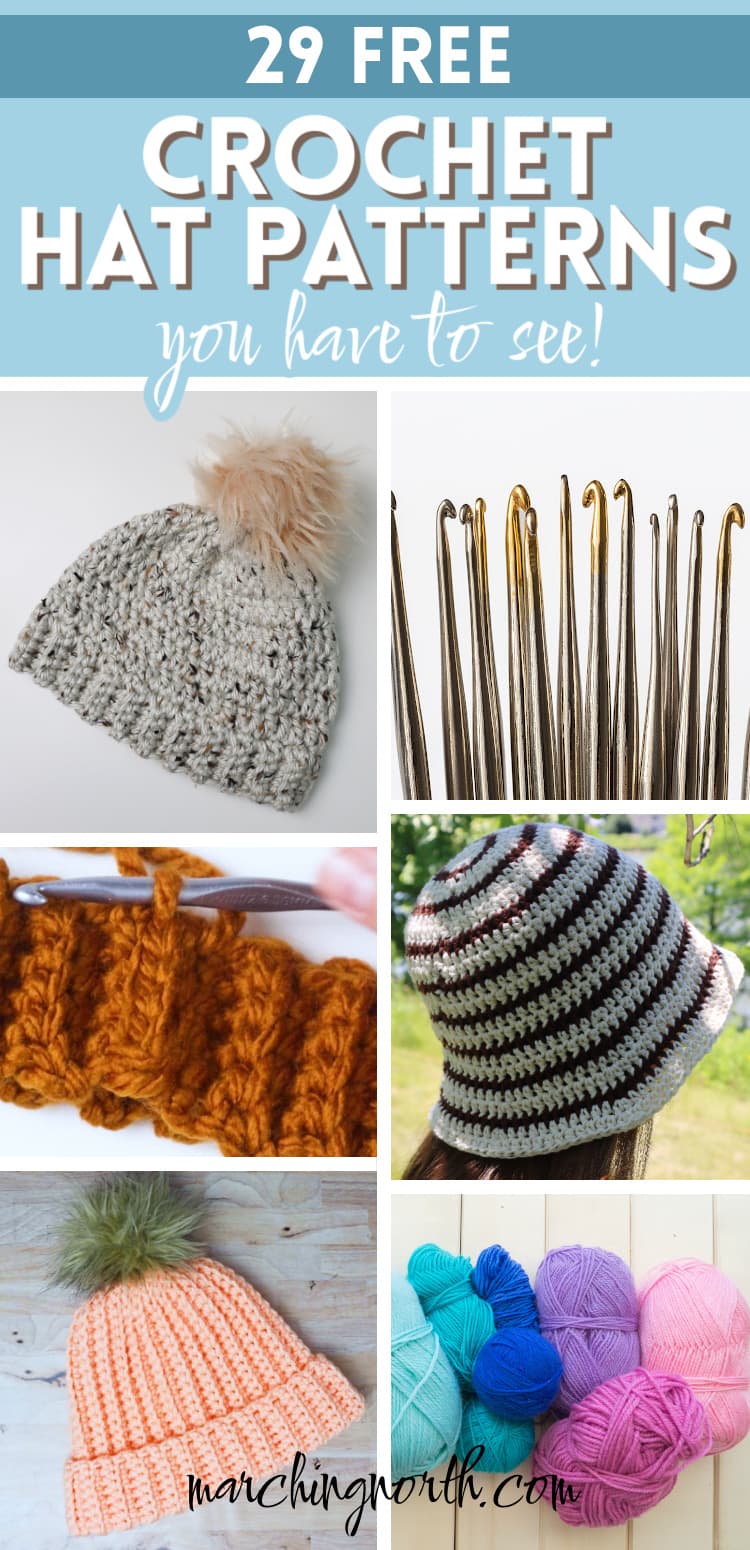 (This post contains affiliate links. If you click one and make a purchase, I may receive a small commission at no extra cost to you. Read the disclaimer here. Thank you for your support!)
Many of these patterns are beginner friendly and include a free pattern and video tutorial.
You can make your own winter hats, or crochet a great gift that everyone will love no matter your skill level.
If you want to change things up a bit, you could always add a crochet flower to the brim or make your version in a different color to get a totally different look!
Crochet Hat Size Chart
Before you begin your crochet beanie pattern, you'll want to figure out what size hat you need to make.
Lots of beanie patterns have options for different sizes, and once you make a few you might even feel confident enough to create your own easy crochet hat pattern!
Below, you'll find a chart with the basic crochet hat sizes. You can find out more about standard crochet clothing sizes at the Yarn Craft Council website.
| Age | Hat Circumference | Hat Height |
| --- | --- | --- |
| Preemie | 8.5-11 in (21.5-28 cm) | 3-4 in (7.5-10 cm) |
| Newborn | 12-13 in (30.5-33 cm) | 4-5 in (10-12.5 cm) |
| 3-6 Months | 14 in (35.5 cm) | 5.5 in (14 cm) |
| 6-12 Months | 15-16 in (38-40.5 cm) | 6 in (15.5 cm) |
| Toddler | 17-18 in (43-46 cm) | 7 in (18 cm) |
| Young Child (4-7 Years) | 18 in (46 cm) | 8 in (20 cm) |
| Older Child (8-11 Years) | 19 in (48 cm) | 8.5 in (21.5 cm) |
| Teen (Adult Small) | 20 in (51 cm) | 8.5 in (21.5 cm) |
| Adult Medium | 21 in (53.5 cm) | 9 in (23 cm) |
| Adult Large | 22 in (56 cm) | 9.5 in (24 cm) |
| Adult Extra Large | 23 in (58.5 cm) | 9.5 in (24 cm) |
Best Yarn for Crochet Hats
The type of yarn you need for your crochet hat project will depend on the pattern you use.
Always check the yarn suggested in the pattern before you head off to the craft store.
If you don't, you'll end up like me with a giant yarn stash of random yarn that you bought on a whim and you aren't sure what to do with!
The most common size of yarn used for a basic crochet beanie is worsted weight yarn. It's a medium weight yarn and versatile for lots of projects.
If you're making a bulky hat, you'll need a bulky or chunky size yarn, or you can hold two or three strands of worsted weight yarn in a pinch.
It's important to use the correct size yarn for the pattern or your hat will end up either tiny or huge. No one wants that!
Where to Get Yarn
You can find beautiful yarn for crocheting in lots of different places.
Most stores have a small yarn section nowadays, and of course there are all the fun craft stores with huge, glorious yarn departments!
Besides my favorite local craft stores, some of my favorite places to buy yarn are online.
Here's a few places to get yarn for your crochet hat projects:
Best Crochet Hooks
Crocheting is so much more enjoyable if you have a comfortable crochet hook to work with.
There are some awesome ergonomic choices out there that make crocheting a breeze, and they can even help if you have arthritis or get cramps in your hands.
Here are some of my favorite crochet hooks:
Now that we've covered all that, it's time to check out this list of 29 cozy and free crochet hat patterns that will have you crocheting all winter long!
29 Cozy and Free Crochet Hat Patterns
Get ready for winter with this list of 29 cozy and free crochet beanie and hat patterns!
In Conclusion
I hope you enjoyed this list of 29 Cozy and Free Crochet Hat Patterns!
Looking for more free crochet patterns? I've got lots to share! Check out my most recent tutorials and patterns down below:
29 Cozy & Free Crochet Hat Patterns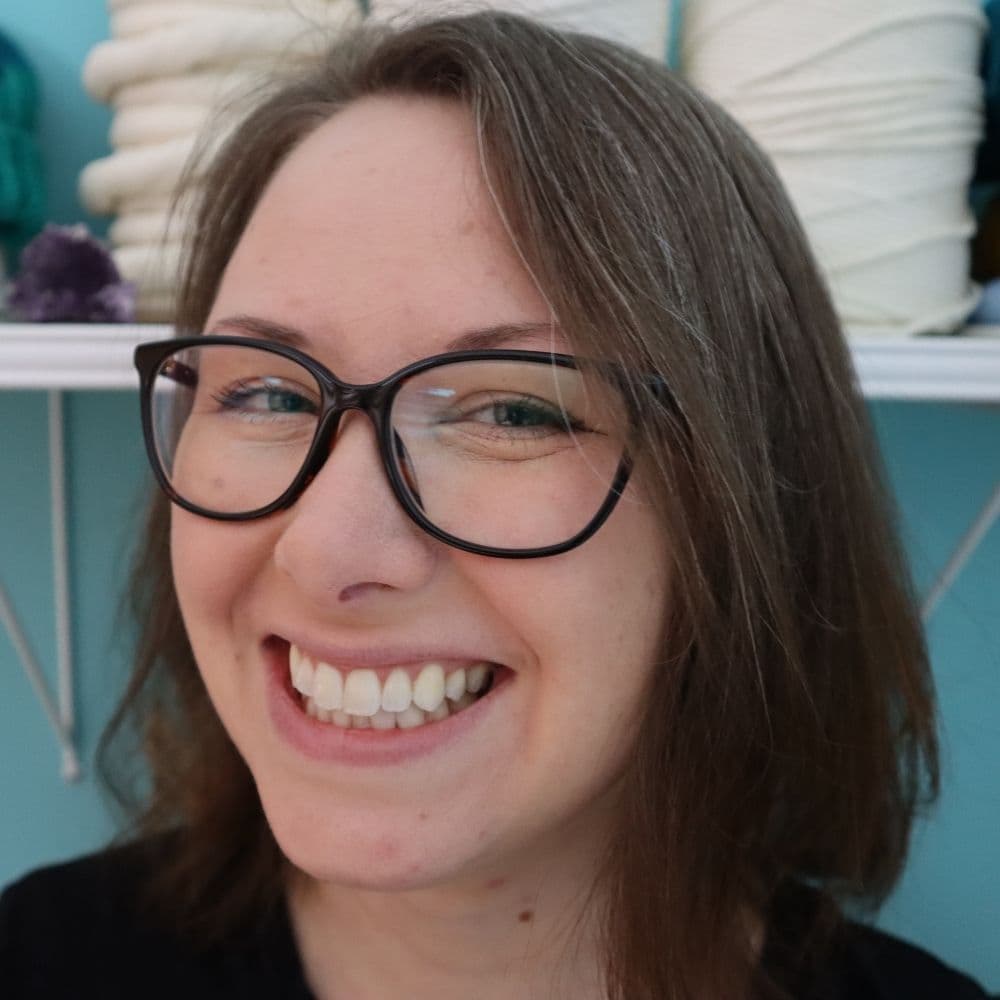 Crystal Martin is the crafty lady behind Marching North. She loves sharing easy to follow tutorials and patterns for macrame, crochet, punch needle, and pretty much anything else involving yarn or textiles.
Her work has been featured on Creative Fabrica, Craft Gossip, Ravelry, as well as her own site and YouTube channels.