Have you been wondering how to make those beautiful glitter-filled Christmas decorations you've been seeing all over the place during the holiday season? I'll show you how to make these easy DIY glitter Christmas ornaments with Polycrylic- it's so simple!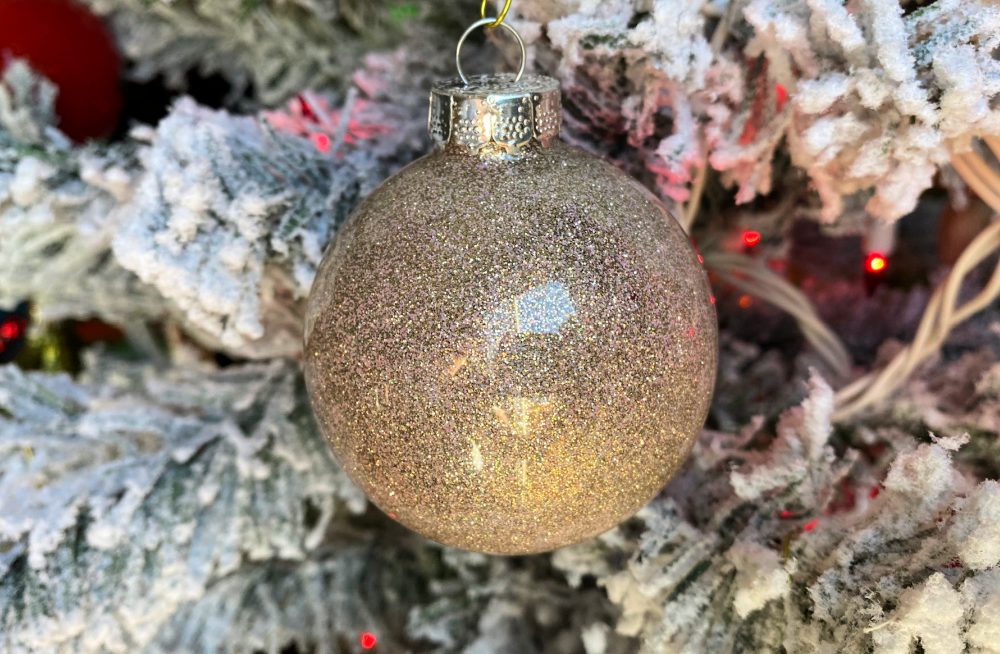 (This post contains affiliate links. If you click one and make a purchase, I may receive a small commission at no extra cost to you. Read the disclaimer here. Thank you for your support!)
Recently, I was shopping for glitter on Etsy. You know, just normal everyday glitter shopping. (You do that too, right?)
I needed some pretty glitter for a snow globe Starbucks double-walled tumbler I needed to make and I didn't want to use the boring old glitter I had laying around.
Yes, I just said boring glitter, I don't know what's wrong with me. (BTW, you can check out the Snow Globe Tumbler tutorial right here!)

Long story short, I found a shop with the most glorious glitter mixes and I couldn't stop at just one. To justify the purchase of more glitter, I decided to give these DIY glitter ornaments a try since I already had the other supplies on hand.
I had leftover Polycrylic from a wood-burned coaster tutorial I did last year (a little Polycrylic goes a long way) and I also had a box of clear ornaments I bought several years ago when they were on clearance.
You could also use clear plastic ornaments for this project if you don't want to use glass. You can usually find them at the dollar store during the holiday season.
Honestly, I was a little nervous about it because I'm a bit of a klutz and we have a toddler running around.
So far it's been fine though and we put those ornaments at the very top of the tree, along with most of the other ornaments. In a few years we'll finally get to decorate the bottom half of the tree again after almost a decade, lol.
Gotta love toddlers!
The best thing about these easy glitter ornaments is the glitter is on the INSIDE! So you won't end up with glitter on every. surface. of. your. house. including your toddler's face dangerously close to their eyes (why does it always end up there??!)
If you don't have glitter on hand but you have a bag of faux snow, you could put that inside of the ornaments instead, or even mix glitter and fake snow!
How do you get glitter to stick inside an ornament?
There are many different ways to get the glitter stuck in your glass ornaments.
I've seen tutorials that make these ornaments using Mop & Glo floor polish, Mod Podge, Elmer's glue, even hairspray!
You might be able to use other types of glue as well, like Aleene's Tacky Glue, but I haven't tried yet so I can't say for sure.
All of these methods should work pretty well, so feel free to use whatever sticky stuff you have on hand.
I'm using Polycrylic because it's what I happened to have laying around. Even if you use floor cleaner, glue, or one of these other options, the technique should be pretty similar.
You just pour Mod Podge, Elmer's glue or Mop & Glo in, swirl it around to coat, and let the excess drip out. Then continue with the rest of this tutorial in the same way.
If you're using hairspray, just spray a small amount of your hairspray in the ornament opening, swirl it around and let the extra hairspray drip out before you continue.
Supplies You'll Need to Make these DIY Glitter Ornaments with Polycrylic
DIY Glitter Ornament Tutorial
Step 1: Pour in the Polycrylic
Open up your can of Polycrylic and give it a stir. You don't want to add a bunch of air bubbles, so stir gently. Lay some paper towels down to protect your work surface.
Carefully remove the little metal tops from the top of the ornament and set them aside.
Using the eye dropper, squirt some Polycrylic inside of the ornament. I ended up using somewhere between 5 to 7 droppers of Polycrylic, it ended up begin approx. a tablespoon or two.
My method was to put in a few droppers full, then move the ornament around and see if it was enough to cover the inside and if it wasn't I added a bit more and checked again.
Once you have enough Polycrylic inside, rotate the ornament all around to completely coat the inside with an even coating. Then hold the ornament upside down over the Polycrylic can to get the excess out.
You want to have a thin coat of Polycrylic on the entire inside.
If you make several of these at once, you can get an old egg carton and set the ornaments upside down in the egg crate to drip while you work on the next one.
Step 2: Pour in some glitter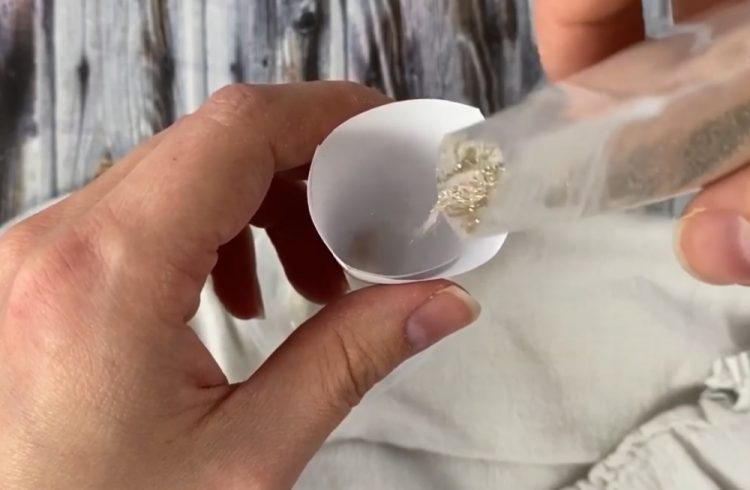 Now for the fun part! I made a little paper funnel by just rolling up a triangle of paper in a funnel shape and taping it. You could also use a small plastic funnel, I just didn't have one on hand.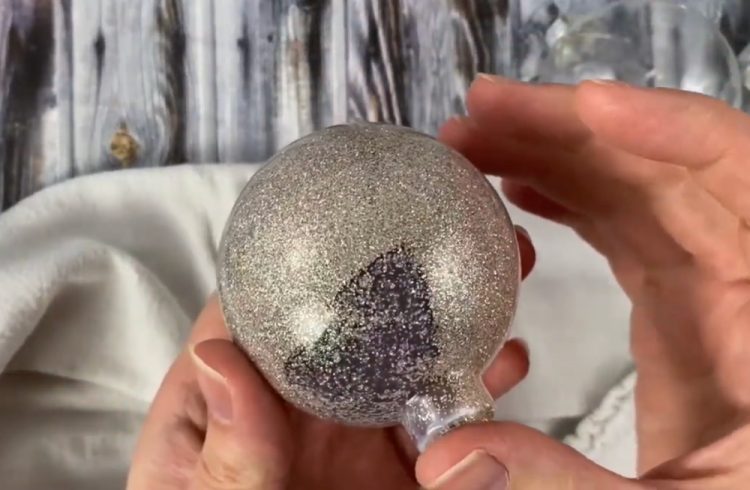 Pour in about a tablespoon of glitter (I eyeballed it) and then put your thumb over the hole of the ornament and carefully shake it all around to cover the inside of the entire ornament with glitter.
If you didn't quite get enough in, add a little more and repeat until it's fully coated in sparkly goodness. You want to use a generous amount of glitter!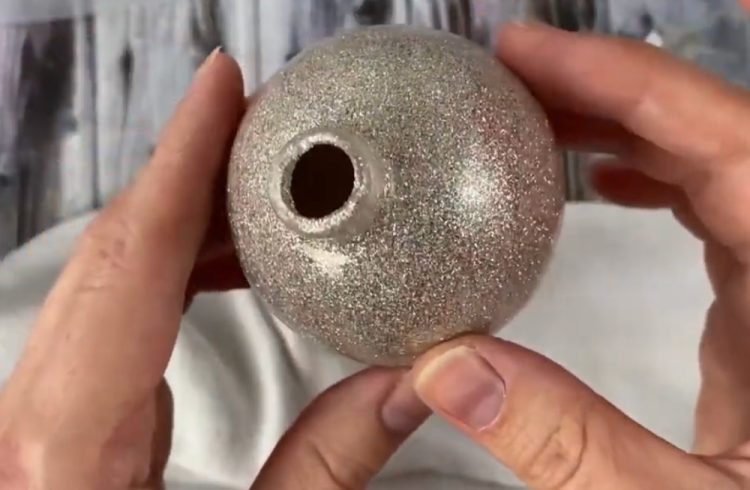 Once you get all your ornaments coated with enough glitter, set them aside to dry upside down. This would be another good time to use an egg carton to keep them from rolling around.
While they dry, you can put the extra glitter back into the glitter container to use for another project.
Step 3: Reassemble the DIY Glitter Ornaments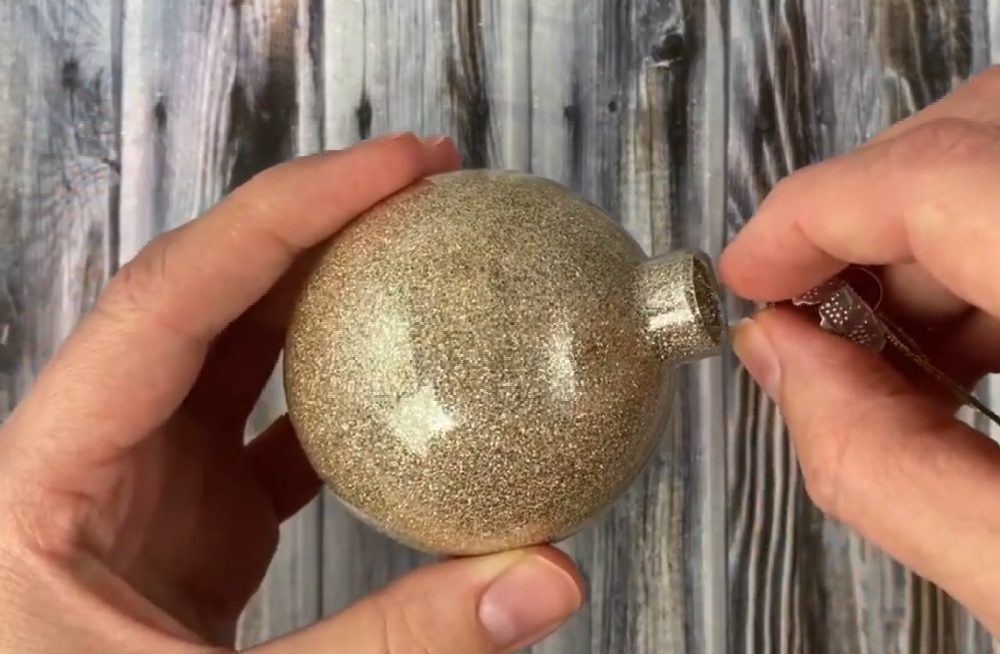 Once you're sure the ornaments are dry (I let mine sit overnight), put the metal cap back on top of the ornaments, add a hook or a piece of ribbon to hang it, and they're done!
(Optional) Step 4: Add Words or Designs with Your Cricut
Now if you want, you can add some cute sayings or designs on the outside of your ornaments with your Cricut! Look for one in Cricut Design Space (or see if you can find a free SVG you like on Creative Fabrica).
Then, download it to your computer or device and upload it to Design Space. Follow the instructions to cut it out on your cutting machine with adhesive vinyl.
Once your design is cut out, use transfer tape to transfer it onto your ornament. Be careful when you smooth the vinyl down on the curved surface, it's a little tricky to get it to lay just right.
Done!
I hope you enjoyed this tutorial for easy DIY glitter ornaments with Polycrylic and you try making some of your own! I think these are the easiest handmade ornaments ever!
Plus, they're easy to personalize with some holiday sayings or designs using adhesive vinyl and your Cricut.
Personally, I just loved the glitter look on it's own so I didn't for these, but I might do that for the next batch. These are so quick and easy to make, you could fill up a whole Christmas tree with them!
If you make some of these, take a picture and share it over on Instagram and tag me @marchingnorth so I can see. I just love getting to see your creations, it makes my day!
Related Posts
Easy DIY Glitter Ornaments with Polycrylic (tutorial & video!)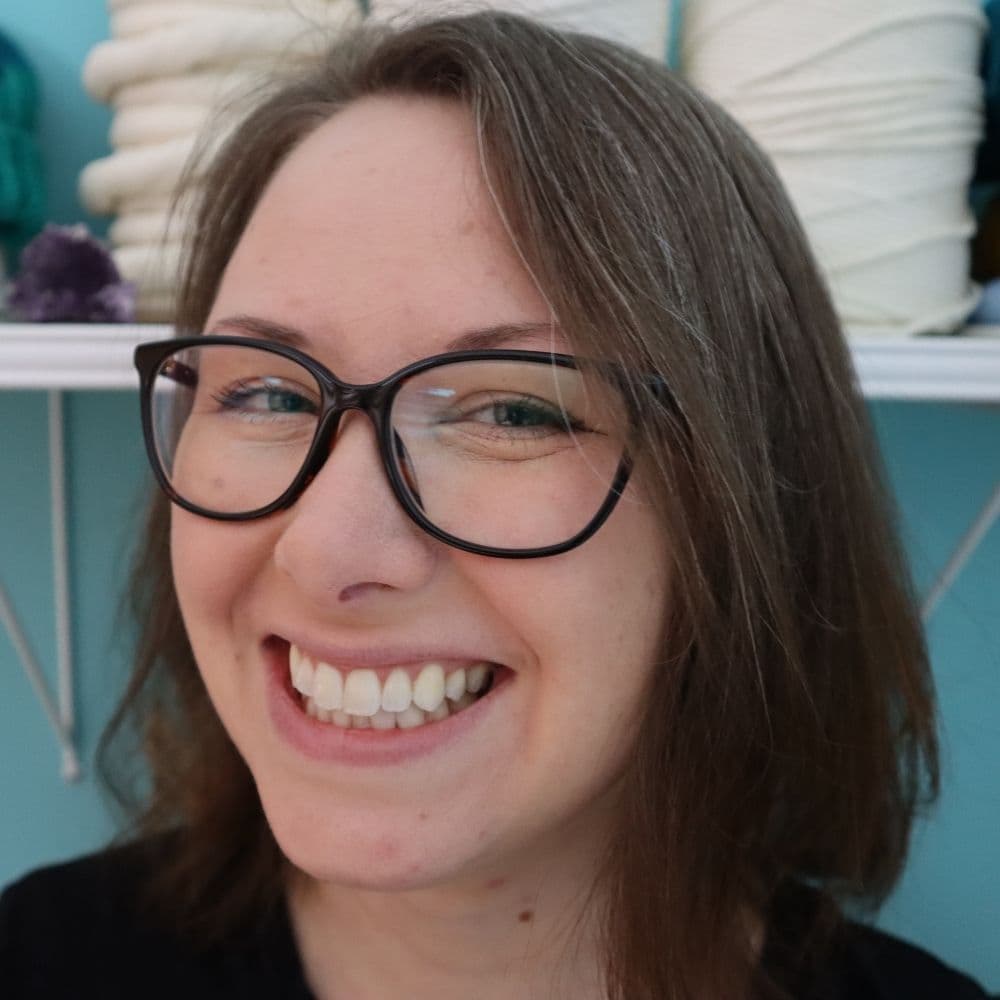 Crystal Martin is the crafty lady behind Marching North. She loves sharing easy to follow tutorials and patterns for macrame, crochet, punch needle, and pretty much anything else involving yarn or textiles.
Her work has been featured on Creative Fabrica, Craft Gossip, Ravelry, as well as her own site and YouTube channels.