Learn how to make a super easy scrubby crochet dishcloth in this free crochet dishcloth pattern and tutorial!
If you're looking for a quick and easy crochet project that you can make in no time flat and doesn't use much yarn, this free crochet pattern is perfect for you! Not only do these make great gifts, but they're a great project for new crocheters.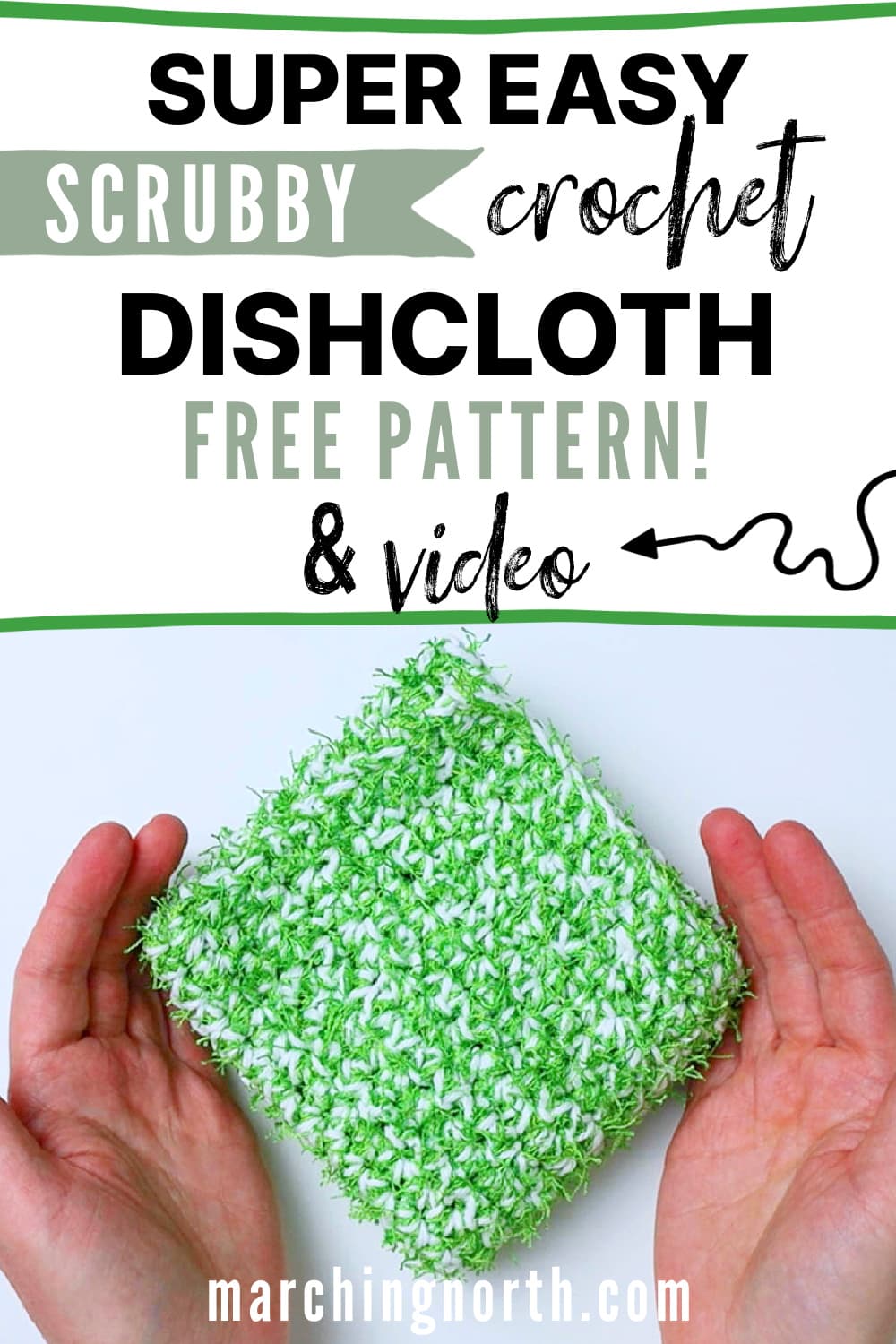 (This post contains affiliate links. If you click one and make a purchase, I may receive a small commission at no extra cost to you. Read the disclaimer here. Thank you for your support!)
I knew I wanted to try making some square washcloth patterns with this Red Heart Scrubby yarn, but I don't like crocheting with super textured yarn alone. It's just not fun!
But then I started thinking if you hold a strand of plain cotton yarn along side it, the process would go a lot smoother.
You still get the great texture, but you also get the absorbency of cotton yarn, and it's way easier to crochet. Win win!

Best Yarn for Crocheted Dishcloths
You'll want a skein of cotton yarn and a skein of Red Heart Scrubby yarn for this project. I had plenty left over and you could probably make another mini scrubby to go along with the washcloth if you want.

I went with green and white yarns for my square dishcloths, but you can use different colors to match your decor.
This easy pattern makes a great housewarming gift and it's a great way to use up any excess Peaches & Creme or Lily Sugar cotton yarn you have in your stash.
The whole washcloth pattern is made using basic crochet stitches and is extremely beginner friendly. I used single crochet stitches, but you could also change it up and use double crochet stitches if you want.
Besides single crochet, you'll just need to know the chain stitch and how to weave in your ends. This easy crochet washcloth pattern is perfect for beginner crocheters!
Supplies You'll Need
Skill Level: Beginner
How to Make Easy Scrubby Crocheted Dishcloths – Free Pattern
Check out the video tutorial over on my YouTube channel, Yarn Stash with Marching North. Don't forget to subscribe so you don't miss any new videos!
Foundation Chain
We're going to be holding the two strands of yarn together because this green is kind of hard to work with by itself. Plus, the cotton is super absorbent and works great as a dishcloth!

To start, hold the two strands together and make a slip knot.

Chain 29 times.
Row 1
Single crochet into the second chain from your hook and all the rest of the chains down the row. (28 sts)

Once you reach the last stitch, chain one. This is going to be your turning chain.

Row 2-28
Turn your work around and you're going to single crochet in the first stitch and each stitch along the row.
Repeat row 2 for each row until you have 28 rows all together.

Finishing
Once you finish all your rows, cut your yarn and leave a bit of a tail so you can weave it in.
Pull the end of the yarn through the loop that's on your hook to finish it off and pull the end through and just give it a little tug to tighten up the knot.

Grab your yarn needle and thread both ends through the needle. Weave the ends through a few stitches to secure.

Cut off the excess yarn and repeat those steps for the starting end as well. Now your washcloth is complete!

In Summary
Was that not the easiest crochet project ever?! And this is actually a super useful dish cloth.
I've used mine to wash the dishes a few times now, and it's not quite as abrasive as a scouring pad, but it is more scrubby than a regular washcloth. So it's kind of in between.
If you make one of these fun scrubby crochet washcloths, please share a picture over on Instagram and tag me @marchingnorth so I can take a look.
I love seeing all of your awesome creations! It really makes my day.
Related Posts
EASY Crochet Dishcloth Pattern (using Red Heart Scrubby Yarn!)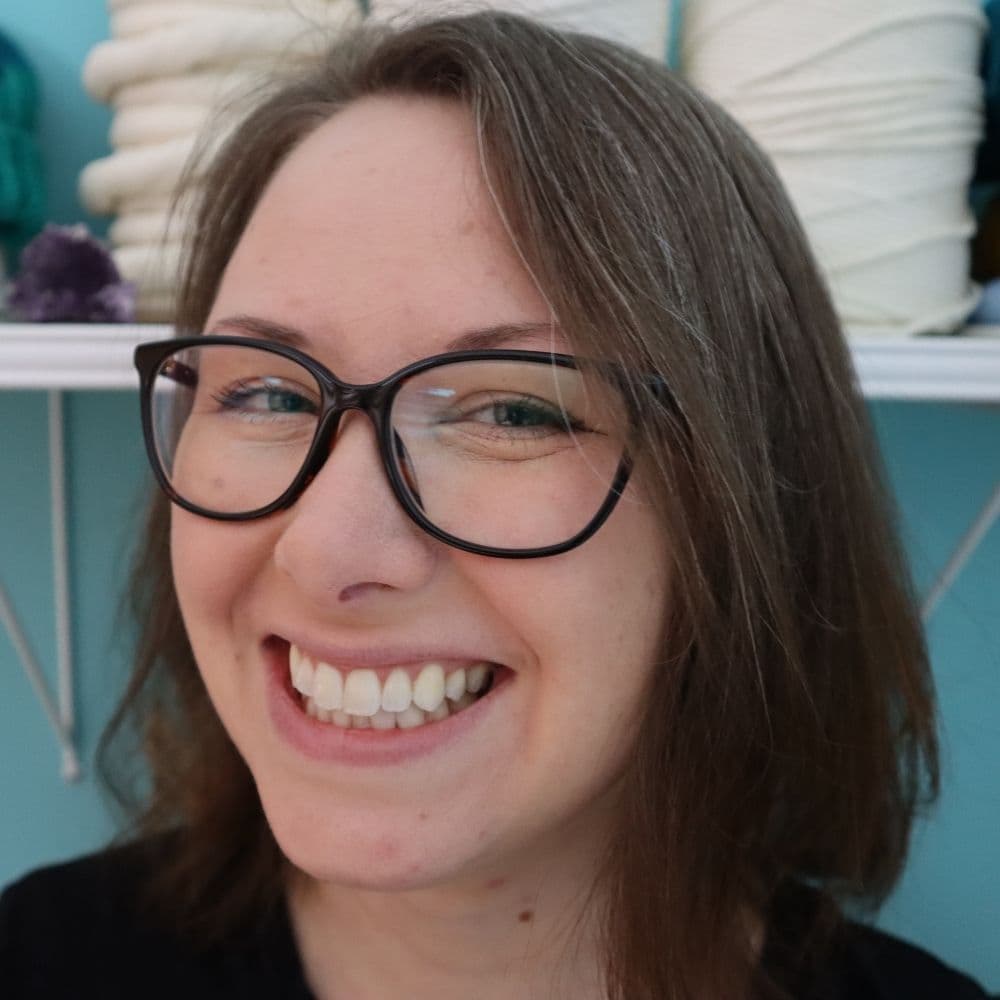 Crystal Martin is the crafty lady behind Marching North. She loves sharing easy to follow tutorials and patterns for macrame, crochet, punch needle, and pretty much anything else involving yarn or textiles.
Her work has been featured on Creative Fabrica, Craft Gossip, Ravelry, as well as her own site and YouTube channels.