Have you been looking for a quick and easy macrame tutorial?
This simple rope plant hanger is so simple but it looks amazing with all that glorious fringe!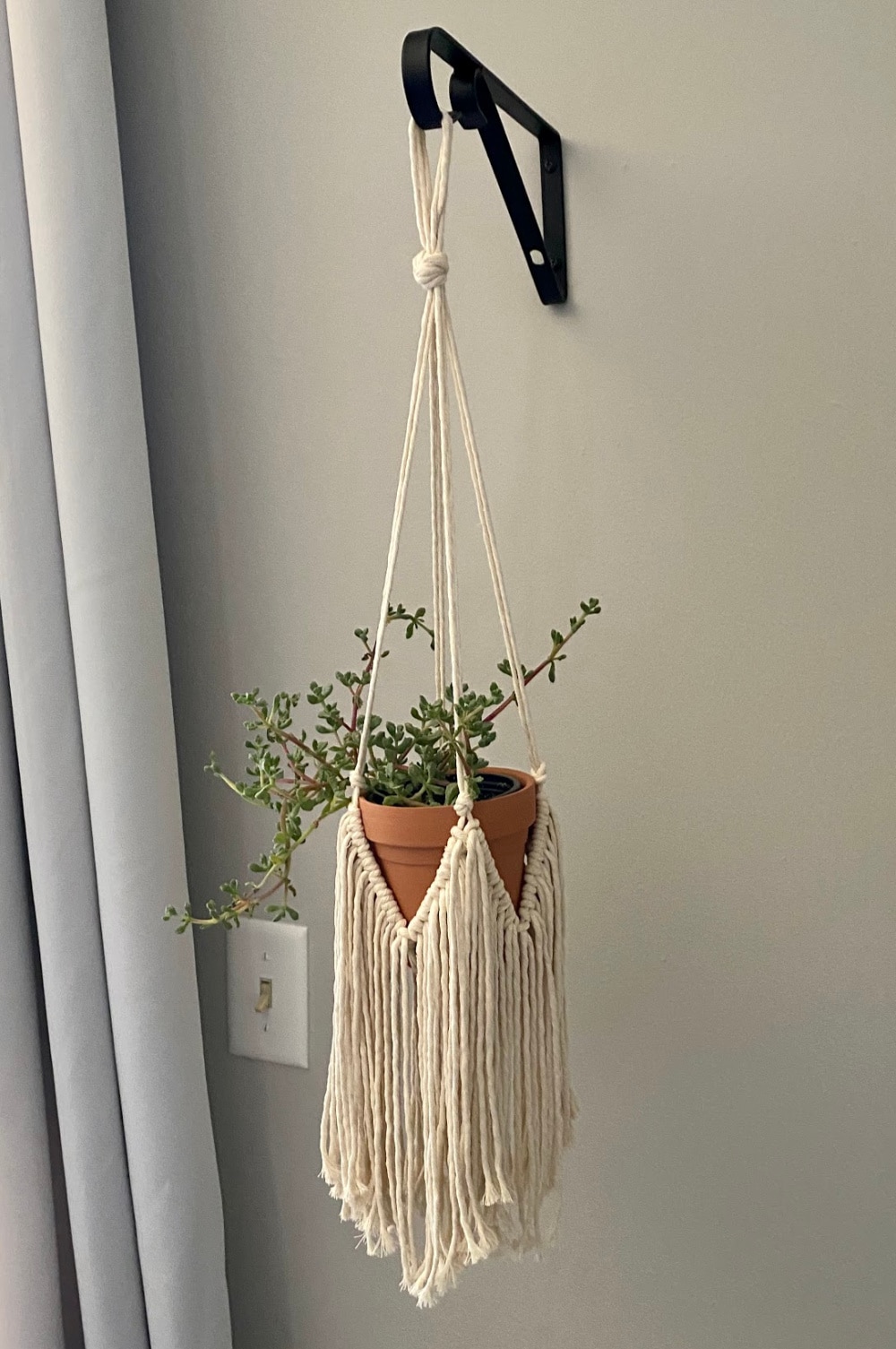 Let me show you how to make this crazy simple rope plant hanger DIY project.
It's the easiest macrame project ever.
Seriously, I feel like it barely counts as macrame because the knots are mostly overhand knots, but it still looks so boho awesome with all that dramatic fringe!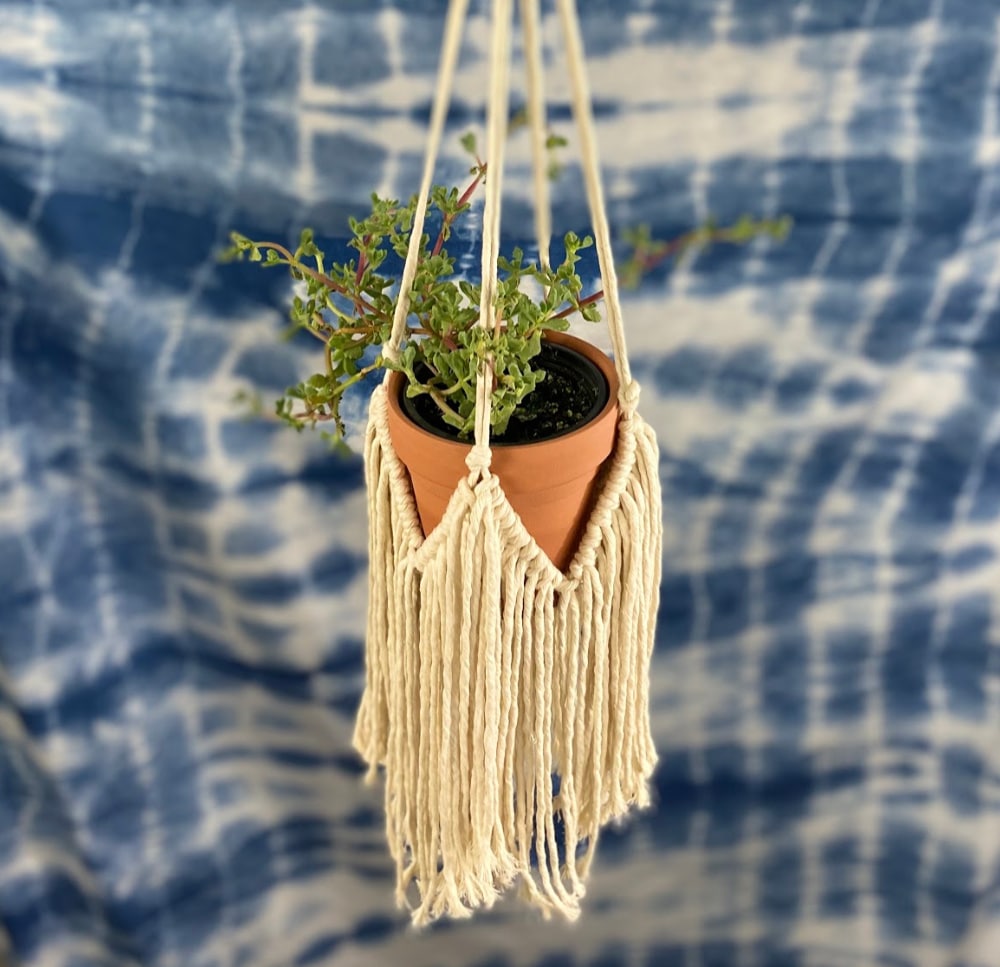 It's finally starting to warm up outside a bit and after all this being stuck inside for so long, I'm ready for it!
Lately I've been all about DIY home decor, especially with a boho vibe, and this plant hanger is the perfect quick way to incorporate that style into your home.
All you need is 3 mm single strand cotton macrame cord (I'll link below to one of my favorites) and about an hour of your time. You don't even need a ring to hang it!
Don't be concerned if you're new to macrame, this plant hanger is mostly made using regular old overhand knots, larks head knots, and four rya knots.
I'll show you exactly how to do them all in the video below, plus I'll walk you through it in the written tutorial.
I also have a FREE printable guide to 5 of the most important basic macrame knots that you can grab in this Basic Macrame Knots for Beginners post!
Be sure to subscribe to my YouTube channel so you don't miss any of my weekly videos! Plus there's a link in the video descriptions to get to the written blog post for more info.
The finished length of this cute little planter is about 26" from the top loop to the bottom of the fringe.
You could easily make it larger if you want, just make your main cords longer and space your knots out a bit more if you need room for a larger pot.
If you want the fringe to be longer, just add a few inches when you cut those strands. The basic construction will still be the same.
I made two of these to hold my little succulent plants that I'm desperately trying not to kill. Poor little guys, I'm really trying!
Alright, without further ado let's get started!
If you're new to macrame or if you've been knotting for a while, connecting with other macrame lovers is always a great idea!
Come check out our Facebook group, Macrame for Beginners and Beyond. It's a friendly community where you can ask questions, get inspiration, and share your awesome work with other macrame lovers! Come join the conversation today!
(This post contains affiliate links. If you click one and make a purchase, I may receive a small commission at no extra cost to you. Read the disclaimer here. Thank you for your support!)
Supplies You'll Need
Simple Rope Plant Hanger DIY Tutorial
Step 1: Cut your strands
You'll need four long strands that are 7 feet long, and 76 strands that are 20 inches long.
Step 2: Hang the long strands on the hook
Line up the ends of the four long pieces, fold them in half, and hang them on your hoop.
Step 3: Tie an overhand knot to form the hanging loop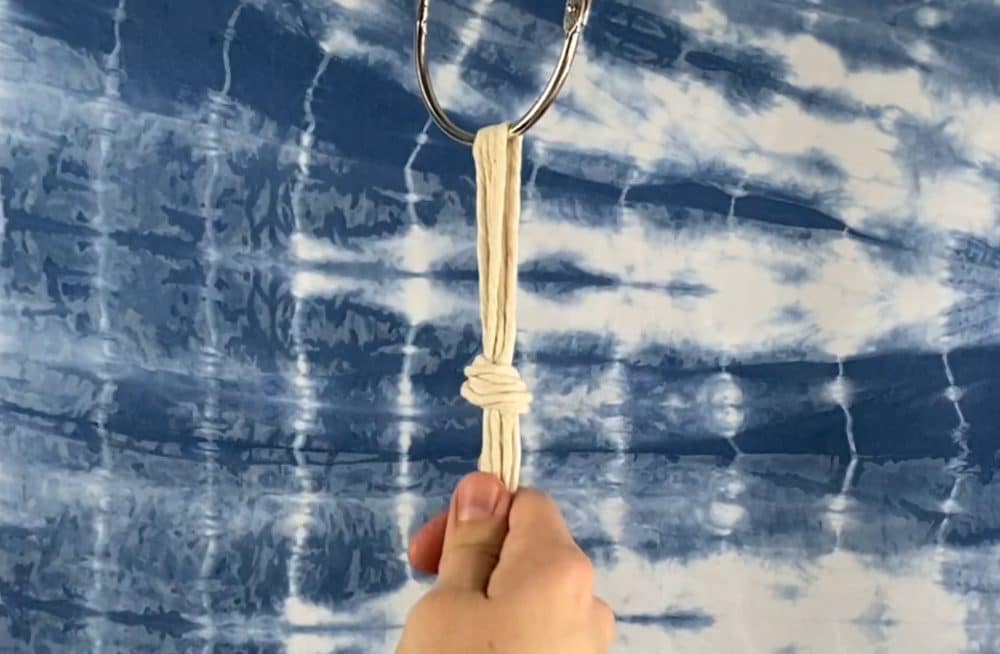 Tie an overhand knot with all the strands about 3 inches down from the top. Make sure it's nice and tight by pulling on each strand individually.
Step 4: Tie the first row of connecting knots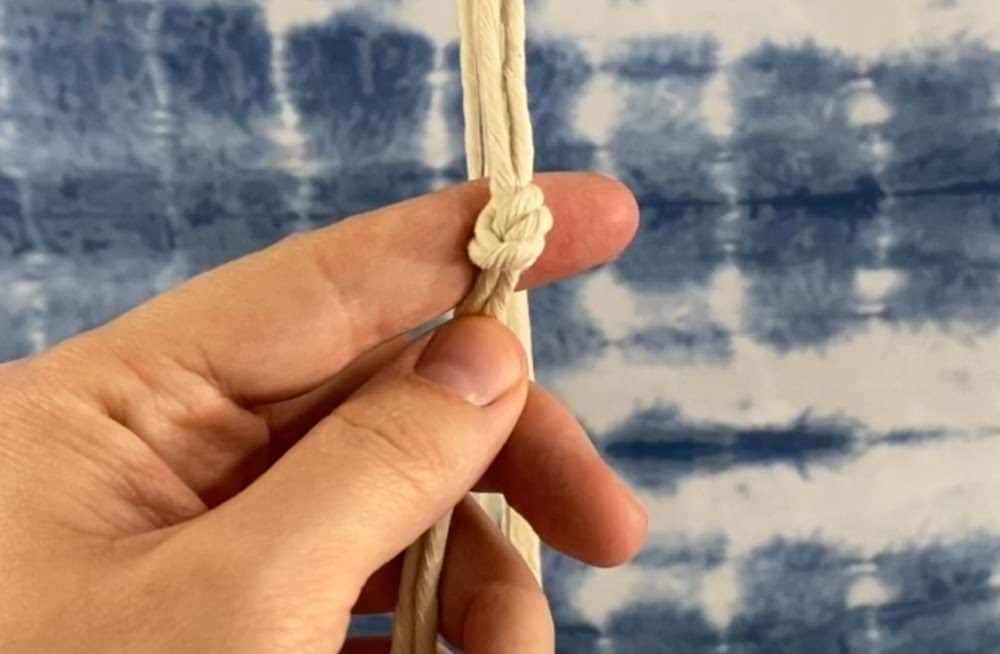 Measure down about 11 inches and tie four overhand knots using two cords at a time. Make sure they're all at the same height.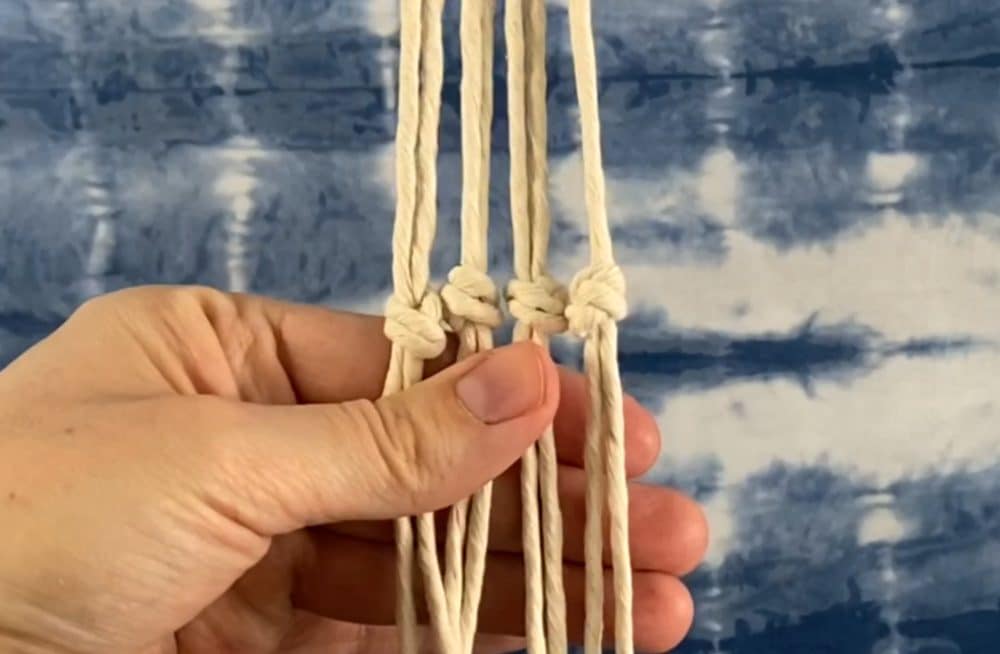 Related: Check out the 10 Best Macrame Wall Hanging Kits!
Step 5: Tie the next row of connecting knots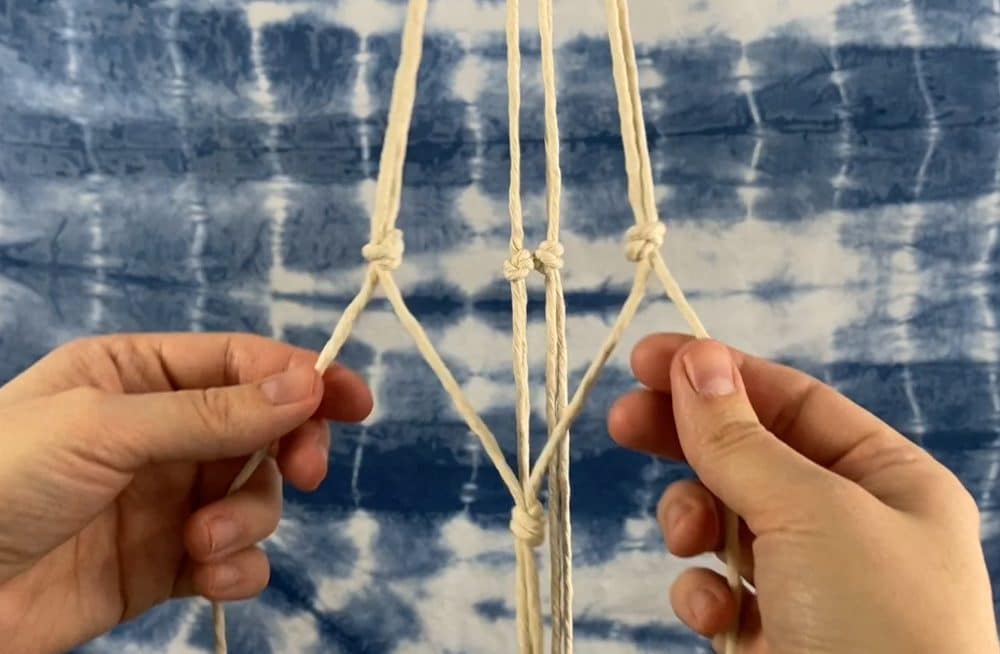 Measure about 2.5 inches down from that row of knots and tie alternating overhand knots using two cords at a time to connect the sections.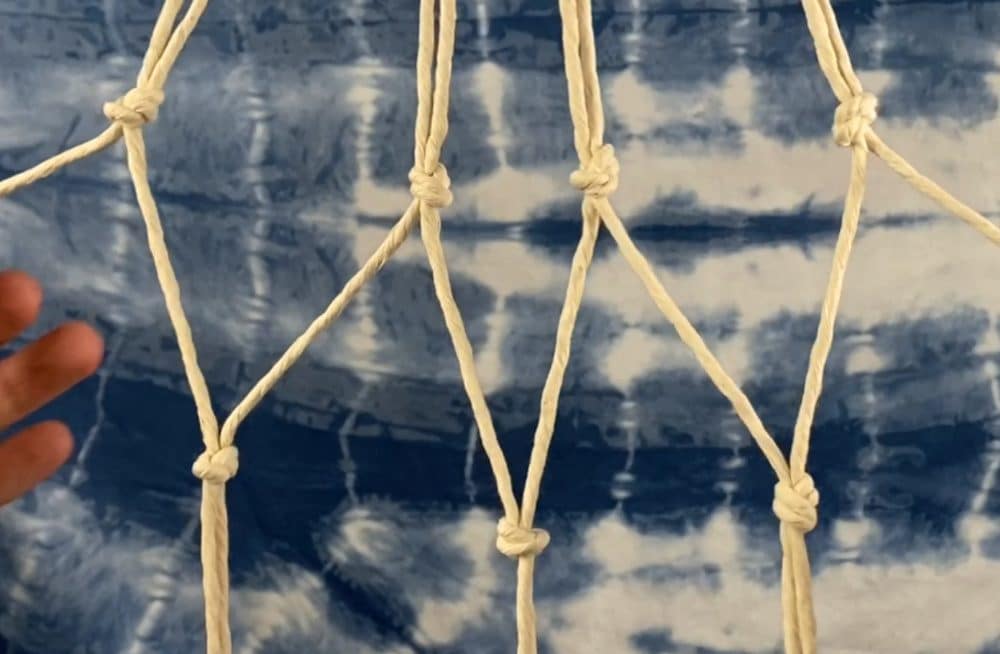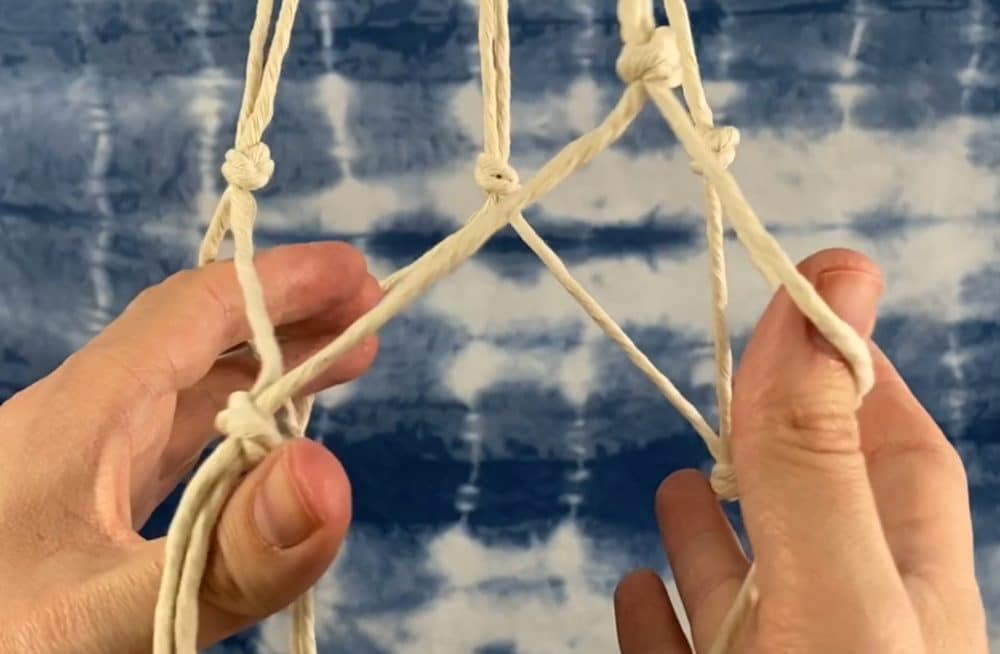 Step 6: Tie the bottom overhand knot
Measure about 2.5 inches down from the bottom row of knots and tie one more big overhand knot using all the cords.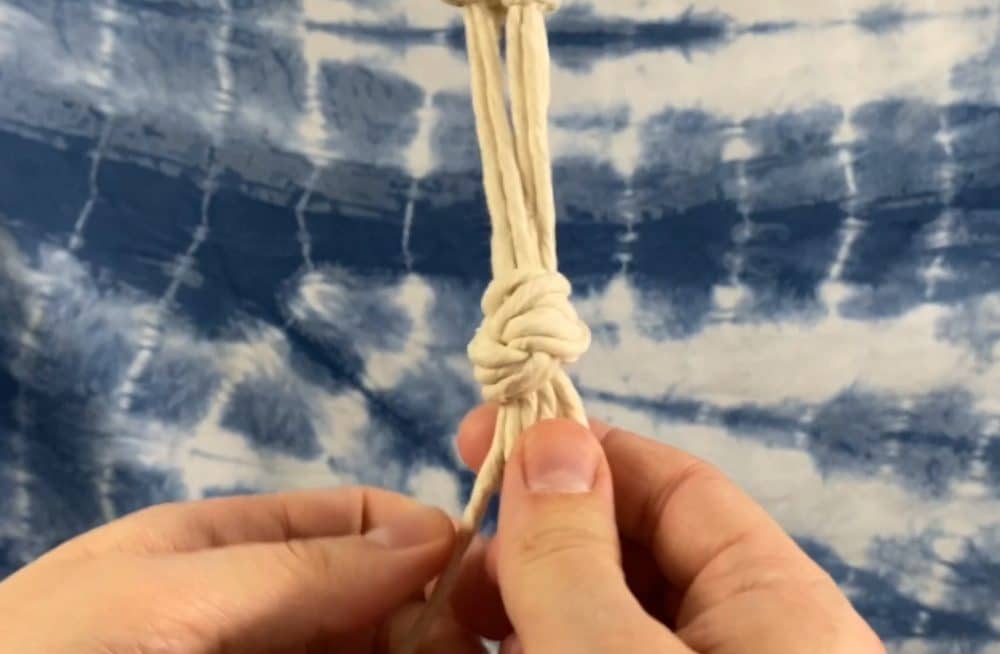 That's the base of the plant hanger.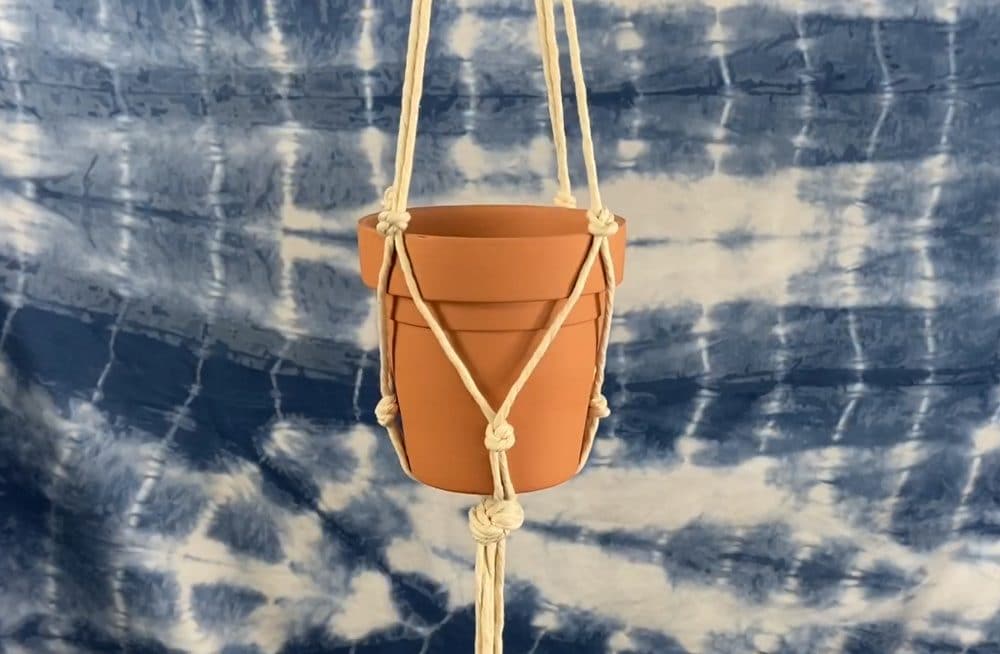 You could honestly stop here and have a functional hanger, but if you want to kick up the boho factor, it's time to add the fringe.
Step 7: Fringe!
We'll be working on one side at a time. First, tie a piece of fringe over the lower overhand knot using a rya knot. (If you aren't sure what that is, watch the video, it's super simple.)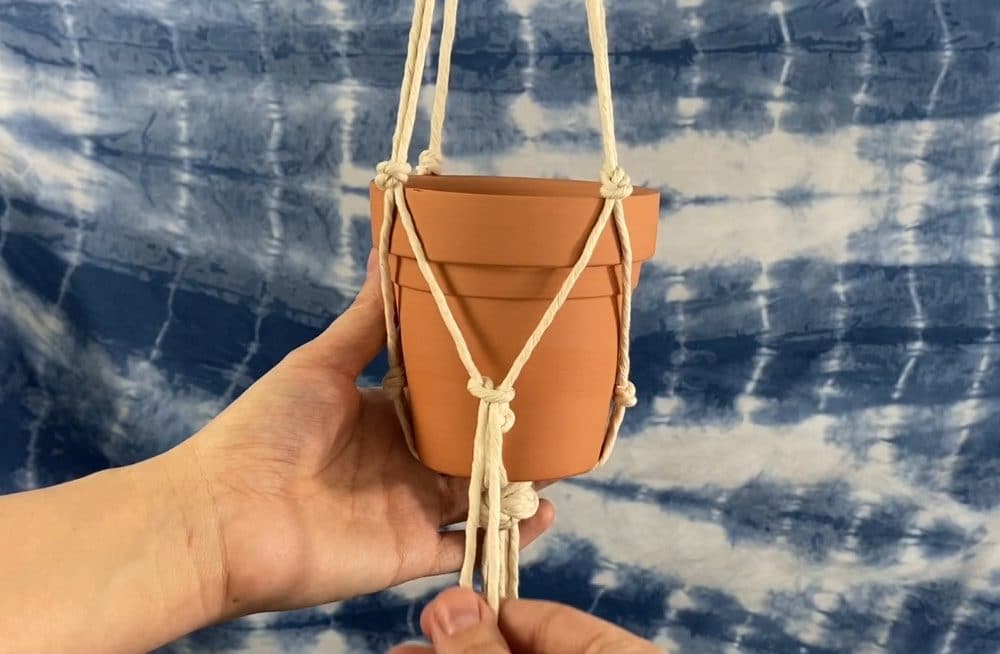 Then, you'll attach the other pieces of fringe with reverse lark's head knots (I also show this in the video if you aren't familiar with that knot).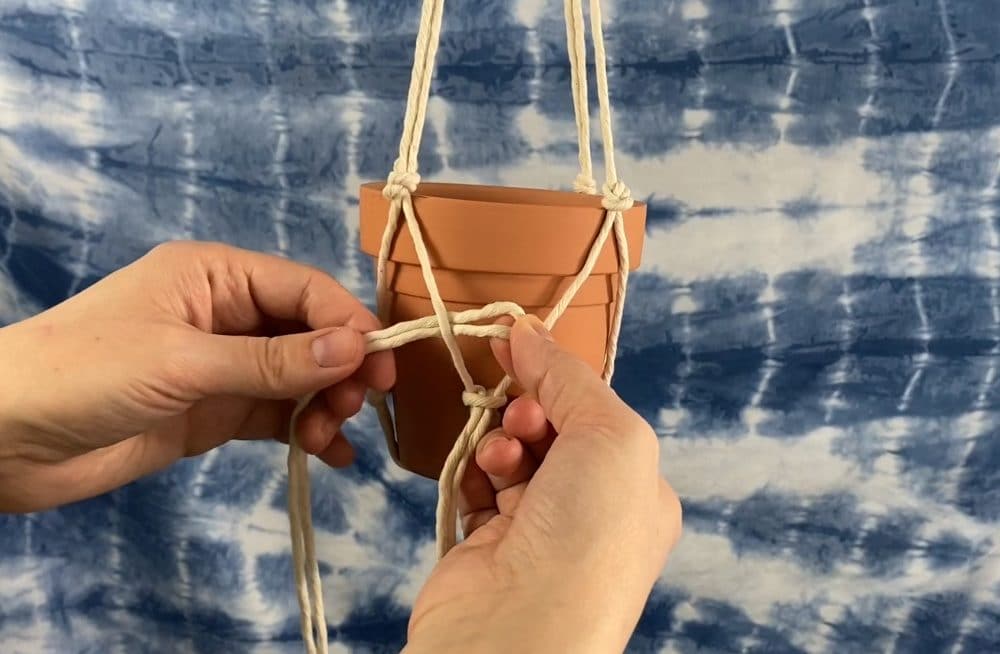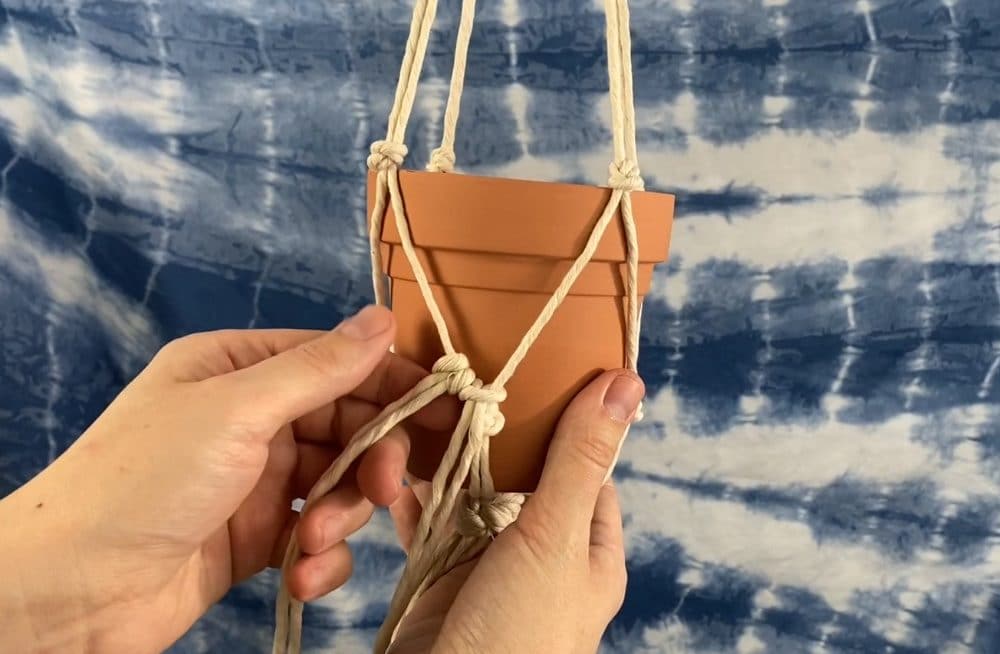 You'll tie nine pieces of fringe between each overhand knot on the diagonal connecting ropes.
Continue this process all the way around the plant hanger. You'll make four rya knots total and the rest will be reverse lark's head knots.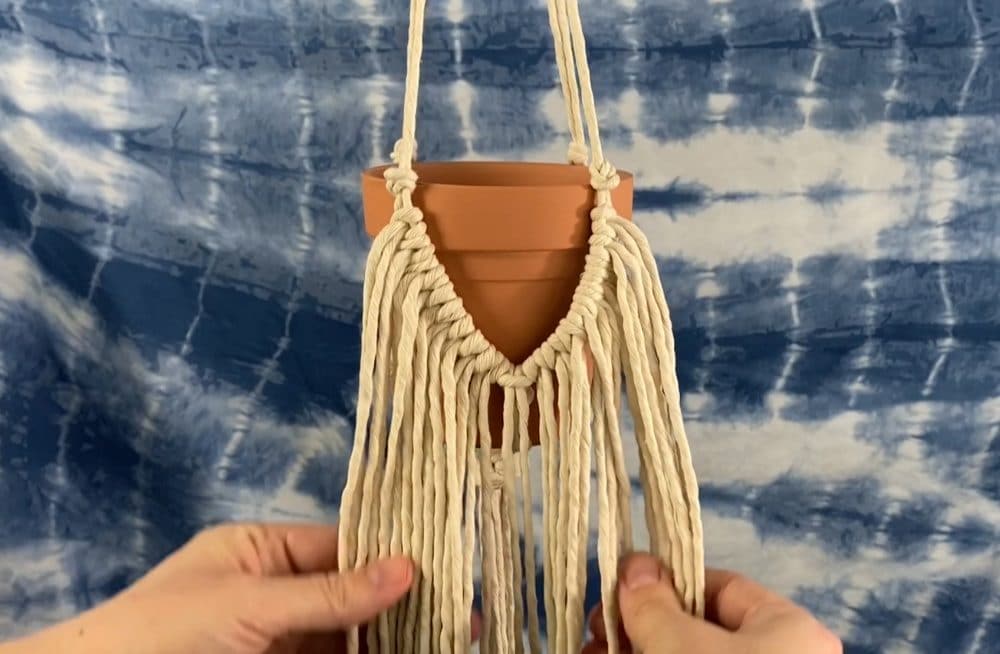 Step 8: Give it a trim
This part is optional, but if you want to you can trim the cords in the middle of the planter (under the large overhand knot.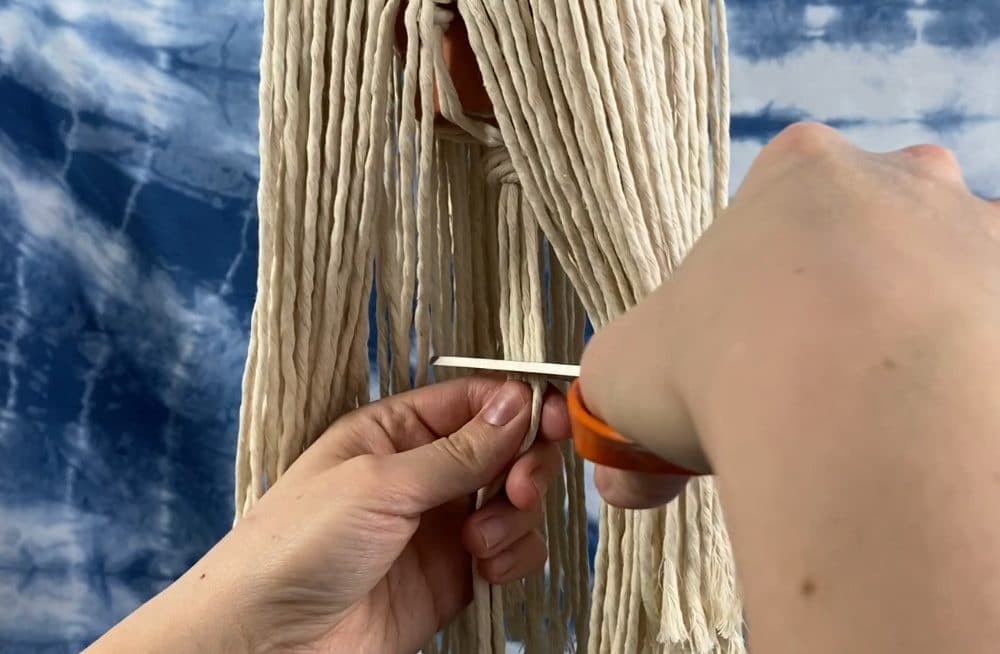 I have a lot of excess because I made my cords 10 feet long, but I adjusted the amount in the tutorial so you shouldn't have too much.
Also, if your fringe is uneven, you can give it a trim now.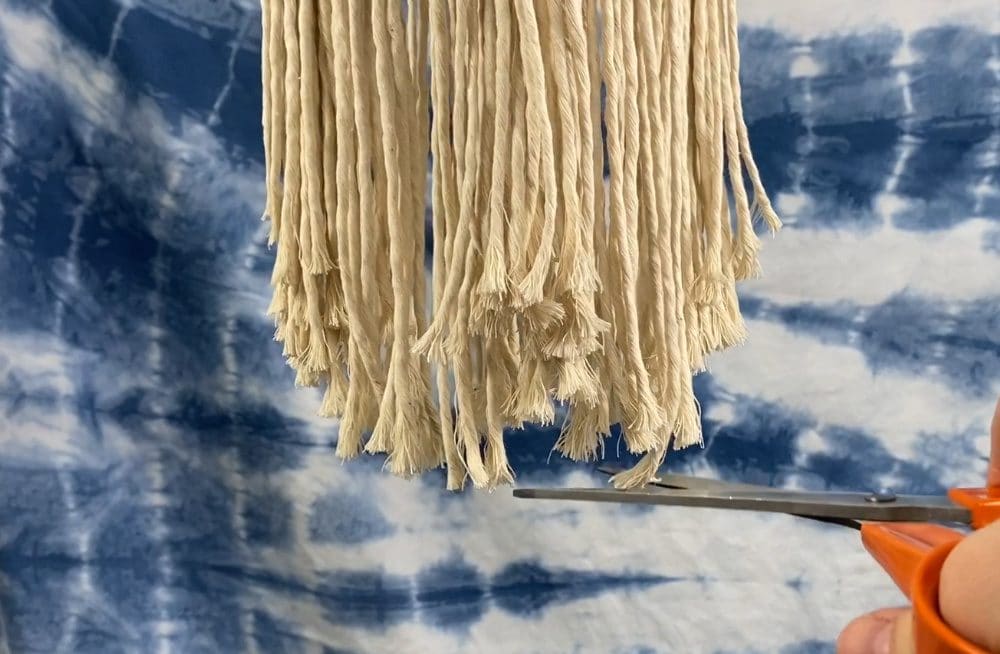 That's it! How easy was that?! The hardest part is adding the fringe, and it's not hard, just a little tedious.
You could also brush out the fringe if you want. I'm leaving it how it is for mine, but that's always an option.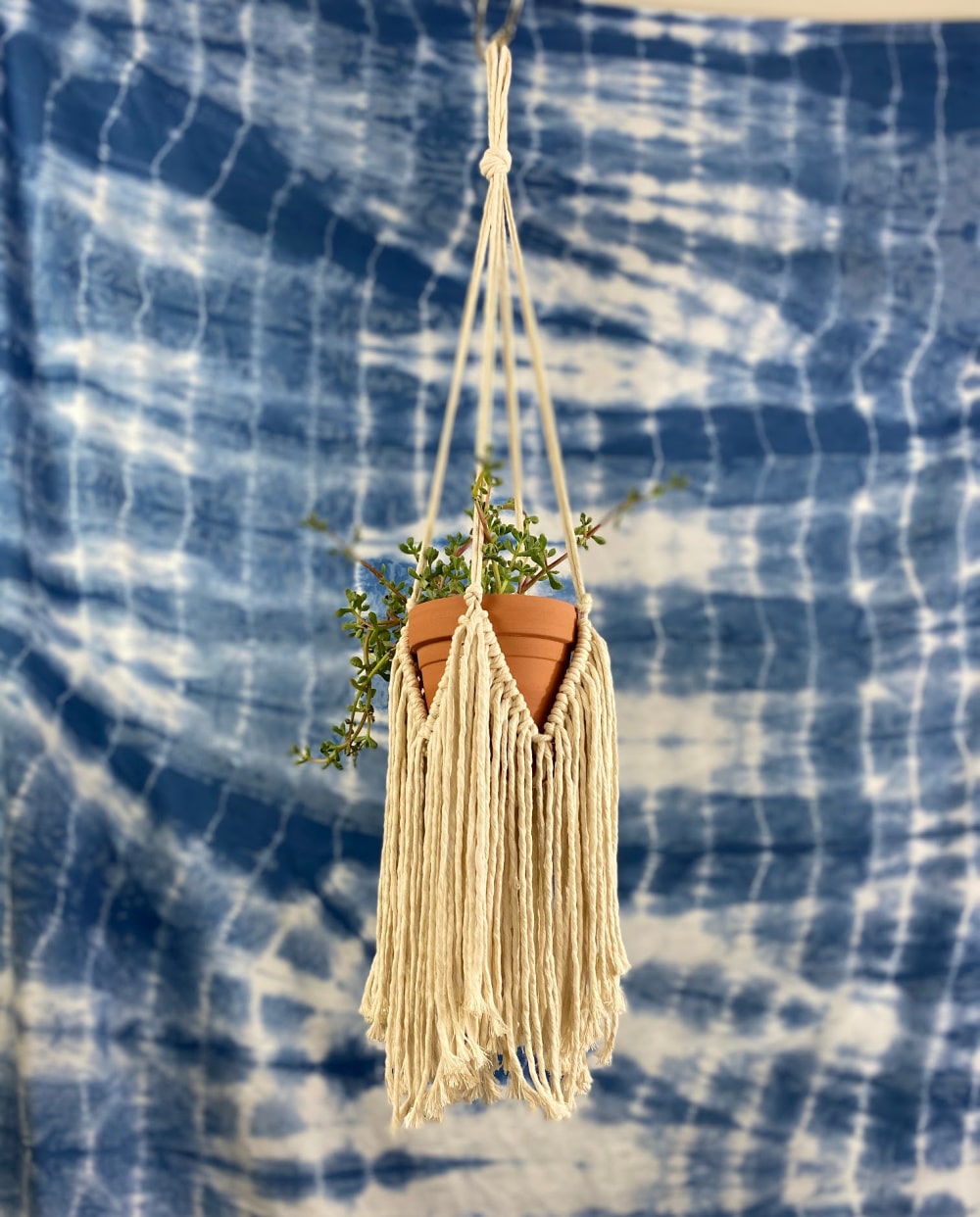 I hope you enjoyed this tutorial! Please share it on social media and if you watch the video, be sure to give it a thumbs up so I know you were there!
If you make one of these, share a picture on Instagram and tag me @marchingnorth, I'd love to see it!
Related Posts
Simple Rope Plant Hanger DIY // Easy Macrame Tutorial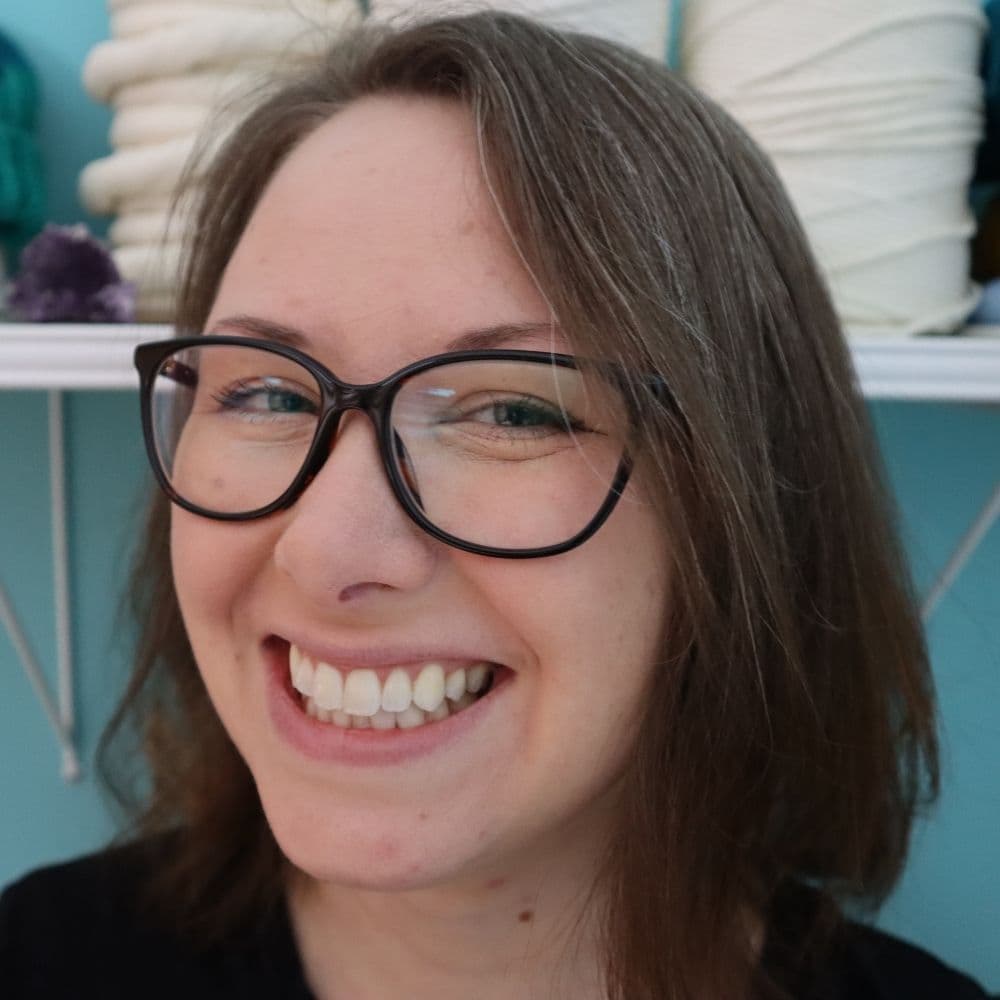 Crystal Martin is the crafty lady behind Marching North. She loves sharing easy to follow tutorials and patterns for macrame, crochet, punch needle, and pretty much anything else involving yarn or textiles.
Her work has been featured on Creative Fabrica, Craft Gossip, Ravelry, as well as her own site and YouTube channels.