This quick and easy crochet baby blanket pattern is perfect for beginners or anyone who wants to make a warm and cozy handmade baby blanket in a short amount of time!
If you're a new crocheter, keep scrolling to see the video tutorial and full step by step photo walk through.
For more experienced crocheters, you'll find the basic written pattern at the bottom of the page.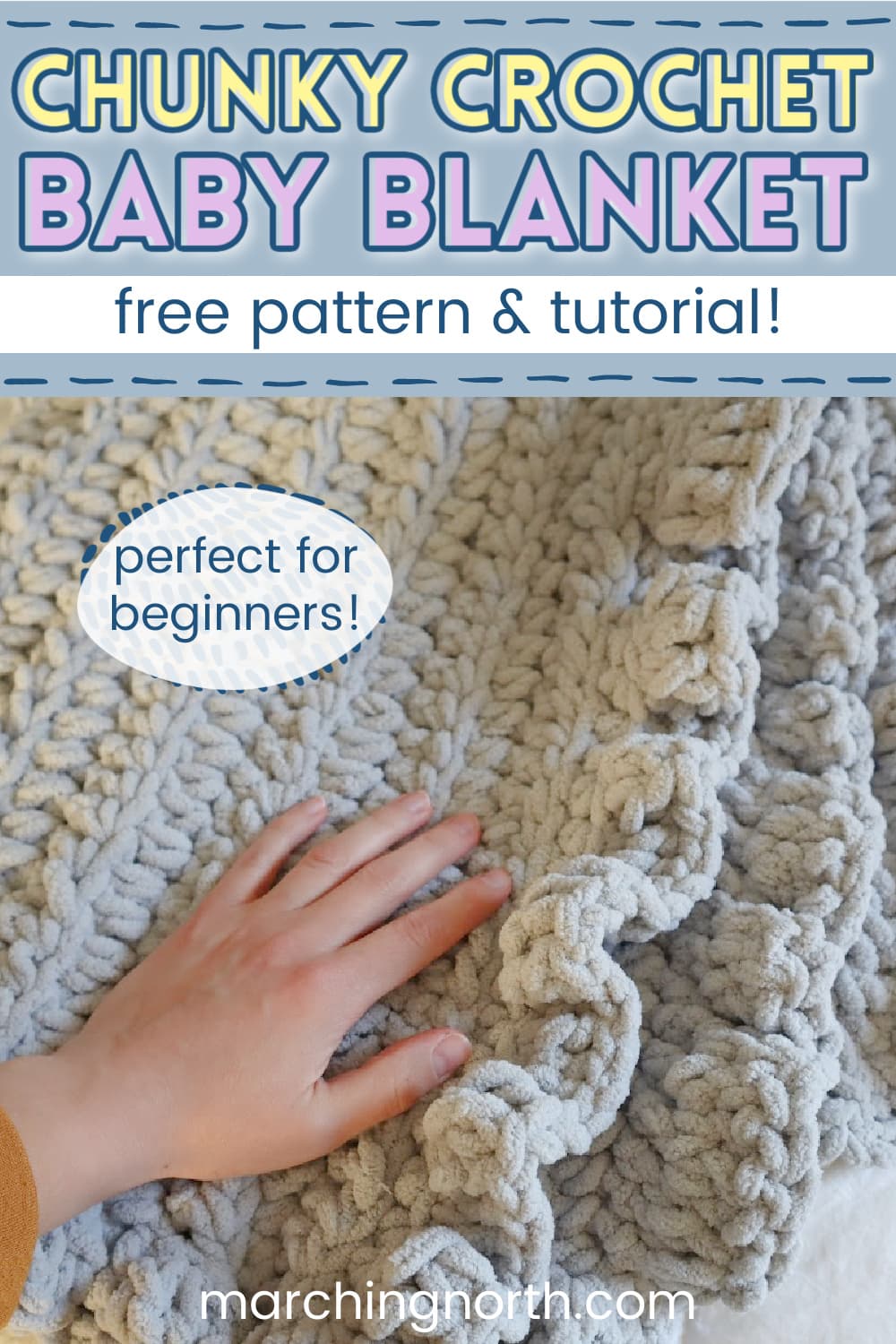 (This post contains affiliate links. If you click one and make a purchase, I may receive a small commission at no extra cost to you. Read the disclaimer here. Thank you for your support!)
Crochet baby blankets make a perfect gift for a new mom and her sweet little bundle of joy.
And when you're pregnant and nesting mode kicks into high gear, there's nothing more satisfying a making a cozy blankie for your own baby.
This crochet blanket pattern is easy to tailor to any baby boy or baby girl.
You can customize the color of yarn, stick with one solid color or add a color change with stripes, include the optional ruffle or just keep the edges plain, and you can even add or subtract a few rows to customize the size.
The pattern uses super basic crochet stitches, and even if this is your first time picking up a crochet hook, I'm confident that you can make this!
Printable Ad-Free PDF Pattern
Prefer to print out an ad-free version of this crochet pattern? You can grab the printable version in my shop!


I decided to make the main blanket using half double crochet instead of single crochet, because it works up a little faster and adds a really nice texture.
We'll also be working in the back loop only to give a nice ribbed look to the whole blanket.
Then, I'll show you how to add a simple border ruffle using the double crochet stitch!
An easy pattern like this with simple stitches is so much fun to make because you can just relax and crochet without having to think or count too much.
If you're looking for a baby shower gift that you can complete in an evening or two, this crocheted baby blanket is the perfect easy project.
Recommended Yarn
I used Lion Brand "I Wanna Make a Blankie" yarn for this pattern.

It's a bulky weight yarn that comes in one massive cake and it's enough to make this whole blanket and still have some yarn to spare!
You could also use another bulky yarn for this pattern, like Bernat Blanket yarn or a comparable size of chenille yarn. It's slightly smaller than the yarn I used, so you'll likely need to add a few more chains and a few more rows to get a blanket of the same size.
Another option would be to hold 3 or 4 strands of worsted weight yarn together.
If you go that route, you could use different colors together if you want for a unique look.
I recommend using a nice soft yarn, and acrylic yarn is a popular because it's easy to wash and wears well.
Skill Level
Easy Beginner
Supplies You'll Need
Finished Size
Approx. 33″ x 34″ with ruffled border
Approx. 30″ x 31″ without border
Gauge doesn't matter for this pattern, and you don't have to block it.
Stitches and Abbreviations
This pattern is in US crochet terms.
ch – chain stitch
st – stitch
sl st – slip stitch
hdc – half double crochet
blo – back loop only
dc – double crochet
finish off – cut the yarn, leaving a tail of 5 or 6 inches. Pull the loop your hook is on until the yarn end comes through and pull gently to tighten.
Video Tutorial
Subscribe to the Yarn Stash with Marching North YouTube channel for lots of free tutorials about crochet, loom knitting, punch needle, and other yarny goodness!
Simple Baby Blanket Pattern Instructions
Attach the yarn to your hook with a slip knot. Ch 52.
Here's how to make a chain (if you're new):

Keep even tension and don't make the chains too tight or too loose. Try to relax while you work, if you're all tense you'll make tighter stitches.
Row 1: 1 hdc in 2nd ch from hook, 1 hdc in each ch to end of row. Ch 1, turn.
Here's how to make a half double crochet:

Row 2: 1 hdc in the blo of each st. Ch 1, turn.
On the top of the row, there are two loops that form a V shape for each stitch. Since we're doing half double crochet, there's also an extra loop on the front, called the 3rd loop.
We're going to be working into the back loop only, which is the top loop farthest away from you.
The picture below shows which loop to work into, and the other picture is how the ridges will look on your blanket once you make several rows.
If you're still not sure about which loop to work into, definitely watch the video, it should help you out.
Repeat Row 2 until you have a total of 30 rows.

Easy Ruffle Border Instructions
Once you've finished the last row of your blanket do the following.
Ch 3 and turn the blanket clockwise. Ch 3 counts as first dc.

You'll be working in to the side of the blanket from right to left.

Make 2 dc in the same spot on the side of the first row. Make sure you work under two loops and not just one.

Make 3 dc into the side of each row.

Repeat that until you reach the end.
Now you're going to turn the blanket counterclockwise again and work into the bottom foundation row.

Make 2 dc in the first st, making sure to work under 2 loops.
Continue making 2 dc in each st to the end of the row.
Turn the blanket counterclockwise, and make 3 dc in the end of each row all the way across. At the beginning of this row, you can make your dc over the tail from the beginning of the blanket to avoid having to weave it in later.

Turn the blanket counterclockwise one more time, and make 2 dc under both loops until you reach the end.

Sl st into the top of ch 3.

Finish off and weave in the yarn ends.

Finished!
That's it! Once you weave in the yarn ends, trim off the excess and your blanket is complete.
Making a Larger Sized Blanket
Making this blanket larger is really easy, it just takes a little bit of math. It's easy math, I promise!
The pattern originally calls for 52 chains which gives you a blanket that's about 30 inches wide (before you add the border).
So, to figure out the amount of chains per inch we'll divide 52 by 30, which is 1.733333333, and let's round that up to 1.75 to make things easier.
OK now that we've got that covered- you'll just need to figure out how big you want your blanket to be.
Lets say you want a throw blanket size that's about 52″ wide. We can subtract 30 from 52 (to account for the original chain length of 52 chains), which leaves us with 22″ to account for.
So 1.75 times 22 equals 38.5, and you can either round that down to 38 chains or up to 39, whichever you prefer.
Then, just add that number to the original starting chain, so 52 + 39 = 91.
For a 52″ wide blanket, you would start with 91 chains.
Each row adds about an inch to the blanket, so you can just make rows until it's the length you like.
I'd probably do 52 rows for the throw blanket in this hypothetical example.
Then, you'll do the border on top of that and it'll add an extra 3 inches to the length and width.
NOTE: I haven't actually made the blanket larger yet so this is all approximate, but it should work just fine.
I hope you enjoyed this free crochet baby blanket pattern and tutorial! If you make one of these, please share it on Instagram and tag me @marchingnorth so I can take a look. I love seeing your awesome creations!
A Note About Using Crochet Baby Blankets
Be careful using a crochet blanket as a crib blanket for a new baby that's left to sleep on it's own. The American Academy of Pediatrics says you shouldn't put anything soft in your babies crib.
There's nothing inherently dangerous about using a crochet blanket, but take the same precautions you would with any other soft blanket. Just an FYI.
Related Posts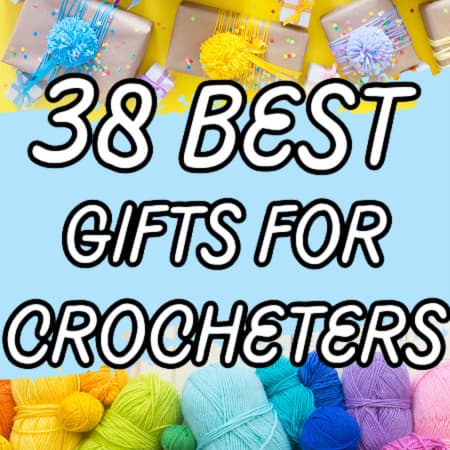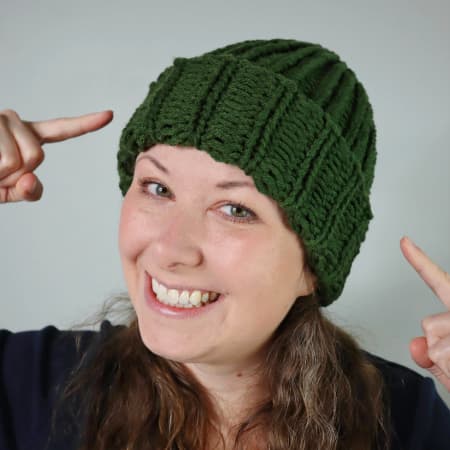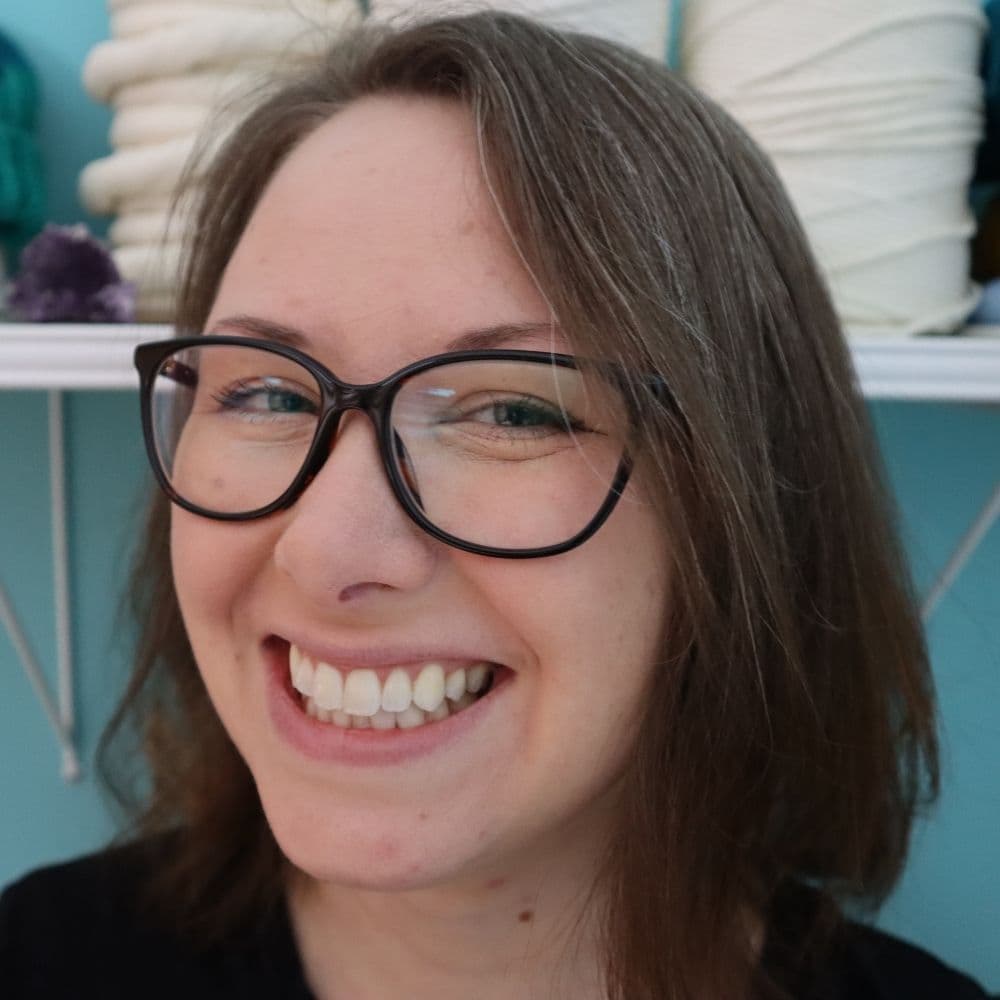 Crystal Martin is the crafty lady behind Marching North. She loves sharing easy to follow tutorials and patterns for macrame, crochet, punch needle, and pretty much anything else involving yarn or textiles.
Her work has been featured on Creative Fabrica, Craft Gossip, Ravelry, as well as her own site and YouTube channels.