Cutting macrame fringe evenly can be a real hassle. Learn 3 simple ways to cut perfectly straight macrame fringe every time in this step by step tutorial!

We've all been there. You're working on a beautiful macrame wall hanging and you just love how it's turning out. Then you get to the end and it's time to cut the fringe.
You cut a little on one side, then a little on the other, and before long you've cut off too much! Nooo!!
Luckily, this can all be avoided with these 3 simple macrame fringe cutting hacks.
Be sure to read all the way to the bottom of this post, because I share some tips to keep your macrame fringe flat and straight once you get it cut nice and even!
(This post contains affiliate links. If you click one and make a purchase, I may receive a small commission at no extra cost to you. Read the disclaimer here. Thank you for your support!)

You'll find a video tutorial down below, plus the written tutorial under that. Be sure to check out my YouTube channel so you don't miss any of my new tutorials!
---
Subscribe to Marching North on YouTube!
---
No matter which method you use to cut your fringe straight, you'll want to have a super sharp pair of scissors for all of your macrame projects. Come check out this post to see the best scissors for macrame, sewing, and other textile crafts!
Fringe Cutting Method #1: Masking Tape
A super simple way to cut your fringe nice and straight is to use masking or painters tape.

Just lightly stick it onto the part of your macrame project that you need to trim, and then you can just cut right along the taped line. Easy peasy!

I recommend painters tape because it's really easy to remove, but masking tape works too.
If it's super sticky masking tape, you might want to stick it to your jeans or your shirt first to make it a bit less sticky. That way it'll be easy to remove when you're done!
Fringe Cutting Method #2: Measuring

Another simple way to cut even fringe is by using a tape measure.
First, decide how long you want your fringe to be. Then, measure and cut one piece at a time down the row.

This method is good when you're cutting fringe on a curved part of your wall hanging. The only drawback is it takes a while, but it's really accurate!
Fringe Cutting Method #3: Guide Rope
If you're using a clothing rack to hold your macrame project, it's super easy to tie a guide rope across to help you with fringe cutting.

Once you get it tied and moved into the right place, you can even use a level to get it perfectly straight!

Then, just cut straight across under the guide rope. It doesn't get much easier than that!
Bonus Fringe Cutting Method: Rotary Cutter
I didn't show this in the video above, but another way to cut super straight macrame fringe is with a rotary cutter and self healing mat.
If you're cutting a straight line with this method, you'll want to use a metal ruler to guide you.
Rotary cutters are super sharp, so watch your fingers!
This method is great if you need to cut fringe on a bunch of macrame feathers because it's pretty fast, especially if you make a pattern to follow out of cardboard or card stock.
How to Keep Macrame Fringe Flat
Alright, now that we got the fringe cut evenly, how do you keep it laying flat and neat? It all depends on what kind of project you're working on.
If you're making something that requires brushed out fringe, like a macrame feather, you'll want to use a liberal amount of stiffening spray (or even hairspray!) and a pet slicker brush or a metal comb to get it nice and flat.
Another way to get fringe to lay flat and stay in place (especially on feathers) is to glue a piece of felt to the back. Brush it out and and get it nice and even before you attach the felt, and make sure the felt doesn't stick out where you can see it!
For longer macrame fringe, a handheld steamer will help straighten it out even more. You can even use a hair straighter in a pinch! Or mist your fringe with water, brush it out, and put a heavy book or some other flat heavy object and let it dry overnight.
Best Cord for Beautiful Macrame Fringe
Single strand macrame cord works best for super soft fringe. Be prepared to do a LOT of brushing to get it just right, but its worth it.
That type of fringe gets a little too unruly to brush and style if it's longer than 7 inches, so I recommend keeping it shorter than that. Otherwise it ends up getting twisted and tangled.
For wall hangings with three strand twisted cotton rope, you can just untwist the fringe for a pretty (and simple) wavy look.
Occasionally you'll need to comb it out a bit with your fingers, but that's all the maintenance it requires!
You can brush it out as well, and if you don't like the waves give it a good steaming or use a hair straightener to smooth it out. Again, if you plan on brushing it out I recommend keeping it under 7 inches, just for your sanity.
If you have braided macrame cord, you can fringe it but it'll take a really long time since it's so tightly woven. You're really better off to use single strand or 3 strand twisted if your project will involve fringe.
In Summary
I hope you enjoyed these 3 ways to cut perfectly straight macrame fringe!
If you have some other helpful macrame fringe hacks, feel free to leave a comment below and let us know.
Did you make a beautiful macrame wall hanging with loads of fringe? Share a pic on Instagram and tag me @marchingnorth, I'd love to see it!
3 Ways to Cut Perfect Macrame Fringe

Check out these three easy hacks to cut perfectly straight macrame fringe every time!
Materials
Macrame rope
Painter's tape
Tape Measure
Super sharp scissors
Instructions
Method 1: Painter's Tape
Use strips of painter's tape to create a guideline for cutting. The great thing about painter's tape is it comes off super easy!
(Masking tape will also work, you just might want to stick it to your jeans or clothes before you use it to de-stick it a bit.)
Method 2: Tape Measure
When you're cutting fringe on a curved part of your macrame wall hanging, try using a tape measure! Just figure out how long you want the fringe to be, then measure each piece one at a time and cut it the perfect length.
Method 3: Guide Rope
If you're using a clothing rack to hold your macrame project, it's easy to tie a guide rope across to mark where you want to cut your fringe.
Notes
One extra option I didn't show in the video is a Rotary Cutter and a Self Healing Mat.
They're super sharp and a quick way to cut fringe for macrame feathers and other projects that are easy to lay flat!
Check out these other macrame tutorials!
How to Cut Perfectly Straight Macrame Fringe (3 Easy Hacks!)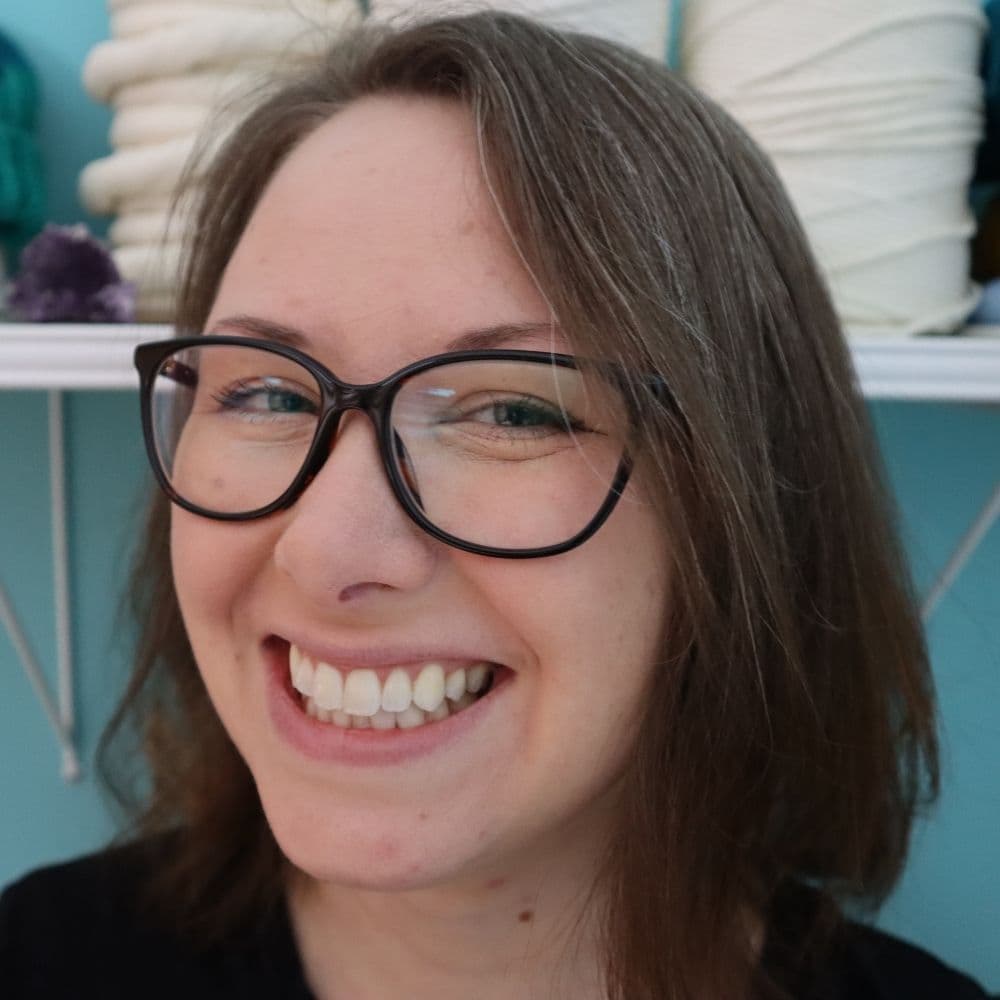 Crystal Martin is the crafty lady behind Marching North. She loves sharing easy to follow tutorials and patterns for macrame, crochet, punch needle, and pretty much anything else involving yarn or textiles.
Her work has been featured on Creative Fabrica, Craft Gossip, Ravelry, as well as her own site and YouTube channels.