Are you new to punch needle and tired of hunting around for all the right information? An online punch needle class is a perfect solution!
My Modern Punch Needle with Yarn course will teach you everything you need to know about punch needle using yarn. We start with supplies, move on to prepping our fabric and threading the punch needle, and then get right into punching our two class projects!
Come check out this fun online punch needle course and get started today!

I've seen so many people say they bought a punch needle and some fabric at their local craft store (or on Amazon), thought it was going to be super to do, and ended up totally frustrated because the loops wouldn't stay in the fabric or it just looked terrible.
Not only is it discouraging and a total bummer, but now they feel like they wasted their money and their time and have nothing to show for it!
Let me just be real with you for a minute- I started out with punch needle the EXACT SAME WAY! And let me tell you, it was incredibly frustrating.
Your time and energy are too valuable, you don't have time for craft fails, am I right?
Once I suffered through and figured it out, I decided to make some easy to follow tutorials so other people wouldn't have to deal with that mess. That might be how you found my site in the first place!
I packaged up everything I've learned about punch needle with yarn into this step by step video course!
Inside, you'll learn:
What supplies you'll need (and where to find them)
How to trace your pattern
Stretching the fabric in your hoop
Threading and using your punch needle
Basic punch needle techniques, plus a few fun modern ones
How to troubleshoot when problems arise
Here's a sneak peak at the course curriculum:

You'll get step by step video instruction, written tips and helpful info, printable patterns (plus bonus patterns!), all in one nice, neat package.
By the end of this course, you'll have two beautiful finished wall hangings to show off and the know-how to continue onward with your creative punch needle journey!
FAQ's
How long will I have to complete the course?
As long as you want! This course is completely self paced and you have lifetime access once you purchase it!
You can go back and re-watch the videos as many times and you want.
Plus, when any updates are added to the course later on, you'll get those too at no additional cost!
What kind of punch needle will I need for this course?
I recommend a 5.6 mm Lavor Adjustable punch needle for this course.
The reason why I'm recommending this is because in the second project we'll need to change the loop height for different techniques and it just makes things easier.
That being said, if you have an Oxford Regular and want to use that, it'll work perfect for the first project, and for the second project you would need to pull the loops out manually to make them longer.
For a beginner, it'll just be easier to go with the adjustable, so that's my recommendation!
What kind of foundation fabric will I need to get?
You'll need two squares of Monk's cloth that are 18″ x 18″ each.
Be sure you're getting the proper type of Monk's cloth that's made for punch needle! It'll have white lines running through it every 2 inches.
If you don't have access to Monk's cloth, a linen fabric will also work. I highly recommend Monk's cloth because it works consistently well and since this course is for beginners, I want to keep it simple.
I have an Ultra Punch needle, can I use that for this course?
No, the Ultra Punch needle won't work for this course.
It's a great embroidery punch needle, but this course specifically is for punch needle with yarn so you'll need a large rug punch needle instead.
Are there patterns included with the course, or will I need to buy them separately?
Yes, there are two patterns included in the course for the projects we'll be working through.
Plus, there are a couple of free bonus patterns included at the end so you can practice some more!
Related Posts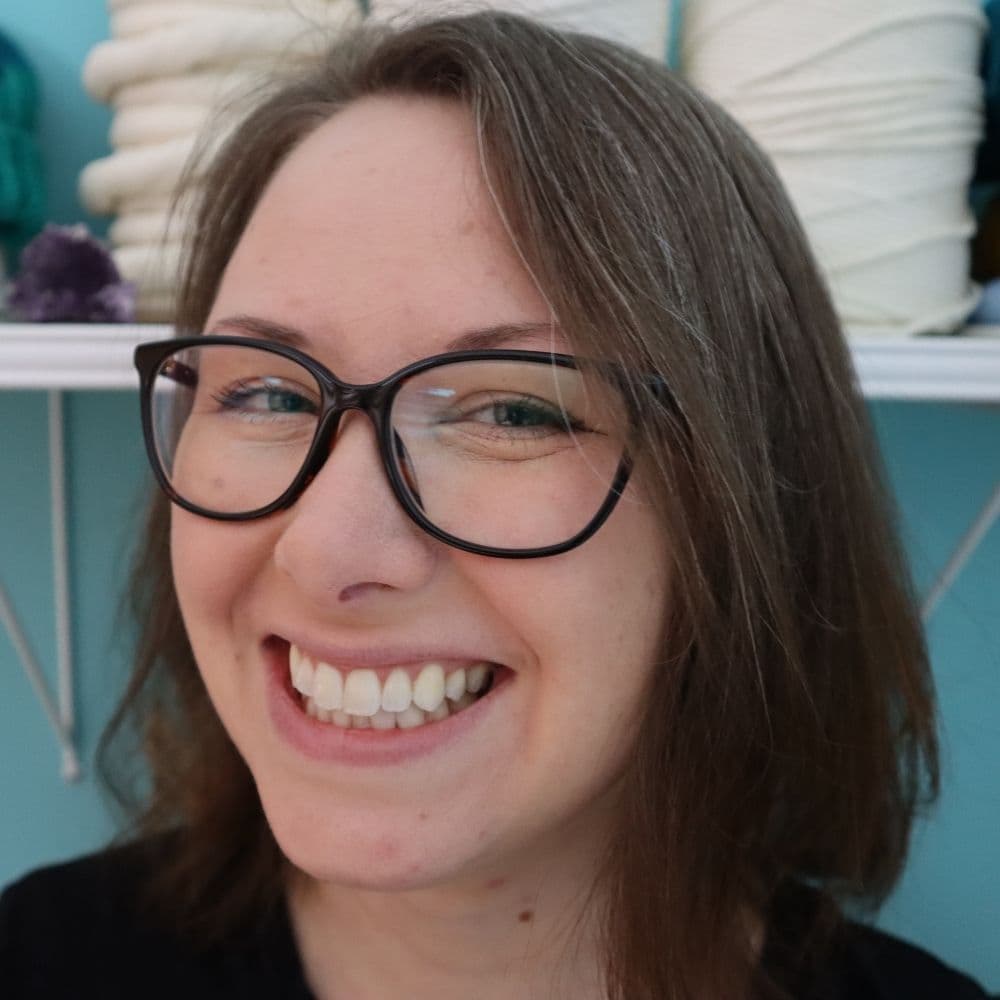 Crystal Martin is the crafty lady behind Marching North. She loves sharing easy to follow tutorials and patterns for macrame, crochet, punch needle, and pretty much anything else involving yarn or textiles.
Her work has been featured on Creative Fabrica, Craft Gossip, Ravelry, as well as her own site and YouTube channels.