Learn how to make this farmhouse inspired punch needle pillow with a removable cover in this step by step tutorial!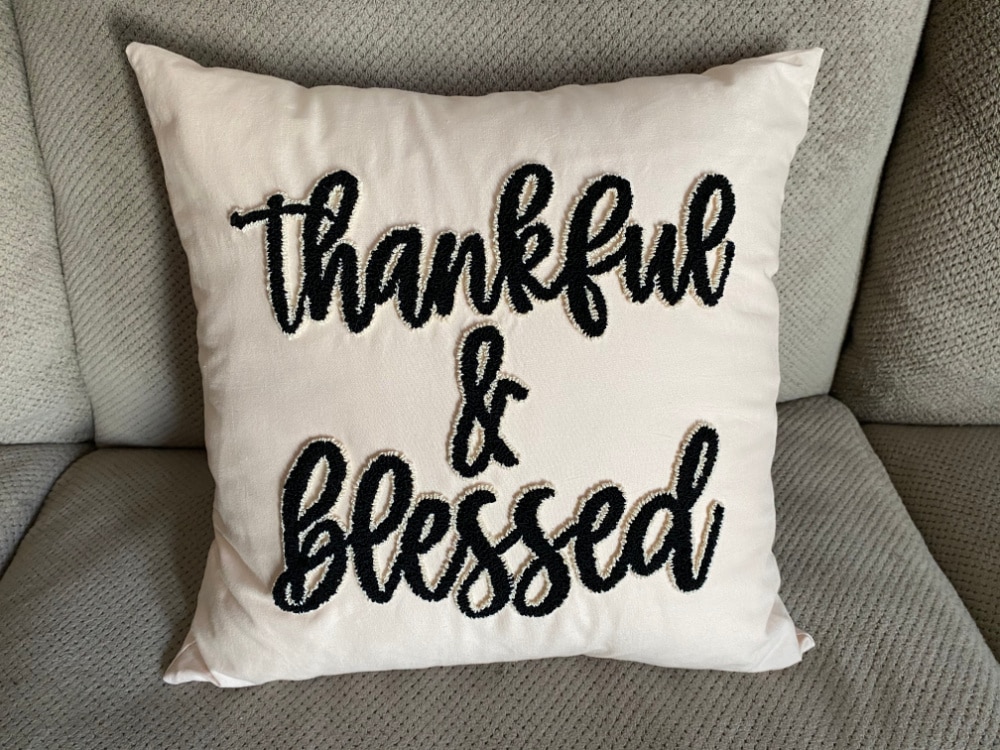 Have you seen all the tufted pillows showing up in stores and online? Every time I go to Target or Kohl's, or pretty much any website with trendy home decor, I've been seeing these adorable pillows that totally look punch needle'd!
I just knew I could achieve a similar look with with my trusty Ultra Punch, so I got to work and this pillow is the result.
You guys, I'm so excited about it.
Besides the awesome punch needle design, I kicked it up a notch and actually sewed an envelope style back so it's a removable pillow case!
If you saw my previous punch needle pillow tutorial, I sewed it as well, but it's not removable.
Let me just say, sewing has never been my strong suit. It's always something I have to do to finish a project and I sort of dread.
I always have sewing machine malfunctions and I'm not always the best at getting seams nice and straight.
The good news is, I'm getting better! And if I can sew, so can you! (See what I did there?)
This pattern is super simple so please don't be intimidated by the sewing parts. If you're an experienced sewist, this will be a breeze for you.
Get your FREE printable pattern!
Also, I made a free printable pattern for the punch needle design on this pillow! It's reversed and ready to print and transfer so you can get to punching.
(This post contains affiliate links. If you click one and make a purchase, I may receive a small commission at no extra cost to you. Read the disclaimer here. Thank you for your support!)
Supplies You Need to Make this Punch Needle Pillow Case
How to Make a Punch Needle Pillow Case Tutorial
Step 1: Cut your fabric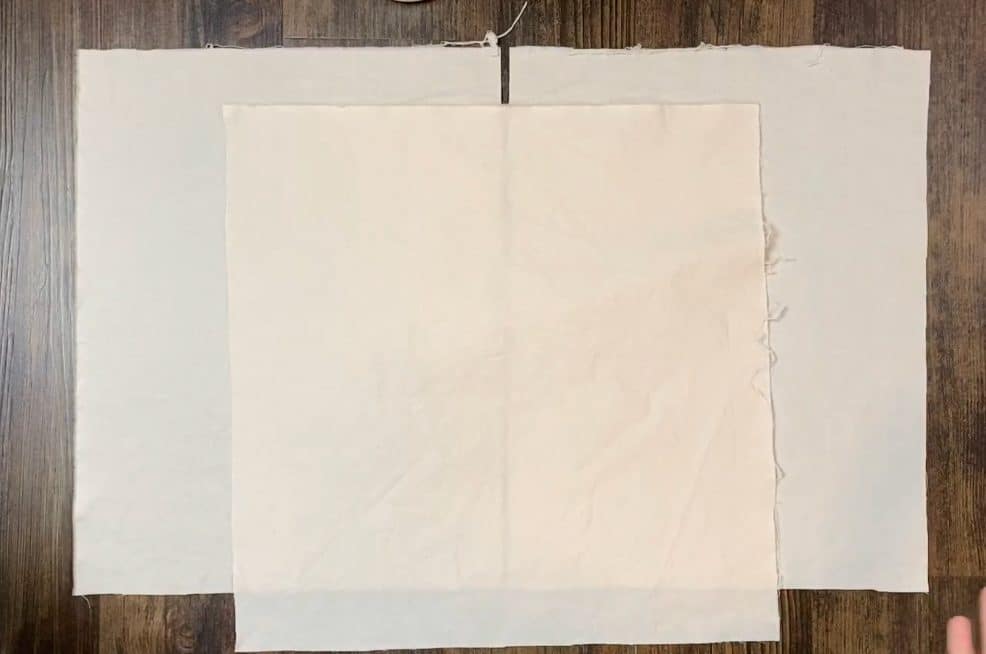 First you'll need to cut out your fabric.
To make things easy I cut the front square piece of fabric 18″ x 18″, that way it'll be slightly smaller after sewing the seams which will make a nice snug pillow case.
Then cut out two rectangles that are 18″ x 14″ for the back.
Step 2: Add the interfacing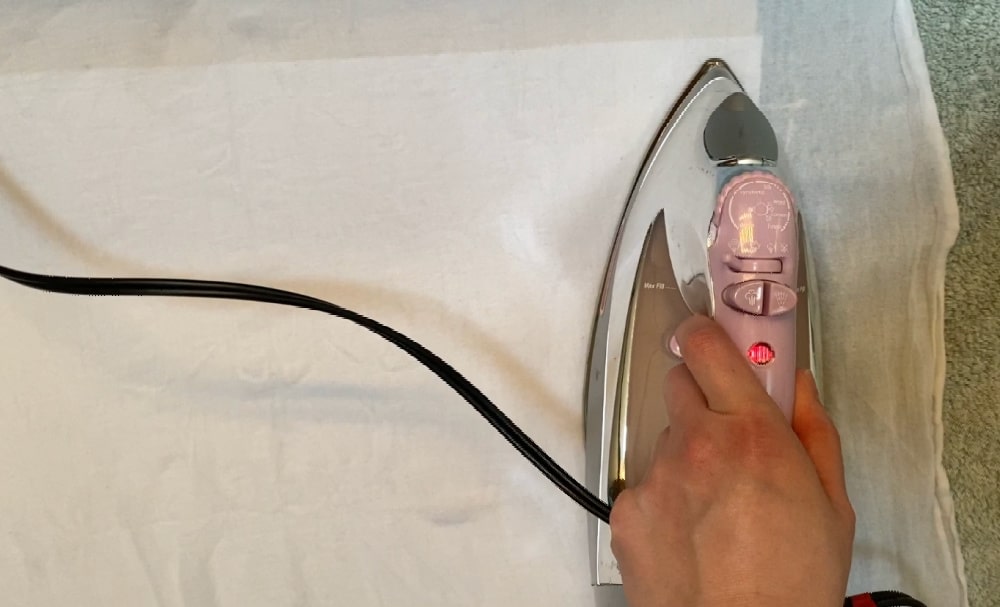 Next, you'll need to iron the fusible woven interfacing on the back side of the square piece of fabric.
The interfacing I used wasn't as wide as the fabric, but it's what I had on hand so I used it anyway.
I recommend buying yours by the yard (which you can do at the link in the supply list) so it covers the whole back, but if you have a roll of woven interfacing like I do, it works fine. I lined it up in the center and there was a couple inch gap at the top and the bottom.
Follow the instructions that came with your interfacing to fuse it onto the back.
Step 3: Print and trace the punch needle pattern

Now it's time to get the pattern ready and traced. If you haven't already, print the pattern (it's available in the free resource library, there's a link in the supply list above.)
FYI: this is an over sized pattern, so you'll need to print it out on multiple sheets of paper. The printing instructions to do this are included when you download the pattern.
Once you have the pattern printed, trim it down and tape it together. Then either tape it up to a window or use a light box and line the fabric up so the design is centered.
Then just grab a ballpoint pen and carefully trace around the words.
Step 4: Start punching the design

Time to start punching! Put the medium needle in your Ultra Punch and set the stitch height to 3.
Thread your first skein of black embroidery floss into your punch needle and then begin punching around the outlines of the words.
Keep the stitches close together for the outlines. Once they're done, you can start filling in the insides of the letters, going row by row until it's all filled in.
Check the front periodically to see if you're punching close enough together so there aren't any gaps. Also, if you notice the loops sort of piling up, they might be too close together.
You want to punch the least amount of stitches you can get away with, but enough that you don't have any gaps.
Step 5: Continue punching the design

Unless you have a super huge embroidery hoop, you'll need to move the design in the hoop eventually.
At first I was a little concerned that it would flatten the loops, and it did for a minute, but they fluffed back up just fine and you couldn't even tell the difference once all was said and done.
I didn't take any special precautions, I just moved the hoop and tightened back up right over my previously punched sections. Then keep punching!
Step 6: Finishing the punch needle portion

Once I finished the letters in black, I decided it would look nicer with a light outline to help define the edges a bit.
I set the stitch height down to 2, threaded some Ecru colored floss into my Ultra Punch, and punched an outline around all the letters. Don't forget to outline the inside edges!
Once the punch needle parts are complete, you'll need to "park" the loops.
This is where you take the end of your punch needle (or some other pointy thing) and move the loops around into their proper locations. It's really important to take time and do this, it makes the finished product look so much neater!
After it was all parked, I grabbed my handheld steamer and steamed the whole thing to remove the wrinkles and set the loops.
Step 7: Hemming the back panels

OK, time for the sewing part!
Thread some matching thread into your sewing machine. First we need to hem the inner edges of the envelope enclosure.
On one of the 18″ edges of the back rectangle pieces, fold back the edge of the fabric about 1/2″ or so, pin it and iron it. Fold it over one more time and repeat that process.
Then sew a straight seam along the edge to secure it. Repeat that for the other rectangle as well.
Step 8: Sewing it all together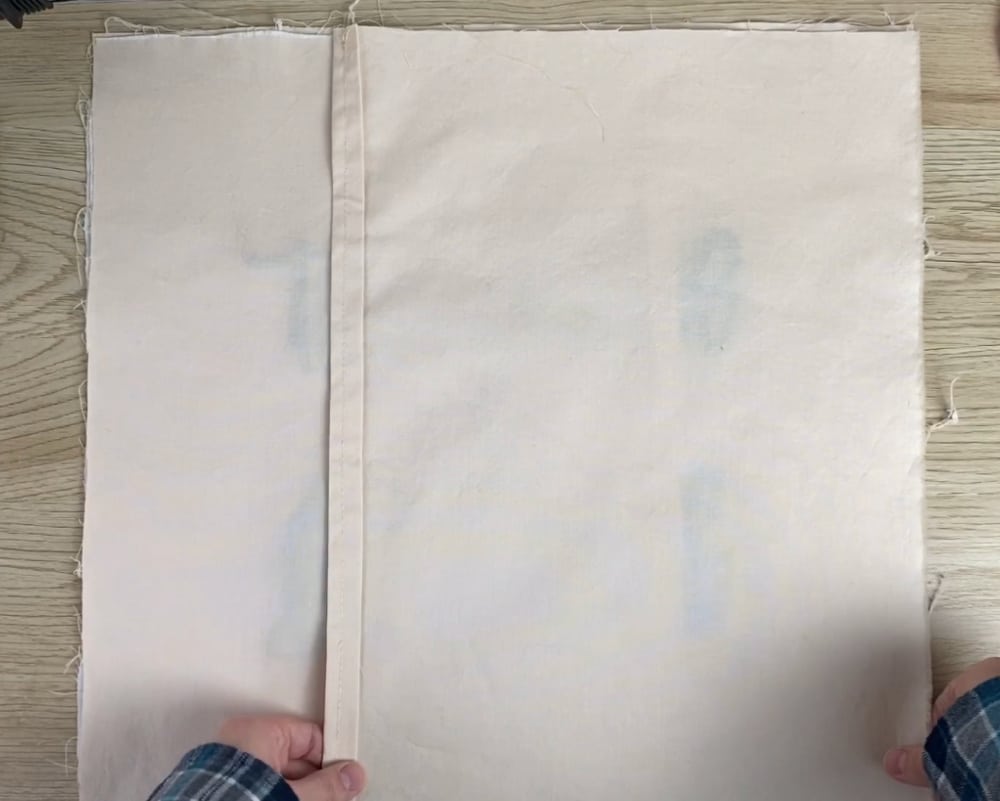 Now it's time to sew it all together. Lay the main square piece right side up on your work surface.
Then lay one of the back pieces on the left with the hemmed side towards the center and line up the raw edges. Repeat that with the other piece but on the right. The two hemmed edges will overlap in the center.
Pin it all in place and sew all the way around it with a straight stitch.
Then set your sewing machine to a zigzag stitch and sew all the way around the edges between the straight stitch and the raw edge. That will help keep it from unraveling too bad.
Step 9: Turn it right side out and stick in your pillow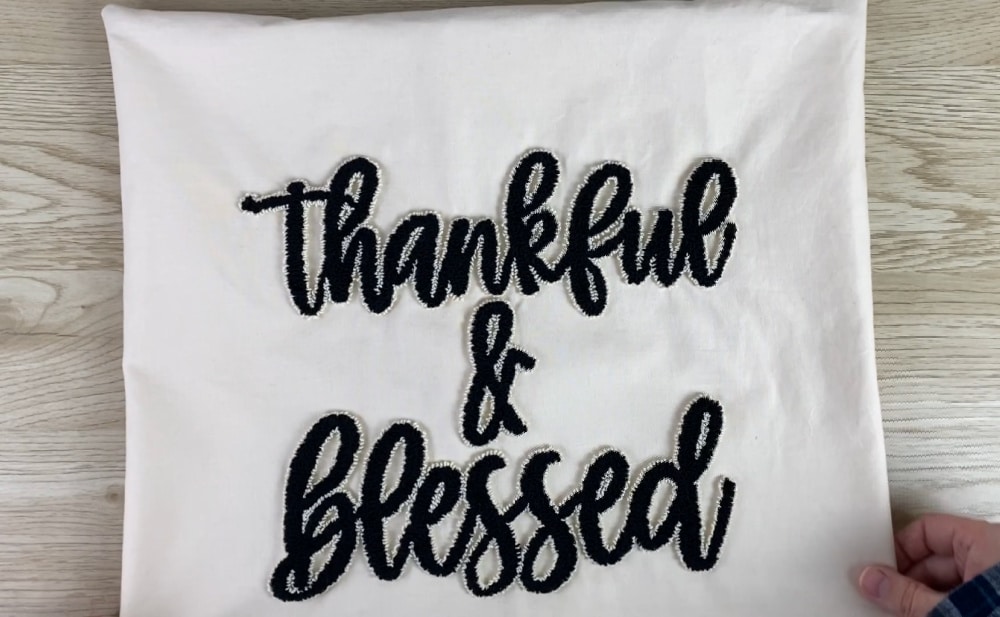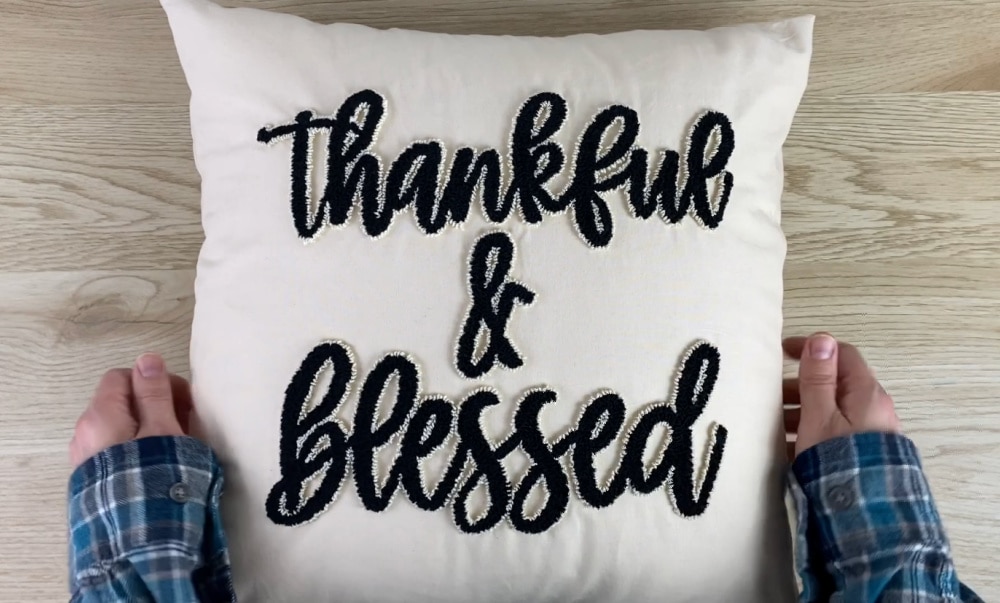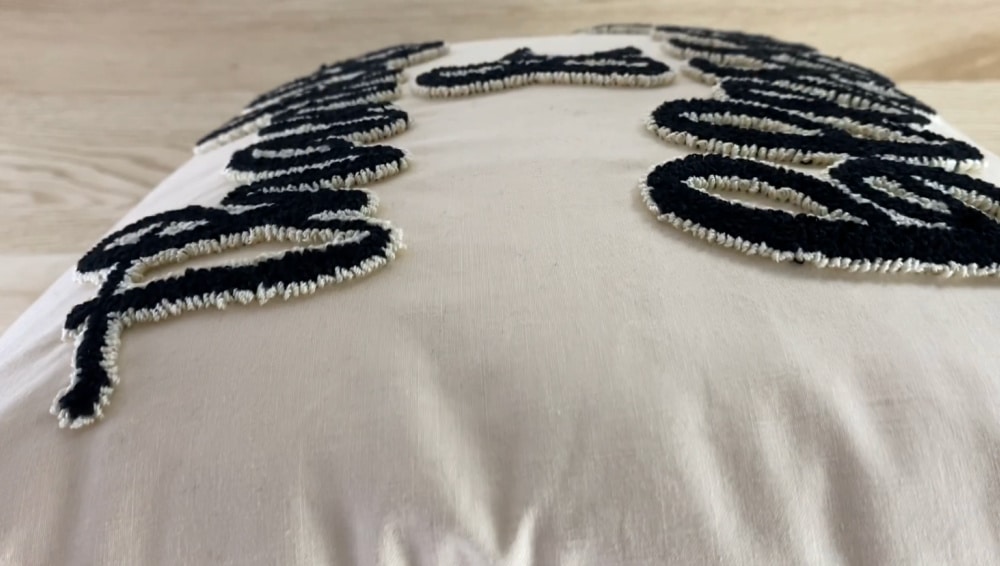 After you get all the sewing done, flip the pillow cover inside out and poke the corners out so they're nice and neat.
Yay! It's a pillow cover!
Now put the pillow insert inside (this will take a bit of squishing, but it'll go), fluff it up a bit and it's finished.
Done!
I hope you enjoyed this punch needle pillow case tutorial!
This project is perfect to stick on your couch for Thanksgiving. It's always nice to have a festive throw pillow when that food coma kicks in!
If you make this project, please take a moment to share a pic on Instagram and tag me @marchingnorth. I love to see your creations!
Related Posts
DIY Farmhouse Inspired Punch Needle Pillow Case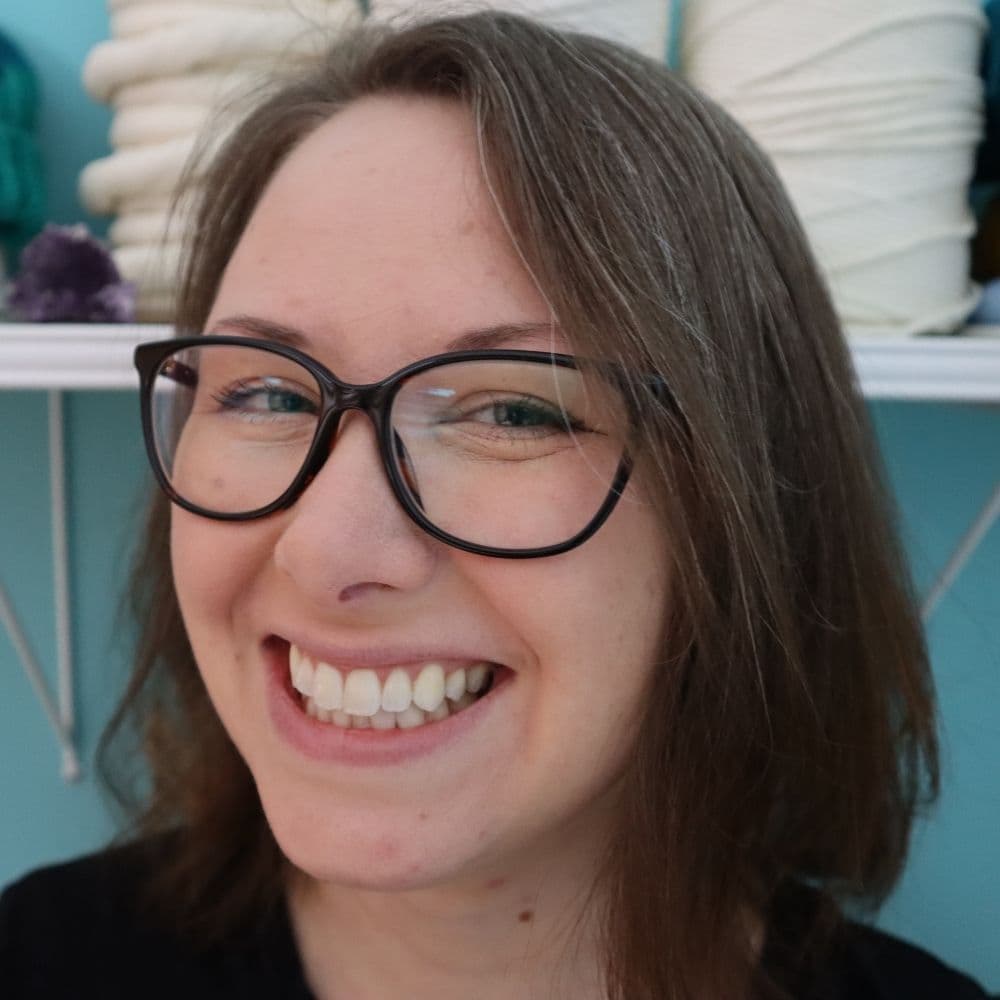 Crystal Martin is the crafty lady behind Marching North. She loves sharing easy to follow tutorials and patterns for macrame, crochet, punch needle, and pretty much anything else involving yarn or textiles.
Her work has been featured on Creative Fabrica, Craft Gossip, Ravelry, as well as her own site and YouTube channels.