If you're looking for a super fast and easy punch needle project, try making some coasters! In this tutorial, I'll show you a simple way to finish punch needle coasters, no sewing required.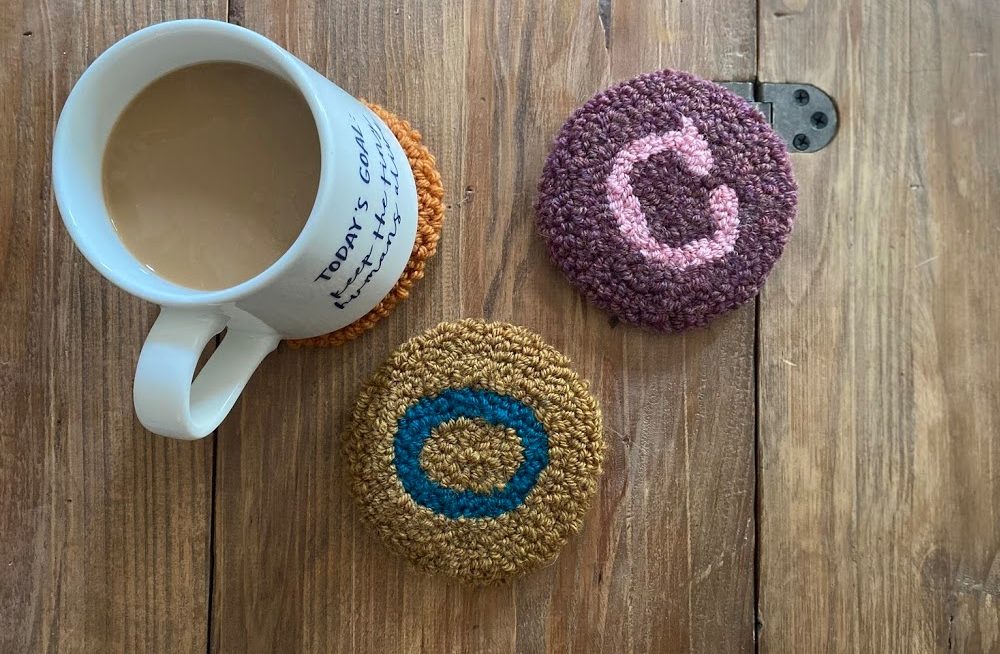 (This post contains affiliate links. If you click one and make a purchase, I may receive a small commission at no extra cost to you. Read the disclaimer here. Thank you for your support!)
We have a lot of coasters around here, and the funny thing is no one uses them half the time! I just love making them because they're fast and satisfying.
The technique used in this tutorial would work for any punch needle coasters, but I especially love this monogrammed pattern that I put in my shop. You can make one for everyone you know with their initial on it!
I have three kids and they get excited about things like that, lol. Plus, no fighting over who's coaster is who's (and yes, you know they'll fight over a coaster, siblings…)
All you'll need for this project is your punch needle design, some felt (I used wool felt but any craft felt would work), fabric glue, and sharp scissors.
Like I mentioned before, you can find the pattern for these monogrammed coasters in my shop. It includes the 26 letters of the English alphabet reversed and ready to print and punch, plus basic instructions.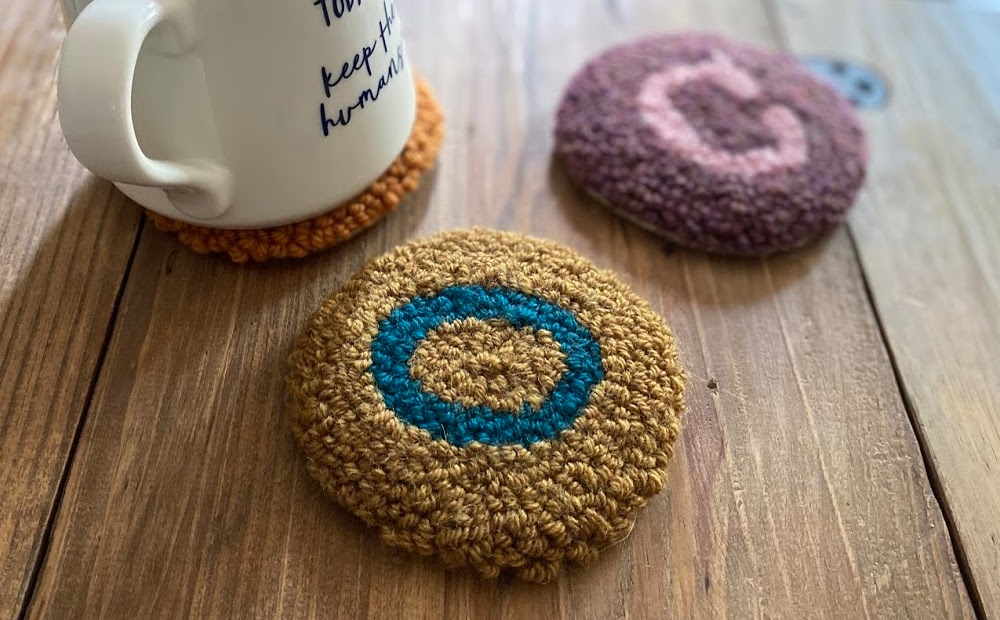 The finished coasters are about 4 1/2″ in diameter. If you want to make them a bit larger, just add an extra row around the outside.
I used a wool blend worsted weight yarn for mine with an Oxford #10 fine punch needle and monk's cloth.
The great thing about finishing the coasters this way is you can punch a bunch of them all very close together and get several out of one piece of fabric. I used my large Morgan No-Slip hoop and punched five at once.
You'll save fabric AND time! Win win!
If you're new to punch needle or if you've been punching for a while, connecting with other modern punch needle lovers is always a great idea!
Come check out our Facebook group, Modern Punch Needle with Yarn. It's a friendly community where you can ask questions, get inspiration, and share your awesome work with other punch needle lovers! Come join the conversation today!
Supplies You'll Need to Finish Your Punch Needle Coasters
How to Finish Punch Needle Coasters // Tutorial
Step 1: Apply glue to the back of the coasters

Here are the backs of my punch needle coasters. I made them all really close to each other since I knew I wasn't going to need to turn under the border fabric.
Squirt some of your fabric glue onto the back of the coaster and spread it around with a paintbrush. Be sure to extend the glue out about 1/8 to 1/4 inch around the edge so the fabric doesn't fray.
Also, make sure you don't go too crazy with the glue. On the first coaster I tried (of course it was the one with my initial, lol) I used too much glue and it bled through the felt. You just need a thin, even coat.
The one on the left is the sad coaster, and the one on the right is how the rest of them looked.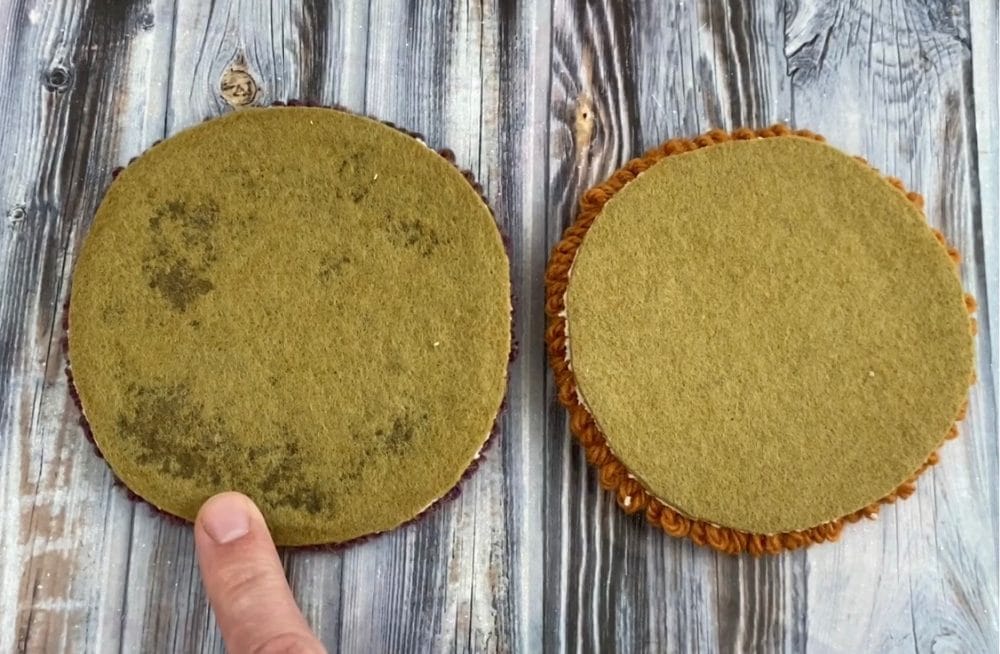 Step 2: Add the felt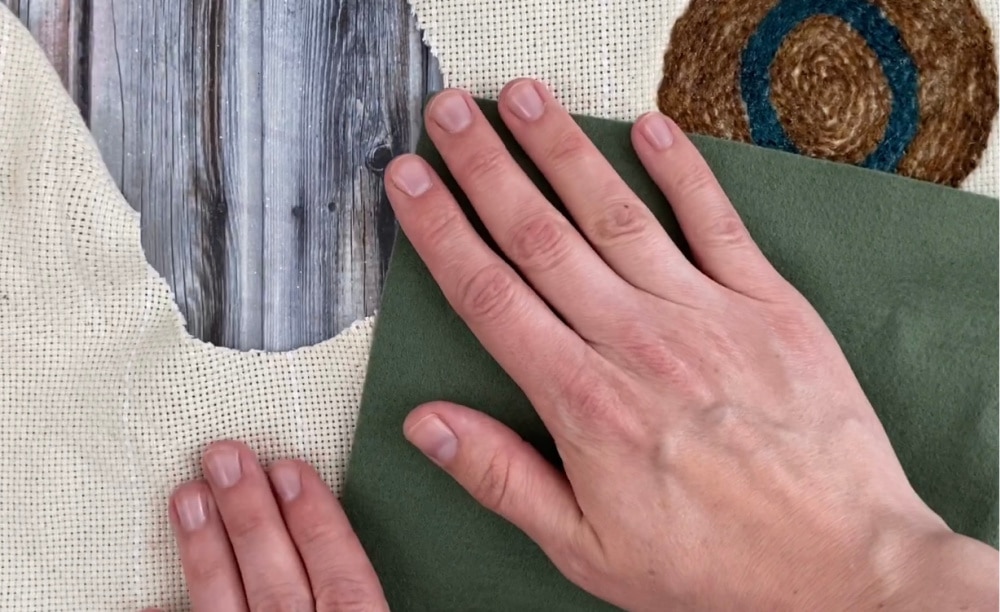 Grab your piece of felt and press it down firmly on the back of the coaster.
Smooth it out and put a heavy book on top, then leave it to dry for several hours or overnight.
Step 3: Cut out the coasters

Once the glue has had plenty of time to dry, cut the coasters out. You'll want to leave about an 1/8″ edge past the yarn loops.
Just make sure you don't cut into the part of the fabric where the loops are. (If you accidentally do, just stick some extra glue there and let it dry. I may have nicked into the loop part on one of the coasters..)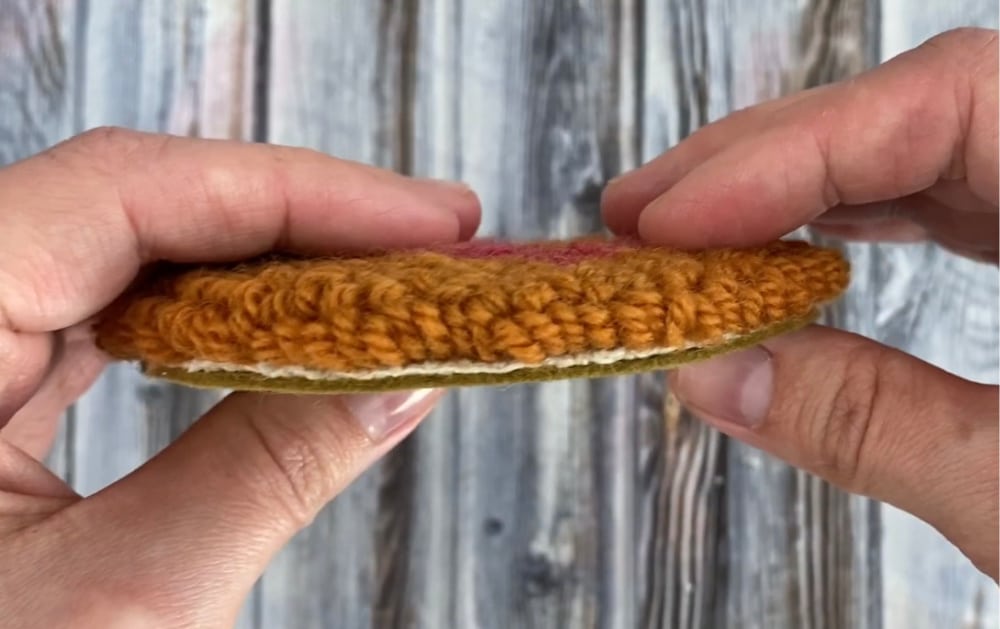 Here's what the edge of the punch needle coasters will look like at this point.
If you want to stop here, you totally can. You really can't see the edge when the coaster is sitting on a table.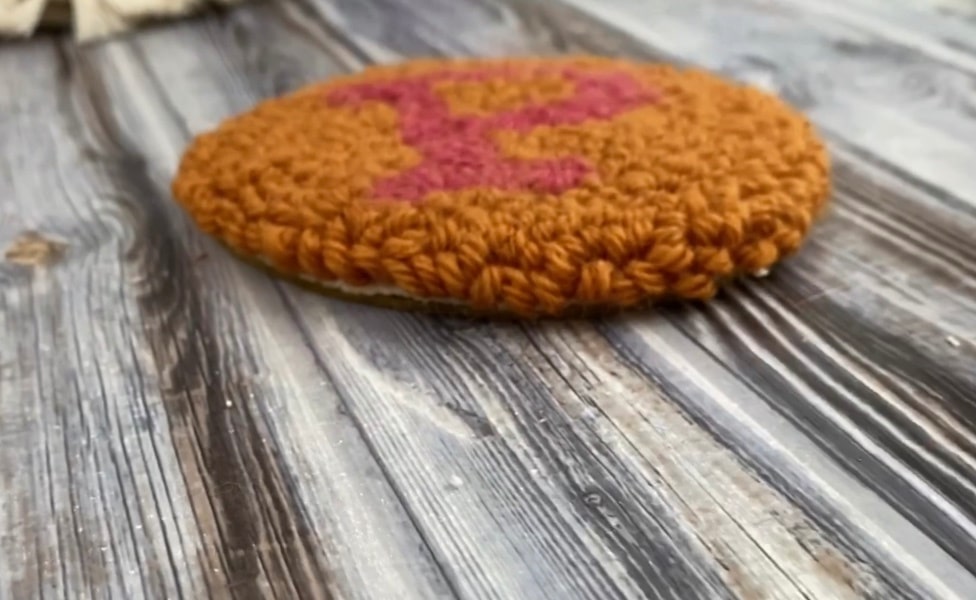 You have to really get your face down next to it to see the edges.
If you're not digging the unfinished look, I'll show you how to quickly make them look a bit more polished. It's super easy!
Step 4: Add yarn trim around the edge (optional)

Cut a piece of yarn that's long enough to go around the fabric edge of the coaster. I used the same yarn that I punched the background with, but use whatever you prefer.
Using the tacky glue (or you can use the fabric glue, the tacky glue grabs the yarn right away so it doesn't shift around on you), run a small bead of glue around the felt and fabric edge.
Be careful not to get it on the back side of the coaster where it'll show.
Then carefully press the piece of yarn around the edge. When you get back to where you started wrapping, overlap the yarn slightly and trim it off.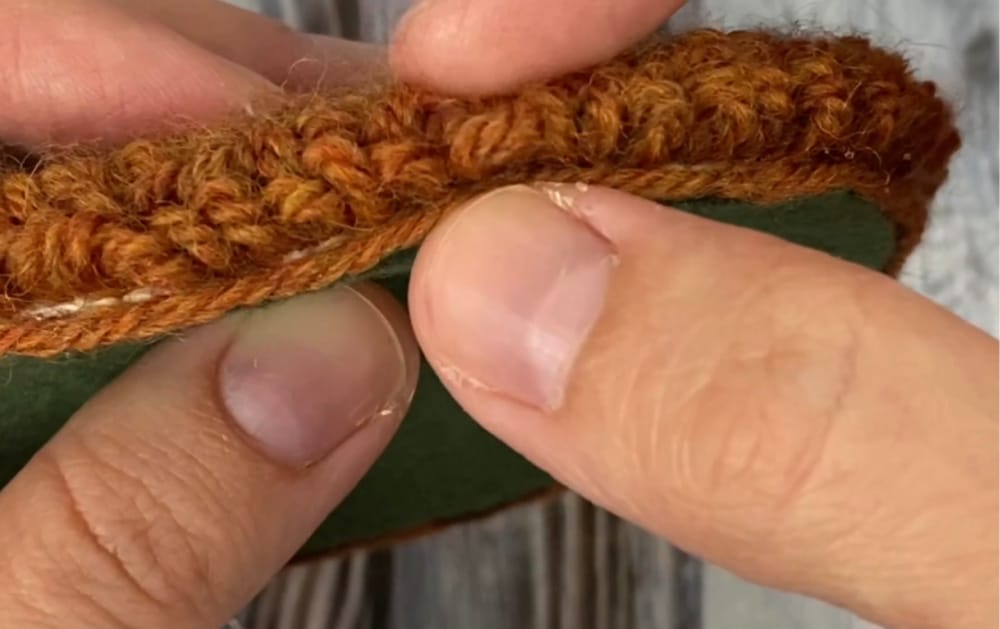 Pick up your punch needle coaster and adjust the yarn while the glue is still wet so that it covers the edge as much as possible.
If you want more coverage, you could do another layer of yarn and push the first layer up closer to the loops. It's up to you.
Done!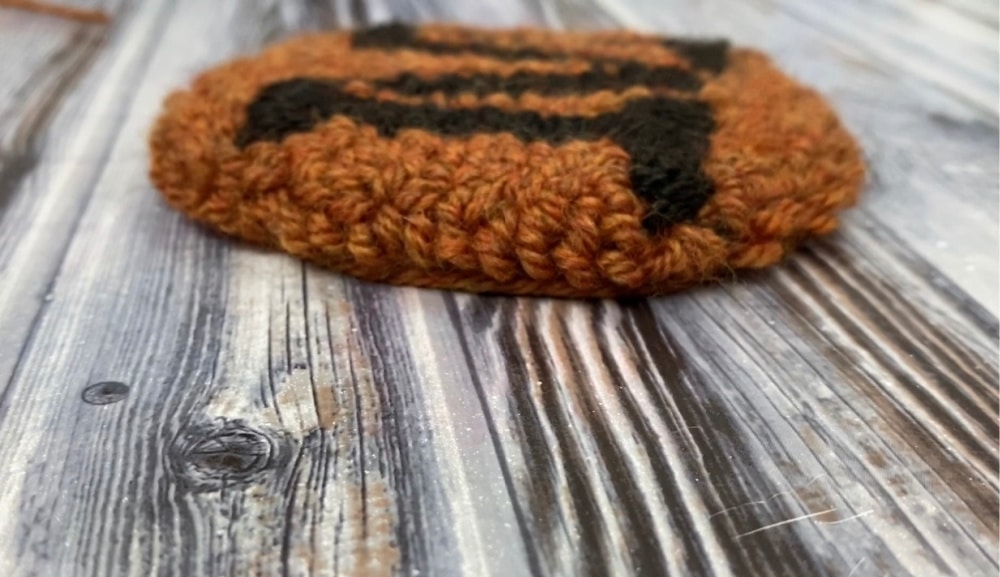 Let the glue dry and your punch needle coasters are complete!
You can see in the picture above, the little strip of yarn really covers the raw edge nicely, and it's so easy!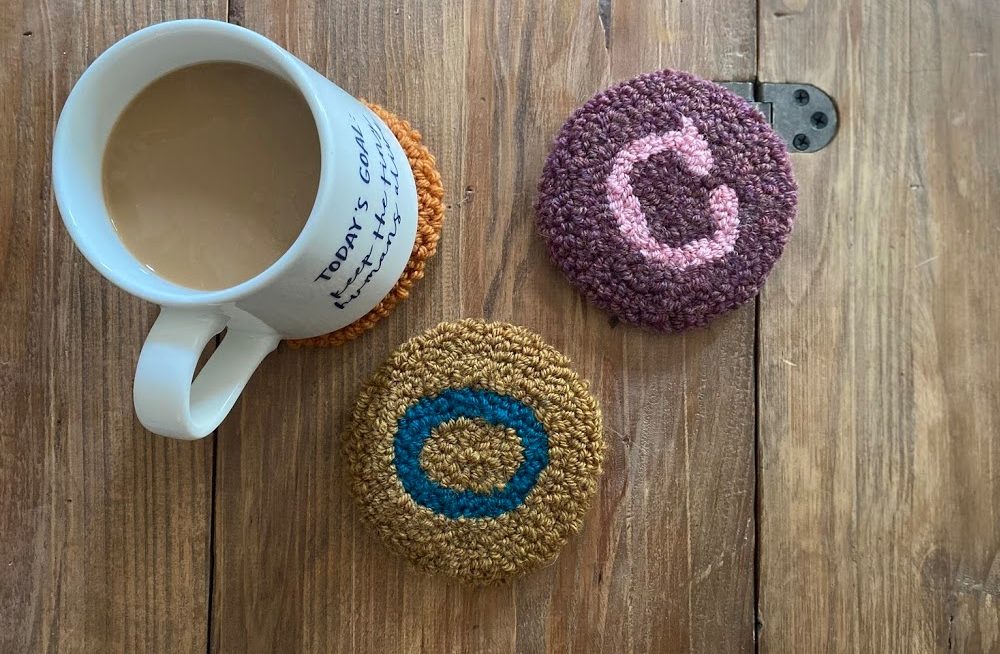 Now, you could totally leave a larger fabric border around the coaster design, turn it under, press it with an iron, and then add the felt, but I like to do things as easily as possible as long as it still looks good and holds up.
I've had good luck with Aleene's OK to Wash It glue and Tacky Glue, so that's what I recommend.
I hope you enjoyed this tutorial! Remember, you can grab the pattern for these Monogrammed Punch Needle Coasters in my shop, plus there are other fun patterns in there. I'm working on LOTS more, so stay tuned!
Related Posts


How to Finish Punch Needle Coasters (Quick and Easy!)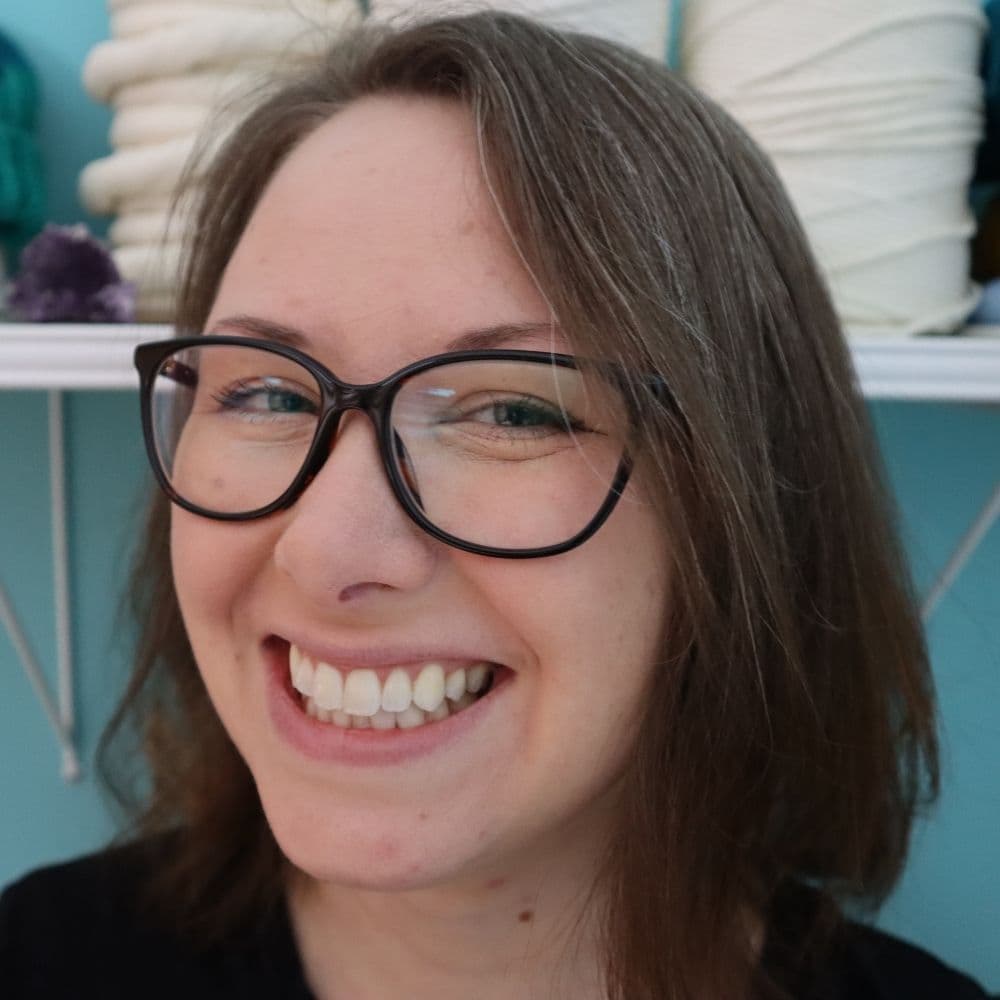 Crystal Martin is the crafty lady behind Marching North. She loves sharing easy to follow tutorials and patterns for macrame, crochet, punch needle, and pretty much anything else involving yarn or textiles.
Her work has been featured on Creative Fabrica, Craft Gossip, Ravelry, as well as her own site and YouTube channels.