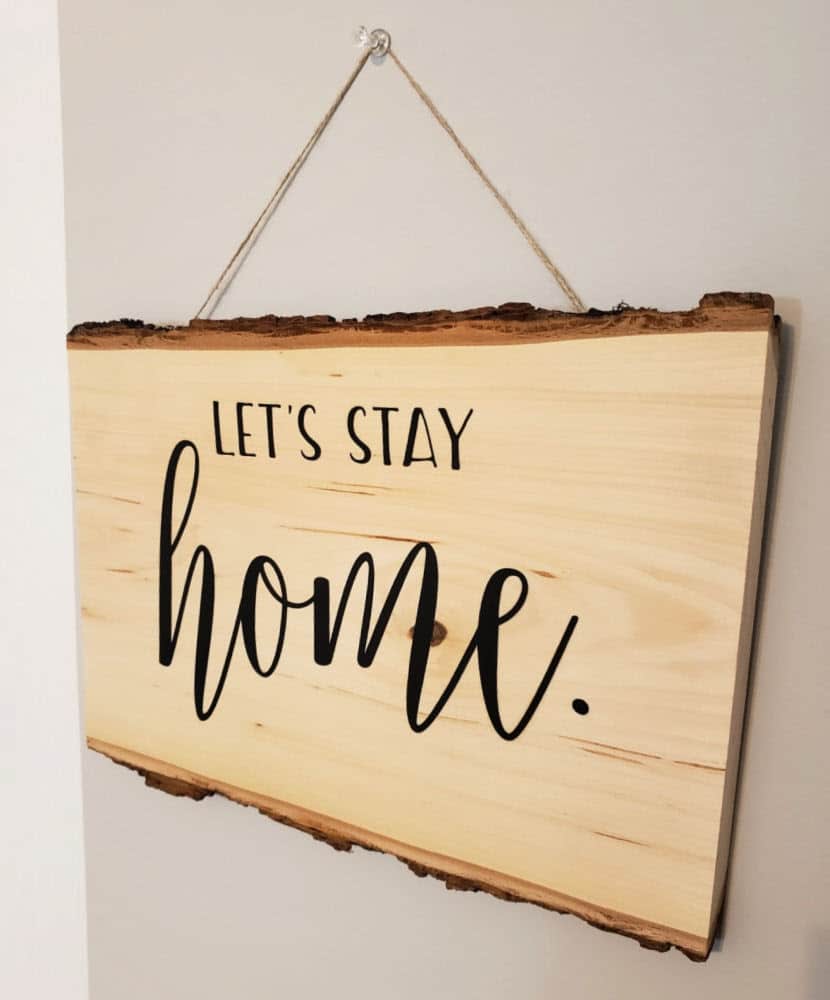 Are you looking for an easy project to spruce up your decor? Or maybe you've never tried using iron-on vinyl on wood and you're looking for a step by step tutorial to show you what to do.
Either way, you came to the right place!
This rustic DIY wood sign is a great foolproof project if you're new to using your Cricut or looking for a low-stress Cricut craft. It's quick, easy, and has a perfectly rustic vibe.
(This post contains affiliate links. If you click one and make a purchase, I may receive a small commission at no extra cost to you. Read the disclaimer here. Thank you for your support!)
Using HTV on wood is amazingly simple! I've used adhesive vinyl on wood and sometimes it would end up peeling after a while. The heat transfer vinyl is ON THERE. It almost looks like paint!
To make this lovely wood sign, I used my Cricut Maker and Cricut's Everyday Iron-On Vinyl.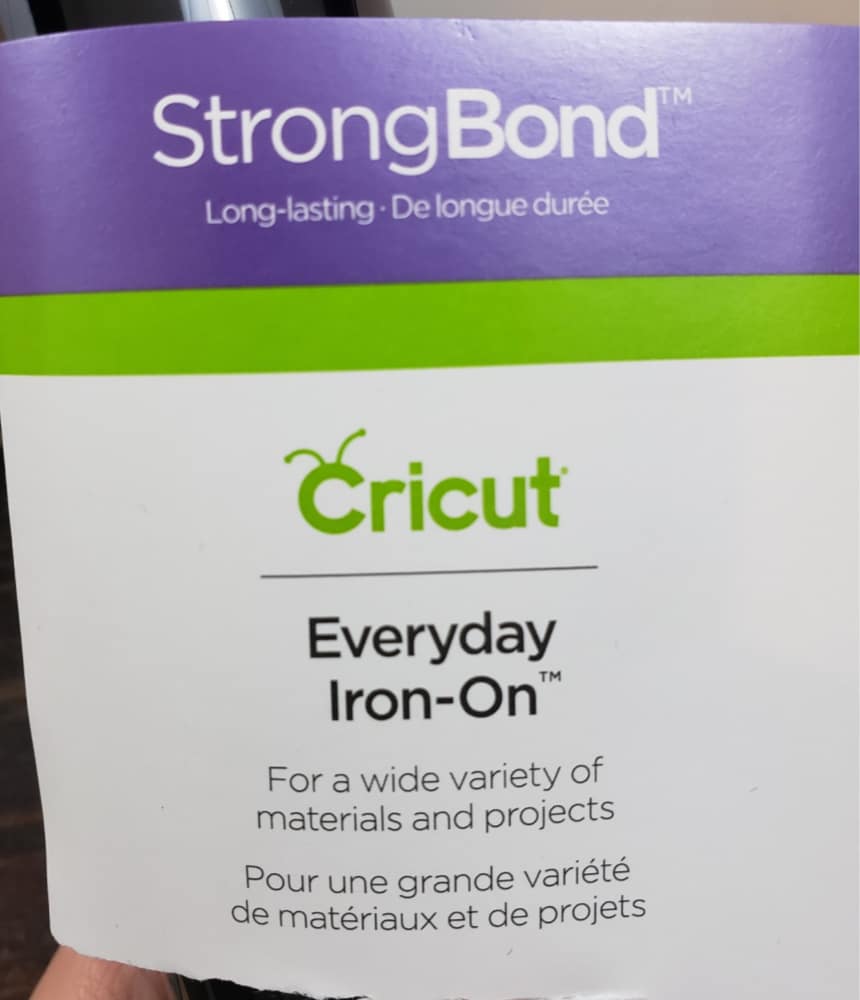 The wood is an untreated basswood plank I got at Target on a whim. This one is about the same as the one I used.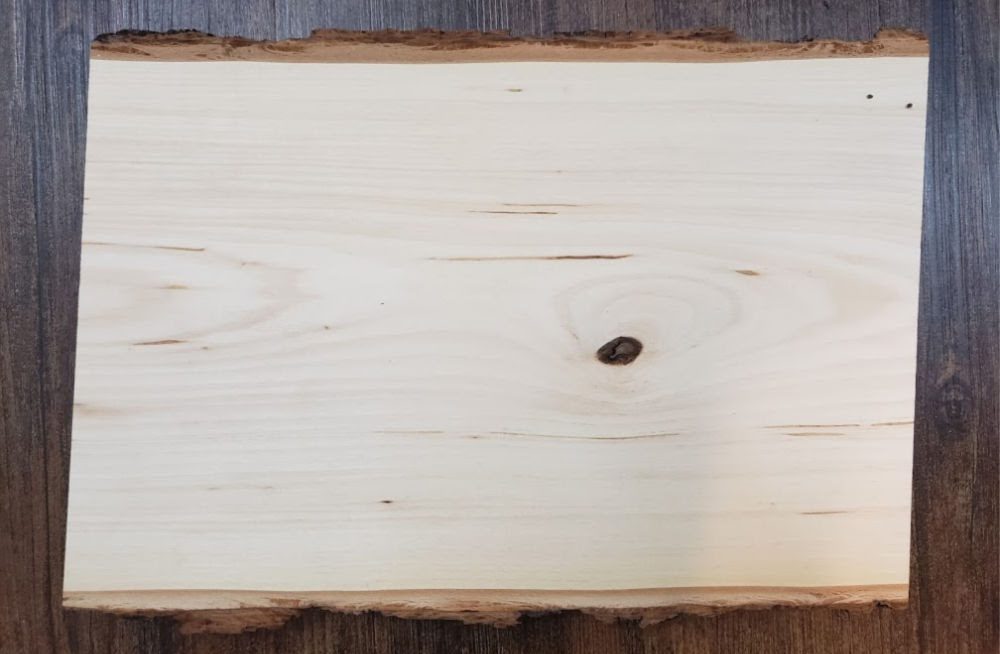 I also picked up some simple twine and I already had this picture hanging kit with different hangers and hooks and such.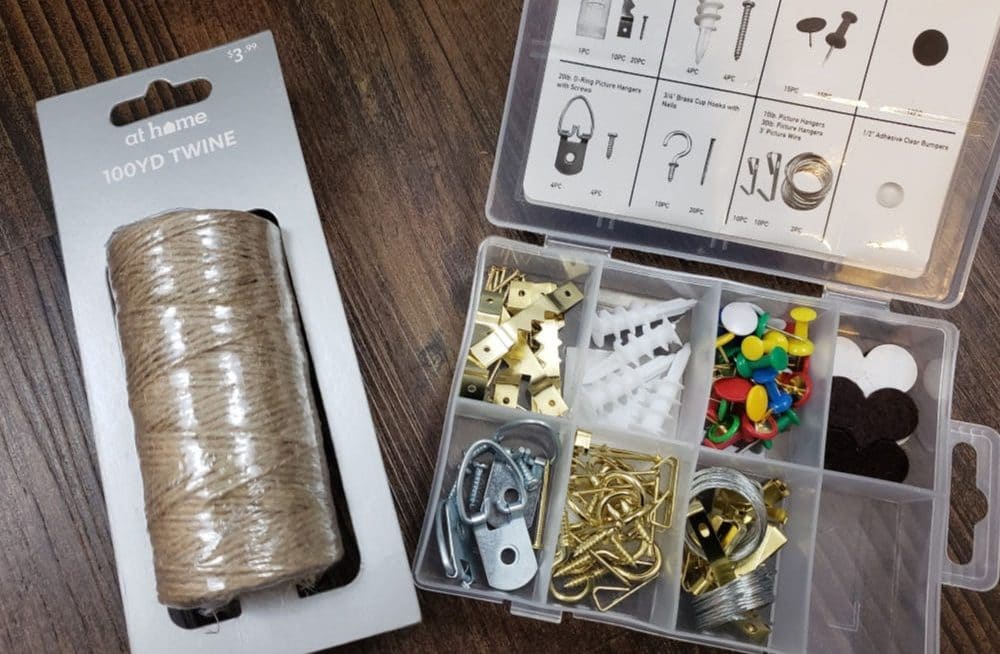 Originally, I started this sign as a wood burning project. Since we don't have any well-ventilated places to wood burn in our house, I have to do it on the deck.
This year it's been COLD. Here in the midwest, it seems we bypassed fall and went straight to winter.

A few weeks went by and I realized I'm not going to sit out in the snow and wood burn this sign so I had to come up with a different plan.
I decided to flip the plank over and apply some HTV I cut with my awesome Cricut. I'm so glad I did! I hadn't tried applying HTV on wood before this, so it was a great learning experience.

It's a very simple process and the result looks almost painted. I was amazed!
If you're new to using HTV on wood, give this quick project a try! It's inexpensive (assuming you already own a cutting machine) and satisfying.
I'm also including a free SVG file of the "Let's Stay Home" graphic. Feel free to use it for any personal projects. You'll find the link below in the supply list.
Since I have a Cricut Maker and that's what I'm familiar with, I'm going to be explaining how to make this sign using Cricut Design Space.
Let's get started!
Supplies
To make this rustic wood sign you'll need:
DIY Wood Sign Tutorial
First, upload the graphic you want to use into Design Space. Measure your plank and figure out how you want your words to be arranged.
Sometimes when I upload an image, it's way over yonder on my canvas and I can't see it.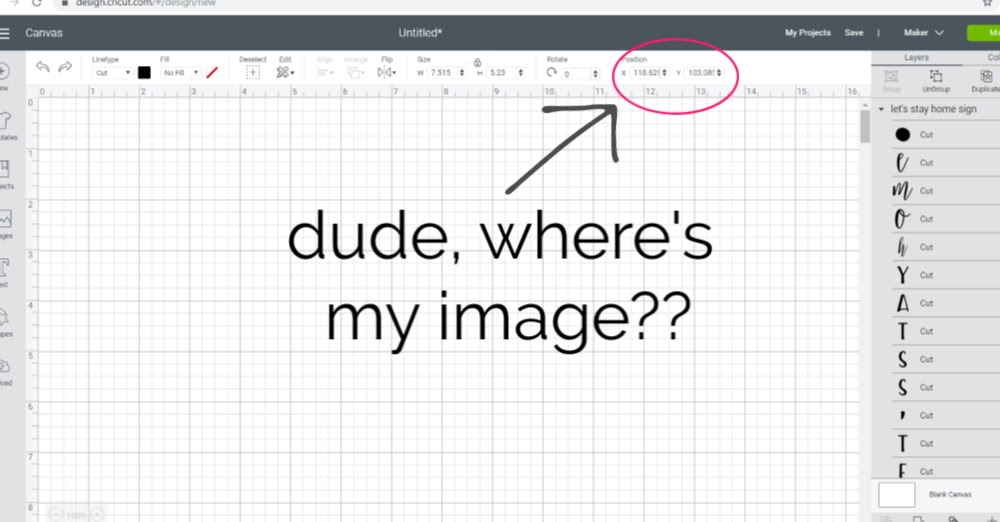 See that pink circle? That's the X and Y axis of your design. For some reason when I upload certain things, it puts it off the screen.
Luckily, it's a simple fix.
All you have to do is click in those boxes and enter a zero.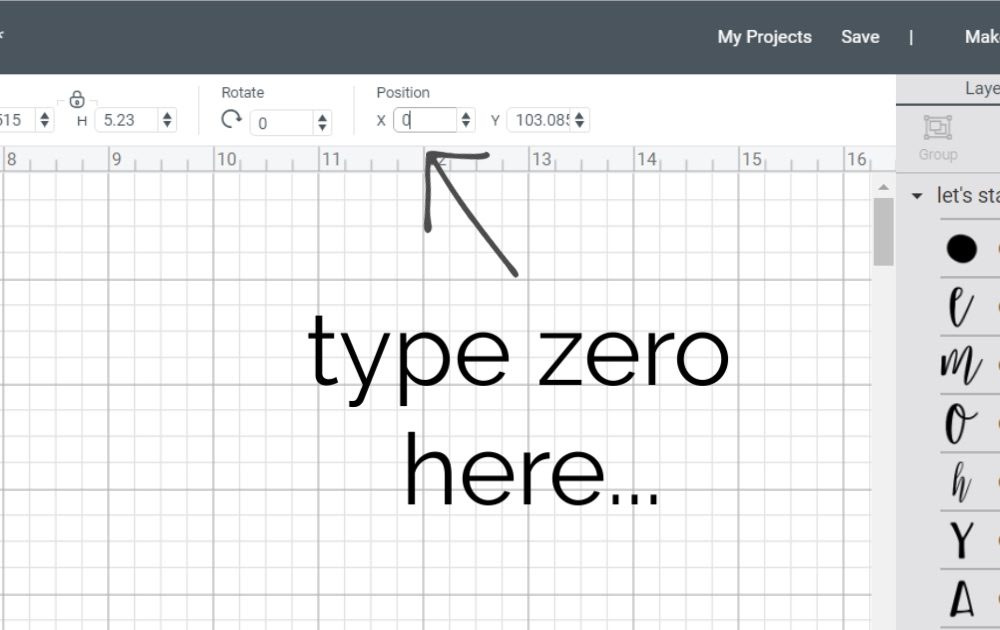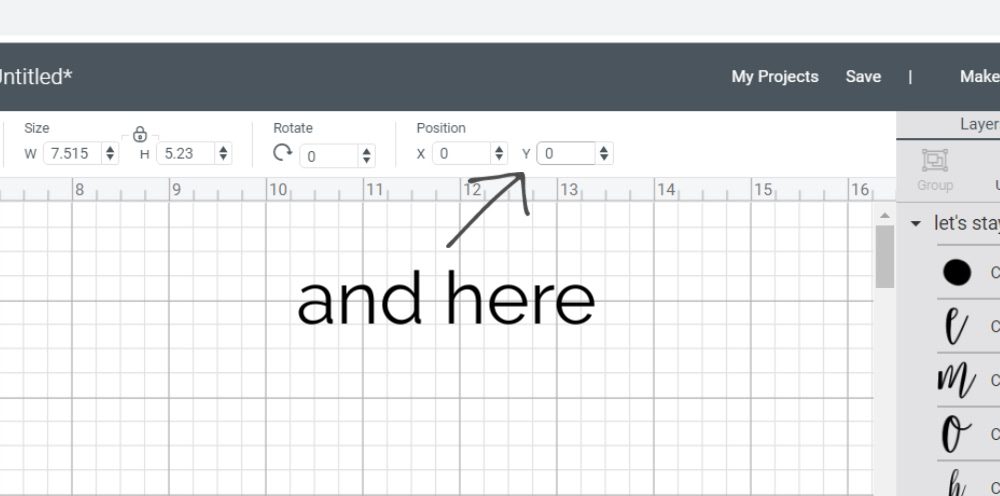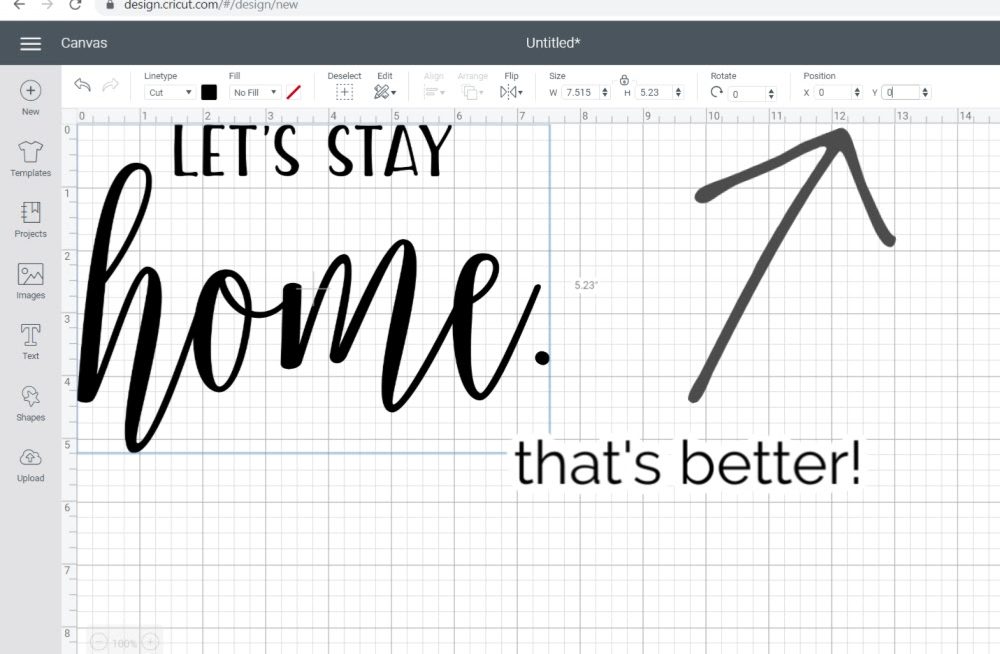 Once you're satisfied with your layout, click Make It.
For Everyday Iron-On, you'll need the light grip mat and fine point blade.
Look at the picture of your mat to tell how big of a piece of vinyl you need and where you position it.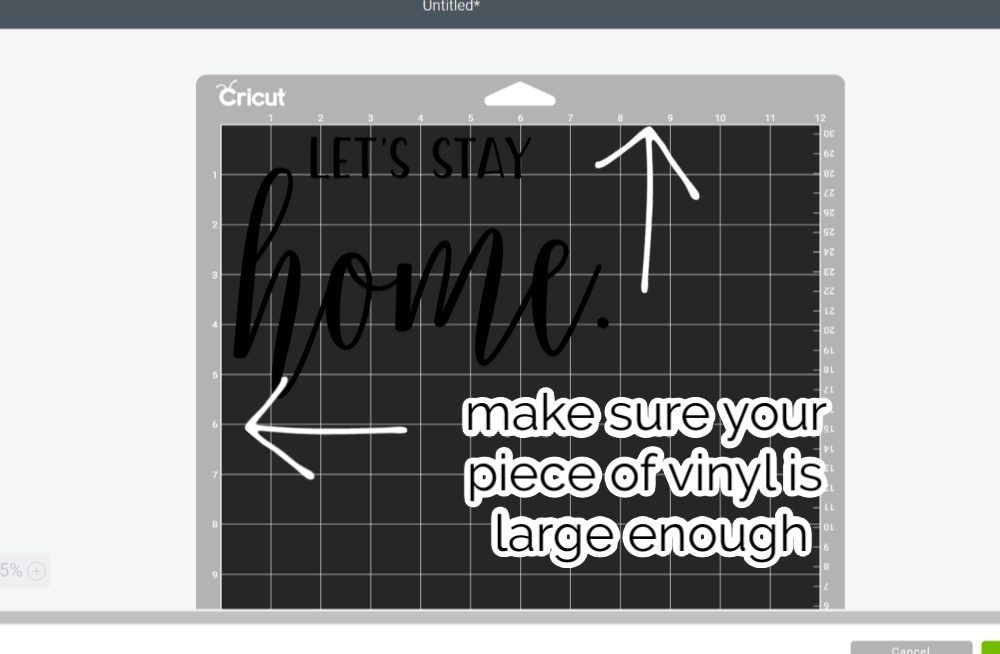 Since we're using Iron-On, make sure you hit Mirror.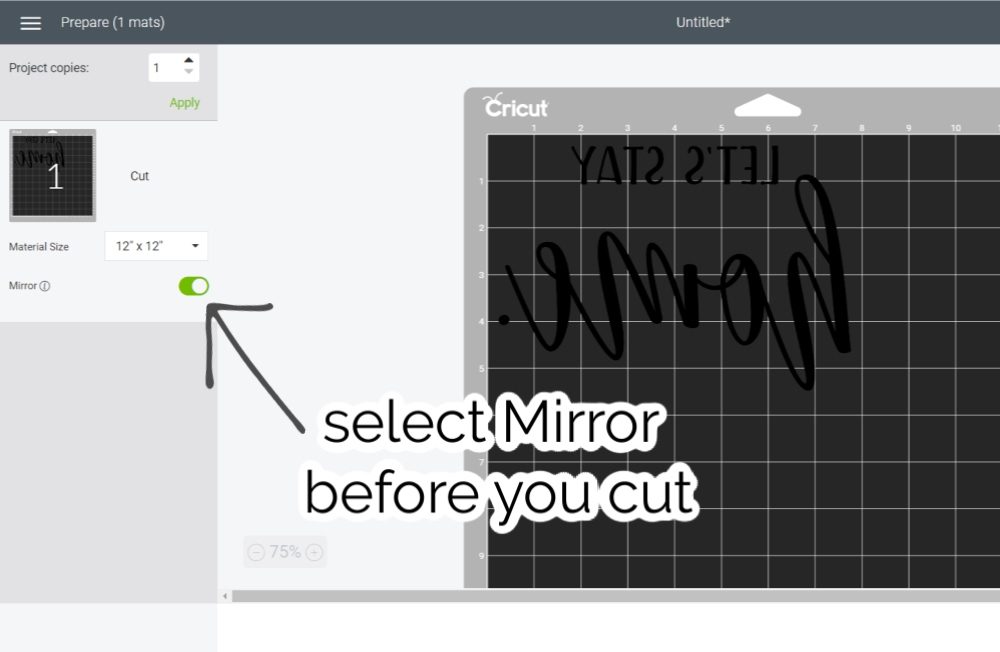 The Everyday Iron-On goes onto the mat shiny side down. Smooth it out really well and then it's time to load your mat into your machine.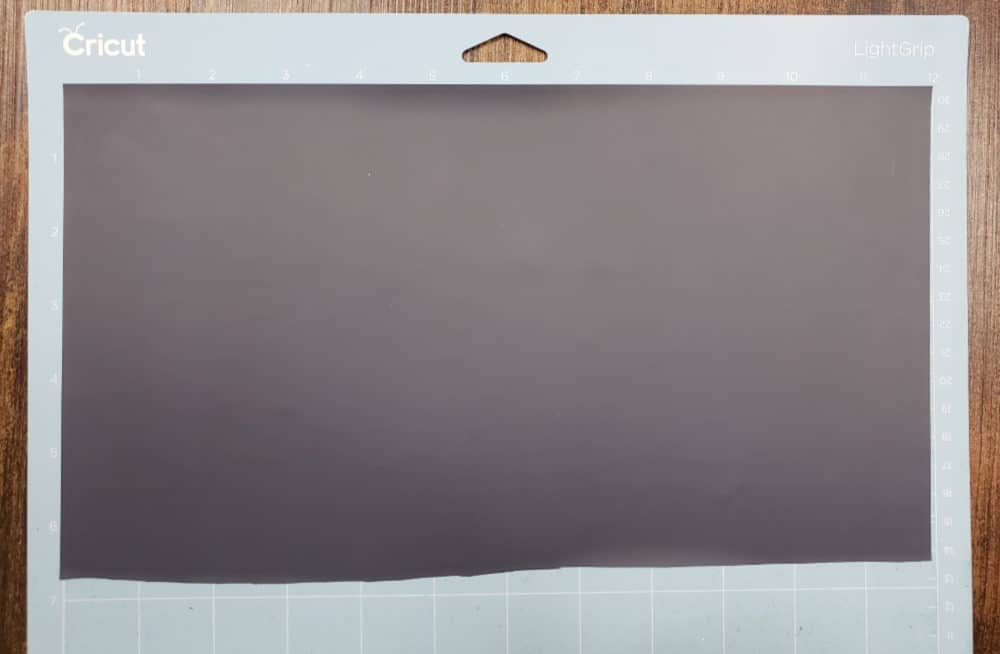 Load your mat and commence with the cutting.
Once it's finished and you've unloaded your mat, it's time to start weeding!
I like to leave the piece of vinyl on the mat so it isn't slipping all over the place while I weed.
I don't have a Bright Pad, but that would make it even easier to see what you're doing. By the way, these tools are must-haves for this step.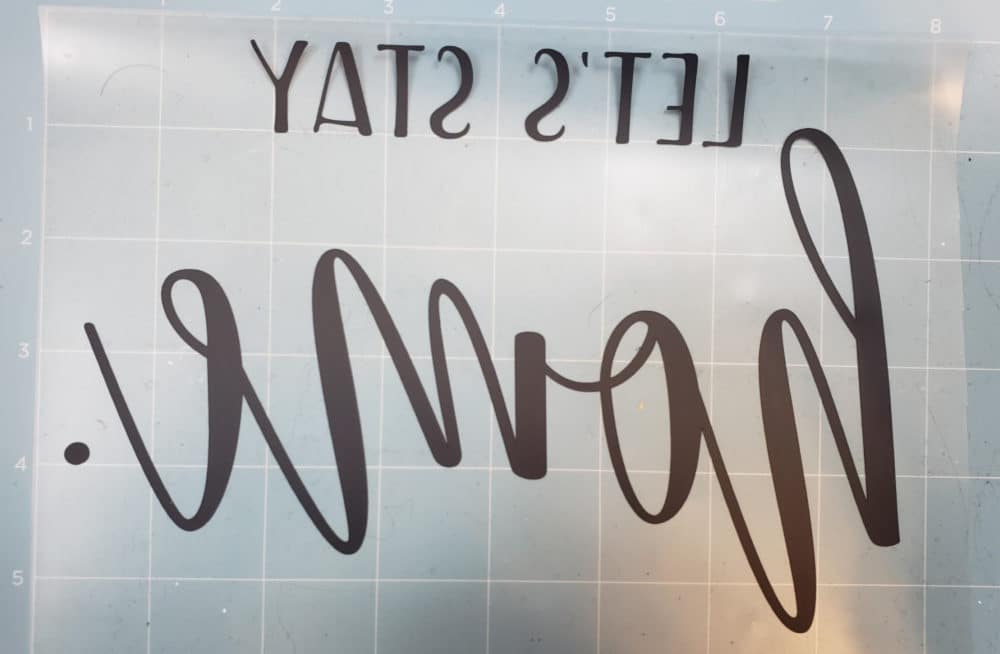 Set your vinyl aside for a minute and let's take a look at the piece of wood. It's important that it's sanded nice and smooth and is clean and dry.
Use a dry cloth and wipe it down to make sure there's no wood dust or debris that could interfere with your vinyl adhering.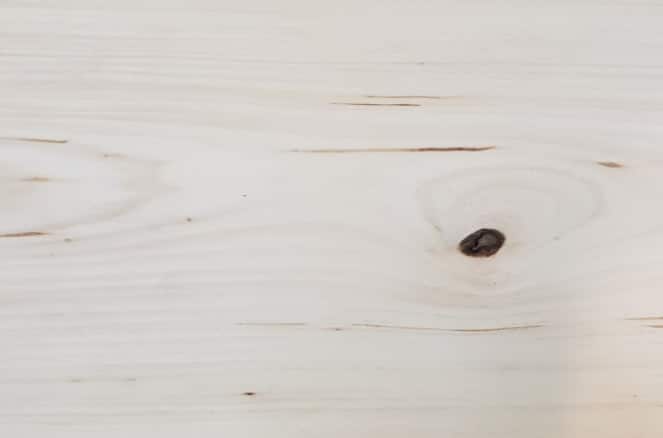 If you got a plank similar to the one I used, it's probably ready to go. Mine came pre-sanded and wrapped in plastic so it was clean. Some of the bark fell off when I opened it, but besides that, it was virtually mess-free.
Peel the vinyl off the mat and position it where you want it to go on your wood plank. (Make sure it's sticky side down, as long as your letters aren't backward, your in good shape.)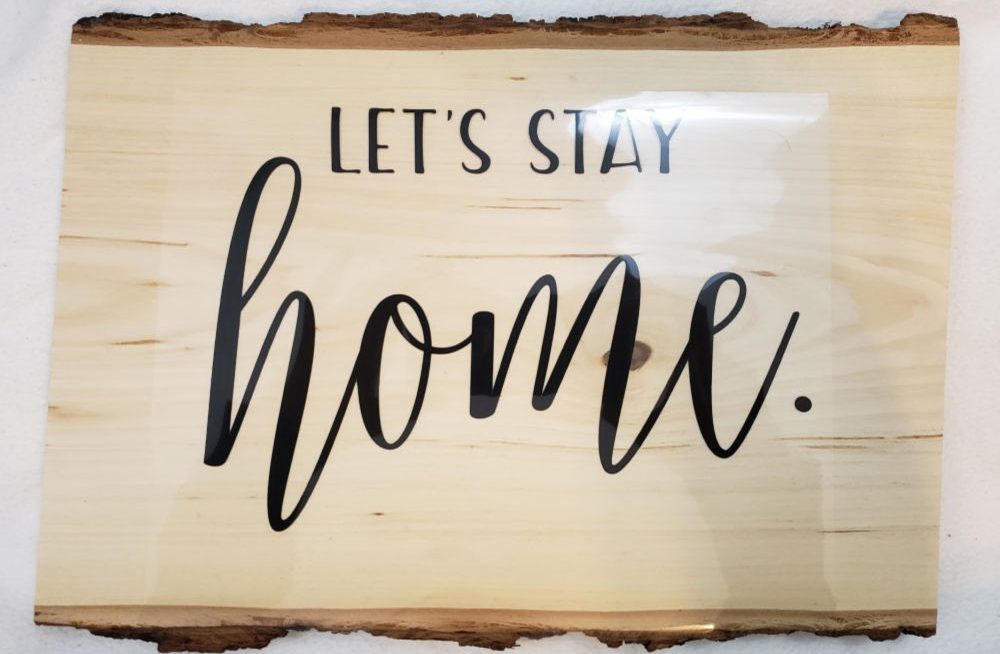 Before we apply the graphic, make sure you have your wood plank set up on a sturdy, heatproof surface.
I ironed mine on the floor with a folded towel underneath, but a sturdy table would be more ideal. Sometimes you just have to make do with what you've got! Remember, safety first!
To transfer the design, I used an iron (hopefully soon I'll be upgrading to an Easy Press 2). If you're using an iron as well, make sure it's set to NO STEAM and I put mine on the highest setting which is Linen.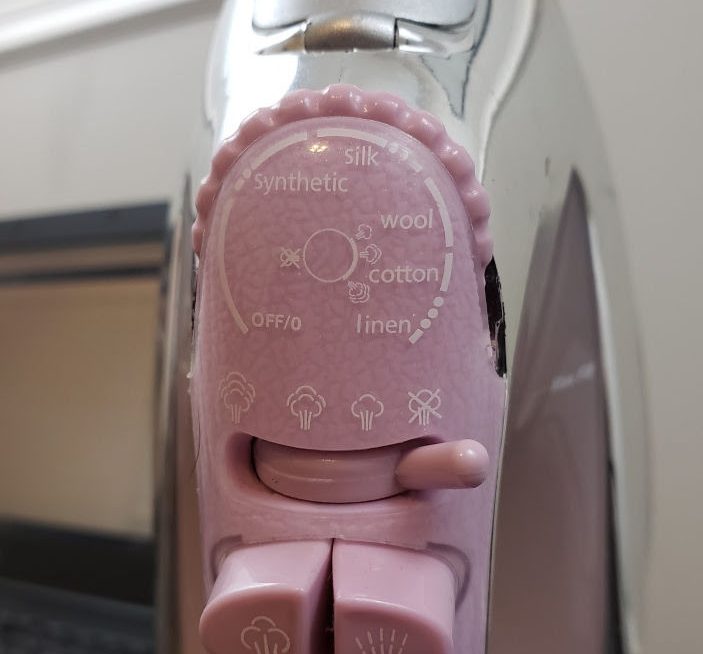 If you have an Easy Press, set it to 300 °F.
With the iron, I pressed it down onto the design and held it STILL (no moving around, it can warp your design) applying firm pressure for about a minute. Then I picked it up and moved it over to the next section and repeated that process until the whole graphic was applied.
For the Easy Press (which is infinitely easier) just set it down over the graphic and press firmly for 40 seconds.
Let the vinyl cool for a few seconds, and then carefully begin peeling it off.
In a few spots I noticed the vinyl wasn't completely stuck down, so I went back over with the iron before removing the cover sheet.
After you make sure everything's properly adhered, take a moment to marvel at the beauty of how easy it was to make such a professional-looking piece of decor!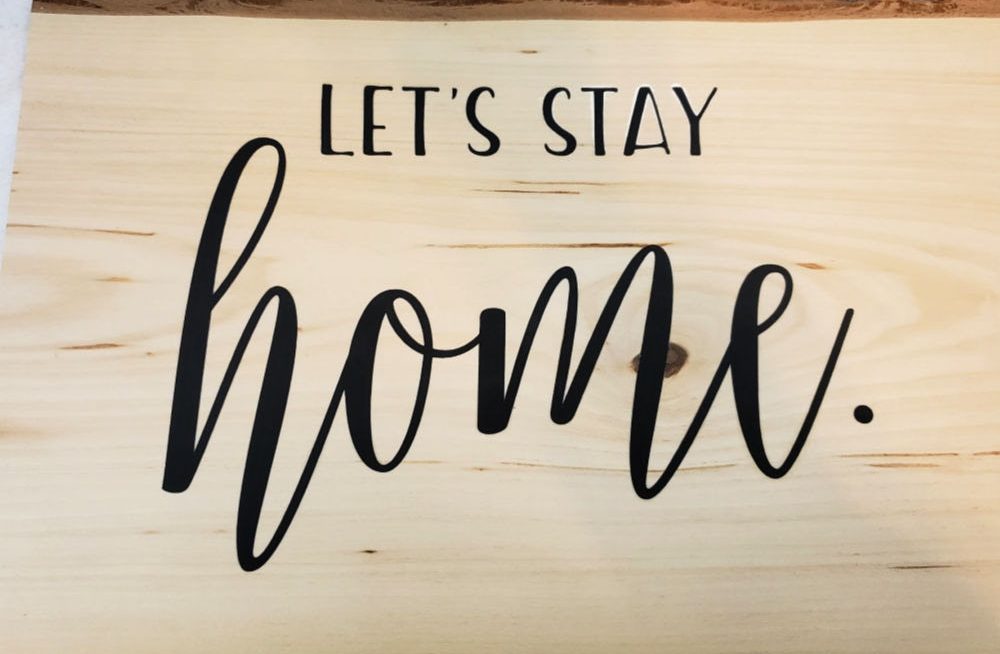 In a few spots you can see where the adhesive bled out around the letters, but it's only noticeable if you look really close.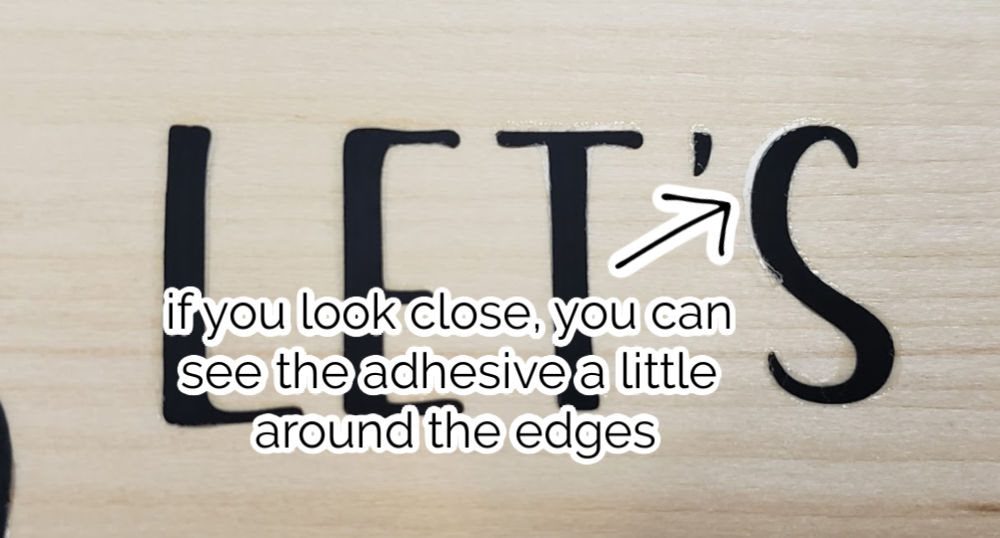 Despite that, I think it looks really great and I'm very happy with how it turned out.
Now it's time to add the hardware!
Flip the wood over and carefully lay it face down on your work surface.
I have a kit I got a Menards last year with different kinds of picture hanging hardware.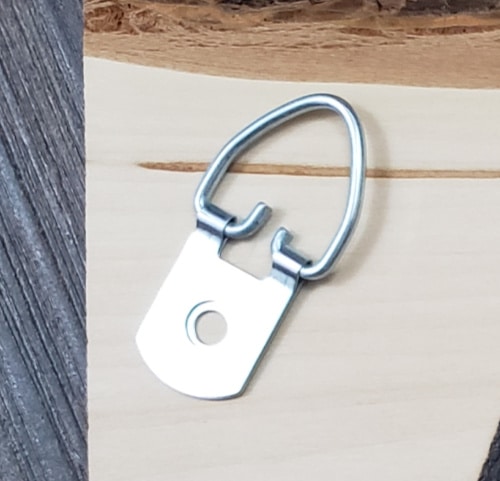 As long as you have hooks or hangers similar to this, you should be fine.
Line up the hangers on the back making sure they're even. You could measure (and probably should) but my brain hates math so I just eyeballed it. It turned out fine.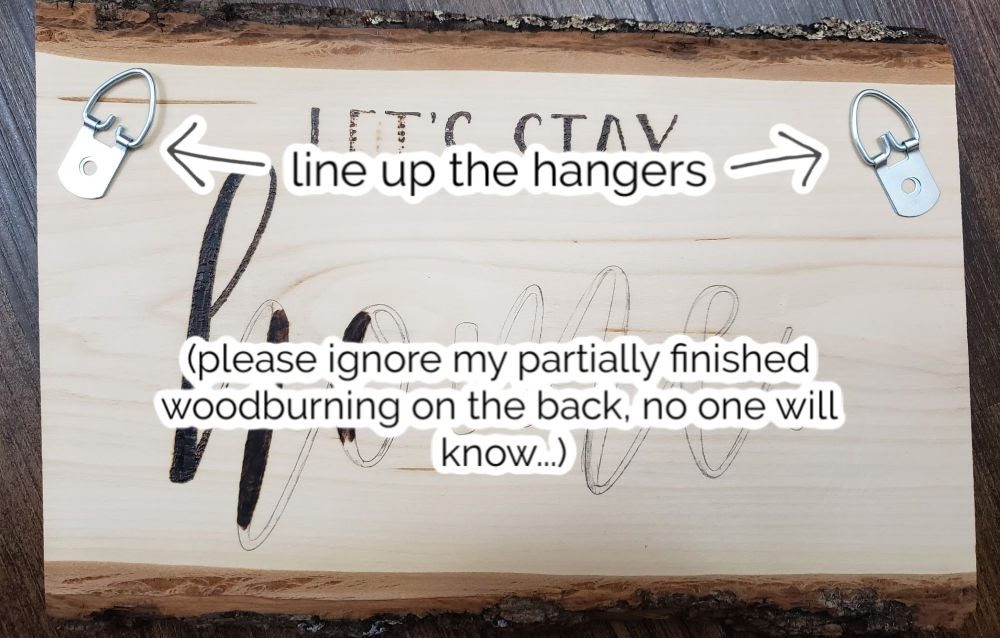 Instead of searching for a screwdriver, I decided to use my new drill to screw in the tiny little screws.
It was very quick! Especially since it's basswood, it might have been overkill! But it was fun, and that's all that matters, right?
After the hangers are attached, double knot the twine to each hanger, making sure to leave enough slack for it to be as long as you like.
Depending on what shape or size your wood plank is, it may be longer or shorter than mine. My piece of twine was about 16 inches long.
Done!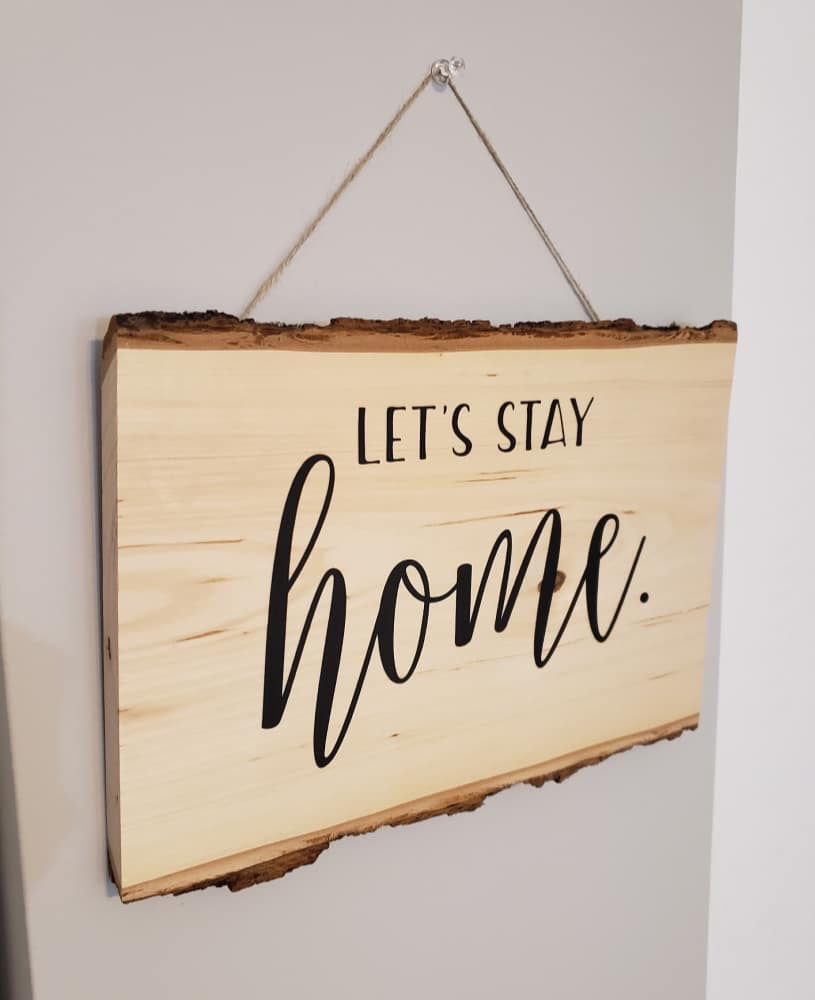 I had so much fun making this DIY rustic wood sign, I hope you did too. The more projects I finish with my Cricut Maker, the more I love it!
If you make one of these awesome wood signs, share it on Instagram and tag me @marchingnorth, I'd love to see it!
Related Posts
How to Apply HTV on Wood | Rustic DIY Wood Sign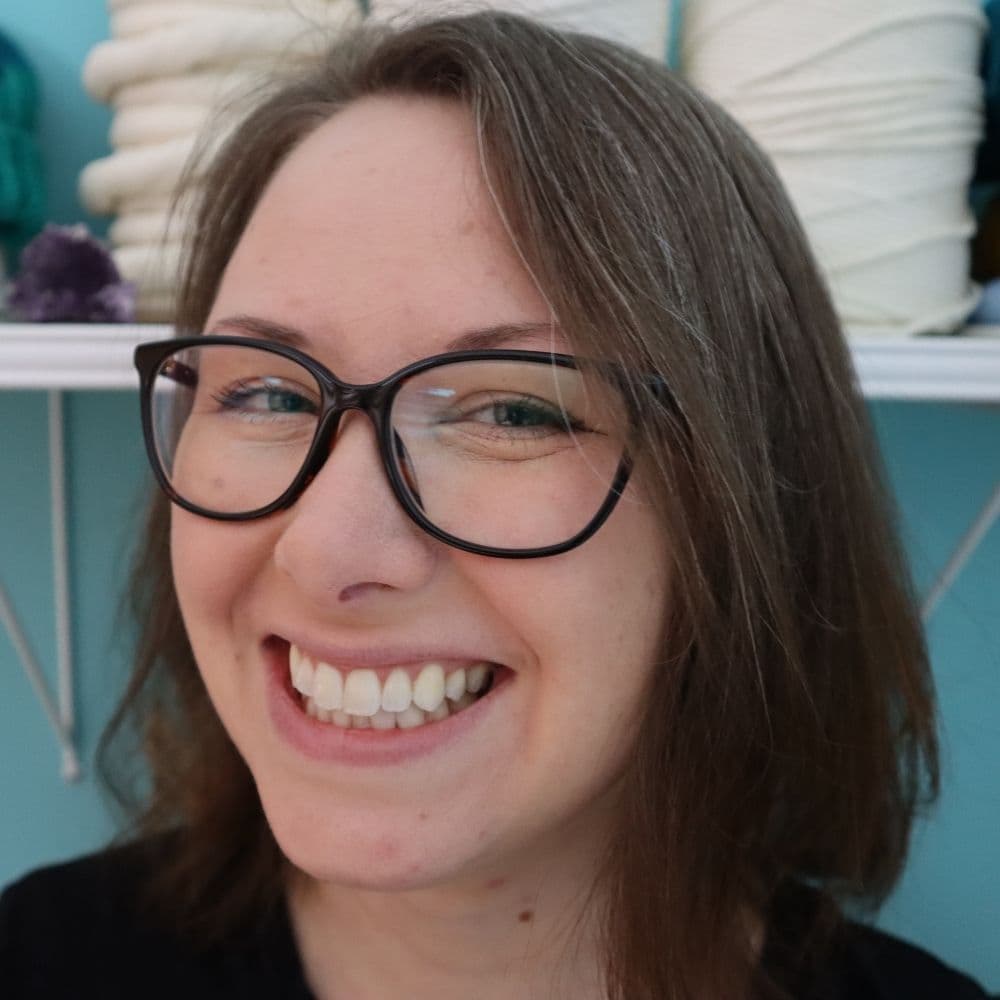 Crystal Martin is the crafty lady behind Marching North. She loves sharing easy to follow tutorials and patterns for macrame, crochet, punch needle, and pretty much anything else involving yarn or textiles.
Her work has been featured on Creative Fabrica, Craft Gossip, Ravelry, as well as her own site and YouTube channels.