Learn how to make a super chunky crochet rug with bulky yarn in under an hour with this step by step tutorial!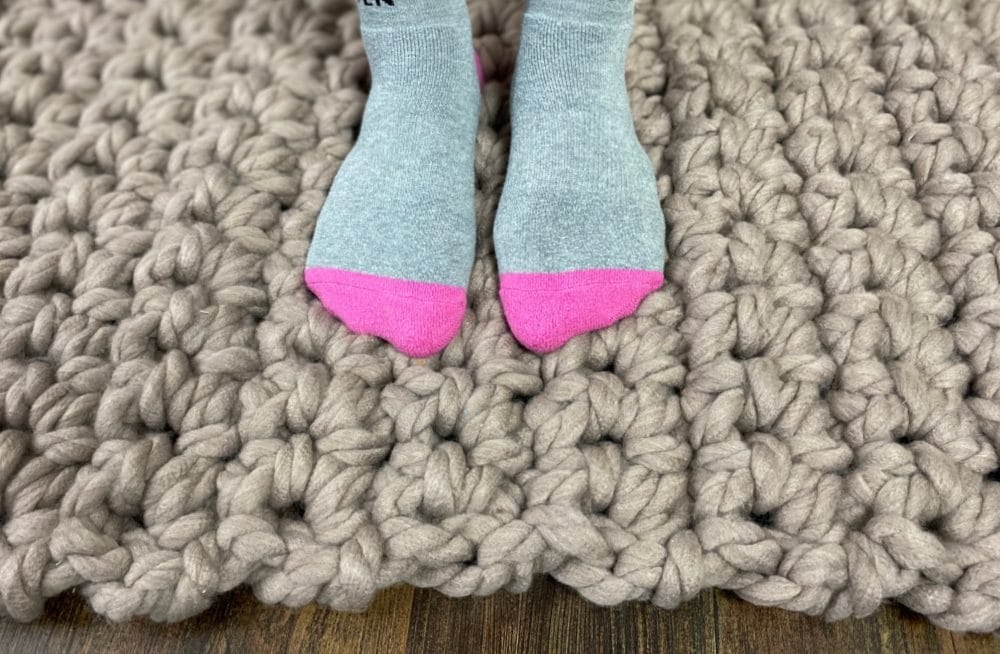 Look at all that squish! This is seriously the most comfy soft rug I've ever stood on.
I've been planning to come up with a super bulky crochet rug pattern for a long time. One day when my daughter and I were wandering through Michaels, I saw Loops and Threads Chunky Grande Big yarn was on sale (buy 2 get 1 free…score!) So, this crochet rug with bulky yarn pattern was born.
If you're a big fan of easy and satisfying crochet patterns, you'll love this one! It's all single crochet and you can easily get this super bulky rug finished in one sitting.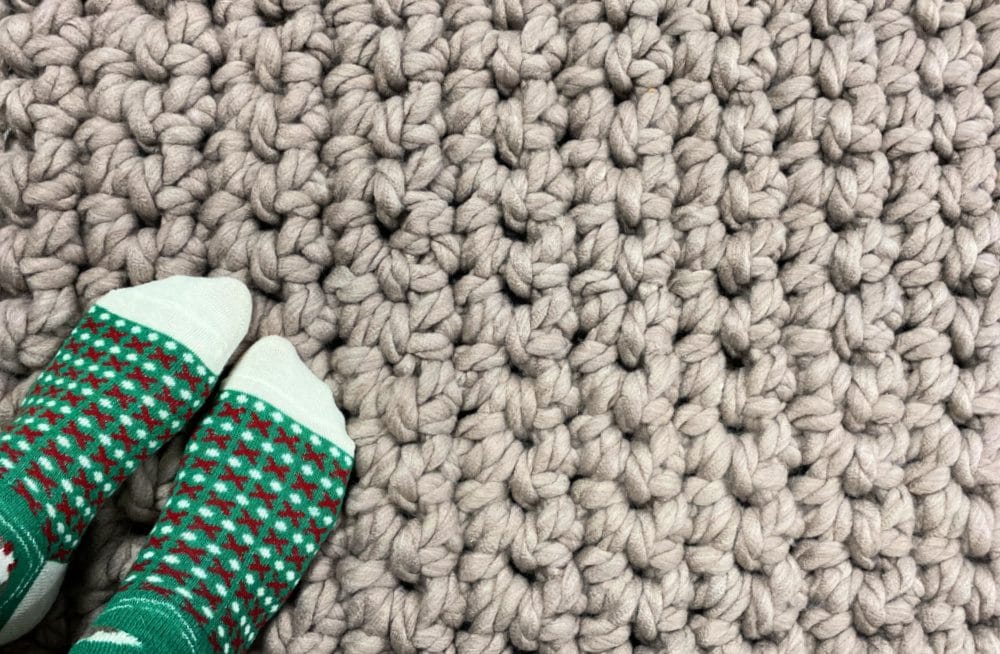 (This post contains affiliate links. If you click one and make a purchase, I may receive a small commission at no extra cost to you. Read the disclaimer here. Thank you for your support!)
What's the Best Yarn to Use for Crocheting a Rug?
Although wool yarn is great for rugs (and used traditionally in punch needle rugs and rug hooking), acrylic yarn is the best yarn to use for a crochet rug.
It's washable, durable, and there's a wide variety of colors and weights to choose from. This rug is made with super bulky acrylic yarn.
Just in case you don't have a Michaels near you, I did some research and it seems like Red Heart Irresistible Jumbo Yarn is a pretty close match to the Loops and Threads yarn I used. If you can't find that, you could also use a less chunky yarn but double or triple it up to get the same effect.
Is this Crochet Rug Pattern Good for Beginners?
Yes, absolutely! This is the perfect pattern for beginner crocheters. It's all done with a simple foundation chain and single crochet.
Since the yarn is so bulky, you only need to crochet 20 rows and the rug will be done! Plus this pattern includes a step by step video to walk you through the whole process.
Supplies You'll Need to Make a DIY Bulky Crochet Rug
Chunky Crochet Rug with Bulky Yarn // Free Pattern and Tutorial
Row 1:
Chain 13 times. This is the foundation chain of your crochet rug.
Be sure to make your chains kind of loose and try not to pull them tight on your hook.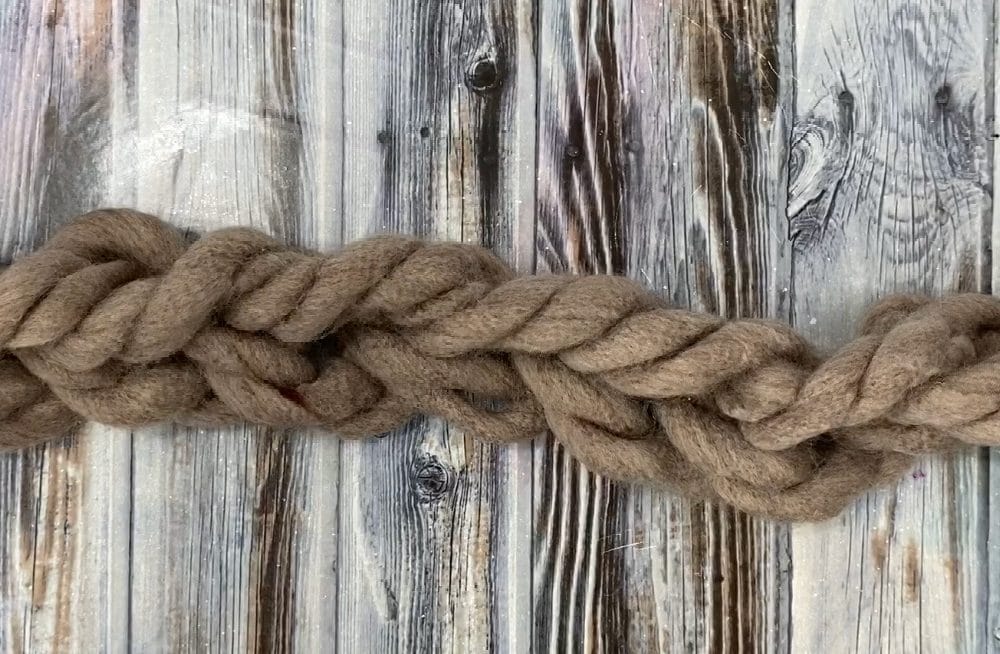 Row 2:
Turn and single crochet into the second chain from the hook, and continue across the chain. After you crochet into the last stitch, chain one and turn.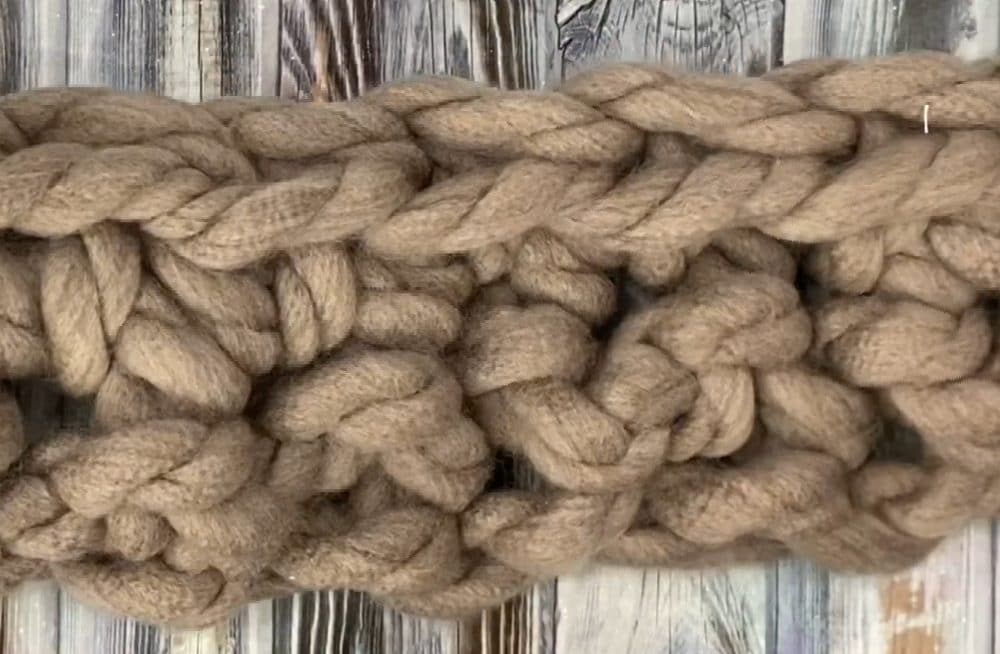 Row 3-20:
For the rest of the rows, single crochet across, adding new yarn when you run out (directions for that are below).
Chain one and turn at the end of each row.
How to add new yarn when you run out:
When you run out of yarn, leave a tail that's about 6 or 7 inches long.
Then grab the end of the new skein of yarn and lay it parallel to the tail end.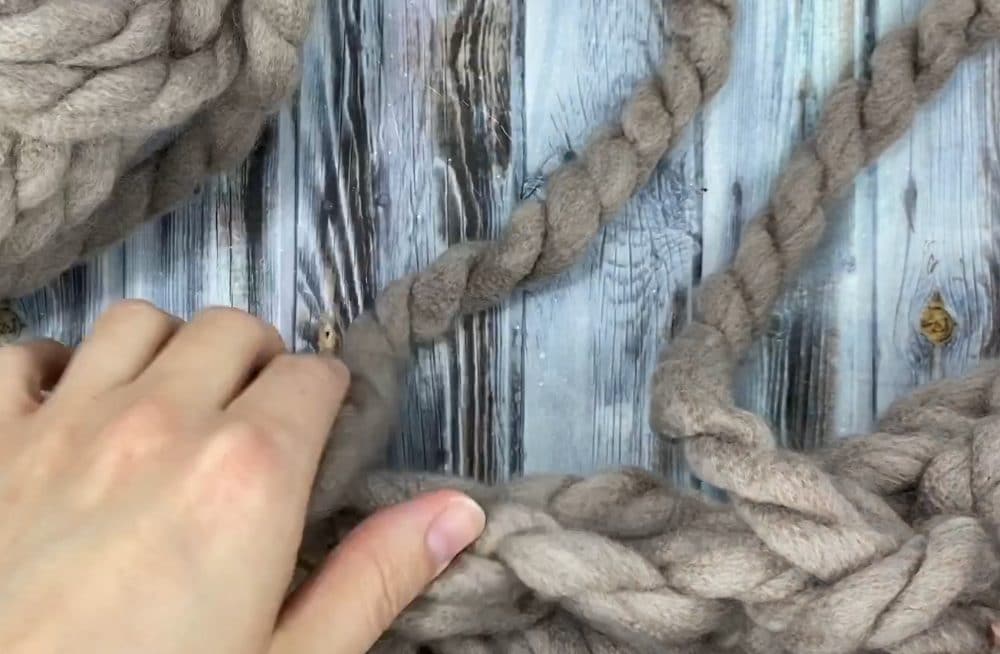 Then, crochet the next stitch with the new yarn, just don't pull the stitch too tight. Continue crocheting a couple more stitches to anchor the new yarn in.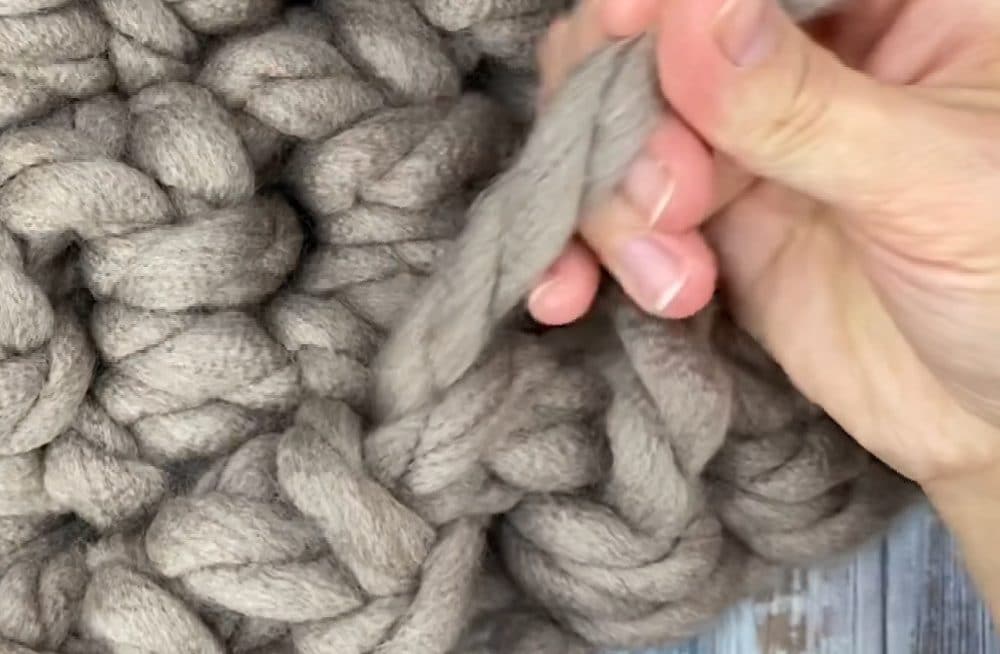 Flip your work over and gently pull on the two ends to tighten it up. You'll tie the ends together once the rug is finished, no need to worry about them now. Now you can just continue crocheting along until you run out of yarn again and repeat this process!
Finishing:
After you complete the last row, cut the yarn and weave in all the ends. In the places that you joined a new skein of yarn, tie the two ends into a knot and then weave the ends in before trimming them.
Done!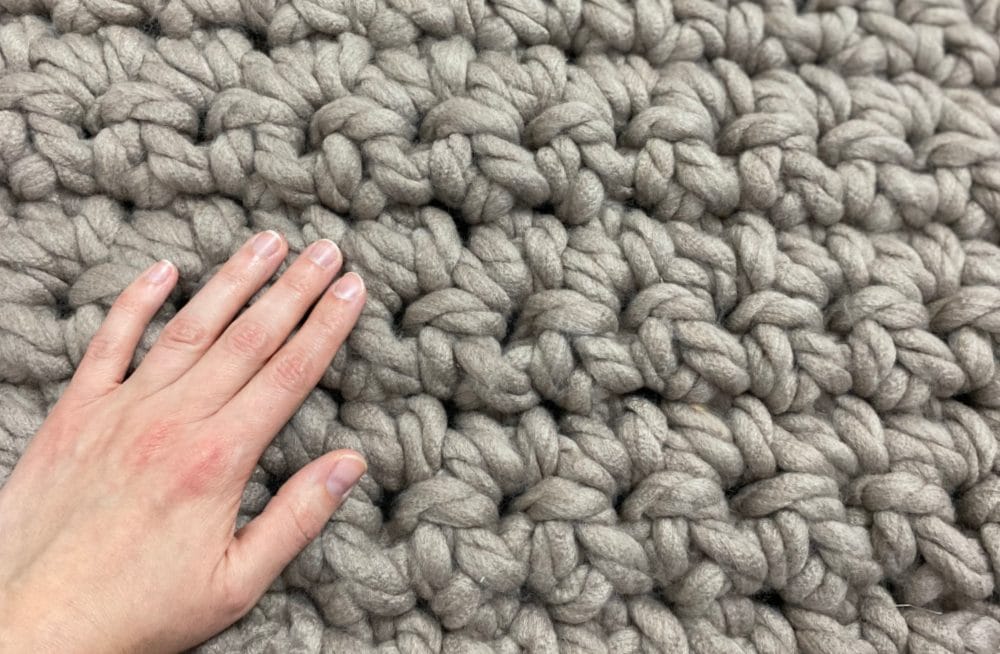 I hope you enjoyed making this chunky crochet rug pattern!
If you make one of these, please take a picture and share it on Instagram! Tag me @marchingnorth, I'd love to see it.
Bulky Crochet Rug Free Pattern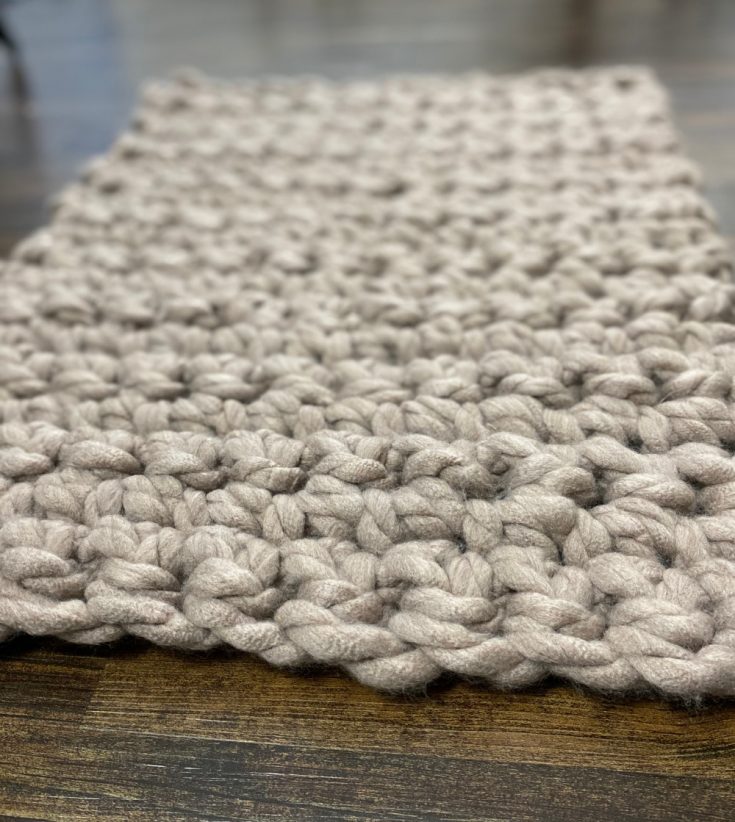 This bulky crochet rug pattern is super quick, easy, and makes the squishiest rug ever! Perfect for beginners and beyond.
Tools
Instructions
Row 1: Chain 13 (foundation chain). Turn and single crochet into the second change from the hook and in the remaining chains across, chain one and turn. 12 sts
Rows 2-20: Single crochet in each stitch across, chain one, turn.
After you've crocheted all the rows, go back and tie any joined ends together and weave in all the ends. Done!
Notes
If you can't get the yarns listed, you could also use lighter yarns doubled or tripled up to get a similar effect.
More Crafty Stuff!
DIY Crochet Rug with Bulky Yarn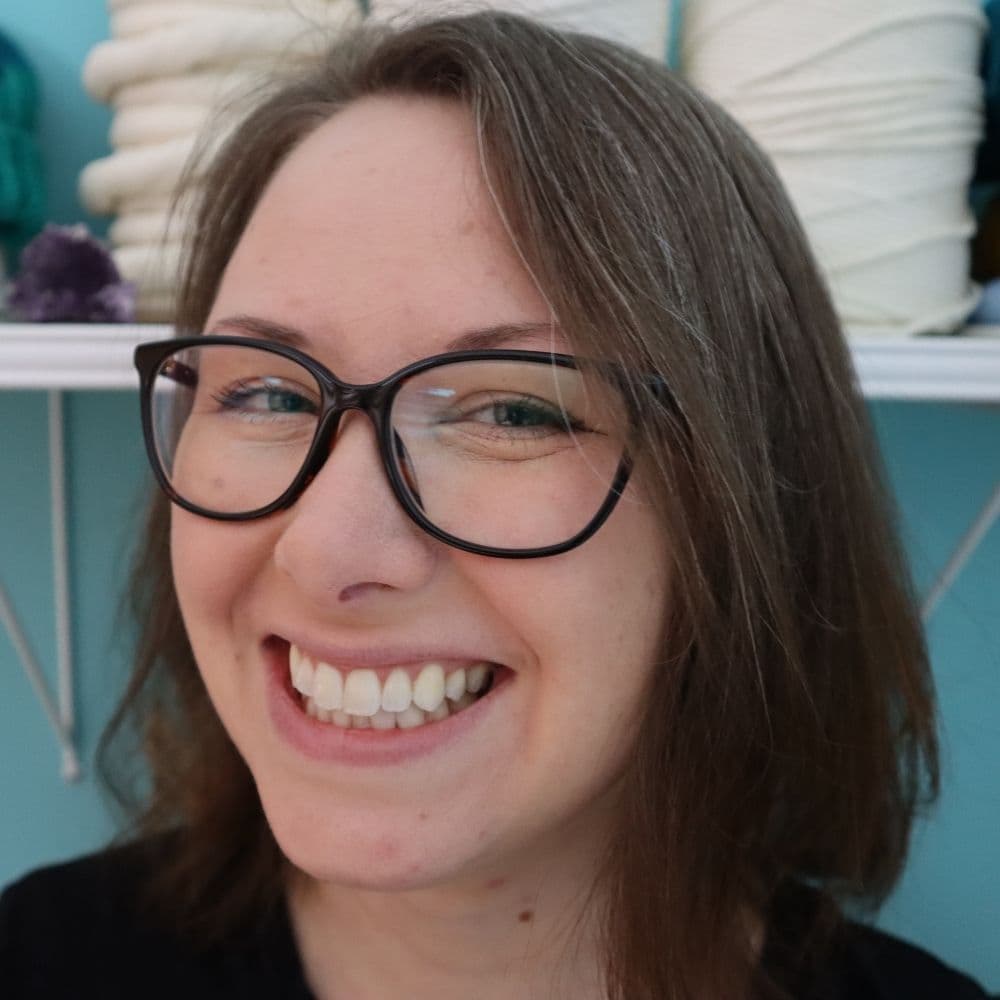 Crystal Martin is the crafty lady behind Marching North. She loves sharing easy to follow tutorials and patterns for macrame, crochet, punch needle, and pretty much anything else involving yarn or textiles.
Her work has been featured on Creative Fabrica, Craft Gossip, Ravelry, as well as her own site and YouTube channels.