These gorgeous macrame feathers have been super popular for a while now. They're such a great project to try if you're interested in macrame but not sure where to start!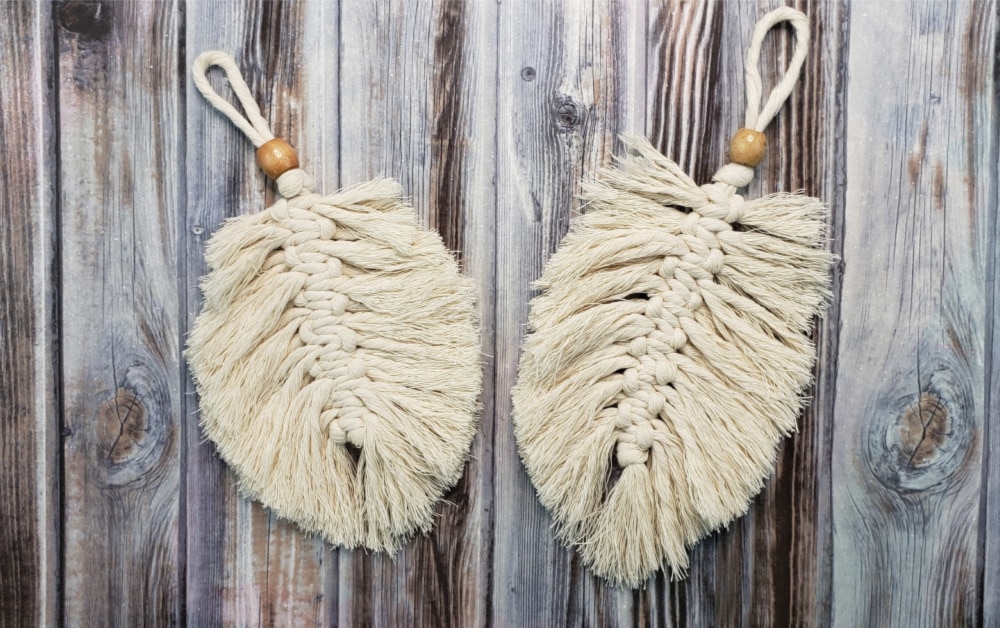 Macrame feathers can be used as a keychain, a purse tassel, or you can make a few of them and turn them into a beautiful wall hanging. You can easily make your own Boho style home decor with this simple DIY!
(This post contains affiliate links. If you click one and make a purchase, I may receive a commission at no extra cost to you. Find out more here. Thank you for your support!)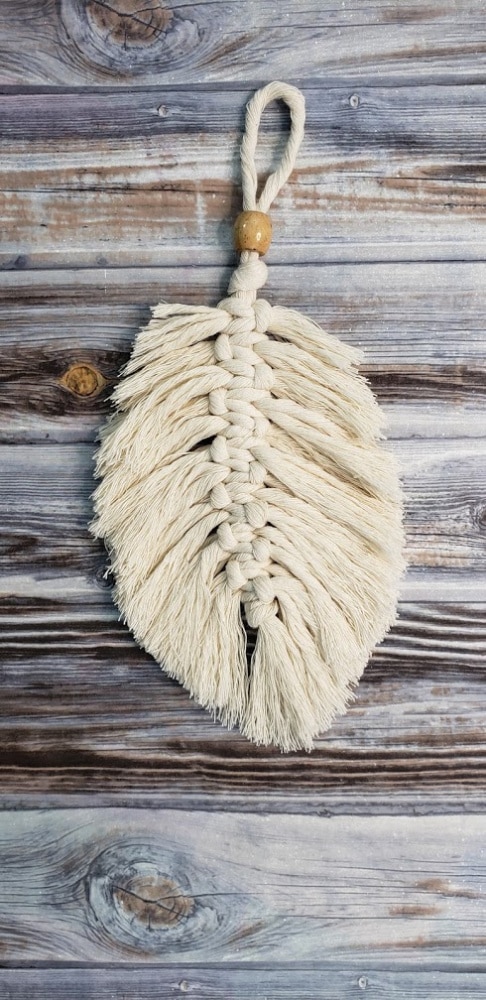 Let's talk about the macrame cord you'll need for a minute before we get started. There are several different sizes and types available, and if you're new to macrame it can be a bit overwhelming.
The type I used and what I recommend is 3mm single strand cotton cord. It'll work the best for brushing out the fringe, so be sure you have the right stuff.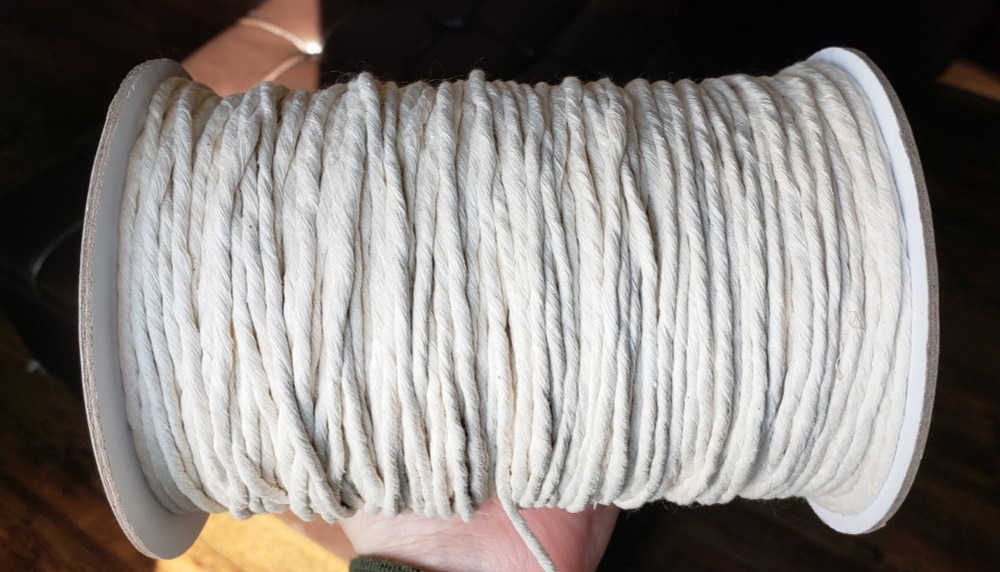 There are other kinds like 3 ply macrame rope and braided macrame cord. You can also find cords made of hemp, jute, or synthetic materials.
The single strand cotton macrame cord is one of the best ones to use for wall hangings and especially for any projects that require you to brush out the fringe.
You can also find it in lots of other colors, so feel free to experiment and make different colors of feathers. I have plans to try dip dying some of mine with Indigo dye, I'll let you know how it turns out!
Alright, let's get started!
Supplies You'll Need to Make Macrame Feathers
Related: The Ultimate List of Must Have Macrame Supplies
How to Make Macrame Feathers Tutorial
First, cut a piece of rope for your base. It needs to be twice the length that you want the finished feather to be, plus about an inch to account for the knot.
Tie an overhand knot at the end but leave an inch and a half tail sticking out of the knot. This will be the tip of the feather.
Next, cut the piece of cord for the feather fringe. I used 26 pieces. Cut them all about the same length.
I made mine larger than they needed to be because I'd rather it be too big than too small, you can always trim it down.
We'll start tying strings on the end with the knot. Take one of the strings and fold it in half.
Lay the folded end (loop) UNDER the main base strings.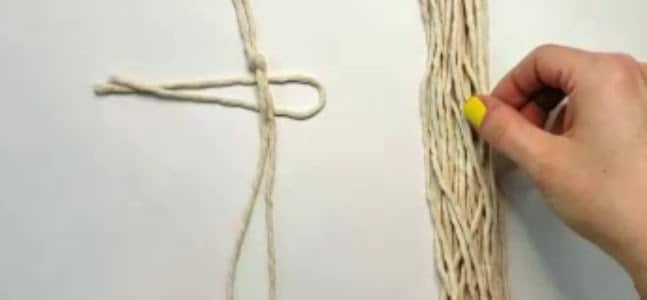 Then, fold another string, turn it the opposite direction of the first one, and lay it on top of the first folded piece and the base strings.
Pull the ends of the bottom folded piece through the loop on the top folded piece, and insert the ends of the top folded piece through the loop on the bottom folded piece, and then pull the ends on each side to pull it all together. (Please, if this doesn't make sense, watch the video. It's so much easier to show than to explain!)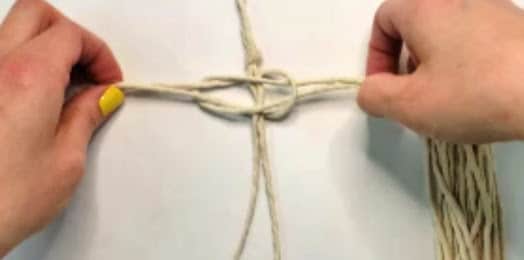 On the next set of strings, you'll do the same thing, except put the first piece under the base strings with the loop facing the opposite way, so your knots will be alternating down the spine of the feather.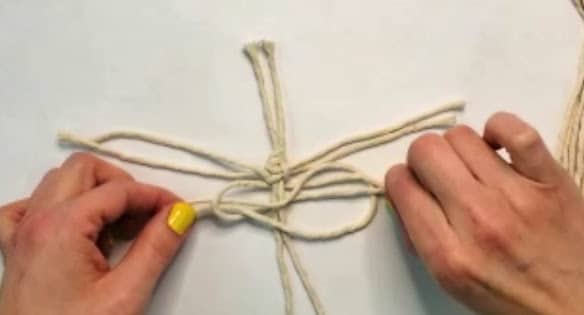 Continue tying the strings on alternating the direction each time until you have all 13 pairs tied.
Now it's time to brush out the fringe.
It's easiest to use a cat brush or a comb, but all I had at the time of this tutorial was my daughter's hairbrush, so I went with it.
The good news is that it worked just fine, it just took a little bit longer, so if you don't have a wire cat brush, don't sweat it.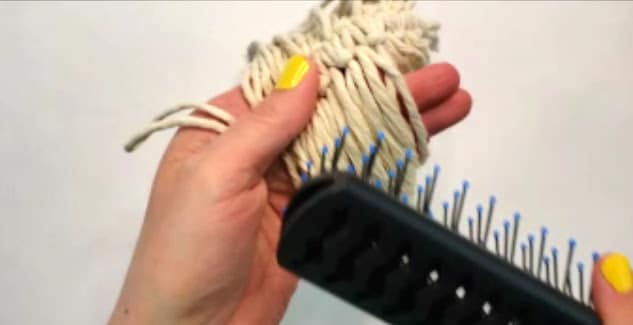 Brush it out all the way around on the front and back.
Once its all brushed out, its time to cut the fringe into a feather shape. You can just eyeball it, that's what I did.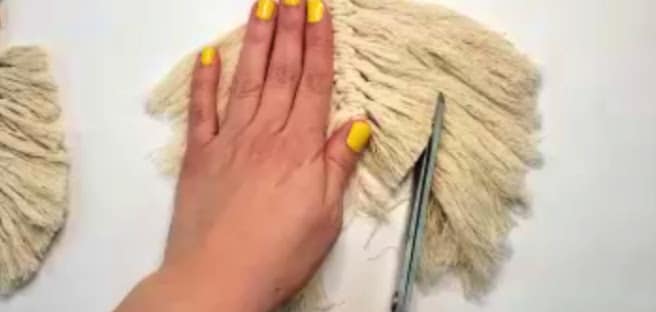 After you cut it, brush it a bit more and retrim to get any scraggly bits cleaned up.
If you want to add some stiffening spray to keep it in shape, you can do that now.
Tie an overhand knot on the hanging loop and tighten it down close to the fringe knots.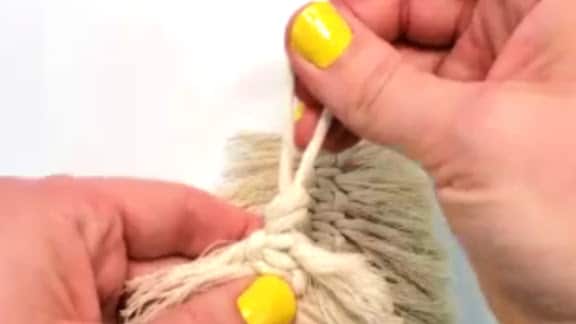 Then, string on the wooden bead. Finished!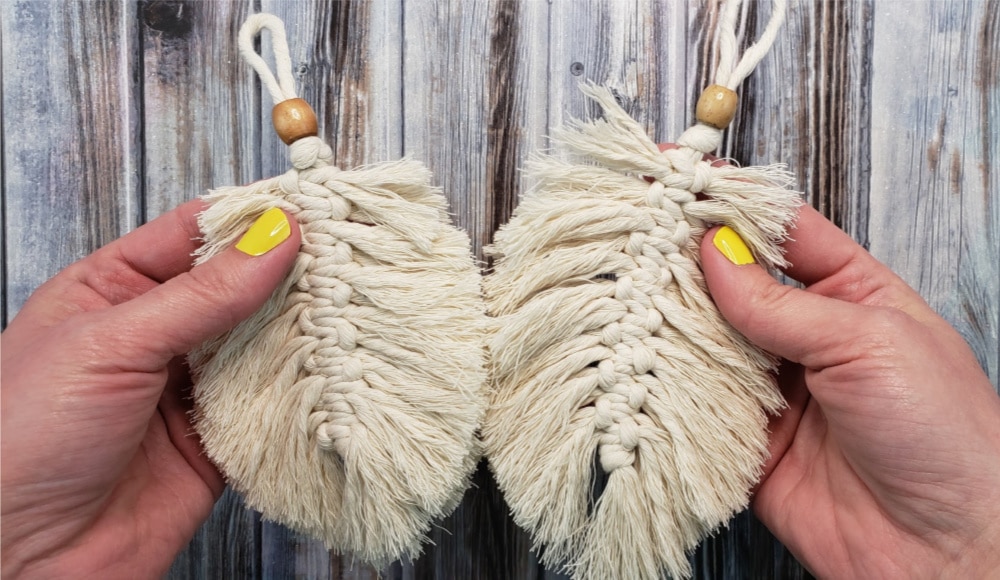 I hope you enjoyed this macrame feather tutorial.
If you haven't already, be sure to check out the video and subscribe to my YouTube channel!
Related Posts
DIY Macrame Feather Tutorial