Learn how to make some boho-awesome macrame placemats in this step by step tutorial and video!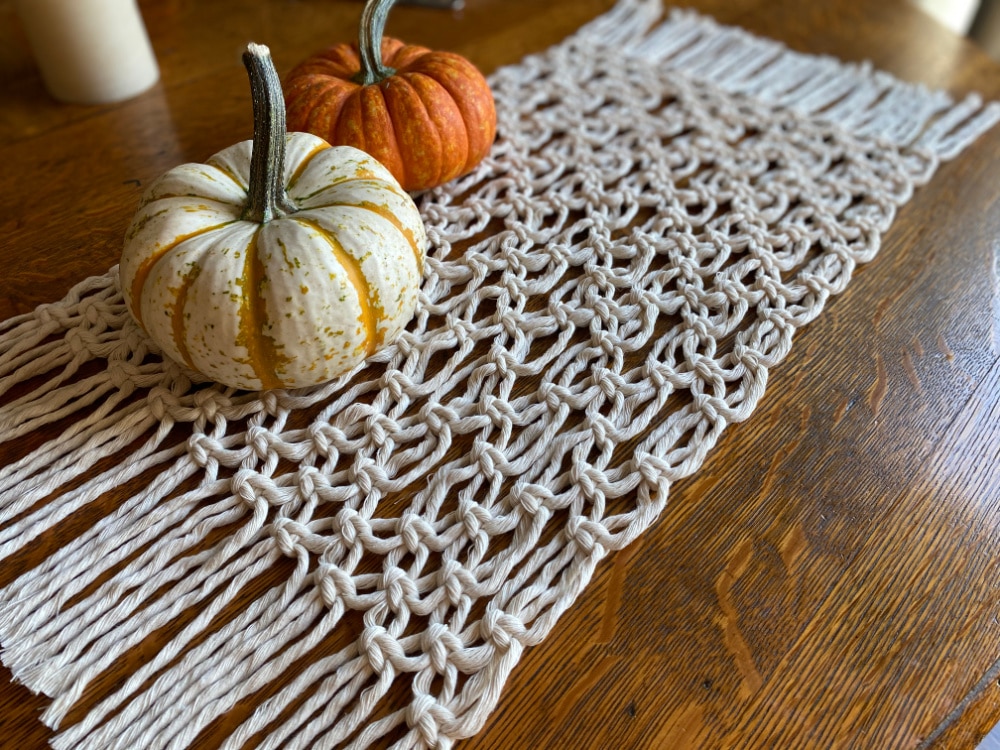 The holidays are coming up soon and I always get a ton of creative inspiration this time of year. There are so many opportunities for DIY decor!
I created this easy macrame placemats pattern to share with you so you can add some boho chic awesomeness to your table scape for the holidays or any time of year.
The great thing about this pattern is it only uses two knots. Honestly, it mostly only uses one knot, but you use lark's head knots to attach it to the dowel, so you know.
Mainly, you'll be tying a lot of square knots. Square knots may not seem super exciting on their own, but you can arrange them in different patterns and get all sorts of cool shapes!
These placemats have a pretty diamond design and I'll show you exactly how it's done down below. The finished dimensions of this placemat is roughly 12″ x 24″ (including the fringe).
If you're new to macrame and need to learn how to tie the basic knots, head over to this Basic Macrame Knots for Beginners post.
There's even a printable PDF to the five most important knots (including the two used in this project) in the free resource library for all my newsletter subscribers. You'll see all the details in the post!
(This post contains affiliate links. If you click one and make a purchase, I may receive a small commission at no extra cost to you. Read the disclaimer here. Thank you for your support!)
Supplies You'll Need to Make Macrame Placemats
How to Make Macrame Placemats Tutorial
Step 1: Attach the cords to the dowel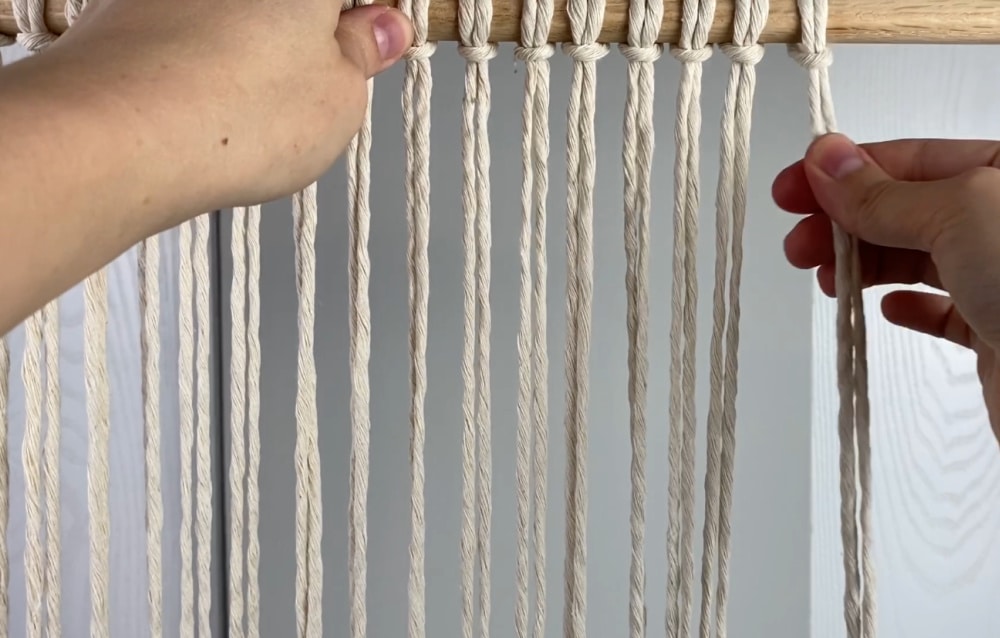 First, attach all of your cords to the dowel with larks head knots.
Step 2: Three rows of alternating square knots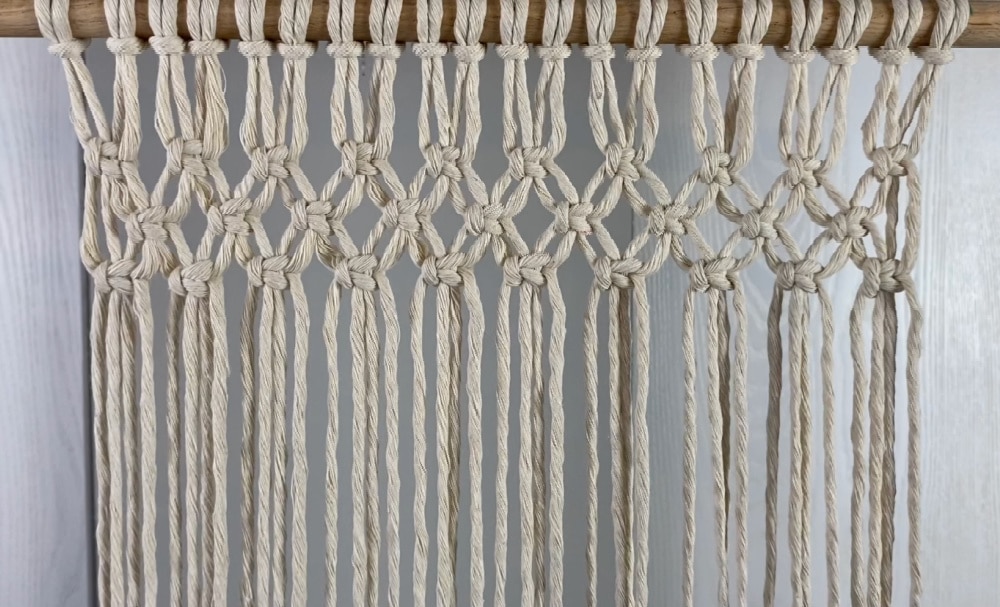 Rows 1, 2 & 3: Starting a few inches down from the dowel, tie three rows of alternating square knots.
Be sure to leave a bit of space in between the rows like I did here.
Step 3: Diamond square knot pattern
Now we're going to start the diamond square knot pattern.
Row 4: Be sure to leave an even amount of space between each row and then follow this pattern:
First, skip 2 cords, then tie a square knot. After that, skip 4 cords and tie a square knot and repeat that until the end of the row. You'll skip the last 2 cords as well.
Row 5: Tie a normal row of square knots all the way across.
Row 6: Skip the first 6 cords, then tie a square knot, skip 4 cords, tie a square knot and repeat that across the row. You'll also skip the last 6 cords.
Row 7: Tie a normal row of square knots all the way across.
Repeat rows 4-7 until you have 22 completed rows (including the first three).
Then finish it off with three more rows of alternating square knots.
Step 4: Take the placemat off the dowel
Roughly trim off your fringe (we'll even it out in a minute) and remove the macrame placemat from the dowel.
Step 5: Finishing your macrame placemat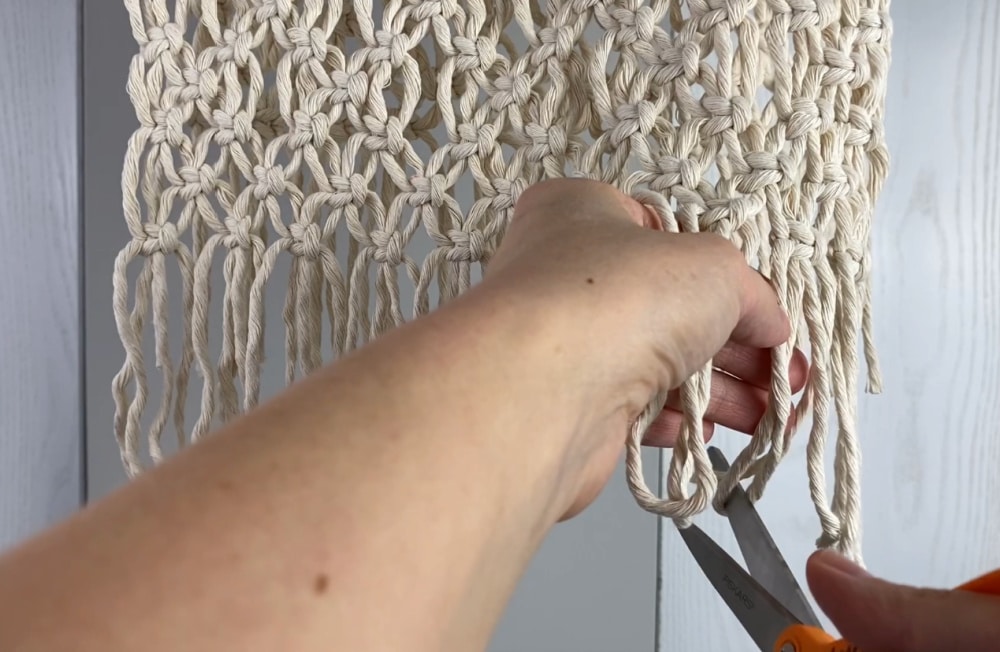 Hang your placemat over your rack and cut open the loops that were previously on the dowel.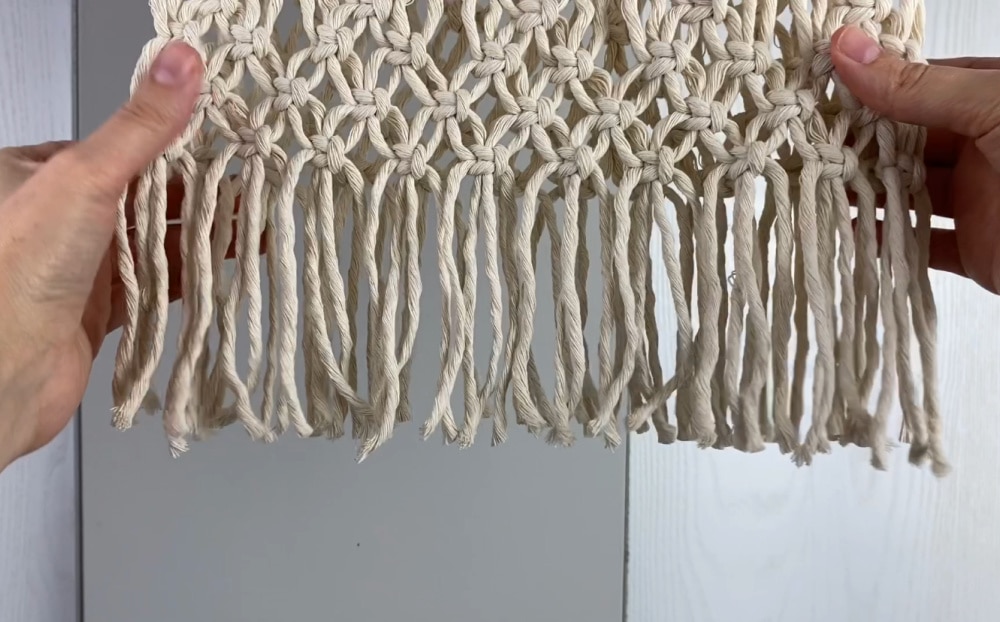 Then you can line up the two sides of the placemat and trim the fringe so it's the same length on both sides.
Done!
I hope you enjoyed this macrame placemat tutorial! These will add some boho awesomeness to your table spread.
If you make this project, please take a moment to share a pic on Instagram and tag me @marchingnorth. I love to see your creations!
Related Posts
How to Make Boho Chic Macrame Placemats (with 2 knots!)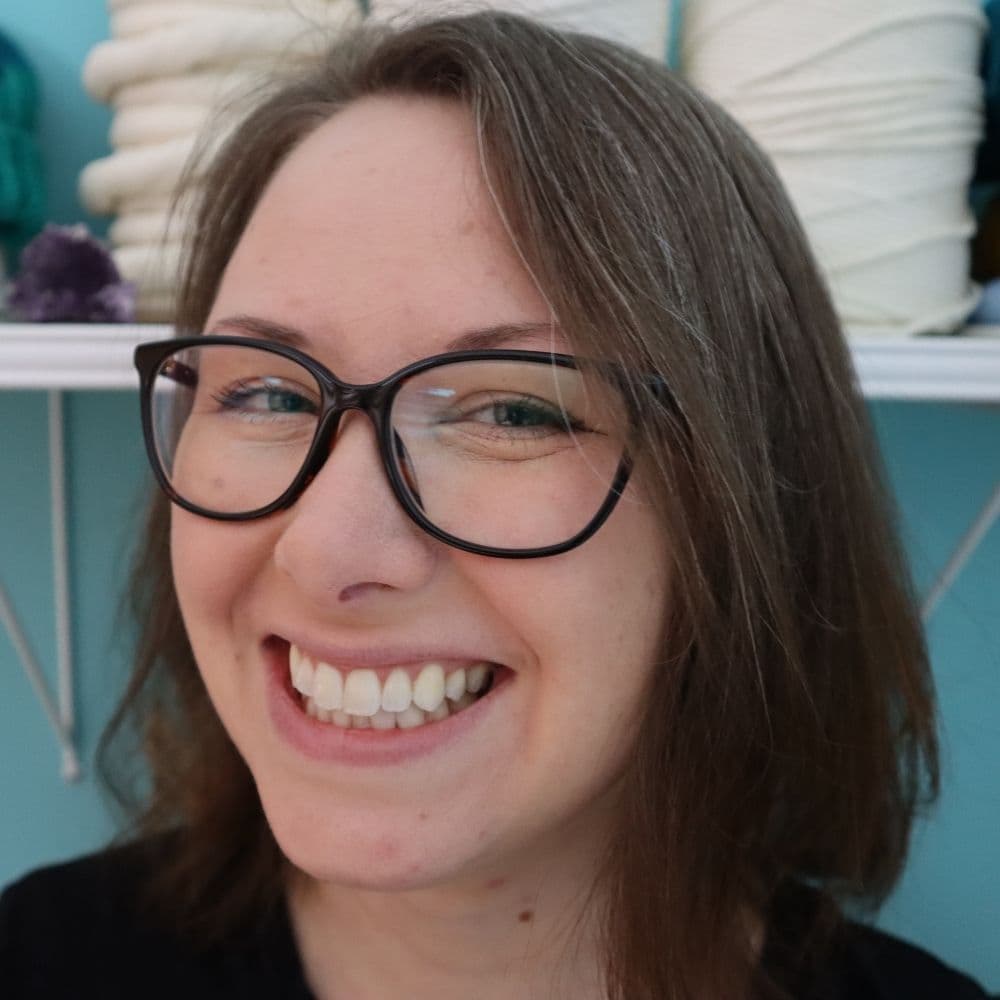 Crystal Martin is the crafty lady behind Marching North. She loves sharing easy to follow tutorials and patterns for macrame, crochet, punch needle, and pretty much anything else involving yarn or textiles.
Her work has been featured on Creative Fabrica, Craft Gossip, Ravelry, as well as her own site and YouTube channels.