Once you get the basic macrame knots down and make a few macrame projects following a pattern, you might decide you want to create your own design! But where do you start?
​How do you estimate cords lengths??
How to do you come up with a unique design???
Creating your own custom macrame pattern is a fun and rewarding process that allows you to express your creativity and create a one-of-a-kind piece. Not to mention that macrame plant hangers and macrame wall hangings make great gifts!
But it can seem really intimidating at first! Don't worry though, it's not as complicated as it looks.
Whether you're a beginner or an experienced macrame artist, there are a few key steps you'll want to follow to plan a successful macrame pattern of your own.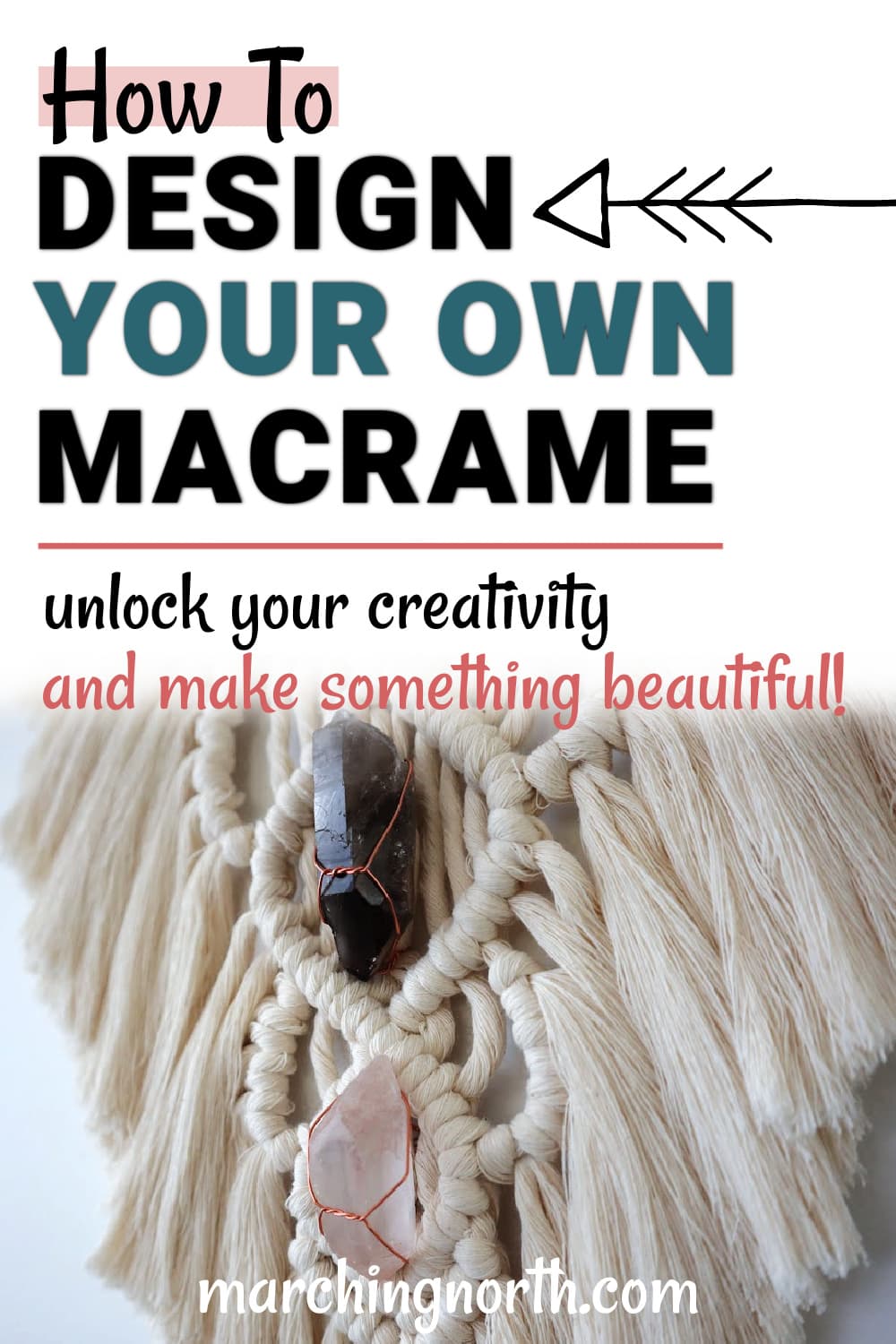 (This post contains affiliate links. If you click one and make a purchase, I may receive a small commission at no extra cost to you. Read the disclaimer here. Thank you for your support!)
Free Macrame Pattern Planning Workshop
I created a FREE Macrame Pattern Planning Workshop that will walk you through each step of creating your own macrame one day at a time.
It's delivered via email, and each day for 7 days you'll get one more piece of the macrame pattern design puzzle broken down into step by step pieces.
This article that you're reading will give you the basic summary of what you need to know, but the free workshop dives much deeper and I also share how to ACCURATELY estimate your macrame cord lengths!
Sign up below and learn how to create your own works of macrame art within a week!
​Getting a Clear Vision
What are you wanting to make? Will it be a wall hanging, plant hanger, or another decorative item?
Having a clear vision for your project will help you determine the size, shape, and materials you'll need.
Also, really think about the style and aesthetic you're going for. Do you want a bohemian look with lots of fringe, or a more minimalist design with clean lines?
Whatever style you choose will influence your knot choices and overall design.
Once you have a clear idea of what you want to create and style of your macrame project, it's time to start planning!
This involves choosing your materials, deciding on which knots to use, determining the spacing and placement of knots, and deciding on any extras like beads, crystals, and other accessories.
Then it's time for the part that intimidates almost everyone: estimating cord lengths!
Don't worry, it's not as scary as it sounds. You just need to do a little easy math.
With a little bit of creativity and experimentation, you can create a beautiful and unique macrame design that you'll fall in love with!
Planning Out Your Design
When it comes to planning your macrame project, there are a few key things to consider. Let's talk about it!
Choosing Your Project
The first step in planning your macrame project is to choose what you want to make.
If this is your first project, it's best to start with something simple, such as a small wall hanging or plant hanger. Easy projects like that will give you a chance to practice your basic knots and is the best way to get a feel for the craft.
Once you've decided on your project, sketch out a rough design on paper.
This will help you visualize the finished product and make any necessary adjustments before you start knotting.

Deciding Which Knots to Use
The next step is to decide which knots you want to use in your project.
If you're a beginner, it's best to start with the basic knots, like the larks head knot, square knot, spiral knot and double half hitch knot. These basic macramé knots are easy to learn and can be used to create a variety of patterns and designs.
You can find videos and written tutorials for all of those basic macrame knots in this blog post.
Once you become more comfortable with these basic knots, you can start experimenting with different knots. Just remember to always take your time and tie your knots neatly so your project turns out the way you want it to.
Selecting Your Macrame Cord and Supplies
Now it's time to select your macrame cord and supplies. There are a variety of cords to choose from, including cotton cord and synthetic cords like nylon.
If you're making an indoor decorative project, natural cotton macrame cord is a great option and the most popular.
However, if you're making an outdoor project, synthetic cords like nylon or polypropylene are more water-resistant.
Cotton rope doesn't hold up for outdoor projects and that beautiful macrame plant holder will fall apart eventually if you put it out in the elements.
Here's a post with my favorite places to buy macrame cord and supplies.
You'll also need to decide on your colors, and if you want to add any extra accessories like beads, crystals, shells, or whatever your heart desires!
Besides cord, you'll also need sharp scissors to cut your cord, a wooden dowel or branch to use as your hanger, and something to hold your work, like a macrame rack or clipboard.
If your project includes fringe, you'll want to grab a metal comb or a pet slicker brush to brush it out.
Creating Your Macrame Pattern
Alright, now it's time to put pen to paper! Here are some tips to help you get started.
Sketching It Out
Before you begin, it's a good idea to sketch out your design on paper. This will make it a lot easier to mentally picture what you want your finished product to look like.
You can also use this sketch to estimate the amount of cord you will need for your project.
Estimating Cord Lengths
Once you have your design sketched out, you will need to estimate how much cord you will need.
This will depend on the size of your project, which cord you're using and the type of knots involved.
Sign up for my FREE Macrame Project Design Workshop and I'll explain exactly how to estimate your macrame cord lengths so you don't waste a bunch of cord!
Is There a Macrame Pattern Generator?
Wouldn't it be nice if you could just use an app to create your macrame patterns?
Well, unfortunately that isn't a thing for the most part. But, if you want to do pixel macrame, there is a generator for that!
My favorite pixel macrame generator tool is called Stitch Fiddle. You can use it to draw your own pixel macrame design with a grid, or upload a photo and it will pixelize it for you.
You can use it to make very intricate designs depending on what kind of photo you use. Stitch Fiddle also has an online knitting chart generator and you can use it for crochet projects as well.
Working on Your Macrame Project
While you're working on your macrame project, it's important to have a clear plan in mind and take lots of notes!
Getting Started
Before you begin knotting, take some time to gather all the necessary materials and tools.
You will need your cut pieces of cord, scissors, and a macrame board or surface to work on. If you're a macrame knot guide or step-by-step tutorial, make sure you have it handy.
Once you have everything you need, it's time to start knotting!
Taking Notes While Knotting
Take your time and be sure to write notes as you go. Taking pictures of your progress is a good idea as well.
You might decide you want to make this pattern again and taking good notes will make it a lot easier for you later.
You can use a notebook to jot down your notes, or you can use the Macrame Project Planner which has pages for every step of macrame pattern creation.

Finishing Your Project
Once you've completed your macrame project, it's time to finish it off. Cut off any excess cord and weave in any ends that you don't want to show. You can use a glue gun to secure the knots in place on the back side of your work.
Now you can attach a hanging cord if necessary and your project is ready to display!
Writing Out Your Macrame Pattern
Once you've finished your macrame project, it's a good idea to write out your pattern so it's nice and neat and organized.
You probably have random notes written all over the place, and if you get them organized and tidy it'll be easier to follow them later.
Keep track of what knots you used, where to used them, and how many times you repeated them.
All The Important Details
Make sure to include all the important details when you're writing out your pattern. That includes things like the finished size of your project, the type and color of cord you used, and where you bought if from.
If you're making a larger project, you may want to break it down into smaller sections to make it easier to follow.
You'll want to make a full supply list with cord lengths and all the tools needed. This will help you stay organized and make sure you don't forget anything.
Don't Forget to Take Pictures!
Taking pictures as you go along can be really helpful when writing out your macrame pattern. This will help you remember what you did at each step, and it will also make it easier for others to follow your pattern.
Plus it's nice to have pictures if you want to share your creations on social media!
Adding Personal Touches to Your Macrame
When it comes to macrame, adding personal touches to your projects is a great way to make them unique and truly your own. Here are a few ideas to help you add your personal touch to your macrame creations.
Incorporating Different Materials
One way to add a personal touch to your macrame is to incorporate different materials into your project. Wooden beads, for example, can add a natural and earthy feel to your macrame.
You can also use a piece of driftwood as a base for your macrame wall hanging. This will give your project a rustic and beachy vibe.
Having Fun with Color
Another way to add a personal touch to your macrame is to have fun with color. Bright colors can add a fun and playful feel to your project.
Natural cord can also give your project a warm and earthy feel. Mixing and matching different colors and textures can create a unique and eye-catching macrame piece.
Remember, the key to adding a personal touch to your macrame is to have fun and experiment with different materials and colors. Don't be afraid to try new things and let your creativity shine!
Frequently Asked Questions
What are some free resources for finding macrame patterns?
Funny you should ask! I have lots of free macrame patterns available here on my site and also on my YouTube channel.
I also sell printable versions of many of my popular macrame patterns in my shop.
How can beginners learn basic macrame knots?
Check out my Macrame Knots for Beginners post to learn all the knots you need to know to get started.
I also have a couple helpful videos over on my YouTube channel that will help you out!
What are some modern macrame patterns for free?
Modern macrame patterns include wall hangings, plant hangers, bags, Christmas decorations, earrings, keychains, and more.
You can find many free modern macrame patterns here on Marching North!
Are there any books on macrame pattern designs?
Yes, there are some really great macrame books out there! I made a list of awesome macrame books on my Amazon storefront with some of my top picks, be sure to check it out.
Is macrame an expensive hobby to start?
Not at all! Macrame is an affordable hobby to start. All you need is some cord, a pair of scissors, and a few basic tools.
You can find cord at your local craft store or online, and if you really want to save money you can start with jute cord which is pretty cheap.
What are some tips for calculating cord needed for a macrame project?
To calculate the amount of cord needed for a macrame project, you need to consider the length and thickness of the cord, the size of the project, and the number of knots required.
Be sure to sign up for my Free Macrame Pattern Design Workshop and I'll show you how to estimate your macrame cords accurately and easily!
In Conclusion
I hope you enjoyed this post about how to design your own macrame patterns!
Definitely check out the free Macrame Pattern Design workshop where I'll give you lots more information and breakdown how to estimate your macrame cord lengths super accurately.
Looking for more macrame tutorials and info? Check out my latest posts!
How to Design and Plan Your Own Macrame Patterns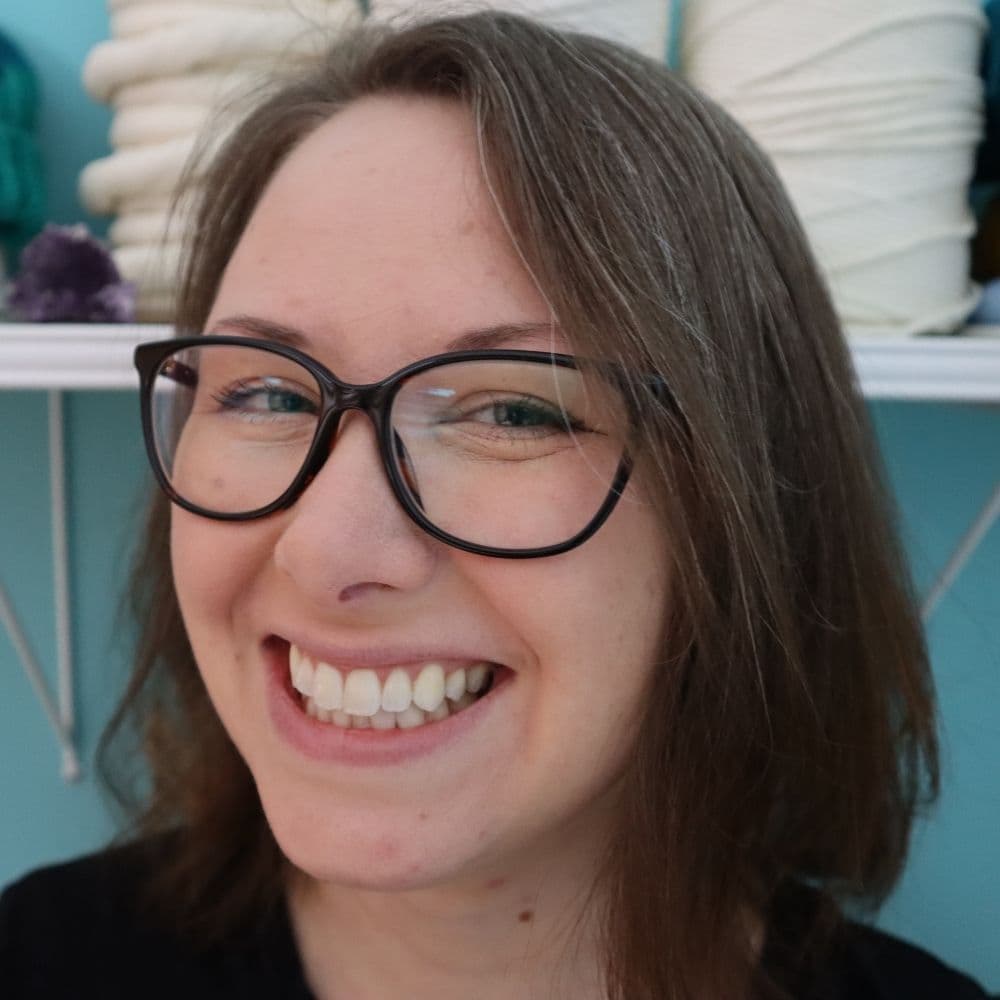 Crystal Martin is the crafty lady behind Marching North. She loves sharing easy to follow tutorials and patterns for macrame, crochet, punch needle, and pretty much anything else involving yarn or textiles.
Her work has been featured on Creative Fabrica, Craft Gossip, Ravelry, as well as her own site and YouTube channels.