Learn how to make a quick and easy macrame wristlet keychain in this DIY step by step tutorial (with video)!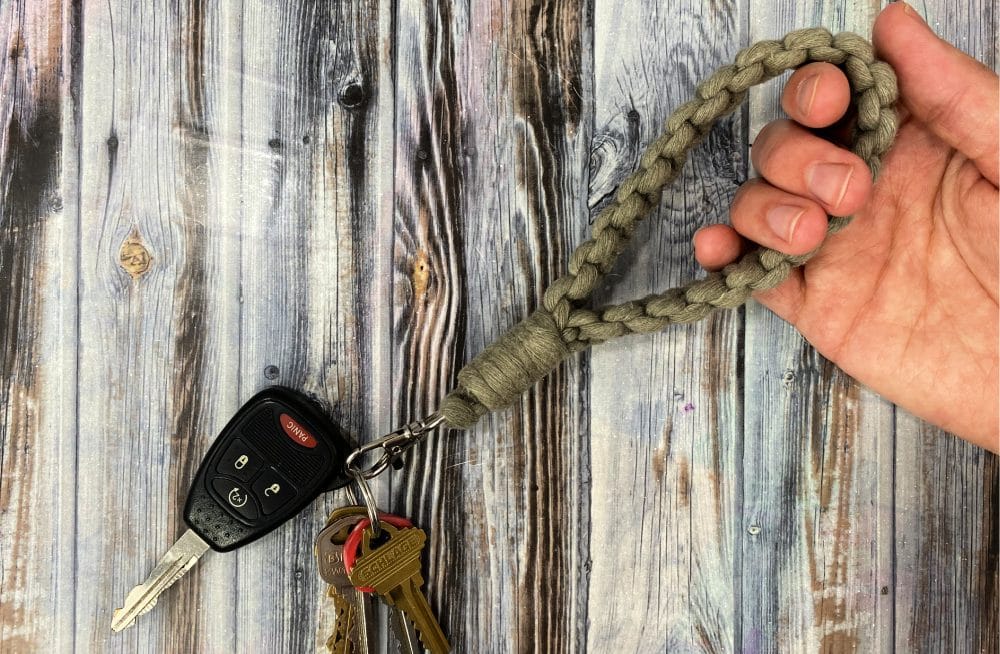 Lately, I've been seeing people talking about these macrame wristlet keychains. They looked super simple to make, so I thought I'd give it a go. Guys… it's so easy, and this thing is amazing!
In the last few days since I made this one, I've come to realize why everyone loves them so much.
I haven't had to fumble around for my keys (or drop them a million times) while I'm locking my front door, getting the kids out of the car, or attempting to carry all the grocery bags into the house at once!
Seriously, it's a game changer.
If you have a lot of multitasking that goes on when you're carrying your keys, you'll see what I mean.
Besides just being generally convenient, this keychain would make a great macrame gift for the holidays or any time you need a last minute present.
Or you could make a bunch and sell them!
A Few Notes About this Macrame Wristlet Keychain Pattern
Before we get started, I just wanted to mention a few things about this pattern.
I sized this wristlet to fit over my hand. I have what I assume is an average women's hand, definitely not petite but not huge either. It fits perfectly for me.
That being said, I had my husband try it out, and he couldn't get it over his hand without a lot of force.
So if you're making this for someone with a larger hand you'll want to add a few extra square knots to your keychain, and if you're making it for someone with smaller hands, you'll want to subtract a few.
If you plan to add knots, I would recommend making the cords a few inches longer as well. I can't say for sure how much longer, but if I was making one of these for my husband, I would probably add five inches to the cords just to be safe.
Also, you could make this macrame keychain with smaller cord (like 4 mm) too, you'll probably just need a bit less cord.
OK, now that we covered all of that, let's make a macrame wristlet keychain!
(This post contains affiliate links. If you click one and make a purchase, I may receive a small commission at no extra cost to you. Read the disclaimer here. Thank you for your support!)
Supplies you'll need to make a DIY Macrame Wristlet Keychain
How to Make a Macrame Wristlet Keychain
Step 1: Attach the cords to the keychain clasp
To attach the two cords to the keychain clasp, we'll be using larks head knots.
Instead of just folding the cords in half evenly, we'll need to make it so the two inner cords are much shorter than the two outer cords.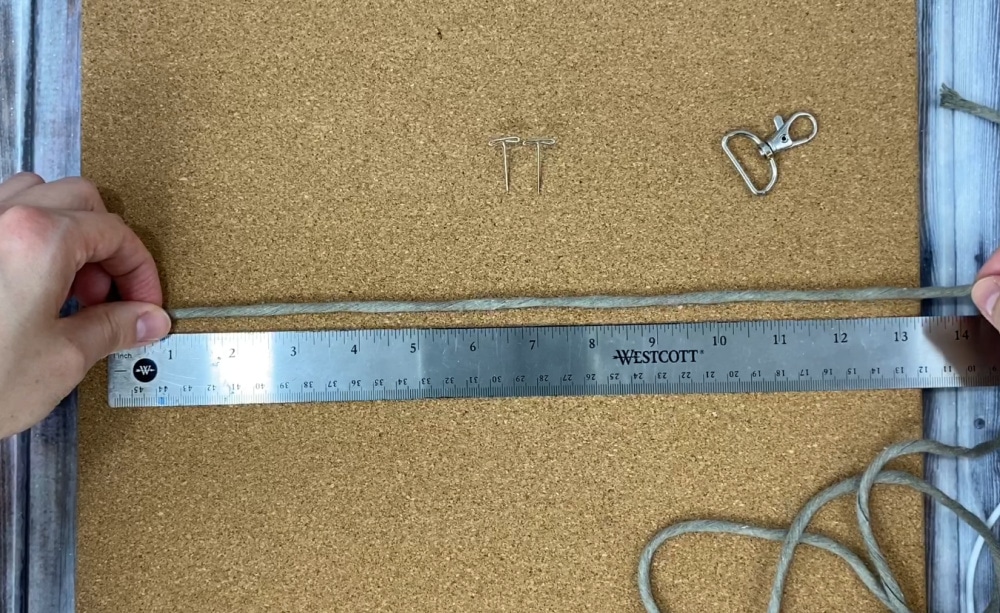 Before you fold the first cord in half, measure 14 inches one of the ends. Fold it in half at the 14″ mark and attach it to the keychain clasp making sure the short cord is facing towards the middle.
Now do the same process for the other cord, making sure the short cord is facing toward the center (and next to the other short cord) when you attach it with a larks head knot.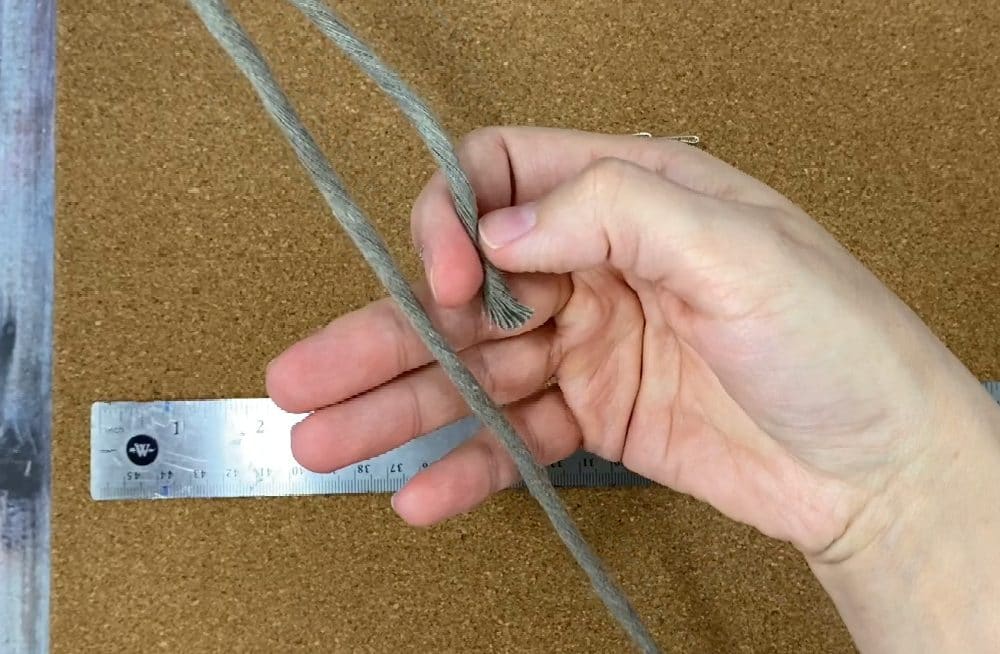 This will give us plenty of working cord to knot with and prevent us from wasting a bunch on the filler cords.
Related: Must-Have Macrame Supplies (and Where to Find Them!)
Step 2: Tie a lot of square knots
Once you have your cords in place, it's time to start your square knots.
Pin your keychain down to your cork board.
The first square knot will be a couple of inches down from the clasp (to make room for the wrapping knot).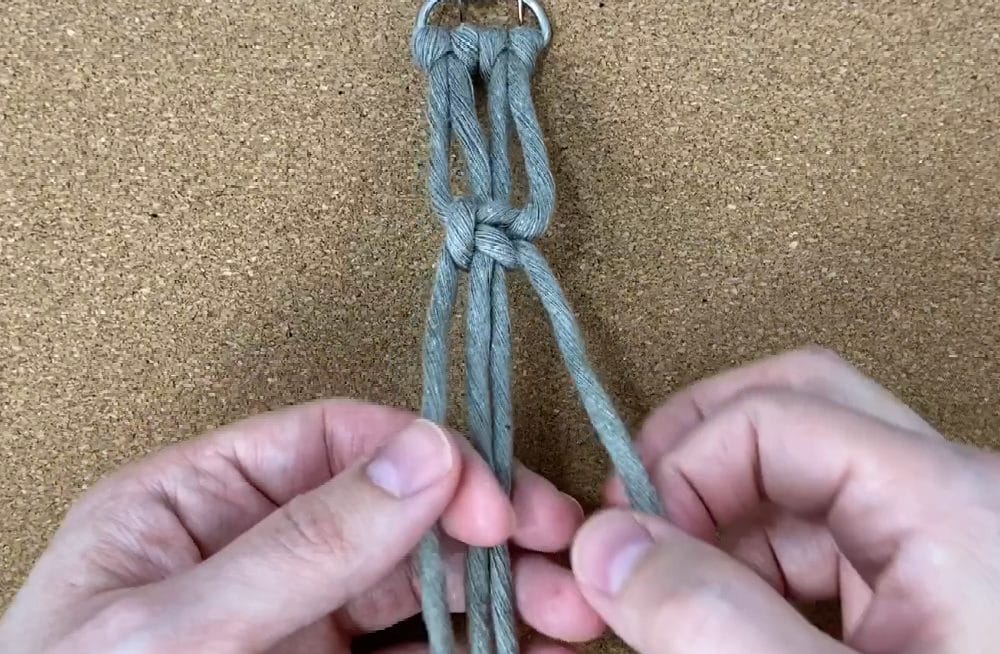 After that initial knot is in place, just keep tying square knots until you only have a few inches of cord left.
I ended up tying 21 square knots and that fit over my hand perfectly.
If you need it to be smaller, tie a few less square knots and if you need it larger, tie a few more.
Step 3: Fold & glue
Before we tie the wrapping knot, we're going to add some fabric glue to keep everything extra secure.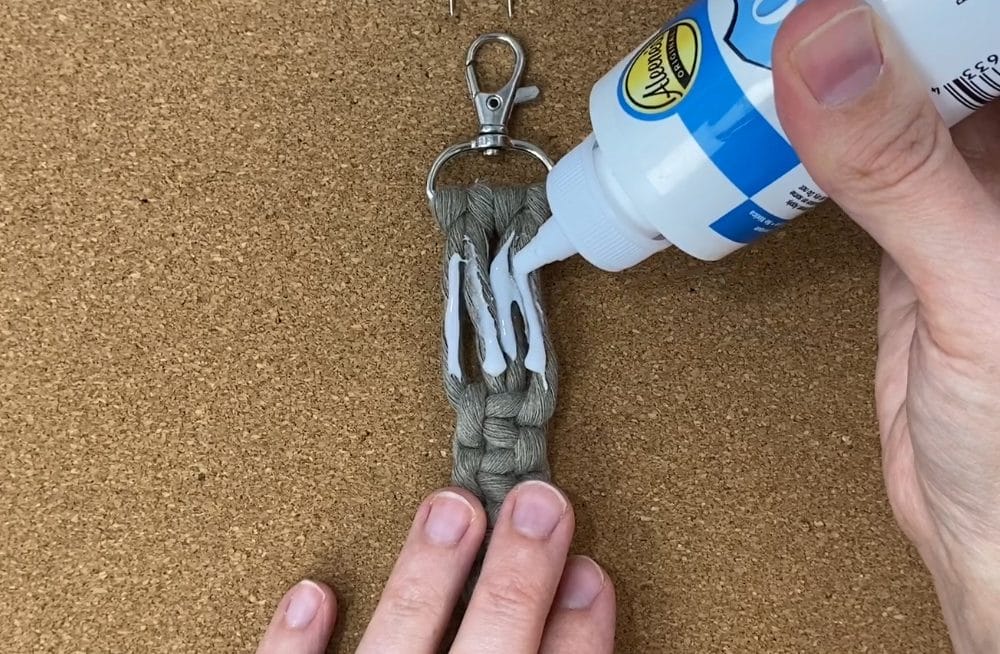 Be generous with your glue, that cotton cord really absorbs it! I applied a decent amount and still ended up adding a bit more just to be safe.
Step 4: Tie the wrapping knot
Once you have the glue applied, it's time to tie a wrapping knot to hold it all together.
This is a little tricky because of the glue. Just be prepared to have glue on your hands, lol.
I considered waiting for the glue to dry but I decided it would be better for it to dry after the knot was complete so it would really be held tightly together.
Anyway, tie a wrapping knot over the glue zone and just try not to get glue all over the place. If you don't know how to tie a wrapping knot, be sure to check out the video.
Related: Basic Macrame Knots for Beginners (+ free printable guide!)
Step 5: Trim and done!
After you get your knot tied, just trim all the loose ends close to the wraps and you're done!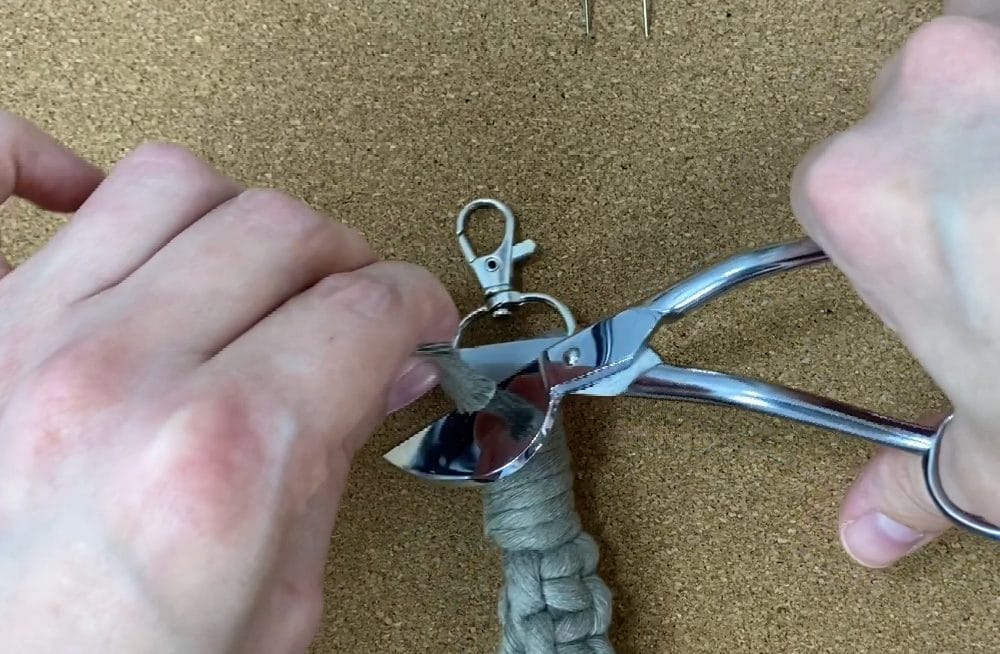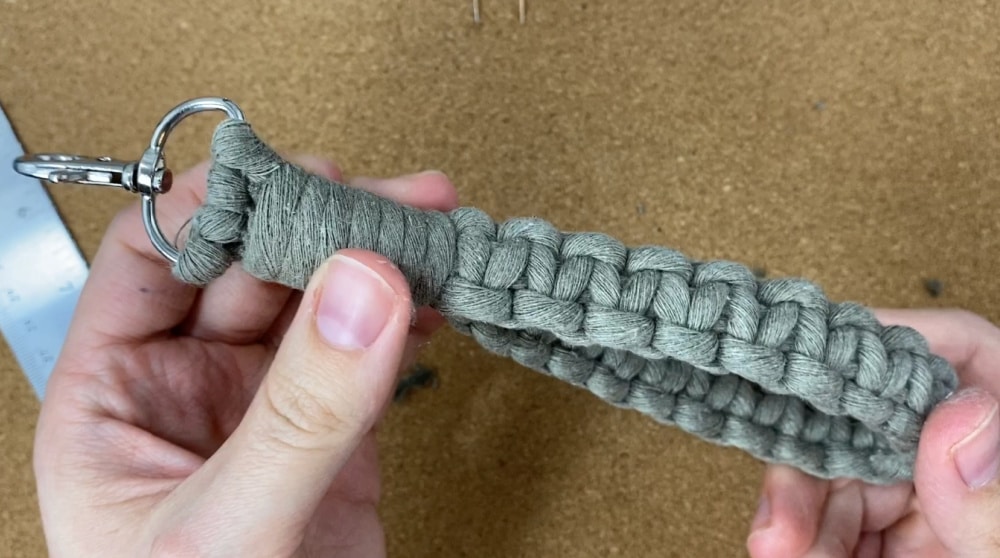 The keychain loop ends up being about 4.5 inches long (that's measuring the open part where your hand goes).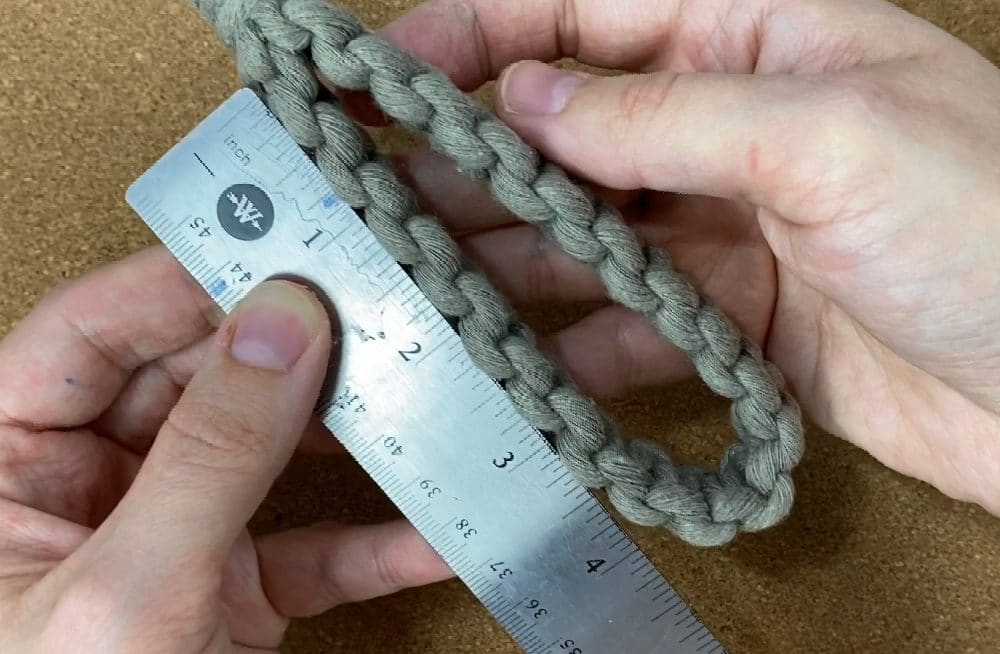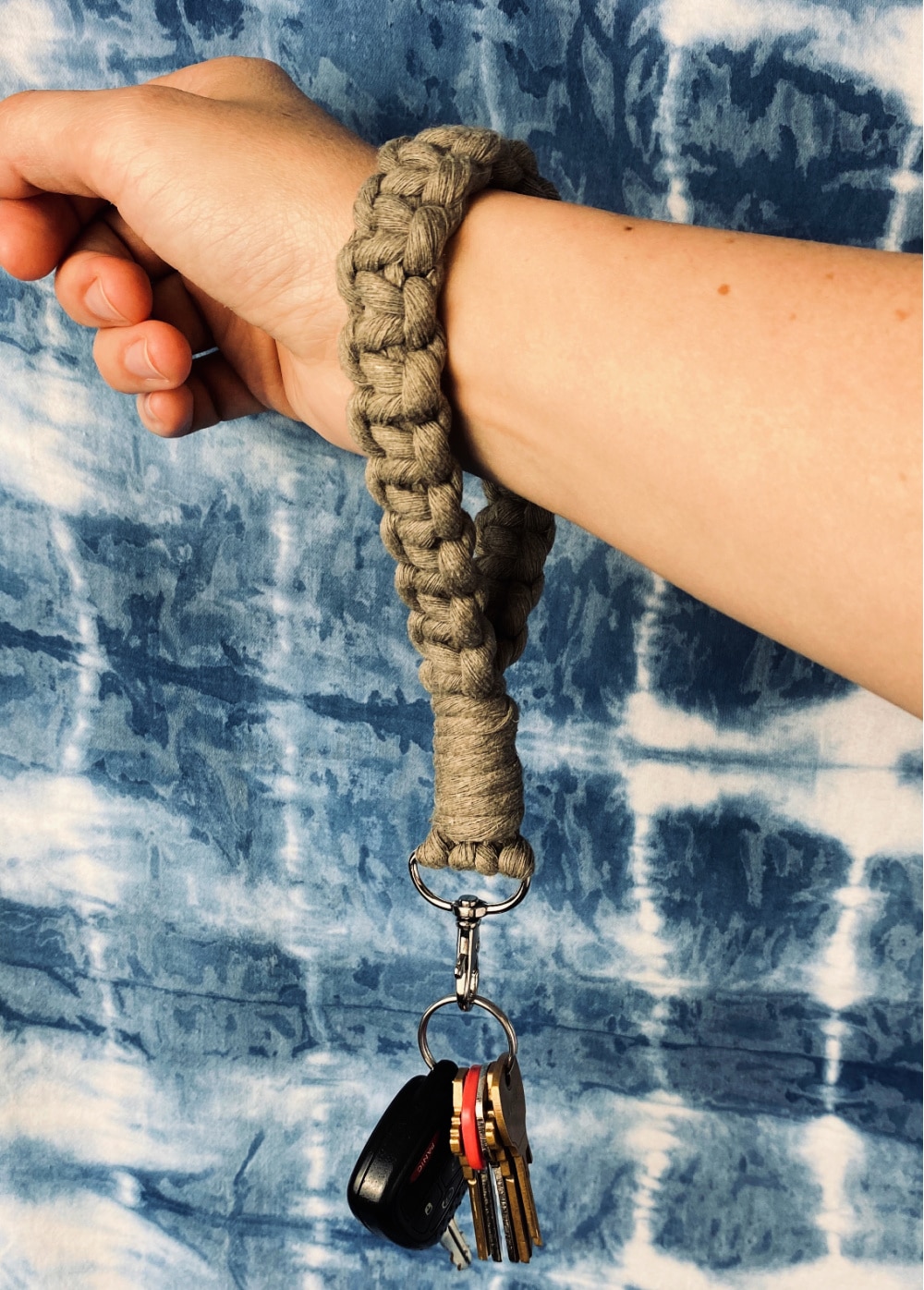 In Summary
I hope you enjoyed this quick and easy macrame wristlet keychain DIY tutorial!
If you make one, be sure to share a pic on Instagram and tag me @marchingnorth, or come show off your work in the Macrame for Beginners and Beyond Facebook group!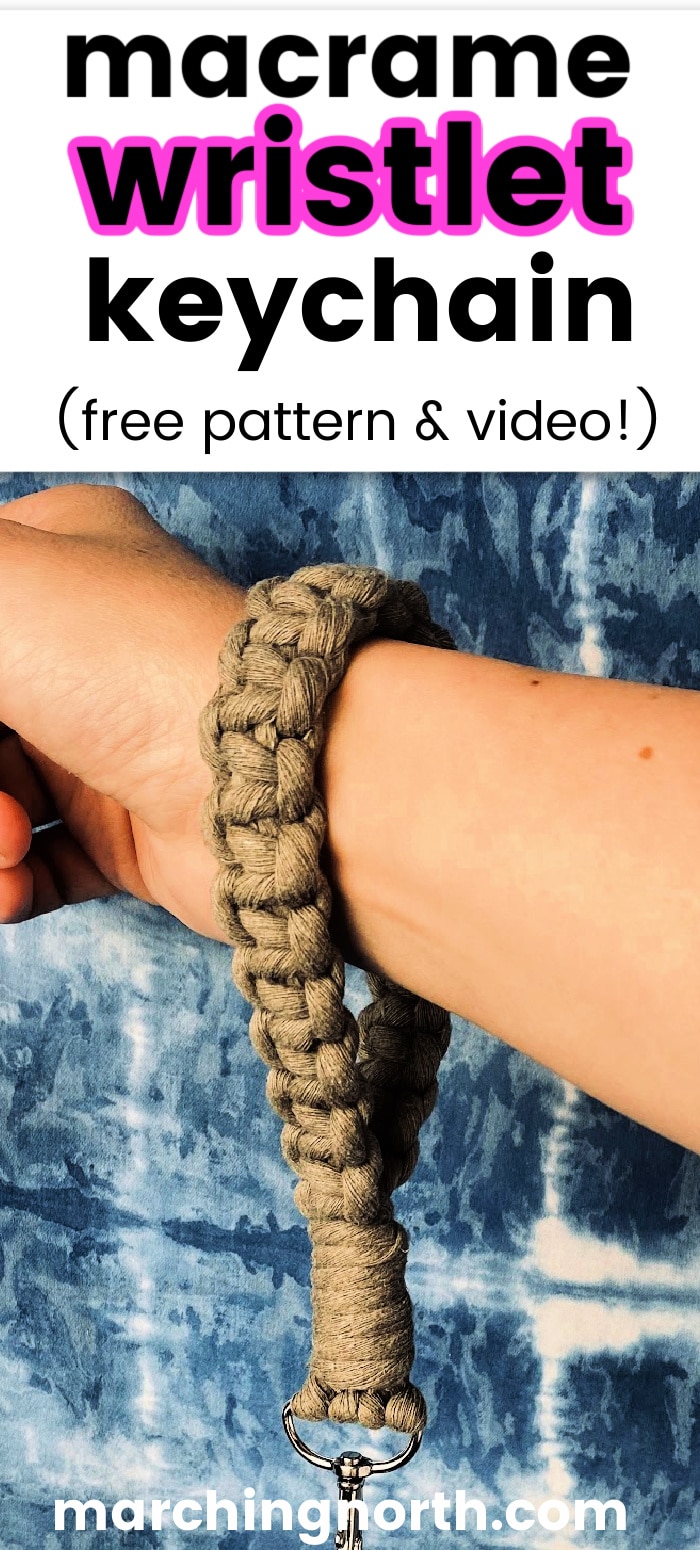 Related Posts
Macrame Wristlet Keychain DIY // Tutorial & Video!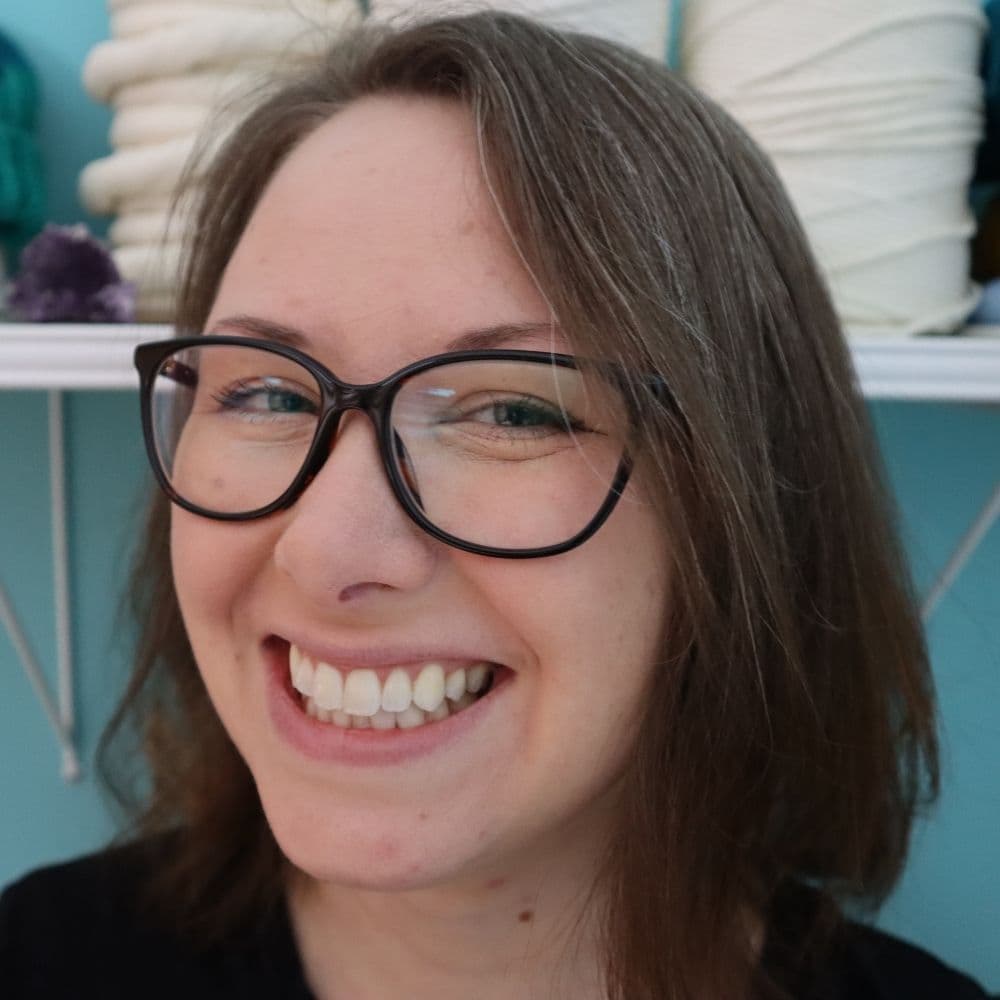 Crystal Martin is the crafty lady behind Marching North. She loves sharing easy to follow tutorials and patterns for macrame, crochet, punch needle, and pretty much anything else involving yarn or textiles.
Her work has been featured on Creative Fabrica, Craft Gossip, Ravelry, as well as her own site and YouTube channels.